New Age Islam News Bureau
25 Dec 2014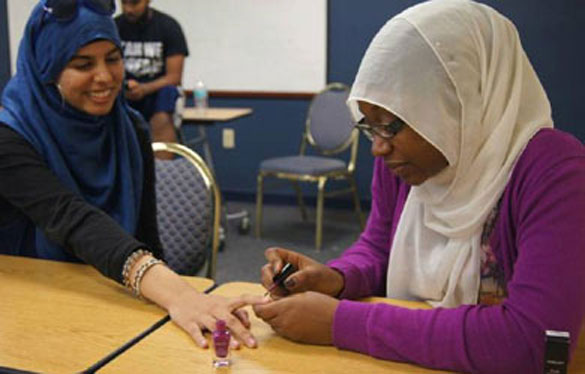 Nandee Shabazz, right, paints Sara Haroon's nails. Aaleeyah Pringle South Florida News Service
---------
• Rape Victim and Her War Child Battered But Not Beaten
• Australian Imams Denounce Domestic Violence
• Ireland to Rule on Pregnant Woman on Life Support
• Pak Punjab Assembly Adopts Resolution on Underage Marriage
• Yazidi Sisters Entered Suicide Pact Rather Than Become Islamic State Sex Slaves
• Melbourne Muslim Woman Nasrin's Justice Ordeal
• Muslim Women Welcome Water-Permeable Nail Polish
• 'Breast Cancer Causes 40,000 Deaths Annually' In Pakistan
• Afghanistan's Female Cricket Dreams Crushed
• Sisters in Islam Vs Fatwa Committee Case Management On Jan 22
• Italian Mother Claims Kidnapped 3-Year-Old Son Seen In ISIS Propaganda
Compiled by New Age Islam News Bureau
URL: https://newageislam.com/islam-women-feminism/nigerian-girl,-14,-recounts-be/d/100685
-------------
Nigerian Girl, 14, Recounts Would-Be Suicide Bombing
25 Dec, 2014
Kano (Nigeria) (AFP) - A 14-year-old Nigerian girl who was arrested with explosives strapped to her body told journalists Wednesday that her parents volunteered her to take part in a suicide attack.
The girl, who was identified as Zahra'u Babangida, was arrested in Kano on December 10 following a double suicide bombing in a market that killed 10 people.
She was presented to journalists by police and instructed to recount how Islamist militants allegedly forced her to take part in the attack.
She said her mother and father, both Boko Haram sympathisers, took her to an insurgent hideout in a forest near the town of Gidan Zana in Kano state.
She said one alleged militant leader asked her whether she knew what a suicide bombing was.
"They said, 'Can you do it?' I said no.
"They said, 'You will go to heaven if you do it.' I said 'No I can't.' They said they would shoot me or throw me into a dungeon," Zahra'u told journalists.
There was no way to independently verify her story and she had no lawyer present. No information was available concerning the whereabouts of her parents.
Police said they had instructed the girl to tell her story to boost public awareness about those responsible for the December 10 attack.
Faced with the threat of death, Zahra'u said she finally agreed to take part in the attack but "never had any intention of doing it."
Several days later, Zahra'u said, she and three other girls, all wearing explosives, were brought to the Kantin Kwari market by unidentified men.
Zahra'u said she was injured when one of the girls detonated her bomb and then she fled the scene, ending up at a hospital on the outskirts of Kano where she was discovered to be carrying explosives.
Boko Haram has increasingly used female suicide bombers, including teenagers, as part of their five-year insurgency.
Kano, the largest city in the mainly Muslim north, saw four such attacks in one week in July, while similar bombings have hit the states of Bauchi and Niger.
Experts say the group has used girls as bombers to demonstrate the range of tactics they have available to sow fear across Nigeria.
If confirmed, Zahra'u's story would be the first known case of parents volunteering their daughter to take part in a deadly attack.
Violence in northern Nigeria has intensified in recent months, raising security fears ahead of February 14 elections.
http://news.yahoo.com/nigerian-girl-14-recounts-suicide-bombing-182950027.html
----------
Rape Victim and Her War Child Battered But Not Beaten
25 Dec, 2014
A young woman captured by a collaborator militia and handed over to the Pakistani occupation army to be used as a sex slave narrated how she was abducted and raped during the Liberation War and how she later gave birth to a war child.
Captured together with her father and uncle from their home, she was separated from them and imprisoned in a hole dug by the militia, where she awaited the unspeakable horrors she would be made to endure.
"Just after sunset as it started to rain, Razakars and members of the Qaisar Bahini picked me up from the hole and took me to a room of the Pakistani army camp set up at the school," said Majeda Begum, 59, who was captured by the Qaisar Bahini and later raped by Pakistani army personnel.
"The Pakistani soldiers began to abuse and torture me. I heard the screams of other women who were detained at the camp. When I too began screaming because of the torture, they gagged me by stuffing a rag in my mouth," she said.
Majeda Begum and her war child, Shamsun Nahar, gave individual statements before the International Crimes Tribunal 2 several months ago.
Yesterday, the tribunal sentenced to death Syed Mohammad Qaisar, who lead a namesake militia of 500-700 collaborators, for his crimes against humanity during the 1971 Liberation War in seven of the 16 charges brought against him.
He was awarded the death sentence, among other charges, for abetting and contributing to the multiple rape of Majeda at an army camp at Jagadishpur High School on several days in mid-August 1971.
In a statement before the Tribunal, Majeda said: "The Pakistani army continuously and immensely tortured me in that room for 8 to 10 days. At one stage when I became sick and had collapsed, Qaisar came. Seeing my situation he asked a member of his force to pick me and dump me somewhere. I had not fainted and I heard Qaisar's words.
"By the instruction of Qaisar, the razakars and members of his force dumped me in the Temunia Jagadishpur Primary School at night. There was a storm and it was raining," she said.
"My whole body was bloody and my clothes were torn. My body was covered in mud. I lay like this under the open sky the whole night. I could feel ants and insects climbing onto my body. At dawn, I struggled to my knees and then made my way to my father's house which was less than half a mile away," the fifth prosecution witness said.
"A month after the incident, I noticed that my period did not start. My mother, paternal aunt and grandmother guessed I was pregnant. I realised that I had become pregnant from the torture of the Pakistani army." But this was not the end of Majeda's suffering.
According to her statement, 6 or 7 months later Bangladesh became independent. She was staying at her paternal aunt's house at the time.
"When I went to my husband's house, he sent back me to my father's house when he learned I was pregnant. After that he did not look after me for a long time," said Majeda.
"Then I gave birth to a baby girl and named her Shamsun Nahar. My husband took me to his house, but my baby girl was raised by my paternal uncle, freedom fighter Advocate Matin.
"My father and uncles married my daughter to Askir Mia, the son of Shamsu Mia, of Amrut village of Chunarughat. On the marriage statement it said my husband, Alai Mia, was the father of my girl. Later, when they came to know that my husband was not the father they sent her home after the death of my husband. They still have not taken her back. Her husband, Askir Mia, has remarried," Majeda said.
Shamsun Nahar, the tenth prosecution witness of the case and the war child of Majeda told the Tribunal: "When I grew up, I asked my grandfather and grandmother why I could not go to my father's house. They told me I was the child of a Pakistani soldier.
"After my marriage, when my in-laws learned that I was a war child, they tortured me. After a few days, they sent me back to my father's house."
The Tribunal also sentenced Qaisar to death on the eighth charge of abetting and contributing to the rape of tea garden worker, Hiramoni, at Chanpur Tea Garden on May 11, 1971.
http://www.dhakatribune.com/crime/2014/dec/24/rape-victim-and-her-war-child-battered-not-beaten#sthash.tU3Jwm6F.dpuf
----------
Australian Imams denounce domestic violence
25 December 2014
An Islamic initiative to denounce domestic violence during Friday's sermons at Australian mosques has been praised by Muslim women groups, considering the move a "good start" to tackle the problem in the Muslim community.
"It's the religious duty upon men to treat their women folk with kindness, respect and mutual love and care," Imam Abdel Aziem, the president of the Australian National Imams Council, said in a statement cited by the Guardian.
"Islam disapproves of oppression and ill treatment of women."
The Imams Council has spearheaded an initiative to address domestic violence in mosques across Australia where four women are killed each month by former or current partner, according to official figures.
The imams used their Friday sermons to speak out against family violence and the role of women in Islam.
The exclusively-male council's initiative was welcomed by several Islamic women's groups.
"The position imams take is extremely important," Australian Muslim Women's Centre for Human Rights, Joumanah El Matrah, said.
"When I first started working in this area 14 years ago it was very difficult to put family violence on the agenda, it was considered a taboo subject."
According to El Matrah, Islamic women's groups have been helping in raising awareness about domestic violence.
Yet, the feminist believes that "men", whether Muslim or not, are the main obstacle of their work in case they are not "receptive".
"The resistance men have to addressing violence in the home always looks the same," El Matrah said.
"They prioritize what they think is the wellbeing of the family over the wellbeing of the women in the family. It's taken an extraordinary amount of time to make men aware that what makes for a healthy family is a woman's safety in the home."
Muslims, who have been in Australia for more than 200 years, make up 1.7 percent of its 20-million population.
Islam is the country's second largest religion after Christianity.
Very Commendable
Deeming the mosques appeal "very commendable", Islamic law experts believe that the initiative would be a "wake-up call" for men in the community.
"The only way to get to these men is through the imams in the Friday sermon," Jamila Hussain, a lecturer in Islamic law at the University of Technology, said.
"Things are definitely changing in a number of areas.
"We have a grand mufti who is very active and very open and not overly socially conservative.
Hussain went on saying: "And the Imam's council is now younger and better educated, including a number who grew up in Australia and understand Australian society better."
For Maha Abdo, who runs the United Muslim Women's Association, family violence within the Australian Muslim community is driven largely by "cultural practices in certain countries".
Abdo stressed that the wrong interpretation of the holy Qur'an is the main reason behind family violence.
"Islamically, it's very clear that violence against women is very much forbidden," Abdo stated.
"A lot of people, due to their lack of understanding or awareness of Islamic traditions, don't understand that a verse comes in context. It's a power issue."
In Islam, marriage is a sacred bond that brings together a man and a woman by virtue of the teachings of the Qur'an and the Sunnah.
Each partner in this sacred relationship must treat the other properly and with respect.
Woman is recognized by Islam as the full and equal partner of the man in the procreation of humankind.
By this partnership, she has an equal share in every aspect. She is entitled to equal rights, she undertakes equal responsibilities, and she has as many qualities and as much humanity as her partner.
Moreover, the relations between the spouses in Islam should be based on tranquillity, love and mercy.
http://muslimvillage.com/2014/12/01/60052/australian-imams-denounce-domestic-violence/
----------
Ireland To Rule On Pregnant Woman On Life Support
25 Dec, 2014
DUBLIN: Irish judges considered arguments over whether a brain-dead pregnant woman should be kept on life support to give her 17-week-old foetus a chance at life, a case that has reignited debate over Ireland's abortion ban.
Five groups of lawyers representing the woman, her foetus, her parents, her partner and the hospital are taking turns presenting their cases to the Dublin high court. A specially convened three-judge panel may issue a ruling later Tuesday that could, in turn, be appealed to the nation's highest Supreme Court.
"Time is of the essence," the high court president, Justice Nicholas Kearns, told the court.
At issue is the Irish constitution's requirement that the life of the woman and of the foetus should enjoy equal protection under the law. In the past, Irish hospitals have kept pregnant women on life support even after they suffered irreversible loss of brain function in hopes of saving the foetus. In the two most recently documented cases, in 2001 and 2003, the fetus died in the womb after a week or two.
In this case, the parents and partner of the woman have filed lawsuits asking for the hospital to switch off her life support.
Lawyers for the hospital say the woman is already clinically dead, but they fear a lawsuit if they end the artificial operation of her circulatory and respiratory systems, essential for the foetus' immediate survival. Irish medical practice suggests that, if legally ordered to sustain the woman's life functions, the hospital would attempt to keep the fetus alive for potentially another 17 weeks before delivery.
Irish doctors have appealed for decades for clearer legal guidelines on when they may terminate a pregnancy. Irish law currently permits this only when deemed necessary to save the woman's own life. An estimated 4,000 Irishwomen travel to neighboring England each year for abortions.
http://timesofindia.indiatimes.com/world/uk/Ireland-to-rule-on-pregnant-woman-on-life-support/articleshow/45618459.cms
----------
Pak Punjab Assembly Adopts Resolution on Underage Marriage
25 Dec, 2014
LAHORE: The Punjab Assembly unanimously adopted three resolutions, including the one demanding effective legislation to prevent underage marriages.
Two resolutions were withdrawn – one already under consideration by the treasury and the other requiring revision.
A resolution, presented by Azma Zahid Bukhari, demanding effective legislation to prevent underage marriages drew a strong reaction as Jamaat-i-Islami's Dr Waseem Akhtar initially opposed the resolution.
Two more resolutions adopted unanimously
Ms Bukhari said marriage was a serious social contract that could not be solemnised between boys and girls who are yet to become adolescents. She also said the broiler chicken was also causing serious problems in girls' adolescence. She said that this serious issue should not be confused while misconstruing Islam. Asserting that a girl child had a fundamental right to get education, she asked Speaker Rana Muhammad Iqbal Khan to hold a voting whether any member would be willing to marry their daughters off at the age of nine years.
Dr Akhtar responded that Ms Bukhari had misunderstood his arguments and added that he had only asked for an amendment to the resolution that Islam permits girls' marriages when they become adults.
Punjab Zakat and Ushr Minister Nadeem Malik said the government was working to reform the 1929 Act (Child Marriage Restraint Act 1929) and added that when the House would go for legislation, a comprehensive debate could be held. Later, the House unanimously adopted the resolution as Dr Akhtar also supported it.
The House also unanimously adopted a resolution tabled by Al-Haaj Muhammad Ilyas Chinioti that called for implementation of Islamic Ideological Council's letter sent on August 29, 2013 regarding using Quranic terminology instead of English terminology like prayer, God, Prophet.
Mr Nadeem Malik responded, saying the Punjab government had already taken up this matter with the federal government and also written a letter to religious affairs ministry. Later, the House unanimously adopted the resolution.
The House also unanimously adopted Nighat Sheikh's resolution with an amendment that the Punjab government should recommend the federal government to impose a condition of at least a five-year service in public sector hospitals after MBBS. She said women were winning about 70pc seats in medical colleges in Punjab but only 30pc of them practised medicine. Such a situation, she said, was causing shortfall of doctors in the province.
Dr Waseem Akhtar while supporting the resolution presented some facts before the House that the social setup sometimes did not allow girls to practise medicine. He said sometimes girls wanted to practise it but their in-laws did not allow. He said the government should go for legislation while considering all the ground realities and then take decisions courageously. He suggested that the government should not impose conditions on girls seeking medical education in the province.
The resolution presented by Dr Waseem Akhtar was withdrawn that called for restoring the full pension of the government employees, who had attained the age of 75 years, in the light of Supreme Court decision. Minister Mr Malik said the government was already working on this subject.
Another resolution by Shameela Aslam that called for setting up dispensaries in schools, beginning with girls schools, was also withdrawn as the minister said that it was not in the education policy to provide healthcare facilities in schools.
He, however, said the schools were being provided funds and they could purchase first aid kits and emergency medicines.
Earlier, during the question hour, Punjab Housing and Urban Development and Public Health Engineering parliamentary secretary Sajjad Haider Gujjar faced humiliation in the House as he could not answer the questions. He continued relying on chits coming from the department officials. At occasions, he had to receive a number of chits to respond a question. Various members, including Waqas Hassan Moakal and Dr Waseem Akhtar, also continued taunting Mr Gujjar that he should first collect chits from the department officials and then respond to a question in one go.
As a member asked the Speaker to put the questions in 'pending matters' because the parliamentary secretary was not able to respond to the questions, the Speaker admonished Gujjar and said that he should himself excused himself as he was not prepared.
Later, the Speaker adjourned the session till Wednesday (today) 10am.
http://www.dawn.com/news/1152805/pa-adopts-resolution-on-underage-marriage
----------
Yazidi Sisters Entered Suicide Pact Rather Than Become IS Sex Slaves
25 December 2014
TWO Yazidi sisters decided to take matters into their own hands when they were in the clutches of Islamic State terrorists — trying to strangle each other to death rather than being sold as wives to the extremists.
Wafa, 27, and her sister were among hundreds of women from the religious minority community in Iraq who were captured when IS took over the town of Sinjar in August, according to Amnesty International.
"The man who was holding us said that either we marry him or his brother or he would sell us. At night we tried to strangle ourselves," Wafa said. "Two girls who were held with us woke up and stopped us and then stayed awake to watch over us. When they fell asleep at 5am we tried again, and again they woke up and stopped us. I could not speak for several days after that."
Amnesty International revealed the shocking incident in a report that has found Yazidi girls are being raped, sold and forced into marriages. Many try killing themselves but the cruel captors threaten to kill their relatives if they commit suicide.
Another woman, Luna, 20, recounted how another captive, Jilan, took her own life rather than being forced to marry a terrorist.
"We were 21 girls in one room, two of them were very young, 10 to 12 years old," Luna said. "One day we were given clothes that looked like dance costumes and were told to bathe and wear those clothes. Jilan killed herself in the bathroom.
"She cut her wrists and hanged herself. She was very beautiful. I think she knew that she was going to be taken away by a man and that is why she killed herself."
The United Nations estimates that about 5000 men were executed, while 7000 women were sold as slaves, forced into marriage and raped by IS fighters, who believe Yazidis are devil worshippers.
A man may have sex with a Yazidi virgin "immediately after taking possession of her," but "her uterus must be purified first" if she is not a virgin, according to an online IS question-and-answer.
About 300 Yazidi women have managed to escape since Sinjar was overrun. Amnesty International spoke with 42 of them and called four who are still being held captive.
Arwa, 15, said she and her 13-year-old cousin were captured and given to an Iraqi man.
"We were held in a house with five other girls. There they did to me what they did to many other girls. I was raped," Arwa said. "My cousin was not molested; they wanted to take her to marry her to a man but in the end they left her with us and then we managed to escape. The others were raped. The men were all Iraqis. They said that if we killed ourselves they would kill our relatives."
An Amnesty International spokesman said: "Despite worldwide condemnation, the IS has shown no intention of putting an end to the war crimes and crimes against humanity which its fighters have been committing on a large scale, including against the Iraqi women and girls they have abducted and continue to hold captive."
http://www.news.com.au/world/sisters-entered-suicide-pact-rather-than-become-islamic-state-sex-slaves/story-fndir2ev-1227165731772
http://www.dailymail.co.uk/news/article-2884866/Sisters-tried-strangle-bid-avoid-sold-sex-slaves-captured-ISIS-Amnesty-report-reveals-desperate-plight-female-prisoners.html
----------
Melbourne Muslim Woman Nasrin's Justice Ordeal
25 December 2014
Nasrin pulled on her long black abaya and pinned her Hijab in place. She did it despite knowing that this day, more than ever, her Islamic dress would make her a target.
It was the Tuesday morning after the Sydney siege at the Lindt cafe in Martin Place and Australia had woken to horror headlines of the death of two hostages. While Nasrin grieved for the victims, she also steeled herself for the worst.
As she left her house in the outer Melbourne suburb of Fawkner, she decided that she would remove the password lock from her mobile, to save her a few seconds if she needed to call police.
Sure enough, the mother-of-three would later dial triple zero after a man allegedly began shouting expletives at her as she travelled into the city to work. More than a week later, the police investigation remains ongoing after a 40-year-old Merlynston man was spoken to and released.
Since October, the IT professional says she has been abused three times by strangers who have taken offence to her Islamic dress.
Two of the episodes took place on the Upfield train line during or shortly after the fatal cafe siege.
The other was in October, when Nasrin, who wished to use just her first name, said some politicians were advocating banning the Burqa in Australia, fuelling anti-Islamic sentiment.
"The government isn't doing anything to address these issues and I'm an innocent victim of their ignorant bigoted comments by the parliament members," she said.
"We need to hold people accountable from the top."
There has recently been a surge in reports of violence and harassment against Australian Muslims. In the six days to Tuesday there were 27 reports made to the Islamophobia Register, including at least three in Victoria.
The register's spokeswoman, Lydia Shelly, suspects there may be many other cases that have gone unreported. She said the majority of public attacks were against women and often in the presence of children.
Victoria Police confirmed that more Muslim people were reporting public assaults. A spokeswoman said it was concerning to hear that incidents of racism, discrimination and crimes motivated by prejudice were occurring,
"All members of Victoria Police take all incidents of racism, discrimination or vilification based on religion, culture or nationality seriously and will be investigated and met with the full force of the law," she said.
Yet despite this tough rhetoric, Islamic Council of Victoria executive member Monique Toohey said there remained a "pervasive understanding" within the Muslim community that complaints about abuse would not always be taken seriously.
Ms Toohey said although the top ranks of Victoria Police had been excellent in their attempt to address discrimination, she said the message did not always seem to be filtering down to some front-line officers.
Nasrin has reported all her recent incidents of alleged harassment to police, but said officers had often seemed unwilling to pursue them. It was only this week that she discovered the October case had been closed after calling Victoria Police.
"In the past I have heard other women don't report all these cases because they think it's a waste of time talking to the police because they don't do anything," she said.
Police are still appealing for information about the most-recent assault, when fellow commuters stood up for Nasrin as she was allegedly abused, forming a protective barricade with a bicycle and shouting down her attacker.
But investigators have decided not to pursue claims Nasrin was targeted by a blonde woman as she travelled home from work in the midst of the hostage siege on Monday last week because they found "no offence detected".
Nasrin said she was reading her prayer book on the train about 6pm when the professionally-dressed woman with a foreign accent started pushing her with her bag and repeatedly yelling at her to "go to Sydney and pray over there".
"Her facial expression was just aggressive," she said.
"She told me to go back to the Middle East, even though I was not born there.
"I told her that I am as much an Australian as her and that you cannot abuse me like this, and you cannot harass me like this."
Nasrin intends to pursue the two dropped cases despite the decision from police.
"You can imagine what it would be like to go through the hassle of reporting an incident to the police only to find out that it will just turn into an 'information only' case and not a criminal offence," she said.
http://www.theage.com.au/victoria/melbourne-muslim-woman-nasrins-justice-ordeal-after-being-attacked-twice-in-two-days-20141224-12d2pq.html
----------
Muslim women welcome water-permeable nail polish
25 December 2014
For Nandee Shabazz, a 19-year-old Muslim college student and Miami resident, wearing nail polish year-round was something she could never do.
"I can't wear polish. The nail polish acts as a barrier, and the water isn't getting to my nails," Shabazz said. "So when I make 'wudu' [the ritual cleansing before prayer], it's invalid."
Now, Aventura Mall is the home of Inglot Cosmetics — a company that has formulated a breathable nail polish that ensures oxygen and water vapor permeability.
"I've been waiting for this product for about a year. I love that this option is available now for Muslim women to take advantage of," Shabazz said.
The international franchise Inglot Cosmetics that manufactures "O2M Breathable Nail Enamel" created the polish as a healthier alternative to traditional nail polish.
"The polish has a special polymer — it's like the polymer in a contact lens that allows the nail to breathe," said Stephanie Rose, senior artist at Inglot Cosmetics.
But for some Muslim women, it is more than a healthier alternative — it is a way to perform a religious obligation and still have the advantages of wearing polish.
"With nail polish on, I feel a bit more professional in a sense because my nails are uniform and they all look the same," said Neveen Al-Said, 21. "It's a small thing, but it makes a difference."
Inglot offers 80 colors in their "O2M Breathable Nail Enamel" line, as well as a breathable base and topcoat. All the polishes are priced at $15.
Sara Haroon, a Miami Muslim woman, has used a water permeable nail polish from another company — Canada-based Tuesday in Love.
Tuesday in Love water-permeable nail polish can be purchased only online in the United States. The polish is at $12.47, cheaper than Inglot's. But with flat rate shipping at $8.75 the cost tops $21.
Haroon and other Muslim residents of Miami have welcomed Aventura Mall's addition of Inglot as a local solution to the dilemma of nail polish.
"It's so much closer and easier to get to than ordering online," Haroon said.
Like Haroon, many Muslim women are happy with the option of water-permeable nail polish but still wary of wearing the polish full time.
Nail polish has been a common source of contention in the Muslim community.
Islamic scholars ruled traditional nail polish as something that will make the obligatory cleansing of the hands and feet before prayer invalid.
But even with the advent of a water-permeable nail polish, some Islamic scholars, such as Imam Joe Bradford, still warn against its use.
"Nail polish, even the kind that claims to be water permeable, is tenuous at best. It is best to be avoided [because] it may invalidate your wudu," Bradford said.
Hiba Habli, 23, agrees.
"I would personally not wear it," Habli said. "I feel like it's not worth risking my prayer for polish on my nails."
For some, the permeability of the polish needs to be tested before they commit to wear it.
Consumers can perform a do-it-yourself permeability test on the Inglot product.
Shabazz tried these tests at home and was satisfied with her results.
"I tried it and it [the water] went through. I don't wear it on my hands though," Shabazz said. "But I wear it on my toes and its great."
http://www.miamiherald.com/news/local/community/miami-dade/aventura/article4905957.html
----------
'Breast Cancer Causes 40,000 Deaths Annually' In Pakistan
25 Dec, 2014
KARACHI: Despite the fact that Pakistan accounts for 40,000 breast cancer induced deaths annually, striking across the economic strata, it largely remains a taboo subject to be discussed at public forums.
Doctors talking to APP on Tuesday regretted that in Pakistani society reproductive health and procreative behaviour, that are fundamental aspects of life, are given little or no attention in public policy discussions because of culture, taboos and wide range sensitivities. "Open discussion about breast cancer can lead to increased awareness as the goal is to catch cancer early," said Dr Aminah Khan.
She said awareness, self-examination and the availability of a doctor, if a woman feels a breast lump, was key especially in rural areas where women traditionally did not draw attention to their disease, as not to burden their family's limited means. The expert referred to DKT - Pakistan's Dhanak programme being implemented in the rural provinces of Sindh, Punjab, Baluchistan and Khyber Pakhtunkhwa where community mid-wives provide key services to improve family planning and maternal and reproductive health of women.
Dhanak Health Centers and New Dhanak mobile units were said to be deployed with trained female community midwives and lady health workers who go door-to-door educating women about their health for all ages and stages.
Dr Shirin Khan, a senior physician, said equal attention was needed to cater to the needs of women living in urban slums and lower income sections settled in urban centres. The inhabitants, particularly women and girls, of the mentioned areas along with their rural counterparts needed to be educated.
The doctors also sought empowering under-served women, vulnerable populations, adolescent girls and youth, so that they can fully understand and capitalise on their reproductive health options.
http://www.dailytimes.com.pk/sindh/24-Dec-2014/breast-cancer-causes-40-000-deaths-annually
----------
Afghanistan's Female Cricket Dreams Crushed
25 December 2014
The story of Afghan cricket is a rare bright spot in the troubled country's recent past, full of unlikely successes and glory that have helped unify a divided nation. Unless you're a woman player.
A national women's cricket team formed in 2010 with some fanfare was quietly dissolved this year amid Taliban threats, insecurity and conservative beliefs that led to a shortage of players.
"It does not exist," said the newly appointed chairman of Afghanistan's cricket board, Nasimullah Danish, when asked about the team. "The situation is not very much prepared for developing women's cricket in Afghanistan."
Activists say the fate of the squad is indicative of a wider lack of institutional support for women in sport in a country where many men are deeply uncomfortable with the idea of their sisters and daughters competing in public.
It is also a reminder of the ambiguous results of millions of dollars spent by donors on women's development in Afghanistan - a problem detailed in a December report by a U.S. watchdog on spending in the country.
The founder of the national women's team, Diana Barakzai, resigned in April. She said the cricket board obstructed the team because of a belief that women should not leave home unescorted, or be given the chance to learn the sport.
"Afghanistan's cricket board does not support cricket for women, even though I have 3,700 girl cricketers across Afghanistan," said Barakzai, who, like many other Afghan cricketers, learned the game as a refugee in Pakistan and says her mission is to teach more women to play.
"I hope their attitude will change," she said.
Danish is dreaming big for the men's game.
He wants to make Afghanistan a top cricketing nation within 10 years, from having next to no base a decade ago. Since 2000, when the Taliban ended a ban on the sport, cricket has developed rapidly, with an Afghan league and a men's team that has made its mark internationally.
When the men's team qualified for the 2015 World Cup in Australia, street celebrations broke out across Afghanistan, highlighting the power of sport to unite the fractious country.
For many young Afghans, sports stars are the first heroes they have known that are not carrying Kalashnikovs.
Taliban Threat
But Danish will also have to help build up the women's squad if he is to achieve his goal of making Afghanistan a full member of the International Cricket Council by 2025, since a national women's team is one of the criteria for joining.
He drew a sharp breath, however, when asked about developing the sport for women, which he insists he supports fully.
"(The Taliban) said 'you should not develop women's cricket, it is not in Islam, it is not in Afghanistan culture. If you do so, we will not be responsible for your players'," Danish said, describing a threatening phone call from the militants.
Resistance from conservative families who don't want their daughters to play adds to the challenge, he said in his bustling office in Kabul Cricket Stadium.
Danish accused Barakzai of running the team, which included members of her family, for personal interest. Barakzai laughed at that suggestion and accused the board of misusing U.S. aid money.
Danish said he was investigating the administration of the board under the former chairman he took over from last week, but that he had not uncovered evidence of corruption.
Insecurity adds to the problems for women, said Tuba Sangar, who now heads the women's department at the cricket board, and it meant skilled sportswomen from across the country do not get a chance to play, limiting the talent pool.
"Every day, every week there are bombs, when these security problems are happening, how can the families deal with it? They don't let their daughter come and play cricket," said Sangar.
She says the board has been supportive of her attempts to revive the team, but that the lack of players and coaches means it will take time before Afghan women are ready for cricket internationals.
Heather Barr, Human Rights Watch's senior researcher on women's rights in Asia, said the commitment of the government to women's sport was "cosmetic" and aimed at pleasing aid-donor nations.
"Unfortunately, it's part of a broader pattern of the Afghan government promising the moon on women's rights ... while making little effort to follow through and sometimes sabotaging efforts from behind the scenes," Barr said.
The collapse of the squad has not ended foreign donor support for women's cricket. In June, the U.S. Embassy announced a $450,000 grant to promote the sport through a training exchange with players from India and Pakistan.
http://english.alarabiya.net/en/sports/2014/12/25/Afghan-women-s-cricket-crushed-by-threats-bombs-and-tradition.html
----------
Sisters in Islam vs fatwa committee case management on Jan 22
25 December 2014
KUALA LUMPUR: The High Court set Jan 22 for case management of the judicial review application filed by Sisters in Islam (SIS) on a gazetted fatwa (edict) that declared the Muslim women's rights group as deviating from Islam.
Deputy registrar Diana Md Razali ordered the parties to file documents for hearing of merits of the judicial review.
SIS lawyer Rafeeza Hamdan said the court also wanted the parties to exhange affidavits filed for the hearing proper.
On Dec 10, SIS obtained leave to initiate the judicial review.
In granting leave on Dec 10 for SIS to initiated the review, Justice Asmabi Mohamad held that SIS had
proven that their application was not frivolous, and its arguments ought to be heard in full.
SIS, through its company SIS Forum (Malaysia) had filed for review against the Selangor Fatwa Committee's fatwa titled "Pemikiran Liberalisme dan Pluralisme Agama."
The Fatwa, gazetted on July 31, declared SIS Forum (Malaysia) as subscribing to liberalism and religious pluralism, and therefore deviating from the teachings of Islam.
Former law minister Datuk Zaid Ibrahim and SIS co-founder Zainah Mahfoozah Anwar were named as co-applicants.
In the review application filed on Oct 31, SIS Forum had named the Selangor Fatwa Committee, the Selangor Islamic Religious Council (Mais) and the Selangor Government as respondents.
The contested fatwa allows for any publications deemed liberal and plural to be banned and seized and any form of social media that promotes such content to be monitored and restricted by the Malaysian Communications and Multimedia Commissions (MCMC).
SIS sought a declaration that the Fatwa was ultra-vires (beyond the powers) in banning publications and in directing the MCMC to block social websites.
http://www.thestar.com.my/News/Nation/2014/12/24/sisters-in-islam-judicial-review-on-fatwa/
----------
Italian Mother Claims Kidnapped 3-Year-Old Son Seen In ISIS Propaganda
25 Dec, 2014
A mother whose three-year-old son was abducted by her estranged husband claims to have seen the child in an Islamic State of Iraq and Syria (ISIS) propaganda image.
Lidia Herrera said she last saw her son Ismail in November last year, when she left the boy with her husband Ismar Mesinovic in their home in Italy while she visited relatives, UK-based newspaper the Daily Mail reported on Tuesday.
But instead of babysiting Ismail, Herrera claims Mesinovic travelled with the boy to Syria, and joined ISIS.
Over a year after Ismail's disappearance, Herrera claims her child is show in an ISIS propaganda picture.
With a toy AK-47 assault rifle slung round his chest, and a black ISIS headband, the boy - who is holding the hand of a militant - can be seen on an image released by the group.
That child [seen in the photo] is Ismail. I pray every day that he will be brought back to me…I think only of him, only him," she said, speaking to Italian newspaper Corriere della Sera.
The man in the picture is unlikely to be Mesinovic, due to his alleged death in September, she added.
According to Italian daily La Repubblica, anti-terrorism police and secret service officers are now investigating the boy's disappearance.
"I never had the faintest suspicion my husband was a terrorist," said Herrera. "When I knew they had left for Syria it was like everything around me fell apart."
Since taking power of large swathes and Iraq and Syria, ISIS has worked to spread its message among children. Footage released on the internet by the group often shows figures from the group teaching children the group's doctrines.
ISIS militants have implemented their own "Islamic curriculum" for students living in their Syrian stronghold city Raqqa, a monitoring group said earlier this year.
http://english.alarabiya.net/en/perspective/features/2014/12/23/Kidnapped-3-year-old-seen-in-ISIS-propaganda-mother-claims.html
----------
URL: https://newageislam.com/islam-women-feminism/nigerian-girl,-14,-recounts-be/d/100685