New Age Islam News Bureau
6 Jun 2013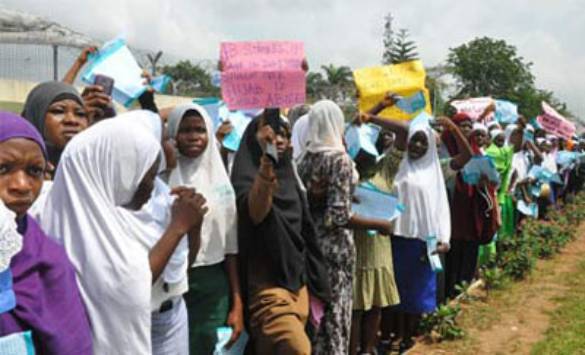 Photo: Anti-hijab sentiments have been on the rise in south-west Nigeria
------
• Domestic Violence Allowed Between 10 p.m. And 8 a. m
• Hijab Phobia Engulfs Nigeria's South West
• Dubai Officials Warn Women about Marriage Cons
• New Study Brings Violence against Indigenous Girls and Women into Focus
• Head of Russian Muslim Women's Union Defends Right to Wear Headscarf
• Niloofar Is the Afghan Air Force's First Female Graduate since The 1980s
• Iranian Presidential Candidate's Wife an Electoral Asset
• 'Women Education Essential to National Development'
• Tunisia Trial of Femen Women Adjourned
• 150 Couples Tie the Knot at Asir Event
• First all-women police station opens in Arunachal
Compiled by New Age Islam News Bureau
URL: https://newageislam.com/islam-women-feminism/nigerian-gang-branded-women-with/d/11927
-------------
Nigerian Gang Branded Women with Irons Then Forced Them to Sell Sex in Spain
06/05/2013
Spanish police say they have broken up a ring that smuggled in women from Nigeria and forced them into street prostitution by burning them with irons and using voodoo rituals.
The gang tortured the women and scared them with curses to force them on to the streets.
Six people, including one woman believed to be a ringleader- were arrested after one of the women alerted authorities.
'The control exercised over women was total, involving verbal threats as well as physical violence and various voodoo ceremonies to terrorise them,' police said in a statement.
'The ring caused them serious injury through bites or by using an iron to cause second-degree burns.'
The ring allegedly recruited women in Benin City, a run-down Nigerian port, reported Sky News.
Most of the women were vulnerable struggling to raise children because their husbands and fathers had died.
The gang transported the women over land to Morocco.
From there they were smuggled them on to small wooden boats and taken into Spain.
They were forced to work as street prostitutes in Barcelona and Malaga.
Spanish police have swooped several times in past years on similar prostitution rings that used the threat of voodoo curses.
Often the victims are taken to shrines ad told to leave items behind - they are told this gives the voodoo priests power to harm them from afar.
They are instructed they need to pay their debts and forced to join a prostitution ring - the women fear breaking their promise will hold catastrophic consequences for both them and their families.
Sex gangs often use a form of witchcraft or juju to scare their 'slaves' into working for them.
Last year, a Nigerian people smuggler who used witchcraft rituals to force children to work as sex slaves was jailed for 20 years in Britain,
Osezua Osolase, 42, tricked poverty-stricken Nigerian orphans into travelling to the UK with the promise of a better life.
But the young victims were raped, sexually abused and subjected to voodoo-style rituals by a child trafficking ring.
Osolase, the linchpin of a multi-million pound global sex trafficking ring, used 'juju' magic to control his victims.
He told the teenage girls they would die or never bear children if they tried to escape or revealed what had happened to them.
http://www.dailymail.co.uk/news/article-2334995/Six-arrested-voodoo-prostitution-ring-Nigeria-gang-branded-women-irons-forced-sell-sex.html#ixzz2VQi23Enl
-------------
Domestic Violence Allowed Between 10 p.m. And 8 a. m
Mohammed Al-Harbe
06/05/2013
THE toll free number 919, which people use to inform about cases of domestic violence, is not any different from the other toll free numbers of the communication companies and the Saudi Arabian Airlines. You dial it and you will immediately be asked to wait "as all the employees are busy at the moment serving other customers." This reply is always automatically repeated.
You will not have to wait for minutes but for long hours without anyone getting back to you. So this toll free number will not save the lives of women and children or protect them against domestic violence.
You dial this number after 10 p.m. and you will hear an automatic reply to inform you that the working hours are over and that you can call from 8 a.m. to 10 p.m. and "we will be at your service."
This is ok as if you are calling a mobile telephone company or a travel agency not a government department which should be open 24/7 to receive information about domestic violence.
Is this a message from the Ministry of Social Affairs that domestic violence is allowed between 10 p.m. and 8 a.m.? If not, why are calls about domestic violence not received after 10 p.m.? Had the ministry made a survey ensuring that no cases of family violence would take place between 10 p.m. and 8 a.m.? I doubt this very much.
Why can't the toll free number receive calls 24/7? Does the ministry lack resources to appoint more employees? If so, why can't it contract a company to do this job for it during the evenings and late nights?
Domestic violence is a real danger threatening the lives of innocent people. Innocent women and children may die due to the negligence or slackness of the employees taking telephone calls. We should not deal with this danger lightly because the lives of the people are not cheap.
http://www.saudigazette.com.sa/index.cfm?method=home.regcon&contentid=20130606168699
-------------
Hijab Phobia Engulfs Nigeria's South West
By Rafiu Oriyomi
05 June 2013
LAGOS – Despite having an overwhelming Muslim populace, Nigeria's Southwest is witnessing a growing sentiment against Hijab, a phenomenon blamed for government policies of stigmatization and intolerance.
"What is happening in the Southwest including in Lagos is a product of intolerance, tyranny, oppression, persecution and stigmatization," Professor Ishaq Akintola, executive director of Muslim Rights Concern (MURIC), told OnIslam.net.
"The rejection of the use of Hijab in public schools reveals the pitiable human rights condition to which Muslims in the Southwest have been subjected to both in colonial and post-colonial days.
"It also stands in contradistinction to the democratic principles of freedom, equal rights, justice and fair play."
Anti-Hijab sentiments have been on the rise in south-west Nigeria, with public schools banning students from wearing the Muslim headscarf.
In Lagos, a 12-year-old student was reportedly flogged by her principal for wearing Hijab at school. Another student was harassed by her headmaster for the same reason.
The two incidents prompted the umbrella Muslim Students Society of Nigeria to sue the government for "persistent victimization of the Muslim students."
In response, the local government has applied for an out-of-court settlement to the dispute over the wearing of Hijab at schools, a move accepted by Muslims on conditions of fulfilling their religious duty.
Muslims in the Southwestern Nigerian state of Osun are also challenging a ban on the wearing of Hijab in public schools.
Islam sees Hijab as an obligatory code of dress, not a religious symbol displaying one's affiliations.
The Muslim outfit has been in the eye of storm since France banned it at public schools in 2004. Since then, several countries have followed suit.
Marginalized Muslims
Professor Akintola urged the government to back off any policy that "could further provoke the fury of Muslims who are being marginalized despite being in the majority."
"Instead of allowing free dialogue, the Lagos State Government is pushing Muslims in the state to the wall," said professor Akintola, who teaches Islamic studies at the Lagos State University.
He said the Hijab ban violates "the provisions of Article 18 of the United Nations Charter and Articles 9 and 14 of the European Treaty of Human Rights and Articles 18 and 19 of the Treaty of Civil and Political Rights".
"We challenge the government to tell the world why the Hijab is acceptable on school uniforms for Muslims in the North and an anathema in the South-West when Nigeria is just one country?
He warned that the government policy on Hijab has worsened relationship between the Muslims and the state government."
Hassan Ma'ruf, a lecturer at the Ladoke Akintola University in Southwest Nigeria, agrees.
The rising Islamophobia in Nigeria "is unjustified because there is no convincing evidence to suggest that Muslims are causing trouble in this country," he said.
"But it is important to warn politicians not to pitch people of faith against one another, as doing so foretells grave consequences."
Nigeria, one of the world's most religiously committed nations, is divided between a Muslim north and a Christian south.
Muslims and Christians, who constitute 55 and 40 percent of Nigeria's 140 million population respectively, have lived in peace for the most part.
But ethnic and religious tensions have bubbled for years, fuelled by decades of resentment between indigenous groups, mostly Christian or animist, who are vying for control of fertile farmlands with migrants and settlers from the Hausa-speaking Muslim north.
http://www.onislam.net/english/news/africa/463010-hijab-phobia-engulfs-nigerias-southwest.html
-------------
Dubai Officials Warn Women about Marriage Cons
June 5th, 2013
Dubai: Prosecutors have warned women not to become the victims of men who give them promises of marriage so they can swindle them out of cash.
Women should follow all legal means when it comes to marriage and beware of "hoodwinkers," who resort to "sweet-talking" and make off with thousands of Dirhams, warned senior chief Prosecutor Yousuf Foulad on Monday.
His warning came following a case at Dubai Misdemeanour Court in which a woman was conned out of Dh430, 000 which she gave to a man to arrange their marital home.
"Women should be cautious and should not be hasty in trusting any potential husband so quickly. Too many hoodwinkers resort to sweet-talking and give would-be-wives shady marriage promises… those promises are nothing but booby-traps that such men take advantage of to victimise the women. Women and their parents should be more attentive in that regard, and constantly follow the legal channels to have their rights protected," said Foulad.
Prosecutors charged the suspect with breach of trust and swindling Dh430,000 from the woman who was supposed to become his wife, according to Foulad.
"According to the primary interrogations that were conducted by Prosecutor Hamda Ahli, the suspect took from the woman Dh320,000 in cash and Dh100,00 worth of furniture to organise their marital home. The woman handed the money to the defendant during last year's second half.
"The suspect abused the power of attorney that the woman granted to him and kept the money for himself," he added. "Prosecutors will always combat such crime and criminals and seek to enforce the toughest punishments against them."
http://www.albawaba.com/editorchoice/dubai-officials-warn-women-about-marriage-cons-496786
-------------
New Study Brings Violence against Indigenous Girls and Women into Focus
06/05/2013
NEW YORK, United States of America – The issue of violence against indigenous girls and women is not only under-discussed and under-studied, but it also remains concealed, in most countries. Indigenous communities have been historically marginalized and continue to be discriminated against, and it's young girls and women who pay the highest price.
Breaking the Silence on Violence against Indigenous Girls, Adolescents and Young Women, a new study launched by UNICEF, UN Women, UNFPA, ILO and the office of the Special Representative of the Secretary-General on Violence against Children, is a call to action that brings the widespread human rights violations against girls and women in indigenous communities into focus.
Full report at:
http://www.unicef.org/protection/57929_69532.html
-------------
Head of Russian Muslim Women's Union defends right to wear headscarf
5 June 2013
The head of the Russian Muslim Women's Union, Nailya Ziganshina, has voiced support for the right of Muslim women to wear a headscarf in public, ITAR-TASS reports.
She notes that Muslim women are often forced not to wear traditional Islamic clothes. Such cases have occured, for instance, in Tatar schools, she says.
Ziganshina also underlines that there is nothing exotic in covering one's head. It's a very common tradition in Russia, she believes.
Russian law does not prohibit wearing a headscarf in public, she stresses.
http://vestnikkavkaza.net/news/society/41135.html
-------------
Niloofar Is The Afghan Air Force's First Female Graduate Since The 1980s
06/05/2013
Last month, Niloofar Rhmani became the first woman to graduate from the Afghan Air Force since the 1980s, and her story is making her a popular symbol of changing times.
The 21-year-old from Kabul was awarded her flying wings on May 14 after successfully completing the air force's undergraduate pilot training program, according to the Washington Times. The program demanded roughly 145 flying hours, and Rhmani spent nearly a year learning English to qualify. "First, it was my ambition, and second, I want to show that Afghanistan can have female pilots," she told the Times.
Full report at:
http://www.huffingtonpost.com/2013/06/05/niloofar-rhmani-female-afghan-pilot_n_3386881.html?utm_hp_ref=good-news
-------------
Iranian Presidential Candidate's Wife an Electoral Asset
By: Mehrnaz Samimi
June 5, 2013
Among Iranian president candidates, Mohammad Reza Aref stands out as the lone reformist and the one contender who regularly appears at campaign events accompanied by his wife, Hamideh Moravvej. She has attracted Iranian media attention for standing "un-Islamically" close to her husband, waving at supporters like the wife of a Western politician and wearing shiny, silver-collared clothing that some in North Tehran have dubbed "disco ball," for the 1970s dance floor ornament.
Moravvej also wears sneakers, and her manteau — the religiously required tunic or cloak for women in Iran — is a tad clingier and shorter than recommended. Moreover, she does not wear a chador, the black, all-enveloping tent-like robe favoured by traditional religious women and the wives of more conservative candidates.
Full report at:
http://www.al-monitor.com/pulse/originals/2013/06/iran-elections-reformist-candidate-wife.html#ixzz2VQgxT7Fl
-------------
'Women Education Essential to National Development'
06 Jun 2013
By Damilola Oyedele
The UFUK Foundation, a Turkish non-governmental organisation (NGO) committed to fostering world peace, has advocated intensified implementation of programmes targeted at female education.
This, according to the organisation, remains one of the key ways to develop the economy of any nation.
Discussants at the First Women Panel: 'Women & Social Responsibility' organised by the foundation in collaboration with Daily Trust newspaper in Abuja recently all noted that equal education opportunities would increase the economic power of women who would direct such power at boosting the welfare of their families.
Full report at:
http://www.thisdaylive.com/articles/-women-education-essential-to-national-development-/149531/
-------------
Tunisia trial of Femen women adjourned
AAP JUNE 06, 2013
A TUNIS court has adjourned the trial of three European activists with the women's topless protest group Femen to June 12, ordering that they remain in detention, their lawyers say.
"The trial has been adjourned to June 12. The bail request for the three Femen activists was refused," defence lawyer Souheib Bahri said.
The judge must decide at the next hearing on whether to allow several Islamist groups to participate in the trial as a civil party.
French lawyer Patrick Klugman, who had come from Paris to represent the movement, condemned the adjournment.
Full report at:
http://www.heraldsun.com.au/news/breaking-news/women-on-trial-for-topless-tunisia-
-------------
150 Couples Tie the Knot at Asir Event
Nadia Al-Fawwaz
06/05/2013
ABHA — One hundred and fifty couples recently tied the knot at a mass marriage event held here under the patronage of Prince Faisal Bin Khalid, Emir of Asir region.
Congratulating the brides and grooms, Prince Faisal wished them happiness and success in their future life. He also stressed the importance of the private sector's role in social activities.
The secretary of the marriage and family care society, Mohammad Al-Badri, pointed out that mass marriages were held as part of a national and religious project that stresses brotherhood and values of cooperation.
Full report at:
http://www.saudigazette.com.sa/index.cfm?method=home.regcon&contentid=20130606168704
------------
First all-women police station opens in Arunachal
PTI | Jun 6, 2013
ITANAGAR: The first all-women police station in Arunachal Pradesh has started functioning here to specifically deal with crimes against women.
With the opening of the all-women police station on Tuesday, the state government has sent a clear message to ensure better safety and security to women, SP Surendra Kumar said today.
The plan to set up the maiden all-women police station was mooted by the state government days after the Delhi gang-rape incident and the proposal was approved by the state cabinet on February 6, official sources said.
The cabinet had also approved for creation of separate cells in all 17 district headquarters as well as at the Police Headquarters here to tackle crimes against women.
Currently, the process of special recruitment drive to recruit 200 women police personnel is in progress to run those cells, the sources said.
http://timesofindia.indiatimes.com/india/First-all-women-police-station-opens-in-Arunachal/articleshow/20457311.cms
-------------
URL: https://newageislam.com/islam-women-feminism/nigerian-gang-branded-women-with/d/11927