New Age Islam News Bureau
11 May 2013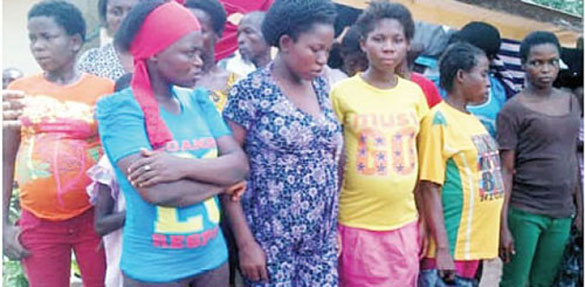 17 Pregnant Teenage Girls in 'Baby-Factory' Raid
-------------
• Nigeria Police Free 17 Pregnant Teenage Girls in 'Baby-Factory' Raid
• Tunis Protestors Defend Women's Right to Veil
• Khyber Pakhtunkhwa Govt. Confirms Women Vote Blocked By Political Parties
• Mamata Kulkarni converts to Islam, marries another convert jailbird Vicky Goswami
• Woman Found Alive In Bangladesh Factory Ruins after 17 Days
• Pakistani Women Defy Clerics and Custom in Elections
• A Pakistani Women's Journey in the Electoral Process
• In Pakistan's Northwest, Young Women Buck Tradition to Monitor Historic Vote
• Standoff at Western Wall over Praying by Women
• 7,311 Pak Women Die of Cervical Cancer Annually
• 67% of Alternative Medicine Users Are Women
• NA-48: Massive Rush, Women Rooting For PTI
Compiled by New Age Islam News Bureau
URL: https://www.newageislam.com/islam,-women-and-feminism/new-age-islam-news-bureau/nigeria-police-free-17-pregnant-teenage-girls-in-'baby-factory'-raid/d/11525
-----------
Nigeria Police Free 17 Pregnant Teenage Girls in 'Baby-Factory' Raid
10 May 2013
Nigerian police have found 17 pregnant teenage girls in a raid on a house, and were searching Friday for a woman suspected of planning to sell their babies, a spokeswoman said.
Joy Elomoko of the southeastern Imo state police said all the girls were between 14 and 17 years old and that 11 small children were also found in the house.
Some locals believed the building called the Ahamefula Motherless Babies Home served as an orphanage and shelter for expecting mothers.
"Acting on a tip-off, a special unit of the Imo State police command raided the illegal home in Umuaka on Wednesday and rescued 17 girls, aged between 14 and 17, at different stages of pregnancies," Elomoko told AFP.
"The girls claimed they were fed once a day and were not allowed to leave the home," she added.
The girls told police that their babies were to be sold to "willing buyers," Elomoko said.
It was not clear if the girls were brought to the home by force.
The girls further told police that they had been impregnated by a 23-year-old man who is currently in custody, along with the security guard who worked at the compound.
"The proprietress of the home is at large, but we have launched a man-hunt for her," Elomoko said.
In a human trafficking report released last month, the European Union identified Nigeria as the African country where the scourge is most common.
The report said the selling of children was widespread and Nigerian police have previously uncovered so-called baby factories.
In May of 2011 in southeastern Abia state, police freed 32 pregnant girls who said they had been offered to sell their babies for between 25,000 and 30,000 naira (191 dollars), depending on the sex of the baby.
Another 17 pregnant girls were discovered in southern Anambra state in October 2011 under similar circumstances.
The United Nations cultural agency UNESCO has previously identified human trafficking as the third most common crime in Nigeria, behind fraud and drug trafficking.
http://english.alarabiya.net/en/News/africa/2013/05/10/Nigeria-police-free-17-girls-in-baby-factory-raid-.html
-----------
Tunis Protestors Defend Women's Right to Veil
Amira Masrour
10 May 2013
Following the recent judgment against two fully veiled female students who accused a university dean of assault, veiled women, bearded men and sheiks protested today in front of the Municipal Theater in downtown Tunis.
Those who attended the demonstration, which was organized to defend the right to wear the veil, criticized the decision against the students and unrelated comments by a Nidaa Tounes politician comparing the veil to a bridle for donkeys.
While Habib Kazdaghli, a dean at Manouba University, was acquitted last week of charges that he hit a fully veiled student, the two students who brought the charges were each handed postponed four-month sentences. They were convicted of damaging the dean's property.
The protest was coordinated by three Islamist associations: the Committee for the Defense of Veiled Women in Tunisia, the Association of Muslim Women, and the Association of Muslim Youth in Tunis.
Women, wearing the hijab (which covers the hair) and niqab (which covers the face), held signs that read "No God but Allah;" Sheiks and bearded men shouted "Allah Akbar," meaning "God is great."
Veiled women at the protest expressed their anger regarding the Kazdaghli verdict, saying it was unjust and oppressive.
"Even though 98 percent of Tunisians are Muslim, we are still treated as a minority and a scapegoat," said Nessrine Othman, secretary general of the Association of Muslim Women. "Whenever there is act of terrorism, people and media start to point their finger at us. This is unfair."
Wissem Othman, one of the protest's organizers, said he and others were also angered by a statement made by Tahar Ben Hassine, a member of the executive bureau of Nidaa Tounes. A TV segment Ben Hassine says dates from 2006 shows him describing the Hijab as being similar to a bridle for donkeys and claiming that the veil devalues women and should be outlawed. The video is currently being circulated on Facebook.
Addressing Ben Hassine, Sheik Mokhtar Jebali shouted at the protest: "You are passed over by history; your statements should be in the dustbin of history. We will not listen to your provocations."
Ben Hassine told Tunisia Live that he is not the first person to describe the hijab in this manner.
He claims that Tunisian scholar Tahar Haddad first described the hijab this way in the 1930 book Our Women in Sharia and Society.
"Haddad was not insulting woman, but describing her situation," Ben Hassine said. "He thinks that the belief in hijab makes women like dogs who must be kept out of reach in order not to attack men. So, covering women is to protect men."
He continued, "They do have the right to wear the hijab, and I have the right to express my opinion on the veil. The state should prohibit the wearing of the hijab in order not to encourage discrimination."
The protest was also supported by women who do not wear the veil.
Zeineb Trabelsi, an independent political activist who was not veiled, came to the demonstration nonetheless.
"Salafists accept the 'Other' and secularists are more intolerant than Islamists," she said.
http://www.tunisia-live.net/2013/05/10/protestors-defend-womens-right-to-veil/
-----------
Khyber Pakhtunkhwa Govt. Confirms Women Vote Blocked By Political Parties
May 11, 2013
PESHAWAR: A Khyber Pakhtunkhwa minister has confirmed the Dawn.com report that women would not be allowed to vote in parts of the province under the tacit approval of PPP, ANP, JUI-F, PML-N and JI."Yes I can confirm this agreement has taken place in Lower Dir, have reports of similar agreement from some other areas, but I am sure about Dir agreement and I had already communicated it to the Election Commission as well," Information Minister KP Musarrat Qadeem told Dawn.com.To a query that the candidates are denying it, she said, "They would never accept but it has happened and they had also called me personally to deny it, but the truth is the thing did happen and action must be taken against it."The minister said the KP government is vigilant and would be focused on the job of ensuring free environment to women voters to vote. The Aurat Foundation has announced that it will challenge the result of the elections in the areas where the women voters are barred from polling."We demand if such agreements have taken place the election commission must take action, and ensure the women voters are not stopped from casting their votes," adding "the EC has failed to stop this illegal act and we shall be challenging the move in the court of law."After similar agreements in Lower Dir, political parties had followed suit in other parts of the province by agreeing to bar women from voting in the May 11 polls.Leaders of the Pakistan Muslim League – Nawaz (PML-N), a frontrunner in the general election, and the Jamaat-i-Islami (JI) entered into an informal agreement in Buner district, agreeing to bar women from casting their votes in the provincial assembly's PK-78 constituency. Chairman of the Insaf Committee Sorey Union Council in Buner district, Sardar Muhammad, told Dawn.com that the PML-N's Abdul Hameed and JI's Afzal Hussain have mutually agreed to bar women from voting at the Topi Polling Station in Sorey Union Council of PK-78 Buner. The PML-N's Sar Zamin Khan, Jamaat-i-Islami's Habibur Rehman and Awami National Party's Qaiser Wali are gong to have tough fight in the upcoming polls. Reacting to the ban on women voting in parts of KP, the Aurat Foundation's KP head, Shabina Ayaz, said it was a serious violation of the code of conduct, and that the Election Commission must immediately take action against the candidates.Ayaz said written agreements had been signed by party candidates and their workers, especially in parts of the province, however, this time they were relying on verbal accords. She said the agreements would deprive a sizeable population of their votes.Earlier Friday, the PPP, ANP and JI had entered into a similar agreement in Lower Dir's provincial assembly seat PK-94.The JI's Muzaffar Said, PPP's Alamzeb Khan and ANP's Ayub Khan are the major political parties contesting for the seat. Sources also confirmed that due to the Election Commission's restrictions, the candidates had made the deal through their 'local operators' instead of coming forward themselves."The decision was taken at village Bandagai in the Talash area of Lower Dir district. But there is no written document in this regard and we also do not know that there are such arrangements in other areas as well," said one source. Political parties have previously barred women from voting in the same area and in adjoining union councils. However, due to the ECP's strict rules this time, candidates have asked their front men to carry out the agreements. In another similar incident, a jirga in Swat district's Amankot village, attended by elders and political candidate/workers, decided that the village women would not cast their votes in the upcoming elections.Tribal sources told Dawn.com that the decision was taken because of a fight that took place between two party workers 12-15 years back and women had not cast votes ever since."The Awakening" is protesting at the Swat Press Club against the incident and said in a statement: "We strongly condemn the decision taken by various jirgas attended by candidates, workers of various political parties in PK-80 constituency of Swat, which decided not to allow women to cast their vote in Election 2013, which is their basic right."
http://dawn.com/2013/05/10/lower-dir-ppp-anp-ji-team-up-to-bar-women-voters/
-----------
Mamata Kulkarni converts to Islam, marries another convert jailbird Vicky Goswami
New Age Islam News Bureau, May 11, 2013
Mumbai: The heart throb of yesteryears, famous Bollywood actress Mamata Kulkarni embraced Islam and married another convert Vicky Goswami who had been serving life sentence in a Dubai jail for the last 16 years. He was arrested in 1997 by the Dubai police for carrying 11.5 tonnes of Mandrakes. Mamata Kulkarni was looking after his real estate business and a hotel in his absence. Though the life sentence in Dubai is for 25 years, there is a provision for early release for good conduct and for conversion to Islam. Mamata Kulkarni who was reportedly in love with Vicky persuaded him to convert to Islam in order to secure his release. According to reports, Vicky was released from jail on December 15, 2012. After his release, the couple headed for Nairobi.
An event organiser in Dubai, Rashid Sayeed confirmed the conversion of Mamata to Islam saying that when he contacted Mamata for a show, she refused to participate in any show as she had converted to Islam and had quit doing shows.
-----------
Woman Found Alive In Bangladesh Factory Ruins after 17 Days
11 May 2013
Bangladeshi rescuers have pulled a woman alive from the ruins of a collapsed garment factory complex after she spent 17 days trapped in a basement under the rubble.
Hours after officials had announced the death toll had surged past the 1,000 mark, recovery teams who had long given up any hope of finding more survivors were stunned to hear the voice of a woman calling for help.
Reshma Begum was discovered near a Muslim prayer room in the basement of the eight-storey Rana Plaza building at the outskirts of Dhaka, where crews have been focused on recovering bodies, not rescuing survivors, since late April.
The 18-year-old, who used to work as a sewing machine operator in the factory, was in such good shape she was able to walk, according to one rescuer.
"There was some dried food around me. I ate the dried food for 15 days," Begum told the private Somoy TV from her hospital bed.
"The last two days I had nothing but water. I used to drink only a limited quantity of water to save it. I had some bottles of water around me.
"I would shout out for help but no one heard me."
Begum is understood to have finally got the attention of emergency workers when she took a steel pipe and began banging it.
Rescuers then ordered the cranes and bulldozers to immediately stop and used handsaws and welding and drilling equipment to cut through the iron rod and debris still trapping her.
They gave her water, oxygen and saline as they worked to free her.
'God is great'
They managed to extract her from the ruins in an operation broadcast live on television and watched by crowds at the scene who were asked by clerics to pray for her rescue.
Cries of "Allahu Akbar" - "God is great" - rang out from the crowd as Begum was pulled out of the rubble.
"It was a miracle. We lost all hopes of finding her alive. We visited every hospital in Dhaka and Savar. We visited the mortuaries and checked every dead body they pulled out," Begum's brother, Zahidul Islam, told AFP news agency.
"Then the news came this afternoon that a woman called Reshma has been found alive," said Islam.
A doctor at the Savar Combined Military Hospital said Begum appeared to be in good health despite her ordeal.
"Her heart is fine. Her breathing is fine. Her brain is functioning well. We [will know more] after getting her biochemical report," he said.
Government probe
News of the rescue came as recovery teams were preparing to wrap up their work at the site after discovering scores more corpses in the tangle of concrete.
A spokesman for the army, which is overseeing the recovery operation, said the death toll had reached 1,053, making it one of the world's worst industrial disasters.
Full report at:
http://www.aljazeera.com/news/asia/2013/05/201351010628397301.html
-----------
Pakistani women defy clerics and custom in elections
10 May 2013
Of all the women running in Pakistan's general election tomorrow, few revel in their assault on the traditionally male sport of politics more than Musarrat Shaheen, a former film star once famous for her exuberant dance routines.
The retired sex symbol, known for her pulpy Pashtun films of the 1980s that are still risqué by today's standards, has chosen to pick a fight with one of the country's most high-profile, ultra-religious conservatives.
"If I had money I would contest every constituency where he is standing," she said of Fazl ur Rehman, head of a faction of the Jamiat Ulema-e-Islam (JUI-F), one of the country's leading Islamist parties.
As it is, she has to settle for just one of the handful of seats he is contesting, her home town of Dera Ismail Khan, a ramshackle place near the restive frontier with Afghanistan that is plagued with extremist violence.
"I am not afraid of bomb blasts," she said, although she has done precious little campaigning there since receiving Taliban death threats.
"I am a tribal woman, who was born in DI Khan, but I have progressed and now I am fighting for the empowerment of every tribal woman."
Rehman, a white-bearded mullah, or cleric, famous for helping to install the hard-line Taliban regime in Afghanistan in the 1990s, has returned the favour on the campaign trail – dismissing the "vulgar actress" once affectionately known to her fans as the "Beautiful Atom Bomb".
Pakistan's historic election could go either way, with former cricketer Imran Khan surging ahead in his contest against the former prime minister, Nawaz Sharif. But in a country where politics is still dominated by men only the most determined women are taking part.
Election authorities say there has been an increase in women candidates this year. But social traditions and threats from the Taliban still hold back female candidates and voters.
Few women that stand in regular constituencies are likely to win, least of all Shaheen. Those that do sit in the next parliament will more likely have been selected for one of the 70 seats reserved for women, which critics say are handed out to female members of well-connected political families.
Shaheen, who has her own party, the Tehreek-e-Masawat, has attracted particular attention because of her past fame as an actor and her lively contempt for the male religious leaders she takes on.
She said her loathing of mullahs took root in the 1970s when she tried to work as a family-planning adviser in DI Khan.
"I had to travel alone going door to door and these mullahs would tell people to beat me up with a stick," she said. "Eventually they got me sacked because I was unmarried."
There are several other examples of women standing despite overwhelming odds against them, including Veero Kolhi, who escaped a life of slavery as a bonded labourer.
Now an activist campaigning for the rights of workers, she has been furiously electioneering in a clapped-out minivan in her native Sindh province, against far better-funded opponents.
Also remarkable is Badam Zari, the first woman to contest a seat in Pakistan's federally administrated tribal areas (Fata), the ultra-conservative region bordering Afghanistan that has become home to some of the world's most dangerous terrorists.
"I am taking part in elections because our area is very backward and living condition of women is poor over here," she told the Guardian in April. "There will be a lot of people opposing me, but we will try our best."
In neighbouring Khyber Pakhtunkhwa (KP) province, Nusrat Begum has become the first woman to run from Lower Dir, another extremely conservative area.
Shaheen is particularly gratified that a few tribal women are running and credits herself with blazing a trail in 1997 when she ran for election.
She said: "The first time there was not much awareness so these mullahs told the voters that if you vote for a woman it would be a disgrace and dishonour. The mullah would say why is this woman coming to make a fuss and corrupt our people?
"Now there is more attention from the media and more public consciousness. Now is the time to show that women can get elected."
But human rights groups say there is still a very long way to go, even in a country that has twice been led by a female prime minister. Some 10 million women are simply unregistered to vote, largely because they have not been granted identity cards.
Full report at:
http://www.guardian.co.uk/world/2013/may/10/pakistan-women-clerics-elections-custom
-----------
A Pakistani Women's Journey in the Electoral Process
May 11, 2013
ISLAMABAD - The number of female contestants participating in general election has witnessed manifold increase with the passage of time and has reached to 448.
Like thousands of male candidates, 448 women are contesting, most of whom are new entries to the electoral process.
Of the total female candidates running for elections, 147 are vying for 105 National Assembly seats and 301 contesting for 203 provincial seats.
Two women are contesting elections for a seat in the federal capital while another woman is engaged in campaigning for a seat from tribal areas, which has made her the only woman from that area to contest from the region.
A comparison of forthcoming elections with 2008 elections shows there is big rise in the number of female candidates as there were 73 women in the race for 64 seats in 2008.
During elections in 2002, a total of 57 women contested elections on 50 National Assembly seats. Since three women contested two seats each, three were overall 60 female candidates.
Of these 34 contested 31 seats from Punjab, 21 contested 14 seats from Sindh, three contested three seats Khyber Pakhtunkhwa (KP) and one contested a seat from Balochistan. No woman contested on general seats from Islamabad and FATA.
For National Assembly, party tickets were awarded to 38 women while 22 women contested as independent candidates. Among political parties, Pakistan People's Party (PPP) gave tickets to 10 women, Pakistan Muslim League-Quaid (PML-Q) gave eight tickets; Pakistan Muslim League-Nawaz (PML-N) gave four tickets, Muttahida Quami Movement (MQM) also gave four.
Thirteen women were elected as members National Assembly in 2002.
During elections in 1997, a total of 35 women candidates filed nomination papers; three from KP, 11 from Punjab and 19 from Sindh.
Benazir Bhutto filed nomination from both NA-160 and NA-171 making the total number of female candidatures from Sindh to 20.
One candidate filed nomination papers from the capital which she later withdrew while there were no women candidates from Balochistan and FATA.
Full report at:
http://www.pakistantoday.com.pk/2013/05/10/news/national/a-pakistani-womens-journey-in-the-electoral-process/
-----------
In Pakistan's northwest, young women buck tradition to monitor historic vote
By Michele Langevine
May 10, 2013
PESHAWAR, Pakistan — They call themselves "Aware Girls," and they consider themselves foot soldiers who will help safeguard a historic vote that could change Pakistan.
Based in this militancy-hit provincial capital in the northwest, the group is carrying out a risky mission as the first citizen election observer team consisting of young women. They deploy Saturday for an election that will mark the first time an elected government transfers power to another in Pakistan, a country ruled by the military for much of its 65-year history.
The monitors, who range in age from 12 to 27, say they are facing the threat of violence and cultural bias against women in their conservative province, Khyber Pakhtunkhwa. Some say they have faced resistance even from their families.
"My father didn't want me to do it, but I want to bring a change to Pakistan," said Surriya Khan, 20, a college student. "Somebody has to."
She is one of dozens of women working for gender equality in this Muslim-majority nation through Aware Girls, a group founded 10 years ago and supported by various international donors, human rights groups and health advocates.
The "girls" will stake out women-only polling stations Saturday. In recent training sessions, they have been taught to recognize violations of campaign laws and efforts to intimidate voters or tamper with ballots.
"They are young women doing their duty to their country," said the group's chairperson, Gulalai Ismail. "They are risking their lives."
The girls and women are energetic and full of determination, and many of them say they share the same sentiment: hope. They bring up the word again and again, in a way that's reminiscent of President Obama's groundbreaking 2008 campaign.
For them, many voting in their first election, democracy is now a given. Some came of age during a democratically elected government's tenure, rather than a military strongman's rule, and became adults as Pakistan's Parliament completed a full five-year term for the first time. They say they expect this democratic transfer of power to become Pakistan's new normal.
"We are happy and very hopeful because democracy is evolving in Pakistan, and people are building allegiance to their country," Ismail said.
But threats are being made against the group. Near the city of Mardan, some men opposed to female voters have formed a group called "Aware Muslims," which has distributed images of Ismail's Facebook posts in an effort to spread their anti-women message.
"Our people cannot even digest the idea that a woman can be a decision-maker within the family, so they don't want a woman to be a decision-maker in the state," Ismail said.
Pakistan provides separate polling places for women, who account for 37 million registered voters out of a 180 million population. There are 48 million men registered to vote in the election.
In 2008, when the most recent national election was held, no women turned out at 564 of 28,800 polling stations. Some women's polling stations were torched, Ismail said.
The 26-year-old daughter of a human rights activist, Ismail started the organization when she was 16. She is sending observers to 100 polling stations in three districts and has a total of 120 young women participating in the project.
They will be paid about $30 for a day's work, supported by a grant from the Australian High Commission, she said.
During a break from a day-long training session held this week at a guesthouse in Peshawar, Sundas Shah, a 20-year-old student, said of the ballot: "This time, we have a ray of hope in our hearts."
Everyone is aware of the risks. With 115 people killed in bomb and gun attacks on political parties since April, the election is being called the most violent in Pakistan's history.
"The threat of violence is always near," Ismail said as she was leaving the group's headquarters.
Full report at:
http://www.washingtonpost.com/world/asia_pacific/in-pakistans-northwest-young-women-buck-tradition-to-monitor-historic-vote/2013/05/10/aafbe756-b9a0-11e2-92f3-f291801936b8_story.html
-----------
Standoff at Western Wall Over Praying by Women
By JODI RUDOREN
May 10, 2013
JERUSALEM — Thousands of ultra-Orthodox Jews tried to block a liberal women's group from praying at the Western Wall on Friday morning, creating a tense standoff in the latest flash point of a broader battle over religion and identity that has engulfed Israel.
Heeding calls from their rabbis, religious teenage girls turned up in large numbers to protest the group's insistence on praying at the wall in religious garb traditionally worn by men. The girls crammed the women's section directly in front of the wall by 6:30 a.m., forcing the liberal women to conduct their prayer service farther back on the plaza. There, hundreds of police officers locked arms in cordons to hold back throngs of black-hatted Orthodox men who whistled, catcalled, and threw water, candy and a few plastic chairs.
The fight over how women pray at one of Judaism's holiest sites is a singular fault line among many. Friday's mass demonstration at the wall was widely seen as part of the intensifying culture war that poses a threat, if internal, to Israel's social cohesion.
"We are looking at a process in which the public disdain with the way religion and state matters have occurred in Israel has reached a peak," said Rabbi Uri Regev, the founder of Hiddush, a group that advocates for religious freedom and equality.
But Rabbi Israel Eichler, an ultra-Orthodox member of Parliament, warned that "if the state of Israel fights" the ultra-Orthodox, in Hebrew called Haredim, "it may win, but it will be erased from the face of the Earth."
"There were thousands of seminary girls there today," he said. "Each one of them will have 10 children. That is our victory."
The showdown on Friday came two days after Israel's attorney general ordered government ministries to end gender segregation in buses, cemeteries, health clinics and radio airwaves, and as Parliament is drafting sweeping legislation to integrate the swelling ultra-Orthodox minority into the army and work force, while cutting back the subsidies their large families rely on. Following decades in which ultra-Orthodox politicians provided critical swing votes in exchange for control over religious institutions, they were shut out of the governing coalition that formed this spring and have become an increasingly shrill part of the opposition.
Most Israelis care far less about the rules at the kotel, or Western Wall, a remnant of the retaining wall that surrounded the ancient Temple, than the ultra-Orthodox control of marriage, conversion and other matters that affect daily life. But a spate of arrests last fall of women wearing prayer shawls at the wall sparked an outcry from Jews abroad. That prompted Israel's government to develop a long-term plan that would provide a new space where men and women can pray together and as they wish.
Buoyed by the recent court ruling allowing them to use prayer garments traditionally reserved for men, the women's group, called Women of the Wall, has vowed to continue the monthly services it has held for a quarter century.
Friday was the first time ultra-Orthodox girls and women showed up in force to block them.
"I'm here so they won't be," said one of the teenagers, who like a dozen others interviewed spoke on the condition that her name not be published. "It's forbidden for them to be here. It's allowed by the court, but it's forbidden by God. If I'm here, there won't be room for them."
The girls, who woke before dawn and poured onto buses from schools across Jerusalem as well as the ultrareligious suburbs of Beit Shemesh and Beitar Illit, said they had come because their leaders ordered them to.
Among the liberal women, a smaller-than-usual group of perhaps 100 made it to the Women of the Wall prayer circle, where much of the spirited chanting was drowned out by the boisterous men. Three of the men were arrested and two others detained for questioning." Every time, there's another stumbling block," said Haviva Ner David, a rabbi and mother of seven who has been praying with Women of the Wall for two decades. "There are more non-Orthodox Jews than there are Haredi Jews in Israel, but they're able to gather more troops."
As the crowds dispersed, Yossi Parienti, commander of Jerusalem's police force, said it was "painful and a pity to see the Western Wall become a field of battle instead of a holy place of prayer."
Rabbi Shmuel Rabinowitz, the head of the Western Wall Heritage Foundation — which controls the site — said, "We must find a solution that is acceptable to all, or to the majority, so that the Western Wall does not look as it did today."
Full report at:
http://www.nytimes.com/2013/05/11/world/middleeast/3-ultra-orthodox-men-arrested-in-western-wall-standoff.html?gwh=677AB3F4CFE05D8B023629D1CD5DA5E0
-----------
7,311 Pak Women Die of Cervical Cancer Annually
May 11, 2013
ISLAMABAD - Cervical cancer kills an estimated 7,311 women in Pakistan annually.
More women die of cervical cancer in India than anywhere in the world. India along with China, Brazil, Bangladesh and Nigeria represent over 50 per cent of the global burden of cervical cancer deaths. However, African countries are struggling to deal with cervical cancer too, according to the new Cervical Cancer Crisis Card, which ranks countries from across the world based on the number of deaths from cervical cancer and the mortality rate from this preventable disease. The Crisis Card is available on the Cervical Cancer Free Coalition website and launched globally on Friday to mark International Mother's Day on Sunday (tomorrow).
Cervical cancer kills an estimated 275,000 women every year and 500,000 new cases are reported worldwide. This entirely preventable disease is the second largest cancer killer of women in low and middle-income countries. In Pakistan, more than 7,000 women die every year from the disease.
"It's shocking that over 7,000 women are dying of cervical cancer in Pakistan ever year," said Sania Nishtar, Federal Minister for Science and Technology, Information Technology, Education and Training. "After the election, we need to ensure that a comprehensive prevention programme, which includes vaccines, screening and treatment, is available for all women and girls."
According to the Crisis Card, Australia has the lowest cervical cancer mortality rate, which is due to the successful rollout of a comprehensive package of HPV vaccines, treatment and prevention. According to the government of Australia, there has also been a decline in genital warts and cervical abnormalities among young women since the introduction of the HPV vaccine in Australia. Dr Jennifer Smith, Executive Director of the Cervical Cancer Free Coalition, said: "Cervical cancer is a preventable cancer, yet we are still seeing so many deaths around the world.
At Cervical Cancer Free Coalition we are working towards building networks across the globe to help support our common goal of a world free of cervical cancer. Together we can dramatically reduce this disease through vaccination, screening and education." The startling disparities between women in the developed and developing world are personified by cervical cancer. A woman in Zambia is 25 times more likely to die of cervical cancer than a woman in Australia and India has 750 times more deaths than Norway. This level of inequity is also reflected across gender indicators with girls less likely to attend school but more likely to be malnourished and married as a child.
Seth Berkley, CEO of the GAVI Alliance, said, "2013 is the beginning of a dramatic shift in women's health. A new low price for the HPV vaccine has been negotiated by GAVI for countries eligible for support, opening the door for millions of girls in the world's poorest countries to be protected against one of the leading cancer killers of women. Ghana will be one of the first African countries to receive HPV vaccines this year with GAVI support."
Coming in the same month as the global Women Deliver 2013 conference that will have a focus on gender and health equity in terms of the post-2015 framework (the follow framework to the Millennium Development Goals), the report is a timely reminder of the challenges facing women, especially in the low to middle income countries. By prioritising women's health in the next developmental framework, world leaders would show that they're serious about challenging inequity and building sustainable societies where universal rights are guaranteed for all.
Full report at:
http://www.nation.com.pk/pakistan-news-newspaper-daily-english-online/islamabad/11-May-2013/7-311-pak-women-die-of-cervical-cancer
-----------
67% of alternative medicine users are women
ABDULHAMID AL-ANSARI
11 May 2013
RIYADH: More and more patients are turning toward alternative medicine because modern medicine is expensive and has failed to treat diseases such as cancer, said Abdullah Al-Badah, executive director of the national society for complementary and alternative medicine.
He said 67 percent of alternative medicine users are women.
According to him the forms of alternative medicine practiced in the Kingdom include Qur'an recitation, honey applications, Nigella sativa oil and garlic.
He said there are more forms of alternative practices including acupuncture, oil treatment and massage.
Full report at:
http://www.arabnews.com/news/451193
-----------
NA-48: Massive rush, women rooting for PTI
By Sehrish Ali
May 11, 2013
Major rush at 8am with scores of families lining up outside but the lady polling officer arrived 15 minutes late.
The process up till now has remained peaceful however there is no proper checking or security walk through.
A PTI stall can be seen about 10 yards away from the school as they hand out chits to people stating their voting numbers.
Full report at:
http://tribune.com.pk/story/547417/na-48-massive-rush-women-rooting-for-pti/
-----------
URL: https://www.newageislam.com/islam,-women-and-feminism/new-age-islam-news-bureau/nigeria-police-free-17-pregnant-teenage-girls-in-'baby-factory'-raid/d/11525