New Age Islam News Bureau
20 Apr 2013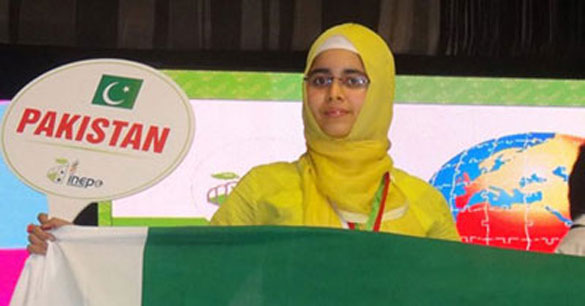 Photo: Alvaz Adnan, a student of PakTurk School Lahore won a silver medal at the INEPO.—File Photo
--------
• Madrasa Girl Dies during 'Exorcism' In Bangladesh
• UAE Nurseries' Duty to Report Abuse Considered For Wadeema's Law
• Pakistani girl bags silver medal in INEPO
• No Concession for Lingerie Shops in Saudi Arabia
• 75% of Northern Somali Girls Have Not Undergone FGM - UNICEF
• Nigeria: Patience Seeks Legislation on Women Participation in Govt
• Youth Arrested For Trying To Win Girl's Heart with Egyptian Army Uniform
• UN: Women Rarely Included in W. African Peace-Building
• Mother of Boston bombing suspects arrested last year for 'stealing $1,600 worth of clothes
Compiled by New Age Islam News Bureau
URL: https://newageislam.com/islam-women-feminism/nigeria-girl-stripped-harassed-public/d/11223
------------
Nigeria Girl Stripped and Harassed In Public for Wearing Skimpy Dress
15 April 2013
Written by Agency Reporter
Yeah, some women's outfits can be classified as indecent. But everyone is allowed to wear whatever they want (until it becomes illegal to do so).
There is absolutely no justification for this young lady being harassed and basically stripped nude because her dress isn't as conventional as they'd like.
Perhaps she was wrong in choosing that particular outfit, but the mob was also wrong to embarrass and abuse her that way.
http://www.codewit.com/nigeria-news/7488-nigeria-girl-stripped-and-harassed-in-public-for-wearing-skimpy-dress-video
------------
Madrasa Girl Dies during 'Exorcism' In Bangladesh
Our Correspondent, Pirojpur
20 April 2013
A 15-year-old "mentally ill" girl died in Nazirpur Upazila Thursday during an exorcism ritual held to supposedly cure her of the evil spirits blamed for causing her condition.
Jesmine, a seventh grader in a local madrasa, was kept in a smoke-filled room for about three hours and a half before she was found dead.
The victim's father, a day labourer, said she had been "behaving abnormally" for the last three months, so he resorted to Ayub Ali Farazi, a local who claimed him to be "an exorcist" and performed the ritual at Jesmine's house in Ramnagar village.
Locals detained Farazi and handed him over to Nazirpur police, but he was released shortly as there was no complaint in the police station.
Farazi claimed that the girl died of sickness, not from his "treatment".
The cause of Jesmine's death could not be confirmed as she was buried without an autopsy.
http://www.thedailystar.net/beta2/news/madrasa-girl-dies-during-exorcism/
------------
UAE Nurseries' Duty to Report Abuse Considered For Wadeema's Law
Ola Salem
Apr 20, 2013
ABU DHABI // Nurseries will be given new duties to protect children in their care under amendments to be considered by the Federal National Council.
The amendment will be proposed by the FNC committee reviewing Wadeema's Law, the new child protection law named after an eight-year-old Emirati girl who was starved and tortured to death by her father and his girlfriend.
Neither the law governing nurseries, nor the initial draft of Wadeema's Law, made specific provision to give the country's 300 licensed nurseries and their staff responsibility for preventing and reporting abuse.
"We wanted to include [nurseries] in the law so that they do not think later they are out of it," said Sultan Al Sammahi (Fujairah), one of the seven members of the Health, Labour, and Social Affairs committee, which is currently studying Wadeema's Law.
Their proposed amendment, Mr Al Sammahi noted, is the most significant they have so far proposed to the law.
After two weeks of discussions, the committee, with the help of legal advisers, has reviewed 45 of the law's 72 articles.
"We just made clarifications and added to the definitions, we introduced new ones to strengthen it," said Mr Al Sammahi. "So the law is clear to society."
He expects the remaining clauses to take a further week, after which members will meet child protection agencies and finally with Ministry of Social Affairs officials to ensure they are on board with the changes.
After that the bill will be debated by the full FNC in the presence of the Minister, Mariam Al Roumi.
The law, which Sheikh Mohammed bin Rashid, Vice President and Ruler of Dubai, ordered to be expedited last year following Wadeema's death, is intended to protect children from all kinds of abuse and neglect.
It will introducing child protection specialists with the power to take children from their homes if they have been harmed or are in imminent danger.
Sheikha Al Erri (UAQ) said the articles giving these specialists the power to intervene when needed would not go against societal norms nor would it interfere with peoples' lives.
"The bill does not clash with sharia, social norms, or international agreements," she said. "Plus, international agreements do not govern us, what governs us is our constitution."
She said the specialists would work mostly with adoptive families. "We must ensure they are good with the children," she said.
Salem Al Ameri (Abu Dhabi), chairman of committee, said the law will be ready to go to the full FNC before its four-month recess starts in mid-June.
osalem@thenational.ae
http://www.thenational.ae/news/uae-news/uae-nurseries-duty-to-report-abuse-considered-for-wadeemas-law#ixzz2QzjdEUXe
------------
Pakistani girl bags silver medal in INEPO
2013/04/19
ISLAMABAD: A Pakistani student has bagged silver medal in the 7th International Environmental Project Olympiad (INEPO Euroasia) held in Baku, Azerbaijan where students from 47 countries presented 123 projects.
Alvaz Adnan, a student of PakTurk School Lahore, presented her biology project on removal of dyes from effluent of factories and won a silver medal.
Commenting on the success, Chairman PakTurk Unal Tosur and Director Education Kamil Ture said that Pakistan students have been leaving others behind in almost all the international competitions which has encouraged them to boost investment in the future of Pakistan.
"We aim to shape the view of Pakistani students to think on a global scale while being sensitive to their traditions and values; they should be well acquainted with the competitive environment and capable to cope with the on-going and forthcoming challenges, they said."
The INEPO Eurasia, held every year, encourages students from around the world to develop projects that can solve environmental issues.
http://dawn.com/2013/04/19/pakistan-girl-bags-silver-medal-in-inepo/
--------------
No Concession for Lingerie Shops in Saudi Arabia
20 April 2013
The Ministry of Labour has rejected calls from shops selling women's dresses and Abayas to delay the second phase of the country's feminization process and said it will penalize those not complying after the July 1 deadline.
Fahd Al-Tukhaifi, assistant deputy minister of labour for development, said the ministry will start implementing phase two as planned and will ensure that the law is implemented in the SR 2 billion a year sector.
Many shop owners say they are not ready and want a postponement. They claim that Saudi women are not comfortable working in low-end markets. In addition, they say that many women workers are not sticking to prescribed working hours.
"The very rapid process will adversely affect shop owners. We just need more time to adapt to the new regulations. We are still suffering from the irresponsible behaviour of some girls who do not keep regular hours, and this has caused us losses," said Yusuf Al-Salamah, a shop owner.
Another shop owner, Atif Al-Sayyid, claimed Saudi women do not have a proper work ethic because they were prevented from working for so long. Many stay away from work, citing various excuses, which results in the management of their shopping malls issuing fines for sudden shop closures, he said. "We sometimes had to close the shop for two days because all the women did not turn up," he said. Muhammad Al-Shahri of the Jeddah Chamber of Commerce and Industry said officials of a number of government agencies would meet with the owners of such shops to establish a mechanism for the implementation of the second phase as the deadline approaches.
"We expect the second phase to be tougher than the first, in view of the large size of the sector and the paucity of female workers willing to work in these shops," he said.
http://www.arabnews.com/news/448778
------------
75% of northern Somali girls have not undergone FGM - Unicef
20 Apr 2013
By Katy Migiro
NAIROBI (TrustLaw) – Three-quarters of girls aged fourteen and under in northern Somalia have not been subjected to Female Genital Mutilation (FGM), the United Nations children's agency (Unicef) said in a survey released on Tuesday.
If sustained, this could lead to the abandonment of FGM, which previously was almost universally practised in Somalia despite the risk of death and lifelong health problems.
"I was absolutely thrilled," Sheema Sen Gupta, chief of child protection for Unicef in Somalia, told TrustLaw.
"FGM is practiced just around puberty. It usually spikes in 10 the 14 [year-old] group and to see that it was at 25 percent, that was fantastic."
The survey did not include southern Somalia, where the Mogadishu-based government has been battling al Shabaab, an Islamic militant group linked to al-Qaeda, but Sen Gupta is optimistic that progress can be made in reducing FGM there as well.
"The new constitution of Somalia bans FGM so that's a good place to start at the policy level," she said, adding that al Shabaab opposes FGM as "non-Islamic".
The survey showed that in the semi-autonomous northern region of Somaliland, 25 percent of girls aged 0 to 14 had been circumcised compared with 99 percent of women aged 15 and above. In neighbouring Puntland, 26 percent of girls aged 0 to 14 had been circumcised compared with 98 percent of women aged 15 and above.
Unicef and partners surveyed over 9,000 households in Puntland and Somaliland in 2011 as part of the global Multiple-Indicator Cluster Survey, carried out every five years. It was the first time that households had been asked the ages of all their daughters and whether they had been circumcised.
Almost half the population of Somalia lives in the northern regions of Somaliland and Puntland, which declared independence in the 1990s. They are relatively stable compared with the war-torn south but they have not been recognised internationally.
ENCOURAGING RESULTS
Sen Gupta said FGM could be eliminated in these areas if present trends continue.
"I do think it's possible. But what we need is sustained interventions. We have to continue and expand the work that we are doing," she said. "If, five years later, we find that this trend is reflected in the next age group, 15 to 25 [years old], then we know that it is sustained."
Sen Gupta pointed to the success of Egypt in banning FGM and reducing its prevalence among young girls. The government estimates that around half of Egyptian girls aged 10 to 18 are circumcised, falling to 22 percent among those whose mothers attended university.
In December, the United Nations General Assembly passed a resolution banning FGM, which is forced on some three million girls around the world every year.
What we found encouraging, particularly with Somaliland, is the rate of support is declining," said Suzannah Price, Unicef Somalia's chief of communications.
In Somaliland, only 29 percent of women said they supported FGM, down from 32 percent in 2006. In Puntland, 58 percent of women approved of it.
Somalis practice the most extreme form of FGM, called infibulation, in which all external genitalia are cut off and the vaginal opening is stitched closed.
It can cause severe bleeding, problems urinating, cysts, infections and infertility, and is a factor in the country's high rates of death in childbirth.
Traditionally, Somalis believe FGM keeps a girl chaste, prevents promiscuity after marriage and increases male pleasure. Some say it is a religious requirement.
Unicef works with religious leaders, teaching them that FGM is not part of Islam but a practice that pre-dates it. It also brings women who have had bad experiences with FGM to talk to families.
Social acceptance is critical.
"Even when mothers are beginning to believe that this is not religious and not required, the thing that stops them from preventing it is 'Will my daughter be marriageable or not?'" said Sen Gupta.
"They would first simply say to you: 'Find me a boy who will marry a girl who is not cut.'"
Unicef encourages communities to publicly renounce FGM. In 2012, 28 villages in Somaliland did this.
"They have actually declared abandonment, which means that no new kids will be cut," said Sen Gupta, while acknowledging that monitoring this pledge will be a challenge.
The governments of both Somaliland and Puntland have drafted bills outlawing FGM.
http://www.trust.org/trustlaw/news/75-of-northern-somali-girls-have-not-undergone-fgm-unicef
------------
Nigeria: Patience Seeks Legislation On Women Participation in Govt
BY NAHIMAH AJIKANLE NURUDEEN
19 APRIL 2013
Lagos — First Lady Patience Jonathan has called on the National Assembly to enact a law on 35per cent participation of women in government.
The president's wife who also called for a legislation that would guarantee the education of the girl child in Nigeria. Speaking in Lagos yesterday at the national conference on 100 years of the Nigerian woman, she said it was important for lawmakers to make laws that would support the growth of women in the country.
According to her, active participation of women in the current administration will continue after the current tenure if such a law is in place.
Full report at:
http://allafrica.com/stories/201304190639.html
------------
Youth Arrested For Trying To Win Girl's Heart with Egyptian Army Uniform
20 April 2013
Military police arrested a 22-year-old man in Mansoura on Thursday on charges of impersonating an officer of the Armed Forces.
The youth allegedly dressed up in an army lieutenant's uniform in an attempt to persuade his love interest to marry him, according to the girl's testimony to the police.
The suspect was arrested in Mansoura Stadium while sitting with his would-be fiancée. He initially pretended not to be Egyptian, but the police then discovered he was indeed an Egyptian citizen, born in Gharbiya in 1991.
Full report at:
http://www.egyptindependent.com/news/youth-arrested-trying-win-girl-s-heart-army-uniform
------------
UN: Women Rarely Included in W. African Peace-Building
Jennifer Lazuta
April 19, 2013
DAKAR — The U.N. Working Group for Women, Peace and Security in West Africa says women are drastically under-represented in peace-building activities in the region. The U.N. working group met with representatives of 50 international aid and human rights groups to figure out how to make women's voices a priority when it comes to making and keeping the peace in the region.
U.N. Women says women disproportionately "bear the brunt" of war and conflict in West Africa but are often excluded from peacemaking processes.
Full report at:
http://www.voanews.com/content/women-rarely-included-in-west-africa-peace-building-un-says/1644967.html
------------
Mother of Boston bombing suspects arrested last year for 'stealing $1,600 worth of clothes from Lord & Taylor'
Mom charged in June 2012 for shoplifting from the upscale department store
Her sons were caught on CCTV from a different Lord & Taylor along the marathon route
Tamerlan, 26, was killed Thursday night after shootout with law enforcement
Dzhokhar is still on the run and considered armed and very dangerous
By DAILY MAIL REPORTER
19 April 2013
The mother of the two Chechnyan brothers suspected of setting off two bombs at the Boston Marathon was arrested last year for allegedly stealing $1,600 worth of clothes from an upscale department store.
Full report at:
http://www.dailymail.co.uk/news/article-2311653/Boston-bombings-Mother-Boston-
------------
URL: https://newageislam.com/islam-women-feminism/nigeria-girl-stripped-harassed-public/d/11223