New Age Islam News Bureau
11 November 2020
• Dubai Residents Share Initiative Supporting Female-Led Businesses
• Nida Allam, The First Muslim Woman Elected To Office In North Carolina Decided To Join Politics After Her Friends Were Killed In Chapel Hill In 2015
• Alia Zafar Appointed As Pakistan Cricket Board's First Female Director
• Jewish, Christian And Muslim Women Come Together Around Storytelling, Community Service
Compiled by New Age Islam News Bureau
URL: https://www.newageislam.com/islam-women-feminism/new-york-police-stop-forcing/d/123440
--------
New York Police To Stop Forcing Muslim Women To Remove Hijab During Arrest
10 November 2020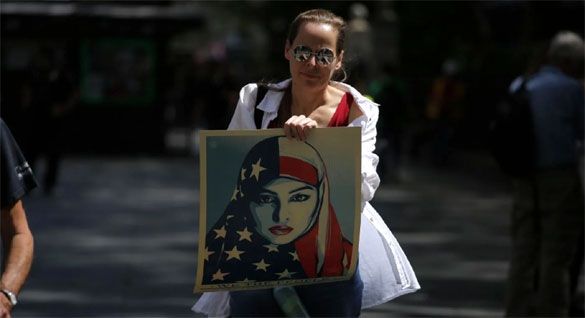 A woman holds up a poster during a rally to support Muslim rights outside city hall on 10 June 2017 in New York (AFP/File photo)
------
The New York police department has agreed to stop forcing Muslim women to remove their headscarves for arrest photos and detentions, following several costly lawsuits over the practice.
In an effort to settle one of the more recent suits, the police department agreed to change its policy and allow religious people to be photographed in head coverings as long as their faces are left visible.
The two-year-old lawsuit was brought on by Jamilla Clark and Arwa Aziz, each of whom experienced separate incidents of having to remove their hijabs at the demand of the police department.
"It was appalling that this was happening for so many years in New York and that our city was betraying the values of religious inclusion," said Albert Fox Cahn, a lawyer who represented the women in their suit. "But now we won't see any more New Yorkers subjected to this discriminatory policy."
In Clark's original complaint, she recounted breaking down in tears, saying she felt naked after being forced to remove her hijab for hours when she was detained in January 2017 on a low-level charge of violating an order of protection.
In August of that year, Aziz was arrested on similar charges in Brooklyn. She said police made her take off her hijab for an official arrest photo in a crowded hallway with dozens of male prisoners watching.
Protections for all religious groups
Under the new settlement, authorities would not be allowed to force women to remove their head coverings unless needed for a search, and the department has agreed to document for the next three years any instance in which it forced someone to remove religious headwear.
Meanwhile, officers will be trained to "take all possible steps, when consistent with personal safety", to allow prisoners to keep their headwear on in order to respect their "privacy, rights and religious beliefs".
The policy change, reached in federal district court in Manhattan, will allow other religious groups the freedom to wear other types of head coverings as well, such as skullcaps and wigs worn by Orthodox Jews and the turbans worn by Sikhs, among others.
The agreement was the latest example of the NYPD changing policy to accommodate religious practices.
After a similar lawsuit filed in 2016, the department approved a new policy to allow officers to wear turbans and grow beards for religious reasons.
In a statement on Monday, Patricia Miller, chief of the Special Federal Litigation Division of the city law department, praised the latest policy change as "a good reform for the N.Y.P.D.".
"It carefully balances the department's respect for firmly held religious beliefs with the legitimate law enforcement need to take arrest photos, and should set an example for other police departments in the country," she said.
A nationwide issue
Instances of the forcible removal of hijabs are common and have often resulted in litigation.
In April, Muslim woman filed a class-action federal lawsuit against the Yonkers police department in New York after she was also forced to remove her hijab for a mugshot photo.
The incident occurred on 26 August 2019 when Ihsan Malkawi and her husband were arrested in "false allegations of abuse" made by their daughter, which was later deemed to be "unfounded".
The legal action said the police department's policy violated the First Amendment, as well as federal and state laws and "must be changed".
Malkawi's daughter had tried to run away from home a day earlier because she wanted to return to Michigan, where the family formerly lived.
In June, 18-year-old Alaa Massri, a Black Lives Matter activist, was arrested after skirmishes broke out between demonstrators and police and she was forced to remove her headscarf in Miami, Florida.
At the time, Massri said she was left without her hijab for seven hours, while the photos were made available to "countless media" outlets, some of which published her photos online.
https://www.middleeasteye.net/news/new-york-police-agree-stop-forcing-muslim-women-remove-hijab-arrest
--------
Dubai Residents Share Initiative Supporting Female-Led Businesses
November 03, 2020
Roudha Mejren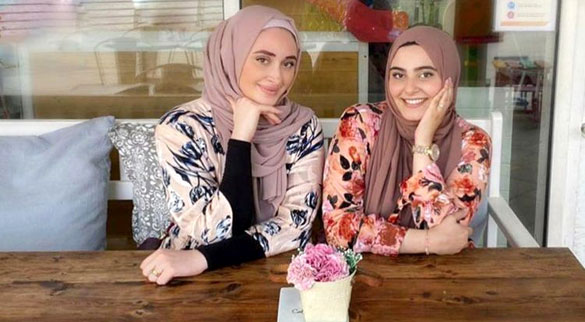 Palestinian-American women Anan Helwih and Mariam AlSamadi have been living in the UAE for many years.
Image Credit: Supplied
-----
DUBAI: Supporting female-led businesses is a conscious decision many people around the world are taking in their journey towards women empowerment. For two young UAE residents, this was the motivating factor behind launching their initiative 'Dxb Women', where they shed light on businesses in the city that are founded by women.
Mariam AlSamadi, 26, and Anan Helwih, 23, are two Palestinian-Americans who have been in the UAE for many years. During the ongoing COVID-19 pandemic, they understood that many small businesses were struggling and they decided to do their part in supporting the ones they could, by focusing mainly on female-led enterprises.
"A year ago, we met on a Facebook group. We both had newborns of a similar age, so our friendship instantly blossomed," said AlSamadi. "We knew we wanted to work on something together and during quarantine [movement restrictions], we started noticing how many businesses were going through a tough time. So we wanted to contribute in our way."
Helwih added: "We came up with the 'Dxb Women' initiative where Mariam and I would visit and promote as many female-led businesses as we could."
Through showcasing each businesses' unique products or reviewing an overall service or experience, these two women aim to create a platform where their followers can easily come across businesses founded by women that they can support.
"Many people want to help, but they're unsure where to start. That's where we come in," Helwih explains. "We find a lot of these businesses through groups on social media. We wanted to make that information accessible to more people and that's why we chose Instagram."
AlSamadi said: "Usually, once a week, on social media, we have people shout out their favourite businesses. It's just a whole day where people can share and promote their own businesses or their favourite ones. It allows us to raise awareness about all the businesses out there, led by strong women that we should support."
Supporting small businesses
The appeal of smaller businesses is what inspired Helwih and AlSamadi to launch their initiative. They share personal experience that each customer has while dealing with a smaller homegrown business, that not only aspires to offer great service, but often has unique products that may not be known.
Helwih said that supporting these businesses has helped enrich her experience in many stores. "I was purchasing some clothes at a store that had diverse sizes on offer for different body shapes. Many people experience a lot of emotional stress when purchasing clothes that don't fit properly," she explained. This female-led business in the UAE was not only offering a variety of sizes and products, but also provided a personalised service that Helwih said had never been experienced elsewhere before.
Women supporting women
These two women have encouraged other consumers in the UAE to try and consciously choose some smaller or female-led businesses to support. AlSamadi said: "It doesn't have to be one hundred per cent of your daily purchases. Just do your research and find a product that you love that you can support in a female-led business. They're everywhere and they're all accessible."
They also believe that supporting a business can also be through reposting on social media, word-of-mouth publicity or even through simply offering recommendations.
The Future of 'Dxb Women'
"We have a PR and marketing background," AlSamadi said. "We aspire to help businesses create their brand identity and grow further. We don't want to create an overpriced marketing agency, instead we aim to provide support and guidance through our expertise. Collaborations and hosting workshops for small female-led businesses is where we hope our initiative will lead to so we can contribute to supporting women in the community," she added.
https://gulfnews.com/uae/dubai-residents-share-initiative-supporting-female-led-businesses-1.74971361
--------
Nida Allam, The First Muslim Woman Elected To Office In North Carolina Decided To Join Politics After Her Friends Were Killed In Chapel Hill In 2015
By Kayla Guilliams
November 11, 2020
Nida Allam didn't always see a place for herself in politics. But on Election Day, she was one of five women elected to the Durham County Board of Commissioners, making her the first Muslim woman elected to public office in North Carolina.
Allam is a graduate of N.C. State University where she studied sustainable materials and technology, planning to get a job in sustainable supply chains after graduating. But after her friends Deah Barakat, Yusor Mohammad Abu-Salha and Razan Mohammad Abu-Salha were killed in Chapel Hill in 2015, just months before her graduation, she decided to make the switch to politics.
Allam said she began looking at how the Muslim voice wasn't being heard or discussed in a way that was representative of Muslim Americans.
"That was also when the 2016 presidential campaigns were gearing up, and the Bernie Sanders campaign really resonated with me," Allam said. "He talked about Muslims as people who care about their neighbors and want to work for a better America, rather than in the stereotypical way Muslims are often talked about."
Allam worked as a political director for the Sanders presidential campaign in 2016. In that role, she focused on reaching out to marginalized communities and educating residents on policies and issues.
A year later, she was elected as third vice chairperson of the N.C. Democratic Party, making her the first Muslim elected to the Executive Council. And in 2018, she was appointed to the Durham Mayor's Council for Women and was unanimously elected as chairperson of the Council, which works to alleviate the issues women face in Durham.
"Nida is a great example of a person who is just incredibly qualified for their role," Brigid Godfrey, deputy communications director for the North Carolina Democratic Party, said. "She's had a long history of being involved with the Durham community and above all else, that is what's important when we elect somebody."
Allam said she decided to run for the Board because of the important role local government plays in the day-to-day lives of residents, and because it would allow her to build a direct relationship with her constituents.
Her campaign centered around issues that she said resonated with Durham residents like increasing salaries for Durham Public Schools staff, increasing access to jobs and fighting for safe and healthy communities. She said creating a resource center for immigrants in Durham that provides language services and other support is one of her top priorities.
"Her campaign focused on 'fighting for what our communities deserve' by being a voice for every resident living in Durham County," Allam's campaign said in a press release. "While Nida is a Democrat, she vows to represent all walks of life and beliefs, knowing that we can be a stronger voice when we work together."
Godfrey said Democrats up for election across the state, including Allam, were the most diverse slate of candidates the North Carolina Democratic Party has ever had.
Allam said having a government that represents the community it serves is something she's really passionate about.
"As a millennial, as a Muslim woman, as an immigrant, politics and government never really had a seat for me to come to," Allam said. "And now I can start creating those seats for other people."
https://www.dailytarheel.com/article/2020/11/city-nida-allam
--------
Alia Zafar Appointed As Pakistan Cricket Board's First Female Director
November 11, 2020
The Pakistan Cricket Board has appointed a female director for the first time.
Human resources executive Alia Zafar has been included among four new PCB directors. The others are finance executive Javed Kurieshi, economist Asim Wajid Jawad and corporate executive Arif Saeed.
Zafar and Jawad were appointed for two-year terms.
The PCB's new constitution makes it mandatory to include at least one woman among four independent directors on its board of governors.
"I welcome the newly-appointed independent members, especially Ms Alia Zafar, the first female independent member, which is a giant step forward in enhancing the PCB's governance structure," PCB chairman Ehsan Mani said.
The revamped structure of the PCB has resulted in only six provincial teams -- Balochistan, Central Punjab, Southern Punjab, Khyber Pakhtunkhwa, Sindh and Northern -- competing in premier first-class cricket tournaments.
For more than 50 years, banks fielded teams in first-class tournaments alongside city-based teams in Pakistan.
https://www.business-standard.com/article/international/alia-zafar-appointed-as-pakistan-cricket-board-s-first-female-director-120111100060_1.html
--------
Jewish, Christian And Muslim Women Come Together Around Storytelling, Community Service
November 11, 2020
Every month for the last eight months, seven women meet on Zoom for wide-ranging discussions of faith, tradition, culture and womanhood. Their stories, drawn from their experience as Jews, Christians and Muslims, are building the foundation for a multifaith project rooted in years of collaboration among their congregations.
"It's all about having conversation, building bridges of understanding, finding common ground rather than focusing on things about our faith and practice that might be different," said Carol Zonis, a member of Temple Kol Ami and one organizer of the multifaith women's group. "Although when we have ventured into those conversations, they've been marvelous."
Zonis and the other six women found each other through the multifaith efforts of their respective faith leaders: Rabbi Jeremy Schneider of Temple Kol Ami, Pastor Josh Prather of Redemption Church and Imam Didmar Faja of the United Islamic Center of Arizona.
During the past four years, Schneider, Prather and Faja cultivated a relationship that included initiatives, interfaith study sessions and a trip to the United Arab Emirates. Two years ago, they held a retreat that brought together members of their respective congregations to start conversations and find ways for lay leaders to work together.
That's where Zonis and Brittany McFadden, a member of Redemption Church, first met. The pair hit it off and started brainstorming a multifaith storytelling project with the help of Cheryl Stover, a member of the UICA recommended by Faja. Finally, at the beginning of 2020, a group of seven women — two from TKA, two from Redemption Church and three from UICA — came together with the intention of telling stories and sharing their experiences so that each member could learn about the other two faiths.
While the initial game plan for the group involved sharing meals and inviting more members for in-person meetings, that plan was disrupted by the pandemic almost immediately. The group only met in person once before switching to Zoom and, as they adjusted to the new online reality, they put plans to expand the project on hold.
Part of that decision, McFadden said, was rooted in the group's desire to get to know each other better before adding more members.
"We felt like we actually needed to build relationships and have hard discussions and learn what happens when someone brings up a topic that's really touchy or says something that is taken offensively. How do you work through that?" McFadden said. "So we wanted to be our own guinea pig before we would bring other women into that conversation."
On the virtual medium of Zoom, the format of the conversation also shifted, from offering storytelling prompts to a more fluid and open discussion, where any member can pose a question. The result is a genuine heart-to-heart on "subjects delicate and not-so-delicate," Zonis said.
"We intend to talk for an hour, we usually end up talking for an hour-and-a-half. And we stop only because we have to stop at some point," Zonis said. "The group of us has formed a marvelous bond."
At their most recent meeting, Stover recalled, the group asked her if she'd experienced a difference working with men in Islam versus Christianity. She hadn't: "Men are men," Stover said. As the women explored the relationship between men and women in their respective faiths, they came to see that there weren't as many differences as they once thought. In terms of restrictions on women, "every one of the religions has their own issues, good or bad, and it doesn't define the religion," Stover added.
While Stover found teaching about her own faith and learning other women's stories uplifting, she said, it isn't as easy for the other two women from UICA. But as the months go on, each member of the group is beginning to find her voice.
"They're also learning and they're also opening up to the questions that are asked, so it's really good," Stover said. "I know it's a challenge for them sometimes, but it's good for everyone because we're getting out of our box and we're learning to be comfortable with who we are around those who are not like us."
While the last few months have been an excellent chance to learn and open up to one another, that isn't the only goal that Zonis, McFadden and Stover have for the group. In October, the women from the Multifaith Neighbors Network were able to come together around another common cause: giving back to their community by delivering meals to Family Promise, a nonprofit that provides temporary housing to families experiencing homelessness.
"Part of our group's commitment is that we will serve and seek the good of the city together," McFadden said.
TKA became a faith partner of Family Promise earlier this year, and it was Schneider, Zonis said, who approached her and asked if she could work with her Christian and Muslim peers to organize a joint week of food deliveries.
"There wasn't a moment of hesitation" from the other women, Zonis said. "We all understood this was a way not just to help families who need the help, but for us to work on something together."
And it was easier, she said, working with people who she already had a relationship with — people who wouldn't be surprised to receive more than a few emails from her, checking in to make sure everything ran smoothly.
"They know me, they understand my craziness," Zonis said.
With seven nights' worth of food to prepare, the women divided the work: McFadden and Stover each organized volunteers for two days and Zonis organized food for three days. Their teams put together a menu of meals, some prepared and some bought, with variety in mind: meatloaf, pasta with meat sauce, roasted chicken and mashed potatoes, barbecue sandwiches and potato salad, chicken and rice, pasta bolognese and pizza.
While the women dropped off meals at Family Promise without meeting the families who would receive them for safety reasons, it was a fulfilling experience and a reminder of what can be accomplished when people of different faiths come together, Stover said.
"Each one of the ladies has a pure heart, and they're willing to serve and they're willing to go above and beyond to help others," Stover said. "So I don't see any limit in what we can do."
The multifaith group accomplishments at this point are only the beginning. Zonis hopes to broaden membership to include more women, and McFadden envisions it growing into a network of small multifaith gatherings, with the current Zoom meetings planting the seeds for other women to host similar storytelling sessions in their own homes when the pandemic passes.
"This is just the start," Stover agreed. "It's exciting to see where God is going to move us, and God is going to help us to accomplish things. And with the love and the respect that we have for each other, we're going to be able to accomplish many things." JN
http://www.jewishaz.com/community/jewish-christian-and-muslim-women-come-together-around-storytelling-community-service/article_674fceb6-239f-11eb-9bd0-9f16a69d16fe.html
--------
URL: https://www.newageislam.com/islam-women-feminism/new-york-police-stop-forcing/d/123440
New Age Islam, Islam Online, Islamic Website, African Muslim News, Arab World News, South Asia News, Indian Muslim News, World Muslim News, Women in Islam, Islamic Feminism, Arab Women, Women In Arab, Islamophobia in America, Muslim Women in West, Islam Women and Feminism