New Age Islam News Bureau
3 Apr 2020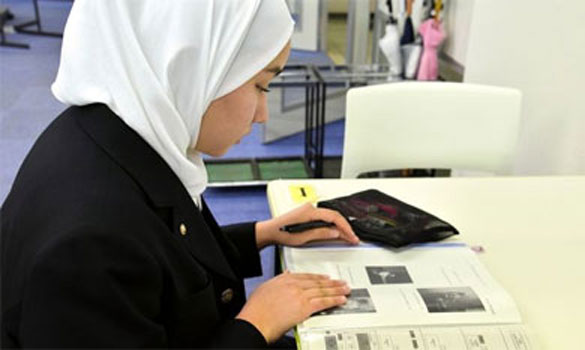 Elaheh Fedaei's favorite subjects at school are English and physical education, and she loves playing basketball. (Mari Fujisaki)
-----
• New Law in Saudi Arabia Stipulates Pre-18 Marriage to Have Court Nod
• Afghan Daughter Denied Education in Chiba Because Of Short Skirts
• Pakistan Mosque Opens Doors to Women After 23 Years
• Coronavirus: Fourteen Women Murdered in Turkish Homes Since Lockdown
• Why More Indonesian Teens Are Giving Up Dating
• Canadian Woman Lured to Become ISIS Nurse Via The Internet
• Tunisia: Homage to First Woman Gynecologist in Arab World
• When Muslim Women Became My Savior
• Arab Women Trapped Between the Virus and Domestic Abuse
• Coronavirus Fuels Domestic Violence in The Middle East
• Panama Specifies Separate Days for Men, Women to Go Out Amid Lockdown
• Behind Pakistani Feminists' Fight for Rights
• The UN Special Envoy For Yemen Consults With The Yemeni Women's Technical Advisory Group
Compiled By New Age Islam News Bureau
URL: https://www.newageislam.com/islam-women-feminism/new-law-saudi-arabia-stipulates/d/121477
-------
New Law In Saudi Arabia Stipulates Pre-18 Marriage To Have Court Nod
March 30, 2020
By Fatima Al Debais
RIYADH – Only a competent court will have the right to issue permission for the marriage of young men and women under the age of 18, according to the draft regulations for underage marriage approved recently by the Ministry of Justice.
Okaz/Saudi Gazette has learnt from well informed sources that this ends the jurisprudence of licensed marriage officials to endorse marriage contracts.
According to the sources, the competent court will work to ensure that several conditions are met before concluding the marriage contract, the first of which is that the request shall be submitted by the young man or woman or their legal guardians or mother of either of them.
There is another condition that the judge must ascertain the consent of the young man or woman through an explicit statement in front of him, in addition to listening to what their mothers have to say.
The conditions also include that the judge must ensure the full physical and mental growth of the would be bride and bridegroom through a medical report, and a psycho-socio report, approved by Ministry of Health, and Ministry of Human Resources and Social Development.
The report must also include a clarification about the extent of psychological and social parity between the proposed husband and wife.
The sources stressed that the regulations stipulate that the relevant authorities have to take necessary measures against any violations and will apply provisions of the Child Protection Law against the offender. It also grants the minor or any of his parents the right to file a case in the event of a dispute between the spouses or harm caused to either of them.
There is also a provision that these regulations are also applicable to Saudi young man in the event of his marriage with non-Saudi woman within the Kingdom.
http://saudigazette.com.sa/article/591339/SAUDI-ARABIA/New-law-stipulates-pre-18marriage-to-have-court-nod
--------
Afghan daughter denied education in Chiba because of short skirts
April 3, 2020
A 20-year-old Afghan woman who lives in Chiba Prefecture recalled crying in her room with her younger sister when their brothers were allowed to go to school.
She came to Japan when she was 16, but her father was vehemently against the idea of letting her attend classes. Among the reasons he gave were that boys and girls sit side by side in class and school uniform skirts are too short.
"If this were Europe, administrative officials would intervene to make sure I could develop my academic skills," she said. "How can I live my life from this point on if I can't go to school?"
The issue of foreign families denying girls a chance to attend school has not received much attention partly because foreign children are not subject to compulsory education in Japan.
According to an education ministry survey, about 124,000 foreign children of elementary and junior high school age live in Japan. An estimated 20,000 of them do not go to school, but the percentage of girls in this group has not been confirmed.
Although parents' religious beliefs could be blamed for denying their daughters a chance to go to school, experts say that is often not the case.
"Under Islamic thinking, men and women are isolated from each other on certain occasions, but there is no problem for women to play active roles in society," said Masanori Naito, a Doshisha University professor well-versed in Islam. "Only some Islamic conservatives have negative feelings about women's activities."
Instead of attending classes, the Afghan woman said, she prepared three meals a day for her family of six, washed the dishes and cleaned up.
She developed a love for South Korean and Chinese TV dramas shown on the internet in between her chores, and she went to a mall on weekends to look at clothes and shoes.
She was finally allowed to attend a nongovernment-run free school when she turned 19. But she felt even more empty because of the age difference; her classmates were studying to move on to senior high school.
She said all her female relatives who have immigrated to the United States and Canada attend colleges and senior high schools.
Many guardians among first-generation immigrants in Japan have worked to support their families rather than receiving a higher education.
"It seems that many of them want their children to help run their shops and do household chores sooner rather than letting them study," said Noriko Hazeki, 68, president of the nonprofit organization Multicultural Center Tokyo.
Hidenobu Matsuzawa, 71, head of an association that supports Kurdish people in Saitama Prefecture, said that type of thinking was also prevalent in Japan until just a while ago.
Yoshimi Kojima, an associate professor at Aichi Shukutoku University, said the government should inform foreign parents about Japan's way of thinking toward education while respecting and guaranteeing their right to religious beliefs.
Elaheh Fedaei, 18, a Muslim from Afghanistan, attends the Chiba prefectural Oihama Senior High School. She says that she knows no Muslims around her who would deny a girl's right to receive an education.
http://www.asahi.com/ajw/articles/13203642
--------
Pakistan mosque opens doors to women after 23 years
March 7, 2020
The officials said women will also be allowed during Eid prayers.
Peshawar's historic Sunehri Masjid has opened its doors to female worshippers for the first time since 1996, a move warmly welcomed by women of the city.
Nearly 15-20 women offered prayers on Friday after the administration of the mosque, located on main Saddar road in Cantonment area, announced the move, reports Dawn news.
The mosque's imam, Muhammad Ismail, said the decision, which comes days ahead of International Women's Day observed on March 8, was taken to facilitate women living in Saddar and other areas.
"Before 1996, women were allowed to attend Friday prayer congregations in the upper portion of the mosque," he recalled, adding that in 1996, females were barred from praying in the mosque due to growing militancy.
"Now we have opened the upper portion again so that women can offer Friday prayers alongside males in a separate section and listen to Friday 'khutba' (sermon)," Ismail said.
A women who attended the prayers at the mosque on Friday along with her daughters, told Dawn news: "I am really happy, and this is a really good decision."
https://www.khaleejtimes.com/world/pakistan/pakistan-mosque-opens-doors-to-women-after-23-years
--------
Coronavirus: Fourteen women murdered in Turkish homes since lockdown
By Ragip Soylu
2 April 2020
Women's rights groups in Turkey have called for better protection for women facing violence during the coronavirus pandemic lockdown, as new figures revealed that over 20 women had been murdered in a three-week period in March.
The We Will Stop Women's Murder Platform reported on Wednesday that 21 women had been killed in the space of 20 days since 11 March, when the government advised the country to stay at home to avoid spreading the virus
"Fourteen of them have been killed at home," the group, which takes its figures from media reports, said in a statement. It added that many women who had contacted the group were scared to report violence by husbands or partners, which had grown under the domestic lockdown conditions.
"Some of them have given up," the group reported. "Some have realised that the violence against women had increased, upon returning home following the closure of the universities. Women also had a hard time to file for injunction orders because the offenders are elderly or sick."
While Turkey has focused on the coronavirus pandemic, with 63 deaths from the virus reported on Thursday, the near-daily murder of women has still made headlines.
During March as a whole, 29 women were killed, with a further nine whose deaths were recorded as suspicious, according to local media.
Last week, Hatice Kurt, 46, was shot and killed in the street in the Black Sea resort of Rize by her ex-husband Ali Riza Havuz, 61, for allegedly posting a picture of herself online.
That same week, Dilek Kaya was shot and killed by her military officer boyfriend at home in the eastern city of Diyarbakir after a heated argument.
Tulin Oygur, the chair of the Republican Women's Association, told local media outlets that there should be TV campaigns against domestic violence during the pandemic.
"We are worried that the lockdown would cause domestic violence not only against women but also children, and abuse," she said.
The association has also asked the government to make it easier for women in the current climate to obtain court injunctions against their abusers. On 13 March, Turkey's Judges and Prosecutors Board decided to postpone all court cases except those deemed urgent.
"The government has not announced any urgent measures [regarding violence against women]," the statement said. "The right to life for women and children shouldn't be delayed. It should be guaranteed with urgent steps."
Turkey has made moves to combat the murder of women during the last year. An estimated 55,000 police officers have been now trained on how to handle violence against women, while the process for women to take out court injunctions against their attackers has been made easier.
The Turkish Interior Ministry said in a statement in March that femicides had decreased by 32 percent year-on-year during the first two months of 2020.
It also reported that 24,000 women had downloaded the Women Emergency Support application, through which they can apply to take out an injunction. During the same period, injunctions increased 71 percent, according to the ministry.
Groups have long been warning of an epidemic of femicide across Turkey, with We Will Stop Femicide reporting 440 women killed by men in Turkey in 2018.
By Wednesday, Turkey had recorded 63 coronavirus deaths in a single day - the highest since the beginning of the pandemic, taking the overall death toll to 277.
Turkish Health Minister Fahrettin Koca said in a TV statement that 2,148 people had tested positive during the last 24 hours, 600 less than the day before. "Sixty percent of the cases are in Istanbul," he added.
https://www.middleeasteye.net/news/coronavirus-women-murder-turkey-increase-domestic
--------
Why more Indonesian teens are giving up dating
Apr 2nd 2020
It was love at first like. When Natta Reza, a dashing Indonesian busker, discovered the young woman's account on Instagram, he knew he'd found the one. He liked one of her posts, and they started chatting. Within hours he had proposed via an Instagram message. They married soon after, in February 2017.
Since then Mr Natta and his wife, Wardah Maulina, have become celebrities on Instagram. They are the poster couple for a social movement sweeping Indonesia, home to the world's largest population of Muslims. Its champions encourage single Muslims to renounce dating, lest they succumb to the temptations of premarital sex, which is barred by Islamic law. Better to marry young, and swiftly, and leave the matchmaking to a parent, cleric or the Islamic internet. Islam in Indonesia has traditionally been a moderate affair. Yet the eagerness with which teenage and millennial Muslims have embraced abstinence shows how a purist strain of the faith has tightened its grip.
https://www.economist.com/asia/2020/04/02/why-more-indonesian-teens-are-giving-up-dating
--------
Canadian woman lured to become ISIS nurse via the internet
April 3, 2020
A Canadian woman opens up about her experience about joining terrorist group ISIS as a nurse.
In an interview with Anne Speckhard of Homeland Security Today, Kimberly Pullman, 46, said she joined the terror organization because she wanted to help children.
"If I was going to die at least I could die helping children," said Pullman, who left Canada in 2015 to travel to Syria. "(It's) illogical that you are entering a war zone that you don't know anything about … I felt if I did something good it would overwrite the bad that had happened."
According to Homeland Security Today, western women join ISIS for a variety of reasons, including wanting romance, adventure seeking, escaping bad family situations or rejecting Western society to name a few.
In joining ISIS, these women hope to find a relationship, a purpose, dignity and maybe a new life based on Islamic ideals. But they end up being disappointed by the reality.
Pullman said she left Canada running from a troubled family life and thinking she can help Syrians with her nursing skills during a war. The nurse was recruited on social media.
Pullman said she met her ISIS recruiter on Twitter and ended up marrying him online, later following him into the terror organization.
As a teen, the Canadian woman said, her leukemia-stricken father had asked her to help assist with his suicide. She was also raped more than once while in troubled relationships, which led to three children by the time she was 20.
Pullman said she was drawn to the conservative nature of Islam and looked for safety in Islamic communities to protect her kids. After converting to Islam, she married a Kuwaiti man who brought her and her children overseas.
Her husband allegedly subjected her and her children to violence. After escaping that relationship and divorcing her husband, Pullman looked to Canada for help from an imam, who ended up raping her as well.
Pullman became known to CSIS thanks to her online chats with ISIS. She claims the Canadian government tried to prevent her from travelling to Syria. In hindsight, Pullman said she would have told CSIS what the recruiter was doing.
While under ISIS influence, Pullman was told to either "work or go to prison." As a nurse, she chose to work at hospital in Raqqa, Syria, with Western doctors, tending to patients in an underground ICU.
Pullman didn't like what she was seeing in ISIS and didn't want to stay. But she couldn't just up and leave. She tried to escape once, but was thrown in prison, sexually assaulted and later accused of being a spy, she claimed.
While she wasn't visited by Canadian authorities, Pullman said the FBI interviewed her, stating she didn't have charges against her.
Pullman has since escaped ISIS, but is stuck in a Syrian camp, feeling abandoned by the Canadian government. She now wants to aid in the fight against the terror organization.
She now works with the ISIS Brand Counter Narrative Project, an online campaign to prevent and disrupt ISIS recruitment.
https://windsorstar.com/news/world/canadian-woman-lured-to-become-isis-nurse-via-the-internet/wcm/0b294329-5341-4952-8c60-ae289c10866f/
--------
Tunisia: homage to first woman gynecologist in Arab world
02 APRIL, 2020
TUNIS, APRIL 2 - The new 10-dinar banknotes that have started circulating in Tunisia portray the image of a woman - a novelty in the Arab world. The woman is Doctor Tawhida Ben Cheikh (1909-2010), a fundamental figure in Arab modern medicine, a pediatrician and the first woman to become a gynecologist in Tunisia and North Africa. The doctor is well-known for her stance in favor of sexual education and birth control and for promoting women's rights.
After graduating in medicine in Paris in 1936, she returned to Tunisia where she worked in the public sector for a long time, visiting poor women in Tunisian villages for free.
http://www.ansamed.info/ansamed/en/news/sections/generalnews/2020/04/02/tunisia-homage-to-first-woman-gynecologist-in-arab-world_3afd40d0-1114-4535-a513-3b13f93efb55.html
--------
WHEN MUSLIM WOMEN BECAME MY SAVIOUR
By Sandeep Pandey
4/3/2020
Before the anti-Citizenship Amendment Act, National Register of Citizens and National Population Register dharna at Ghata Ghar was symbolically withdrawn on 23 March morning, I happened to visit the dharna site on 21 March evening with the purpose of sitting their with my spinning wheel or Charkha in support of the women. Immediately the police arrived and wanted me to leave the site citing that it was a women's protest. I've been here earlier and have spun a couple of times outside the area marked for women protesters. By that time some women also arrived from the main dharna site. I informed them of my intention to spin on my Charkha and sought their permission. I told the police that if the women would tell me not to spin then I'll go away. The women were in a fix and meanwhile the police was building pressure on me to leave. One of the women advised me to leave after which I got up. By that time police had spoken to their higher officials and decision was taken to detain me. Police asked me to accompany them.
When we were heading towards the police jeep some women who knew me well but were unaware of the developments came to know about my presence there. They came rushing towards the police, with a crowd of them following, and asked the police how could they arrest me? They literally snatched me from the police and two women grabbed my two hands and took me right inside the main dharna site. I was offered a chair and drinking water pouch. My grey hair and beard gives an impression that I'm older than my age. Some of them began advising that I should leave from the rear of the dharna site so that the police wouldn't be able to arrest me. I told them that my purpose to come there was to spin and if they would permit me I would like to spin on my Charkha at the place I had chosen earlier. They were apprehensive of the police detaining me again. I told them not to worry about it as even if they did they would take me to the police station and leave me after some time or register a case against me in some lighter sections which would require me to take a bail.
After this I sat down to spin on my Charkha. The police had surrounded me and wanted me to wind up. This time they did not make an attempt to detain me because of the alert women present there. I told them that if they allowed me to spin for some time I would go away on my own. Then they cited the threat of coronavirus and asked me to stop spinning. I told them that if they were not surrounding me it would not attract so much attention and crowd. Then some journalists also requested me to wind up because of the corona threat. This time I complied with their request but told the Station Officer of Thakurganj Police Station that I would be back after the 'janata curfew,' the next day, and then police should not interfere, to which he agreed.
Two days before this on 19 March the administration asked the women to reduce their strength in the wake of threat of coronavirus. However, when their numbers went below 50, the administration tried to forcibly remove the dharna. At that point the number of police and security personnel was more than the protesters but as soon as the word spread that police was trying to commit atrocity, the numbers of protesters swelled. Because of the scuffle some women got injured and had to be admitted to hospital. But the women stood their ground so stoutly that in spite of policemen entering the main dharna area of women to terrorise them they were not able to move the women. I had just heard of this courage and seen it from a distance. But I directly experienced it on 21 March to my welcome surprise.
Swami Vivekanand had said that a true Indian is one who possesses the depth of Vedanta, courage of Islam, spirit of service of Christianity and compassion of Buddhism. Even he identified Islam with valour. I saw this spirit in Muslim women on 21 March.
Who can defeat such brave women? Now I'm convinced that this movement will succeed and government will have to withdraw in spite of the fact that it has used the excuse of coronavirus to wind up the dharnas with a vengeance. It is shameful that when the protesters had taken a decision at Jamia Millia and Shaheen Bagh to reduce their protests to only symbolic ones, the police has used high handed methods like lodging First Information Reports, detaining and painting over the graffiti on walls to forcibly remove all symbols of dissent. The intention of the government is clear, it was not to protect people from coronavirus but to completely wind up the protests. It took them an international crisis to be able to do that. Once the corona threat subsides the government will have to either remove the discrimination in the name of religion and country from CAA or take back the amendment itself. If democracy and Constitution survives in this country we'll have to thank the Muslim women for waging the fight.
It is a matter of shame that the Secretary General of United Nations Ban Ki-Moon has written in an article that 'There is no way that India can overcome its development challenges by pitting one religious group against another and turning some Indians into second class citizens....If India were to go further down this path of nationalist and religious discrimination, it would be a political and social catastrophe that could set back the country's development for generations.' He further suggests that the vision of founding fathers of India should remain at the heart of our future to achieve lasting peace, justice and prosperity. What can be more scathing indictment of our present leadership than this.
In another article by the President of India, Ram Nath Kovind, he has written that coronavirus reminds us how for nature we are all equal and how this little virus has erased all human created differences in the society. If he sincerely believes in this then he should recommend to the government to withdraw the CAA which discriminates among human being on the basis of their religion and nationalism.
*(The writer is Vice-President of Socialist Party (India)and can be reached at e-mail: ashaashram@yahoo.com
http://www.kashmirtimes.com/newsdet.aspx?q=100814
--------
Arab Women Trapped Between The Virus and Domestic Abuse
April 2nd, 2020
With households across the world on lockdown due to the coronavirus pandemic, many women are finding themselves trapped between the virus and domestic abuse.
In the Middle East, the story of Jordanian domestic abuse victim Eman al-Khateeb went viral after she sent an online plea for help when she was almost killed by her brother during quarantine after dealing with years of abuse by her family and ex-husband.
In her plea, she said she is divorced with a 13-year-old son and was made redundant after the coronavirus outbreak, but her ex-husband refuses to pay alimony to cover her and her son's expenses.
Her brother Ayman kicked her and her son out of their home, without money or their personal belongings, and told her never to return. He said that she will be killed if she comes home without cash.
Despite Eman's story being the first and only high-profile case of heightened domestic abuse under quarantine in the region, it shows that fears of lockdowns causing a rise in violence against women are very much real.
"With women having no choice other than staying home and no means to escape, we expect that violence against women will increase," Suad Abu Dayyeh, a women's rights campaigner for Equality Now told The New Arab.
With women having no choice other than staying home, and no means to escape, we expect that violence against women will increase
Violence against women in the Arab world is already high. According to the UN, 37 percent of "ever married women" in the East Mediterranean region – which encompasses most Arab nations – have experienced physical or sexual partner violence, but even they acknowledge the statistic may be much higher.
A study by the World Bank showed that the Middle East and North African region has the lowest number of laws protecting women from domestic violence in the world.
"Because of the sensitivity of the topic, it's difficult to come up with official statistics on how the coronavirus pandemic has resulted in the rise of domestic violence, but we are expecting the number to skyrocket," Suad explained.
Rothna Begum, senior women's rights researcher at Human Rights Watch (HRW), said that the increase in abuse women are likely to face is exacerbated by already patriarchal structures that deem women's lives unworthy.
"We need to remember that the rise in abuse will not happen in a vacuum – women will be more likely to be abused in a context of existing patriarchal context where gender-based violence is largely accepted as an internal household issue," she said.
Both expressed worries that the stress, boredom and anxiety of being under lockdown can even prompt abuse in households that may not be typically abusive.
"The abuse could even start small, such as a woman's husband or male relative entering the kitchen and harassing her about the food and house, out of boredom, which could unfortunately escalate," Suad explained.
Eman's story provoked mixed reactions. Despite there being some who condemned her for "publicly humiliating her family" by "exposing their behaviour", the majority of the Jordanian public has been supportive of Eman for speaking out.
"Eman is now in a shelter and she's safe and because of this, she has a responsibility to speak up that things do get better after pleading for help for those still too scared to do so," Suad said, updating The New Arab on her situation.
"What needs to be remembered is that she is amongst those who actually have internet access to use their personal platforms for help."
Kayyan, a Palestinian women's rights organisation based in Haifa, released a WhatsApp hotline for victims of domestic abuse to contact them.
Suad explained that despite the internet being a prominent tool to alleviate victims of domestic violence, there are many who do not have the luxury of internet access.
"The worry is there are many vulnerable women in remote areas or villages who do not have access to the internet, let alone have a smartphone to live broadcast their abuse."
There are also many girls and women who despite coming from affluent or middle-class families, will be cut off from the world by force.
"There will be many cases of women being forced to hand over their devices to men who claim to need it more, or who are intentionally trying to stop them from seeking escape from abuse."
There may also be a rise in depriving young girls of education where online learning facilities are limited and will have to give up their time on the internet or laptop for their brothers to study instead, she explained.
Even traditional methods of actively looking for women in remote areas, or allowing them a safe space to speak up against abuse in NGO-run health clinics, are being diminished as an effect of the response to coronavirus.
With lockdowns imposed in response to the coronavirus pandemic, women will be less able to escape to already under-resourced shelters.
"In some countries in the region, for example Morocco, there are as little as 10 shelters in the whole country, and the majority of them are run by NGOs," Rothna explained.
Morocco has a population of over 36 million people. Despite enacting a law to protect women from physical and sexual violence in September 2018, its infrastructure to protect fleeing women remains evidently weak.
"We are running low on employees because they aren't able to leave their own families alone," Saeeda al-Atrash, director of Safe House in Palestine's occupied city of Bethlehem, told The New Arab.
She also found a drop in women approaching the shelter for help, which she predicts may be because of the lockdown measures imposed in Bethlehem, along with them fearing contracting the deadly disease.
In worse cases, in some Gulf countries such as Saudi Arabia, women are not even in control of whether they feel safe enough to stay and leave, according to Rothna. This leaves women at the mercy of the state and their male guardians to deem them in a safe enough environment if their guardians agree to stop abusing them.
As the deadly disease spreads, authorities are more likely to prioritise ensuring lockdown measures are adhered to rather than deal with domestic violence.
"The police are usually partners in referring victims of domestic abuse to our shelter but most of their officers are being deployed to ward streets for those who are breaking lockdown rules," Saeeda explained.
"We need to pressure governments in remembering women's rights and that women are now more vulnerable than ever," Suad urged.
She said it could potentially even be a wake-up call if civil society puts enough pressure on authorities, and they start to coordinate.
According to Rothna, governments need to become more creative in spreading the message using localised ways of contact to reach out to women and encourage them to seek help. For example, using phone lines instead of leaflets for the Amazigh community in the Maghreb region, where many women are illiterate.
"The fact that no government in the region has even spoken about domestic violence in the face of this pandemic is very telling. They may even use coronavirus as another excuse on top of the patriarchal fabric to dismiss women," Saeeda said.
Whilst both possibilities are likely, and may even happen simultaneously in different parts of the two-continent region, the coronavirus pandemic will continue to highlight the detrimental effects of patriarchy as victims will have even less of a support system.
https://www.albawaba.com/editors-choice/arab-women-trapped-between-virus-and-domestic-abuse-1348470
--------
Coronavirus fuels domestic violence in the Middle East
02.04.2020
Maram Shahatit
For many women in the Middle East and North Africa, physical violence is a part of everyday life. In countries such as Yemen, Morocco and Egypt, at least a quarter of all married women say their husbands have physically abused them, according to a Princeton University study published last year.
Although nearly half of the countries that make up the Middle East and North Africa region have passed laws to combat domestic violence, they have proven ineffective at tackling the problem and curbing abuse, according to Human Right Watch.
"Physical violence has become a part of my life," said Laila, whose name has been changed. "It's as familiar as the air I breathe. I know nothing else."
Laila did not want her name published or her country of origin mentioned for fear of any reprisal from her husband or the wider community. The woman, who is in her 50s, said she married a young distant relative more than 30 years ago and has suffered physical abuse ever since.
At times, Laila would return home to find her children — seven daughters and one son — with bruises on their face, arms or back.
She had only found solace in the times that her husband would travel for work, saying it gave her a chance to escape the normality of violence that had become her life. "When my husband was away, it was like a party for me and my children."
But government restrictions to curb the novel coronavirus have meant that her husband no longer takes those work trips and is forced to stay at home.
But Laila isn't the only one. Aisha, an Arab woman who was forced to flee from her country to Turkey, said her husband beats her and her children every day. DW has also changed her name to protect her.
Aisha fears that Turkey could impose further restrictions to curb the coronavirus pandemic, including a curfew. That would prevent her from working and keep her locked indoors with her husband.
Although domestic violence is not unique to the Arab world, it appears especially dire due to patriarchal notions of women's roles, especially at home. Lebanese social worker Rania Suleiman said women face additional pressure as a result of tight-knit family structures and multigenerational living conditions in confined spaces.
"Under these conditions, women are forced to react to the needs of the family to a large extent," Suleiman said. "This means highly stressful situations daily. If they don't meet the demands the way their husband wants them to, they run the risk of being physically abused."
Alaa Aknes, a social worker at an emergency clinic in the Gaza Strip where victims of domestic violence are treated, recommends always carrying official identity documents, having available phone numbers of aid organizations and identifying trusted persons that could help in an emergency.
https://www.dw.com/en/coronavirus-fuels-domestic-violence-in-the-middle-east/a-52991848
--------
Panama specifies separate days for men, women to go out amid lockdown
April 2, 2020
To combat coronavirus outbreak Panama has implemented a new measure specifying certain days of the week when men and women will be allowed to leave their houses to buy necessities.
According to reports in CNN, starting on Wednesday, only women will be allowed to go out to buy necessities on Monday, Wednesday and Friday. While men can go out only on Tuesday, Thursday and Saturday. Even on designated days both men and women will only have two hours to shop.
The rule requires all families to stay home on Sundays. Government officials said these restrictions will last for at least 15 days, making it easier for police to limit the number of people going out in public.
"The great quantity of people circulating outside their homes, despite the obligatory national quarantine, has led the national government to take more severe measures," said a statement by Panamanian President Laurentino "Nito" Cortizo on Twitter.
https://www.khaleejtimes.com/coronavirus-pandemic/panama-specifies-separate-days-for-men-women-to-go-out-amid-lockdown
--------
Behind Pakistani Feminists' Fight for Rights
By Kaukab Tahir Shairani
March 14, 2020
International Women's Day in Pakistan this year was disrupted by religious and moral policing by hardliner Islamic groups. On March 8, Pakistani women took to the streets in the country's largest-ever women's day demonstration. Feminists and members of civil society — including both urban and rural populations — boisterously chanted slogans against sexual harassment and domestic violence and called for bodily rights, equal wages, and safer public spaces.
In Islamabad, clerics from Lal Masjid (Red Mosque), which appears to be the vanguard of radical Islam, disrupted the march. The mosque also contains a seminary for women characterized by its Taliban-style moral policing. The hardliners hurled stones and shoes at the protestors, a show of condemnation of their demands for equality. Across the road, women from Islamist groups executed a military-style demonstration in protest to the slogans.
Preceding the march, a slogan stating "mera jism, meri marzi" ("my body, my choice") was the subject of heated debate over its seemingly un-Islamic character. Conservatives on mainstream and social media disregarded the demand as "promiscuous" and launched a smear campaign. One of Pakistan's leading religious groups, the Jamiat Ulema-e-Islam (F), initiated an organized effort to forcibly stop a march in Sukkur — a city in southern Pakistan notorious for forced conversions, child marriages, and honor killings. Party stalwart Maulana Fazlur Rehman, during his speech, said that his workers will not tolerate the march and its "vulgar slogans in the name of freedom."
Here is what this resistance suggests: Pakistani women are fighting not just the country's patriarchal mindset, but also deep-rooted religious extremism. Over the last few decades and as a result of the Afghan war, politicization and Islamization have remained hand-in-glove. But the roots long pre-date the conflict.
Back in 1953, a series of threats were made against the Ahmadiyya sect, a community of marginalized Muslims declared apostates by the Pakistani state. The clergy also demanded the removal of Zafrullah Khan, a Pakistani diplomat and jurist, from public office over his association with the sect. Later, under the rule of former military dictator and President Zia-ul-Haq in 1973, the Pakistani Constitution restricted the freedom of religion for the Ahmadiyya. Its followers were then punishable by a prison sentence if they claimed to be Muslims.
Former President General Ayub Khan's era saw the promulgation of the Muslim Family Laws Ordinance 1961, which empowered women especially in areas of divorce and marriage. The new laws discouraged polygyny and required a man to seek consent from his first wife if he wanted to remarry. However, Khan soon retracted those rights and caved to religious orthodoxy in order to extend his control over power. With pressure ramping up from extremists, Jamaat-i-Islami, an Islamist political movement, sought to abolish the country's family planning program. Signs of deepening intolerance emerged when Khan and Fatima Jinnah, the sister of Pakistan's founder popularly referred to as the "Mother of the Nation," stood in conflict over claims that she had diverted from Pakistan's ideology. The propaganda continued as Islamic hardliners debarred women from holding position as the head of the state, further injecting patriarchy into the political fabric. (The laws were amended in the years after, however, and the country became
Fast forward to the Soviet-Afghan face-off. Islamabad proved to be Washington's ally. Pakistan's Inter-Services Intelligence (ISI) helped train troops to resist the Soviets. Fanatics, in the process, engineered the glorification of jihad to prepare thousands of mujahideen who participated against the Soviet.
Come 9/11, Washington and Islamabad joined hands, again. This led to a gradual influx of militants across the porous Afghanistan-Pakistan border and, in turn, may have fueled extremism. Nearly 20 years later, while matters between the United States and the Taliban may be settling, hardline splinter groups continue to impose Islamic morality in Pakistan. Jamia Hafsa, an Islamic university for women located next to the Lal Masjid headquarters, stays concerted in its efforts to keep the spirit of radical Islam alive, making young burka-clad girls and women party to the cause.
As vigilante groups openly defied the state, the Pakistani government in 2014 launched several military offensives to eliminate proscribed outfits including Tehreek-i-Taliban Pakistan (TTP), a group that claimed to be an off-shoot of the Afghan Taliban, and Jaish-e-Muhammad, a banned outfit then known as pioneer of suicide bombings in the region.
Ethnic and religious polarization has resulted in religious terrorism, sectarian clashes between Shia and Sunni Muslims and attacks on minorities' places of worship. Nonetheless, the March 8 ruckus appears to be a watershed moment as it challenged the male-dominant political elite and the entrenched religious ideology. Despite the threats lurking, Pakistani women dared to protest. Those who stand in opposition are religious fanatics but also surprisingly come from educated segments of society and include both men and women. The battle for women's rights will not be won without defeating the hardline religious mindset, too.
Kaukab Tahir Shairani is an Erasmus Mundus Journalism scholar and a multimedia journalist from Pakistan. Follow her on Twitter: @_shairani
https://thediplomat.com/2020/03/behind-pakistani-feminists-fight-for-rights/
--------
The UN Special Envoy for Yemen consults with the Yemeni women's Technical Advisory Group
31 Mar 2020
Amman, 31 March 2020 - The UN Special Envoy for Yemen, Martin Griffiths, met with the Yemeni women's Technical Advisory Group (TAG) today in a video conference over the internet.
TAG is a network of Yemeni women formed in 2018 by the Office of the Special Envoy of the Secretary-General for Yemen (OSESGY) from diverse backgrounds, including economics, human rights, governance, as well as women with political party affiliation.
During the meeting, Mr. Griffiths consulted with the TAG members on how to resume the political process as soon as possible to end the war. The TAG was also briefed on his engagement with the parties to work out the specifics of how to translate their stated commitments to end hostilities into a tangible reality.
The TAG members and Mr. Griffiths discussed as well a number of economic and humanitarian measures that would alleviate the suffering of Yemeni people, build confidence between the parties, and enhance Yemen's capacity to respond to the threat of a COVID-19 outbreak, including the release of all conflict-related prisoners and detainees.
"The high risk of a COVID-19 outbreak in Yemen alongside continued military escalation poses potentially catastrophic consequences for the men, women and children of Yemen," Mr. Griffiths said, "We must move urgently towards an end of the war, not only because it is imperative for an adequate response to the pandemic, but because this is what Yemenis demanded clearly and publicly."
Mr. Griffiths thanked the TAG members and all Yemeni women's groups and networks for their support to the peace process and their vital advocacy to end the war.
"The voices and concerns of all Yemenis are critical to raise awareness, encourage cross-party cooperation, exert pressure, provide context-sensitive solutions, and mobilize all efforts to respond to the current crisis in Yemen," Mr. Griffiths said.
https://reliefweb.int/report/yemen/un-special-envoy-yemen-consults-yemeni-women-s-technical-advisory-group
--------
URL: https://www.newageislam.com/islam-women-feminism/new-law-saudi-arabia-stipulates/d/121477
New Age Islam, Islam Online, Islamic Website, African Muslim News, Arab World News, South Asia News, Indian Muslim News, World Muslim News, Women in Islam, Islamic Feminism, Arab Women, Women In Arab, Islamophobia in America, Muslim Women in West, Islam Women and Feminism