New Age Islam News Bureau
27 Nov 2014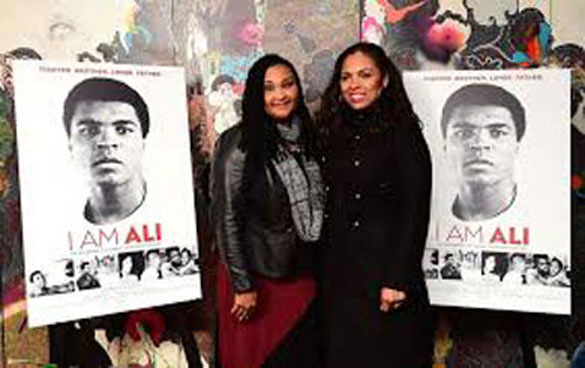 Daughters of former US boxer Muhammad Ali, Maryam, centre left and Hana, pose for photographers during the screening of the film, I Am Ali(Photo: AP)
------------
• West Virginian Fights For Women's Rights in Gambia
• Australian Women's Groups Welcome Call for Imams to Denounce Domestic Violence
• Women's Group Riding Peace Train to Gaza Border
• West Darfur State Protests Violence against Women
• Why the Kurdish Fight for Women's Rights Is Revolutionary
• Thousands of Women Gather at Kobane Border to Protest Violence
• Hundreds of Fake Cases Have Been File against Us in Pak: Veena Malik
• Muhammad Ali Daughters Promote 'I Am Ali' In UK
• Int'l Day for Elimination of Violence against Women Observances Begin in Bangladesh
Compiled by New Age Islam News Bureau
URL: https://www.newageislam.com/islam,-women-and-feminism/new-age-islam-news-bureau/new-law-fails-to-curb-domestic-violence-in-saudi-arabia/d/100219
--------------
New Law Fails To Curb Domestic Violence in Saudi Arabia
27 Nov, 2014
There were 1,049 cases of domestic violence and child abuse last year despite new family protection laws that were implemented after they were approved by the Cabinet, according to the Social Affairs Ministry.
There was hope that the law would contribute to curbing child abuse, especially because it ensured protection from domestic violence of all kinds. This was apart from providing assistance, treatment and shelter as well as social, psychological and health care, Al-Madinah daily reported.
It was hoped that the penalties, which include imprisonment and a fine of up to SR50,000 ($13,300), would deter would-be abusers.
But what is surprising is that cases of domestic violence and abuse, especially against women and children, are increasing.
Not only are this, but pictures and videos of such incidents, apparently for entertainment, appearing on social media.
This led Grand Mufti of the Kingdom Sheikh Abdulaziz al-Asheikh to go on Saudi TV to say transmitting video clips showing the abuse of children was a bad act. Asheikh said child abuse is forbidden in Islam and added there is no harm in publishing such video clips in order to criticize them, but publishing them for the sake of recreation was forbidden.
The Ministry of Islamic Affairs, Endowments, Call and Guidance has instructed imams to dedicate Friday sermons to this subject and warn men against beating children and women and depriving them of their personal rights, including access to education.
Member of the National Society for Human Rights (NSHR) in Makkah Mohammad Abdulraheem Kelantan said perpetrators of domestic violence might be suffering from a personality or psychological disorder.
"He might be involved in drug abuse or taking liquor. He might be suffering from a mental disease.
"This requires each case to be studied separately and a treatment recommended."
Guidance supervisor in Makkah Huriyah al-Lahyani said there was a necessity to name and shame those who carry out acts of abuse and punish them severely.
She said some stepmothers treat their stepchildren cruelly and that their mental health must be studied.
The Social Affairs Ministry Director General of Social Protection Mohammad al-Harbi said there were 392 cases of domestic violence in Riyadh, 157 in Asir province, 106 in Makkah, 70, in Jeddah and 62 in Taif.
Lamya Bashawri, member of the Shifa Society in Makkah, said there is a study in the kingdom confirming that child abuse and violence against women occurs more in low-income families. The percentage of violence against children has reached 29 percent in families with an income of less than SR3,000 a month, she claimed.
http://english.alarabiya.net/en/News/middle-east/2014/11/26/New-law-fails-to-curb-domestic-violence-in-Saudi-Arabia.html
-----------
West Virginian fights for women's rights in Gambia
27 Nov, 2014
At first glance, it may seem West Virginia and the African country of Gambia have a few things in common. West Virginia is consistently ranked among the poorest states in the U.S. Gambia, sliver of a nation surrounding the Gambia River in West Africa, is also poor. But instead of being among the poorest parts of a rich nation, Gambia is ranked among the least developed countries in the entire world by the United Nations Human Development Index, which broadly measures life expectancy, standard of living and educational attainment.
Gambia's destitution has shown Point Pleasant native Emily Thompson that she was "privileged beyond belief" to be born in the Mountain State.
"Even though it is one of the poorest states in America, the conditions of the two worlds are impossible to compare," Thompson wrote in an email interview with the Gazette-Mail.
Thompson, 26, is currently in Gambia working to improve educational access through The Jarrol Project and otherwise helping the nation's women and girls, whose situations are "unfathomable to Americans."
They face harmful traditions like forced child marriage and female genital mutilation – which she said can involve the removal of the clitoris and, in some cases, the removal of all external genitalia "until nothing remains but a very small hole for urination and menstruation." The hole is then cut open again upon marriage and before child birth.
Thompson wrote that this process – which has been performed on more than three-quarters of Gambian women and is legal there – is often performed with unsterilized knives or razor blades, sometimes on multiple girls in succession, and without numbing or anesthesia.
Thompson said she's always been interested in women's issues, but classes at Washington and Jefferson College in Washington, Pennsylvania, and her research for her international studies bachelor's degree thesis there – on rape as a weapon of war in several African countries – solidified her goal to work for women's rights in developing countries.
She found a way to investigate women's issues even in classes not focusing on the topic: she studied female migrant workers during a three-week educational opportunity in China, and her independent study for a bachelor's degree in German was "Rape as a Social Construction of Masculinity in Soviet-Occupied Berlin in 1945."
While in Paris pursuing a master's degree in international public management with concentrations in human rights and African studies, she began interning with the Gambia Committee on Traditional Practices Affecting the Health of Women and Children in 2013. She spent four months in Gambia with the non-profit, nongovernmental organization before returning this fall to serve there full-time until May. She's currently paying for herself to be there, but said the organization is working on funding her salary.
The organization seeks to eradicate female genital mutilation, also known as female circumcision, in part by spreading the word about how the practice can harm women – through infection and even death – while also undermining their ability to have healthy babies.
Gambia's population is 90 percent Muslim; Thompson said many citizens believe the practice is required in the Quran – even though, she said, such a commandment is found nowhere in the Muslim holy book and predates Islam.
She said female genital mutilation is often promoted as a way to prevent women from being promiscuous or having premarital sex, and it's typically women who take girls to the all-female circumcisers, for whom the practice earns them respect and income. Her organization helps circumcisers realize the harm and earn new livelihoods, with training culminating in Dropping the Knife ceremonies -- where the circumcisers publicly abandon the practice. She said there have so far been four ceremonies celebrating 128 circumcisers who've stopped the practice.
"At the end of the training, in the middle of the night, all of the now ex-circumcisers, the women I work with, and myself danced and played music in the dark by fire to celebrate this victory," Thompson said of one Dropping the Knife experience last fall. "It was something I will never forget for as long as I live."
A lot of Gambia's problems come down to a lack of education, something that Thompson founded The Jarrol Project to increase. Gambia's government doesn't usually pay for educational costs, she said.
"These families have to struggle to come up with enough money to pay for school fees, exam fees, books, uniforms, shoes, etc. for their children," Thompson said, "and there is often so much struggle that children as young as five can also be seen raising money for their futures."
Students aren't allowed to go to school without some of these items. "In my short time there, I saw several students walk the blazing hot mile to school without shoes, a uniform, or both, only to be sent right back home," Thompson wrote.
In the first year of the initiative, she said she worked with teachers, activists and students to compile a list of the 100 most needy students in Jarrol, a village she estimated has 500 inhabitants. She didn't expect to serve that many students, but, almost exclusively through one-donor-for-one-child sponsorships, the project ended up raising $5,360 to aid 107 kids, preschool to 12th grade, in various ways including providing 1,100 notebooks, 700 pencils and 110 backpacks and a year's worth of lunch, at 2 cents a day, for 53 kids in primary school.
She's in the process of registering The Jarrol Project as a nonprofit and wants to meet a "considerably higher" goal next year by continuing with one-on-one sponsorships while adding fundraisers, grants and partnerships with other organizations. She's also changing the project to focus specifically on girls, though those who are already sponsoring male students can continue to do so. She said Gambian families give preference to boys if they only have enough resources to send some children to schools.
"Educated women will educate their children; they will know their rights and fight for them and against infringements on them; it will allow them to escape poverty, violence, and dependency," she wrote.
To donate, visit www.thejarrolproject.com/donate. Donors can include their names and mailing address to receive a photo, letter and information about the students they sponsor. The organization is also on Facebook at www.facebook.com/thejarrolproject. Any individuals, businesses or other organizations that want to help through fundraisers, partnerships or any other means can email thejarrolproject@gmail.com. The Gambia Committee on Traditional Practices Affecting the Health of Women and Children is online at www.gamcotrap.gm and can be emailed at info@gamcotrap.gm.
http://www.wvgazette.com/article/20141127/GZ01/141129412/1101
----------
Australian Women's Groups Welcome Call for Imams to Denounce Domestic Violence
27 Nov, 2014
Islamic women's groups have welcomed a call by the peak body for Australia's Muslim clerics that imams around the country should use their sermons this Friday to denounce domestic violence.
The president of the Australian National Imams Council, Imam Abdel Aziem, has appealed to Islamic religious leaders to speak out against family violence in their Khutbah, a sermon usually delivered before prayers on Friday, Islam's holiest day of the week.
"It's the religious duty upon men to treat their women folk with kindness, respect and mutual love and care. Islam disapproves of oppression and ill treatment of women," Aziem said in a statement.
Domestic violence rates within the Muslim community are not known, but are thought to line up with national figures that show one woman is killed each week by a former or current partner.
The executive director of the Australian Muslim Women's Centre for Human Rights, Joumanah El Matrah, said the national Khutbah appeal was "a good start" by the exclusively male council. "The position imams take is extremely important," she said.
"When I first started working in this area 14 years ago it was very difficult to put family violence on the agenda, it was considered a taboo subject," she said.
El Matrah said the work of Islamic women's groups had succeeding in raising awareness of the problem, although, just as outside the Muslim community, men were not always receptive.
"The resistance men have to addressing violence in the home always looks the same," El Matrah said.
"They prioritise what they think is the wellbeing of the family over the wellbeing of the women in the family. It's taken an extraordinary amount of time to make men aware that what makes for a healthy family is a woman's safety in the home."
Maha Abdo, who runs the United Muslim Women's Association, said it was the first nationally coordinated effort by the exclusively-male council to address men's violence against women.
Family violence within Australia's varied Muslim community was driven largely by "cultural practices in certain countries", against which Qur'anic principles could be a tool of empowerment, she said.
"Islamically, it's very clear that violence against women is very much forbidden."
Imams play an important role in contextualising passages within the 1,400-year-old religion's holy book that appeared to subordinate women or condone their physical abuse, she said.
"A lot of people, due to their lack of understanding or awareness of Islamic traditions, don't understand that a verse comes in context." Domestic violence across all communities was driven by the same force, she said. "It's a power issue."
Jamila Hussain, a lecturer in Islamic law at the University of Technology, Sydney, said the Khutbah appeal was "very commendable" and would be a wake-up call for men in the community who came from places "where women are not highly regarded and domestic violence is a matter of course".
"The only way to get to these men is through the imams in the Friday sermon," she said.
"Things are definitely changing in a number of areas," Hussain said. "We have a grand mufti who is very active and very open and not overly socially conservative.
"And the Imam's council is now younger and better educated, including a number who grew up in Australia and understand Australian society better."
http://www.theguardian.com/australia-news/2014/nov/27/islamic-womens-groups-welcome-call-for-imams-to-denounce-domestic-violence
http://article.wn.com/view/2014/11/27/Islamic_women_s_groups_welcome_call_for_imams_to_denounce_do/
----------
Women's group riding peace train to Gaza border
27 Nov, 2014
New women's peace movement wants to take peacemaking out of the hands of politicians. 'Fifty one percent of the population cannot accept a situation where they have no political say.'
Anat Cohen could well be described as a poster girl for Women Wage Peace, an Israeli grassroots movement officially launched today. The 52-year-old mother of two lives in working-class Holon, where she runs a Pilates studio. More importantly, she does not vote for the left. In fact, she has always cast her ballot, she said, for Shas, the Orthodox Sephardic party.
But that didn't stop Cohen from joining hundreds of women aboard a train travelling south to the Gaza border town of Sderot, where they hoped to make their voices heard. Their message: Israel and the Palestinians must restart peace talks immediately, and this time around, women need to be sitting at the negotiating table.
"For me, a peace agreement is not a matter of right or left," said Cohen, as the train reached its final destination and she joined the long line of women making their way by foot from the Sderot station to Sapir Academic College, where the kick-off event was held. "I'm convinced that a peace agreement, no matter what kind of agreement, is a good thing."
According to the event organizers, roughly 1,000 women from around the country participated in the opening ceremony held on the lawn of the Sapir campus, among them about 700 who had traveled by train to Sderot. The ceremony on the lawn was followed by a panel discussion on the role of women in peace negotiations.
The first passengers boarded the train in the morning at the station in Nahariya, not far rom the Lebanese border. From there, it made its way down the Mediterranean coast, picking up women at numerous stops along they way. Another train running from east to west delivered a few hundred women to the main Tel Aviv station at about midday where, to the sounds of chanting and cheering, they joined passengers on the coastal line.
Among the participants were many veteran social activists; Neta Shemesh, for example, who has been involved in the Parents Circle Families Forum, a grassroots organization of bereaved Israelis and Palestinians, for many years. "I'm sick of wars," she said, explaining why she had taken the day off of work at her crafts studio to make the trip down to Sderot.
Sitting across from her was Nitza Peleg, a nurse from Ramat Hasharon. The two women had grown up together on Kibbutz Shamir, but unlike Shemesh, Peleg has until now steered clear of political activism. "The last time I did anything like this," she recalled, "is when I was a kid in Hashomer Hatzair (the left-wing Zionist youth movement)."
What made her board the train today? "I just felt that I couldn't go on like this any longer," she said. "This country is marching to a very dangerous place right now, and I started feeling that I couldn't keep sitting and staying silent any more."
Michal Shamir, a founding member of Women Wage Peace and director of the School of Art, Social Studies and Culture at Sapir, takes credit for the idea of the "peace train." She said it was inspired by the many long hours she spends on train commuting from her home in the northern town of Binyamina to Sderot.
She is a longtime activist, though. "I grew up in a very political family," she told Haaretz. "Both my parents lost their brothers in wars, and after the last war this summer, when I saw how little value was put on human life, I felt that something had to be done."
Women Wage Peace, she insisted, is not targeting leftists, but rather, a movement that embraces women across the political spectrum, and includes Arabs and Jews, and religious and secular Israelis. Its objective, she added, was not to topple the government, but rather "to convince people that there is no alternative to a peace agreement."
Liat Arbel, another movement activist who described herself as a "peacenik and feminist," said that Women Wage Peace was determined to shatter a common conception about right and left. "The discourse about peace is not reserved for one political camp alone," she said.
Although some young mothers with babies participated in the event, the crowd on the train was overwhelmingly middle-aged and older.
Imogene Friedman, who moved to Israel from Canada 15 years ago, was among those who boarded the train at its first stop in Nahariya. She described herself as not a very politically active person who wanted to check out the movement before deciding if it was for her. "I wanted to see what this organization was about and lend my support to what seems like a good cause," said the retiree who previously worked at IBM in Haifa.
Shiri Levinas, a conflict resolution specialist and one of the movement founders, cited research that shows that negotiations are more successful when women are involved. "Fifty one percent of the population in this country cannot accept a situation where they have no political say," she said.
The launch ceremony of Women Wage Peace coincided with the Sderot Conference on Society that takes place every year at Sapir and draws many political leaders and other dignitaries. "Make yourselves visible," instructed Marie-Lyne Smadja, a new immigrant from France who is one of the movement's founders. "Let them see that you're here."
http://www.haaretz.com/news/features/.premium-1.628525
-----------
West Darfur State Protests Violence against Women
27 Nov, 2014
Khartoum - West Darfur state launched a celebration of denouncing violence against women due to the UN resolution 1325.
The celebrations will be end December 10, 2014.
Minister of Social Welfare Azhari Abdalla said: "The celebration is considered as recognition by local communities of women's rights".
The former minister of education Halima Hasaballah told reporters that women need to activate the laws and legislations.
"Legislations in Sudan were given to women through positive discrimination, which provided rights in politics, education and in employment," said Hasaballah.
1325 says women should participate effectively in all aspects of life and be protected, alongside enabling them to demand for legislative rights as well their role in peace process.
http://news.sudanvisiondaily.com/details.html?rsnpid=243192
-----------
Why the Kurdish Fight for Women's Rights Is Revolutionary
27 Nov, 2014
SULAIMANIYA, Iraqi Kurdistan Region -- An equality decree, number 22 of the year 2014, unique in the Middle East, recognizing the rights of women in Syrian Kurdistan has prompted opposition from conservative Muslim clerics.
While the courage, audacity and resistance of Kurdish women fighters combating Islamic State jihadists in Kobani have made headlines in the last few months, Kurdish women have marked another revolutionary step by passing an equality decree that could guarantee their own rights within family and society. Their active involvement in fighting has not only seriously challenged gender roles, but also altered traditional views of revolution and politics as male enterprises. The equality decree is another form of resistance by Kurdish women against the Islamic State, which is known for abusing women's rights in areas under its control.
The Democratic Union Party issued its equality decree on Nov. 10, insisting on women's participation in lawmaking, and on the inclusion of "women's will and needs into legislation." It asserts women's rights to stand for and to hold all kinds of political positions along with respecting co-presidency in governance. In defining "principles of equality between women and men," its 30 clauses seek to establish gender equality at all social, economic and political levels. Most significantly it challenges patriarchal mentality in public and private arenas, criminalizing polygamy, forced and early marriages and so-called "honor" crimes, as well as disparities in inheritance rights.
The opening words of the decree make clear its purpose:
"The degree of progress in any society is tied to the active role of women and their participation in the edifice and development of society. It is with this aim and in order to ensure protection of their dignity and to achieve their freedom and rights that women have been fighting... From now on, women do not accept marginalization. A movement that liberates them is an invincible necessity in the fight against all forms of oppression, violence and homicide."
The equality decree's progressive line is seen by some as a direct challenge to Sharia law. Following promulgation of the equality decree in the Jezire Canton of Rojava in Syrian Kurdistan, conservative faith leader Mullah Kamaran from Suleymaniya responded, "Excluding religion from social, economic and political life, not only leads to thrashing the support of Muslims and Islamic scholars inside [your nation], but also results in negative effects and leads to reinforcement of Islamic movements as well as Islamist integration."
His view echoes that of a non-negligible proportion of Iraqi Kurdistan's society which shares values based on religion and tradition; Islamic parties in Iraqi Kurdistan Region, including the Kurdistan Islamic Union, the Kurdistan Islamic Group, and the Kurdistan Islamic Movement, hold three ministerial positions in the current government and 17 seats of 111 total seats in the regional parliament.
In recent years, Kurdistan has experienced an acute and often violent struggle between conservative and modernizing forces. Gender relations have been at the center of this transformation and struggle. Iraqi Kurdistan witnessed similar opposition from faith leaders when the Kurdistan parliament voted for the Combating Domestic Violence Law in June 2011. Since it was adopted, there have been multiple challenges to its implementation.
The equality decree, which carries the signatures of woman and man, has brought to the surface these sharp divisions between traditionalists and progressive forces in Kurdistan. Women's rights activists have defended its principles as an effective response to women's needs and requirements. They consider them an appropriate reflection of Kurdish women's experience in Rojava, and notably in Kobani.
According to women's rights activists, the equality decree challenges the traditional rhetoric of revolution, which has insisted on rights and liberty in the face of occupation and dictator masters. Many Kurdish women see it as a political program for women's status and role in the public arena and beyond the "secret revolution" of the Syrian Kurds in Rojava.
The "secret revolution," a term taken from the documentary by Darius Bazargan, refers to the governing experience of Rojava, Western Kurdistan. The experience started with the withdrawal of Syrian authorities from Kurdish areas two years ago. Following the withdrawal, Kurdish forces established three autonomous cantons and women have participated in both governance and resistance to Islamist forces, including Al-Nusra and ISIS.
Kurdish political forces in this part of Kurdistan have been trying to link the Kurdish national cause to the wider question of "radical democracy." As managing editor of the Harvard Political Review Gram Slattery said, "the Kurdish toleration of Jews, Christians, Agnostics, etc., their unwillingness to veil women, and their appreciation of secularism is apparently too much for some Sunni militiamen."
urdish scholar Professor Karman Matin of Sussex University, has described the Rojava model as unique in that it emphasizes grassroots participation, an egalitarian approach to gender and increases women's participation in all levels of social, political and public life. Women throughout Kurdistan are well aware of past experiences of women in other parts of the world who have fought alongside men and carried out different political activities in anti-colonial and independence wars -- and then been relegated to the domestic sphere as soon as the wars ended. Their representatives in Erbil, capital of the Iraqi Kurdistan Region, have repeatedly told me that while they did not want to take Western feminist experiences as examples, they did not want either to repeat the experience of Algerian women during the war of independence or Iranian women during the 1979 revolution.
PYD female representatives in Erbil have told me that they would continue in their vanguard role both "at war but also peace time, against oppression at home as well as in public space." Their force of character, strong convictions and progressive political attitudes in the face of ignorance and fundamentalism have been described as "legendary" by Houzan Mahmoud.
As noted Arab feminist and writer Nawal El Saadawi said in a statement, "Kurdish women lead a war for freedom and democracy against oppression and subservience and tell the world that women are equal to men. They represent women throughout the world." Indeed women in other parts of Kurdistan and the diaspora have been looking to the women in Kobani as evidence of "a new hope" and an "aspiration for a real transformation of gender roles."
The PYD, a sister party of the left wing PKK movement, has sought to ensure the real involvement of women in polity and revolution. The party has a large number of women members and the equality decree is an indicator of its social and political progress. However, nurturing the progressive spirit expressed by the decree and turning it into a reality beyond the current situation will require continued vigilance and effort by women themselves.
Meanwhile, Kurdish women on the homefront face an equally intractable battle.
While some faith leaders will continue to oppose any move to liberate women from traditional roles and the subservient status at the core of their Islamist ideology, ultimately it will be up to women and their political allies who will win the battle for gender equality, personal liberty and human rights in Kurdistan.
http://www.huffingtonpost.com/dr-nazand-begikhani/kurdish-women-rights-fight_b_6205076.html
-----------
Thousands of Women Gather at Kobane Border to Protest Violence
27 Nov, 2014
Turkish and Syrian women held a demonstration to support their companions fighting the Islamic State.
Kurdish women fighting the Islamic State group (IS) in Kobani, Syria, received a huge demonstration of support from thousands of women who gathered at the border of the town.
Women from several parts of Turkey and Syria marched on Tuesday to several Turkish villages located on the border with Syria, as part of the actions convened days before by the Free Women's Democratic Movement (DÖKH) to mark the International Day for the Elimination of Violence Against Women.
When the women arrived at the border, they participated in a human chain that has being held continuously since the IS started to attack the city.
At first, when thousands of women tried to reach the border, Turkish soldiers blocked them; however, the women decided to follow another route and finally arrived at the Dewsen village, where they shouted slogans to support the Kurdish women fighters.
Several Kurdish groups are inspired by Marxist ideology and gender equality, seeing Kurdish women taking-up arms and fighting the IS.
http://www.telesurtv.net/english/news/Thousands-of-Women-Gather-at-Kobane-Border-to-Protest-Violence-20141125-0056.html
-----------
Hundreds of Fake Cases Have Been File against Us in Pak: Veena Malik
27 Nov, 2014
Controversy seems to follow Pakistani actor Veena Malik no matter where she is. On Tuesday (November 25), the actor, her businessman husband Asad Bashir Khan, and Mir Shakil-ur-Rahman, the CEO of Pakistani media house GEO TV, were sentenced to 26 years of imprisonment by an anti-terrorism court for playing a religious song during her mock wedding on the channel last year. In an interview to us, Veena says she hasn't done anything offensive.
"We will file a petition in higher courts because we have not done anything wrong. I am sure everything will be fine," says Veena, while speaking to us over the phone. A fine of 1.3 million Pakistani rupees has also been imposed on them.
As part of the mock wedding broadcast, Veena is seen dancing with her husband, while Sufi musicians sing the religious song in the background. The actor, however, says, "My husband and I were on a show where they played the song, but it has been played hundreds of times before. I am a true-born, educated Muslim, and I come from a good family. I cannot even think of offending my religion."
Veena feels that people are trying to use her name for their own advantage, and are conspiring against her for publicity. "The moment my name gets involved in something, it becomes big. They have created fake cases all over Pakistan. There should be just one FIR in this matter, but unfortunately, there are hundreds of FIRs against us in the same case," says Veena, adding that it is also unfair to not target others who attended the TV wedding. "There were 200 guests on the show; there were more people as well. How can they (the court) only hold me wrong? Others were also party to the crime. I have not done anything wrong. This is just media hype," she says.
The actor says that she had put in a plea for time to return to Pakistan (after giving birth) to sort the matter, but the proceedings continued in her absence. "I was pregnant when I was told of this. I told the authorities to wait till December so that I can also present my side in front of the court, but they went ahead when I was not even present in Pakistan," she says.
http://www.hindustantimes.com/entertainment/tabloid/i-have-not-done-anything-wrong-veena-malik/article1-1290540.aspx#sthash.ji9hlHCC.dpuf
----------
Muhammad Ali Daughters Promote 'I Am Ali' In UK
27 Nov, 2014
Muhammad Ali's daughters are in London to promote the British release of the documentary ''I Am Ali.'' They say the former boxing champion is still waiting to see it for the first time.
Step-sisters Maryum and Hana Ali plan to visit their 72-year-old father in Arizona on their return from London and sit down to watch it with him - in silence.
''If you even speak when you watch anything to do with him, he'll say 'Shh,''' Hana said Tuesday with a smile.
''I Am Ali'' mixes interviews with Ali's family and inner circle, with archive footage and personal audio recordings. Maryum and Hana both feature, looking back at their childhood years with Ali.
''For me it was bittersweet,'' Maryam said. ''He was famous in boxing when I was a kid. I had to share him with the world, at the same time the world loved him. so we were able to receive the love.''
And despite the fact she used to ''come home to Michael Jackson sitting in the living room'', Hana adds that Ali made sure his children stayed down to Earth.
''I grew up going to school and bragging a lot 'my daddy is Muhammad Ali, I can do what I want to do,''' she said. ''And he used to sit me down and tell me how just because I'm famous the world's going to treat you different. They're going to treat you special, but you're no better than anybody else and the only thing that makes you greater than anyone is your heart.'''
Ali, who has been suffering with Parkinson's disease since the 1980s, is enjoying life and doing well, his daughters said.
Ali ''enjoys his life. He's at peace. He gets good care,'' eldest daughter Maryum said.
When the media speculates about Ali's health, the former boxer asks his daughters ''Did I make the front page?'' according to Hana, Ali's daughter with Veronice Porche.
''He's so funny. He's like 'I'm not dying.' I think he thinks he's going to live forever.''
Maryum reassured fans that ''unless it comes from the children or his wife, you can't believe anything you hear about his health.''
''I Am Ali,'' by filmmaker Clare Lewins, will be released in Britain on Friday.
http://english.ahram.org.eg/NewsContent/6/56/116442/Sports/Omni-Sports/Muhammad-Ali-daughters-promote-I-Am-Ali-in-UK.aspx
-----------
Int'l Day for Elimination of Violence against Women Observances Begin in Bangladesh
27 Nov, 2014
With the theme "Orange Your Neighbourhood" to herald a bright future without violence, a 16-day programme to mark the International Day for Elimination of Violence against Women commenced across the country.
As a part of the programme, the United Nations Population Fund (UNFPA) organised a bicycle rally to raise awareness about gender-based violence in the capital yesterday.
Some 150 volunteers and activists wearing orange coloured t-shirts and caps gathered at the National Press Club premises.
After a brief opening session, campaigners set off to different parts of the capital to collect recommendations from people of all sections of society on how to address the problem.
Women and Children Affairs Secretary Tariq-ul-Islam, among others, attended the inaugural session.
In collaboration with the government and development partners, UNFPA Bangladesh facilitated the programme.
"Our focus is mainly on the elimination of all forms of violence. Our target population is the youth, so we organised the bicycle rally," said Asma Akter, national programme officer of communication at UNFPA Bangladesh.
"They need to know about this issue," she said.
"We will collect suggestions from 14-year-old children to elderly rickshaw-pullers," she said.
According to a report by rights organisation Ain o Salish Kendra, there were 455 cases of rape and 72 cases of attempted rape in the country this year.
Some 35 per cent of women and girls globally experience some form of physical or sexual violence in their lifetime, according to a UNFPA report.
UNFPA began the international campaign to address violence against women in 1991. Since then, more than 5,179 groups have taken part in it across 187 countries.
At the residence of a foreign envoy in the capital, acid survivors gathered together for a cultural event as part of the day's celebrations.
"After a few months of treatment at the Acid Survivors' Foundation, I went back to my studies because I decided I would not let this stop me," said Neela, an acid survivor at the cultural event to show solidarity with Bangladeshi acid survivors.
The event was hosted by Canadian High Commissioner Heather Cruden in celebration of The International Day for Elimination of Violence Against Women, which was celebrated across the world yesterday.
"When societies miss out on the contributions of fifty percent of their population, they deny themselves sustainable development, social justice, peace and security, and the whole world suffers," said Cruden during the reception.
"The whole suffers when women and girls are not given an equal voice," she said.
The event was hosted at the Canadian ambassador's residence, and featured a cultural programme where members of the Acid Survivors' Foundation (ASF) held singing and dance performances.
A candle-lighting ceremony was held to mark solidarity with the survivors.
http://www.dhakatribune.com/bangladesh/2014/nov/26/intl-day-elimination-violence-against-women-observances-begin#sthash.rHUrw9Tp.dpuf
-----------
URL: https://www.newageislam.com/islam,-women-and-feminism/new-age-islam-news-bureau/new-law-fails-to-curb-domestic-violence-in-saudi-arabia/d/100219