New Age Islam News Bureau
20 September 2020
• James Bond Is to Be Replaced by A Burqa-Wearing Muslim Woman as Producers Look to Reflect Modern Britain
• Hajrah Mahmood, Makes History to Become First Muslim Girl to Play Football for Burton Albion
• West Indies Women to Sport Black Lives Matter Logo On Playing Jersey
• Scathing Open Letter to News Media: Hunt For 'News', Not Women - Witch-Hunt Of Rhea Chakraborty
• Sikh Girl Kidnapped In Pakistan, Allegedly Being Converted To Islam; 55th Case In 9 Months: Delhi Sikh Gurdwara Management Committee
• Hundreds of women detained during Belarus protest march
• More Migrant Women Say They Didn't OK Surgery In Detention
Compiled By New Age Islam News Bureau
URL: https://www.newageislam.com/islam-women-feminism/burqa-clad-muslim-woman-james/d/122898
-------
James Bond Is to Be Replaced by A Burqa-Wearing Muslim Woman as Producers Look to Reflect Modern Britain
20-09-2020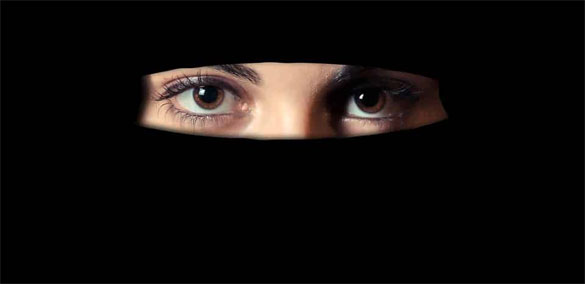 The name's Bond, Jameela Bond.
-----
James Bond is to be replaced by a Burqa-wearing Muslim woman as producers look to reflect modern Britain.
The switch to Jameela Bond is perfect for a top-secret agent because mad criminals trying to take over the world would never know her identity.
Bond producer Barbara Broccoli is now scouring talent agencies looking for an athletic woman in a Burqa who can drive fast cars and flirt with Miss Moneypenny.
The news comes as actor Tom Hardy is being tipped elsewhere for the coveted James Bond role when Daniel Craig hangs up his pistol.
While most people have welcomed the change to a Muslim woman, agreeing it's a perfect reflection of Britain's diversity, some are not so pleased.
Nearly 50 Daily Mail readers were hospitalised this morning after choking on their cornflakes.
And Boris Johnson has claimed the move will make the film franchise "a laughing-stock".
Suffolk film critic Lorraine Fisher, 34, said the switch to Jameela Bond would transform the character originally created by Ian Fleming.
"There's been arguments that James Bond should be played by a black man, a Muslim or woman.
"Nobody saw this one coming, but making the agent a Muslim woman in a Burqa is brilliant."
https://www.suffolkgazette.com/news/new-james-bond-to-be-played-by-muslim-woman-in-a-Burqa/
--------
Hajrah Mahmood, Makes History to Become First Muslim Girl to Play Football for Burton Albion
ByAdnan Rashid
19 SEP 2020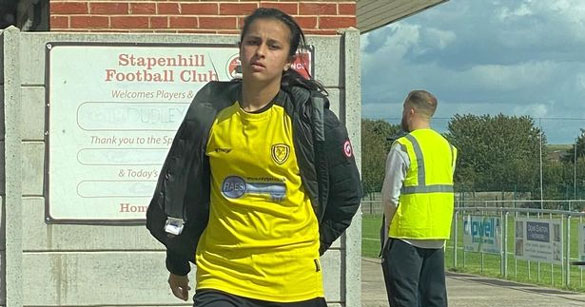 Hajrah in her Burton Albion Ladies kit just before training (Image: Farzana Hussain)
----
A Burton girl has put her name in the history books as the first Muslim girl to sign for Burton Albion.
Hajrah Mahmood, 16, has been playing football since her primary school days and has had a spell at Derby County Ladies, but now she joined her home town club.
Hajrah, a sixth form pupil at Paget High School, wants become a professional player and study sports science in the future.
She plays in central midfield and has ambitions to make it into the ladies' first team.
Farzana Hussain, Hajrah's mother, said: "I'm very proud of Hajrah and it's a very proud moment for my family.
"Hajrah has always wanted to play football for as long as I can remember and my husband and I never discouraged her and let her enjoy playing the game she loves.
"Coming from an Asian Muslim background, you don't see many girls playing football and this is something I want to highlight.
"There are some talented girls across the country, but due to the culture and lack of support they tend to lose their interest in the sport and find a career in something else.
"Supporting Hajrah is a full-time job, but I really enjoy it and I want other parents to feel the same joy we do.
"I drive her to training three times a week, as well as taking her to her matches and, because of this, I've developed an interest in the game of football.
"There will be other girls like Hajrah and I think it's very important for family and friends to support them and let them enjoy whichever sport they want to participate in."
Hajrah, who, as well as the Brewers, supports Manchester United, said: "I've loved playing football from a very young age.
Hajrah in her Burton Albion Ladies kit just before training (Image: Farzana Hussain)
My passion for the game grew with me and I was lucky enough to be selected for Derby County at the age of 11.
"Since then, the game has built my confidence in many ways, both on and off the pitch.
"Not only does sport keep you fit, but helps you gain confidence and teamwork skills, which are required in all aspects of life.
"I hope to encourage other Muslim girls to take up sport and I want to carry on playing for as long as possible and become a professional one day."
James Billings, first team coach for Burton Albion Ladies, said: "It's fantastic for us to sign a local girl from a diverse background and it highlights the club's mission of making the game of football for everyone.
"Hajrah has come through the age groups here and is definitely pushing towards the first team.
"We hope she can be a role model for other Asian girls in the community and hopefully become a inspiration for others."
https://www.derbytelegraph.co.uk/burton/teen-makes-history-become-first-4493258
---------
West Indies Women to Sport Black Lives Matter Logo On Playing Jersey
20 September, 2020
by ANI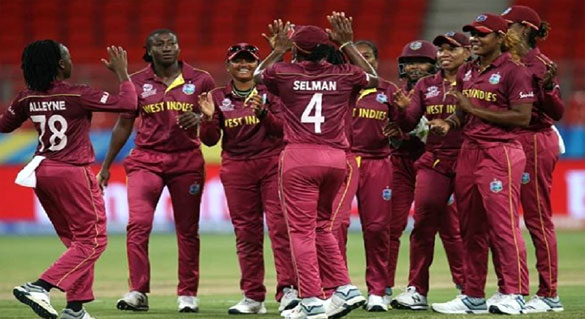 West Indies Women
-----
Derbyshire [UK], September 20 (ANI): West Indies Women will sport the Black Lives Matter logo on their playing shirts when they face England Women in a five-match T20I series, starting September 21.
The decision has been taken by the players and team management with the full support of Cricket West Indies (CWI).
The logo, which has a clenched fist in place of the letter "A" in the word "Black", was designed by Alisha Hosannah, the partner of professional footballer Troy Deeney, and was worn by the West Indies Men's team during their three-match Test series against England in July.
"We are a team of women, a team of diverse women and we know what it is to be judged based on the colour of our skin. As athletes with the spotlight on us, we know the importance of our roles and we are proud that we are able to keep the awareness of this campaign going," West Indies captain Stafanie Taylor said in an official Cricket West Indies (CWI) release.
Both West Indies and England will also be taking a knee in all the matches to show their solidarity with the anti-racism movement.
"Taking a knee for us means so much more than the physical gesture. By doing this as a team it will help to keep the focus alive and the conversations going to bring about the change, we strongly believe we need in society. As everyone now appreciates, sport is the single unifying factor regardless of nationality, race or religion. So, therefore, we as athletes and cricketers must use our platform to help bring about that dialogue and change," said Taylor.
West Indies squad for series against England: Stafanie Taylor (Captain), Deandra Dottin, Shemaine Campbelle, Afy Fletcher, Hayley Matthews, Shamilia Connell, Britney Cooper, Chedean Nation, Natasha McLean, Chinelle Henry, Aaliyah Alleyne, LeeAnn Kirby, Sheneta Grimmond, Karishma Ramharack, Shabika Gajnabi, Cherry-Ann Fraser, Kaysia Schultz.
http://www.businessworld.in/article/West-Indies-Women-to-sport-Black-Lives-Matter-logo-on-playing-jersey/20-09-2020-322520/
--------
Scathing Open Letter to News Media: Hunt For 'News', Not Women - Witch-Hunt Of Rhea Chakraborty
NHS Bureau
20 Sep 2020
We, are worried about you.
Are you feeling ok?
Because, as we watch your witch-hunt of Rhea Chakraborty, we cannot understand why you have abandoned every professional ethic of journalism, every tenet of human decency and dignity and chosen instead to physically assault a young woman with your camera crews, endlessly violate her privacy and work overtime on false accusations and moralistic innuendo for a drama of 'Rhea ko phasao'.
You have been obsessed with creating only one narrative: a young woman who makes her own decisions, who lives with her boyfriend without marriage and who speaks up for herself instead of acting like a damsel in distress, has a morally dubious character, and is to be considered a criminal at any cost, without investigation, without the process of law and respect for her rights.
We know you can be different — because we have seen you be kind and respectful to the Salman Khans and Sanjay Dutts of this world, urging us to think of their families, fans and careers.
But, when it comes to a young woman who has not even been proven to commit any crime, you have assassinated her character, egged an online mob on demonised her and her family, fuelled wrongful demands and called her arrest your victory.
Victory over what? Young women daring to make their own lives in a society that grudges them their freedom?
There is so much in this world that prevents young women from even dreaming little dreams, let alone achieving them. Their laughs are too loud for everyone, their freedom too free for families and communities — and apparently for television news channels their sadness not real, their questions, their concerns, their ambitions, their clothes choices, all scrutinised, trivialised, dismissed, persecuted.
It is easy to victimise a young woman because there are so many people who already disbelieve, slut-shame and abuse women, for their smallest freedoms. It is certainly cheaper than doing actual stories about a host of issues from GDP to health, currently confronting us.
In a pandemic which has seen a disturbing rise in domestic violence, in a society where women don't report sexual violence to the police, because they are likely to be told they were somehow 'asking for it' — 'it' being assault, rape, harassment — is promoting damaging stereotypes of 'Vishkanyas' and 'Dayans', which have endangered women for decades, the best role you found to play?
In a pandemic which has seen India's already alarming mental health crisis intensify, and suicide rates go up, you could have taken the chance to make a difference to the understanding of mental health, bringing compassion and information to the table.
Instead you chose to trivialise depression and perpetuate the most regressive stereotypes about mental health. Why?
Just because Rhea Chakraborty took her boyfriend's mental health seriously? Why don't you want to look at it seriously? Why do you not want to acknowledge that India accounts for one third of female suicides in the world — and that family violence and social ostracism is a major reason for their suicide attempts?
What are you hiding, news media, who are you protecting when you don't confront these real truths of our society? Is it the callousness inside our 'simple' families and the cruelty of our society to anyone who is different, which you have enacted yourself in your character assassination of a young woman?
We see which side you are on — it is not the side of a neutral viewpoint, not the side of fairness and justice, but the side of social violence and control.
Your pulp fictions have threatened both, the vulnerabilities of women and the fragility of mental health. And you have sent out a message to every woman in this country– and to their potential attackers — that if she does not stay within the most restrictive limits, she is fair game for abuse, molestation and violence.
Spare us your tired hypocrisies of Beti Bachao and respecting women. It is not being someone's beti that makes a woman worthy of respect. It is being an equal citizen of the country that accords us the rights all citizens deserve: due process in law, protection from violence, a fair listening ear, respect for choice and privacy
We write to ask you, the news media, to stop this unfair witch hunt of Rhea Chakraborty and to stop fuelling moral polarities of good women to be deified and bad women to be crucified which endangers all women. We write to ask you to do the right and responsible thing.
https://www.nationalheraldindia.com/india/scathing-open-letter-to-news-media-hunt-for-news-not-women
--------
Sikh Girl Kidnapped In Pakistan, Allegedly Being Converted To Islam; 55th Case In 9 Months: Delhi Sikh Gurdwara Management Committee
20th September 2020
By Harpreet Bajwa
CHANDIGARH: A 17-year old Sikh girl was reportedly kidnapped and is being converted to Islam in Pakistan, the Delhi Sikh Gurdwara Management Committee (DSGMC) said on Saturday. Pritam Singh, head granthi of historic Panja Sahib Gurdwara in Hassan Abdal city, has feared conversion of his daughter, Bulbaul Kaur, to Islam. The DSGMC, which has taken up the matter with the Ministry of External Affairs (MEA), said the girl has gone missing about 15 days ago. According to the committee, as many as 55 Sikh girls have been kidnapped and forcefully married in the last nine months in Pakistan. The incident took almost a year after the alleged abduction and conversion of Nankana Sahib Sikh girl Jagjit Kaur alias Ayesha Bibi in the neighboring country.
DSGMC president Manjinder Singh Sirsa said in the latest incident, the girl was kidnapped by two men, and her whereabouts are yet to be known. "Her father contacted us for help. We have tried our best trace the girl, but there has been no success so far. The father told us that his daughter's religion is in danger,'' the DSGMC president said.On Saturday, Sirsa met an official of the MEA and sought permission that a delegation of the DSGMC is allowed to visit Pakistan to find out the girl, and also to take stock of the situation of Sikh girls the country.
"We were assured that the MEA will take up the matter with the Pakistani High Commission on Monday and request them to help trace the girl,'' he said.Sirsa also threatened that if the Pakistani government does not trace the girl and reunite her with her parents by week, then members of the committee will stage a protest outside the Pakistani high commission in New Delhi. "Since January, 55 Sikh girls have been kidnapped and converted to Islam in Pakistan. But till now, none of them has been traced by the Pakistan government," he said.
https://www.newindianexpress.com/thesundaystandard/2020/sep/20/sikh-girl-kidnapped-in-pakistan-allegedly-being-converted-to-islam-55th-case-in-9-monthsdsgmc-2199243.html
--------
Hundreds of women detained during Belarus protest march
Presse in Minsk
20 Sep 2020
Riot police detained hundreds of women as opposition protesters marched through the Belarusian capital, Minsk, demanding an end to President Alexander Lukashenko's rule.
About 2,000 women took part in the "Sparkly March", wearing shiny accessories and carrying the red-and-white flags of the protest movement.
One of the placards read: "Our protest has a woman's face", a reference to the title of a popular book by the Belarusian Nobel prize winner Svetlana Alexievich, who has backed the opposition cause.
Police blocked the women and began dragging them into police vans as they stood with linked hands, swiftly detaining several hundred, an AFP journalist saw.
The march was the latest in a series of all-women protests calling for the strongman leader to leave after his disputed victory in elections last month.
In a statement released before the march, Tikhanovskaya, who has taken refuge in Lithuania, praised the "brave women of Belarus".
The Viasna rights group published online the names of 328 women detained, while police spokeswoman Olga Chemodanova told AFP the number detained would be announced on Sunday.
Among those detained on Saturday was Nina Baginskaya, a 73-year-old activist who has become one of the best-known faces of the protest movement. Police released her outside a police station shortly afterwards.
Police detained so many protesters that they ran out of room in vans, releasing about 10 women.
Ambulances were called after several women became unwell during the detentions.
The opposition is due to hold mass demonstrations on Sunday.
https://www.theguardian.com/world/2020/sep/19/hundreds-of-women-detained-during-belarus-protest-march-alexander-lukashenko
--------
More Migrant Women Say They Didn't OK Surgery In Detention
9/19/2020
CDT
HOUSTON (AP) -- Sitting across from her lawyer at an immigration detention center in rural Georgia, Mileidy Cardentey Fernandez unbuttoned her jail jumpsuit to show the scars on her abdomen. There were three small, circular marks.
The 39-year-old woman from Cuba was told only that she would undergo an operation to treat her ovarian cysts, but a month later, she's still not sure what procedure she got. After Cardentey repeatedly requested her medical records to find out, Irwin County Detention Center gave her more than 100 pages showing a diagnosis of cysts but nothing from the day of the surgery.
"The only thing they told me was: 'You're going to go to sleep and when you wake up, we will have finished,'" Cardentey said this week in a phone interview.
Cardentey kept her hospital bracelet. It has the date, Aug. 14, and part of the doctor's name, Dr. Mahendra Amin, a gynecologist linked this week to allegations of unwanted hysterectomies and other procedures done on detained immigrant women that jeopardize their ability to have children.
An Associated Press review of medical records for four women and interviews with lawyers revealed growing allegations that Amin performed surgeries and other procedures on detained immigrants that they never sought or didn't fully understand. Although some procedures could be justified based on problems documented in the records, the women's lack of consent or knowledge raises severe legal and ethical issues, lawyers and medical experts said.
Amin has performed surgery or other gynecological treatment on at least eight women detained at Irwin County Detention Center since 2017, including one hysterectomy, said Andrew Free, an immigration and civil rights lawyer working with other attorneys to investigate medical treatment at the jail. Doctors are helping the attorneys examine new records and more women are coming forward to report their treatment by Amin, Free said.
"The indication is there's a systemic lack of truly informed and legally valid consent to perform procedures that could ultimately result — intentionally or unintentionally — in sterilization," he said.
The AP's review did not find evidence of mass hysterectomies as alleged in a widely shared complaint filed by a nurse at the detention center. Dawn Wooten alleged that many detained women were taken to an unnamed gynecologist whom she labeled the "uterus collector" because of how many hysterectomies he performed.
The complaint sparked a furious reaction from congressional Democrats and an investigation by the Department of Homeland Security's inspector general. It also evoked comparisons to previous government-sanctioned efforts in the U.S. to sterilize people to supposedly improve society — victims who were disproportionately poor, mentally disabled, American Indian, Black or other people of color. Thirty-three states had forced sterilization programs in the 20th century.
But a lawyer who helped file the complaint said she never spoke to any women who had hysterectomies. Priyanka Bhatt, staff attorney at the advocacy group Project South, told The Washington Post that she included the hysterectomy allegations because she wanted to trigger an investigation to determine if they were true.
"I have a responsibility to listen to the women I've spoken with," Bhatt told the AP on Friday. She said one woman alleged that she was repeatedly pressured to have a hysterectomy and that authorities said they would not pay for her to get a second opinion.
Amin told The Intercept, which first reported Wooten's complaint, that he has only performed one or two hysterectomies in the past three years. His attorney, Scott Grubman, said in a statement: "We look forward to all of the facts coming out, and are confident that once they do, Dr. Amin will be cleared of any wrongdoing."
In a statement Friday, ICE Acting Director Tony Pham said: "If there is any truth to these allegations, it is my commitment to make the corrections necessary to ensure we continue to prioritize the health, welfare and safety of ICE detainees."
LaSalle Corrections, which operates the jail, said in a statement that it "strongly refutes these allegations and any implications of misconduct."
Women housed at Irwin County Detention Center who needed a gynecologist were typically taken to Amin, according to medical records provided to the AP by Free and lawyer Alexis Ruiz, who represents Cardentey. Interviews with detainees and their lawyers suggest some women came to fear the doctor.
Records reviewed by the AP show one woman was given a psychiatric evaluation the same day she refused to undergo a surgical procedure known as dilation and curettage. Commonly known as a D&C, it removes tissue from the uterus and can be used as a treatment for excessive bleeding. A note written on letterhead from Amin's office said the woman was concerned.
The summary says she denied needing mental health care and added: "I am worried because I saw someone else after they had surgery and what I saw scared me."
The AP also reviewed records for a woman who was given a hysterectomy. She reported irregular bleeding and was taken to see Amin for a D&C. A lab study of the tissue found signs of early cancer, called carcinoma. Amin's notes indicate the woman agreed 11 days later to the hysterectomy.
Free, who spoke to the woman, said she felt pressured by Amin and "didn't have the opportunity to say no" or speak to her family before the procedure.
Doctors told the AP that a hysterectomy could have been appropriate due to the carcinoma, though there may have been less intrusive options available.
In another case, Pauline Binam, a 30-year-old woman who was brought to the U.S. from Cameroon when she was 2, saw Amin after experiencing an irregular menstrual cycle and was told to have a D&C, said her attorney, Van Huynh.
When she woke up from the surgery, Huynh said, she was told Amin had removed one of her two fallopian tubes, which connect the uterus to the ovaries and are necessary to conceive a child. Binam's medical records indicate that the doctor discovered the tube was swollen.
"She was shocked and sort of confronted him on that — that she hadn't given her consent for him to proceed with that," Huynh said. "The reply that he gave was they were in there anyway and found there was this problem."
While women can potentially still conceive with one intact tube and ovary, doctors who spoke to the AP said removal of the tube was likely unnecessary and should never have happened without Binam's consent.
The doctors also questioned how Amin discovered the swollen tube because performing a D&C would not normally involve exploring a woman's fallopian tubes.
"It's established U.S. law that you don't operate on everything that you find," she said. "If you're in a teaching hospital and an attending physician does something like that, it's a scandal and they are fired."
Binam was on the verge of deportation Wednesday, but ICE delayed it after calls from members of Congress and a request for an emergency stay by her lawyer.
Grubman, Amin's lawyer, said in a statement that the doctor "has dedicated his adult life to treating a high-risk, underserved population in rural Georgia."
Amin completed medical school in India in 1978 and his residency in gynecology in New Jersey. He has practiced in rural Georgia for at least three decades, according to court filings. State corporate records also show Amin is the executive of a company that manages Irwin County Hospital.
In 2013, state and federal investigators sued Amin, the hospital authority of Irwin County and a group of other doctors over allegations they falsely billed Medicare and Medicaid.
The lawsuit alleged that nurses at Irwin County Hospital were trained to follow a doctor's "standing orders" — described as "scripted procedures based on the nurse's diagnosis." That meant nurses often decided treatment plans, but they were billed to Medicaid and Medicare as if they doctor did, the lawsuit said.
Investigators linked a standing order to Amin, alleging he required "certain tests always be run on pregnant patients, without any medical evaluation and regardless of her condition."
The lawsuit was settled in 2015 with no known sanctions against Amin. The hospital paid a $520,000 settlement, saying no doctor paid any of it and had been "released from any and all liability."
The Georgia Composite Medical Board lists Amin as a doctor in good standing with no public disciplinary action. Board executive director LaSharn Hughes said records of investigations were confidential under state law.
State prosecutors didn't refer Amin to the medical board after the billing lawsuit because it didn't involve specific allegations of patient harm, said Katie Byrd, a spokeswoman for Georgia Attorney General Chris Carr.
https://www.dtnpf.com/agriculture/web/ag/news/world-policy/article/2020/09/19/migrant-women-say-ok-surgery
--------
URL: https://www.newageislam.com/islam-women-feminism/burqa-clad-muslim-woman-james/d/122898
New Age Islam, Islam Online, Islamic Website, African Muslim News, Arab World News, South Asia News, Indian Muslim News, World Muslim News, Women in Islam, Islamic Feminism, Arab Women, Women In Arab, Islamophobia in America, Muslim Women in West, Islam Women and Feminism