New Age Islam News Bureau
24 Aug 2019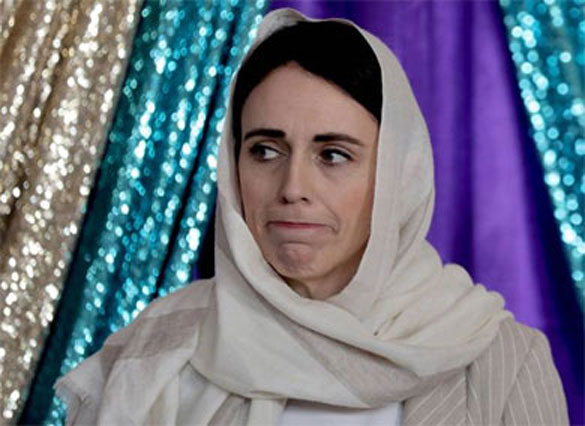 Prime Minister of PM, Jacinda Ardern dons hijab
-----
• Jacinda Ardern Dons Hijab as She Fronts Islamic Women's Council National Conference
• Disbelief, Joy and Resistance as Saudi Women Get First Passports
• Saudi Women with Media Licenses Can Run Business in Public Place
• Sudan Women Fight Gender Imbalance in Transition
• Arab Women Are Tired of Talking about Just 'Women's Issues'
• Saudi Women Outshine Men In Exciting Adventure Games
• Kabul: 'I Want To Break the Tradition That Women Can't Drive'
• 'Work Together or Fail:' Muslim Woman Chosen as Leader at International Interfaith Gathering
• Eighty People Charged Over Online Romance Scam Targeting Women
Compiled by New Age Islam News Bureau
URL: https://www.newageislam.com/islam-women-feminism/new-gen-muslim-women-india/d/119557
--------
New-Gen Muslim Women in India Are Better At Family Planning
Nikhil Rampal
August 23, 2019
Population explosion is an age-old issue in the country, but it has gained traction once again after Prime Minister Narendra Modi mentioned it in his Independence Day speech.
While addressing the nation on its 73rd Independence Day, the PM said that those planning small families "deserve respect" and that their act was patriotic.
However, some political leaders leveraged his statement to point fingers at a particular community. For them, it was an opportunity to peddle again the narrative that Muslim population is growing at a rapid pace in India and that it might soon outnumber the Hindu population. In fact, a few politicos from the Bharatiya Janata Party have used this misinformation to exhort Hindu women to birth at least four children.
But, the India Today Data Intelligence Unit has found out that, currently, this narrative does not hold water. The National Family Health Survey (NFHS) has shown that over the past 24 years, new-generation Muslim families have done a better job at family planning, though their statistical figures still trail Hindu families.
DECLINING FERTILITY
According to the World Health Organisation, "The total fertility rate [TFR] refers to the total number of children born or likely to be born to a woman in her lifetime".
In India, the TFR for women has been reducing across all communities. While the TFR for Muslim women in NFHS-1 (1992-93) was 4.4, it declined to 2.6 in NFHS-4 (2015-16). Though it is still higher than Hindu women, the gap between Hindu-Muslim TFR has narrowed in the past two decades.
In 1992-93, the difference between Hindu-Muslim TFR was 1.1 children, which meant that Muslim women were likely to have 33 per cent more children than Hindu women. This reduced to 0.5 children in 2015-16, implying that Muslim women were likely to give birth to 23.8 per cent more children than Hindu women.
HOW DID THIS HAPPEN?
Increasing age of first-time mothers and gap between births
Delaying the age at which a woman births her first child and increasing the gap between births of successive children has helped in reducing fertility rates in many countries. This phenomenon seems to be true for India too.
In 1992-93, the median age at which a woman became a mother for the first time was 19.4 years for Hindu women and 18.7 years for Muslim women. By 2015-16, the median age had increased to 21 in Hindu women and 20.6 in Muslim women.
Not only this, the interval between successive births has increased in both the communities. Here also, the Muslims have done better.
Between 2005-06 and 2015-16, the birth interval rose by 2.5 per cent for Hindu women whereas it rose by 3.75 per cent for Muslim women.
Decline in unplanned children
While both Hindu and Muslim women have also managed to reduce the number of unplanned children, the drop is higher in the latter. The difference between the TFR and the desired fertility rate gives an estimate of unplanned children. Desired fertility rate is the average number of children a couple plans to have in their fertile ages.
For instance, in 2005-06, Muslim women had a total fertility rate of 3.4 whereas their desired fertility rate was 2.2. The difference between the two was 1.2 children. This means that, on an average, a Muslim woman was giving birth to about 1 unplanned child.
In 2015-16, the number of unplanned children per Muslim woman came down to 0.6, a 50 per cent reduction in 10 years. During the same period, unplanned children per Hindu woman came down to 0.29, a 42 per cent reduction.
Impact on growth rate
The declining fertility rates have also shown their impact on the growth rate of the total population of the community.
In 1991, when the Muslim fertility rate was 4.4, Muslim population grew by 32.88 per cent (Census). In 2011, the TFR came down to 3.4, and the Muslim population decadal growth rate also came down to 24.6 per cent.
Postponing of marriages
According to Professor Sanjay Kumar, Department of Fertility, International Institute of Population Studies, there are broadly three factors responsible for reducing fertility rates in India.
"The first is an increase in the age at which women get married now. Second is the rise in induced abortions. Third is the use of contraceptives. While contraceptive usage has declined marginally at the national level, it has increased in many states of India," he said.
SOCIAL CHANGE IN MUSLIM COMMUNITY
Historian and author, Rana Safvi believes that the Muslim women are now more considerate about family planning since their primary concerns for their children are the same as of other communities - economics and education.
"Many Muslim landowning families fell into dire straits after Independence and partition due to abolition of the Zamindari system and their property being confiscated under the Enemy Property Act. This led to their children suffering several financial problems, which, now as grown-ups, they don't want to inflict on their own children. This is why most Muslim women are now economically more considerate and are ensuring their children have access to good education," said Safvi.
Farheen Naz, project manager at 'Tarraqi I' foundation, an NGO that helps in educating and training marginalised sections of society, believes that there is a change in the attitude of the new-generation Muslims regarding their family size.
"Earlier, people would want 4-5 children, but now they want only 2-3 children. Their focus has also shifted to improving education of girls, which has resulted in increased awareness, especially among Muslim women, and probably resulted in postponing the age of marriage and the birth of their first child," sais Naz.
All India Survey on Higher Education 2018 showed that while there was a rise of 24 percent in female enrolment from 2013-14, the rise in enrolment of Muslim women was 47 per cent, almost double the national average.
https://www.indiatoday.in/diu/story/muslim-women-family-planning-india-1590955-2019-08-23
--------
Jacinda Ardern Dons Hijab as She Fronts Islamic Women's Council National Conference
24 Aug, 2019
The March 15 mosque attacks are at the forefront of the Islamic Women's Council national conference.
This morning's session at the Zayed College for Girls in Auckland's Mangere, opened with a reflection on the tough year for the Islamic community.
Prime Minister Jacinda Ardern told the crowd of about 250 the past months have been exhausting - because the community's still picking up the pieces five months on.
She promised to help workshop aspiring Muslim leaders in politics.
Responding to a question about how the Muslim community can rise to leadership positions, Ardern said she'd like to unite them with local and central government.
"I would love for us to create a forum where we can spend some time together, as politicians and women with those who are interested in taking on leadership roles."
She asked the conference who was interested - and an uproar of applause broke out.
"I will be there and we can have this conversation, that would be great. So let's be practical and start politics bootcamp."
A series of workshops today will focus on topics like religion, health, and safety on Facebook.
Ardern donned a cream-coloured hijab as she spoke to the crowd.
She wore a headscarf after the attacks in March when she visited members of the Muslim community in Christchurch.
While it was praised around the world, it wasn't unanimous.
A Muslim women's rights advocate in Malaysia told the Thompson Reuters Foundation: "I wish she hadn't (wore it)"... She is not a Muslim and not from a Muslim majority country."
Former Housewives of Auckland reality TV star Gilda Kirkpatrick railed on Twitter against it.
Fifty-one people died and 49 were injured in the attacks which began at the Al Noor Mosque in the Christchurch suburb of Riccarton and continued at the Linwood Islamic Centre.
The alleged gunman live-streamed the first attack.
https://www.nzherald.co.nz/nz/news/article.cfm?c_id=1&objectid=12261534
--------
Disbelief, Joy and Resistance as Saudi Women Get First Passports
By Vivian Nereim and Sarah Algethami
August 22, 2019
When Hayfa's first passport as an adult woman was placed in her hands on Wednesday, she first carefully felt the cover and then made sure it was actually her name printed beneath the words "Kingdom of Saudi Arabia."
Then joy took over. The masters programs she'd dreamed of studying and the job offers she'd declined because her family wouldn't let her travel were finally within reach.
https://www.bloomberg.com/news/articles/2019-08-21/disbelief-joy-and-resistance-as-saudi-women-get-first-passports
--------
Saudi Women with Media Licenses Can Run Business in Public Place
August 24, 2019
By Abdulrahman Al-Misbahi
JEDDAH — Saudi women, who have media licenses, can now run their activities in public places, not necessarily in designated women-only spaces, following the changes in the regulations carried out by the concerned authorities recently, Okaz has learned.
The Ministry of Ministry of Media and the General Authority for Audiovisual Media have coordinated with the Ministry of Interior to find a mechanism to ensure the public interest while governing the work of women, based on the recommendations of the higher authorities.
The Ministry of Media has laid down conditions for granting media licenses which are as following:
• The minimum age requirement for the applicant is 25 years
• The applicant has to be a Saudi or Gulf national
• The applicant can be a foreign investor with a legitimate license to invest having five years of experience in the field
• Applicant can obtain a permit in 16 areas for those with a high school diploma and below.
http://saudigazette.com.sa/article/575310/SAUDI-ARABIA/Saudi-women-with-media-licenses-can-run-business-in-public-place
--------
Sudan Women Fight Gender Imbalance in Transition
August 23, 2019
KHARTOUM: They were on the front lines and in the negotiating rooms that brought down military rule but Sudan's women have yet to take their rightful place in the new institutions.
The signing last week of the documents outlining the transition to civilian rule was a moment of national jubilation, turning the page on 30 years of dictatorship and eight months of deadly protests.
But as the ceremony attended by a host of foreign dignitaries unfolded, one thing jumped out: the only female speaker at the three-hour event was the host.
"That scene was a slap in our face," Rabah Sadeq, a woman activist and longtime campaigner for gender equality, said the next day.
"So many women are talking about this now, we have to raise this issue," she told AFP.
Some women attending the signing heckled the speakers to express their displeasure and the indignation quickly spread to the street and social media.
"The participation of women in the revolution was very high, they even encouraged men to join the demonstrations," said Sarah Ali Ahmed, a student in Khartoum.
"I was very shocked to see the low representation of women... We want to play a role in the civilian government, just like men," she said.
On Wednesday, Sudan's new joint civilian-militaryruling body, which is meant to guide the country through 39 months of transition to full civilian rule, was sworn in.
Out of its six civilian members, two are women, although only one was included in the list of nominees initially put forward by the protest camp.
While the opposition alliance's chief negotiator in the run-up to Sudan's landmark political deal was a woman, Ibtisam Al-Sanhouri, women were poorly represented in the various negotiating committees.
The shock caused by the all-male line-up at the signing last week, which will go down as a key date in Sudan's history, appears to have had some impact in recent days.
Sudan's new prime minister Abdallah Hamdok, who arrived in the country on Wednesday, raised the issue in his first comments to reporters after being sworn in.
"We have to concentrate on women's participation. Sudanese women played a very big part in our revolution," said the 61-year-old former UN economist.
"But during the negotiations... as well as during the signing of the documents, it was only men. We have to correct this," Hamdok said.
Samahir el-Mubarak, a spokeswoman for the Sudanese Professionals Association (SPA), an independent trade union confederation that played a central role in the protests, argued that women's under-representation was not too surprising.
"This absence in the institutions is not acceptable but it's also understandable in a way," said Mubarak, a 29-year-old pharmacist.
"The organizations and political parties that are active in the transition now have existed all along, and they excluded women.
"But I'm very optimistic this is going to change," she said.
The legislative body which is due to be formed soon to help steer the country to democratic elections in 2022 will have at least 40 percent of its seats reserved for women.
"In the condition we are in now, we need some kind of positive discrimination... but eventually women are qualified enough to become a majority in parliament and government," Mubarak said.
Growing awareness over female under-representation in the transition appears already to be bearing fruit, and a woman is now tipped as the next chief justice.
"This is progress but it's still not the level we want. Women should continue to be empowered," Rabah Sadeq said.
Sarah Abdul Laleel, a UK-based paediatrician, agreed that women were insufficiently represented.
"When you compare the street and the protests to the institutions, there's a mismatch," she said.
Abdul Jaleel, also a member of the SPA, said that political parties did not have people's trust and that a debate was needed to find news ways to integrate women in the country's institutions.
Rabah Sadeq argued that parity was in the country's best interest.
"Asking for more women isn't just symbolic, they are more committed to peace. It's not just for equality, it's for the chances of success of this transition," she said.
Samahir el-Mubarak said that after decades of oppression under Bashir's Islamist military regime, women had gained a lot of self-confidence in recent months.
"Women were the dynamo of this revolution, they can't be taken out of the picture. Otherwise there will be another revolution."
http://www.arabnews.com/node/1544396/middle-east
--------
Arab Women Are Tired of Talking about Just 'Women's Issues'
KIM GHATTAS
August 24, 2019
The striking image of a tall woman dressed in white, lightly veiled, wearing large gold earrings, and raising a finger as she led several hundred men and women in chants of protest against Sudanese President Omar al-Bashir went viral in April.
Described as a Nubian queen, 22-year old Alaa Salah quickly became an icon of the movement to bring down Bashir—and of the widespread participation of women in the protests that eventually resulted in his ouster. Her efforts, and those of many other women, were covered extensively by the media as an extraordinary moment, almost an exception.
Yet before Sudan, women were at the forefront of protests in Benghazi, Libya, in 2011; and in Yemen that same year, with one, Tawakkol Karman, going on to win a Nobel Peace Prize. And women were key to the activism that helped sustain the protests and civilian resistance against Syrian President Bashar al-Assad, with hundreds if not thousands of them landing in government jails.
Though many of those protests were crushed, they were not new or fleeting moments of Arab women exerting their power. Women in the Middle East have historically been active in many fields from newspaper publishing in the early 20th century to banking and politics today, but their role has often been overlooked.
Now, however, a growing chorus of Arab women is offering an alternative to the typically male, often autocratic voice that dominates within their own societies (and in Western portrayals of the region). Through a variety of media, from journalism to television to literature, they are undermining the long-held narrative of Arab women as docile and submissive.
This is what emerges clearly from the recently published anthology Our Women on the Ground: Essays by Arab Women Reporting From the Arab World, a book edited by the Lebanese journalist and writer Zahra Hankir that brings together 19 essays by women journalists, all of them Arab or Arab American.
The essays are at turns searing, poignant, and funny, but what shines through in all of them is the sheer strength of the women writing. Whether it's Hannah Allam covering Iraq for McClatchy newspapers in the days after the 2003 invasion, hunkering down in a shrine being bombed by American military jets; Nour Malas reporting for The Wall Street Journal on the descent of Syria, her homeland; or Hwaida Saad, a Lebanese reporter for The New York Times in Beirut who maintained open channels to contacts inside Syria with empathy and social-media ingenuity, their work has greatly enriched Western audiences' understanding of what is unfolding in the region—hence, they are "our" women on the ground, all of us reading their articles.
In the essays, Hankir says, "none of them were striving to dispel stereotypes about who they are. Instead, they were focused on the task at hand, their jobs, and oftentimes survival. There is no one Arab woman; there is no one way to be an Arab woman; and there is no one Arab female experience. By telling their stories, these women, without intending to do so, and without a Western audience in mind, have punctured prevalent narratives rooted in flawed post-colonial discourse."
Some of the authors report for local media, such as Shamael Elnoor, who traveled into the war-ridden province of Darfur in 2015 to interview the feared chief of the Janjaweed militia; or Asmaa al-Ghoul, who stood up to militants from Hamas in Gaza with her pen and her gaze while writing for the Palestinian paper Al-Ayyam. Some have to deal with families who disapprove of their dangerous careers; others can count on fathers to remonstrate militants who dare question the women's choices.
Through the essays, the reader meets yet more women from Libya to Yemen whose resilience and power are humbling, and who can "be devilishly funny" through the worst circumstances, as Allam writes in her essay. These women are journalists, activists, or teachers, yet they are never reduced to the sole status of women or asked to speak specifically about gender.
The notion that Arab women have much more to say than just commenting on their lives as women and on gender issues should be an obvious one, and it's what drove the veteran Lebanese journalist Nada Abdelsamad to conceive her weekly talk show, Dunyana—Arabic for Our World—airing on BBC Arabic TV. (The program has been on air since 2014, when the British broadcaster began a push to give more airtime to women to achieve gender parity across all its output.)
Abdelsamad took the idea further in her show. The program not only features an all-women panel with the occasional male guest; it eschews the discussions of motherhood and child-rearing heard on many women's talk shows, choosing instead to focus hour-long episodes on a specific political or social issue. On Dunyana, female experts discuss everything from youth unemployment to modern Arab literature to counterterrorism strategies. To date, Abdelsamad has had 720 women on the program, from every single Arab country, and has herself been surprised by the seemingly never-ending supply of women experts to sustain the show. She refuses to include politicians on her shows, and while some of the women are prominent in their own country, there are no celebrities.
In a region where debate has been constantly stifled by oppressive rulers, "it wasn't easy at the beginning to convince the guests to interrupt each other to make it a free-flowing discussion," Abdelsamad told me. She said she noticed that the women were particularly averse to interrupting or contradicting male guests. To promote more debate, she began to brief her panel more thoroughly on the format as well as the content.
Some of her favorite episodes include a heated discussion on atheism with a Saudi guest, the television anchor Buthaina Nasr, who chose to appear without her veil, and a show on the future of oil, renewable energy, and water in the region that featured Sara Akbar, a Kuwaiti petroleum engineer, and Shorouk al-Abaiji, an Iraqi water and agriculture expert.
Dunyana launched a new format a couple of months ago with a rotating panel made up of three women of different nationalities who debate one or two topics among themselves and with a guest. Abdelsamad, who anchored the program from its inception, is no longer on screen but remains as the editor. In a recent episode that made waves on social media, the Palestinian actress and art curator Manal Khader confronted a priest about personal liberty and freedom of expression after accusations of blasphemy against a popular Lebanese indie-rock band led to the cancellation of one of their concerts in Lebanon this month.
Abdelsamad's show would be groundbreaking even in the United States or other Western countries, where all-male panels are still a regular occurrence, and where there continues to be a dearth of women experts cited in newspaper articles and academic papers. Male writers and reviewers also dominate book coverage in the United States, according to the nonprofit organization VIDA, even though women writers and readers are the majority. Arab women, therefore, face twin obstacles: the West's own gender biases, and the reductive narrative of the Arab woman.
This is why it was such a victory when the International Booker Prize jury chose an Arab novel—one written by a woman—to receive the award for the first time in the prize's history. The Omani novelist Jokha al-Harthi's breathtaking, layered, multigenerational novel Celestial Bodies, which was beautifully translated into English, follows the lives of three sisters from a small village at a time of rapid social and economic change in Oman. The tale is replete with history, poetry, and philosophy, but also slavery, broken marriages, passion, and not-so-secret lovers.
The chair of judges for the prize, the historian Bettany Hughes, said that the book gave the jury "access to ideas and thoughts and experiences you aren't normally given in English. It avoids every stereotype you might expect in its analysis of gender and race and social distinction and slavery."
That's also why Hankir wanted to compile Our Women on the Ground. Though numerous memoirs have been written by Western foreign correspondents about the region, she writes in the anthology, "a volume like this one, which amplifies local Arab female voices in the literary space, hadn't yet been created and was long overdue."
Hankir told me that while questions from the audience at book events thus far in the United States have been thoughtful, she was surprised by how often journalists asked her about how her anthology would help puncture the narrative of the docile Arab woman, a reflection of how enduring that lens remains. It is still one chosen by some Western reporters in their own stories (as well as the one seen in portrayals from Hollywood and elsewhere), helping to perpetuate the stereotype.
And so, while the chorus of strong Arab women's voices is growing, the question is: Does the West want to hear it?
https://www.theatlantic.com/international/archive/2019/08/arab-women-media-literature/596455/
--------
Saudi Women Outshine Men In Exciting Adventure Games
August 23, 2019
TAIF — The "Action Mania" park, which is one of the highlights of the ongoing Taif Season, is attracting a large number of Saudi girls to adventure and action games as it allows both sexes to exercise their passion in an unprecedented interactive atmosphere in the Village of Ward, the venue of the event, at Al-Radaf Park.
Ryan Shaqroun, CEO of Saudi Entertainment Summit, owner of "Action Mania," said that girls were more daring than their male counterparts in the "Adrenaline Live" event in the challenge and adventure city. The company has designed a special sports abaya, closed from the bottom and wide, to give girls more freedom during play.
Among the adventure games that have attracted Saudi women in the park is "SkyFall," a breathtaking game of safe fall from a height of 16 meters, as well as the global parachute jump simulator game, which has been introduced for the first time in Saudi Arabia.
Shaqroun stressed that Qemah Entertainment Company aims to give visitors of the Taif Season an atmosphere of fun, adventure and enthusiasm with the city of games and adventure covering 12,000 square meters within the Village of Roses, with 15 large size games, in addition to small games designed for children. All have international certificates in safety and security specifications, and conform to the Saudi standards and specifications. All the games are being held under the supervision of Saudi cadres who are well trained and experienced in the entertainment industry.
Action Mania welcomes Taif Season visitors from 5 p.m. to 12 p.m. to experience the fun, adventure, entertainment and enthusiasm through a number of exciting and adventurous activities and various games for young and old, suitable for the whole family, such as climbing and free jumping, a circus swing, and other skill and fitness games.
http://saudigazette.com.sa/article/575304
--------
Kabul: 'I Want To Break the Tradition That Women Can't Drive'
by Marta Bellingreri & Alessio Mamo
22 AUG 2019
Kabul, Afghanistan - Smiles, cheers and expressions of shock - these are the reactions, says Mahjabin, when people in Afghanistan's capital see women like her behind the steering wheel.
"Someone is looking at us smiling; someone else is clapping hands or blowing the horn to felicitate us; some others are just shocked!" said the 24-year-old.
She is one of four women chosen from 100 candidates to become the drivers of the Pink Shuttle, a project by the Nove Onlus NGO billed "as the first and only service in Afghanistan driven uniquely by female drivers for female passengers".
The selected drivers did two weeks of additional training to qualify to drive a shuttle.
Afghan law does not prohibit women from driving, but it is rare to see female drivers in the country, including in Kabul. According to the NGO, a total of 1,189 women received driving licenses in the capital between 2012 and 2016.
"Some men think it's a bad action for women to sit in the car and put the hands on the dashboard and the wheel and we should stay at home. But this is not what we think," says Parisah, 36, a former journalist chosen to become a shuttle driver.
"My husband encouraged me to apply for this job and so I can offer women a ride when needed."
Nazilah, 23, added: "I want to break the tradition that women can't drive ... We need to show that we can."
For Mahjabin, another reason that made her want to drive, is her three-year-old daughter: "I am thinking about the future of my daughter and I hope that all women will drive when she will become an adult."
https://www.aljazeera.com/indepth/inpictures/kabul-break-tradition-women-drive-190804054327441.html
--------
'Work Together or Fail:' Muslim Woman Chosen as Leader at International Interfaith Gathering
23 AUG 2019
10TH RELIGIONS FOR PEACE WORLD ASSEMBLY HELD IN GERMANY THIS WEEK On Tuesday (August 20), the 10th Religions for Peace World Assembly asked religious groups to act on issues which are geopolitical and ended the gathering with a "statement of commitment" for fostering multireligious cooperation.
Many religious speakers spoke at the assembly's opening ceremony in Germany with almost all of them requesting people to see beyond their church-related issues. The president of the Japanese Buddhist movement, Rissho Kosei-kai, said humanity had enjoyed 50 years of progress, and if everyone would like for that to continue, they'd need to work together. The archbishop of Abuja, Cardinal John Onaiyekan agreed, stating "the future depends entirely on how we address our shared welfare." Shaykh Abdallah Bin Bayyah, the president of the Forum for Promoting Peace in Muslim Societies, explained his point with a parable. "The people on the bottom level needed water to drink and so they started to drill a hole in the side of the ship to get the water from the outside. If those on the top level would share their water then everyone would survive. But if they don't, the ones on the bottom will drill the hole and soon the entire ship will sink and everyone will perish." "We must work together or we will all fail," Bin Bayah said. The next day saw Azza Karam, a United Nations expert on development and religious issues, being elected as the top official of the organization. Azza Karam is a Muslim woman who has succeeding former head, William Vendley. This move brings greater visibility to the organization. The executive director of Religions for Peace USA, Tarunjit Singh Butalia, said a woman heading RFP International as "walking the talk." She went on to say Karam "will serve as an example to young boys and girls of faith of gender equality." "I think that women are very important for the dialogue and to raise voice for women around the world and different countries," Rebecca Boakye of Adventist Development and Relief Agency in Germany.
https://www.worldreligionnews.com/religion-news/work-together-fail-muslim-woman-chosen-leader-international-interfaith-gathering
--------
Eighty People Charged Over Online Romance Scam Targeting Women
August 24, 2019
US prosecutors have charged 80 people over an international Internet romance scam that defrauded victims, many of them elderly women, of at least $6m.
The scam was run by two Nigerian men in the Los Angeles area who had help from associates in Nigeria and other countries, federal officials say. They operated fake online romances that solicited money from "vulnerable" women.
In one 2016 operation, a Japanese woman sent a total of $200,000 borrowed from friends and relatives to a "US army captain stationed in Syria" she met on an international site for digital pen pals. The fake military man, "Terry Garcia", told the woman, referred to in court documents as "FK", that he was stationed in Syria and had a plan to smuggle diamonds out of the country.
To avoid confrontation, he told her he could not use the phone while stationed in the country.
She was virtually introduced to his "associates", including one who said he was a "Red Cross diplomat", in the couple's pursuit of the fake diamond smuggling. Additional requests for shipping costs and other details in the fake heist kept coming.
"FK estimates that she made 35 to 40 payments over the 10 months that she had a relationship with Garcia," a federal criminal complaint says. "During that time, the fraudster(s) emailed her as many as 10 to 15 times each day, and Garcia was asking her to make the payments, so she kept paying to accounts in Turkey, the UK and the US."
Seventeen people have been arrested so far. Investigators say two key suspects living in Southern California oversaw the full operation, which attempted an additional $40m in theft. They were among the 17 arrested, but dozens of co-conspirators are still on the run.
All defendants face charges of conspiracy to commit fraud, conspiracy to launder money, and aggravated identity theft. Some will also face fraud and money laundering charges.
"We believe this is one of the largest cases of its kind in US history," US Attorney Nick Hanna said of the operation.
He told CNN that the online pleas for money weren't limited to romance, and included schemes targeting businesses, including impersonating employees.
"In some cases, the victims thought they were communicating with US servicemen stationed overseas, when in fact, they were emailing with conmen," Mr Hanna said. "Some of the victims in this case lost hundreds of thousands of dollars in this way."
https://www.independent.co.uk/news/world/americas/internet-scam-women-online-dating-money-a9076936.html
--------
URL: https://www.newageislam.com/islam-women-feminism/new-gen-muslim-women-india/d/119557
New Age Islam, Islam Online, Islamic Website, African Muslim News, Arab World News, South Asia News, Indian Muslim News, World Muslim News, Women in Islam, Islamic Feminism, Arab Women, Women In Arab, Islamophobia in America, Muslim Women in West, Islam Women and Feminism