New Age Islam News Bureau
24 Oct 2016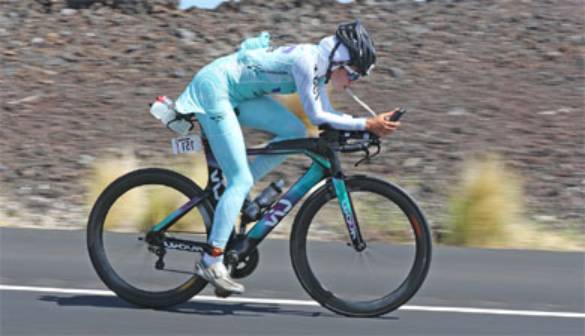 Shirin Gerami on her bike at the 2016 Ironman triathlon in Hawaii
---------
• One Woman Thought To Have Left Luxembourg for Syria
• Gerami Wears Hijab to Represent Iran At Ironman
• Triple Talaq: All India Muslim Personal Law Board Launches Campaign on Women Rights
• Seattle Group Sewing Feminine Hygiene Kits For African Girls
• Plane Passenger Who Pulled Off Muslim Woman's Hijab and Shouted 'This Is America' Is Fined £815
• Equality Doesn't Mean Sameness: Faizan Mustafa
Compiled by New Age Islam News Bureau
URL: https://www.newageislam.com/islam,-women-and-feminism/new-age-islam-news-bureau/new-burkini-row--women-thrown-out-of-public-baths-in-hungary-for-wearing-islamic-swimwear/d/108893
-----
New Burkini Row: Women Thrown Out Of Public Baths In Hungary For Wearing Islamic Swimwear
Wed, Oct 19, 2016
The women, aged around 30 and 70, were reportedly in the pool at Szechenyi Baths for over an hour before two members of staff asked them to leave, who told them the order had come from the management.
An eyewitness said: "The ladies wearing burkinis were there at least an hour. I was already in the changing rooms. They were not noisy, they harmed no one, no one bothered me."
The sales and marketing director of the baths Szilvia Czinege said that the women had been approached in the early evening of October, 9 after a guest had complained.
The two women were told to respect the bath's policies and bath in appropriate clothing.
According the baths, pools can only be used by visitors wearing swimming suits that do not reach below the knee or shoulder for health reasons.
The incident comes after several towns along the French Riviera banned the wearing of burkinis saying the full-body swimsuits were a symbol of Islam and a provocative action following on the from July terror atrocity in Nice.
At the time Zeynab Alsheih, a 23-year-old medical student from Australia, had been forced to leave a beach after being told by several local people they would call the police if she did not leave.
The decision to ban the burkini was later overruled in August by the country's top administrative court.
http://www.express.co.uk/news/world/722602/NEW-BURKINI-ROW-Women-thrown-out-baths-Hungary-wearing-Islamic-swimwear
--
One Woman Thought To Have Left Luxembourg For Syria
Wednesday, 19 October, 2016
(VO/JB) At least one woman has left Luxembourg for Syria, the government has confirmed to a French newspaper.
According to a DPA , more and more women are becoming radicalised in Germany, a silent phenomenon that is impacting girls as young as 13.
Luxembourg's Justice Minister Felix Braz said that no such evolution had been observed in the Grand Duchy.
"There have been no women radicalised to the point where they would be ready to take kamikaze action," the minister said in an interview with French newspaper "Le Monde".
In 2015, Luxembourg Foreign Affairs Minister Jean Asselborn said that six Luxembourg residents were known to have left Luxembourg for Syria. Today the number is thought to be closer to ten, including "at least one woman".
The ministry said it could not confirm to what extent the woman in question was involved with Islamic State group Daesh.
Furthermore, not a single woman had been taken to court in Luxembourg in relation to jihadi activities or bombing attempts, the minister said.
Luxembourg has introduced a number of anti-radicalisation measures, including awareness-raising and training in schools.
On October 1, Luxembourg Police launched its first anti-radicalisation hotline aimed at helping people who are being radicalised and their families and friends. The hotline can be reached by calling 2477-2477. A new support service will follow soon.
http://www.wort.lu/en/luxembourg/daesh-1-woman-thought-to-have-left-luxembourg-for-syria-58073e665061e01abe83a98b
--
Gerami Wears Hijab to Represent Iran At Ironman
Wednesday, 19 October, 2016
Critics like to categorize Islamic dress (hijab or otherwise) as an obstacle, a hindrance or a barrier for women. Although this Iranian athlete doesn't usually wear hijab, the scarf is actually what enabled her to represent Iran (and set an awesome precedent!) at the Ironman World Championships on October 8.
The requirement for female athletes to wear hijab in Iran caused major controversy just last week, when Chess champion Nazi Paikidze called for a boycott of the Women's World Chess Championship in Iran. Here, we have an Iranian athlete doing exactly the opposite. Shirin Gerami put together code-compliant gear so she could run and represent Iran. And she did it, finishing the Ironman in 13 hours and 11 minutes.
What is most curious about these vastly different reactions to Iran's requirements is how they compare to dress code regulations for athletes in America. Muslim girls have faced dress code issues for decades in the United States- whether when running track in high school or fighting the Professional basketball ban on hijab, like Bilqis Abdul-Qaadir.
Is this essentially the same thing, or vastly different? Share your thoughts below.
"Shirin Gerami, a 26-year-old woman, just became the first Iranian female triathlete to compete in and finish the 2016 Ironman world championship in Kona, Hawaii on October 8.
She swam 2.4 miles in choppy water, biked 112 miles, and ran 26.2 miles all while respecting the regulations her country enforces, requiring women to be covered at all times in public settings.
Before the race, Gerami told Sports Illustrated: "This will be the first time a female will be officially representing Iran in an Ironman. What was important to me was to create an opportunity where all women could access triathlons, to reap the psychological, physical and social benefits of sports—to swim, bike, run, immerse in nature and grow as a person. I believe what is most important is to have the opportunity".
Gerami already transcended history in 2013, as Iran's first female triathlete, following the International Triathlon Union World Championships in London.
By representing her country and respecting Islamic culture, Gerami agreed to respect the rules and regulations of Iran, which requires women to be covered in public settings.
"My hope is that by finding the right solution, the clothes would then provide an opportunity for more women to access sports," Gerami says."
"Gerami, who is in her 20s, started doing triathlons as a hobby during her last year of college at Durham University in England. Then, one night, a friend suggested that she should represent Iran in the London triathlon.
"So I phoned them up and said I'm an Iranian, I live in London and would it be possible to represent?"
The Iran Triathlon Federation responded with a lot of "no's." Gerami said they told her that because of "sensitivities," they don't support women in triathlons.
"I responded saying, 'The main reason that you're telling me that women can't represent Iran in triathlons is because of clothes. So allow me to go find clothes and find a solution,'" she says.
The final design for Gerami's triathlon garb, which she wore during the Ironman event in Hawaii. (Courtesy Chris McDonald)
Gerami doesn't usually wear a hijab. But she decided to make it her mission to find athletic wear that would meet Iran's standards so that more women can represent her birth country in international triathlons."
http://www.altmuslimah.com/2016/10/gerami-wears-hijab-represent-iran-ironman/
--
Triple Talaq: All India Muslim Personal Law Board Launches Campaign On Women Rights
October 19, 2016
All India MuslimPersonal Law Board official said that Islam provides for four types of talaq out of which two are used by men– talaq and triple talaq. The other two– khula or faskh-e-nikah can be used by women if they feel their marriage isn't working.Pixabay
The All India Muslim Personal Law Board has decided to launch an awareness campaign, directing Imams across India to give discourse on rights of women in Islam to avoid misuse of Islamic laws.
The Imams have been reportedly instructed to give these discourses after Namaz. Executive member of AIMPLB Maulana Khalid Rasheed Firangi Mahali, while citing figures from Census 2011, said that only 0.5 percent Muslims filed for divorce to make the point that the perceived ills of the triple talaq law are being "blown out of proportion."
Why advertise with us?
"The total population of Muslims in India is about 17 crore. of these 0.5% or 3.5 lakh persons had taken divorce. Also, of the total divorce cases in Muslims, less than 1% are of triple talaq. Thus, we are convinced that triple talaq is being exaggerated. Compared to this, 3.7% of total 100 crore Hindus had taken divorce" Maulana Khalid Rasheed Firangi Mahali told the Times of India.
About the issues to be covered in the discourse by Imams, he said, "Islam is the only religion which practices ladies first. It is for this that the consent of women is taken before the groom in weddings and women have a right in their father's and husband's property. Citing references from Quran and Hasis, the imams will tell that men and women have equal right for everything in Islam be it right to marriage, separation, inheritance, education, extravagance during weddings."
Rasheed said that Islam provides for four types of talaq, out of which two are used by men -- talaq and triple talaq. The other two – khula or faskh-e-nikah can be used by women if they feel their marriage isn't working. "No other religion in the world gave this kind of a liberty to women. In fact, the right to end a marriage through divorce among Hindus in the Hindu Code Bill was borrowed from Islam," Rasheed claimed.
"The plain and simple talaq refers to iteration of talaq once which leads to a month long period of separation. It is followed by a chance to reconcile and if the parties agree, the couple can stay together as normal. But if they don't agree, they second period of separation begins. The couple can still stay together if they sort their issues after the gap. In case they don't, the third talaq takes place," he explained.
Though Rasheed's interpretation of Islam as being a religion that has positive rights for women is not being contested, an earlier report suggests that his claims about divorce rates in Muslims is incorrect. According to the report that relies on the same data, nearly 80 percent of the divorced Muslims in India are women.
http://www.ibtimes.co.in/triple-talaq-all-india-muslim-personal-law-board-launches-campaign-women-rights-700226
--
Seattle Group Sewing Feminine Hygiene Kits For African Girls
October 18, 2016
On a recent Monday morning, a group of women sit in a Seattle dining room, sewing, drinking coffee and chatting. Even though it's Monday, some of them are known as the Saturday Sewing Sisters, and they gather to sew feminine hygiene kits that they will hand deliver to girls living in villages in Cameroon, Africa.
"In many parts of the world, girls miss a significant amount of school during their menstrual cycle for lack of product," says Alfreda Lanier. "So we feel strongly that we can impact their lives and allow them to get the education that will empower them to change their circumstance."
Lanier says they delivered 1,200 kits to schoolgirls in five villages last year, and they have another delivery mission coming up in December. While they're there, they teach the girls how to use the pads, they do a course on sex education and even teach self defense.
"If you don't have the product, you're not going to want to go to school," Lanier said. "It's not that they're not allowed. But if they do go, they often are taken advantage of by, sometimes, male teachers, other men in the village. They will exchange product for sex. Therefore, the girls are exposed to exploitation, early pregnancy, even marriage."
Feminine hygiene kits for African girls
The sewing project started with just 16 women at the First AME Church, but has since expanded to include Jewish and Muslim volunteers. Rabbi Elana Zaiman got involved with the project a few months ago.
"They have enough kits for all the girls in the school. They have to. Every girl gets a kit," explains Rabbi Zaiman. "It's taboo to have your period. The idea is that with these kits, and with every girl having them, they all bring them to school every day whether they have their period or not."
"No one knows who has it or who doesn't," she said. "And everyone can feel very comfortable. As you can see, the material is all different colors, beautiful, to hide the stains, so when they're hanging to dry [no one in the] family is aware of when the child has her period."
Rabbi Zaiman says an amazing side effect of the project has been the multicultural community they've established.
"With this world the way it is and with the anti-Muslim sentiment and the racist sentiment, especially in the election frame we are in, I'm disgusted by it," Zaiman said. "We need to begin working together."
"It's brilliant, actually," she added. "We're doing a project that is not for any of us, it's for all of us. And it's not really for us, it's for other girls elsewhere. It's a beautiful thing to all join in to do together. I'm moved by that and I'm then moved by the fact that because we're doing this all together, relationships are happening and we're building. We just went to First AME church the other day for a service, they will be coming to us. We went to the Ahmadiyya community for a September 11 memorialization. I hope we're able to be there for each other always."
While a few of the women are set to deliver the feminine hygiene kits to Cameroon in December. But they've recently run into a snag.
"We are raising money to support the cost of baggage fees," Lanier said. "We will take approximately 30 duffel bags of the kits and each of those, at 50 pounds, the airline charges about $200. We're looking at probably about $5000 to do that."
Last year Delta waved the baggage fee, but Air France won't do it.
Everyone involved in the project is a volunteer and they pay for all the sewing material and their plane tickets out of pocket.
http://mynorthwest.com/427707/feminine-hygiene-kits-for-african-girls/
--
Plane Passenger Who Pulled Off Muslim Woman's Hijab and Shouted 'This Is America' Is Fined £815
October 19, 2016
A man has been sentenced for pulling off a Muslim woman's hijab and shouting "this is America" on a flight.
Gill Parker Payne, from Chicago, was fined £815 and ordered to a year's probation including two months of home detention.
The 37-year-old admitted saying something to the effect of "take it off! This is America" while flying between Chicago to Albuquerque in New Mexico.
According to the Albuquerque Journal, US attorney Damon P. Martinez said: "The case sends a clear message to anyone who contemplates the use of threats or intimidation to interfere with the right of individuals, including members of our Muslim community, to express their faith without fear."
Payne was sitting a few rows behind victim Khawla Abdel-Haq on the Southwest Airlines flight in December 2015.
Payne admitted in a statement: "I stopped next to her seat, looked down at K.A., and told her to take off her hijab, stating something to the effect of 'take if off! This is America'."
The court heard Ms Abdel-Haq was scared to leave her home for weeks after the in-flight tirade.
She said at the sentencing on Tuesday: "You hurt me, you disrespected me, you violated me."
An apologetic Payne said he was drunk on the flight, and has since visited a mosque, adding: "I'm embarrassed. I'm 100 per cent embarrassed."
http://www.independent.co.uk/news/world/americas/hijab-america-chicago-muslim-plane-passenger-flight-pull-take-off-a7368906.html
--
Equality Doesn't Mean Sameness: Faizan Mustafa
October 19, 2016
Hyderabad: Prof. Faizan Mustafa, eminent jurist and Vice Chancellor of NALSAR, University of Law, said on Tuesday that equality does not mean 'sameness' and law forms a small part of traditions and culture of the country. Speaking against the background of ongoing debate over Muslim Personal Law in the country he reiterated that Islam recognizes the rights of women in the society and puts demand on its followers to recognize them in principle and practice. He was speaking at the inaugural session of training programme, "Rights of Women," organized by Centre for Women Studies (MANUU) in collaboration with National Human Rights Commission, New Delhi.
Prof. Mustafa pointed out that Hindu Code Bill has borrowed many things from Islam. In this context he referred to the law of inheritance. Under the Hindu law divorce was unimaginable. "Islam is the first religion which provides the option of separation among couples as the last resort while describing marriage as a contract," he pointed out. Throwing light on the codification of laws in India he said the credit goes to British colonial rulers. However, their mentality was influenced by Biblical teachings which reflected in their interpretation of law.
Men have never accepted the distinctive and independent entity of women. However, Islam rejects this stand. During the British era William Jones had ordered the translation of Muslim Jurisprudence book, Hidayah and the Hindu source of law Dharmashastra. "Since the translator was unaware of Arabic, Hidayah was first translated into Persian. The publisher, for the convenience of users, clubbed the four volumes into one. British rulers took it as code of law though it was in fact a bunch of jurisprudence opinions," he elaborated.
Referring to the debate over Uniform Civil Code and declaration filed by government in the Supreme Court, Prof. Faizan Mustafa said that in past the Apex Court avoided the issue and left it to the will of Parliament. "As a matter of fact no Muslim victim women ever approached Supreme Court. In the current scenario, Supreme Court had expressed desire to entertain any PIL filed on behalf of Muslim women," he informed. "As far as polygamy is concerned, it is more prevalent in the Hindu community. In most of the cases the aggrieved women cannot even prove the guilt in the court," he said.
Instead of forcing uniformity the need for the nation was to acknowledge the differences and establish equality on that ground. "Uniform civil code shall not be imposed upon for the sake of it. Laws alone do not provide solution to the problems. There is need for change in the attitude of men towards women," he added.
Prof. Ahmedullah Khan, Retired Dean, Faculty of Law, Osmania University was the guest of honour. Prof. S M Rahmathullah, Dean, School of Arts and Social Sciences (MANUU) presided over the inaugural session. Earlier, Dr. Amena Tahseen, Director, Centre for Women Studies welcomed the gathering and introduced the guests.
http://www.siasat.com/news/womens-rights-equality-doesnt-mean-sameness-faizan-mustafa-1044790/
--
URL: https://www.newageislam.com/islam,-women-and-feminism/new-age-islam-news-bureau/new-burkini-row--women-thrown-out-of-public-baths-in-hungary-for-wearing-islamic-swimwear/d/108893
New Age Islam, Islam Online, Islamic Website, African Muslim News, Arab World News, South Asia News, Indian Muslim News, World Muslim News, Women in Islam, Islamic Feminism, Arab Women, Women In Arab, Islamophobia in America, Muslim Women in West, Islam Women and Feminism