New Age Islam News Bureau
19 November 2020
• Palestinian Nayla Abu Jubbah Became The First Female Taxi Driver In The Deeply Conservative Gaza Strip
• Fayza Haidar Egypt's First Female Coach To Train A Male Soccer Team
• Meet Salma al-Rashid: Saudi Arabia's Women 20 Sherpa
• Calls Flood In After Dhaka Police Launch Women's Cyber Support
• India: Clamour For Justice To Muslim Girl, Gulnaz Khatoon, 20, Burnt Alive
• Azhar Grand Sheikh: Islam Bans Marriage Of Muslim Women To Non-Muslims
Compiled by New Age Islam News Bureau
URL: https://www.newageislam.com/islam-women-feminism/netherlands-boxing-star-ruby-jesiah/d/123513
--------
Netherlands Boxing Star Ruby Jesiah Mesu Has Converted To Islam
News Desk -November 18, 2020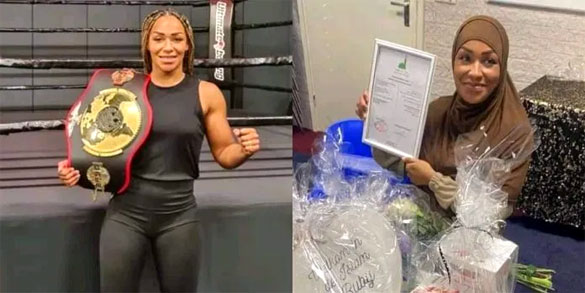 Ruby Jesiah Mesu
------
Netherlands, Netherlands Boxing star Ruby Jesiah Mesu has converted to Islam. The boxer announced the news on her official Instagram account.
According to the details, Jesiah was born Christian, however, she started practicing the religion a few years ago. Now, the teachings of Islam inspired her to officially accept the religion. She took her shahada in a mosque with witnesses in the Netherlands.
Pictures of her wearing hijab went viral on social media. She received appreciation and love from the Muslim community across the globe. She made the announcement two days on social media. Ruby is also known as the kick-boxer and "The Lady Tyson".
Back in 2016, Jesiah met a horrific car accident in which she broke her neck and that halted her budding career in the field of kickboxing and martial arts. After critical surgeries the doctors were able to fix the plates in the seven cervical vertebrae, however, she could not fully rotate her neck even after the surgery.
It took Jesiah months of physical and mental rehabilitation and therapies to regain her confidence back. After a year-and-half, she returned to kickboxing while also recovering from the accident.
Read more: New Zealand Police introduce hijab for Muslim officer uniforms
In one of her previous interviews with Vice, Jesiah asserted that kickboxing was her passion. She said that "Before the accident, I was really working to achieve a goal. If all of that suddenly disappears, you lose motivation. You're young and you suddenly have no idea how you're going to do it all."
"I have always kept that drive to kickboxing, to become a champion. I was constantly told by the doctors: no, no, that is no longer possible. But if I'm not kickboxing, I just don't get happy," said Jesiah.
"I am not a person who just goes to ballet, although I have also danced for a long time and taught it. But fighting gives me a lot more satisfaction. After a year and a half of hard work, I got an agreement from the hospital to fight again," the boxer added further.
https://www.globalvillagespace.com/netherlands-star-boxer-ruby-jesiah-mesu-accepts-islam/
-----
Palestinian Nayla Abu Jubbah Became The First Female Taxi Driver In The Deeply Conservative Gaza Strip
November 19, 2020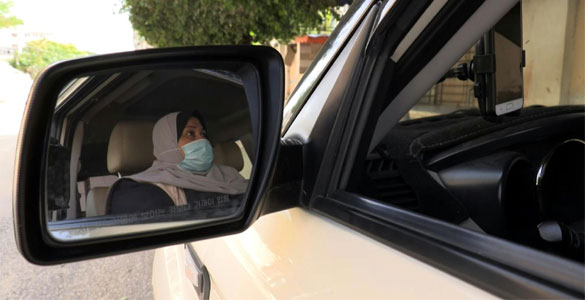 Nayla Abu Jubbah
-----
GAZA: Palestinian mother-of-five Nayla Abu Jubbah launched a small revolution this week by becoming the first female taxi driver in the deeply conservative Gaza Strip.
In the impoverished Palestinian territory, women have the same legal rights as men to drive a vehicle, but in practice the trade of taxi driver has been exclusively male — until now.
"One day I was talking with a friend who works as a hairdresser and I said to her: 'What would you say if we started a taxi service for women?' She said it was a crazy idea," the 39-year-old told AFP.
The Israeli-blockaded territory was suffering 50 percent unemployment even before the COVID-19 pandemic.
After drinking a steaming cup of tea in her home, the social work graduate in a headscarf puts on a face mask and marches to her car parked outside.
After slotting her smartphone into its holder and giving a toot on the horn for show, she starts the engine and is off on the roads of Gaza, where the Islamist Hamas movement has ruled for more than 13 years.
Abu Jubbah does not cruise the streets for fares, taking only advance bookings.
"I leave my home and I will pick up my clients, to bring them for example from the hairdressing salon to a wedding," she says.
She bought the vehicle with her inheritance when her father died.
"I said to myself one day that I needed to take advantage of the car, to put it to work," she said. "Hence the project of a taxi service entirely for women, to put them at ease."
Today she is driving through the streets of Gaza City to pick up 27-year-old Aya Saleem for a shopping trip.
"We live in a conservative society. So when I saw that there was a taxi company especially for women ... I felt a kind of freedom," says Saleem.
She wears a long brown tunic, beige headscarf and a pale blue mask and carries a stylish bag.
"When I'm with a woman, I feel comfortable ... I feel freer and then we can talk," she says, adding that women's taxi services are in line with sharia, the Islamic code which Hamas promotes in the Gaza Strip.
Saleem is delighted with the idea and hopes to see more female taxi drivers on Gaza's roads soon.
Abu Jubbah says she wants to expand her business.
"A woman called me recently to tell me that she wanted to work as a taxi driver by my side," she said.
"I told her that we would talk again but I already have the feeling that the project will gain momentum."
https://www.arabnews.com/node/1765181/middle-east
--------
Fayza Haidar Egypt's First Female Coach To Train A Male Soccer Team
Rasha Mahmoud
Nov 18, 2020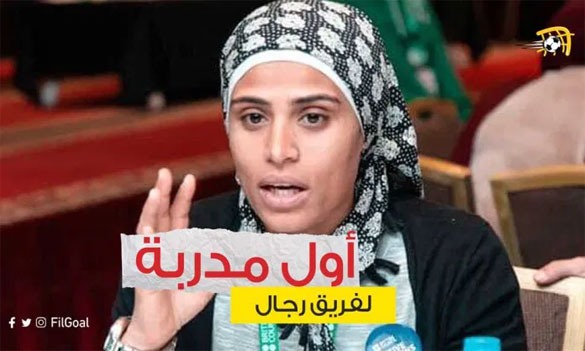 Fayza Haidar
-------
A female soccer coach stands near the stadium's benches giving her instructions to the male players passing the ball to each other.
"It is not common in Middle Eastern society for a woman to join a soccer team and there are very few teams for women's soccer in Egypt. Men still refuse to play against women in the same stadium, let alone being trained by a woman," soccer team captain Fayza Haidar, 36, told Al-Monitor. She recounted how difficult it was for her to be accepted as a coach of male soccer teams. "I endured criticisms, attacks and challenges, but I made it," she said.
Recently, Haidar became the first Egyptian coach accredited by the English Football Association to be among the Egyptian ambassadors in England along with Egyptian professional soccer players Mohamed Salah, Mohamed el-Neny, Trezeguet and Ahmed el-Mohamady. Haidar has broken several social norms in Egypt that restrict women's participation in sports, specifically in soccer, especially after she was appointed as the first female coach in the Premier Skills program. She also made it as the first general coach for a men's soccer team in Egypt, as she was signed up by the fourth division side Ideal Goldi, one of the country's professional men's clubs.
"This is a big win for women. I am very excited and proud, and I hope this will pave the way for more girls and women to challenge the status quo and believe in themselves," Haidar said.
The Premier Skills program in Egypt is a program aimed to empower women and girls through soccer. It trains them in leadership and communication skills in order to thrive in society and address the challenges they face in daily life.
According to Haidar, since the launch of the Premier Skills program in Egypt in 2007, the number of youths and trainers has reached nearly 200,000, of whom 67% are females. She noted that the state-sponsored initiative dubbed "1,000 Girls: 1,000 Dreams" and implemented by the Ministry of Youth and Sports in partnership with the British Council, reached out to 1,200 girls across Upper Egypt and the Delta.
Recounting her success story, Haidar said, "I discovered my talent for soccer while accompanying my younger brother who played at the East Helwan youth center. I caught the eye of one of his coaches at that time, who asked my parents if I could join the soccer school. They refused at first, but then I convinced them by accepting to play during my brother's training. Back then, most trainers would compliment my talent, most notably one of the Zamalek club officials. In 1997, I joined the Helwan team and competed in the first women's club championship in Egypt when I was 14 years old. A year later, I joined the national team, and in 2003 I moved to the Aviation Club, and I was the team's top scorer."
At the end of 2010, Haidar, who had just turned 25, was about to make a life-changing decision. "My brother had received an offer to play at Petrojet Football Club in 2007, and I decided to personally train him at the East Helwan youth center. One of the officials there asked me to handle the team's technical tasks. I immediately agreed, and thus became the first coach of a men's soccer team in Egypt in 2008," she added. "I kept playing with the Aviation Club and we made some huge wins. I won the Junior Championship eight times and the team reached the final round for the first time in the history of the club."
Haidar started her coaching career by taking several training courses in the field of soccer coaching. She explained that in 2011, the British Council organized a training course for 100 coaches to learn the basics of coaching and how to serve the community through soccer. The course promoted the game in Helwan's schools and attracted around 100 girls. Then a delegation from the English Football Association attended one of the course's sessions and coordinated with the ministries of youth and sports, and education. They agreed to organize classes to teach the game to girls in schools.
The young coach was not spared bullying throughout her soccer career. "When I was coaching at the East Helwan club, the other clubs' fans would throw bricks at me and shout, 'Go back to the kitchen.'"
This pushed her to accept coaching the Special Olympics Egypt's female Unified Football team. "My players felt they were just like any other player and that they can achieve whatever they want despite the bullying they were exposed to. The team won third place in the Unified Football World Cup in Chicago in July 2018."
In 2012, Haidar traveled to the United States to learn more coaching skills. In late 2013, she applied to become a certified trainer with the English Football Association. The association sent three foreign experts to follow up on the female candidates; she obtained a coaching license on Sept. 15, 2014. She also obtained an official coaching certificate from the English Premier League, in addition to her experience as a player in the Egyptian women's soccer team.
In 2017, Haidar received a professional offer from Barcelona and Atletico Madrid as a player, and she also received an unofficial offer to take part as a player in a training camp with the English club Liverpool.
Female soccer players first appeared in Egypt in 1989. At the time, the women's soccer team took part in the African League, which was one of the first tournaments that the Egyptian women's soccer team played in. Egypt was nominated among the eight best African countries to reach the World Cup.
Mohamed Kamal, head coach of Wadi Degla club's women's soccer team, believes that women's teams do not obtain equal financial rights like the men's teams. He said in a press statement that this is not the fault of the clubs but rather due to the game's marketing system, as there are no sponsors for women teams.
Kamal added that the media fails to promote these players the same way it does with male players, as the audience prefers men's soccer games. Kamal called on the Egyptian media to highlight the positive side of female soccer players by showing the talents of the players and the support they receive from their families.
https://www.al-monitor.com/pulse/originals/2020/11/egypt-women-soccer-coach-male-teams-norms.html
--------
Meet Salma al-Rashid: Saudi Arabia's Women 20 Sherpa
Tamara Abueish
19 Nov 2020
Salma al-Rashid is representing Saudi Arabia at the Women 20, the official G20 engagement group on women, ahead of the G20 Summit this weekend.
As the official Women 20 Sherpa, al-Rashid is tasked with organizing conferences for the event and will be holding a media briefing in Riyadh on Thursday under the heading "Paving the way post COVID-19: Unleashing the power of women in the economy."
For all the latest headlines follow our Google News channel online or via the app.
Al-Rashid was appointed Women 20 Sherpa after a long career as a practitioner in the social sector, where she oversaw a number of development projects with a focus on women's empowerment.
She has participated locally in various committees to influence policy and worked alongside decision-makers to ensure a holistic approach to social development.
Al-Rashid has also represented civil society internationally at several UN human rights conventions, leading the organization's Economic and Social Council (ECOSOC) applications and participating at the Commission on the Status of Women.
She has represented Saudi Arabia at the Women20 as the head of the delegation to Argentina and Japan since 2018, as well as engaged in activities and dialogues to promote gender-inclusive social and economic growth.
With an intensive background on gender and development issues, al-Rashid ensures that the Women 20's work is always aligned with its mission, the Kingdom's Vision 2030 goals, and the UN's Sustainable Development Goals.
https://english.alarabiya.net/en/News/gulf/2020/11/19/G20-Meet-Salma-al-Rashid-Saudi-Arabia-s-Women-20-Sherpa-
--------
Calls flood in after Dhaka police launch women's cyber support
SHEHAB SUMON
November 19, 2020
DHAKA: Two days after launching an all-female team to combat online abuse targeting women, Bangladeshi police say they have received almost 1,000 complaints of cyber harassment.
"The phones are ringing constantly. We are receiving calls from women all over the country," Nasrin Akter, assistant superintendent of the police cyber support for women (PCSW) unit, told Arab News.
"Since launching the service, we have registered around 1,000 phone calls," she added.
The cyber support unit was initiated by Bangladeshi police chief Benazir Ahmed following growing public concern at a rise in gender-based violence and cybercrimes against women.
"Around 68 percent of women in the cyberspace have been victims of cybercrimes. Of these, 73 percent have been subjected to cyberbullying or harassment," Ahmed said this week.
Police hope the unit will encourage women to report digital abuse, including "revenge porn," misuse of social media content and blackmail, since complainants will share their personal details with an all-women team instead of men.
"Although we had several specialist units to deal with cybercrimes, there was none to help women and children exclusively," Sohel Rana, assistant inspector-general of police, told Arab News.
According to the Bangladesh Telecommunications Regulatory Commission, there are more than 100 million active internet users in the country. Mobile internet use is believed to be limited to 33 percent of men and 16 percent of women.
Rana said that with a steady increase in internet use, it was important to create an "exclusive" space where women could voice issues related to cybercrime.
"A lot of the complaints are about harassment. We register the complaints and provide necessary legal advice," he said.
The unit employs 12 police officers who provide support to victims from 9 a.m. to 10 p.m., seven days a week.
"We receive complaints through the hotline and our Facebook page. In some cases, we provide instant solutions. But if the case requires further investigation, we refer them to the nearest police station to file an official complaint," Akter said.
In all cases, the "identity of the complainant is kept confidential."
The launch of the women's cyber-support unit follows legislation to introduce the death penalty for convicted rapists.
Bangladesh was hit by nationwide protests after two gang-rapes in the country's Noakhali and Sylhet districts.
However, activists say that neither the death penalty nor the launch of the cyber unit will "change the reality," citing a spike in rape cases in the past month.
According to one media outlet, 183 rape incidents were reported in the country in the four weeks to Nov. 13 — a 58 percent increase on the previous month.
Women and gender experts welcome the police initiative, but are calling for an "integrated campaign" to limit violence against women and children.
"Many women don't know the proper uses of social media platforms. They don't have any idea how to protect themselves from abuse," Prof. Tania Haque, of Dhaka University, told Arab News.
"We need to focus on eliminating this sort of crime through a massive awareness campaign," she added.
https://www.arabnews.com/node/1765156/world
--------
India: Clamour For Justice To Muslim Girl, Gulnaz Khatoon, 20, Burnt Alive
Shuriah Niazi
18.11.2020
NEW DELHI
Many political leaders and women organizations in India have joined to demand justice for a Muslim girl, who was allegedly burnt alive by a Hindu boy in the eastern province of Bihar.
Gulnaz Khatoon, 20, was burnt after the accused poured kerosene over her in Rasoolpur village in Vaishali district of Bihar on Oct. 30.
The girl's family alleges that the police have not been able to catch the accused identified as Satish Kumar Rai, Chandan, and Vinod Rai.
Khatoon sustained 75% burn injuries and later died in Patna Medical College Hospital, the largest hospital in the province, on Sunday. She was engaged and the marriage ceremony was scheduled after four months.
Satish Kumar Rai had been forcing Gulnaz to marry him. Enraged at her refusal, Satish and his friends killed the girl. Family members say the girl refused to enter into an interreligious nuptial knot with Rai.
Media reports said Gulnaz was burnt when she went out to discard household garbage on Oct. 30 evening.
According to the video statement of the victim before her death, she was caught by three accused, all residents of Rasoolpur village and they started molesting her.
When she resisted and threatened to inform her mother about their misconduct, the angry accused poured kerosene on her.
The statement names Satish Rai, who poured kerosene and set her on fire. Soon the villagers gathered after hearing her screams.
Vaishali District Superintendent of Police (SP) Gaurav Mangla said that the accused persons were on the run and three police teams have been formed to arrest them.
"Investigations in the case were in progress and the accused persons would be arrested very soon," said Mangla.
The in-charge of the local police station has been suspended for negligence in the case.
Alleged killers on the run
Speaking to Anadolu Agency, Khatoon's younger sister Gulshan Parveen said the killers escaped from the scene as soon as villagers gathered after hearing screams.
"The accused persons had been stalking and sexually harassing my sister for the last three-four months and pressurizing her to marry Satish Rai. They killed her because she refused," she said.
The victim's father Mukhtar had died in 2017. The family of five sisters and four brothers survived on the wages of mother Shaimuna Khatoon and brother Istkar Ahmed. They work in provincial capital Patna where mother stitches and son sells clothes.
The victim's family had complained to the parents of the accused about the harassment. But they allegedly did nothing.
"After her marriage was fixed, Satish Rai started harassing her even more and pressurized her to marry him. However, she told him that she cannot marry him. Enraged over her refusal, he threatened to kill her," said the victim's brother Istkar.
Videos of Khatoon narrate the story
Several videos of Khatoon have gone viral, where she is pinpointing the accused and narrating the incident in detail.
There was also an appeal on Facebook seeking help in treating the victim.
After Khatoon's death on Sunday, her family staged a demonstration at a city square to press punishment to culprits.
"We want Justice. It has been 17 days but there has hardly been any progress. We complained but it was not considered. We are powerless, we have no one to help us," Shaimuna Khatoon, mother of the victim, told Anadolu Agency.
Many women organizations have demanded immediate arrest of the accused and compensation of two million rupees ($27,000) and a government job to the victim's family, besides conducting a fair investigation and trial in a fast track court.
Taking to Twitter, leader of India's main opposition Congress party Rahul Gandhi attacked the government and attributed it to misrule and false notion of good governance.
Sharing the newspaper report Gandhi wrote: "Whose crime is more dangerous. Those who carried out this inhuman act? Or those who hid it for electoral gains to lay the foundation of his false good governance on this misrule?"
Bihar recently saw the completion of an election exercise for the provincial assembly in which an alliance of Hindu nationalist Bharatiya Janata Party (BJP) and Janata dal United (JDU) emerged the winner.
https://www.aa.com.tr/en/asia-pacific/india-clamor-for-justice-to-muslim-girl-burnt-alive/2048170
--------
Azhar Grand Sheikh: Islam bans marriage of Muslim women to non-Muslims
Al-Masry Al-Youm
November 18, 2020
Statements made by Al-Azhar's Grand Sheikh Ahmed al-Tayyeb in 2016 refute the controversial statements made this week by Azhar University Professor of Islamic Thought and Philosophy Amena Nosair on the marriage of Muslim women to non-Muslim men.
Nosair had sparked a fierce debate among social media users after stating in an interview that nothing in Islam prevents a Muslim woman from marrying a non-Muslim man.
Responding to questions from members of Germany's Parliament in March of 2016, Ahmed al-Tayyeb said that Islam forbids a Muslim woman from marrying a non-Muslim, because affection is missing in this marriage.
Tayyeb clarified that a non-Muslim does not believe in the Prophet Muhammad, and his religion does not command him to enable his Muslim wife – if he marries her – to perform the rituals of Islam, or respect her sacred things, because Islam came after Christianity.
He concluded that the husband, in this case, hurts his wife morally by not respecting her religion, her prophet, and her sacred things.
"Marriage in Islam is not a civil contract as it is with you [Germans], but rather a religious bond based on affection between its two ends," Tayyeb said.
However, he went on, a Muslim man may marry a non-Muslim woman, because Islam orders a Muslim man to allow his non-Muslim wife to practice her religion freely, therefore ensuring affection and respect in the marriage.
Nosair argued that Christians and Jews are people of the book, meaning they believe in the same god and are not idolatrous worshipers, but practice a different religion.
"In such a case, he [the husband] does the same as a Muslim man when he marries a Christian or a Jew, he does not force her [the wife] to change her religion, does not prevent her from her mosque, does not deprive her of her Quran and does not prevent her from performing her prayers," she said.
When asked what religion would the children of such a marriage follow, Nosair responded that the children follow the father.
She went on to say that this is the reason such marriages are not permitted, as they decrease the number of Muslims in the world.
https://egyptindependent.com/azhar-grand-sheikh-islam-bans-marriage-of-muslim-women-to-non-muslims/
--------
URL: https://www.newageislam.com/islam-women-feminism/netherlands-boxing-star-ruby-jesiah/d/123513
New Age Islam, Islam Online, Islamic Website, African Muslim News, Arab World News, South Asia News, Indian Muslim News, World Muslim News, Women in Islam, Islamic Feminism, Arab Women, Women In Arab, Islamophobia in America, Muslim Women in West, Islam Women and Feminism