New Age Islam News Bureau
12 March 2021
• Loujain Al-Hathloul's Appeal, To Travel Freely, Rejected By Saudi Court
• Women Bike Race To Kick Off In Riyadh On Friday
• Hussy, Mistress, Whore, Evil Woman Listed Under the Entry for 'Woman' In Indonesia's Official Dictionary
• Women Once Enslaved by ISIS Are Reunited With Their Children
• Turkey Detains 13 For 'Insulting' Erdogan on Women's Day
• In Pakistan, Women Politicians Struggle For Nominations To Men's Seats
Compiled by New Age Islam News Bureau
URL: https://www.newageislam.com/islam-women-feminism/national-council-resistance-iran-urge/d/124526
--------
National Council of Resistance of Iran Urge Iran to Release Female Political Prisoners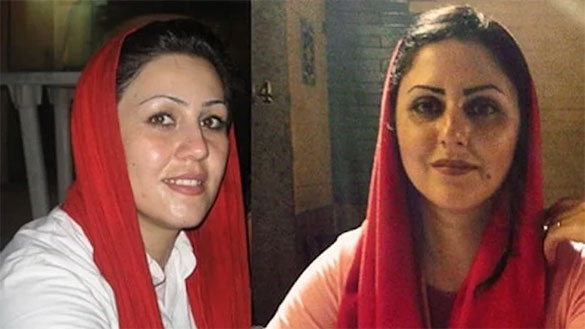 Maryam Akbari Monfared (L) is now in Iran's Semnan Prison, while Golrokh Ebrahimi Eraei (R) has been beaten and taken to Amol Prison. (NCRI)
-----
March 11, 2021
CHICAGO: Leaders of the National Council of Resistance of Iran (NCRI) called on the UN to intervene and release two women whose families have been the targets of violence and death by the Iranian regime.
According to the NCRI, Iran's Revolutionary Guard (IRG) forcibly removed political prisoner Maryam Akbari Monfared from the women's ward of Evin Prison, where she has been for the past 12 years, and transferred her to the Semnan Prison.
Maryam Rajavi, the NCRI President-elect, said that despite protests from other prisoners, IRG and prison guards physically dragged Akbari Monfared from her cell.
Rajavi said that Iran's clerical regime has already executed three of Akbari Monfared's brothers and a sister. Alireza Akbari, a member of the People's Mojahedin Organization of Iran (PMOI/MEK), was executed in 1981. Gholamreza Akbari, also a member of MEK, was murdered under torture in 1985. MEK members Abdulreza and Roghiyeh Akbari were executed during the 1988 massacre.
Akbari Monfared was arrested shortly after the 2009 uprising in Iran and later sentenced to 15 years in prison. During the past 12 years, she has been denied necessary medical treatment, Rajavi said.
Rajavi also said urgent attention should be given to another female prisoner, Golrokh Ebrahimi Eraei, who was beaten and taken to Amol Prison in Northern Iran on Jan. 24. Ebrahimi Eraei had previously been held at the Qarchak Prison in Varamin.
The NCRI leaders urged the UN and Western countries to force Iran to allow welfare checks on all imprisoned dissidents, including women.
"On International Women's Day, the Iranian Resistance strongly condemns the forcible exile of Maryam Akbari Monfared and Golrokh Ebrahimi Eraei," Rajavi said.
"We urge the UN High Commissioner for Human Rights and international human rights organizations to take immediate action to secure the release of these two resilient women political prisoners."
Rajavi has repeatedly asked for an international delegation to visit the clerical regime's prisons and meet with prisoners, especially political prisoners. Rajavi has also urged Dubravka Simonovic, the UN Special Rapporteur on Violence against Women, to investigate the health conditions of both Akbari Monfared and Ebrahimi Eraei.
https://www.arabnews.com/node/1823946/middle-east
--------
Loujain Al-Hathloul's Appeal, To Travel Freely, Rejected By Saudi Court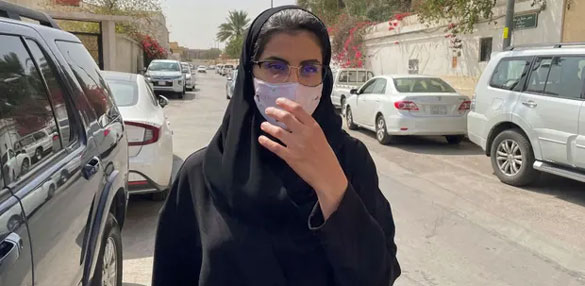 Loujain al-Hathloul on her way to the state security court in Riyadh on Wednesday. Photograph: Ahmed Yosri/Reuters
-----
March 12, 2021
(CNN)A Saudi court has rejected an appeal by prominent women's rights activist Loujain al-Hathloul that would have allowed her to travel freely, her family and supporters said.
The 31-year-old was sentenced in December to five years and eight months in prison on what critics have described as politically motivated charges, but was released in February after serving more than 1,000 days behind bars. She was appealing for her sentence to be overturned and a five-year travel ban lifted.
On her way into the appeals hearing Wednesday, Hathloul told reporters she hoped Riyadh's Specialized Criminal Court would change her sentence -- her first public comments since her arrest in 2018. The court, however, ruled that the original sentence should stand.
"The judge denied the appeal and confirmed the sentence to five years and eight months in prison which includes 3 years of probation and 5 years of a travel ban during which Loujain cannot leave Saudi Arabia at any time," according to a statement by her campaign.
Hathloul was detained in May 2018 during a sweep that targeted other well-known opponents of the kingdom's since-rescinded law barring women from driving. She had also challenged other legal restrictions on Saudi women enforced under the kingdom's restrictive male guardianship system.
She told her family she had been tortured and sexually abused in prison -- allegations Riyadh has repeatedly denied -- and her detention was condemned by the United Nations and international rights groups.
Hathloul's sentence, according to her campaign, includes restrictions signed by her that state she "cannot speak publicly about her case or reveal any details regarding prison nor celebrate her release on a public level."
In a statement in December, Hathloul's family said she would remain on probation for three years, during which time she could be arrested for any perceived illegal activity.
Her release in February came less than a week after the White House called on the kingdom to release political prisoners, including women's rights activists. US President Joe Biden has vowed to pressure Saudi Arabia into improving its rights record, marking a departure from the Trump administration, which was reluctant to criticize the kingdom's crackdown on dissent.
The terrorism court convicted Hathloul on charges of harming national security, seeking to change the Saudi political system, and using her relations with foreign governments and rights groups to "pressure the Kingdom to change its laws and systems," according to a charge sheet her family published in December.
UN experts have called the charges against Hathloul "spurious." In a six-page charge sheet for Hathloul's case, seen by CNN, a section entitled "crimes committed" includes activism against the kingdom's restrictive male guardianship laws, along with contact with foreign journalists and diplomats.
The charges also relied on a series of alleged confessions, according to the documents, which state that Hathloul admitted to applying for a job at the UN along with confessing to being in contact with the human rights groups Amnesty International and Human Rights Watch.
For much of her imprisonment, Hathloul detailed her hardships to her parents during their prison visits. Those allegations were later made public by three of her siblings who live outside the kingdom, and were corroborated by the court testimony of other female activists.
Hathloul said she was sexually assaulted and tortured while in detention, including waterboarding, flogging and electrocution, according to multiple statements released by her family and supporters.
Saudi authorities have repeatedly denied allegations of torture and sexual abuse in their prisons.
According to her family, Hathloul has twice gone on hunger strike -- in protest at her prison conditions, and because she was denied communication with her relatives.
Hathloul's sister, Lina al-Hathloul, who has been a driving force behind an international campaign for her release, shared a photo of her sister going into court on Wednesday and reacted to the ruling.
"The international community should be outraged at this judgment and really take time to study their conscience as they continue to do business with Saudi Arabia," Lina Al-Hathloul said Wednesday, according to the campaign.
https://edition.cnn.com/2021/03/10/middleeast/hathloul-saudi-court-upholds-sentence-intl/index.html
--------
Women Bike Race to Kick Off In Riyadh on Friday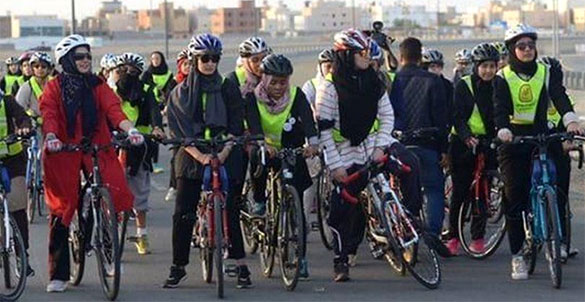 The 15-kilometer individual time trial race, designated for female citizens, will start at 3 p.m. from Gate 5 of Princess Nourah Bint Abdulrahman University on the street leading to King Khalid International Airport. — File photo
------
March 11, 2021
RIYADH — The capital Riyadh is scheduled on Friday to host a bicycle race for women to be organized by Saudi Cycling Federation as part of its 2021 calendar for local sports season.
The 15-kilometer individual time trial race, designated for female citizens, will start at 3 p.m. from Gate 5 of Princess Nourah Bint Abdulrahman University on the street leading to King Khalid International Airport.
Princess Mashael Bint Faisal, head of the women committee at the federation, said that the race is an effective step toward empowering women to practice cycling and a first step for them to be professional cyclists in the future, especially that this type of races helps enhance the skills of cyclists.
Princess Mashael stressed that Saudi Cycling Federation spares no effort in supporting this activity and spreading it among Saudi women, adding that the federation will continue its support and encouragement to practice this sport, citing the federation's formation of the women empowerment committee.
Princess Mashael also expressed appreciation and gratitude for Minister of Sports Prince Abdulaziz Bin Turki Al-Faisal for his sincere efforts to support sports in general, particularly cycling.
https://saudigazette.com.sa/article/604343/SAUDI-ARABIA/Women-bike-race-to-kick-off-in-Riyadh-on-Friday
--------
Hussy, Mistress, Whore, Evil Woman Listed Under the Entry for 'Woman' In Indonesia's Official Dictionary
MAR 11, 2021
Hussy, mistress, whore, evil woman - these are just some of the nine example compound words that artist Ika Vantiani was shocked to find listed under the entry for 'woman' or 'perempuan' in Indonesia's official dictionary.
All nine were sexualised or derogatory terms. In contrast, in the entry for 'laki-laki', one of the words for man, there is just one example, 'laki-laki jemputan', which means a 'man chosen as a son-in-law'. Another word for man, 'pria' also lists one term: 'pria idaman' meaning 'heartthrob'.
Since making this discovery in 2016, Ika has campaigned through her art for change and as part of that she has assiduously collected editions of the Kamus Besar Bahasa Indonesia, which is compiled by a government agency and is the standard dictionary used in schools and by teachers.
"Perempuan jalang, this one actually means slut. That is the one word that keeps popping up in every edition," she told Reuters.
"The focus is on examples that include words like pelacur or jalang - meaning whore, a woman who loves to sell herself, nasty women, mistress."
Last November, the Oxford University Press said it would change the entries for 'woman' in its dictionaries to include more positive and active descriptions and Ika is hoping for a similar result.
The campaign has drawn attention to what critics say is a patriarchal culture in the world's biggest Muslim majority country. Ika has also gained the support of Indonesia's National Commission on Violence against Women which this year called for a revision.
Language, the commission said, "played an important role in building the values of gender equality and the elimination of violence against women".
Ika and her male colleague, Yolando Zelkeos Siahaya, have highlighted the issue in a series of workshops and exhibitions, including one at the Indonesian national gallery in 2018.
One work featured clear sheets of acrylic with the dictionary entry for 'perempuan' printed across them so that viewers could imagine being referred to in that way.
"Most people when they see this work of mine, they are shocked," said Ika. "They say: 'I never would have thought that is how the word 'woman' is defined in our dictionary.'"
Last month her work, which include t-shirts that call for change to the entry and were worn at a women's march in 2020, provoked a response from Badan Bahasa, the agency responsible for the dictionary.
The use of the terms, it said, was based on data showing they were among the most frequently used in tandem with 'perempuan'.
"As for the social picture that emerges from the presentation of information in the dictionary not being ideal, that is another discussion," it said in a statement posted on its website.
The response perplexes University of Indonesia linguist Nazarudin, who says Indonesian language data from 2013 collected by Leipzig University shows other phrases, such as women's empowerment or women's rights, were far more frequently used.
"The question is, what kind of data did they have?" he asked, "How can it be so negative?"
A Google search shows there are 98 million entries for 'hak perempuan' meaning women's rights compared to just 481,000 entries for perempuan jalang, the word for 'slut'.
Badan Bahasa told Reuters that in addition to the Leipzig data, it also referred to the Malay Concordance Project, a corpus of classical Malay texts.
Ika says she is hopeful of change.
"I am not saying I want it all to be changed into positive words," she said, "No. But I want objectivity and real conversations."
https://www.hindustantimes.com/lifestyle/art-culture/artist-works-to-change-indonesia-s-misogynistic-dictionary-entry-for-woman-101615443439076.html
--------
Women Once Enslaved by ISIS Are Reunited With Their Children
By Jane Arraf
March 12, 2021
FAYSH KHABUR BORDER CROSSING, Iraq — The nine young mothers rushed into the spartan offices of a Syrian border post, looking for the sons and daughters taken from them two years ago, children they thought they would never see again.
The bewildered children, dressed in new puffy jackets from the orphanage they had come from, were mostly too young to remember their mothers. They started to cry as the sobbing women grabbed and kissed them and then led them away from the orphanage workers who were the only caregivers they knew.
"I was so happy, but it was a shock for both of us," said one mother, who said she had been dreaming of seeing her daughter again for nearly two years. "She is not used to me yet."
The girl was now 2 and a half.
The secret handoff on the Syrian-Iraqi border last week was so far the only reunion of Yazidi women from Iraq and the children they had while sexually enslaved by their Islamic State captors.
The plight of these women, who survived almost unimaginable horrors in five years of captivity, is one of the many tragic but least-known footnotes in the story of the Islamic State's conquest of large swaths of Iraq and Syria in 2014.
For them, the story is far from over, their path forward still uncertain.
To the traumatized Yazidi community, a small religious minority in northern Iraq, the children are a direct link to the ISIS fighters who slaughtered thousands of Yazidis and captured 6,000 more. Yazidi elders have said they would not accept the children back into the community, and one said that the children risked being killed if their mothers brought them home.
When the young women were freed with the fall of the last piece of ISIS territory in Syria two years ago, they faced a wrenching choice: If they wanted to return to their families in Iraq, they had to leave their babies behind. Many were told, incorrectly, that they would be able to visit their children.
Now they have been forced to choose again. The women who crossed into Syria last week had to cut ties with their parents, siblings and the villages they called home if they wanted to rejoin their children.
"Nobody can really understand what a huge step these women have taken, what risks they are taking, how incredibly brave they are," said Dr. Nemam Ghafouri, an Iraqi-Swedish physician who was instrumental in the transfer.
About 30 more children, whose mothers were either too afraid to ask for them back or decided not to keep them, remain in the orphanage in northeastern Syria.
It was an agonizing choice for the women, many of whom were themselves children when they were kidnapped by ISIS fighters. None of the women could tell their families that they were leaving, and might not see them again, for fear of jeopardizing the operation.
"I've been crying for three days," said one of the women who, to rejoin her 5-year-old daughter, left her elderly mother behind. "I feel like this would kill my mother. She is a mother. She would die for me just like I would die for my daughter. This is a very difficult situation for me."
She broke down in tears.
For now, the nine women and 12 children are hiding in a safe house at an undisclosed location in Iraq. Promised refuge in a Western country by the reunion organizers, they are desperately hoping that other countries will take them in. About 20 more mothers with children in the Syrian orphanage are watching to see how they fare.
The New York Times agreed to delay publication of the exchange until the women and their children were safe, and is not identifying them for their protection.
A former U.S. diplomat, Peter W. Galbraith, engineered the reunion across borders and political party lines, coaxing help from previously indifferent governments. Mr. Galbraith, who has close ties to Kurdish authorities in Iraq and Syria, said he had spent more than a year trying to get approval to allow some of the women to reclaim their children and bring them into Iraq, a mission delayed by the pandemic.
The orphanage is in an area of northeastern Syria that is controlled by American-backed Kurdish-led authorities and is semiautonomous. Sinjar Province, where the Yazidis are from, lies across the border in Iraq.
Mr. Galbraith said an unnamed White House official had helped clear the final obstacles with a call to a Kurdish-Syrian general who is a U.S. ally. The National Security Council did not respond to a request for comment.
For the women, the nightmare began when the forces of the Islamic State swept across northern Iraq in 2014, declaring the territory an Islamic caliphate. The terrorist group considers Yazidis pagans. When the ISIS fighters got to the Yazidi homeland that August, they separated the men and older boys and massacred up to 10,000 of them in what the United Nations and the Congress have declared a genocide.
About 6,000 women and children were captured, and many were sold to ISIS fighters. They were treated as disposable property, repeatedly raped, traded and sold at will. About 3,000 Yazidis are still missing.
When ISIS was driven from southeastern Syria in early 2019, most of the Yazidi women were freed and taken with their children to halfway houses. They were told by Yazidi elders that they could go home but that they had to leave their children behind. Many of the children were taken to the Kurdish-run orphanage.
Some women who were not identified as Yazidi, including some who hid their ethnicity in order to keep their children, were taken to Al Hol, a squalid detention camp in northeastern Syria. Despite the camp's conditions, the woman with the 2-and-a-half-year-old pretended to be Arab so that she could stay there and keep her child.
During the final days of the caliphate, when American-led airstrikes were pounding Baghuz, Syria, and she was wounded by shrapnel, she fought to keep her infant daughter alive. She fed her flour mixed with water to keep her from starving. She sewed baby clothes from cloth cut from her own dresses.
She was determined to keep the child she had fought so hard to keep safe.
But after six months, she was forced to admit that she was a Yazidi. She was then taken to the halfway house, but refused to leave without her daughter.
Her family begged her to return.
"My family called and said, 'Just come back, and you can go back and see her,'" the woman said.
After three months, she agreed and returned to Sinjar. But like the other women, she was never allowed to see her child again.
The women were not allowed to talk to their children by phone. The orphanage staff had been texting the women photos and videos of the children, but stopped last year after Yazidi elders asked them to.
When the photos stopped, the women worried that something terrible had happened to the children. Some said they wanted to kill themselves.
"I am her mother. I have to take care of her," said the woman with the 2-and-a-half-year-old. The girl's father and his relatives were killed in Syria, she said. "All she has is me. Who cares about the father?"
Yazidi elders and religious leaders cared about the fathers.
Bringing the children of ISIS terrorists to Sinjar "would destroy the Yazidi community," Baba Sheikh Ali Elyas, the top Yazidi religious authority, told The Times in an interview this week. "It is very painful for us. The fathers of these children killed the parents of these survivors. How can we accept them?"
In addition, Iraqi law specifies that the child of a Muslim father is Muslim, so the children could not be considered Yazidi. The Yazidi faith is a closed religion that does not allow converts, even if Iraqi law allowed conversions from Islam.
Angered over what he sees as an international focus on a few Yazidi women when thousands of Yazidis were still missing and more than 140,000 are languishing in displacement camps, he said: "Yazidis are all orphans. No one is taking care of us."
Indeed, six years after ISIS was driven out of the Sinjar region of northern Iraq, the Yazidi homeland is still riddled with unexcavated mass graves and damaged and destroyed homes.
The children should be cared for by aid organizations in other countries, Baba Sheikh Elyas said. If the mothers wanted to go to third countries with the children, he said, no one would stop them.
Another Yazidi leader, Prince Hazem Tahsin Bek, said the children would be in danger if they returned with their mothers.
"The families can tolerate the women, but they will not endure the children," he said. Asked whether that meant the children could be killed, he said that was a possibility.
When one of the women called her family this week to tell them she had her daughter and hoped that the family would accept them, one of her brothers threatened her and the child. "I hope the government will find a safe place for us," she said.
Nadia Murad, a Yazidi survivor, advocate and Nobel Peace laureate, has said she believes the women should be allowed to decide whether to be reunited with their children.
"They didn't have a choice when they were taken into captivity," she told The Times. "They didn't have a choice in any of this, and they must get the help and decide what they want."
Before the women embarked on the trip to recover their children, Mr. Galbraith told them that third countries would take them in, a prospect that is far from assured.
At the safe house a few days later, the large house rang out with the shrieks and laughter of small children, all under age 6. Some of the mothers watched them worriedly, still afraid of what might happen to them.
Several women said they hoped they would be able to be relocated to a third country together.
Most, but not all of the children, were beginning to bond with their mothers.
The mother of the 5-year-old said she was still struggling to get the girl to warm up to her. The girl had cried in terror at being taken away from the orphanage. But the woman said she was determined to make a new life for them.
"No one can make us live far from each other anymore," she said.
Suddenly the woman with the 2-and-a-half-year-old shrieked.
"She said, 'Mama'!" the woman exclaimed. She leaned down to the little girl dressed in pink and urged her to say it again.
https://www.nytimes.com/2021/03/12/world/middleeast/yazidi-isis-slaves-children.html
--------
Turkey detains 13 for 'insulting' Erdogan on Women's Day
March 11, 2021
ANKARA: Thirteen people who allegedly insulted Turkish President Recep Tayyip Erdogan during a Women's Day march have been detained, officials and news reports said Thursday.
Denouncing violence against women in Turkey where over 400 women were killed in 2020, thousands of protesters had marched along a street in central Istanbul on Monday. Unlike previous years when police broke up similar demonstrations, the march ended peacefully.
Istanbul governor's office said that police inspected videos of the demonstration and on Wednesday detained 13 people — including a minor — who participated in the protest. The group had chanted "slogans" but did not elaborate.
The Cumhuriyet newspaper and other media said the suspects were detained for questioning over slogans deemed to be insulting to Erdogan.
Insulting the president is a crime in Turkey, punishable by up to four years in prison. Thousands of people, including journalists, politicians, actors and schoolchildren, have been prosecuted for alleged insults to Erdogan.
Despite Erdogan's pledge last week to enact human rights reforms, including on freedom of speech, the detention were carried out.
https://www.arabnews.com/node/1823781/middle-east
--------
In Pakistan, Women Politicians Struggle For Nominations To Men's Seats
Mar 11, 2021
After the Senate Election, held on March 3, PTI's Faisal Javed Khan tweeted about alleged horse-trading on the men's seat. His tweet got attention, not because of the accusations but because people pointed out that there is no men's seat. He called the general seat that.
He deleted the tweeted, but according to Sarah Khan, an assistant professor of Political Science at Yale University, Khan just said the quiet part out loud.
Sarah Khan discussed her chapter from Pakistan's Political Parties: Surviving between Dictatorship and Democracy at a webinar organised by LUMS. The book is an extensive examination of Pakistan's evolution from dictatorships to democracy and the dynamics of political parties within the way society functions. The webinar featured authors Dr. Mariam Mufti, Dr. Asad Liaqat and was moderated by Dr Umair Javed.
Umair said it is important to study political parties because they:
Help structure political world for aspiring politicians and citizens
Represent interests
Play key role in policy formation and governance issues
Influence political inclusion
Sarah expounded on the role of women in Pakistan's electoral politics. Her chapter in Pakistan's Political Parties discusses the systematic marginalisation of women in politics, drawing on different sources of administrative data and surveys, as well as the quality and health of democracy and why half of the population is excluded from electoral contest and competition.
"It will provide an organising framework helpful for scholars and policy-makers to think about the various channels and how they interact to perpetuate this exclusion," said Sarah. "I'll highlight the role of parties, institutions, voters and families."
She also explained the rule of two paths towards women's representation: quotas or reserved seats and dynastic connections.
Persisting gender gaps in voting turnout
"My past work has focused on persisting gender gaps in voting turnout in Pakistan over the course of multiple elections," she said.
Sarah, along with Dr Ali Cheema, Dr Shandnana Khan Mohmand and Dr Asad Liaqat, conducted a survey involving 2,500 households in Lahore prior to the 2018 general elections. About 90% of respondents agreed that it is appropriate for women to cast vote. But when it comes to discussing politics in homes, 70% men and 80% women think it is inappropriate. Women standing for elections or contributing to them as party workers was endorsed by only 35% men and 60% women, thinking it is an inappropriate act to engage in.
"We can say there's relative agreement that it's acceptable and even important for women to vote, but less acceptable for them to have open an independent opinion about who to vote for or to stand as candidate or party workers."
In increasingly competitive elections, parties need women's votes, but they have little to no incentive to nominate women as candidates or to recruit them in party networks as workers. Across parties that draw support from different social groups with different ideological commitments, there is one remarkable similarity: proportion of women that parties nominate to general seats for provincial and national assemblies. In 2018, women accounted for 5% to 7% of any given party's candidate pool, and this 5% was a requirement instituted in the 2017 Election Act for the first time.
Parties' increasing reliance in electables
"Women are risky bet for political parties," said Sarah. "They are not perceived as electables, which makes them risky and that's also where voters enter the picture. A nationally representative survey shows more than 70% Pakistanis think men make better leaders than women. This risk is exacerbated in a first-past-the-post and winner-take-all electoral systems.
"Comparisons show that women are more likely to be nominated and elected in a democracy with proportional rather than majoritarian representation," Sarah said. Even within majoritarian system of representation, this exclusion is exacerbated by high levels of competition. Increased competitiveness is a feature that contributes to women's marginalisation. The more competitive an election, the riskier it is for political parties to run with a candidate with an uncertainty about their electability.
Quota system and dynastic connections
"The persisting solution to this systematic under-representation for women has been quotas," Sarah said. Pakistan's quotas may correct women's under-representation by adding on seats in the assemblies where women are indirectly elected in proportion to seats directly won by parties in general elections, but for years, women's rights activists and groups have been pointing out how this design deprives women of connections to a constituency and that it fails to achieve the ultimate goal of quotas. "They should be redundant," Sarah remarked.
The design also betrays the unwillingness to see the problem as just one of women's under-representation rather than of men's over-representation in a democratic body. If this problem is framed as men's over-representation, the solution would be to reserve a proportion of general seats or a rule for parties to allocate equal ticket for men and women candidates. Sarah mentioned a sitting senator (Faisal Javed Khan) who referred to a general senate seat from Islamabad as the "men's seat".
"I don't want to single him out because he just said the quiet part out loud," she remarked.
Various authors in the book have referred to the prevalence of dynastic candidates in Pakistan's political landscape.
"I want to highlight the dynastic linkages provide an advantage," Sarah said.
In 2008, more than one-third of men contesting male candidates for national and provincial assemblies were those who had political family connections. For women candidates, this proportion was 70%. This has only magnified those who are elected because such connections provide an electoral advantage to winning, Sarah said, adding that the dynastic label is often used to discredit women who come into power. She also raised the question why these dynastic and familial connections are necessary for women's entry into politics than they are for men.
https://www.samaa.tv/culture/2021/03/in-pakistan-women-politicians-struggle-for-nominations-to-mens-seats/
--------
URL: https://www.newageislam.com/islam-women-feminism/national-council-resistance-iran-urge/d/124526
New Age Islam, Islam Online, Islamic Website, African Muslim News, Arab World News, South Asia News, Indian Muslim News, World Muslim News, Women in Islam, Islamic Feminism, Arab Women, Women In Arab, Islamophobia in America, Muslim Women in West, Islam Women and Feminism