New Age Islam News Bureau
11 Apr 2015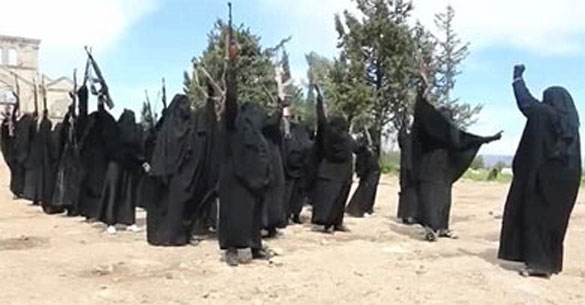 The radical group of women boisterously shout religious slogans, praising Islam and re-iterating their devotion to jihad
-------------
• Religion No Bar For This 11-Year-Old Hindu Girl
• Courageous Legal Challenge by Child Brides in Zimbabwe
• Facebook Post Ends Filipina's Rape Ordeal
• New Video Shows Women Jihadis Firing Machine Guns In Syria
• Kabardino-Balkaria Police Foil Recruitment of Female Militants to Syria
• America Is the Real Terrorist, My Boys Are the Best: Boston Bombers' Mother
• Muslim Woman Tries to Close Thrace's Sharia Inheritance Law Loophole
• Aisha Buhari: A Charming First Lady In Waiting
• KCB Denies Female Journalists Were Forced to Wear Hijab during Launch
• April 13: Iranian Journalist to Shed Light on Compulsory Veiling
• Students and Alumni Band Together To Rescue Girls from Human Trafficking in Africa
Compiled by New Age Islam News Bureau
URL: https://newageislam.com/islam-women-feminism/nasa-scientist-names-asteroid-after/d/102412
-----------
NASA scientist names asteroid after Malala Yousafzai
11 April, 2015
An asteroid has been named after Nobel Peace Prize winner Malala Yousufzai, the Malala Fund blog announced on Thursday.
"Although many asteroids have been named, very few have been named to honor the contributions of women (and particularly women of color)," Amy Mainzer, astronomer at NASA's Jet Propulsion Laboratory and principal investigator of the mission that discovered the asteroid, explained. "It is a great honor to be able to name an asteroid after Malala."
According to the International Astronomical Union's (IAU) rules, the discoverer of an asteroid has the right to name it. The asteroid, 316201 Malala (2010 ML48), lies in the Main Belt between Mars and Jupiter and orbits the sun every 5.5 years.
"From the heat emitted, we can also determine the size and reflectivity of the asteroid," the researcher wrote. "It is about 4 kilometers in diameter, and its surface is very dark, the color of printer toner."
Mainzer also had some advice: "My advice to young girls is that science and engineering are for everyone! We desperately need the brainpower of all smart people to solve some of humanity's most difficult problems, and we can't afford to reject half the population."
In October last year, Malala became the youngest ever Nobel Prize winner, jointly winning the prestigious annual prize with Indian activist Kailash Satyarthi.
http://tribune.com.pk/story/867694/nasa-scientist-names-asteroid-after-malala-yousafzai/
-----------
Religion No Bar For This 11-Year-Old Hindu Girl
B. Tharun Kumar
11 April, 2015
"This is very unusual and unique," said the Muslim parents gathered at the Qur'an recitation competitions recently held in Vijayawada, when they witnessed an 11-year-old Hindu girl fluently recite the holy suras.
K. Swarna Lahari, Class VI student from a government minority school, was the centre of attention that day. Participating along with 200 Muslim children, she cleared the preliminary test to make it to the final round with 20 other shortlisted contestants. She took everyone by surprise with her perfect recitations of Qur'anic verses.
It was two years ago that Swarna's teachers at school noticed her interest in reading the Qur'an. Ever since, they have encouraged and helped her. She was given a special prize for her extraordinary talent at the competition. Swarna's parents K. Durga Prasad and Sujatha were filled with pride when they saw how their young daughter had impressed all the Muslim parents present.
Young Swarna, who regularly visits the temple, said, "I will continue reading the Qur'an and try to understand the essence of its meaning as I grow up. The credit goes to my teachers, who have helped me a lot."
Source: Deccan Chronicle
-----------
Courageous Legal Challenge By Child Brides in Zimbabwe
11 April, 2015
Loveness Mudzuru and Ruvimbo Tsopodzi were 16-year-old girls just beginning to plan careers as social workers or nurses when they were forced to marry men they had not chosen.
Their dreams of a better life might have ended that day, as do the dreams of so many girls around the world who are married off while still young girls.
But Loveness and Ruvimbo refused to accept a future not of their own choosing. Now 19 and 18, they are determined to seek justice for themselves and for other girls who are routinely denied the right to decide when and whom to marry. They are asking the Constitutional Court of Zimbabwe to declare that no girl or boy may enter into marriage - including marriages recognised in traditional or customary law - before they are 18 years old. They argue that the law must be unequivocal: Child marriage is illegal and unacceptable. The court has yet to rule.
Their courageous legal challenge could make waves not only in Zimbabwe but across Africa - and even globally.
Child brides
Every year, 15 million child brides are thrust into adulthood while still children themselves. In the aggregate, 700 million women alive today - more than double the total population of the United States - were married or in a union as girls. More than one in three were married before they reached the age of 15.
Child marriage isn't only about a wedding day - it holds back a girl for the rest of her life. Child brides usually drop out of school. Housework, not homework, becomes their priority. Pressured to have children - several and quickly - girls risk dying during pregnancy and childbirth. Married young girls are also more vulnerable to domestic violence and abuse.
What a waste of potential - not only for individual girls, but also for their families and their communities.
In fact, the statistics and stories of child marriage are a stark indicator of a problem that is sapping the strength of societies in which child marriage is prevalent. Studies are beginning to show that high rates of child marriage are a significant drag on economic growth. For example, the estimated cost of inaction on child marriage in Nepal was over 3.8 percent of GDP in 2014 alone.
With evidence like this mounting, some governments are beginning to take action to address child marriage. Last year, the African Union launched a two-year Africa-wide campaign on child marriage, and countries in the South Asia Association for Regional Cooperation adopted a regional action plan to end child marriage. In November, the UN General Assembly passed its first substantive resolution reflecting broad recognition that child marriage holds back girls, their families and the development of our nations.
Countries where child marriage is common are also stepping up. The governments of Nepal and Zambia are developing national action plans to help girls avoid child marriage. In Egypt and Togo, new strategies are pushing for nationwide change in attitudes on child marriages.
Not enough progress
This is welcome progress, but it is not enough. Despite declining rates of child marriage in recent years, progress is not keeping pace with population growth. If we don't scale up our ambitions - and our efforts - the number of child brides will rise again.
Promoting gender equality and women's empowerment was included in the Millennium Development Goals, but child marriage was not explicitly addressed. We have a chance to change that now, as the international community sets the road map for the next 15 years in the form of the new Sustainable Development Goals.
We must not miss this chance again. But neither should we wait for the world to rally around the SDGs to act. Governments must do more - directing their ministries of health, welfare, education, justice and, yes, even finance, to make ending child marriage a priority.
This means more than changing policies. It means changing mind-sets.
For we will only end child marriage when families understand why marriage at such a young age will hold their daughters back and endanger them.
When communities see that girls have equal value to boys.
When governments recognise the inseparable link between educated, empowered girls and stronger societies.
We must match the courage of Loveness Mudzuru and Ruvimbo Tsopodzi with our own commitment to ending child marriage in this generation.
Geeta Rao Gupta is deputy executive director of UNICEF.
http://allafrica.com/stories/201504100990.html
-----------
Facebook Post Ends Filipina's Rape Ordeal
11 April, 2015
MANILA: The Philippines said Friday it rescued a Filipino maid from her employer in Bahrain after she posted a desperate cry for help on her Facebook page.
Staff at the Philippine Embassy were alerted to the plight of Abby Luna, who claims she was raped and beaten by her employer's son, after she posted the video on her Facebook page. The video attracted about 78,000 shares and 19,000 likes.
"The rescue was prompted by the video message... She is now under the care of our embassy," Foreign Ministry spokesman Charles Jose told AFP.
Embassy officials and staff from Luna's employment agency picked her up from her employer's house, Jose said, adding that police were investigating the incident. Luna's alleged assailant denied to police that he attacked her, Ricky Aragon, vice-consul at the embassy in Bahrain, said.
In the three-minute long video, which appears to have been made on a webcam, a sobbing Luna accused her employer's "drug addict" son of raping her. She also posted a written appeal for viewers to contact the Philippine Embassy on her behalf.
"Help me get out of here. I'm scared. Until now, my privates hurt. My leg is bruised. He (attacker) punched my leg to immobilize me," said the 28-year-old, who had been working in Bahrain for a year. "After my employer's son abused me, he threatened to kill me and bury me in the desert if I tell anyone about what happened."
Luna said her employer did not believe her claims of being raped and beaten and insisted she finish the remaining two months of her contract before she could go home. Her employer also told her to have an abortion if she fell pregnant, she said.
http://www.arabnews.com/world/news/730961
-----------
New video shows women jihadis firing machine guns in Syria
11 April, 2015
A YouTube video has surfaced on social media sites that shows a new group of female jihadis marching, firing machine guns and practising drills in Syria.
The video opens with the band of women marching along a sloped road in the Syrian countryside.
The video shows around 30 women all of whom are fully veiled. They are all carrying assault rifles and shouting slogans.
The group of women then walk towards an open field in St Simeon's Church, around 60km from the Syrian city of Aleppo, and begin a shooting drill. One by one, the women take their spots and shoot their AK-47s at a target, and then they run back shouting slogans.
However, many of the women seem to hold their guns in an incorrect manner, and while shooting some of them seem startled by the recoil speed of the gun.
The women appear to struggle with the weight of their machine guns and make a number of basic rifle mistakes. One of the women is filmed hurriedly running up to a mound of sandbags, her burqa blowing heavily in the strong breeze.
With the magazine of the machine gun incorrectly resting unevenly on a pile of old sandbags, the woman fires off five rounds before being ushered away to allow another woman to practise. Many of the women appear to carelessly place the rifle butt on the ground whilst others appear to be leaning on their weapons.
http://indiatoday.intoday.in/story/isis-islamic-state-women-jehadis-syria-video/1/429585.html
-----------
Kabardino-Balkaria Police Foil Recruitment Of Female Militants To Syria
11 April, 2015
Law enforcement agents in the republic of Kabardino-Balkaria in Russia's North Caucasus have said they foiled a "recruitment channel" that was sending female militants to Syria.
Police in the republic said on April 9 that they had arrested a woman in the capital Nalchik who was planning to travel to Syria to join militants there after "marrying" an extremist via instant message.
The woman, who was born in 1997 and is from Moscow, was on the Federal Wanted List, according to the RIA Kabardino-Balkaria news agency.
The woman had allegedly planned to travel with her husband, a 25-year-old resident of Kabardino-Balkaria, to Syria.
According to RIA Kabardino-Balkaria, a local law enforcement official said the woman had "professed a Salafi current of Islam," a term used in the Russian Federation to indicate an extremist version of Islam.
The woman had "carried out a Muslim wedding over WhatsApp [an instant messaging system for smartphones] with a 25-year-old resident of Kabardino-Balkaria. The woman said that they had decided to travel to Syria together to participate in jihad," the law enforcement source said.
Karbardino-Balkarians In Syria
It is not clear which militant group the woman was allegedly planning to join. Online evidence shows that militants from Kabardino-Balkaria are fighting in at least two factions in Syria: the Islamic State (IS) group and the Chechen-led Islamist group Jaish Al-Muhajireen Wal-Ansar (JMA). JMA considers itself to be the Syrian branch of the North Caucasus militant group, the Caucasus Emirate.
In February, the Federal Security Service (FSB) in Kabardino-Balkaria said that a total of nine individuals from the republic had died fighting in Syria since the armed insurgency began in 2011.
The FSB said that a further 12 people from Kabardino-Balkaria had returned home from Syria, out of a total of around 80 people from the republic who are thought to be fighting in the war-torn country.
A 22-year-old resident of the republic, Murat Nagoyev, was sentenced to four years in prison for fighting in Syria in November 2014.
The Kabardino-Balkaria man admitted going to Syria but denied that he had participated in the armed conflict, saying that he had gone there to help protect the country's ethnic Circassian women and children.
A second man from Kabardino-Balkaria is also known to have gone to fight in Syria after traveling there via Egypt.
'Jihad Bride' Recruitment
The Kabardino-Balkaria law enforcement agent who spoke to RIA Karbardino Balkaria said that there is an "active channel" of recruitment for women who are sent to join militants in Syria. The recruiters are "wives and widows of active members of the armed underground" in Kabardino-Balkaria.
"Currently, search operations are being carried out to establish all the individuals involved in organizing the channel for the transfer of women to Syria," the law enforcement official told RIA Kabardino-Balkaria.
Online evidence, primarily from social media networks comprising men and women who have already joined militant groups in Syria as well as those who support them outside the country, shows that there are active, informal groups encouraging Russian-speaking individuals to join them in the Middle East.
In recent weeks, evidence has emerged to suggest that the Islamic State (IS) group has stepped up its efforts to recruit Russian-speaking men and women.
Via social media, "Islamic State sisters" have put out messages in Russian urging women in the Russian Federation to come to Syria and join them.
It is not only Russian-speaking members of the IS group who are attempting to recruit people to join them in Syria, however.
Individuals from other Russian-speaking factions -- which are mostly but not exclusively made up of North Caucasus militants -- are also engaged in informal, unofficial recruitment efforts.
Among those who are putting out recruitment messages is an individual who goes under the name Abu Rafik or Abu Rafik Abdul Mukaddim Tatarstani, and who is currently with militants from Seyfullakh Shishani's jamaat, an Uzbek-led Russian-speaking group in Jabhat Al-Nusra.
In a recent message via the Russian social networking site VKontakte, Abu Rafik told potential militants planning to travel to Syria from Russia that they were allowed to shave off their beards and "dress in not-so-short trousers" in order to avoid arousing suspicion.
However, unlike IS militants, who have insisted that it is a religious duty for women to come to Syria, Abu Rafik has a different interpretation of the ideology of "jihad." Rather than encouraging women to come to Syria, Abu Rafik cautioned that female "wannabe militants" should be careful.
"Syria is a battlefield, a hot spot where rockets and missiles are flying about, not a peaceful place...But women are coming etc., maybe they have their parents' consent or maybe they came with a male guardian e.g. a husband. Don't do anything stupid, sisters," Abu Rafik warned in a recent post.
A woman claiming to be Abu Rafik's wife is also active on social media, and promotes Abu Rafik's posts about jihad as well as past calls for supporters to send money to help fund Russian-speaking militants. While she and Abu Rafik frequently exchange messages of love via public posts on social media, it is thought that the "jihadi bride" is located in Moscow, not in Syria.
The differences in attitude to the recruitment of women by Russian-speaking militants from IS and those from other rival groups like Jabhat Al-Nusra demonstrates the divergent interpretations of Islam and "jihad" professed by militants in these groups.
http://www.rferl.org/content/kabardino-balkaria-police-recrutiment-female-militants-syria/26949070.html
-----------
America is the real terrorist, my boys are the best: Boston bombers' mother
11 April, 2015
The mother of the convicted mass-murder responsible for the Boston bombings in 2013 declared that her son was 'the best of the best', while declaring America "the real terrorist".
Dzhokhar Tsarnaev, 21, was found guilty by a jury in Boston on April 9 for all 30 counts in connection to the deadly 2013 attacks. Of the 30 attacks, 17 were punishable by the death penalty.
Despite the guilty verdict, the bomber's mother, Zubeidat Tsarnaev, was adamant that Dzhokhar and his late brother Tamerlan were innocent.
In a text message to her sons' supporter Timur Rudaev, Zubeidat called the convicted killer "my precious boy" before going on a rant against the US.
"America is the real terrorist and everyone knows that," she wrote in the text, which was later shared on the Russian social media site VKontakte and sent to a local news site.
"My boys are the best of the best," she added.
She continued to thank everyone who had been helping her family over the past two years and vowed to keep them in her thoughts.
"May God reward them for supporting my precious boy," the mother wrote.
Zubeidat Tsranaev's statement was accompanied by Rudaev's rambling rant about Dzhokhar's guilty verdict in Boston.
"Today, foolish Americans completely shattered the life of a great guy! Rudaev wrote in Russian, adding that "no trial, no jury could trample our opinions, only the Almighty has power over us! Only the Almighty knows the outcome of this trial… we hope the merciful Allah will give Dzhokar a second chance!"
He further added that he hoped that Zubeidat Tsarnaev would gather everyone at her home to celebrate Dzhokar's release in the near future.
"Everyone will be ruffling his hair and telling him, 'Brother, you persevered, you put the Americans in their place!" he added.
Zubeidat has been unwavering in her support for Tamerlan, 26, who was killed in a gun battle with the police after the bombings, and his younger brother, who was arrested after being cornered inside a boat in a Boston suburb.
In the days after the attack, Zubeidat accused law enforcement in Boston of framing her sons and described the scene of the carnage at the marathon finish line as a "really big play" with "paint instead of blood."
A press conference was held 10 days after the bombings in which the mother was on the verge of hysteria proclaiming that she did not accept her children were responsible for the massacre.
"America took my kids away from me. I'm sure my kids were not involved in anything," she said assuredly.
Her remarks were in stark contrast to the sentiments expressed by survivors and victims' families.
Dzhokhar appeared unmoved as the guilty verdict was announced in court. The same jury panel that found him guilty after 12 hours of deliberations would now have to decide whether to sentence Tsarnaev to death or give him life in prison without the possibility of parole.
Families of the victims were also present to hear the verdict but there was no celebration after each 'guilty' was read aloud.
"Today's verdict will never replace the lives that were lost and so dramatically changed, but it is a relief, and one step closer to closure," said one victim.
"While today's verdict can never bring Sean back, we are thankful that Tsarnaev will be held accountable for the evil that he brought to so many families," another added.
Twelve of the charges against Tsarnaev were connected to the two bombs placed at the finishing line of the marathon, while three other charges dealt with conspiracy.
http://tribune.com.pk/story/867589/america-is-the-real-terrorist-my-boys-are-the-best-boston-bombers-mother/
-----------
Muslim woman tries to close Thrace's Sharia inheritance law loophole
11 April, 2015
Well out of sight, in her pleasant flat in Komotini, Thrace, in north-eastern Greece, Chatitze Molla Sali is speaking quietly. At times she is barely audible. It's the voice of a tired 65-year-old, who for many years "lowered her gaze and accepted everything", as she puts it. But she livens up at any mention of her new determination. She is the first woman from Greece's Muslim minority to have taken a case to the European court of human rights, disputing a ruling based on Sharia law that stripped her of part of her inheritance.
When her husband died in March 2008, he left her all his possessions in a will certified by a Greek solicitor. His family promptly disputed the legacy, complaining to the local mufti that under Sharia Muslims are not allowed to make a will. Sali appealed to the civil courts, which endorsed her claim. But in October 2013 Greece's supreme court ruled that matters of inheritance involving members of the Muslim minority must be settled by the mufti, as required by Sharia law.
Some might be surprised that Islamic law should be enforced in a country under Greek Orthodox influence, where church and state are officially separate. In fact it is a throwback to the troubled relations between Greece and Turkey. After more than four centuries of Ottoman occupation, Greece regained its independence in the early 19th century. But it was only in July 1923, after years of conflict, that the two countries finally agreed on clear borders, under the terms of the Treaty of Lausanne.
The accord provided for a massive movement of population, with both parties agreeing to send hundreds of thousands of the other's nationals to their respective countries. The only exception to this rule was that Turkey pledged to maintain the Ecumenical Patriarchate of Constantinople and not to expel its Greek minority. In exchange the 120,000-strong Muslim community of western Thrace was allowed to stay put. Officially known as the Muslim Minority of Greece, it consists mainly of Turks, but also Bulgarian-speaking Pomaks.
The treaty recognised that the community enjoyed various exceptional rights, including being allowed to live according to its existing customs. Three muftis, appointed by the Greek authorities, were to act as religious leaders and judges. In this capacity they enforced sharia law for family disputes, but not for criminal cases. So any problems relating to marriage, divorce and inheritance are settled by the mufti's office in Xanthi, Komotini or Didymoteicho, the region's three main towns. "Sharia must govern the world," says Meco Cemali, the mufti of Komotini. "These are God's just rules on how we should live our lives."
But "the Lausanne treaty makes no mention of sharia or muftis", says Sali's lawyer, Yannis Ktistakis. "It was the Greek state which put that interpretation on the agreement. In 1923, Turkish society under the leadership of Kemal Ataturk was very progressive and secular. The Greek government was conservative and profoundly Orthodox. So it assumed that the best way of reducing progressive influence on the Turkish-speaking community in Thrace would be to extend the powers of sharia law."
Just under a century later it seems odd that Greece, a member of the European Union since 1981, still encourages sharia law on its territory. Surely, it should be enforcing the civil code. The official line in Athens is that there is no going back on the Lausanne treaty, for fear of retaliation against the Greek community in Istanbul. "The fate of the minority in Thrace is closely linked to fluctuating relations between Greece and Turkey," says Konstantinos Tsitselikis, a specialist in Balkan studies at the University of Macedonia and author of the book Islam in Greece: From Historical Minorities to Immigrant Newcomers. "In 1985, confronted by a hostile Greek nationalist movement, Turkey started funding a political party in Thrace. This organisation played on the Turkish identity of the Muslim minority, asserting in particular the community's right to elect muftis."
Since 1990 there have been five muftis in Thrace: three officially appointed by the Greek government and two elected by local Muslims, unrecognised by the authorities and not competent to serve as judges. This explains why Athens is so keen to maintain sharia law. As long as the official muftis retain their jurisdiction, it will continue to regard them as officials. In their capacity as judges it is legitimate for the state to appoint them. "Ankara and Athens are playing political games," says Ktistakis. "Sharia law [in Thrace] is only a means of countering Turkish influence. It's tough luck if the women of the minority, who are the main victims, should suffer as a result."
From the 1920s to the 1980s decisions by the muftis were published in Arabic or Turkish. A law passed in 1990 required these rulings to be translated into Greek and vetted by an ordinary judge, to ensure they complied with the constitution. "But the Greek courts restricted themselves to recording the decisions, and did nothing to check their legal validity," Ktistakis adds.
"This is a judicial exception that is unacceptable in Europe, a clear violation of the Greek constitution, the European Convention on Human Rights and the United Nations Convention on the Rights of the Child. The Greek civil code should be enforced in the same way for all Greek citizens. The members of the minority are first and foremost Greek citizens, then Muslims, and their rights must be upheld."
Tsitselikis, who is also head of the Hellenic League for Human Rights, takes a more measured stance. "Those who wish to settle their differences before a mufti should be allowed to do so, but the same should apply to people seeking redress before a Greek civil court," he cautions. "It would be better to help people, particularly women, to become emancipated and demand more rights for themselves. Otherwise there is the risk that the most conservative groups will lock women up at home and establish underground courts to settle family disputes out of the public eye."
The landmark ruling in 2000 by the court of first instance in Thebes, giving plaintiffs a choice, seems a good compromise. The court concluded that a member of the Muslim minority was entitled to take a divorce dispute to a Greek court. "It did not go far enough, but it was a step in the right direction," says Ktistakis. "The backtracking decision by the supreme court on the case of Chatitze Molla Sali is worrying."
"I was overwhelmed," Sali admits. "But I decided to fight and take the matter to the European Court of Human Rights. I'm a Greek citizen and Europe must uphold my rights." A complaint against the Greek state was lodged with the court in February 2014.
"This case is a historic opportunity to put an end … to this discriminatory situation," says Ktistakis.
It will take two to three years for the Strasbourg court to issue a ruling. "The Greek authorities shouldn't wait for a ruling before improving the situation," says Nils Muiznieks, the commissioner for human rights at the Council of Europe. "There is already ample national and international documentation condemning the anachronism inflicted on many Greek citizens by enforcement of sharia."
Sali's religious faith is unshaken and she still sees the mufti as her spiritual father. But she disputes his right to lay down the law.
http://www.theguardian.com/law/2015/apr/10/sharia-greece-human-rights-inheritance-law
-----------
Aisha Buhari: A Charming First Lady In Waiting
11 April, 2015
Hajia Aisha Buhari was born in Adamawa State into the family of the first minister of defense, Mohammadu Ribadu. Schooled in the best of Fulani traditions and cultures, she speaks English and Arabic fluently.
Aisha earned a Bachelors degree in public administration from Ahmadu Bello University Zaria, Kaduna State. She also has a post-graduate diploma in cosmetology and beauty, which she obtained at the Academy Esthetique Beauty Institute of France. General Buhari's first wife was Hajiya Safinatu (nee Yusuf) Buhari. He married her when he was 18. After Buhari was released from jail, he divorced Safinatu for reportedly receiving financial assistance from IBB while he was in prison. Buhari married Hajiya Aisha Halilu in December 1989. They have five children together.
"Few would have believed that the taciturn, austere General Buhari had a soft, smiling and sweet woman at home," the Vanguard daily said after the former military ruler was elected the next president March 28 at the elections.
Aisha Buhari remained in the shadows for most of the presidencial election campaign but promises to showcase a very different style from the current first lady at the Presidential Villa in Abuja.
"I met Aisha Buhari three times and she seems to be a very humble person; very friendly and a good listener," said a lawyer, Ebere Ifendu, head of the Women in Politics Forum in Abuja.
The current first lady, Patience Jonathan, wife of the outgoing president, Goodluck Jonathan, has a very different public profile.
She is well-known to journalists and mimicked by comedians for her boisterous public appearances as well as political and financial scandals.
"Patience has been like a bull in a China shop; no control whatsoever," said Yemisi Ransome-Kuti, head of the Nigerian Network of NGOs.
"We are very hopeful that we will have a very different first lady who will bring calm and harmony to the presidency," she added.
Calm And collected
In the large house located at a residential area of Abuja where her husband, Muhammadu Buhari of the All Progressives Congress (APC) was watching election results trickled in, Aisha Buhari's calm demeanour contrasted with the tumultuous scenes outside.
The official vote count was under way and the electoral commission was drip-feeding results for the presidential election state by state until Buhari took an unassailable lead.
The APC high command announced victory for their candidate and the news spread around the country, sparking scenes of jubilation, notably in the north's biggest city, Kano.
Dressed in a cream-coloured tunic and an orange and pink embroidered headscarf, Aisha Buhari seemed calm and collected, despite the magnitude of what had just happened and what was to come.
"The long journey has come to an end," she told AFP, referring to the election campaign, while admitting to "mixed feelings" about the e low blows and personal attacks aimed at her husband from the ruling party while the smear campaign lasted.
Jonathan's Peoples Democratic Party (PDP) accused Buhari, a northern Muslim, of supporting radical Islam, of failing to secure his secondary school certificate and even having terminal cancer.
Aisha Buhari preferred instead to talk about the positive aspects of the rollercoaster ride that led Nigeria to its first democratic transfer of power between parties at the ballot box.
Nigerians had nothing to fear from her husband, she said. "I know him personally. Not as a leader of Nigeria; I know him as my husband and I think Nigeria should feel comfortable with him. He will get there," she added.
'Mama Peace'
Patience Jonathan on her part, tended to add fuel to the flames during the campaign, going as far as urging PDP supporters to "stone" anyone shouting "change" – the APC campaign slogan.
The comments sparked outrage in the APC and led to a furious debate in the Nigerian media.
Patience Jonathan, who who is commonly called "Mama Peace," in sharp contrast, is used to media scandals.
Even before the election of her husband as head of state in 2011, she was suspected by the Economic and Financial Crimes Commission (EFCC) in 2006 of having laundered a vast sum of money.
In 2012, she became "permanent secretary" of the oil-producing southern state of Bayelsa, where President Goodluck Jonathan is from and was a former governor.
The opposition heavily criticised the appointment, decrying it as "nepotism" and "favouritism".
She also attracted the ire of civil society when in the aftermath of the mass kidnapping of more than 200 schoolgirls in April last year, one of the leaders of the "Bring Back Our Girls" movement was arrested after meeting the First Lady at the presidential villa.
"May be she misunderstood her role as the First Lady," suggested Ifendu.
"There's no official role for the First Lady in Nigeria. It's not in the constitution," added Ransome-Kuti.
"It often depends on what weight the president gives it.
"What we are hoping for is more decorum from the office of the First Lady," she said.
http://leadership.ng/news/424633/aisha-buhari-a-charming-first-lady-in-waiting
-----------
KCB Denies Female Journalists Were Forced to Wear Hijab during Launch
11 April, 2015
KCB has dismissed reports published in the media alleging that female journalists were discriminated during the launch of the Bank's Islamic Banking product on Thursday.
"We wish to state that no journalists were forced to wear Islamic attire to the event nor were they barred from covering the launch," KCB Group said in a statement released on Friday.
The Bank further said that it respects the freedom of expression, gender equality and the right to religion as enshrined in the Constitution.
KCB however said that the observation of Muslim customs during the launch was not intended to offend anyone "but as a token of tolerance in the true Kenyan spirit of embracing all cultures."
"As a Bank, we are continuously innovating our products to meet the evolving needs of our customers. The KCB Sahal Banking is a Shariah compliant bank account that is designed in accordance with globally accepted standards of banking to address the sensitivities of Muslim customers who adhere to the Islamic faith," the bank said.
"We remain committed as the preferred financial services provider in Africa anchored in trust, respect and tolerance for all our customers irrespective of their religious beliefs," KCB added.
Female journalists had alleged that they were forced to wear the Muslim head covering, hijab, during the launch, or be barred from covering the event.
The journalists had also alleged that men and women were forced to seat separately. Female journalists were not allowed to ask questions during the launch and were instead instructed to pass their questions to male colleagues.
http://allafrica.com/stories/201504101790.html
-----------
April 13: Iranian Journalist to Shed Light on Compulsory Veiling
11 April, 2015
Since 9/11, the Muslim faith – along with many of its practices, such as veiling – have been shrouded in misconception. With Islamic State in Iraq and the Levant (ISIL) in the news almost every day, the topic remains fresh and only aggravates wounds different sides.
Masih Alinejad, a prominent Iranian journalist renowned for her critical and courageous writings against state repression and violation of human rights, will explore the issues surrounding compulsory veiling during a special presentation California State University, Northridge.
veilingHer talk, "Compulsory Veiling (Hijab) and Stealthy Freedom in Iran," will take place Monday, April 13, from 11 a.m. to 12:30 p.m. in the University Student Union, Thousand Oaks room.
"She (Alinejad) told me, 'I don't want to lecture, I'm not a professor. I want you to ask me the questions you think are going to be most important and relevant to your students, let's have a conversation,'" said Nayereh Tohidi, director of Middle Eastern and Islamic studies (MEIS) and of gender and women's studies.
In 2009, Alinejad fled Iran because of her advocacy for women's rights, freedom of the press and freedom of speech in her journalistic writings. She also wrote about the corruption in the government, inspiring some while angering others. She has received numerous honors for her work, including: the 2015 Geneva Summit for Human Rights and Democracy Award, Omid Journalism Award and Association for International Broadcasting Media Excellence Award.
"I selected her to come and speak for a number of reasons," Tohidi said. "Because of her background and contributions, she is internationally prominent. Thanks to her clever journalistic work, we get to hear from a lot of people, such as families of political prisoners whose stories we wouldn't have heard from without her savvy, creative way.
"She's a very bright, passionate and inspiring role model, not only for learning about Iran, but also as a woman who has turned into an agent of change," continued Tohidi. "One of the things that I think makes her so unique is that she comes from a humble upbringing. She grew up in a small, working-class village, and because she's brilliant, she started excelling in school. She then lived in urban areas of Iran, and after fleeing, moved to Europe and then eventually the U.S. Because of this, she has lived and worked with Muslim women in a verity of communities and has a perspective and understanding of the hijab that most don't.
Alinejad has spearheaded the 'My Stealthy Freedom' campaign page on Facebook, which provides a space and gives voice to those Iranian women who resist compulsory veiling by taking their hijab off in public, for a short while, and take pictures or video of those "stealthy free moments" and post it to the site. While Alinejad no longer wears her hijab, she said it should still be a personal choice made by the woman, not a compulsory one forced by the state.
"She didn't mean for it to become a campaign but it did," said Tohidi. "When these women take off the forced hijab, they are being very courageous and inspiring to others to defy repressive rule."
Tohidi said she hopes that attendees of the event walk away with a "more complex understanding" of the hijab among Muslims, including the one in the context Iranian culture and politics that you couldn't get "by watching a TV sound bite."
"The debate on banning the veil has been such a big issue in Turkey and some European Western countries," said Tohidi. "Hopefully by listening to a real Muslim woman, with lived experience of forced veiling, we can better understand the value of freedom of choice. This can humanize a lot of misunderstandings and fears about Iran. Not all Iranians are anti the west. Many, especially the younger generation, want to be a part of the world community and build normal peaceful relationship with all countries, especially the U.S."
For more information on the event, please visit MEIS website at www.csun.edu/meis.
California State University, Northridge's College of Humanities; Middle Eastern and Islamic Studies (MEIS); Women's Research and Resource Center; Gender and Women's Studies; and Journalism departments are sponsoring the lecture.
http://scvnews.com/2015/04/10/april-13-iranian-journalist-to-shed-light-on-compulsory-veiling/
-------------
Students and Alumni Band Together To Rescue Girls from Human Trafficking in Africa
11 April, 2015
WICHITA, Kan. - Wichita students and alumni band together to help young girls overseas.
They formed an organization called Eight Oaks and with their own money-- helped rescue 8 girls from human trafficking in Africa.
The eight girls are from Ghana and just a year and a half ago, their lives were completely different.
Teddy Kriwiel, a woman who helped established Eight Oaks says, "There's a pocket on a lake, it's a very isolated area, where there's thought to be 20,000 children living in labour camps in the fishing industry and these girls were a part of that."
That's until an organization called "Eight Oaks" changed everything.
"Their health has improved tremendously, many of them grew inches within months, they're filling out, their smiles are so full, they are clean and they are happy."
The organization is made mostly of Wichita Trinity High School students who donated their money and time to funding the girls' rescue and their new home in Ghana.
Teddy says, "There were about 10-15 of them as juniors in high school who felt very passionate about preventing human trafficking. That's kind of an odd thing for kids to say 'hey I don't need to spend my money on this, I want to give to this."
While those with the organization hope they can help other girls in the future, they say right now their focus is making sure these eight have the life and love they deserve.
"They can now have an education and go to college and be a strong contributor to Ghana as they grow up. We want this group of girls to grow up as sisters together and 8 just seems like a big but good sized family."
It costs about $2,500 every month to fund Eight Oaks and the eight girls who were rescued.
Those Trinity High School students and alumni have pledged to do so for the next 15 years.
Copyright @ 2015, KWCH-TV. All rights reserved. This material may not be published, broadcast, rewritten or redistributed.
http://www.kwch.com/news/local-news/students-and-alumni-band-together-to-rescue-girls-from-human-trafficking/32311626
-----------
URL: https://newageislam.com/islam-women-feminism/nasa-scientist-names-asteroid-after/d/102412