New Age Islam News Bureau
08 December 2020
• Improved Afghan Law Still Fails Victims Of Sex Crimes: UN Report
• First Lady of Pakistan, Dr Samina Alvi Urges Women To Play Their Active Role In Society
• Al Baraka's Dr. Wajeeha First Bahraini Woman PhD In Fintech
• Safa Al-Hashem, Kuwait's Controversial and Only Female MP, Loses Seat
• 120% Rise in Female Employees in Saudi Industries
• Over 73,000 women beneficiaries of REDF loans to own a home
Compiled by New Age Islam News Bureau
URL: https://www.newageislam.com/islam-women-feminism/nahid-taghavi-being-held-solitary/d/123697
--------
Nahid Taghavi Is Being Held In Solitary Confinement In The Notorious Evin Prison In Iran
December 07, 2020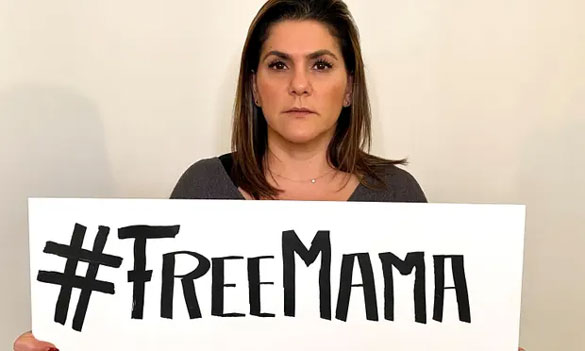 German-Iranian Nahid Taghavi, 66, has been detained in Evin for seven weeks with no outside access
------
LONDON: A German woman fighting to free her 66-year-old mother from an Iranian prison has pleaded with Germany to "end the human rights abuse" and intervene in the case.
In an interview with the UK-based newspaper The Guardian, Mariam Claren said she feared for the health of her mother, Nahid Taghavi.
Their last communication included advice about wearing a sweater on holiday. However, following that conversation, Claren's life was thrown into turmoil and she is now fighting to free her mother from Tehran's notorious Evin prison, where an alarming number of dual-national citizens are detained.
Her case resembles many others who have faced the same treatment at the hands of Iranian authorities.
Taghavi, a German-Iranian dual national, was suddenly arrested at her Tehran apartment by police officers who claimed she was a "security threat."
She has been denied contact with lawyers, diplomats and family members from inside the prison. The German foreign office said it has no consular access because of her dual national status, which is not recognized by Iran.
"Germany cannot ignore this human rights abuse and has to intervene," Claren said. "I know sometimes they keep people in solitary confinement for two or eight months.
"Yes, all her friends agree one thing about her — that she is strong. But she is 66, and not a young girl.
"She has high blood pressure and I do not know if she can withstand torture. I am not even sure if she is alive now.
"I knew as soon I had discovered what had happened to her that I had to go public. Everything I am and can be, she taught me. So I will move heaven and earth to free her."
Claren uses Twitter, Instagram and Facebook to post daily messages bringing attention to her mother's case, and worries that seeking publicity is her only choice.
"My mother is fiercely intellectual, but she is political only in the sense that she believes in freedom of speech, women's rights and human rights," she said.
"But she is not into party politics, just interested as a citizen. I do not know what Iran wants in return for her release, but she is innocent," she added.
Taghavi was born in Iran, but moved to Cologne in 1983 and became a German citizen in 2003. After becoming a widow and retiring several years later, she began to spend more time in Iran to be with friends and family, rotating her time between Tehran and Germany.
She was due to return to Germany in the early spring, but decided as a precaution to extend her stay in Iran as the coronavirus pandemic swept the region.
On Oct. 14, Claren sent her mother some photos on social media, but did not get a response.
"I thought she might have passed out or was resting in her apartment because she recently had a dental operation," Claren said. "After two days I became really worried."
She then asked family members in Tehran to visit her mother's apartment.
"When they got there they could not believe what they saw. The whole apartment had been turned upside down, including the carpet ripped up. Her computer, her laptop and passport were all missing. Neighbors confirmed that she had been taken away."
After realizing that her mother was being held in Evin prison, Claren made urgent enquiries. She was told that Taghavi was in solitary confinement and to await further information.
However, none of the family have heard anything since. "My relatives go to Evin several times a week and try to get information, but they receive nothing," Claren said.
"Seven weeks later, we know nothing, and it is still going on."
https://www.arabnews.com/node/1773816/middle-east
--------
Improved Afghan Law Still Fails Victims Of Sex Crimes: UN Report
December 7, 2020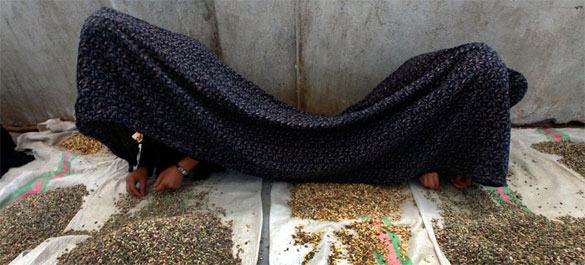 UNAMA/Eric Kanalstein
Afghanistan's justice system is continuing to fail female victims of violence and sex crimes.
----
GENEVA — Afghanistan's justice system is continuing to fail female victims of violence and sex crimes, despite a 2009 law that was hailed as a significant step forward in legal efforts to protect them, according to a UN report published jointly on Monday by the UN human rights office (OHCHR) and the UN Mission in Afghanistan (UNAMA).
"I acknowledge the efforts made by the Afghan authorities over the years to ensure the justice system is fair, equal and does not discriminate against anyone, including women. However, it is clearly not enough," High Commissioner for Human Rights Michelle Bachelet said in a statement.
The report, In search of justice for crimes of violence against women and girls, examined 303 reports of crimes between September 2018 and February 2020, and found that only half of them reached a court, and impunity remained prevalent. Out of 16 cases of child marriage studied by the authors, only one ended in a conviction.
'Heart-breaking' burden
In 40 cases, victims of violence had resorted to self-immolation or committed suicide, suggesting they did not have faith in the justice system. "It is both heart-breaking and appalling that girls and women don't see any other option to escape violence but to end their lives," Bachelet said.
Afghanistan should amend the Elimination of Violence Against Women (EVAW) Law, passed in 2009, to ensure that authorities can continue to investigate and prosecute offences even if the victim withdraws her complaint, the report said.
Currently, a prosecution stops if the victim withdraws her complaint. That places a huge burden on the shoulders of the victim, especially if reporting a crime places her at odds with her family and community, and even puts her in danger.
"In far too many cases, the EVAW Law re-victimizes women and girls who have already suffered enormously. It is appalling that survivors who have been beaten or married against their will are left to fend for themselves and that the State does not protect them unless they bring and pursue their complaints," Bachelet said.
So-called 'honor'
The vast majority of child marriages are arranged or condoned by the girls' families, so it is unrealistic to expect girls to pursue their legal cases, the report said.
One case concerned two men arrested for exchanging their 13- and 14-year old daughters as wives. The men were released because the girls and their mothers withdrew the complaint.
Afghanistan also needed to do much more to protect women and girls in other ways, the report states. It documented 22 cases of murder perpetrated for reasons of so-called "honor", which was banned as a mitigating factor for murder in 2018, and said that documented "honor killings" resulted in a much lower rate of conviction (22.7 percent) than other murders (51 percent).
Women and girls were prosecuted for having extramarital sex after being raped or simply leaving home without a male guardian, the report highlights.
Rape victims were unlikely to report the crime if they faced prosecution. Some rape victims were subjected to "virginity testing", which was both entirely unscientific and a serious human rights violation, and the results were sometimes used as evidence in criminal proceedings, according to the report's findings. — UN News
https://saudigazette.com.sa/article/601146
--------
First Lady of Pakistan, Dr Samina Alvi Urges Women To Play Their Active Role In Society
December 8, 2020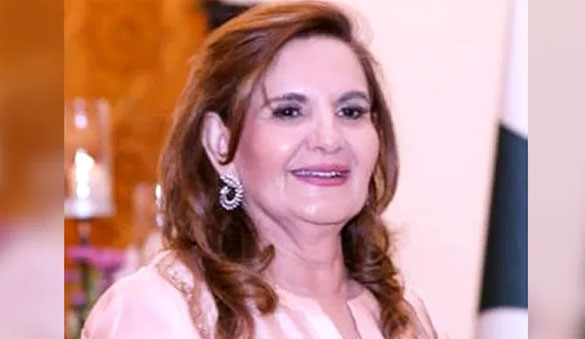 Dr Samina Alvi
-------
Islamabad: The First Lady of Pakistan, Dr Samina Alvi Monday said that the women of the country should build up themselves in a way that they should be capable of being empowered to serve the country and its nation as it would help set an example for coming generations also.
In an exclusive talk on a private news channel, she said women were leading a vital role in the society and their empowerment was the foremost priority of the incumbent government so they should not waste their time and utilize it effectively for their bright future.
She said the government has enacted necessary laws with a view to protecting women and children from all types of violence, keeping the provision for stringent punishment. Talking about rape incidents, she said that there is dire need to raise public awareness, the men also need to step forward regarding this matter.
The whole society has to take steps against them, she said, adding, speedy justice must be ensured without any delay. "Awareness and accountability are necessary to implement in order to combat with rape culture, she said. Action needs to be taken in this regard."
It is the duty of each and every individual to have a 'zero tolerance policy' towards sexual harassment and assault," she emphasised. She mentioned that the federal government was working tirelessly and inshAllah soon we will introduced an ordinance to award strict punishments to rape convicts.
Replying another question, she said that improving education in the country is a collective responsibility, where teachers, parents, students and school administrators play their key roles.
She stressed for imparting the higher education and uniform opportunities in the basic education, implementation of merit and provision of facilities to teachers and students must be ensured.
She suggest we should bring more qualified teachers in the country and disable children should also be teach in same schools like other kids under professional teaching staff.
Another Question about lack of breast cancer awareness among women, she emphasized that almost half of the country's population of Pakistan comprises of women, therefore, it is imperative to support them with specialized services.
She stressed the important role of parliamentarians in highlighting of the issue of breast cancer at national and constituency levels to spread awareness. We all should work together to ensure that women are aware of the risks and feel empowered to seek timely treatment, she added.
https://www.thenews.com.pk/print/755222-first-lady-urges-women-to-play-their-active-role-in-society
--------
Al Baraka's Dr. Wajeeha first Bahraini woman PhD in FinTech
December 7, 2020
MANAMA — Al Baraka Banking Group (ABG) Sunday proudly announced that Dr. Wajeeha Awadh, section head of Digital Banking and FinTech at the group headquarters, has become the first Bahraini woman to have been awarded a PhD in the FinTech domain.
Dr. Awadh, whose studies were sponsored by Al Baraka Banking Group, received her PhD in management with a research focus on FinTech from Asia Pacific University of Technology and Innovation in Malaysia.
Her in depth research work and study has established her as one of the group's and the kingdom's leading FinTech and digital banking experts. Numerous awards underscores her experience and contributions to the field. In 2019, she was named among the Top 300 Most Influential Women in Islamic Business and Finance by Cambridge IFA as well as ranking 29th worldwide and the first in Bahrain.
Having joined ABG in 2015, Dr. Awadh currently looks after the group's comprehensive and pioneering digital transformation strategies and is presently engaged with several digital banking and FinTech projects group-wide focusing on leveraging the power of technology to better serve and meet the fast evolving demands of customers and ensuring greater efficiency and productivity internally.
Adnan Ahmed Yousif, president & chief executive at ABG, said, "We're delighted to support top talent in this ever important area of our business. Digital transformation is at the heart of what we do and we're extremely proud to have dedicated experts like Dr. Wajeeha Awadh helping to drive and further accelerate our digital journey.
"Investing in our people and supporting their growth is a critical part of the Innovation First culture we embrace across the Group. We congratulate Dr. Wajeeha and look forward to her further advancement in the sector and to the contributions she will continue to make on behalf of the Group and our stakeholders."
The Head of IT & Senior Vice President Ahmed Albalooshi, stated, "Wajeeha is a young and highly motivated individual with a thirst for knowledge and has set the bar high for all young members in the group. She is a valuable resource and contributor in our Digital Transformation Team and we have very high expectations of her."
In addition to her role at ABG, Dr. Awadh also lends her digital expertise, acting as an external expert to a number of universities advising on their FinTech courses. Previously, she also served as head of the Bahrain TechAwards in 2019, which took place in Dubai, and was a member of Women in FinTech Bahrain (WIFBH), an initiative of the Bahrain Economic Development Board, aimed at promoting the sector and the role of women within it.
Dr. Awadh's work has also been published in a number of international academic publications and non-academic sources in London and Kuala Lumpur and she has spoken at some of the industry's most prestigious conferences and seminars both locally and internationally. — SG
https://saudigazette.com.sa/article/601126/BUSINESS/Al-Barakas-Dr-Wajeeha-first-Bahraini-woman-PhD-in-FinTech
--------
Safa al-Hashem, Kuwait's controversial and only female MP, loses seat
Ismaeel Naar
December 8, 2020
Safa al-Hashem, Kuwait's only female MP who has courted controversy over her anti-expat stance, lost her seat in the latest election that saw opposition candidates make gains.
Kuwait's local elections, held last Saturday amid the ongoing coronavirus pandemic, saw opposition candidates make gains in the parliamentary vote in which two-thirds of incumbent MPs lost their seats and no women were elected.
The final count of the votes showed 31 new candidates had been elected to the 50-seat assembly as members of parliament.
This election saw 29 female candidates campaigning for seats, with none of them succeeding.
Al-Hashem, an MP who was elected to the 2012 and 2016 legislative terms of Kuwait's National Assembly, made history in the 2016 election when she became the first woman to win in three parliamentary elections. She had previously been a part of the 2009 parliament before it was dissolved.
Born in 1964, the lone female MP holds degrees in English literature and in business administration. She is also a successful businesswoman, founding and managing Advantage Consulting Company (ACC), a Kuwait-based company that provides management and business advisory services.
Al-Hashem, known for her anti-migrant stance, has courted controversy in the past year for calling on the government to send expatriates back to their home countries. She has also made negative comments toward the Egyptian expatriate community, which resulted in her receiving at least nine death threats.
https://english.alarabiya.net/en/News/gulf/2020/12/08/Safa-al-Hashem-Kuwait-s-controversial-and-only-female-MP-loses-seat
--------
120% rise in female employees in Saudi industries
December 08, 2020
RIYADH: Saudi women are finding more employment as private and government bodies strive to reach qualified women across the Kingdom's economic sectors.
The Saudi Authority for Industrial Cities and Technical Zones (MODON) revealed that the number of Saudi women working in the industrial cities it oversees increased by nearly 120 percent, reaching 17,000 female workers by the end of March this year.
Khalid Al-Salem, director general of MODON, said that the authority "has come a long way" and is still striving toward women's empowerment in the industrial sector.
He added that MODON has made the industrial sector more attractive to women through innovative financing products, services and solutions that suit their important role in the national economy. Incentives for working women include the launch of industrial oases, which are characterized by the availability of nurseries, parking spaces and medical and recreational centers.
"These oases host clean industries such as medical and food industries, rubber and high-tech industries, as well as prefabricated factories supporting women entrepreneurs and small and medium enterprises," he said.
Al-Salem added that 2021 will see the launch of small prefabricated factories to enable women's investments in the industrial city of Dammam, a first for the Kingdom.
"MODON continues to empower women both as an employee and as an investor by creating a model environment in partnership with the public and private sectors," said MODON's director general.
He added that an agreement was signed with an insurance company to provide comprehensive services for investors in industrial cities.
He said: "MODON seeks to support the productivity of women by providing an optimal environment for their work. Therefore, it signed a memorandum of understanding with a building development company to implement nursery and kindergarten programs in industrial cities and oases under the Ministry of Education's guidance."
Al-Salem said that the strategy to empower industry and increase local talent aims to activate the role of women in industrial development in accordance with the Saudi Vision 2030 aimed at enhancing their role in the national economy.
"MODON succeeded in increasing the number of Saudi women in industrial cities, reaching 17,000 female employees by the end of the first quarter of 2020, compared to 7,860 by the end of 2018," he added.
https://www.arabnews.com/node/1773986/saudi-arabia
--------
Over 73,000 women beneficiaries of REDF loans to own a home
December 6, 2020
RIYADH — The number of Saudi women beneficiaries of real estate loans to own a home, provided by the Real Estate Development Fund (REDF), has reached more than 73,000 until the end of last October.
This was part of the Fund's efforts to continue empowering Saudi women to own their first home, according to Mansour Bin Madi, general supervisor of REDF.
He said, empowering Saudi women to own a home comes within the policy of REDF since its inception, as women are half of the society and the main pillar to advance the development and construction wheel in the society.
"The Fund has worked to facilitate and simplify real estate financing procedures to empower all citizens obtaining subsidized real estate loans through electronic and instant procedures," he said.
According to Madi, the total number of Saudi women beneficiaries of real estate loans, programs and initiatives exceeded 73,800 throughout the Kingdom until the end of October.
"The current programs allow women to own property according to the conditions of the subsidized mortgage program to benefit from its advantages, in order to achieve the objectives of the housing program, one of the programs of the Vision 2030, which includes raising the percentage of citizens' ownership of housing to 60 percent by the end of 2020 and 70 percent by the end of 2030," he said.
Madi indicated that empowering Saudi women to have housing and making them benefit from the available programs serves the interest of the nation and achieves the goals of the Kingdom's ambitious Vision.
"The subsidized mortgage enables women to own housing units within various initiatives and programs to facilitate the choice of the beneficiary citizens registered with the Sakani program of the Ministry of Housing and REDF," he added.
https://saudigazette.com.sa/article/601097
--------
URL: https://www.newageislam.com/islam-women-feminism/nahid-taghavi-being-held-solitary/d/123697
New Age Islam, Islam Online, Islamic Website, African Muslim News, Arab World News, South Asia News, Indian Muslim News, World Muslim News, Women in Islam, Islamic Feminism, Arab Women, Women In Arab, Islamophobia in America, Muslim Women in West, Islam Women and Feminism