New Age Islam News Bureau
25 January 2022
• Muslim Women In India Singled Out For Online Hate
• Hyderabad Girls, Women Condemn Karnataka College Incident
• Coach Polyana Lago Building On Year Of Success For UAE Women's Jiu-Jitsu
Compiled by New Age Islam News Bureau
URL: https://www.newageislam.com/islam-women-feminism/nadia-nadim-footballer-afghanistan/d/126238
--------
Nadia Nadim, Footballer Who Fled Afghanistan At 11 Is Now A Surgeon in Denmark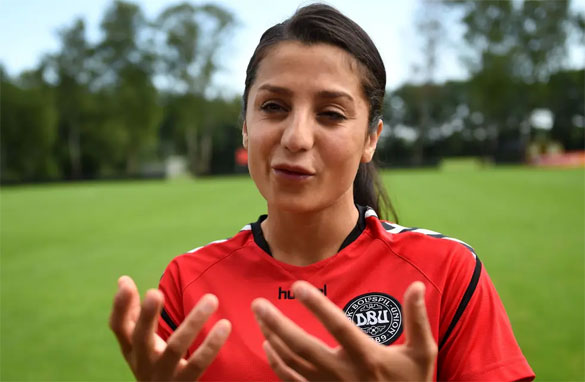 Nadia Nadim fled with her family to Denmark where she forged a career in women's football that has taken her to the US (Getty)
----
Tenzin Zompa
24 January, 2022
New Delhi: Nadia Nadim was just 11 when she fled Afghanistan after her father was whisked away by the Taliban and executed. She landed in Denmark and eventually rose to become a football player, offering inspiration to many. In an interview to Vogue in June 2020, she had said: "If you give refugees a chance, they can contribute and make society better".
Now, she has proved that again, with one more feather in her cap: This month, she earned the title of doctor after a specialisation in reconstructive surgery from Aarhus University, Denmark, where she studied for five years.
And she managed this feat whilst playing football.
Nadia has 98 international caps to her name. She played for the French side Paris Saint-Germain last season, where she scored 18 goals in 27 games to help her side lift the Division 1 title, in a first.
She is also fluent in at least 11 languages, and is ambassador of an NGO called Danish Refugee Council, which advocates securing sustainable solutions for refugees and displaced people.
Born in Afghanistan's Herat on 2 January 1988, Nadim used to live with her parents and four sisters in an area alongside the president's family. However, in 2000, the Taliban executed her father, who was a general of the Afghan National Army (ANA).
Following this, the family was forced to leave the country. They eventually reached Denmark via Italy.
In Denmark, Nadia got hooked to the game first when she found girls playing football in their refugee camp where her mother and her sisters lived for nine months. "Football saved me from being this poor outsider kid and made me get accepted," she told Vogue.
Nadia grew up to become the first person of colour to earn herself a spot in the Denmark national team, in 2009, where she is now a senior player. She was voted as the 'player of the year' in 2016 and 2017 in Denmark.
She has also played for Manchester City, Portland Thorns and Fortuna Hjørring, among other league teams.
Source: The Print
https://theprint.in/world/nadia-nadim-footballer-who-fled-afghanistan-at-11-after-taliban-killed-father-is-now-a-surgeon/811580/
--------
Muslim Women In India Singled Out For Online Hate
(Representative Image)
By Haris Zargar
India's radical Hindu nationalists have unleashed a vicious online blitz targeting Muslim women that is laced with sexual slurs, rape threats, explicit imagery and malicious objectification. Most of the women on the receiving end of this Islamophobic and misogynistic bullying are seen as outspoken critics of Prime Minister Narendra Modi and his Bharatiya Janata Party (BJP) government.
Over the New Year's weekend, photographs of more than 100 Muslim women with their identities appeared on a fake auction app that listed them "for sale" with the phrase "Your Bulli Bai of the day is…" It urged users to bid on the women in a fake auction. Bulli bai is a derogatory Hindi term that right-wing Hindu nationalists use for Muslim women. The women listed on the app included journalists, activists, film stars and artists as well as the mother of a missing Indian student and Pakistani Nobel laureate Malala Yousafzai.
The police arrested four people in connection with the case in the first week of January and said they were investigating whether the app was part of a "larger conspiracy". Those arrested were named as Niraj Bishnoi, Shweta Singh, Vishal Kumar Jha and Mayank Rawal. According to the police, the accused, all students, allegedly used Sikh aliases while sharing the app in a deliberate attempt to mislead people about the identity of its creators and to vilify the Sikh community.
The app was hosted on GitHub, a United States-based coding platform owned by Microsoft. The company said it had "long-standing policies against content and conduct involving harassment, discrimination and inciting violence" and would cooperate with investigating authorities.
"I had a nervous breakdown when the severity of the situation sank in," wrote rights activist Mariya Salim, who was put up "for sale". "As a Muslim woman in India, I am not new to Islamophobia or anti-Muslim narratives and hate. From outrightly being denied houses for rent because of my religious identity to workplace Islamophobia and hate, I have had my fair share. But this was a new low."
Repeated humiliation
This is not the first time Muslim women in India have been "auctioned off" on the internet. A similar web application named Sulli Deals was placed on Github in July 2021 and remained available for weeks before being taken down. Sulli is also an insulting term used for Muslim women.
In May last year, a right-wing Hindutva YouTube channel called Liberal Doge Live live-streamed photos of Muslim women on Eid with a description in Hindi that read: "Today, we will stalk women with our eyes filled with lust."
In August 2018, the Akhil Bhartiya Hindu Yuva Morcha, a Hindutva organisation, announced a reward to any Hindu man who married a Muslim woman. In the same year, militant Hindu organisation Vishwa Hindu Parishad called on Hindu men to marry Muslim women and convert them. In 2017, another Hindu group affiliated to the ultra-nationalist Rashtriya Swayamsevak Sangh organisation announced the marriage of 2 100 Muslim women to Hindu men as part of its bahu lao (get Muslim daughters-in-law) campaign.
And on 18 January, the Delhi Commission for Women issued a notice to the city's police urging action against people making obscene comments about Muslim women on the audio chat app Clubhouse. The commission wanted the arrest of those who participated in a nasty conversation in which participants made "obscene, vulgar and derogatory remarks" targeting Muslim women.
The fake "sale" of Muslim women on the Bulli Bai auction app sparked an uproar after several victims shared screenshots from it on social media platforms. Women's rights groups and politicians from opposition parties urged the government to take action against the perpetrators.
"The insult of women and communal hatred will stop only when we stand against it in one voice. The year has changed, the situation should also change. It is time to speak up," senior Congress leader Rahul Gandhi tweeted using the hashtag #NoFear.
State inaction
India's National Commission for Women said it was "extremely anguished and distressed" by such crimes against women in cyberspace. "It is disappointing that even after … so many months since the Sulli Deals outrage there has been no concrete action taken in the matter, which is utterly unfortunate and concerning," it added.
The outrage prompted Ashwini Vaishnaw, a minister whose portfolio includes electronics and information technology, to block the app. Though he said the government was coordinating with the police to ensure action against those responsible, some opposition politicians accused the authorities of ignoring the issue despite repeated complaints.
Indian women, particularly outspoken Muslims, have often been the target of hateful comments on social media platforms by individuals aligning themselves with Modi and his BJP. It has spiked since Modi came into power in 2014, and many say that Hindu extremists have been emboldened by implicit government support for such attacks.
These campaigns have been encouraged by the dog-whistle politics of BJP leaders who claim Muslims engage in a so-called love jihad (Muslim males entrapping Hindu women in order to convert them) and a population jihad (Muslims having more children to change India's Hindu demographic). Despite the lack of evidence, numerous states led by Modi's BJP have implemented legislation essentially prohibiting or regulating interfaith marriages, while some plan to introduce laws on population control.
Historic roots of bigotry
The origins of Muslim women's sexualisation can be linked to Hindutva ideologues' ethnocentric and Islamophobic doctrine that sought to project Muslim men and women as aggressors and sexual threats. The Hindutva ideologue Veer Savarkar justified rape as a legitimate political tool in his book Six Glorious Epochs of Indian History, declaring that "it was a religious duty of every Muslim to kidnap and force into their religion non-Muslim women". He said Muslim women were to be treated as enemies for their alleged role in perpetrating atrocities against Hindu women.
In a 2017 article interrogating religious nationalism and Hindu patriarchy, scholar Runa Das said the "woman question" had remained central to the Hindu supremacist project led by nationalists like Dayanand Saraswati, Savarkar and MS Golwalker. In their discourse, upper-caste Hindu women were seen both as objects of male Muslim lust and as the custodians of the national honour who needed to learn the "new" politics of community based on the creation of a Muslim Other.
The BJP's discourse, too, has been fixated on Hindu "hurt" and the violation of Hindu women by Muslim men in order to rebuild a Hindu nation. Therefore, Das noted, while one extreme response to the Hindu Right's defamatory tone against Muslims is found in riling calls exhorting Hindu men to engage in punitive policy and rape Muslim women, those on the other end of the spectrum question why Hindu men should pollute their bodies with Muslim women.
"Thus, in the BJP's discourse not only are Indian Muslims constructed as the Other, but Muslim women, by being part of the Muslim community, also became an Other to the Hindu nation and its women. For the same reason, defiling the honour of the opposite community was necessary and best done by violating their women," she wrote.
Source: New Frame
https://www.newframe.com/muslim-women-in-india-singled-out-for-online-hate/?CE5B6146-0C44-0D4F-9F71-FC6D6ED02AC7_kis_cup_C6FA3ED5_6D17_47D1_B6E2_F4B02CC905E0_
--------
Hyderabad girls, women condemn Karnataka college incident
25th January 2022
Hyderabad: Muslim girls and women of Hyderabad have vehemently condemned the Udipi College administration in Karnataka state which is not allowing Muslim girl students to attend classes because of wearing Hijab.
"We strongly condemn the policies and practices of right wing forces where they are creating a communal environment and unsafe atmosphere for Muslim Minorities especially Muslim Women", they said at a joint Press Conference in Hyderabad on Saturday.
The joint Press Conference was organised under the banner of Sharia Committee for Women in coordination with Muslim Girls Association and Muslim Women Association.
Those who addressed the Press Conference included: Dr. Asma Zehra, Ms Tahniyat Ather, Mrs. Bushra Nadeem, Mrs. Asma Jabeen, Mrs. Zara Khan and Dr. Sabera Aijaz.
They expressed solidarity with Muslim girl students of Udipi College and appeal to the college management to allow them to attend classes. They urged Muslim girls of the college to struggle in a democratic way for their rights.
Oppression of Minority Rights
Raising their voice they said: "After the Bulli App, Sulli Deals and Clubhouse attacked Muslim women now the Karnataka College administration is indulging in such acts, which is nothing but Oppression of Minority Rights. The Constitution of India allows and permits each and every individual to follow his or her own faith. This Oppression is designed to alienate Muslim community from Education and reduce them to second class Citizens".
The rise of Hindutva Right Wing forces and present Government have created an atmosphere of hate and communal disharmony in some states with specific targets of Muslim girls and women, they alleged.
Appeal
They have appealed to the National Commission for Women, Women's Human Rights Cell in NHRC (National Human Rights Commission), advocates, judges and intellectuals of the country to raise their voices against communal agenda of the saffron forces. This anti-Muslim hate campaign is damaging the image of this great nation globally. Many experts are warning regarding genocide of Muslims which is an alarm bell, they added.
On one side the present Government claims to bring reform in Muslim community by bringing law against Triple Talaq while on the other hand Education is being denied to Muslim girls in government colleges for wearing Hijab, they charged.
The National Education Policy (NEP) focuses on imposition of practices which are of one particular religion and many Muslim Students are forced to perform Yoga, Surya Namaskar and other such religious activities in educational institutions. In the name of culture majority practices are imposed on Minority students this is nothing but oppression and against the Constitution of India, they pointed out.
India is a Secular Democratic country inhabited by different faiths and religions since ages. The customs, traditions and rituals of India have never been a cause disunity and conflict. The Constitution of India guarantees Rights of Freedom of Religion and Choice to all citizens irrespective of faith colour or creed, they asserted.
However, they moaned the Media houses, Television channels and Social media platforms are continuously spreading hatred against Muslims and Muslim girls and women are targeted making them vulnerable to crimes against women.
They appreciated and praised all Chief Ministers who have taken measures for establishing justice and equality and protection of Rights of Minorities and stopping anti-social elements in different states. They requested all State Governments and Central Government to take immediate steps to stop this "Campaign of Hate".
Source: Siasat Daily
https://www.siasat.com/hyderabad-girls-women-condemn-karnataka-college-incident-2263911/
--------
Coach Polyana Lago building on year of success for UAE women's jiu-jitsu
January 24, 2022
ABU DHABI: Last year was a game changer for jiu-jitsu in the UAE, with more homegrown talent competing and winning in local and international events on mats.
UAE athletes claimed 71 medals from two international championships in the second half of 2021, with success coming at the 5th Jiu-Jitsu Asian Championship and the World Jiu-Jitsu Championship.
The record year was amplified by the rise of the UAE's women's team, which claimed nine gold, eight silver and eight bronze medals at the World Jiu-Jitsu Championship in November.
Following the success of 2021, Polyana Lago, coach of the UAE National Women's Jiu-Jitsu team, is now looking for her players to use their experience as a springboard to even more glory in 2022.
"We enter the new season with great ambitions after an impressive season and great achievements last year," said the 41-year-old Brazilian, who only began working with the women's team in the summer of 2021.
"We actually had two really excellent weeks; we were confined to a hotel and were able to train together; it was a good experience for each of us.
"We had a fantastic season last year; our women champions put in an outstanding performance, particularly at the World Championship, when they won a total of 25 medals. Some of the girls did really well," she added.
Lago said that the new format of the Mother of the Nation Jiu-Jitsu League helped the UAE national women's team achieve the historic feat. "It contributed significantly to the championship's outstanding results last year, as well as making it more professional. We were able to determine other national team talents as a result of the event," she added.
She has high hopes for the 2022 season, with her athletes set to take part in a host of major events, including the Mother of the Nation Cup, Jiu-Jitsu President's Cup and Abu Dhabi World Professional Jiu-Jitsu Championship. Ahead of this year's events, Lago revealed that she is "working on key areas of development" with her players.
Source: Arab News
https://www.arabnews.com/node/2010816/sport
--------
URL: https://www.newageislam.com/islam-women-feminism/nadia-nadim-footballer-afghanistan/d/126238
New Age Islam, Islam Online, Islamic Website, African Muslim News, Arab World News, South Asia News, Indian Muslim News, World Muslim News, Women in Islam, Islamic Feminism, Arab Women, Women In Arab, Islamophobia in America, Muslim Women in West, Islam Women and Feminism