New Age Islam News Bureau
11 Oct 2016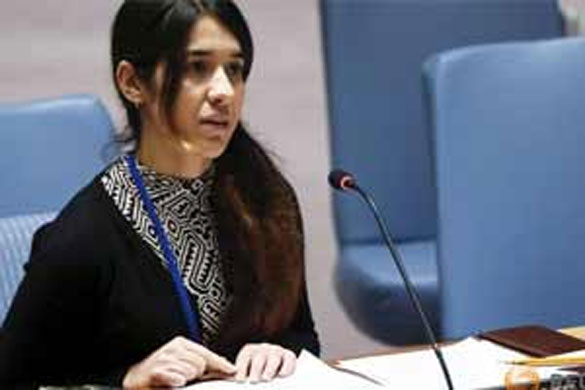 Nadia Murad after winning the Václav Havel prize in the Council of Europe in Strasbourg. Photograph: Patrick Seeger/EPA
• Triple Talaq: Keep Gender Justice as the Main Focus
• Islamic Woman Who Wouldn't Shake Male Boss' Hand Sues for $1 Million after Firing
• Fashion Designers in Iran Find Their Way around the Dress Code
• The Political Power of Muslim Women in the Time of Trump
• 'As South Asian Women We MUST Make Our Voices Heard': How Indian Filmmaker Geeta Ganbhir and Pakistan's Sharmeen Obaid Chinoy Are Challenging Stereotypes
Compiled by New Age Islam News Bureau
URL: https://www.newageislam.com/islam,-women-and-feminism/new-age-islam-news-bureau/nadia-murad,-yazidi-woman-who-survived-isis-captivity,-wins-human-rights-prize/d/108828
----
Nadia Murad, Yazidi Woman Who Survived ISIS Captivity, Wins Human Rights Prize
OCT. 10, 2016
Fighters for the Islamic State abducted a young Yazidi woman named Nadia Murad, her siblings and their mother from their village in northern Iraq more than two years ago. Barely in her 20s, Ms. Murad was separated from her family, beaten and sexually assaulted.
Compared with thousands of other Yazidis, followers of a centuries-old religion whom the militant group considers heretical and has killed or enslaved by the thousands, she considers herself fortunate. She managed to escape, and eventually made her way to Germany.
And more: Despite her own trauma, she took up a global campaign to draw attention to the plight of Yazidis being held in sex slavery by the Islamic State or remaining displaced in Iraq. For that work, Ms. Murad was awarded the Vaclav Havel Human Rights Prize on Monday, named in honor of the Czech writer and dissident who served as president of his country for 14 years after the fall of Communism.
The Havel Prize follows on other recognition for Ms. Murad, who is 23. Last month, she was named a United Nations good-will ambassador on behalf of victims of human trafficking. And she was widely mentioned as a candidate for the Nobel Peace Prize, which was awarded on Friday to the president of Colombia.
In a nine-minute address in Strasbourg, France, to the Parliamentary Assembly of the Council of Europe, Ms. Murad said she was linked to Mr. Havel by "tragedy, injustice and the search for a glimmer of hope in darkness."
Ms. Murad said she was exhausted by having to repeatedly speak out about what she has survived. But she also said she knew that other Yazidi women were being raped back home even as she spoke: "I will go back to my life when women in captivity go back to their lives, when my community has a place, when I see people accountable for their crimes."
Ms. Murad's story has captured widespread attention. Among the people who have come forward to champion her cause are Secretary General Ban Ki-moon of the United Nations and Amal Clooney, the British human rights lawyer who now represents her.
But for all that support, her cause is still an uphill one. Although the Islamic State is widely reviled, efforts to have members of the group face international justice for their killing and abuses have been fraught, caught up in international tensions and the chaos of a raging war in northern Iraq and Syria.
"It was a genocide," she said of the campaign against Yazidis by the Islamic State, also known as ISIS or ISIL. "They sought to force us to deny our religion, as they considered us to be nonbelievers. And they killed men and enslaved women, and abducted children in order to transform them into terrorists."
Girls as young as 8 were kidnapped and made to join "a systematic network of sex slaves," she said, adding: "I have met young girls who were raped at an age when they didn't even know what the word meant. I met people who lost their entire families; whole families were wiped out."
In June, United Nations experts called the Islamic State's campaign to exterminate Yazidis and other religious minorities in Iraq and Syria genocide.
But to hold the militants accountable under international law would take the explicit cooperation of the Iraqi government, as the International Criminal Court, which handles war crimes cases, has no jurisdiction over Iraq or Syria.
Iraq could ask the court to look at crimes committed on its own territory. But it has not done so yet, perhaps in part because the actions of its own pro-government militias would be likely to come under scrutiny if investigators came in. Some point out that it would be difficult to single out the Islamic State when there are so many suspected war crimes being committed in the countries where it operates, Syria and Iraq.
One option under discussion among United Nations Security Council members is to establish a team to investigate all crimes committed by the Islamic State everywhere — not just against Yazidis.
On Monday, Ms. Murad again called for a special international tribunal to prosecute Islamic State fighters as war criminals.
"We cannot have terrorist groups, barbarians, massacring whole peoples, destroying civilizations and cultures, because all people must be able to determine their own lives and nobody should seek to impose their ideas on anyone else," she told the lawmakers. "We need to have religious freedom, we must accept difference wherever it arises and we must make sure that all parliaments are aware of what happened to us."
Ms. Murad said that 18 members of her family had either died or disappeared. The Yazidi people, whose ancestral homeland on Sinjar Mountain in northern Iraq was overrun by the Islamic State in August 2014, have not been able to return to their villages despite the fact that the terrorist group was pushed off the mountain almost a year ago.
Part of the reason is that the Islamic State dynamited homes as they withdrew; in addition, the government of the Kurdistan region of Iraq has placed tight controls on the types of goods that can be transported onto the mountain, making it difficult for families to get the supplies they need to rebuild.
The majority of the community — whose population in Iraq is estimated at 500,000 — remains displaced, living in sprawling tent cities that were erected in 2014 in the valley to the northeast of the mountain.
Members of the Yazidi community were disappointed that Ms. Murad did not receive the Nobel Prize, but expressed satisfaction at the recognition by the Council of Europe.
"I was watching it live, and I am so, so happy," said Amena Saeed, a Yazidi activist and a former member of the Iraqi Parliament who has dedicated the last two years to trying to smuggle women out of ISIS captivity. "Nadia — she is a victim, so when the international community gives this to a survivor, what it means is that they feel with us," she said. "They are sharing our suffering."
An estimated 5,000 Yazidi people were kidnapped by the Islamic State in 2014 and about 3,000 remain in captivity; according to activists, most are women and girls. Aid workers say that depression and suicide attempts are increasing.
Addressing the United Nations in September, Ms. Murad described her role, speaking repeatedly about her abuse, as a burden, but one she was determined to bear.
"I was not raised to give speeches," she said. "Neither was I born to meet world leaders, nor to represent a cause so heavy, so difficult," she said.
But she would continue "so that one day we can look our abusers in the eye in a court in The Hague and tell the world what they have done to us," she said. "So my community can heal. So I can be the last girl to come before you."
http://www.nytimes.com/2016/10/11/world/middleeast/yazidis-isis-nadia-murad.html
--
Triple Talaq: Keep Gender Justice as the Main Focus
Oct 11, 2016
Lucknow: Muslim women have become more vocal in recent times against the practice of triple Talaq and polygamy and now the government has weighed in on their side. Its arguments in the Supreme Court that these are unreasonable and discriminatory, and deny the gender justice enshrined in the Constitution are likely to figure in the Law Commission report on a uniform civil code for all Indians. Though the report is to be submitted only in 2018, the government's stand will strengthen the case against these practices that have worked against Muslim women, especially those who are poor. The All India Muslim Personal Law Board's views on the matter, which have been vigorously challenged by many Muslim women and activists, are regressive, to say the least. It had earlier said that polygamy is a blessing for women as, without this option, men may indulge in illicit affairs. It has also spoken about how the personal laws of a community cannot be rewritten in the name of social reform.
The ruling party has long been an advocate of a common civil code and the Supreme Court has expressed itself in favour of it on several occasions. The Law Commission, however, is studying the Constitution to see what practices can be adopted to create a better framework for gender justice and is also studying previous judgments in the run-up to preparing its report. In 2014, the BJP had made a uniform civil code a poll plank but backed off, thanks to the compulsions of politics. That the Commission is holding talks with all stakeholders ought to smooth the path to some extent, though the likelihood of any consensus on this issue is not likely in the near future.
It is not just Muslim personal law that needs looking into though the gender injustice in this is most visible and debated. Hindu law has been reformed right from the fifties. However, Christian marriage, divorce, maintenance and succession laws are discriminatory against women — a historic case on this was fought by Mary Roy. Personal laws could be amended from time to time to keep up with the changing times and demands, especially from women. But unfortunately they are often treated as being cast in stone and in many cases given some sort of religious sanctity. The Supreme Court and now the government are acting on the principle that the Constitution prohibits any kind of discrimination on grounds of religion. If reform had come from within communities, it would have been easier to evolve a civil code. But in the absence of that, the best option is to arrive at a workable model based on widespread consultations and always keeping gender justice as the main focus.
http://www.hindustantimes.com/editorials/triple-talaq-keep-gender-justice-as-the-main-focus/story-pFUYNhNQAec6JMlfJfLaPI.html
--
Islamic Woman Who Wouldn't Shake Male Boss' Hand Sues for $1 Million after Firing
11 October 2016
A woman of Islamic faith who was hired as a case manager at Cascadia Behavioral Healthcare has filed a $1 million lawsuit against her former employer -- claiming she was fired after she refused to shake the hand of a male boss, wore a head scarf on the job and asked for time to pray during the work day.
Sharmin Rahman's lawsuit states that after starting her job on Dec. 1, 2014, she met a senior director, Royce Bowline. When Bowline tried to shake Rahman's hand, Rahman declined by explaining that her faith prohibited her from shaking the hands of men, according to the lawsuit filed Friday in Multnomah County Circuit Court.
The suit claims that afterward, a female employee, Bethany Kuhn, questioned her about it, allegedly saying, "I was told that you did not shake Royce's hand. Did you know that he is our boss?"
The suit states that Rahman responded, "Yes, but that does not change things. I can't shake his hand."
A spokeswoman for Cascadia Behavioral Healthcare declined to comment, citing the pending litigation.
"We strive to treat all employees fairly and equitably," wrote spokeswoman Samantha Ridderbusch.
The nonprofit employs 900 people in the Portland area and greater Willamette Valley. It offers assistance to about 15,000 people each year who are homeless or have problems with addictions or mental health.
Rahman was born in Bangladesh and her ethnic background is South Asian, according to the suit. She speaks with an accent, but started learning British English when she was in kindergarten. The suit states that she has a master's degree in social work.
She was fired on April 14, 2015 -- and the reason listed was "Inability or Not Qualified," the suit states. Rahman was given no warnings about her performance and hadn't been disciplined before her firing, according to the suit.
Among allegedly discriminatory episodes in her 4 ½ months on the job, according to her lawsuit:
Rahman prayed up to three times during the work day in her locked office, with a sign hanging on the door that read "Do not disturb." The suit states that although Rahman explained her need to pray, an employee who Rahman supervised interrupted her four times by knocking on her office door and then unlocking the door and entering the office.
At least twice, Rahman's supervisor, Elizabeth Miller, asked her about whether the head and neck scarves she wore posed a safety problem because a client could pull on the scarf. Rahman responded by saying no one had touched her scarves before.
Rahman's supervisor, Miller, offended her several times by watching her while she ate traditional foods from Bangladesh for lunch, according to the suit. Miller "derisively said 'what are you eating,'" the suit states.
Although Rahman wasn't told her accent was a problem when she was hired, Rahman's supervisor and another employee, Kuhn, "parroted" the way she spoke English -- prompting her to cry, the suit states. Kuhn expressed surprise she went to Portland State University and told her she should go back to school to learn English, according to the suit.
Miller and Kuhn told Rahman that she wasn't able to keep up to date with technology because of her age. The suit says the pair "mocked (Rahman) because she typed with her index finger." According to a report by the Oregon Bureau of Labor and Industries, Rahman was approximately 50 years old at the time.
The suit states that Miller would smoke during "walk-and-talk" meetings, despite Rahman asking her not to and requesting reasonable accommodation for her asthma.
Rahman is claiming not only religious discrimination, but discrimination based on her ethnicity, national origin and disability of asthma.
After her firing, Rahman complained to the state Bureau of Labor and Industries. An investigator there determined in July 2016 that Rahman hadn't presented enough evidence to prove her case of discrimination based on religion or disability.
According to the investigator's report, Cascadia said Rahman was having trouble using the organization's software, wrote poorly constructed sentences and had been put on a "written warning with action plan" less than two months after her hiring.
The investigator also wrote that Cascadia defended itself by saying that Rahman didn't complain about some alleged incidents, including that she was interrupted during prayer or that her supervisor made a funny face while looking at her lunch.
The suit seeks up to $500,000 in noneconomic for humiliation, anxiety and distress. The suit seeks $500,000 for economic damages that include past and future lost wages and benefits.
Rahman also is seeking her job back.
Portland attorneys Daniel Snyder, Carl Post and John Burgess are representing Rahman.
http://www.oregonlive.com/portland/index.ssf/2016/10/islamic_woman_who_wouldnt_shak.html
--
Fashion Designers in Iran Find Their Way around the Dress Code
October 10, 2016
High-end fashion designers like Dolce&Gabbana and Oscar de la Renta have all recently produced fashion lines aimed at Muslim women.
It's big business.
A report from Thomson Reuters found that Muslim shoppers spent $266 billion on clothing and footwear in 2013 and that number is expected to reach $484 billion by 2019. But alongside the big global fashion houses there's also a crop of independent designers working in some unlikely places, including countries like Iran: a sign at Tehran's international airport reads "Respected Ladies: Please Observe Islamic Dress Code."
Iran has had a compulsory dress code for both men and women since the Islamic Revolution of 1979. There's a special police force, known as the morality police, who are charged with enforcing it. But despite the restrictions, there's a growing crop of fashion designers who have a found a way to work within the system. Iranian American fashion blogger and activist Hoda Katebi went to meet them and photograph their collections. She's documented their work in her book Tehran Streetstyle, and she joins us to talk about the state of fashion in Iran.
https://www.wbez.org/shows/worldview/fashion-designers-in-iran-find-their-way-around-the-dress-code/6a12b255-7b52-4834-aca1-ed54c4e1adf1
--
The Political Power of Muslim Women in the Time of Trump
11 October 2016
When Ghazala Khan, the mother of slain U.S. Army Captain Humayun Khan, spoke out against Donald Trump, her words set off a chain reaction.
After the Republican nominee wrongly suggested she had not been permitted to speak when she stood beside her husband at the Democratic convention, Khan explained she had been struck silent by grief at the memory of her son. Muslim women rushed to show support for Khan on social media, but her decision to stand up to Trump did more than just that.
Mirriam Seddiq, a lawyer and a Muslim woman, was moved to action. "She took a hit for all of us, and that was part of what led me to decide I wanted to help other women speak out," Seddiq said in an interview. "I hadn't realized that people thought those things about Muslim women before this election," she added, recalling how disturbing it has been to see Trump demonize Muslims during his presidential campaign.
Seddiq recently started the American Muslim Women political-action committee to strengthen the political power of American Muslim women and help make their voices heard. The group is working to register as many Muslim women to vote as possible ahead of the election. On Tuesday, it will announce its first-ever endorsement of Hillary Clinton for president at a press conference in Washington, D.C. Ghazala Khan is slated to appear at the event as a special guest.
For her part, Khan won't take credit for inspiring American Muslim women to become more deeply involved in politics. "In my eyes, I haven't done anything that any Muslim woman would not have done. I mean, I haven't done anything special," Khan told me in an interview on Friday.
"The women are stronger than men sometimes."
But the Gold Star mother sounded hopeful that if more Muslim women start speaking out it will help dispel negative stereotypes and myths. "We have all type of activities that we participate in, why not in politics now?," Khan said. "Our power has been challenged, that Muslim women are behind, or Muslim women don't talk, or they don't do anything. Really we are a very strong pillar of the community," she added. "The women are stronger than men sometimes."
Trump's presidential campaign has been rife with islamophobia and misogyny. He famously called for "a total and complete shutdown" of Muslims entering the U.S. during the GOP primary. He rates women based on their appearance, has no problem with hearing other people refer to his own daughter as a "piece of ass," and a 2005 recording recently surfaced where he brags about using his celebrity status to force himself on them. Those ugly strains of prejudice intertwined when Trump singled out Khan to suggest she had been silenced by her religion.
"We all feel that we are not safe," Khan said, reflecting on the 2016 election. "Why they say 'we will throw you out'? Why they say this type of stupid things." She added: "We have equal rights. It doesn't matter if you became a citizen today or a hundred years ago, we are all equal … We are all equal in the eyes of God, in the eyes of law."
Trump's anti-Muslim rhetoric may already be causing serious damage. A report released by California State University-San Bernardino's non-partisan Center for the Study of Hate and Extremism recently found that Trump's call for a Muslim ban may have contributed to a spike in anti-Muslim hate crimes after the 2015 San Bernardino terror attack. The report showed that anti-Muslim hate crimes have reached an all-time high since the aftermath of the September 11, 2001 terror attacks.
An inadvertent consequence of Trump's decision to scapegoat Muslims is that his actions may ultimately strengthen the political power of American Muslims by motivating them to get more involved in politics. Backlash against his candidacy could lead to record American-Muslim voter turnout in the election.
Heightened political visibility for Muslim women could have far-reaching consequences of its own. Research suggests that women have higher expectations about what they can achieve when they see other women succeeding in leadership positions. If more American Muslim women speak out in politics, it may encourage others to do the same.
"It's difficult growing up in a world where nobody in power looks like you or dresses like you or has a name like yours," Seddiq said. "We have to change that. There is no way you think you can do something unless you think that somebody has done it before." Currently, there are only two Muslim members of Congress: Keith Ellison and Andre Carson, who are both men.
For now, political rhetoric often threatens to intensify anti-Muslim sentiment. At the second presidential debate on Sunday, Trump wrongly implied that Muslims are not reporting terrorist plots, repeating a false story suggesting that Muslims failed to tip off authorities to the San Bernadino attack. Clinton, in contrast, stated unequivocally that "we are not at war with Islam," insisting that she wants to live in a country where Muslim Americans "are just as welcome as anyone else."
But Clinton also noted that "we need American Muslims to be part of our eyes and ears on our front lines," a comment that critics on social media felt unfairly reduced American Muslims to tools in the fight against terrorism.
Seddiq​ hopes that her political-action committee will help Muslim women have more of a voice in conversations like the one that unfolded at the debate. "If we aren't part of the solution and aren't at the table, they will continue to discuss us as if we are the 'other'," she said, ​though she added that she believes Clinton "truly does want to include Muslims in the conversation."
Islamophobia won't go away if Trump loses the election. But in time, Muslim Americans may be able to re-write the harmful narratives that some political leaders currently give voice to.
http://www.theatlantic.com/politics/archive/2016/10/trump-ghazala-khan-muslim-women/503549/
--
'As South Asian Women We MUST Make Our Voices Heard': How Indian Filmmaker Geeta Ganbhir And Pakistan's Sharmeen Obaid Chinoy Are Challenging Stereotypes
10 October 2016
Geeta Gandbhir and Sharmeen Obaid-Chinoy strive to challenge the stereotypes associated with Bangladeshi Muslim women in their latest documentary - A Journey Of A Thousand Miles: Peacekeepers.
In making this film the pair have also proven their own critics wrong, by excelling as South Asian female filmmakers in what is arguably a competitive, male-dominated industry.
'I think it is incumbent upon us as people of colour, as south Asians and as women, to make our voices heard in all fields,' New-York based Geeta, who is originally from India, told MailOnline.
The mother-of-two was in Australia earlier this year alongside Sharmeen, who is from Pakistan, to promote their documentary at the 2016 Sydney Film Festival.
The documentary follows 160 Bangladeshi Muslim women who travelled to Haiti between June 2013 and July 2014 as part of a United Nations Stabilising Mission.
'We joke about this, the fact that a Pakistani woman and an Indian woman came together to make a film about Bangladeshi women,' Geeta told MailOnline while Down Under, before sharing her advice for young South-Asian women hoping to forge a career in the creative arts.
For Geeta, whose parents migrated to America from India, racism was a reality growing up, and continues to be a challenge in some aspects of her career.
'I'm first generation in the US so I think everything is a challenge,' she admitted.
'I did face racism in some of the communities where I lived. Racism and stereotyping for sure,' she said, adding she was called 'the N word' on several occasions.
'I've also been profiled as being Muslim or from the Middle East so I've had instances where I've been profiled for that reason. So I think that experience obviously has shaped my identity to a certain degree, and my desire to fight back against that sort of oppression.'
The Emmy award-winning filmmaker's advice for other South-Asian girls is to 'look to your community' for inspiration and support.
'I would say that it is critical. Do not wait to be discovered or for the white establishment that exists to come to you. Do not wait for that.'
'I do not worry about their approval. Work with those who want to support you and turn to each other,' she continued.
'There's so many of us now, there's all these interesting groups for women and there's all these interesting groups for women of colour. We all have skills.'
Geeta added: 'It's like lean on each other and continue to make great work and if the establishment chooses you, eventually they might pay attention, but even if they don't, don't stop'.
'And that's how we create our own. I think that's really, really important. Don't wait for some sort of signal from the traditional industry.'
Like Geeta, Sharmeen's work has been highly regarded in the industry, with the filmmaker and activist even getting several nods at the Oscars.
In 2010 her documentary Saving Face won an Academy Award for Best Documentary (Short Subject), while her production A Girl in the River: The Price of Forgiveness also won an Academy Award for Best Documentary (Short Subject) earlier this year.
For Sharmeen, working on A Journey Of A Thousand Miles: Peacekeepers struck a personal chord, because she was keen to challenge the stereotypes associated with women.
'The fact is that these women come from South Asia but not just any part of South Asia, these women come from small towns and villages,' she told MailOnline, referring to the Bangladeshi Muslim women in the documentary.
'In the towns and villages that these women came from, [for them] it was a huge leap to be able to go off to a country like Haiti.'
'That is a narrative we wanted to tap into. We felt that that is something [where] we would be able to show that facet of what a woman's capability is in that part of the world and [of] women who come from this religion,' she added.
Reflecting on her filmmaking career in a broader sense, Sharmeen said empowerment of women is more than often an underlying theme she likes to explore.
'Many of the films I make are centred around women and anywhere in the world, it doesn't have to be from my part of the world,' she said.
'The world may think it's got rid of misogyny and sexism but it's very much alive and ticking. And it's not just in the part of the world I live in, it's really much in the west as well.'
Acknowledging her parents' support of her getting an education in Pakistan, she added: 'Every woman, when she's growing up, needs the strength and support to be able to stand on her two feet and to speak out'.
'If I have that strength and support that enables me to be who I am, then I feel I need to enable others to have that similar strength to continue to tell these stories.'
http://www.dailymail.co.uk/indiahome/indianews/article-3829046/How-Indian-filmmaker-Geeta-Ganbhir-Pakistan-s-Sharmeen-Obaid-Chinoy-challenging-stereotypes.html
--
URL: https://www.newageislam.com/islam,-women-and-feminism/new-age-islam-news-bureau/nadia-murad,-yazidi-woman-who-survived-isis-captivity,-wins-human-rights-prize/d/108828
New Age Islam, Islam Online, Islamic Website, African Muslim News, Arab World News, South Asia News, Indian Muslim News, World Muslim News, Women in Islam, Islamic Feminism, Arab Women, Women In Arab, Islamophobia in America, Muslim Women in West, Islam Women and Feminism