New Age Islam News Bureau
1 Jan 2014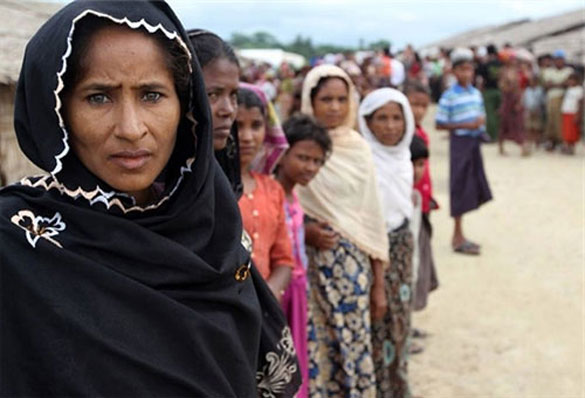 Myanmar Army Uses Rohingya Muslim Women as Sex Slaves
-----------
• Abusers Are Not Punished, Complain Female Social Workers of Saudi Arabia
• Israel to Fund All Abortions for Women 20-33 Starting Next Year
• Rs 978-Crore Plan to Boost 'Hunar' Of Indian Muslim Girls
• Malala Thanks UAE Leader for Standing by Her
• 'Fashionable' Hijabs Appeal to Indonesians
• Human Trafficking: Muslim Women Vulnerable in Myanmar
• 7 Job Categories Opened To Expat Women
• Sisters in Islam's Zainah Anwar among 10 Most Influential Muslim Women
• Conference in Madinah Focuses On Women Rights
• New Year Celebrations Un-Islamic Says Asiya
Compiled by New Age Islam News Bureau
URL: https://newageislam.com/islam-women-feminism/myanmar-army-uses-rohingya-muslim/d/35091
-----------
Myanmar Army Uses Rohingya Muslim Women as Sex Slaves
Jan 01, 2014
TEHRAN (FNA) - Reports from the violence-hit Myanmar said that some Rohingya Muslim women are being held as sex slaves in army camps.
Sectarian-based violence rages on in Myanmar while the army and government stand by despite calls from the international community to ensure the safety of the country's Muslim minority, media reports said, adding a new twist to the unfolding saga that is highly likely to cause an escalation of the clashes.
The news website 'Vice' reported that dozens of Muslim women are being held as sex slaves at a military base.
The army, which faces criticism and accusations for its failure to establish order and security in areas where Rohingya Muslims live, now faces yet another serious allegation.
UK-based journalist Assed Baig went to Sittwe, where many camps were established for Muslims who fled their hometowns after their homes were burned to the ground in attacks led by Buddhists, to trace the claims.
According to the locals, the army forcefully retains many Muslim women at a military base and uses them as sex slaves. Some of the women have gotten pregnant, the eyewitnesses told the journalist.
The Myanmar government has not issued a statement about the allegations thus far.
This most recent incident will likely add a new dimension to the already fragile situation on the ground in Myanmar. Hundreds of Rohingya Muslims have been killed in the country's Arakhan state in intra-communal violence.
Rohingya Muslims in Myanmar account for about five percent of the country's population of nearly 60 million. They are persecuted and have faced torture, neglect, and repression since the country's independence in 1948.
Violence in Western state of Rakhine, one of the most impoverished regions of Myanmar that is home to one million people, mostly Rohingya Muslims, has continued in 2013. About 140,000 people, including Muslims, have been left homeless in Rakhine.
On October 6, Myanmar's state media reported that police had arrested over 40 Buddhists after houses of Muslims came under an arson attack while President Thein Sein was visiting Rakhine.
On October 2, police said that five Muslims had been killed in the village of Thabyuchaing as hundreds of Buddhists went on a rampage.
Human rights organizations as well as a large number of the world bodies and states have condemned Myanmar's government for turning a blind eye to the violence against Muslims in the country.
http://english.farsnews.com/newstext.aspx?nn=13921011000521
--------------
Abusers Are Not Punished, Complain Female Social Workers of Saudi Arabia
Jan 01, 2014
DAMMAM — Female social workers and nurses at several health centers in the Eastern Province have noted a sharp increase in the cases of domestic violence and called for publicizing them as part of efforts to curb physical and verbal violence against women and children.
These social workers favor the formulation of a clear-cut strategy to put an end to domestic violence and said abusers should be tried and severely punished for their crimes.
Muna Al-Adil, a social worker, told Al-Hayat newspaper on Monday that the Department of Social Affairs in the province is coordinating with the local Health Affairs department to tally all domestic violence cases in each health center.
"So far there is no strategy to deal with the victims of the domestic violence who come to health centers for treatment," she said.
Muna said the cases would be referred to Social Affairs, which will carry out research and undertake routine procedures to raise awareness among affected families on the consequences of domestic violence and provide them with a guidance program. She said: "There should be a massive campaign against domestic violence.
"During my work at the health center, I have never known of any abuser who had been punished or held responsible for his crimes."
Other female social workers and nurses said they were planning to launch a campaign on social media to raise awareness among families about the hazards of domestic violence. They said they will also publicize cases of family violence on the Internet with pictures of the victims.
A nurse, who did not want to be identified, said: "The abusers usually escape without any punishment.
"Even their names are not published though they are known to both Health Affairs and Social Affairs."
The nurse said their electronic campaign aims at increasing society's awareness on domestic violence.
"We also want to remind concerned officials of the need to formulate a strategy that would curb cases of domestic violence," she said.
Muna Al-Youssef, a psychiatrist, said there were a lot of women and children who were physically abused.
"We have many cases with injuries resulting from domestic violence," she said.
Muna said through cooperation with the Department of Social Affairs they are placing flyers in malls and shopping centers containing toll free numbers that victims can use to report abuse against them.
"We are also using Twitter, Facebook and messaging applications to call for a strategy against family violence," she said.
http://www.saudigazette.com.sa/index.cfm?method=home.regcon&contentid=20131231191043
-----------
Israel to fund all abortions for women 20-33 starting next year
Jan 01, 2014
Israel will pay for abortions for women aged 20 to 33 regardless of circumstance starting next year, health officials said Monday, adding that they hope to make eligibilty for state funding universal in the future.
Until now, subsidized abortions for women of all ages were available in medical emergencies or in case of rape and sexual abuse. Women under the age of 20 or over 40 were also eligible for abortion funding even when the reason was personal.
Despite the new funding, which was recently approved as part of Israel's state-subsidized "health basket" for 2014, women will still have to appear before a state committee before terminating a pregnancy.
The new rule opens it up for 6,300 more women to have a state-funded abortion next year, at a cost of about 16 million shekels ($4.6 million). The cost of all state-subsidized abortions is estimated at 24 million shekels a year.
Monday's news was announced by the committee that determines which medicines and medical technologies will be added to the 2014 health basket. The health-basket committee is headed by the director of Shaare Zedek Medical Center, Prof. Jonathan Halevy.
"It was brought to our attention that there is a large group of women between 20 and 40 who for various reasons – financial or reasons of secrecy – do not terminate pregnancies," Halevy told a press conference. "In the current basket we've approved funding for pregnancy termination for women in the 20-to-33 age group, with the intention of completing the process ... and raising the age to 40."
The committee is keeping contraceptives outside the health basket, but Halevy said this was only due to a lack of funds. "The private expense for birth control pills is low, but when we're talking about financing for the entire population, that's a hefty sum," he said.
The committee's original list came in 2.5 million shekels short of the 300-million-shekel budget for additions, so the panel tried to add a drug for children's joint diseases. But that medicine would only apply to around 10 children, and attempts to get the manufacturer to lower the price failed. Instead, the committee expanded its original decision on abortion funding; it increased the age for funding on demand to 33 from 30.
The committee approved 83 new drugs and medical technologies for 2014, items expected to serve some 375,000 Israelis at a total additional cost of 300 million shekels, on top of the 7.8-billion-shekel budget for medicines and technologies already in the health basket. The basket now goes to the Health Ministry for approval; it also needs cabinet approval.
Cancer drugs make up 41 percent of the new additons, some 121 million shekels. In recent years this figure was 35 percent to 38 percent. Other treatments added include vaccinations, tests and support technologies.
For 2013 the committee added 88 new drugs that affected some 300,000 Israelis – an attempt to include as many patients as possible. The committee tried to keep to this philosophy this year; it began its deliberations in early October and whittled its list down from 650 drugs and technologies.
Among new items approved for 2014 are the drugs Stribild and Tivicay for HIV carriers, and six new drugs for asthma and other lung diseases. The budget has also been increased for cystic-fibrosis patients. Five drugs were approved for schizophrenia and the use of current drugs has been expanded.
Patients with severe Parkinson's disease will be disappointed as the drug Duodopa, considered highly effective, was not added to the list. Its annual cost is estimated at 62 million shekels. The committee declined to commit 21 percent of the additional funding to a single drug. Nine drugs for diabetes were also all left off the list. The committee also did not add hormonal birth control or IUDs to the basket.
All committee decisions are unanimous. Unlike previous years, the panel finished its work in the early evening and did not stay up until the middle of the night or well into the following morning. The add-on list had been whittled down to 380 million shekels by midday Monday.
http://www.haaretz.com/news/national/.premium-1.566198
-----------
Rs 978-Crore Plan to Boost 'Hunar' Of Indian Muslim Girls
Jan 01, 2014
Ahead of the 2014 polls, the UPA government is planning to launch a Rs. 978-crore skill enhancement programme for girls, 14 years or older, from the Muslim community. The proposal is likely to come up for cabinet approval soon.
Called "Hunar", which means "skill", the scheme aims at imparting skills training to nearly 9.2 lakh Muslim girls across India. The government has proposed to run the programme in a phased manner from 2014 to 2017.
In the first phase, the scheme, piloted by the HRD ministry, will target 50,000 girls and will be launched in Uttar Pradesh, West Bengal, Jharkhand, Andhra Pradesh, Bihar and Assam. Vocational training in various courses — each of six months duration — will be provided to the girls.
"It will develop skills of Muslims girls according to their interest/ ability and help them get sustainable livelihood. Additionally, it will also run academic programmes for school dropouts to help them complete their education while getting employable skills in vocational courses," said an official.
Initially, training in only a handful of courses, including beauticians, tailoring, embroidery, typing, and basic computing, would be given. More courses would be included depending on the needs of respective locality.
Implemented by the National Institute of Open Schooling, Hunar will target girls from rural areas who leave education at an early age. "Disadvantaged women from the community, including widows and destitute, would also be covered," said another official.
The nationwide launch of Hunar would be a first. The scheme earlier, however, was launched for a year on a limited scale in Bihar (2008) and Delhi (2010). In Bihar, nearly 13,000 Muslim girls had taken up the training. Following its success, the standing committee of national monitoring committee for minorities education in April 2013, recommended that the scheme be implemented throughout the country.
"Girls from the Muslim community have been targeted as the drop out rate is higher among them and their access to conventional skill development programme is limited," said the official.
http://www.hindustantimes.com/india-news/rs-978-crore-plan-to-boost-hunar-of-muslim-girls/article1-1168128.aspx
-----------
Malala thanks UAE leader for standing by her
Jan 01, 2014
Malala Yousafzai, the Pakistani education activist attacked by the Taliban, has expressed her gratitude to Sheikh Mohamed Bin Zayed Al Nahyan, crown prince of Abu Dhabi and deputy supreme commander of the UAE armed forces, for standing by her during her ordeal.
In a meeting with Sheikha Fatima Bint Mubarak, chairperson of the UAE General Women's Union (GWU) and of the Family Development Foundation (FDF) here on Tuesday, Malala said that Sheikh Mohamed's support for her medical treatment gave her a new lease of life.
Following the attack by the Taliban on the schoolgirl and rights activist in 2012, Sheikh Mohamed had dispatched a medical team to evaluate and facilitate her transfer to Britain for lifesaving medical treatment.
During the meeting, Sheikha Fatima underscored the vital importance of education to empower women for a better future in consistence with tolerant Islamic teachings away from extremism, fanaticism and introversion.
Sheikha Fatima said that women need more support and assistance to realise what they aspire for, being half of the society and man's partner in work.
Malala expressed her extreme delight at meeting Sheikha Fatima, whom she praised as a role model for empowerment of women not only in the UAE but also in Arab and Muslim countries and the world at large.
http://indiatoday.intoday.in/story/malala-thanks-uae-leader-for-standing-by-her/1/333872.html
-----------
'Fashionable' Hijabs appeal to Indonesians
Jan 01, 2014
Attracting a growing number of Indonesian women, fashionable and colorful Islamic headscarf is gaining ground in the southern Asian archipelago, seeing hijab not only as a religious commitment, but also a fashion statement.
"The hijabs are all cute and I can't resist buying them," Fani, a 29 years old employee of an insurance company, told Antara News on Saturday, December 28.
"Some of the hijabs I've bought I have not yet even worn," she said.
Like many Indonesian young women, Fani, who lives in Bandung city, West Java province, shares a love for hijab fashion.
Satisfying her passion, she spends Rp300,000 (around US$35) per month to purchase hijabs and accessories.
According to Fani, every month there are new, trendy hijabs being displayed in stores. Hence, she often spends one day a month to go hunting for fashionable hijabs in malls or shopping centers in her town.
Twenty years ago, Indonesian women only knew square-shaped headscarves, in either plain black or white.
Women used also to wrap their headscarves in a simple way, putting a safety pin to keep it intact.
Wearing headscarves was often associated with an unfashionable life.
This has all changes nowadays.
In modern Indonesia, hijab turned to be a fashion item, as Youtube viewers can find thousands of Indonesian women offering tutorials on how to fashionably wear hijabs.
Islam sees hijab as an obligatory code of dress, not a religious symbol displaying one's affiliations. Islamic fashion is part of a growing appetite for Shari`ah-related industries and assets, ranging from finance to halal food.
Modesty and religion are the cornerstones behind the fast-growing Islamic fashion industry, which is making a mark on runways from Indonesia and Dubai to Monte Carlo.
Shops no more
Over the past few years, the hijab sales have exceeded retail stores, with website and social media replacing them.
Apart from profits for manufacturers, the hijab trend also brings out new celebrities who gained fame due to their style of wearing hijabs.
Personalities such as Dian Pelangi, Hanna Faridl and Fifi Alvianto are well-known for their stylish and chic fashion while wearing hijabs.
"In the end, the importance of wearing hijabs is that it is not only a symbol of modesty, it's about being able to put yourself in a positive state of mind and make the right decisions," Fifi wrote on her blog, hijab-scarf.com, viewed by 4 million people.
"Modesty comes from within, and even a woman wearing a hijab can have a lack of it."
Indonesia is the most populous Muslim state where Muslims make up 86.1 percent of Indonesia's 235 million population.
http://muslimvillage.com/2014/01/01/47980/fashionable-hijabs-appeal-to-indonesians/
-----------
Human Trafficking: Muslim Women Vulnerable in Myanmar
Jan 01, 2014
Amid continued communal strife in Myanmar, Muslim women and children are increasingly finding themselves in vulnerable situations that have yet to be adequately recognized and addressed. This post glimpses the related issue of human trafficking.
By way of background, Burma's record on human trafficking has prompted the United States to place it on a Tier 2 Watch List for the past two years. The Watch List is reserved for countries that fail to comply with minimum standards -- from preventing trafficking to investigating and prosecuting perpetrators of the crime to protecting victims -- as set forth in the Trafficking Victims Protection Act (TVPA).
In Myanmar, security forces have subjected both Muslim men and women to forced labor. Women, however, have been reportedly forced into prostitution and other forms of slavery as well. In fact, according to a U.S. Department of State 2012 human rights report, Burmese officials have reportedly kidnapped Rohingya women and forced them into slavery on military bases.
Burmese security forces also systematically rape and assault women and girls which also contributes to human trafficking and exploitation.
Representative are experiences like Sakinah Kahtu's, an 18-year-old Rohingya girl forced to leave her village in Rakhine State due to worsening sectarian violence to travel with human traffickers by sea to Malaysia together with other fleeing Muslims.
Her parents feared that if she remained, the Burmese security forces might sexually assault her, as they have a number of others, or may otherwise subject her to forced labor. In hopes of securing her safety, they paid traffickers nearly $300 to transport her to Malaysia.
Kahtu travelled by sea for 15 days in a vessel that carried approximately 500 passengers, including 60 women and children. She received one meal per day during her ordeal. Prior to arriving in Malaysia, however, Kahtu's traffickers detained her in Thailand for three days.
There, a stranger and fellow Rohingya paid $2,520 to secure her release and complete her journey to Malaysia. In return, Kahtu's fellow villagers allowed the young man to wed her.
Notably, many do not make it to their ultimate destination because they are arrested en route and detained by authorities in Thailand. Women and children detained at government run detention centers remain vulnerable to traffickers who have gained access to the buildings, where detainees should theoretically enjoy official protection.
Such traffickers may promise detainees reunification with family members, but after smuggling them out of the centers, rape the unsuspecting victim(s).
Such human rights violations have penetrated Myanmar's borders with neighboring countries, such as Thailand and Bangladesh, in other ways as well. Both countries have been forced to absorb the swelling numbers of Rohingya refugees fleeing widespread and systematic religious and ethnic persecution in their native land. These refugees include increasing numbers of women and children.
Indeed, anti-Muslim sectarian clashes initially resulted in thousands of Rohingya men fleeing Burma in search of work and refuge; however, with communal violence escalating since June 2012, Rohingya women have begun fleeing the country together with their babies and children.
Illustrative is the sectarian violence that afflicted Myanmar's Arakan State in June 2012, leaving tens of thousands of Rohingya men, women and children displaced. According to Human Rights Watch, as many as 35,000 Rohingya fled Myanmar as a result.
In fact, between June 2012 and May 2013, the United Nations Refugee Agency (UNHCR) found approximately 27,000 people fled Myanmar. To help place these figures in proper perspective, during the same time period one year earlier in 2011, an estimated 9,000 people are believed to have fled.
Moreover, approximately one-half of those leaving Rakhine State's capital, Sittwe, where living conditions have worsened with many living in squalid displacement camps, are women and children. Pursuant to the discriminatory 1982 Citizenship Act, the Burmese government does not recognize them as citizens and deprives them of proper identification documents. Given their "stateless" status, women and children are highly vulnerable to trafficking and exploitation.
Unfortunately, notwithstanding all of this, Thai and Burmese efforts to combat trafficking have been less than vigilant. For example, the Thai government has not investigated or prosecuted trafficking gangs and they continue to operate with impunity. Nor have Thai officials determined why traffickers can access women and children in the detention centers described above.
Thailand should exercise much more vigilance in identifying, investigating and prosecuting all those that facilitate trafficking. In the instance of organized criminal elements, officials should trace, freeze and confiscate related proceeds and provide unconditional assistance to victims regardless of their citizenship status or religious or ethnic identities. Thai officials should also address the demand-side factors contributing to the exploitation of women and children within their borders.
As to Myanmar, it prohibits human trafficking vis-à-vis its 2005 Anti-Trafficking in Persons Law. But, its efforts to combat trafficking internally have been lacking, as evidenced by the egregious conduct of its own security forces depicted further above.
Moreover, Myanmar will remain a source country supplying prospective trafficking victims (fleeing religious and ethnic persecution) until it effectively addresses the underlying causes of persistent communal violence and abject poverty confronting its minority Muslim population.
As articulated by U.S. House Resolution 418, introduced by U.S. Congressman James McGovern (D-MA), Burma must end its persecution of all Rohingya people.
Indeed, the country's credibility as an aspiring democracy is interconnected with the status of the very population it continues to persecute.
For an in-depth look at the Rohingya experience in Burma more generally, read"The Rohingya Muslims in Myanmar: Past, Present, and Future".
http://www.huffingtonpost.com/engy-abdelkader/human-trafficking-rohingya-women_b_4501815.html
-----------
7 job categories opened to expat women
Jan 01, 2014
The Ministry of Labor is set to allow companies to hire expatriate women in seven business activities including health, education, dressmaking, childcare, in wedding halls and as cleaners.
According to a draft plan prepared by the ministry, the hiring will take place following approval of the Human Resources Development Fund, which showed that there were no Saudi women available for these posts.
The foreign women recruits would not be allowed to work as part-timers or remotely and their qualifications and experiences should match the requirements of the jobs. They should fall within prescribed age limits, with the exception of the health and education sectors, the plan said.
Meanwhile, owners and operators of women's accessory businesses called on the authorities to allow foreign women to work in lingerie shops and have them form part of required Saudization quotas like other sectors.
They said the Labor Ministry had placed impossible conditions on the sector because there were not many Saudi women available for these jobs. Many retail shops had closed down because of these conditions, they said.
Investors called on the ministry to reconsider implementing the 100 percent feminization of lingerie shops in three years.
They said it was impossible to have 100 percent Saudi staff at lingerie shops because women were not willing to work in these stores.
http://www.arabnews.com/news/501181
-----------
Sisters in Islam's Zainah Anwar among 10 most influential Muslim women
Jan 01, 2014
PETALING JAYA: Two Malaysians – Zainah Anwar and Zarizana Aziz – have been listed by San Francisco-based International Museum of Women (IMOW) among its 10 most influential Muslim women.
Zainah and Zarizana, prominent figures in Sisters in Islam (SIS) and Women Living Under Muslim Laws (WLUML), respectively, joined a list of women luminaries from around the world and from various fields in the IMOW's virtual exhibition, Muslima: Muslim Women's Art & Voices, curated by Samina Ali.
The IMOW is an online museum that showcases art, stories and ideas to celebrate, inspire and advance the lives of women around the world.
"No matter what part of the world these women hail from, not one of these exceptional leaders is limited by her faith or gender.
"Each uses her identity to overturn conventional roles and blaze an extraordinary path for herself," said Samina in US online news portal The Huffington Post.
Samina places Zainah first on her list for her role as an SIS founding member, commending on her two decades of efforts in fighting discrimination against women.
Samina quotes Zainah, who is a columnist with the Sunday Star, as saying: "The Muslim world needs a paradigm shift on how we regard and treat women.
"If we had been true to the message of the Quran, we really should be at the forefront of the feminist movement today."
Zarizana, a human rights lawyer and the board chairman of WLUML, who was placed seventh on the list, was praised for her work in the UN working group on discrimination against women in law and practice.
WLUML is an international solidarity network that provides information, support and a collective space for women whose lives are shaped, conditioned or governed by laws and customs in Islam.
Zarizana was quoted as saying: "Do not accept that women are born to suffer discrimination, inequality and violence.
"The more you learn the better you will understand how culture and religion have been politicised to justify discrimination and silence women's voices."
Zainah and Zarizana are listed together with, among others, Iranian lawyer Dr Shirin Ebadi; the first woman prosecutor-general in Afghanistan, Maria Bashir; Sudanese activist Fahima Hashim and Israeli artist Laila Shawa.
http://www.thestar.com.my/News/Nation/2013/12/31/muslim-women-award-zainab-anwar/
-----------
Conference in Madinah focuses on women rights
Jan 01, 2014
Taibah University President Adnan Mazrou in a conference organized as part of the celebration of Madinah being declared as the cultural capital of Islam for the year 2013, said that women's rights in Islam are bestowed on mankind by Allah the Almighty.
"Islam guarantees women their rights and the Custodian of the Two Holy Mosques King Abdullah implements those rights endowing women with pride and honor," Mazrou said while addressing the opening of the two-day conference on Tuesday.
In her speech Iman Azzam, vice-president of the College of Law, said that society needed to be reminded of the rights Islam has granted to women while outlining the goals and major topics to be discussed in the conference.
Rawiah bint Ahmed Al-Zehar was the winner of the Madinah Prize for research in the field of women's rights in Islam and was honored in the inaugural session.
She had also won the Prince Naif Prize for her writings in the field of the Sunnah and contemporary Islamic studies earlier.
In his keynote speech Sheikh Saleh Al-Maghamasi pointed out that Islam gave women an important position in society as it advised men to be kind to women.
He pointed out at the outset of the meeting that no topics outside women's material rights would be discussed such as driving or the veil adding that one needs to learn the jurisprudence of Islamic piety to understand such issues.
The Sheikh lamented that in a number of countries women have been deprived of their feminine rights and have to carry the social responsibilities of their men-folk too.
Mansour Al-Nazha chaired the first session of the forum entitled "Women's rights in Islam — Concepts and Controls".
In a paper presented in the first session, Khaled Al-Durais, professor of Islamic studies at the College of Education, King Saud University pointed out that the theoretical discussions about the rights of women had not brought about any improvement in the miserable lives of women in most Muslim countries and that the discussions "will never address the injustice that Muslim women have been suffering over the centuries.
"It is because women's rights are suppressed by some deep-rooted traditions and customs that override the Shariah laws of justice, mercy and virtue," he said.
In his paper he recommended that priority should be given to criminalize violations of women's rights.
Nawal bint Abdul Aziz Al-Eid, associate professor of Sunnah at Noura University, stressed the need to fully implement Islamic laws on women's rights and rescue them from the pressures of westernization and intimidations of the conservatives. The Dean of the College of Arts and Humanities Abdullah Damfo chaired the second session.
http://www.arabnews.com/news/501776
-----------
New Year celebrations un-Islamic says Asiya
Jan 01, 2014
SRINAGAR: Dukhtaran-i-Milat chairperson Asiya Andrabi Tuesday lashed out at Tourism Department and hoteliers for organizing New Year parties describing "such congregations as a reflection of Jewish and Indian culture more than Islamic living."
"Department of Tourism under a well planned conspiracy to tarnish Kashmiri culture is encouraging hotel and houseboat owners to throw their places open for these parties which are un-Islamic in nature," Asiya said in a statement issued by the DeM.
"The tourism department and the agencies related to it propagate waywardness in Valley," she added.
She also said that the government's tourism sector was "leaving no stone unturned in deviating Muslim population from the righteous path."
"Kashmiri culture as well as the teachings of Islam never allows us to celebrate such events which have roots in the West," Asiya said, while lamenting that "a number of hotels in Kashmir are allowing such parties for their petty interests."
The DeM chief urged "youth to keep themselves aloof from such parties and follow the path of Islam and righteousness."
http://www.kashmirreader.com/01012014-ND-new-year-celebrations-un-islamic-says-asiya-25376.aspx
-----------
URL: https://newageislam.com/islam-women-feminism/myanmar-army-uses-rohingya-muslim/d/35091