New Age Islam News Bureau
02 March 2021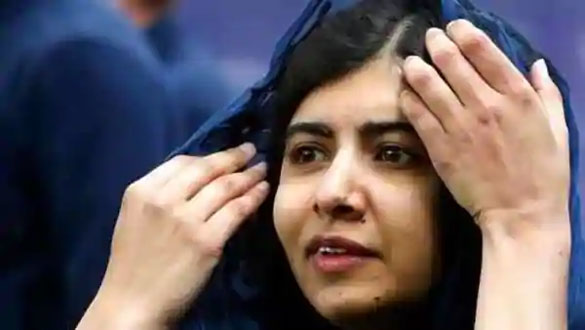 FILE - Nobel Laureate Malala Yousafzai (AP)
-------
• Jihadist Women's Demands Come at Crucial Time for France
• Kidnappers finally release abducted Nigerian schoolgirls
• Swiss citizens set to vote on controversial burqa ban referendum
• Self-defence class organized after attacks against Edmonton Muslim women
• Muslim Woman Targeted in Racist Attack Says Call to Edmonton Police Left Her Doubly Traumatized
• Does Islam marginalize women?
• How a group of Saudi female showjumpers took over the reins
• Loujain Al-Hathloul Released From Prison: Saudi Arabia Silencing Human Rights Advocates
• BushraBibi visits shelter home near Data Darbar in Lahore
• 'I'd like to join Pixar one day': meet Afghanistan's first female animator
• Women revolutionizing Istanbul's public transportation
Compiled by New Age Islam News Bureau
URL: https://www.newageislam.com/islam-women-feminism/my-dream-see-india-pakistan/d/124435
--------
My dream is to see India and Pakistan become true good friends: MalalaYousafzai
01 Mar 2021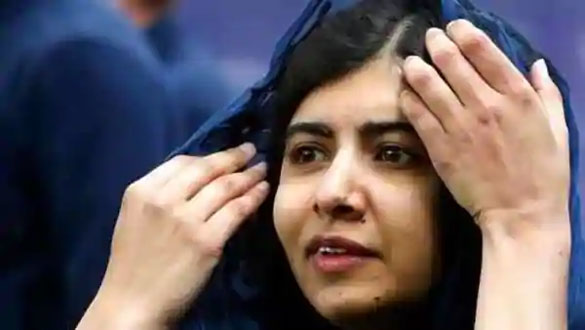 FILE - Nobel Laureate Malala Yousafzai (AP)
--------
The old philosophy of having borders and divisions doesn't work anymore and the people in India and Pakistan want to live in peace, Nobel laureate MalalaYousafzai said on Sunday, stressing that it is her dream to see the two countries become "good friends".
She also said that minorities need protection in every country, be it Pakistan or India, adding that the issue is not related to religion but to the "exploitation of power" and must be taken seriously.
Yousafzai, a Pakistani activist for girls education who miraculously survived a bullet to the head from the militant Taliban in October 2012, said the news of internet shutdown and arrests of activists "protesting peacefully" in India is "worrying" and expressed the hope that the government will make sure that people are heard.
"It is my dream to see India and Pakistan become true good friends and that we can visit each other's countries. You can continue to watch Pakistani dramas, we can continue to watch Bollywood movies and enjoy cricket matches," the youngest Nobel Peace Prize winner said.
She was speaking on her book "I Am Malala: The Story of the Girl Who Stood Up for Education and was Shot by the Taliban" on the concluding day of the Jaipur Literature Festival (JLF) which is being held in the virtual mode.
"You are Indian and I am Pakistani and we are completely fine, then why is this hatred created between us? This old philosophy of borders, divisions and divide and conquer... they just don't work anymore, as humans we all want to live in peace," she said.
The actual enemy of India and Pakistan is "poverty, discrimination and inequality" and both countries should unite and fight them, not each other, she added.
Apart from "India-Pakistan friendship", Yousufzai said she also dreams of the day when every girl would get to go to school and have access to quality education.
The 23-year-old activist also raised her voice for minorities across the world and said they are at "risk" and need to be protected globally by governments and human rights organisations.
"Minorities are at risk. Minorities' rights are not given to them. Be it Hindus and Christians in Pakistan, Muslims, Dalits and other minorities in India ... Palestinians, Rohingya refugees. It is not religion, it is the exploitation of power, it is just elitesvs the poor and minorities.
"Minorities need protection globally from every country. They need a voice, need protection, and it is a reminder to governments, to human rights organisations to take this very seriously," she noted.
During the discussion, she also applauded Indian girls and young women fighting for human rights, "speaking out" for farmers in India, climate change and protection of the minority rights, and called their work "empowering and inspiring".
However, the news of the internet shutdown and arrests of activists protesting peacefully in India is "worrying", she claimed.
".. You may not like their political opinion but it does not mean that you put them in jails and arrest them. It is a democratic right of every individual -- including women and girls -- to highlight their political opinions... So I hope that the government makes sure that people can protest peacefully and ask for their rights, and that they are heard," she added.
The 14th edition of JLF featured over 300 speakers and performers representing around 25 Indian and 18 international languages and over 23 nationalities.
Some of the big names who made it to the festival this year included American linguist Noam Chomsky, 2020 Booker Prize winner Douglas Stuart, Nobel Laureates Joseph Stiglitz, Microsoft Corporation co-founder Bill Gates, and actor-author Priyanka Chopra.
https://www.livemint.com/news/india/my-dream-is-to-see-india-and-pakistan-become-true-good-friends-malala-yousafzai-11614572679397.html
--------
Jihadist Women's Demands Come at Crucial Time for France
By Nicolas Pinault
March 01, 2021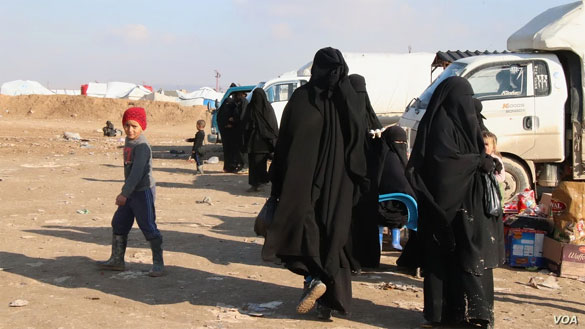 Wives and children of IS fighters are detained in al-Hol Camp in Syria, Feb. 18, 2020. (Heather Murdock/VOA)
---------
PARIS - A group of French women who joined the so-called Islamic State militant group and are currently detained in Syria continue a hunger strike as the French government denies their requests to be repatriated to France, along with their children.
At least 12 French women who had joined the so-called Islamic State in Syria launched a hunger strike last week to protest what their organizers describe as "the stubborn refusal of the French authorities to organize their repatriation."
A total of 80 women and their 200 children live in poor conditions in camps or underground prisons in Syria. They denounce what they described as "an arbitrary detention which deteriorates to infinity and without aim." They asked to be brought to justice in France for their alleged crimes. Marie Dose is a lawyer representing these women
She explains that these French women live in harsh conditions in camps in Al Hol and Roj, in Northern Syria. She describes their situation as a dead end as a French judge has issued international warrants for their arrests and the French judicial system wants to prosecute them. Therefore, these French women cannot face trial in Syria or Northern Kurdistan. However, French authorities refuse to repatriate them.
France faces mounting pressure to tackle this humanitarian crisis on its own.
Recently, a UN special rapporteur on protecting human rights described these camps in Syrian as having "subhuman conditions"
Yet French authorities have declined to repatriate all French citizens involved in crimes in Iraq and Syria since March 2019. It is a difficult proposal for French leaders, considering the Islamic State group has been linked to the killings of hundreds of French citizens at home and abroad.
France's Justice Minister Eric Dupond-Moretti says France will not forget that they betrayed the motherland to fight on behalf of the so-called Islamic State. According to him, the repatriation is a very complicated issue and a dangerous mission that puts at risk French soldiers, agents to get these French nationals out of the camps. A total of 35 children have been relocated to France so far, the last ones on January 13th, he said.
The timing does not play in favor of these women and their children as France is heading into a presidential race. Candidates' positions on security issues and whether to have a strong hand against jihadists could sway voters.
Marie Dose says only Emmanuel Macron could make the decision to repatriate these women and their children but she says he refuses to do it as it would seem too risky, politically speaking, ahead of the 2022 presidential election in France.
On Sunday, UNICEF called for "the safe reintegration and repatriation of all children in al-Hol Camp and across the northeast of Syria." According to the UN agency, about 22,000 foreign children of at least 60 nationalities live in this camp in dire conditions.
https://www.voanews.com/europe/jihadist-womens-demands-come-crucial-time-france
--------
Kidnappers finally release abducted Nigerian schoolgirls
02 March ,2021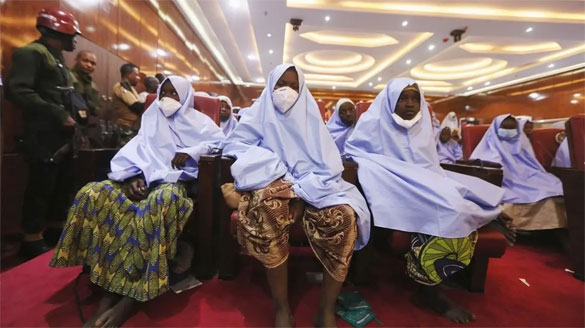 Some of the girls who were kidnapped after their release in Zamfara. (Reuters)
-----------
Gunmen have released girls kidnapped from a boarding school in northwest Nigeria, the governor of Zamfara state said in a message posted on Twitter on Tuesday in which he shared pictures girls wearing Muslim veils.
An armed gang abducted 279 girls from the Government Girls Science Secondary (GGSS) School in the town of Jangebe at around 1 am on Friday. The governor's tweets did not state how many girls had been released, but carried images of girls.
"Alhamdulillah! It gladdens my heart to announce the release of the abducted students of GGSS Jangebe from captivity", Zamfara State Governor Bello Matawalle said on Twitter.
"This follows the scaling of several hurdles laid against our efforts. I enjoin all well-meaning Nigerians to rejoice with us as our daughters are now safe," he said.
Schools have become targets for mass kidnappings for ransom in northern Nigeria by armed groups, in a trend started by the jihadist group Boko Haram, and later its offshoot Islamic State West Africa Province. Criminal gangs have carried out kidnappings since.
The government has repeatedly denied paying ransoms. But President MuhammaduBuhari issued a statement on Friday in which he urged state governments "to review their policy of rewarding bandits with money and vehicles, warning that the policy might boomerang disastrously".
The raid in Zamfara state was the second such kidnapping in little over a week in the northwest, a region increasingly targeted by criminal gangs. On Saturday, gunmen released 27 teenage boys who were kidnapped from their school on February 17 in the north-central state of Niger.
Nigeria's most high profile school kidnapping was that of more than 270 schoolgirls abducted by Boko Haram from the northeastern town of Chibok in 2014. Around 100 of them remain missing.
https://english.alarabiya.net/News/world/2021/03/02/Kidnappers-finally-release-abducted-Nigerian-schoolgirls
--------
Swiss citizens set to vote on controversial burqa ban referendum
Mar 02, 2021
The Swiss are set to vote on whether they want to ban full facial coverings in public on March 7, when they will also vote on a range of other issues as part of the country's direct democratic system.
The text of the proposed ban does not mention Muslim veils explicitly, stating only that "no one shall cover their face in public, nor in areas accessible to the public or in areas where services are ordinarily accessible to all".
A similar burqa ban was imposed previously by other European nations including the Netherlands, Germany, France, Austria, Belgium, Switzerland and Denmark.
But the proposal, which has been opposed by the Swiss government, is widely seen as targeting niqabs, burqas and other face-covering veils worn by some Muslim women.
The initiative proposes some exceptions to the ban, including in "places of worship" and for "health reasons".
The main argument by the proponents of the ban appears to be security concerns and to a lesser extent Islamophobic sentiments.
The ballot on the proposed burka ban comes nearly 12 years after Swiss voters approved a ban on the construction of new minarets, in what was seen as a political upset.
The grouping behind the burqa ban proposal - the "EgerkingerKomitee" that includes members of the right-wing Swiss People's Party (SVP) - was also behind the 2009 move to ban minarets, which was approved by nearly 60% of voters.
Supporters of the 2009 proposal saw the minarets as alien to Swiss traditions and values at a time of growing unease over the activities of Islamist militants in Europe and the Middle East.
Muslims make up only about 5% of Switzerland's 8.6 million people, official statistics show.
https://www.wionews.com/world/swiss-citizens-set-to-vote-on-controversial-burqa-ban-referendum-367361
--------
Self-defence class organized after attacks against Edmonton Muslim women
Mar 01, 2021
Aisha Barise says martial arts has always been a source of empowerment.
As a Muslim woman who wears a hijab, she says even the naysayers, skeptical of her place in taekwondo and karate, were just fodder for her competitive fire.
"Nobody can tell me what to do," she said. "I'm very competitive and it drives me and it motivates me, going out there looking different and then competing."
Now, after a string of attacks on six Muslim women in a 10-week span, she is sharing what she knows with other women in self-defence classes organized by Muslim community groups in Edmonton.
"There aren't many people who look like me that train in martial arts, that compete in martial arts. So that's why I took this opportunity," she said in an interview before Sunday's class at Markaz-Ul-Islam mosque.
The four weekly classes, which began Feb. 21, each host around 24 people after organizers got the go-ahead from provincial health officials, said Noor Al-Henedy, director of communications at Al-Rashid Mosque.
They sold out within hours, she said, with requests to add at least six more classes. It's a sign, she says, of widespread concern among the city's Muslim community.
"When we look at the bigger picture, there's a huge education piece that needs to be done. Our city has to come together, our province, our country, to fight Islamophobia, anti-Semitism, hatred and racism," Al-Henedy said.
'You are very strong'
The recent spate of daytime attacks against Muslim women wearing headscarves dates back to December. A mother and a daughter were assaulted in the parking lot of Southgate Centre on Dec. 8. A week later, a woman was assaulted while waiting for a train at the nearby Southgate LRT station.
On Feb. 3, two women were assaulted in separate incidents, one at the University Transit Centre and the other near 100th Street and 82nd Avenue. Then, two weeks later, a Black Muslim woman was threatened at the Century Park LRT.
"It cannot be something that's acceptable or something that only pops on the news and is normal. It cannot become the norm," Al-Henedy said.
Barise, the instructor, says that while the physical element of self-defence is a given, there's an important psychological dimension as well.
"As women we're always taught to not fight back ... to not to do anything, to not act, to not retaliate," she said.
But self-defence instills a participant with a sense of their own agency, with the message that "you are very strong and you're very capable," Barise said.
Despite the empowering message, Barise says she's still heartbroken to see a group of mostly mothers join a class out of fear for the safety of themselves and their families.
"Mothers that genuinely want safety for their kids," she said. "These really vulnerable people were coming here asking for my help, and for me it was such a personal thing for a mother to come here with her kids in order to defend them and empower them."
https://www.cbc.ca/news/canada/edmonton/self-defence-muslim-women-attacks-1.5931572
--------
Muslim Woman Targeted in Racist Attack Says Call to Edmonton Police Left Her Doubly Traumatized
February 27, 2021
The woman, a student in her 20s who wears a hijab, says she remains terrified after the racially-motivated attack earlier this month.
She said a member of the Edmonton Police Service discouraged her from filing an official report on the attack, a rejection she feels was motivated by her race and religion.
"I'm dealing with two sets of trauma," the woman said Thursday in an interview with CBC News. "I'm dealing with the trauma of the attack and I'm dealing with the trauma of that EPS officer that day that I called, that kindly rejected me."
Due to the woman's concerns for her safety, CBC News has agreed to keep her identity confidential and will only identify her as M.W.
She was waiting for a bus at the Century Park LRT Station on the morning of Feb. 17 when she was approached by a stranger who was flailing his arms. He made a fist and swore at her, threatening to physically assault and kill her, she said.
"I've never, ever seen that type of violence. I was scared for my life," she said. "I had nowhere to run to. I couldn't run away from this person. I couldn't move."
The EPS Hate Crimes and Extremism Unit is investigating. An EPS spokesperson said city police have repeatedly condemned violent racism and are investigating the possible "customer service issues."
CBC News is awaiting an official statement from the hate crimes unit investigators who have been tasked with reviewing the recorded call.
The assault — the fifth such attack in Edmonton on Black women wearing head coverings in a 10-week period — has been denounced by Mayor Don Iveson and the National Council of Muslim Canadians.
The woman said she has no doubt her hijab made her a target.
"This is really sad, you know," she said. "I never thought that my appearance would make me a vulnerable person."
She said no security officers were present but that the assault was witnessed by others.
"This happened in broad daylight," she said. "Nobody offered to give me help.
"The perpetrator had ample opportunity to carry out those threats but by the grace of God, I didn't suffer like some other women have suffered."
The woman got help later from an ETS bus driver and peace officers.
'He laughed at me'
Two hours after the assault — upset, confused and seeking advice — she called the non-emergency EPS line.
She said an officer told her there would be "no point" in filing a report and, as the conversation came to an end, laughed at her.
"He told me in that phone call that I should be satisfied with what the peace officers did. And he didn't want to help me.
"I am just trying to do the right thing and be of the service to the city and report it. You know, that's what we're supposed to do if we can do it. And he laughed at me."
The woman said peace officers at the LRT station told her police would likely investigate her attack as harassment.
She wanted to put her account of the incident on record.
"He did not allow me to file a report," she said of the EPS member she spoke to on the complaint line. "He discouraged me.
"I told him that I wasn't satisfied with just the harassment charge that the peace officers could file," she said. "I told him it was more than harassment. Threats were uttered to me. My safety was put in jeopardy. And that's not OK."
She said the interaction demonstrates a lack of empathy toward people who experience racism, and undermines efforts to root out Islamophobia in Edmonton.
She wants a written apology from the EPS member and is calling on police to publicly condemn the recent string of racist attacks against Muslim women. She is also calling for increased security patrols on transit.
"Islamophobia is at an all-time high and it needs to be addressed," she said.
"That statement made by EPS, it's not going to suffice," she said. "They're going to have to really, really work hard to mend the relationship back with the Muslim community, because it's disintegrating."
The woman said she finally received the support she needed after emailing her city councillor's ward office.
The mayor's office then put her in touch with an EPS official who helped her file a report on Feb. 19. She has since been in contact with investigators and feels her case is being taken seriously.
"I do have compassion for my attacker, but I still want to stand up for myself and I want to stand up for the other women that have gone through this."
https://iqna.ir/en/news/3474096/muslim-woman-targeted-in-racist-attack-says-call-to-edmonton-police-left-her-doubly-traumatized
--------
Does Islam marginalize women?
February 28, 2021
AhlulBayt News Agency (ABNA): For centuries the Western civilization has been banging on the drum for fighting against religion and religious traditions under the pretext of defending and reviving women's rights; this is in the case that evidence attests that women's rights have not been yet completely recognized there. The following Op-Ed article attempts to investigate the possibility of having an active socio-political role for women in the Islamic point of view with special attention to the character of Lady Zaynab (pbuh) before, during, and after the Battle of Karbala.
The history of political thoughts is replete with controversies over the extent and quality of women's presence in politics and society. In the political philosophy of the West up to the 19th century, although sometimes in the works of philosophers such as Plato there is a reference to the equality of men and women's rights[1], but the dominant approach stresses the female inferiority. Aristotle, in Politics, considers a woman as a subhuman being who is a second-class citizen[2], so she cannot maintain an active role in the political arena, and this view with almost the same trend continues in later philosophers. Describing this centuries-old misogynist history in his 1861 essay, The Subjection of Women, John Stuart Mill states that all relations and laws in societies are regulated by the logic of coercion and domination, and this system of domination forces them on people in the form of traditions and customs. These traditions and customs have historically made men the superior sex and women the inferior sex, and now if we want to achieve justice and equality between the two genders, we must fight against these traditions and customs. The liberal feminist movement, centered on this idea of Stuart Mill since the nineteenth century, has embarked the fight against traditions and customs for the realization of women's rights and their liberation from the historical subjugation by men.
However, these efforts have not yet succeeded. Susan Moller Okin in Women in Western Political Thought acknowledges that theories of contemporary politics, although accepting the equality of rights of men and women and having a neutral approach to traditions and customs, but the globalization of the economy and modern plans and developments, etc. all have resulted in the continued marginal role of women in society[3]. This result calls into question that solution.
Reviewing a tradition
The situation that has arisen for modern women as a result of the fight against traditions and the critique of religion casts doubt on John Stuart Mill's solution. Has "tradition", regardless of its cultural origins, been the main factor in making women inferior throughout history.
Islamic thinkers have a different view on this issue. In Islamic sources, in the stage of creation humans are valued equally regardless of gender. In other words, human beings have an intrinsic value as human beings, and being human by itself gives them the possibility of growth and excellence, and enjoying the same rights and duties as other humans, and in this respect, there is no difference between men and women. So, every individual has an equally active role in society and enjoys its benefits. The major social mission of humans, both men and women, is to build a world in which the monotheism and perfection of mankind are crystallized, and femininity and masculinity are containers in which this task is poured and takes various forms. This perspective on human beings is the basis for the philosophical foundations on which Islamic politics rest. It is to be emphasized that the said view on the essential equality of human beings is not limited to the theoretical spheres in Islamic principles and traditions and has had many practical instances throughout the history of Islam. In such scenes, women who were inspired by their religion, not at a lower status than men, but alongside them, have taken active and historical roles in politics and society.
One of the most representative examples of the active socio-political presence is that of the women of Ahl al-Bayt. As ones trained in the school of Islam and attached to the household of infallibility, they are real examples of the idea that Muslim thinkers have put forward in their views on the role of women. Lady Zaynab (s.a.) is a prominent example in the history who shows the active presence of a woman in one of the most important socio-political scenes of the history[4].
Women of Ashura, revolutionary activists
Shia identity is tied to Ashura culture; So that after the event of Ashura and the martyrdom of Imam Hussain (a.s.) and his companions, every socio-political movement formed in the history of the Shia has a relation, whether direct or indirect, to Karbala and benefit from its teachings. This close relationship between the socio-political currents of the Shia and the Ashura event shows that one of the most important aspects of this uprising is political. Now, the question is whether this historic and identity-making political uprising was formed by women or men? Is the movement a masculine or feminine or a human one? Certainly, the presence of the women of Ahl al-Bayt and the companions of Imam Hussain (a.s.) in Karbala is a known and unalterable fact in Islamic history, but was this presence a passive act only in following their men, or was it an active complementary role-playing alongside men? To answer this question, we should review the Karbala event from a feminine perspective.
Although the main hero of Karbala is Imam Hussain (a.s.), history cannot narrate the Karbala event without mentioning the name of Lady Zaynab (s.a.). The greatness of Lady Zaynab is as great as Ashura itself, but the source of this greatness is not being the daughter of Imam Ali (a.s.) or the sister of Imam Hussain (a.s.). The value and greatness of Zaynab (sa) is due to her great human and Islamic position and action based on the Divine duty. It is her actions, her decisions and type of movement that is so dignifying and that every human being, regardless of his/her relationships, can achieve it. The permanence of this character is the product of her choices before, during and after Ashura. Before the Karbala event, there were many men who lost their power of analysis and failed to accompany Imam Hussain, but Lady Zaynab, knowing what would happen, chose to go and took her children with her, too. On the Day of Ashura, which was the climax of the crisis, although she had lost her son, brother and relatives, she was supportive and a companion until the last moments[5]. But the culmination of Zaynab's (s.a.) role is after the incident. When nothing was left of the relationships and she had the first role.
In Shia literature, it is often said that blood prevailed over the swords in the event of Karbala. The cause of this victory was Lady Zaynab; If it were not for Lady Zaynab, the blood in Karbala would have been forgotten[6]. On the Day of Ashura, a military confrontation ended with the apparent defeat of the forces of Truth; But what turned this apparent military defeat into a definitive permanent victory was Lady Zaynab's role. The role played by Lady Zaynab was the continuation of the movement of Imam Hussain (a.s.), and if it were not for her, that uprising would have been lost in the history. This incident showed that women are not on the margins of history and subordinate to men. The Shia woman is at the center of important historical events. Relying on her faith and religion, a woman acts in a way to humiliate an enemy at the center of his power, while he has ostensibly won the military campaign and has crushed his opponents and leaned on the throne of victory; she put the eternal stigma on his forehead and changed his victory into defeat; This is the what Lady Zaynab has done. Lady Zaynab (s.a.) showed that women's hijab and decency can be turned into an eternal honor[7].
Is not this example a perfect proof that women in Islam are in the context of politics and society and that the monotheistic tradition and religion do not want women to be inferior but it places them at the top of human peaks?
-------------------
[1] Plato, Republic, Paragraphs 461 – 463.
[2] Aristotle, Politics, Book II, Paragraphs 1 – 13.
[3] Okin, Susan Moller. Women in Western Political Thought. Princeton University Press, 2013.
[4] Sayyid Ali Khamenei, Speech in the meeting with nurses, November 13, 1991.
[5] Ibid.
[6] Sayyid Ali Khamenei, Speech in the meeting with nurses, April 21, 2010.
[7] Ibid.
https://en.abna24.com/news//does-islam-marginalize-women_1119362.html
--------
How a group of Saudi female showjumpers took over the reins
March 01, 2021
DUBAI: If it doesn't exist, create it.
That seems to be the attitude of Saudi female athletes increasingly taking matters into their own hands. Women footballers and motor-racing drivers in the Kingdom have rightly been making the headlines recently.
But a group of six female showjumpers have been riding the wave of change even before societal reforms swept through the Kingdom and brought gender equality to the fore, as part of its Vision 2030 goals.
For years, the group of friends would attend showjumping competitions throughout the season as spectators. Until one day, while at an Equestrian Federation show in Jenadriya, they decided to establish an organization that would cater to their love of the sport, and allow them to compete on equal terms with male show jumpers.
They named it the Equestrian Union.
"Equestrian Union is an initiative that we started as Saudi female riders back in 2015, addressing the fact that there were no competitions that allowed female participation in Saudi Arabia at that time," Mashael bint Mansour Binsultan, one of the founding showjumpers, told Arab News. She has been riding horses for the past 20 years.
"We had top imported horses, professional trainers, private stables and all the unconditional support of our families. We trained daily and took care of our horses; it was a lifestyle," she added.
There was further positive change when in 2019, the Equestrian Federation opened up opens up participation for all female riders.
After that, progress has been rapid. In December 2019, 13 female Saudi equestrians made their home debut as part of the Diriyah Season, competing with their male counterparts for the first time ever in the Kingdom.
Binsultan, along with Sara Alruwaita, AjwaAlsaud, Loulouah Bandar, ShuaaAlakeel and Sara Aljowie, had been honing their organisational skills long before that.
"We (had) started planning and managing events during the winter season since 2015, which shed light on showjumping competitions specifically but also included many other aspects such as cycling, hiking, archery, promoting local Saudi brands, food trucks, and horse trails," Binsultan explained. "As a result, we gained experience in managing and organizing shows and events."
Their first show took place in October 2015 and met all the standards of the FédérationEquestreInternationale (FEI).
"We want to continue promoting not only showjumping, but also social family-oriented sporting events and recreational activities, which is one of the main strategic goals of the Saudi Vision 2030," Binsultan said. "Our families and friends were extremely supportive since the beginning. We were also fortunate enough to get added technical experience and support from local and international companies that sponsored some of the showjumping classes."
Mansour AlMugatti, an international course designer and judge, continues to lend his support with the events to this day.
"We were very happy with the support and positive feedback we had from the Equestrian Federation which came from Prince Abdullah Bin Fahad, the president of the Equestrian Federation, honoring the winners in our last event," she added.
Binsultan said, under the administration of the Minister of Sports Prince Abdulaziz Bin Turki, equestrian tournaments, in particular the Saudi Cup, are joining some of the highest profile events in the Kingdom — such as Formula E, the Clash on the Dunes heavyweight boxing bout, the Diriyah Tennis Cup and the Asian Games 2034.
Moreover, Saudi Arabia will host international four and five star showjumping events in Riyadh during the 2020-2021 season, and the Equestrian World Games 2024.
"I was immediately interested as, at the time, we did not have shows that allowed women to compete in Saudi Arabia and it was a fun way to spend the day with my friends, family and horses," Bandar told Arab News. "I have always been into horses. I really don't know why or how it started but both my parents rode as children and encouraged me when I expressed interest. I have a lot of family members who owned horses so I have always been around them."
Bandar believes the Union provides a platform for equestrian lovers to practice their skills, without the pressures that comes with competing at a federation show.
"It's a great place to come to if you are a beginner, someone with a new horse or even someone wanting to get in extra 'schooling' with your horse," said the 26-year-old. "It's also important because, a lot of the time, riders spend weekends at shows away from their family and friends, and with Equestrian Union, they can have a day out and enjoy it with their family members and loved ones."
Alruwaita's passion for horse-riding began at the age of 15 and alongside a friend, she went on to open "Tack Shack", an equestrian goods store in Riyadh.
"I loved it," she said, addressing the changes that have taken place in the Kingdom over the last decade. "Everything changed, the sport itself, the type of competitions and even the riders. Today, we have more competitions, the riders' levels have improved, and there are more people involved."
For Binsultan, the success of the Equestrian Union is down to the opportunities have presented themselves in the wake of societal and social change in the Kingdom.
"Everyone can see the reform that Saudi Arabia is going through with the leadership of (the Custodian of the Two Holy Mosques) King Salman, and the ambitious vision of the Crown Prince Mohammed Bin Salman," Binsultan said. "The vision touches on all aspects of life across all social and economic dimensions, with a strong focus on enhancing the quality of life with a specific focus on human well-being through the promotion of the sports sector. We wish all the best to our Kingdom and hope we can be a part of this optimistic vision."
https://www.arabnews.com/node/1817926/sport
--------
Loujain Al-Hathloul Released From Prison: Saudi Arabia Silencing Human Rights Advocates
March 1, 2021
Loujain al Hathloul, a prominent women's rights activist, has been released from a Saudi Arabian prison after she was detained in December 2018 for allegedly threatening Saudi Arabia's national security and challenging its political system. These charges have been labeled as "extremely alarming and spurious" by UN human rights experts. Hathloul is a passionate defender of human rights and has been campaigning against the male guardianship system in Saudi Arabia. This system gives the male guardians of a household the authority to make critical decisions on behalf of the women in his household.
Essentially, women are required to obtain permission from their male guardians to gain access to basic health care, work, marry, travel, and the list goes on. The male guardianship system in Saudi Arabia has been described by the Humans Right Watch as the "most significant impediment to realizing women's rights in the country". Hathloul along with many other outspoken campaigners wishes to see a social change where both men and women are treated as equals in the eyes of the law, but how can the country experience positive social change when Saudi officials are arresting and silencing the change-makers?
During her time in prison, Hathloul stated that she had been subjected to abuse including waterboarding, flogging, electric shock, and sexual assault. Saudi Arabian authorities have denied such claims. Hathloul still faces a 5-year travel ban and is now seeking to hold Saudi Arabian officials accountable for the torture and pain inflicted on her almost three-year stay in prison. Hathloul is just one of many other women activists who have been detained by the Saudi government whilst advocating for basic human rights.
The UN Secretary-General Antonio Guterres welcomed Houthloul's release, emphasizing that "it is important that others who are in the same condition as her, who have been jailed for the same reasons as her, also be released and that charges be dropped"
Elizabeth Broderick, the chairman of the UN Working Group on Discrimination against Women and Girls, argued in December 2020 that "Saudi Arabia has a primary responsibility and duty to protect and implement all human rights and fundamental freedoms". She then stressed that "Saudi Arabia can not turn a blind eye to the arbitrary detention and allegation of torture of a woman whose only reason for imprisonment was to advance women's rights".
Hathloul's sister and family told an online news conference that "all we want now is real justice".
This isn't the first time Saudi Arabia has arrested political and human rights activists. Amnesty International reported that in 2019 Saudi Arabia arrested 14 individuals who were part of a women's rights peaceful protest. These 14 individuals consisted of novelists, journalists, and advocates championing women's empowerment. Amnesty expressed that "Saudi Arabian authorities continued to arbitrarily detain human right defenders for a prolonged period of time without bringing them before a court or charging them".
UN human rights experts have argued that "defending human rights can never be considered a threat to national security". Hathloul's activism should not have been perceived as a threat to Saudi Arabia's political system, demanding for basic human rights should never be construed as treasonous.
https://theowp.org/loujain-al-hathloul-released-from-prison-saudi-arabia-silencing-human-rights-advocates/
--------
BushraBibi visits shelter home near Data Darbar in Lahore
March 01, 2021
Pakistan's first lady BushraBibi, who is also known for her philanthropic efforts, paid a visit to a shelter home near Lahore's Data Darbar on Monday.
She not only broke bread with those residing in the Panagah but also inspected the facilities at hand. This is not the first time she has visited sanctuaries for the destitute, as last year she visited various shelter homes located in the federal capital.
The first lady, during her surprise visit, interacted with the destitute and asked them about quality of food and facilities at the shelter home. She also tasted the food being offered to the people there. She was accompanied by her friend Farah Khan.
Shelter Homes, an initiative of Prime Minister Imran Khan, have been set up in five cities of the country since 2020 with plans to start such refuge in other cities as well. These shelter homes are very close to the heart of the premier as these provide food and shelter to the needy and destitute.
Bushra Imran directed the management of the facility to further improve the standard of facilities at the shelter home.
Talking to the inmate of the shelter-home, the first lady said the Pakistan Tehreek-e-Insaf (PTI) government has provided a shelter to the homeless people, adding that the government is committed to giving people their rights.
It is responsibility of the government to look after the people at these shelter homes, adding that feeding and providing shelter to the destitute is a duty and a virtue. She said service of the mankind pleases Allah Almighty.
The residents of the shelter homes told the first lady that the shelter homes provided them home-like atmosphere, adding that they pray for Prime Minister Imran for building this refuge.
"We used to spend nights at foot-paths in the city but now we sleep under a roof with good food to eat," one of the shelter-home inmates said.
On this occasion, a disabled person residing in the shelter informed the first lady about his disability. Acting upon his request immediately, BushraBibi ordered the authorities to help him.
Strict security arrangements were in place during the visit. However, no senior official including Commissioner or DCO Lahore were present at Data Darbar.
https://tribune.com.pk/story/2286942/watch-bushra-bibi-visits-shelter-home-near-data-darbar-in-lahore
--------
'I'd like to join Pixar one day': meet Afghanistan's first female animator
2 Mar 2021
Awoman in traditional dress breaks open the bars of a prison. A young child dances, oblivious to a backdrop of tanks and explosions. The drawings by Afghanistan's first professional female animation artist, Sara Barackzay, reflect the struggles of her young life.
Barackzay, who lost her hearing as a child, left Afghanistan to study in Turkey, but has returned with the hope of starting a specialist school for animation arts.
Now working on her own cartoon series, Barackzay illustrates children's books, designs clothes, teaches art and has won several awards.
Her topics include peace, war, women's rights – and the animals from her childhood growing up among the family's cats, rabbits, chickens and even frogs, she says.
"Afghan women try so hard – maybe even harder than others – to reach their goals. It's one of the messages I want to communicate through my art," she adds. "I always had big dreams, but fighting for them was never easy. Afghan women continue to face many limitations, and gaining my own freedom is possibly the biggest challenge I've faced – and it's a struggle that continues. I am still finding my way.
"The other goal is to change perceptions about Afghanistan: my country is full of kind people, amazing food and an old culture, and that's what I want to show to the world."
Growing up in and around Herat in the north-west of the country – an ancient city with its historic Blue Mosque and old citadel – Barackzay started drawing at the age of four. Her parents had temporarily moved the family to a village outside the city after Sara's birth, escaping Taliban rule, returning to their small brick house after the US-led invasion in 2001.
"The war was all present when I was a child," Barackzay says. "My father helped me learn how to speak without being able to hear, but it was hard."
Life changed when she was given a hearing aid at the age of eight and was able to join her sisters at school.
"It opened the world for me," Barackzay says. She finished school at 15, then took university entrance exams, applying for a scholarship to study animation arts in Turkey, and persuading her family to let her study there when she received a fully funded offer.
"The Smurfs," she says, "is how I learned Turkish as a child. I even watched television programmes in German, Arabic and English, and now speak all of these languages."
Now she is teaching other young Afghan women her skills. "I even receive threats because of what I do, but I came back to Afghanistan to teach animation to other young girls and to one day open a university here," she says.
Rising insecurity and the absence of good healthcare have affected her life, she says.
Fighting has increased in Afghanistan with more than 3,000 civilians killed last year alone, according to the UN. Violence has risen sharply recently, with targeted hit-and-run attacks killing more than 200 people since September. As the US considers a potential troop withdrawal in May, there are fears that fighting will escalate further.
"I dream of making the future easier for at least some girls in Afghanistan, and of joining Disney or Pixar as an animation artist one day," Barackzay says. "But my number one dream remains for my country: lasting peace."
https://www.theguardian.com/global-development/2021/mar/02/id-like-to-join-pixar-one-day-meet-afghanistans-first-female-animator
--------
Women revolutionizing Istanbul's public transportation
March 02 2021
Women are putting their mark on Istanbul's public transportation, as the number of women drivers working at the Istanbul Metro has risen to 99 out of the total 772.
Carrying commuters all day and working underground in different shifts, women metro drivers strictly oppose being called "vatman," a word of French origin, which means tram drivers, representing male workers.
"The era of vatman has finished. The era of vatwoman has begun," said 30-year-old BurcuKasap, a female metro driver.
"I have graduated from Kocaeli University's Human Resources Faculty. I previously worked as a digger operator for a construction company and am now working at the Istanbul Metro," Kasap added.
Stating that she graduated from Anadolu University's Public Administration Faculty and is now working as a tram driver at the Istanbul Metro, 37-year-old HavvaÇakmak said she works four days a week.
"I am the ruler of this big tram," she said.
HandeNurGülek, who controls the Üsküdar-Çekmeköy line, said that it was her dream to work in a metro.
When asked how men react when they see a women metro driver working, 26-year-old KübraSucu, who controls the Yenikapı-Hacıosman line, said, "Even my father could not believe it."
"I took graphic design training in my university. When I applied for this job, even my father opposed me, saying that it was a man's job," she said, adding that her father got surprised when she passed exams and became a driver.
Kasap also faced people disagreeing with her choice of profession, questing her capability if she could do such a job.
"Some of my friends said that I was a 'puny plaza girl.' They did not find the job [of a tram driver] suitable for me," Kasap said.
Noting that her mother has been her mentor who encouraged her greatly, she said, "My mother supported and encouraged me to become a metro driver. She is so proud of me that she calls everybody and tells them about my job."
When asked whether the job is hard for her to do or not, Sucu said, "It is easier than driving a vehicle on roads or highways. There is no traffic problem here, underground. Because commuters are sitting inside, the metro vehicle drives automatically."
The drivers only have to drive trams manually in emergencies, she added.
Noting that, of course, every job has its difficulties, and even though she is newly married and has to stay away from home due to shifts, Kasap said that she loves her job anyway.
"My husband usually has to wait for me at home, as due to my shifts, I have to work late sometimes. But anyway, I love my job," she stated.
The Istanbul Metro, which started service in 1989 with only one line, now has 89 stations in service with 50 more under construction.
Out of the 89 operating stations, 73 are fully underground, five are elevated stations, nine are embankment tube stations and two are partially underground.
The metro operates from 6 a.m. until midnight every six to 10 minutes.
https://www.hurriyetdailynews.com/women-revolutionizing-istanbuls-public-transportation-162797
--------
URL: https://www.newageislam.com/islam-women-feminism/my-dream-see-india-pakistan/d/124435
New Age Islam, Islam Online, Islamic Website, African Muslim News, Arab World News, South Asia News, Indian Muslim News, World Muslim News, Women in Islam, Islamic Feminism, Arab Women, Women In Arab, Islamophobia in America, Muslim Women in West, Islam Women and Feminism