New Age Islam News Bureau
1 Apr 2019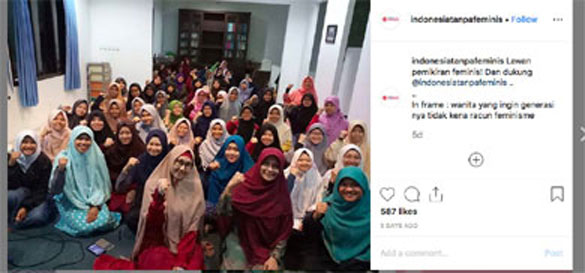 A screen capture of the Instagram account of Indonesia Without Feminists. (JP/-)
------
• Indian Muslim Women Put Forth Manifesto for Parties: National Register of Citizens in Assam Be Withdrawn and A Law Enacted Against Cow Vigilantism
• First Lady: Egypt's Women Always Capable Of Facing Challenges
• Sisi Announces Decisions In Favour Of Women, Pensioners and State Employees
• Christchurch Mosque Attacks: Muslim Women Still Fear Wearing Hijab in Public
• Stop Defaming Women Human Rights Defenders
• Women's Entrance to Azadi Stadium Is Prohibited
Compiled by New Age Islam News Bureau
URL: https://www.newageislam.com/islam-women-feminism/my-body-mine-indonesia-without/d/118192
--------
'My Body Is Not Mine': Indonesia without Feminists Group Starts Online Campaign
April 1, 2019
An antifeminist group, Indonesia Tanpa Feminis (Indonesia Without Feminists), has launched a social media campaign amid heated debate over proposed sexual violence legislation that pits feminists and some Islamic groups against each other.
The group's Instagram page, whose description reads "My body is not mine; Indonesia doesn't need feminism", is filled with photos of women holding signs with the hashtags #UninstallFeminism and #IndonesiaTanpaFeminis alongside proclamations such as "Indonesia doesn't need feminism!"
Since the first posting on March 17, the account has garnered more than 1,800 followers. However, popular Instagram influencers in Indonesia typically have more than 50,000 followers each.
On one of the posts, an unnamed woman holds up a sign saying she doesn't need feminism because it "demonizes traditional family constructs".
Some of the group's older posts framed feminism as a blasphemous Western idea that is antithetical to Islamic values. The group asserts that the feminist notion of complete authority over one's body is wrong, saying that "My body is not mine, but rather Allah's".
An Instagram user commented on this particular post, saying that even though it is God's body, women should make sure that other people treat it well. "Don't we need to ensure that we live in a world where your/God's body is respected?" the user asked.
On March 27, the Instagram account posted a picture of dozens of women, all of them wearing hijab, with the caption: "In frame: Women who want their generation free from feminism poison."
The online movement has received strong responses from Indonesian millennials who claimed that the group misunderstood feminism.
Frisanty Marisa, a 24-year-old private employee in Jakarta, said she felt uncomfortable with the group's presence on social media.
"They hold a wrongheaded view of feminism. They're content with the injustices done to women," she said.
Rizqika Arrum, a 23-year-old volunteer at a nongovernmental organization in Jakarta, shared that opinion, saying the movement would not have existed without feminism in the first place.
"The fact that these self-proclaimed antifeminists are able to congregate and voice their aspirations means they're enjoying a privilege resulting from decades of progress in feminism," she told The Jakarta Post.
Antifeminist discourse has gained traction in recent months, especially following the controversy surrounding the bill on sexual violence.
The bill, which the House of Representatives has deliberated over since 2016, sparked an uproar when it gained momentum at the end of last year when the case of Baiq Nuril – a sexual harassment victim in West Nusa Tenggara who was convicted for defaming her alleged harasser – came to light.
Those who oppose the bill consider it to be pro-adultery and in support of lesbian, gay, bisexual and transgender (LGBT) people.
An activist and a program director of the Support Group and Resource Center on Sexuality Studies at the University of Indonesia, Nadya Melati, dismissed Indonesia Without Feminists as a fringe movement that had little to no impact on the country's progress toward female empowerment and gender equality.
"It is perfectly normal for a certain segment of the public to oppose the government. As long as we focus on bolstering our feminist discourse and refuse to provide them with a platform, I don't think they'll become much of a problem," Nadya told the Post.
She likened the group to the Indonesia Tanpa Pacaran (Indonesia Without Dating) movement, which she said also used the façade of Islam to enforce its idea of moral absolutism.
"They're using the pretext of religion as a political weapon. In reality, many Muslim women support feminism," she said.
She said she hoped the government would pass the sexual violence bill soon to protect millions of female employees who have been vulnerable to harassment and abuse.
Indonesia has seen several online campaigns starting with the words "Indonesia Without" in past years. Among the first was "Indonesia Without FPI", a campaign attacking the existence of the archconservative Islam Defenders Front. Later, a counter-campaign emerged called "Indonesia Without JIL", which referred to the Liberal Islam Network.
https://www.thejakartapost.com/news/2019/04/01/my-body-is-not-mine-indonesia-without-feminists-group-starts-online-campaign.html
--------
Indian Muslim Women Put Forth Manifesto for Parties: National Register of Citizens in Assam Be Withdrawn and A Law Enacted Against Cow Vigilantism
March 29, 2019
A group of Muslim women from more than ten states of India have come out with their "manifesto" for coming parliamentary elections demanding that the controversial National Register of Citizens in Assam be withdrawn and a law enacted against cow vigilantism.
"We demand repealing of prohibition and restrictions on slaughtering and sale of cows. The National Register of Citizens Bill strips Muslims of their citizenship rights and must be withdrawn," their manifesto released on Wednesday said.
The women's group included Khalida whose husband Umar Khan was allegedly lynched in Alwar, near Delhi, in 2017.
The women, who came together under Bebaak Collective, a movement against hatred, demanded the political parties "restore" constitutional rights of women and minorities.
"I live in constant threat. Even attending court hearings has become extremely difficult because of threats we receive from fringe groups," said Khalida.
"I don't want anyone to go through what my family is going through and that is why I request the political parties which are elected to power to frame law against mob lynching," said Khalida.
Umar Khan was killed in 2017 in an exchange of fire with alleged cow vigilantes in Alwar in Rajasthan. Umar's body was found on the railway tracks at Ramgarh in Alwar district. His relatives and social activists subsequently alleged that he was killed by cow vigilantes.
Among the demands by the women are formulation of a diversity index across public and private sectors to determine extent of under-representation of Muslims, giving 10 percent reservation to Muslims in higher education and government jobs.
They also demanded financial benefits for single women, introduction of a communal violence bill to bring perpetrators to justice and introduction of gender-just laws for minority groups.
https://www.thedailystar.net/world/south-asia/news/indian-muslim-women-put-forth-manifesto-parties-1721992
--------
First Lady: Egypt's Women Always Capable Of Facing Challenges
Mar. 31, 2019
CAIRO – 31 March 2019: Egypt's First Lady Entisar al-Sisi said that she was pleased to attend the Egyptian Women's Day ceremony held on Saturday to honor women and ideal mothers, adding that she could see models for Egypt's "great" ladies.
"I found the wonderful mother, the faithful teacher and the outstanding doctor …" the first lady said in a Facebook post, adding that she saw ladies who "have preserved the values, principles and ethics that resemble our country in originality and heritage."
"I would like to thank every woman who continues to do everything she can to prove that the Egyptian woman is the example of will, strength and sacrifice, and that Egypt's women of all ages are capable of facing the challenges and making the impossible [possible]," she added.
On the Egyptian Women's Day, Egypt's President Abdel Fatah al-Sisi honored a number of women and ideal mothers.
The Egyptian woman has been honored since paranoiac eras over history for her role in the society andit has been depicted on temples, said President Sisi, adding "In modern life, the Egyptian woman has participated in the political life since 1919 revolution."
He called for enforcing laws that aim at protecting women's rights, putting an end to demotic violence and tackling the issues of early marriage and deprivation of education and post-divorce rights.
Moreover, Sisi proposed establishing a fund to address the challenges faced by the Egyptian women after he reviewed with the health minister the possibility to screen and treat women nationwide for breast cancer.
https://www.egypttoday.com/Article/1/67743/First-lady-Egypt-s-women-always-capable-of-facing-challenges
--------
Sisi Announces Decisions In Favour Of Women, Pensioners and State Employees
March 31, 2019
President Abdel Fattah al-Sisi announced several decisions and directives in favor of state employees, pensioners and women in his speech Saturday on Egyptian Women's Day.
The president announced that on June 30 minimum wage for all employees of the state administrative system, who are both addressed and not addressed by the civil service law, will be raised from LE1200 to LE2000.
He stated that the annual periodic bonus will be given at seven percent of the minimum wage at a minimum of LE75 for those addressed by the law, and at 10 percent of the minimum wage at a minimum of LE75 as well for employees not addressed by the law.
The president added that LE150 will be disbursed to mitigate the effects of inflation on employees.
The minimum wage for state employees of the sixth grade will be LE2000, third grade will be LE2600, and the excellent grade LE7000, Sisi said, adding that wide promotions as well will take place until June 30.
The president also announced that pensioners will be given a 15 percent increase of a minimum of LE150, with the minimum pension being raised to LE900. The debts of the Treasury and the National Investment Bank for pension funds will be paid gradually, he added.
The president pointed out that this planned promotion of employees will cost the state LE1.5 billion, while the cost of salary increases will be LE30.5 billion, raising the budget item to LE300.5 billion.
Sisi praised the patience of citizens in the success of the economic reform program, saying: "You have made difficult days pass, without a single protest."
He urged the government to study ways to achieve greater participation of women in the labor market and to provide a suitable environment for them to encourage their participation in non-traditional sectors where their ambitions can be realized.
In his speech, Sisi added he instructed the government to develop an appropriate legislation to effectively protect women from all forms of emotional and physical violence, including marriage before the legal age, the deprivation of education, and lacking financial support to mothers and children in cases of divorce.
Sisi further directed the government to study the phenomenon of women who are imprisoned over debts and formulate legislation and policies to stop this from happening. He also instructed drafting a family awareness project to prepare young people for marriage responsibilities, along with studying the promulgation of a new personal status law.
The president honored 42 women during the ceremony, including 32 mothers, and 10 women with achievements in different fields.
https://ww.egyptindependent.com/sisi-announces-decisions-in-favor-of-women-pensioners-and-state-employees/
--------
Christchurch Mosque Attacks: Muslim Women Still Fear Wearing Hijab in Public
April 1, 2019
Shakti is directly assisting 13 women affected by the mosque attacks in Christchurch, and said the outpouring of love for the Muslim community in the wake of the massacre has gone a long way to stem some of those fears.
"The response of the nation has helped an amazing deal," facilitator Sakina Husain said.
But for many their first instinct was, and still is, fear.
"As a Muslim, when I first heard the news, yes there was fear at having to go out and walk on the roads.
"Many of the women we deal with are not directly affected but they are still afraid of wearing the hijab and walking on the road."
"We've gotten a call from a school where children are afraid for their mothers," Ms Husain said.
The organisation has since visited the school and would be assisting to ensure the children had the help or counselling they needed, she said.
The response from New Zealanders in the wake of the attacks had helped her overcome her own fears of wearing a hijab in public, Ms Husain said.
"I don't feel afraid anymore. In terms of the response of the country, that has helped a great deal. People are hugging me now, so that is amazing.
"And I would like to say to the people of New Zealand, they have warmed my heart.
"I have no words to express how much. It is beautiful and I think the Muslim community would not be able to handle this the way they are, without this support."
Shakti case manager Rina Singh said some widows of the shooting victims would need long-term help as they dealt with their own trauma and adjusted to their new lives.
Many of the women were young housewives, did not have jobs, could not drive, or were new to this country, she said.
"One client is 23 years old with two kids ... she doesn't know how to drive. She hasn't been out there in the world dealing with money, she doesn't know what a bank card is or how the ATM system works."
"Their husbands took care of everything, so we have to teach them," Ms Singh said.
Some had experienced delays in receiving financial assistance from the government because family members had wrongly applied for the money on their behalf, she said.
"There are cases highlighted to us where family members are claiming the money, but they can't."
"The government is making sure that the money is going to the right person, it's being very vigilant of that, but is is causing delays," she said.
Shakti was also having to explain to the women what counselling was and how they could provide it if needed, Ms Husain said.
"Counselling is not something that is common place in this culture. This is my primary goal, to make sure this knowledge reaches them."
"At this stage they are in the grieving process, they are right smack in the middle of that, and they have family members with them. They not going to be able to process this ... this is going to hit them after."
"So we are here for the long term," Ms Singh said.
https://www.radionz.co.nz/news/national/386077/christchurch-mosque-attacks-muslim-women-still-fear-wearing-hijab-in-public
--------
Stop Defaming Women Human Rights Defenders
1 Apr 2019
THE Joint Action Group for Gender Equality (JAG) condemns the statements made against Sisters in Islam (SIS) by PAS MP Siti Zailah Mohd Yusoff in relation to SIS's receipt of financial support from the Women, Family and Commu­nity Development Ministry.
As a member of the Parlia­men­tary Select Committee (PSC) on Rights and Gender Equality, it would be appropriate for YB Siti Zailah to educate herself on the long history of SIS's work fighting to uphold the human rights of women since 1987.
It is also timely for YB Siti Zailah to speak with the thousands of Muslim women in Malaysia whose rights to gender equality and non-discrimination SIS has fought for, and whose suffering in the face of dire socioeconomic situations, religious bias, and stereotyped attitudes towards women SIS has alleviated.
Over the last 32 years, SIS has worked to achieve gender equality through a more just interpretation of Islamic jurisprudence that is an egalitarian vision of women's rights in conformity with the require­ments of Cedaw (the Convention on the Elimination of All Forms of Discrimination Against Women).
SIS has spoken out against the lack of access to justice faced by women and girls for a range of human rights violations, from the practice of polygamy, domestic violence, and the superior rights of the man to terminate a marriage, to the unequal rights of the mother in issues of child custody and guardianship, and child marriage.
JAG commends the handling of YB Siti Zailah's comments by Datuk Mohamad Ariff Md Yusof, Speaker of the House of Representatives, which curtailed a destructive debate from ensuing.
JAG also commends the MPs – including YB Hannah Yeoh, YB Maria Chin Abdullah, YB Kasthuri Patto, YB Nor Azrina Surip and YB Charles Santiago – who have spoken out consistently in support of women's human rights. JAG also commends the Women, Family and Community Development Ministry for its support of SIS.
The ministry chose to support SIS's work to gather data and statistics on Muslim women – data that has been sorely lacking and is critical in assessing the status of the human rights of Muslim women in the country – because it recognises the tremendous contributions of SIS in helping women in need, including through providing free legal services through its telephone hotline and legal aid clinic, which has served 8,400 women.
The work of SIS and other human rights organisations is critical to filling the void in available services for women surviving violence and discrimination in Malaysia. These organisations should be lauded and supported, not maligned, by government representatives.
JAG would like to urge YB Siti Zailah and all members of the PSC on gender and equality rights to engage with civil society to be a part of the solution for the rakyat. Let's practise a mature democracy and, together, roll our sleeves up to address the lived realities of communities on the ground and abandon political posturing.
https://www.thestar.com.my/opinion/letters/2019/04/01/stop-defaming-women-human-rights-defenders/
--------
Women's Entrance to Azadi Stadium Is Prohibited
Mar 31, 2019
On Saturday, March 30, 2019, law enforcement agents prevented women's entrance to Azadi Stadium to watch the game between Iran's top two teams, Esteghlal and Persepolis.
One of the girls, Shabnam Rouhi, who intended to enter the Azadi Stadium, said, "For me or better to say for us, to see the doors up close, which actually means just walking near the white bars of Azadi Stadium and seeing the passion of the male audience, it was never a big wish to go and sit on the newly-renovated chairs of Azadi Stadium, but just having the right to go was my goal." (The state-run Khabar Online news agency – March 31, 2019)
This ban is being applied while during a meeting with the secretary of the Supreme Council of Cultural Revolution on December 31, 2018, the Minister of Youth Affairs and Sports, Massoud Soltanifar had stated, "All the infrastructures are provided for women's presence in the stadium." (The state-run Moaser news agency – December 31, 2018)
However, regarding women's entrance to the stadiums, Shahindokht Molaverdi, presidential deputy for citizen's affairs proclaimed that the circumstances for women's presence in stadiums have not been prepared, yet. (The state-run Entekhab news agency – October 25, 2017)
Iranian women's entrance to stadiums to watch football games is banned and those who try to do so are arrested. But Iran's young women and girls have refused to abide by this rule, entering stadiums in various ways and making their photos public as an act of protest.
On April 27, 2018, three young women were identified and arrested by security forces outside Tehran's Azadi Stadium for attempting to enter to watch the football game. (The state-run Fars news agency – April 27, 2018)
However, five young women who managed to sneak through and watch the game in the stadium published their photo on social media.
Two young girls were also arrested in Isfahan (central Iran) on April 27, 2018, for attempting to enter the Naghsh-e Jahan Stadium to watch the match between their favorite football teams.
https://women.ncr-iran.org/2019/03/31/womens-entrance-azadi-stadium-prohibited/
--------
URL: https://www.newageislam.com/islam-women-feminism/my-body-mine-indonesia-without/d/118192
New Age Islam, Islam Online, Islamic Website, African Muslim News, Arab World News, South Asia News, Indian Muslim News, World Muslim News, Women in Islam, Islamic Feminism, Arab Women, Women In Arab, Islamophobia in America, Muslim Women in West, Islam Women and Feminism