New Age Islam News Bureau
22 November 2020
• Muzghan And Her Aunt Nasreen - The Women Who Served As A Deadly Duo For The Taliban
• Women's Bike Rally Held In Karachi To Provide Awareness Among The Women At Homes
• Stella Dadzie: 'Women Resisted Slavery At Every Stage Of The Journey'
• Express Report On Drug Addiction Among Punjab Women Wins Laadli Award
• Initiative For Women Entrepreneurs In Pakistan To Thrive In Global Markets
Compiled By New Age Islam News Bureau
URL: https://www.newageislam.com/islam-women-feminism/muzghan-her-aunt-nasreen-women/d/123541
-------
Muzghan And Her Aunt Nasreen - The Women Who Served As A Deadly Duo For The Taliban
AFP
Nov 22, 2020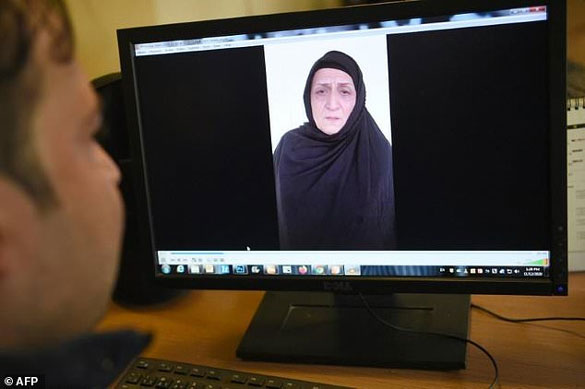 Muzghan (pictured in this confession video) and her aunt Nasreen walked free from jail in September after confessing to being members of the Taliban's ultra-violent Haqqani network
-----
KABUL: Female assassins who lured an Afghan security official to his death with promises of sex before shooting him and dumping his body at a cemetery are among thousands of Taliban criminals freed as part of a fragile peace plan.
While the ultra-conservative Islamists ban women from many areas of life -- often forcing them to stay home and barring them from most jobs -- they are not above using them as killers.
Muzghan and her aunt Nasreen walked free from jail in September after confessing to being members of the Taliban's ultra-violent Haqqani network.
They had used Nasreen's daughter as bait "under the pretext of selling her body", on the orders of a Taliban commander, a security official told AFP.
The pair then shot the man with a pistol fitted with a silencer and crammed his corpse into a metal box that they left in the local graveyard, case files say.
Court documents seen by AFP show the two were prolific killers -- adept not only at setting the deadly "honeytrap" but also at brute murders -- including of their own relatives.
Two men from their family who worked as policemen died at the women's hands -- one was poisoned and the other killed when they planted a "sticky bomb" under the seat of his car.
Before their 2016 arrest, the pair also worked with other people including Muzghan's husband to carry out a deadly grenade and shooting raid on a Sufi shrine, and another on a police station, their rap list adds.
"I was arrested for murder, kidnapping and cooperating with the Haqqani network," Muzghan said in a video authorities made prior to her release.
It is vanishingly rare for women to take part in attacks for the Taliban, notorious for banning school for girls, forcing women to wear burqas and sometimes executing those accused of adultery.
Of more than 5,000 Taliban prisoners released under a prisoner swap that the insurgents made a precondition to peace talks with the Afghan government, only five were women.
"To allow them to take part in, or admit that they played a role in waging the war, would go against core ideological tenets of the movement."
The prisoner swap, which also saw the Taliban free about 1,000 Afghan security forces, garnered international condemnation when it emerged insurgents who had killed foreign troops were being released.
Though the Taliban insisted on their freedom, spokesman Zabihullah Mujahid said the women were "ordinary members of Taliban families" arrested during US operations.
"Of course, women members of (insurgent) families cooperate... but women are not included, recruited or ordered to take part in operations," he told AFP.
A third woman prisoner released in the swap was Nargis, an Iranian national who became an Afghan citizen and a police officer after marrying a local man.
She was convicted of killing a US police trainer in Kabul in 2012, in what officials say was the first insider attack by a woman.
Taliban officials said two other women from insurgent families were among the released prisoners and all have now returned to their homes.
https://timesofindia.indiatimes.com/world/south-asia/the-women-who-served-as-a-deadly-duo-for-the-taliban/articleshowprint/79350110.cms
----------
Women's Bike Rally Held In Karachi To Provide Awareness Among The Women At Homes
In The News
21 November 2020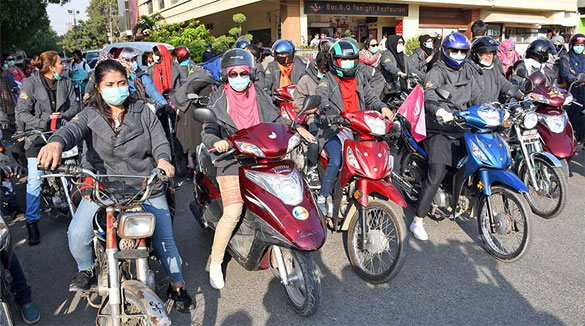 The women participating in the rally said that due to lack of transport, they do not have better transport facilities.
------
KARACHI (Dunya News) - A women's bike rally was held in Karachi in which more than 30 riders participated. The purpose of the rally was to provide awareness among the women at homes.
Biking is a difficult task and it becomes an even more difficult in Karachi. A women's bike rally was organized to get rid of the lack of public transport and rush.
More than 30 riders were seen in action in the rally from Bilawal House to Nishan-e-Pakistan at Sea View. In the rally, someone had a 70cc bike and someone rode a 125 bike.
The women participating in the rally said that due to lack of transport, they do not have better transport facilities. Riding a bike has given them courage and they also sent a message to other women that riding a bike is not a difficult task.
Rally participants urged women to dare to ride bikes beyond the "what will people say" slogan, because riding a bike is neither a bad thing nor a shame.
Certificates were also distributed among the participants at the end of the rally.
https://dunyanews.tv/en/Pakistan/574454-Women-bike-rally-held-in-Karachi
--------
Stella Dadzie: 'Women resisted slavery at every stage of the journey'
21 Nov 2020
anitasethi
Stella Dadzie was born in London in 1952 and is best known for The Heart of the Race: Black Women's Lives in Britain, co-authored with Beverley Bryan and Suzanne Scafe, which won the 1985 Martin Luther King Memorial prize and has been republished as a feminist classic. Her new book, A Kick in the Belly, explores how enslaved women in the West Indies found ways to fight back. She is a founder member of Owaad (Organisation of Women of African and Asian Descent), a group that emerged in the late 1970s to campaign for black women's rights.
The slave owner Matthew "Monk" Lewis visited his plantations in Africa and kept a detailed diary, including an entry about witnessing a black woman being kicked in the belly. It's a useful metaphor for the experience of black women under slavery and the attack on the core of their being. I also wanted to emphasise that they kicked back.
I found evidence during my research of court records that black women caused a serious discipline problem – everything from poisoning the food of their masters to downing tools and refusing to work. I immersed myself in the task of discovering more about those invisible women; they deserve to be more widely known. One of the key findings is that women resisted at every stage of the journey. That was my main aim – to show that they weren't just passive victims. One slave, Cubah, dubbed Queen of Kingston, was captured and deported to another Caribbean island but managed to persuade the captain of the ship to return her to Jamaica, where she rejoined the rebellion.
On the whole, history has been told by men. History is an interesting word, literally "his story". Women have been hidden from history, and it's only thanks to the efforts of a new generation of historians that we're beginning to hear different stories emerge. When I was researching, I began to realise that black people have been airbrushed out of history, and nowhere is this more apparent than the story of enslaved black women. I certainly remember, as a child, being puzzled that history was not about anyone like me, and wondering about that.
I was fostered in Wales at about 18 months and returned to my natural mother at the age of four. I spent my early childhood with my white [birth] mum. We experienced poverty, homelessness and racism – my mother was ostracised as she had a black child and was a single parent. We moved around London a huge amount, as we were constantly getting thrown out by racist landlords. There was a lot of pain and suffering. My father was the first trained pilot in Ghana and joined the RAF and flew as a navigator over Belgium in the second world war. I got to know him when I was about 12 and joined him in countries like France and Ghana. I gained a growing sense of self from visiting Ghana. That played a strong role in shaping my identity.
I grew up as an only child, and didn't meet my siblings until I rejoined my father in France aged 12. I spent a lot of time with my head in books.
When I was in my 20s, issues we were engaged with included anti-apartheid. I remember marching from Brixton to Trafalgar Square in '79 or '80 and seeing the very first black police officer I'd set eyes on. I have another strong memory of attending Greenham Common and being what appeared to be the only black woman there that day.
I'm nearly 70, so I didn't take part in the BLM protests, but it was heartening to see them around the world. I was heartened by the size and persistence and the demography – there were more white faces. That suggests a shift in people's consciousness, and taking responsibility for that history and for a behaviour that needs to be challenged. But I also had a sense of deja vu, given that I lived through civil rights [movements] both in America and the UK and feel in some ways we take two steps forward and one step back.
I'm a prolific reader. I just finished My Sister, the Serial Killer, which was excellent. I loved Rohinton Mistry's A Fine Balance and Khaled Hosseini's And the Mountains Echoed. I've been dipping into New Daughters of Africa, an absolute treasure trove. I love Cracking India by Bapsi Sidhwa, which is about partition told from a child's perspective. I'm working on a novel from a child's perspective. I've been working on it for decades. As a single mother I didn't get much time to write.
I was very lucky to be a reader for Virago, with a view to discussing whether writers would resonate here, so I read Alice Walker, Toni Morrison, Maya Angelou and was very inspired by them. If I had to pick out someone who inspired me the most it would be Zora Neale Hurston and her novel Their Eyes Were Watching God.
I'm looking at a mountain of books which are there for lockdown. I am going to be reading Black Tudors by Miranda Kaufmann and rereading We Need New Names by NoViolet Bulawayo. I also want to reread Marlon James's The Book of Night Women, which is one of the most powerful books about the enslavement of black women I've read.
theguardian.com/books/2020/nov/21/stella-dadzie-women-resisted-slavery-at-every-stage-of-the-journey
-----------
Express report on drug addiction among Punjab women wins Laadli Award
By: Express News Service
November 22, 2020
A report published by The Indian Express has won the Laadli Media and Advertising Award for Gender Sensitivity 2018-19 in investigative story (print) category. Population First, a Mumbai-based NGO that works for women empowerment and gender equality, announced the winners of the 10th edition of the awards during a virtual event Saturday.
The Indian Express' Divya Goyal won the award for her report — 'Punjab: The Invisible Drug Addicts' — which focused on drug addiction among women in Punjab.
This year, 75 mediapersons representing Hindi, Tamil, Telugu, Malayalam, Kannada, Oriya, Assamese, Bengali, Gujarati, and English languages won the awards while 18 received jury citations.
Addressing the virtual event, chief guest Rekha Sharma, the chairperson of the National Commission for Women (NCW), hoped the media would create an environment that will encourage women. "Media can help change the traditional mindset that 'ladki parayee hai aur ladka apna hai'. All laws to help women are in place; we need media's help for a better implementation of the laws. That will only happen when the mindsets change and media can help change mindsets through its reporting and campaigns," said Sharma.
Dr AL Sharada, director, Population First said the Laadli Media Awards prove that even in the worst situations and cynical times there is hope. "There is hope because there are many who are being true to their profession in journalism, showing great sensitivity and compassion, raising critical questions about gender inequalities, discrimination and violence and showing mirror to our politicians and all of us. They are role models for many aspiring journalists and media persons. We honour them with pride," he said.
Argentina Matavel Piccin, representative for UNFPA in India and country director, Bhutan, said, "UNFPA India is proud to work with Population First to challenge stereotypes that perpetuate gender discrimination. We recognize the important role of the media in altering public perceptions around valuing women and girls, and being champions of change. We are therefore delighted to support the 10th edition of the Laadli Awards for gender sensitivity."
Music composer Pandita Anuradha Pal, who breached the gender barrier and entered the male dominated field of Tabla playing, enthralled the audience with a unique 'Jugalbandi with herself.'
The jury, which included members of the media, academia and social activists, selected the 93 winners from 1,100 plus entries received from across the country.
https://indianexpress.com/article/cities/mumbai/express-report-on-drug-addiction-among-punjab-women-wins-laadli-award-7060684/
----------
Initiative For Women Entrepreneurs In Pakistan To Thrive In Global Markets
November 22, 2020
Our Correspondent
Islamabad : Women-owned businesses in Pakistan that are ready to grow by becoming part of global supply chains will now have access to world-class training, networks, and information thanks to the launch of the Women's Business Opportunity Initiative, an effort led by non-profit WEConnect International in coordination with Vital Voices Global Partnership and the U.S.-Pakistan Women's Council.
The initiative was announced at "Advancing Women's Entrepreneurship and Supplier Diversity," a virtual event taking place during the Global Entrepreneurship Week hosted by US Embassy here and the US-Pakistan Women's Council, a unique public-private partnership between the US government, Texas A&M University, and private companies and organizations in the United States and Pakistan. The Women's Business Opportunity Initiative is designed to increase the inclusiveness and competitiveness of supply chains globally and to help women entrepreneurs in Pakistan access opportunities to grow their businesses and thrive.
"Through this initiative, there is great potential to strengthen women entrepreneurs' foothold in Pakistan's economy, as well as across borders with multinational corporations. Boosting revenues of women-owned businesses benefits their employees, families, and communities," said US Embassy Islamabad Chargé d'affaires Angela P. Aggeler.
According to research presented during the event, approximately one-third of buyers in Pakistan procure from women-owned businesses, and one in four have a policy that encourages inclusive sourcing. While promising, there remains room for improvement. The event also highlighted leaders in the business community and growth-oriented women-owned businesses. Through their efforts, Pakistani women will have more opportunities for meaningful labor force participation and economic growth in the future. WEConnect International is a non-profit organization that connects women-owned businesses with buyers outside of the United States. It is a member of the U.S.-Pakistan Women's Council, which includes several leading organizations in Pakistan committed to women's economic empowerment.
https://www.thenews.com.pk/print/747281-initiative-for-women-entrepreneurs-to-thrive-in-global-markets
----------
URL: https://www.newageislam.com/islam-women-feminism/muzghan-her-aunt-nasreen-women/d/123541
New Age Islam, Islam Online, Islamic Website, African Muslim News, Arab World News, South Asia News, Indian Muslim News, World Muslim News, Women in Islam, Islamic Feminism, Arab Women, Women In Arab, Islamophobia in America, Muslim Women in West, Islam Women and Feminism