New Age Islam News Bureau
19 Nov 2018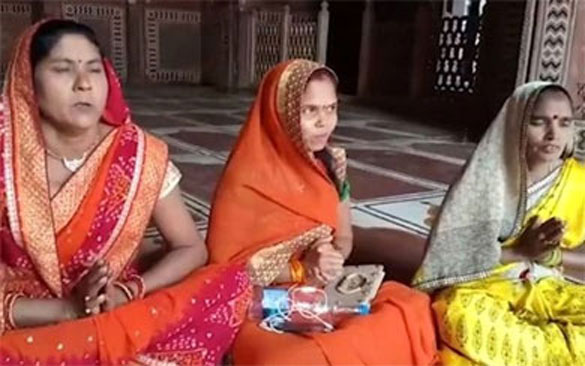 Puja at Taj Mahal mosque: Taj Mahal Intezamiya Committee, Ibrahim Hussain Zaidi said that they will not be lodging any police complaint
-----
• First Women's Martial Arts Tournament Concludes in Jeddah
• Saudi Women Named Heads of Key Urban Development Centres
• Women's Branch Abolished in Major Overhaul of Jeddah Mayoralty
• One of Msia's First Female Shariah High Court Judges Named In BBC's 100 Women List
• Five Female Aspirants Seeking Nominations in Kushtia, Bangladesh
• Kashmiri Woman Arrested For Luring Youths into Militancy through Facebook: Officials
• Saudi Women's Social Enterprise Protects Syrian Refugees from Hunger, Thirst and Loneliness
• United Nations adopts 65th resolution censuring rights abuses in Iran
• Women join protests of sugarcane workers of Haft Tappeh Factory
Compiled by New Age Islam News Bureau
URL: https://www.newageislam.com/islam-women-feminism/muslims-file-complaint-right-wing/d/116919
--------
Muslims Not to File Complaint against Right Wing Women Who Performed Puja at Taj's Mosque
Nov 18, 2018
AGRA: Claiming that Muslims of Agra do not want to disturb communal peace despite the grave provocation by the right wing organizations which performed puja inside the mosque in Taj Mahal on Saturday, president of the Taj Mahal Intezamiya Committee, Ibrahim Hussain Zaidi said that they will not be lodging any police complaint in this regard.
"We don't want communal riots in a peaceful city of the Taj, and that is the reason we are not filing any police complaint against the women who performed Puja", he said. He however, said that the entire Muslim community is hurt with this deliberate attempt of right wing groups.
He said, "what will they feel, if some Muslim women offer Namaz inside the temple". He said the act had hurt the religious sentiments of our community but ASI has not taken any action.
Imam Sadik Ali, who has been associated with the mosque of the Taj Mahal for the past several years, said that his fore fathers had led Namaz in the mosque of the Taj Mahal and they are just continuing the religious responsibility.
He showed stamped document of May 4, 1964, to prove that several generations of his family had been associated with the mosque inside the Taj. Before Sadik's father, his grandfather Syed Ali Zaki was appointed in the mosque's "Imam".
City unit president of the Congress, Haji Jamiluddin Qureshi, said, the puja inside the mosque of the monument was a well planned and deliberate attempt to "vitiate" the peaceful atmosphere of the city.
Questioning the security of the ASI and CISF, he said when the right wing activists had claimed to perform puja inside the Taj Mahal premises a day before the incident then why were they not stopped.
He condemned the incident and said, "the BJP wants to divide the two communities with such acts and polarise the voters ahead of 2019 Lok Sabha polls".
An FIR was not registered by the police till the filing of this report. Talking to TOI, Circle Officer, Taj Security, Mohsin Khan said, no complaint has been received in this regard so far.
https://timesofindia.indiatimes.com/city/agra/muslims-not-to-file-complaint-against-women-who-performed-puja-at-tajs-mosque/articleshow/66680843.cms
--------
First Women's Martial Arts Tournament Concludes in Jeddah
November 18, 2018
JEDDAH: The Legendary Heroes gym club in Jeddah organized the first women's Brazilian jiu-jitsu and kickboxing tournament, with the participation of around 40 contestants.
This tournament is considered the first-of-its-kind women's sports event in the Kingdom. It was held under the auspices of the General Sports Authority. The tournament aimed to stress the importance of women's power in society and further promote martial arts values.
The tournament was characterized by the contestants' enthusiasm and fierce competition. In the jiu-jitsu lightweight division, Jude Al-Fahmi was the winner, Ma'wiya Zahed was second and Hanan Saber third. In the kickboxing lightweight division, Alzhra' Al-Qorshi was first and Mourouj Al-Amoudi second. In the jiu-jitsu middleweight division, Hounouf Sanari was the winner and Lyann Hadrami runner-up, and in the kickboxing middleweight division, Hadeel Ashour won and Maha Halwani was second. Mourouj Al-Amoudi won the jiu-jitsu heavyweight division, with Lynn Fira second, Arwi Tambousi third and Shahd Al-Shareef fourth. Sarah Nas won the kickboxing heavyweight division and Rana Hakim was runner-up. In the jiu-jitsu open weight division, Shahd Al-Shareef was first and Hanan Saber second.
Captain Mohammed Abbas, the founder of Legendary Heroes, said the championship competitions had a large audience and a broad attendance of women of various age groups. It also witnessed various sports such as audience arm-wrestling and martial arts shows such as karate, Taekwondo and Tai Chi.
Jumana Yusuf, executive director of the tournament's organizing committee, said she was happy with the success of the tournament, which aims to spread martial arts culture and discipline, reflecting positively on promoting the country to be in the ranks of developed countries.
She added that throughout history, this culture has been a key factor in the revival and advancement of people and the defense of their homelands.
"The second goal is to lead by example in organizing and managing women's martial arts tournaments so that all women's clubs can organize such activities professionally and smoothly.
"The Legendary Heroes gym club's management in Jeddah organized training and refereeing sessions for its working group and contestants in these two sports. The management also gave away a free booklet that includes the translated two sports' arbitration laws. Captain Marouj Al-Ghamdi, kickboxing and jiu-jitsu trainer, was a fundamental factor in spreading these sports and organizing this tournament as one of the judges and as a contestant," she added.
The tournament's judges were international Saudi contestant Captain Farah Al-Zahrani, the holder of a blue belt practicing in Jordan, and international judges Amina Hatem and Rou'a Zareh.
http://www.arabnews.com/node/1406971/saudi-arabia
--------
Saudi Women Named Heads of Key Urban Development Centres
2018-11-18
RIYADH — Minister of Municipal and Rural Affairs Abdullatif Al-Asheikh has appointed two Saudi women to monitor municipal performance and develop urban planning.
Noura Bint Najr Al-Otaibi was appointed director of the ministry's center to monitor municipal performance within efforts aimed at enhancing capacity building in the field of performance management in the municipal sector.
She will be reporting directly to the minister.
The center is in charge of assessing risks of the municipal sector in all regions according to approved performance management indicators.
Otaibi will evaluate all the municipal risks and challenges and suggest remedies for them. She will also assess the municipal services being provided to the beneficiaries and ways and means of further improving them.
The minister also appointed Dai Bint Ibrahim Al-Duwaiyan as chairperson of the center for developing urban designs and planning.
She will also report directly to the minister.
The center is aimed at promoting the urban designs of cities, improving capacity building, encouraging afforestation and creating architectural identities for Saudi cities.
http://saudigazette.com.sa/article/548322/SAUDI-ARABIA/Women-named-heads-of-key-urban-development-centers
--------
Women's Branch Abolished in Major Overhaul of Jeddah Mayoralty
2018-11-18
JEDDAH — In a major overhaul in the Jeddah mayoralty's administrative structure, Mayor Saleh Al-Turki abolished the women's branch of the mayoralty.
This was two months after appointment of Mariyam Abu Al-Ainain as the head of the branch, which was named as the general department for women's services.
The mayor decided to transfer the powers of this department to branch municipalities, explaining that this is a step aimed at activating the decentralization of all services being provided to women customers within the jurisdiction of the Jeddah governorate so as to enable them access services from their nearby branches.
Replying to queries from Okaz/Saudi Gazette about Abu Al-Ainain, the Spokesman Muhammad Al-Baqmi said that she was transferred to the Agency for Services at the mayoralty.
As part of the overhaul, Samar Al-Sullami was appointed as the chairman of North Obhur branch municipality and Ghazl Al-Sulaimani as director general of the department of administrative communications and e-archives.
These measures have been taken with the aim of improving performance and raising productivity in line with the National Transformation Program of 2020 and the Kingdom's Vision 2030.
Iyad Fadel has been appointed head of the airport branch municipality, while Ayed Bin Mushabab as head of Abraq Al-Rugama branch, Abdul Aziz Ghivas, as head of Khuzam branch and Amr Hafez, head of Safa branch.
Apart from abolition of the women's department, the mayor decided to bifurcate two departments and appoint officials as their heads.
http://saudigazette.com.sa/article/548348/SAUDI-ARABIA/Womens-branch-abolished-in-major-overhaul-of-Jeddah-mayoralty
--------
One of Msia's First Female Shariah High Court Judges Named In BBC's 100 Women List
19 Nov 2018
PETALING JAYA: BBC has named Nenney Shushaidah Shamsuddin, one of Malaysia's first two female Shariah High Court judges, in its list of 100 inspiring women of 2018.
The BBC 100 Women was revealed on Monday (Nov 19), announcing its pick of 100 inspiring and influential women from around the world for 2018.
Nenney was the sole Malaysian named in the list.
"Nenney fights for the protection of Muslim women in her courts and wants to change the negative perceptions of Sharia law," BBC wrote.
Nenney made history in Malaysia last year when she was appointed one of the nation's first two female Shariah High Court judges.
She and Noor Huda Roslan were appointed as Shariah High Court judges for Selangor.
Previously, women were only appointed to the lower courts starting only in 2010.
In media interviews following her record-breaking appointment, Nenney said she is hopeful that the rising number of female judges will help change the perception that Shariah courts do not treat women fairly.
The 42-year-old graduated with a BA in Islamic Studies, a diploma in the Administration of Islamic Judiciary and Shariah, and went on to do an MA in Psychology (counselling) at Universiti Kebangsaan Malaysia (UKM).
She also worked for three years at the Shariah Judiciary Department in Putrajaya.
In the BBC 100 Women list, Nenney is named alongside other female trailblazers like Abisoye Ajayi-Akinfolarin, who founded an non-governmental organisation that teaches girls to code; 2018 Nobel Prize for Chemistry recipient Frances Arnold; Fealofani Bruun, the first Samoan and the first Pacific woman to hold the position of yacht master, and more.
https://www.thestar.com.my/news/nation/2018/11/19/one-of-msias-first-female-Shariah-judges-on-bbc-list/
--------
Five Female Aspirants Seeking Nominations in Kushtia, Bangladesh
November 19th, 2018
Five female aspirants – from different political parties – are vying for nominations to contest the 11th general election in four constituencies of Kushtia district.
The number of female nomination-seekers has increased this election season; however, civil society leaders say, their number is not impressive.
These constituencies have around 1.45 million registered voters.
Of them, two aim to run on the ruling Awami League's ticket, two for BNP, and one for Hasanul Haque Inu led-Jatiya Samajtantrik Dal—which is a coalition member of the Awami League-led Grand Alliance.
Former Awami League MP Sultana Tarun has purchased a nomination paper to contest for Kushtia 4 constituency (Kumarkhali-Khoksa).
The other Awami League nomination-aspirant, Laila Arjuman Banu, has purchased a nomination form for Kushtia 3.
BNP's Farida Yasmin and Farida Moni bought nomination forms to run for the Kushtia 2 (Mirpur-Bheramara) and Kushtia 4 constituencies, respectively.
The remaining nomination-aspirant, Kazi Salma Sultana, from Jatiya Samajtantrik Dal(Inu), aspires to contend in the election for Kushtia 3.
Rafiqul Alam Tuku, president of Kushtia Sachetan Nagorik Committee – a platform of civil society leaders – said women should not only run for reserved seats in parliament but, also, for the unreserved seats in the general election.
"Women have moved forward in many spheres of life. Contesting in all kinds of election, will help boost their empowerment," he said.
Sammilito Samajik Andolan Kushtia chapter President Nazrul Islam echoed Rafiqul's statement.
"If women are represented in the parliamentary election, their empowerment will further increase."
Former Awami League MP Sultana Torun said she has devoted herself to the wellbeing of the people.
"I worked a lot for the development of my constituency during my tenure as an MP. I urge people to vote for the boat [Awami League's electoral symbol] so that I can work more for them," she said.
https://www.dhakatribune.com/bangladesh/election/2018/11/19/five-female-aspirants-seeking-nominations-in-kushtia
--------
Kashmiri Woman Arrested For Luring Youths into Militancy through Facebook: Officials
November 18, 2018
In a first-of-its-kind case , a woman has been arrested by security agencies in Kashmir for allegedly luring youths through Facebook into militancy, especially the Jaish-e-Mohammed, officials said Sunday.
Identified as Shazia from Naidkhai in the Sumbal area of Bandipore in North Kashmir, she was picked up after intelligence agencies zeroed on her Facebook profile, through which she was "luring youths for jihad and picking up weapons", the officials said.
During interrogation, it was found that she had handed over some ammunition and magazines to two youths from Anantnag, one of whom has been picked up.
Shazia, who is in her early 30's and a mother of two, had been on the radar of security agencies for quite some time. She would seek favours from senior officers promising them help in getting some militants arrested.
A video featuring Shazia had surfaced on Facebook a few months ago, and it was alleged that she was a police informer. On the basis of a complaint filed by her, two youths were picked up and later let off with a warning.
"It seems that she was being used by terror groups to extract information from police and other security agencies and pass it on to the militants," an officer, privy to the case, said on condition of anonymity. She has not been forthcoming in her interrogation so far other than dropping names of militant commanders, the officials said.
Shazia's arrest comes a week after police nabbed 28-year-old Aysia Jan for carrying 20 grenades at Lawaypora on the city outskirts following inputs about militants trying to smuggle arms and ammunition into the city. Besides grenades, police also recovered ammunition from her possession. Her two brother were detained in connection with the case.
https://indianexpress.com/article/india/kashmiri-woman-arrested-for-luring-youths-into-militancy-through-facebook-officials-5452349/
--------
Saudi Women's Social Enterprise Protects Syrian Refugees from Hunger, Thirst and Loneliness
November 19, 2018
JEDDAH: "As you return home, to your home, think of others, do not forget the people of the camps," said Mahmoud Darwish in one of his most well-known poems, "Think of Others." Darwish was regarded as the Palestinian national poet and lived between 1941 and 2008.
Fatimah Al-Bassam, 26 (@FatimaAlBassam) and Nouf Aburas, 28 (@Noufaburas) are two young Saudi women who were on a voluntary trip to Al-Azraq camp for Syrian refugees in Jordan when they decided to start a social business to offer a sustainable solution to help the refugees.
"The idea began in October 2017. We were in the camp on a trip organized by Takatuf volunteering group and Care International," Al-Bassam told Arab News.
It all began with a question. "The group's guide from the camp asked us about the most significant problem the people suffered from at the camp. The volunteers gave several answers like hunger, poverty, lack of health care, but the true answer actually was idleness," she added.
Al-Bassam said the refugees have been living in this situation for years. Their minimum needs, such as shelter, clothes, and food are usually met by relief organizations, but they have nothing to do but wait in their caravans or tents for time to pass.
The refugees are full of energy and enthusiasm but the opportunities are not there. "During the visit, I met a lady who told me that she graduated from a sewing course and has a certificate. She wants to practice her skill but she has nothing to do," Al-Bassam said.
"I was thinking, they have people who are good at sewing. They have sewing factories, but they do not have the opportunities to work, and that's what they need, a sustainable solution."
Al-Bassam and Aburas joined in compassion for the refugees and co-founded the social development enterprise Jonnah store.
In addition to her full-time job, Al-Bassam is a member of a volunteering group that organizes trips, many of which focus on the refugee crisis. Aburas already has experience in a social enterprise to support women in Saudi Arabia.
They collaborated with Care International in Jordan (@CAREJor), one of the main humanitarian agencies in the camp.
Jonnah store (@jonnahstore) creates the right conditions to motivate the Syrian refugees to play an active role in alleviating the suffering of their society members, overcoming economic, social and cultural challenges, and enabling them to meet their primary needs of security, shelter, food, health and education.
This happens by giving refugees the opportunity to practice their skills. It is a store that sells minimal wear made by people at the camp and designed by fashion designers from Saudi Arabia.
"Jonnah" in Arabic means the shield. According to Al-Bassam, their store's name is borrowed from a Hadith by the Prophet Muhammad (peace be upon him) in which he said "Fasting is a shield," because it shields the believer from himself, from his wrongdoings, and from behaving foolishly and impudently.
"We want the Jonnah project to be the tool by which refugees protect themselves from hunger, thirst, and loneliness through the money they are making and the community that is being built," said Al-Bassam.
"I have a social business in Saudi Arabia. I am interested in social issues, and poverty in particular," Aburas told Arab News.
She is the founder of Kurt (@kurtstore), a social enterprise she founded in 2013 which supports local, disadvantaged women and teaches them tailoring so they can produce abayas as a sustainable means to fight poverty.
"We did not want to go back home without doing anything. When we returned to Saudi Arabia we recognized that I had experience in a sewing and clothing business and Fatimah had experience in volunteering work and she had the contacts, so we founded Jonnah."
Al-Bassam and Aburas went to the camp in Jordan again in December 2017 to start the business.
They started with six refugees working in the factory, and the number later increased to eight. And they are willing to increase the number of benefitting refugees as they grow their business.
It took them three months to produce the first collection. They faced some obstacles at the beginning, one being communication with the organization at the camp, which has many other priorities.
"It's hard sometimes, because they are a relief organization. They are not business oriented, so sending and receiving emails back takes some time," said Al-Bassam.
Moreover, achieving the desired product quality does not happen immediately. Aburas said that raising a social enterprise has the same challenges as any other enterprise: Following regulations in the country, keeping a consistent production line, and maintaining quality. All of that needs continuous effort and faces some obstacles.
"You want a bigger impact, but to make the impact you have to go through everything," she said.
However, there is an important difference between a social business and any other business.
"You make more profit, not in order to make more money, but you make more profit to help more people so you have a bigger impact. More money is just the tool," Aburas said.
Sometimes people do not understand the concept of how social enterprises work. They may think that the refugee or the beneficiary receives 100 percent of the money they pay, but that is not how the business works. Everything has a cost and the company needs the money to keep going and benefit more people.
Jonnah Store goods are sold through Instagram, and they also participate in exhibitions. Al-Bassam and Aburas aspire to expand their project to reach more customers. They hope to launch their website, hire more refugees, collaborate with more designers, and cooperate with more companies in Saudi Arabia and in the world.
Jonnah sells female clothing in the meantime. In addition to Jonnah's line of designs, it has expanded its business plan; Jonnah can be the interface between the designers and the factory at the camp.
"We would tell them: You are going to produce your collection anyway. Give us a sample and the material, and we will have your collection produced in Al-Azraq camp," Aburas said.
"What really distinguishes Jonnah is that it has occupied refugees' time and improved their social life as well. They gather in the factory every day from 8 a.m. to 3 p.m., learn new things and get to know their neighbors. They feel that they have a goal in their lives," Al-Bassam said.
"I remember when we came back to the camp the second time, I found some seamstresses wearing the clothes they worked on. They actually bought them from Jonnah."
One of the seamstresses told them: "I have never been so proud of myself as I am now."
Another one said: "Since I was in Syria I dreamed of sewing clothes for others. Now I see people wearing the clothes I made. I feel that my dream is coming true."
For Al-Bassam, the issue is not only about having a sustainable income, but also about their psychology, in how what they do is reflected on their self-confidence and sense of hope.
"You only need to be human to have empathy and compassion for the refugees," she said.
"When we went to the seamstresses and tailors, we thought we were going to help them, but we found that we were the ones who drew strength and energy from them," said Aburas.
Moreover, Jonnah received good feedback from custumers. "We had custumers who bought the clothes because they liked them, and we had those who bought from us as an act of compassion and benevolence. For example, some men would buy from us for their sisters and mothers," she said.
Syria is the biggest humanitarian and refugee crisis of our time, a continuing cause of suffering for millions which should be garnering a groundswell of support around the world, said Filippo Grandi, the UN High Commissioner for Refugees.
The Syria crisis has accelerated more dramatically than any crisis on earth. Syrians continue to be the largest forcibly displaced population in the world, exceeding Afghanistan and Somalia by millions of people.
More than half of the prewar population has been internally displaced or forced to seek safety in neighboring countries. That's more than 12 million people, including some 6.3 million people who have escaped across the borders.
According to the latest factsheet published in October by the refugee agency UNHCR, the Blue Camp (Azraq) in Jordan is home to 40,712 Syrian refugees, nearly 22 percent of whom are under five years old.
Opened on April 30, 2014, the camp stretches in a 14.7 square-kilometer area; 75 km away from Saudi Arabia's national borders, and 90 km away from Syria.
The camp is managed in co-coordination with the Syrian Refugee Affairs Directorate and UNHCR.
Al-Bassam said that the refugee crisis is a combination of more than one problem. People in the camps not only lack basic needs of shelter and food, they have also lost their homes and experienced horrific events.
"I believe governments are not doing enough, and we as individuals are not doing enough. We can do a lot more. I always wanted to do something for them," she said.
"As Jonnah, we go to the camp by ourselves to receive the goods, we meet with the staff and listen to their suggestions and complaints, and we pay them by ourselves," she added.
"We do not want it to be just a business. Direct communication makes them feel our appreciation and attention, and that in itself makes us want to keep going."
Mahmoud Darwish ended his poem with the following line: "As you think of others far away, think of yourself, say: 'If only I were a candle in the dark'."
http://www.arabnews.com/node/1407061/saudi-arabia
--------
United Nations adopts 65th resolution censuring rights abuses in Iran
18 November 2018
The Third Committee of the United Nations General Assembly adopted its 65th resolution on Thursday, November 16, 2018, censuring violations of human rights and women's rights in Iran.
While condemning the "alarmingly high frequency" of the use of the death penalty including against minors, "the widespread and systematic use of arbitrary detention," poor prison conditions "deliberately denying prisoners access to adequate medical treatment," and "cases of suspicious deaths in custody," the United Nations resolution notes some of the violations of women's rights and condemns all forms of discrimination against women in Iran.
In article 16 of paragraph 74 of the resolution, the United Nations strongly urges the Iranian regime "to eliminate, in law and in practice, all forms of discrimination and other human rights violations against women and girls, including with respect to the right to freedom of movement, the right to enjoyment of the highest attainable standard of physical and mental health, the right to freedom of religion or belief and the right to work, to take measures to ensure protection for women and girls against violence and their equal protection and access to justice, to address the concerning incidence of child, early and forced marriage, as recommended by the Committee on the Rights of the Child, to promote, support and enable women's participation in political and other decision-making processes, and, while recognizing the high enrolment of women in all levels of education in the Islamic Republic of Iran, to lift restrictions on women's equal access to all aspects of education and women's equal participation in the labour market and in all aspects of economic, cultural, social and political life."
Mrs. Maryam Rajavi, the President-elect of the National Council of Resistance of Iran, welcomed the 65th resolution of the United Nations condemning human rights abuses in Iran. She said, "Condemning the systematic and gross violations of human rights by the theocratic regime ruling Iran, the UN resolution once again confirmed that the regime blatantly tramples upon the Iranian people's most fundamental rights in all political, social and economic spheres."
"The Iranian regime is in no way congruous with the 21st century and must be isolated by the world community," Mrs. Rajavi added.
Mrs. Rajavi reiterated, "The most vivid example of grave violations of human rights in Iran is the 1988 massacre of political prisoners perpetrated by the regime's key institutions and leaders, who are still in power, still defend this crime, and remain immune from punishment. The world community faces a monumental test in investigating and prosecuting those responsible for this great crime against humanity."
https://women.ncr-iran.org/iran-women-news/5571-united-nations-adopts-65th-resolution-censuring-rights-abuses-in-iran
--------
Women join protests of sugarcane workers of Haft Tappeh Factory
19 November 2018
The strike and demonstrations of sugarcane workers of Haft Tappeh Industrial Complex in Shush, saw the widespread, active and outspoken participation of women during the weekend, November 16-18, 2018.
Workers of Haft Tappeh Sugarcane Industrial Complex have been on strike for 14 days.
Sugarcane workers of Haft Tappeh staged protest gatherings outside the Governorate's building in Shush, demanding end to the private ownership of the complex as well as past due payment of their salaries.
Many workers were accompanied by their wives and whole families. Women had brought their pre-school and elementary school children with them to the protest march and rallies. The children held placards which read, "We are hungry! HUNGRY."
In various scenes during the protest, women took the stage and spoke to the gathering of sugarcane workers. A woman teacher also joined the protest in solidarity and spoke to the sugarcane workers.
In one of these speeches, an outspoken woman said, "Workers should have been working in the factory, right now, so that the wheels of the factory would turn. But they must come to the streets and protest. Why? Why should they protest? Because this city does not have anyone in charge! We don't have responsible officials? We have no governor…
"Dear brothers, you should regard us as one of you. We are your sisters. We expect that your sisters, mothers, wives and children would join us. Life has truly become difficult. Little children want different things and become impatient. Officials must be ashamed of the empty tables of Haft Tappeh sugarcane workers. What does it mean? It means that we are hungry."
Another outspoken woman told the gathering of Haft Tappeh sugarcane workers outside the Governorate of Shush, "Another thing is that the governor and officials gathered and said, 'We are discussing to see how to resolve your problems.' (I ask,) 'Sir, how many workers were there when you were solving our problem? How could someone whose stomach is filled be aware of the conditions of a hungry man?"
https://women.ncr-iran.org/iran-women-news/5574-women-join-protests-of-sugarcane-workers-of-haft-tappeh-factory
--------
URL: https://www.newageislam.com/islam-women-feminism/muslims-file-complaint-right-wing/d/116919
New Age Islam, Islam Online, Islamic Website, African Muslim News, Arab World News, South Asia News, Indian Muslim News, World Muslim News, Women in Islam, Islamic Feminism, Arab Women, Women In Arab, Islamophobia in America, Muslim Women in West, Islam Women and Feminism