New Age Islam News Bureau
5 Oct 2015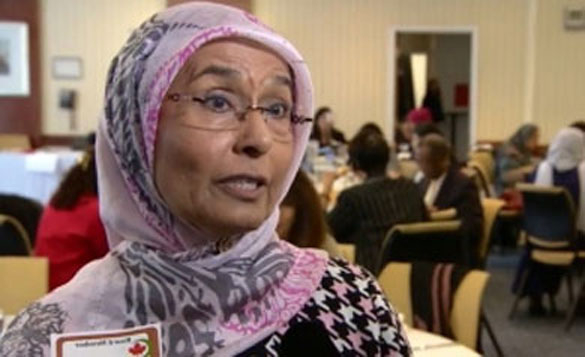 Shaheen Ashraf says there's a negative stigma associated with Muslim garb, which hinders employment opportunities for Muslim women. (CBC)
-------
• Muslims Lagged Behind Because They Kept Women Enslaved: AMU V-C
• Muslims Living In Pakistan and Bangladesh Are Fundamentally Hindus: Pakistani Lady Scholar
• Canadian Muslim Women Sound Off On 'Stupid' Niqab Debate
• After Minarets, Swiss Rightist Seeks Niqab Ban
• I Always Want Pakistan to Beat India in Cricket: Malala
• Saudi Women Poll Candidates Test the Water
• Malaysians Prefer Modest Hijabi Fashion
• Hindu Devotees Help Muslim Woman Give Birth in Ganpati Temple in Mumbai
• Children Literature Festival in Pakistan Ends on a High Note
Compiled by New Age Islam News Bureau
URL: https://www.newageislam.com/islam,-women-and-feminism/new-age-islam-news-bureau/muslims-lagged-behind-because-they-kept-women-enslaved--amu-v-c/d/104801
---------
Muslims Lagged Behind Because They Kept Women Enslaved: Aligarh Muslim University V-C
By Mohd Faisal Fareed
October 5, 2015
Lt Gen (retd) Zameer Uddin Shah, Vice-Chancellor of Aligarh Muslim University, said Muslims lagged behind in the development race because they kept their women enslaved. "You have not utilised half of your population. Women remained enslaved. They remained inside home. Muslims have no one else to blame. You enslaved women and the result is you are enslaved," Shah said during a felicitation function of AMU Old Boys at Lucknow on Sunday. "I stayed in Saudi Arabia, the situation remains the same. Women are confined. Except Turkey and Iran, women remained enslaved in all Muslim worlds. That is the reason they are backward," he added.
Shah also lashed out Muslims for not working during the month of Ramazan. "Muslims work for 11 months in a year. During Ramazan they do not work. Also, in any normal week, they do not work for two-and-a-half days. On Friday, they make preparations for Namaaz. This is followed by the weekend," he added. Referring to the Muslims, he said: "You left education. There is infighting among the community. There is division on regional lines too. This is also destroying AMU," he said. Shah also stated that there is no discrimination on religious grounds. "What matters is only qualification and ability. I started as a madrasa student and reached here. The community just rues about discrimination which is non-existent," he said. Referring to his tenure as V-C, he said: "I may be the most unpopular V-C but I am not concerned. I did my bit to change the institution. Things like indefinite closure are past now," he said. Shah claimed that his decision to appoint nearly 400 competent teachers in AMU through proper general selection committee has rattled many senior faculty who earlier hired their relatives. "For appointing 400 teachers, I made 4,000 enemies. Earlier the AMU schools were third-rated. We made the appointments only on the basis of competency. Many disliked it," he said. Shah also spoke about AMU's plan to establish schools through Sir Syed Education Foundation in other cities. Proposal for 30 cities have been received with people agreeing to donate two acres of land for setting up schools. AMU has approached the Ministry of Minority Affairs for a corpus of Rs 10 crore to make these schools function. The institution also has decided to set up its own solar power plant at the cost of Rs 20 crore for cutting the huge electricity bill which amounts to nearly Rs 26 crore.
http://indianexpress.com/article/cities/lucknow/muslims-lagged-behind-because-they-kept-women-enslaved-amu-v-c/#sthash.nPwhZvHg.dpuf
---------
Muslims Living In Pakistan and Bangladesh Are Fundamentally Hindus: Pakistani Lady Scholar
05 Oct 2015
New Delhi: Pakistani lady scholar, Fauzia Syed, has stated that Muslims living in her country and Bangladesh are fundamentally Hindus and that in rare cases, they might be Buddhists, a report in indiatomorrow.co said.
She said that Pakistani and Bangladeshi Muslims will have a hard time in accepting the fact that their ancestors were Hindus who were converted by force of sword to Islam.
She explained that Muslims in Pakistan widely consider themselves the offspring of Arab invaders who came attacking the sub-continent from Islamic lands, but this is false.
Also Read: 7 things Muslim women can't do in Saudi Arabia
She said that it was also wrongly propagated that Pakistani Muslims are offspring of Arab or Turk invaders. Today's Muslims in Pakistan and India were converted by Sufi saints.
Ancestors of more than 99 percent Pakistanis were Hindus, she said, adding that 'unfortunately' Pakistanis does not want to hear or admit this bitter truth.
Fauzia claimed that the history of the sub-continent points out that Hindus were killed and forcibly converted by Muslim invaders.
Fauzia also counted the fact that many surnames like Cheema, Bajwa, Ghakhar, Sethi and also Sehgal (or Saigols) are common to both religions.
Fauzia said this while responding to Pakistani Muslim cleric Zaid Hamid during a live TV interview.
She also said that it is not wrong to call Pakistan a terrorist state because it has been sheltering terrorists for a long time.
The truth was exposed when Osama bin Laden was killed in Pakistan by US forces, she said.
http://www.indiatvnews.com/news/world/muslims-living-in-pakistan-bangladesh-fundamentally-hindu-26725.html
---------
Canadian Muslim Women Sound Off On 'Stupid' Niqab Debate
Oct 04, 2015
Many prominent Muslim women in Canada say they have heard enough of the niqab debate and are ready for federal leaders to shift their sights toward issues, they say, matter.
The Canadian Council of Muslim Women held an event Sunday in Toronto to hand out awards and discuss concerns in their communities. There was also an opportunity for debate between political parties on where they stand on issues affecting Muslim women in Canada.
But the debate continued to focus on wedge issues rather than major themes affecting all Canadians. That did not sit well with some Muslim women, who say the topic is "just a way to gain votes" ahead of the Oct. 19 election.
"Right now, the federal government is talking about women and [the] niqab, which is not an issue, even for Muslims," said Zarqa Nawaz, the creator of Little Mosque on the Prairie.
"We're in a recession, what is the plan to go forward? Those are the things I want to talk about. Not about women in [the] niqab and why she can't sing the national anthem with her face covered. That's just stupid."
Maryam Dadabyoy, community relations officer for the National Council on Canadian Muslims, appeared annoyed with the niqab conversation. She says the federal government should be inclusive of all Canadians.
"It's an issue that won't go away and it's not even that important," Dadabyoy said.
"We need to see a government that just makes us feel more a part of the community and not being ostracized," she continued. "Not very many women do wear [the] niqab, but it's being thrown in everyone's face."
Muslim women say they feel 'demonized'
Shaheen Ashraf sits on the national board of the Canadian Council of Muslim Women, which hosted the event. She lives in Montreal and says the hotly-debated topic is being heard in her province even though it doesn't affect her community.
"The whole niqab issue is not an issue for us," Ashraf said. Instead, she'd like candidates to focus on how Muslim dress affects their ability to move forward in society.
"If you are wearing a scarf, or, for instance, the niqab, you're not going to get a job. Your credentials don't count. [Employers] think that if you have a scarf, you don't have a brain."
Ashraf states firmly that Muslim women have the right to choose how they dress, just as any other Canadian.
"[Muslim women] feel like they're being demonized," Nawaz said.
The upcoming election should be an opportunity for Muslim women to have their real issues heard, the women say.
http://www.cbc.ca/news/canada/toronto/muslim-women-sound-off-on-stupid-niqab-debate-1.3256417
---------
After Minarets, Swiss Rightist Seeks Niqab Ban
29 September 2015
ZURICH —A far-right politician who spearheaded campaign to ban minarets in Switzerland is looking for a new Muslim target, with his new announced plans to launch a new initiative to ban the Islamic full-face veil or niqab.
"In our culture, you don't cover your face, you show it. That's our culture, that's our society," Walter Wobmann told Reuters on Monday, September 28.
"Veiling is a symbol of radical Islam, which we don't want here," the Swiss People's Party Member of Parliament from Solothurn said.
According to Wobmann and his allies, the new "yes to the veil ban" initiative was launched to preserve Swiss culture.
The initiative, launched on Tuesday, seeks 100,000 signatures to come up for a popular referendum.
If successful, the initiative would constitutionally ban facial covering in public, similar to the French act of 2010.
"More and more Muslims are coming to Switzerland, on refugee routes, and it's important that these people know what regulations we have in these domains," Wobmann said.
"It's important that we take action now, at the beginning, or it will become difficult."
According to the CIA Factbook, Switzerland is home to some 400,000 Muslims, representing 5 percent of the country's nearly eight million people.
While hijab is an obligatory code of dress for Muslim women, the majority of Muslim scholars agree that a woman is not obliged to wear the face veil, or niqab, but believe that it is up to her to decide whether to cover her face or not.
Criticism
The new initiative sparked criticism from Swiss politicians.
One of them is Michael Sorg, spokesman for the Social Democrats, who said the initiative was unnecessary, calling it harmful to their country's image.
He said hardly anyone living in the wealthy Alpine republic of 8.2 million people wears the face-covering niqab or burka, so the law would practically affect only about 5,000 tourists. About five percent of Swiss residents are Muslim.
The proposal comes a few days ahead of Swiss parliamentary elections, which focuses on a broader set of migratory and cultural issues that have polarised and mobilised Swiss voters to a greater degree than any other.
The Social Democrats' Sorg said the initiative did not reflect reality in the wealthy Alpine country.
"Compared to other countries in Europe, there are no religious tensions in Switzerland," he said.
The controversial minarets ban was enforced in 2009 through a referendum called for by the far-right Swiss People Party.
After 57 percent of the voters agreed on the proposal, article 72, paragraph 3 was introduced in the Federal Constitution to bar the construction of minarets nationwide.
There are nearly 160 mosques and prayer rooms in Switzerland, mainly in disused factories and warehouses.
Only four of them have minarets, none of them used to raise the Azan, the call to prayer, which is banned.
http://www.onislam.net/english/news/europe/494479-after-minarets-swiss-rightist-seeks-niqab-ban.html
---------
I Always Want Pakistan to Beat India In Cricket: Malala
October 04, 2015
New Delhi: Nobel Peace Prize winner Malala Yousafzai said she wanted peace between Pakistan and India but when it came to cricket, she always wanted Pakistan to win.
"Yes, I want India and Pakistan to have good relations always but in cricket, I always want Pakistan to win," the teenage human rights activist said, while speaking to India Today on Sunday.
When asked if she would like to go to Pakistan again, Malala replied, "Inshallah, that is my wish. I want to go to Pakistan and serve the people of my country. I started my campaign for education from Swat. The terrorists who stopped me from getting education motivated me to stand up for my rights. I will continue my campaign there."
Malala even expressed a wish to go to India, especially Delhi and Mumbai, to inspire young girls there. "I am very surprised and happy that people in India love me a lot. People in India love me, respect me. They don't care about my religion or where I belong to," she said, adding that "People stand with me knowing that I am doing good work. This is what is good about India and I would love to visit India. I would love to see Delhi, Mumbai and other places."
When asked if winning a Nobel prize and having a documentary film on her life made her feel like a superstar, Malala replied, "Well, I am just a normal girl and I am doing what is the responsibility of all of us, which is to stand for what is right in your society and to stand against injustices. I cannot tolerate women being denied the right to have an identity and girls being denied a right to education. That is what I am standing for and I think this is the right thing we all should do."
Speaking about the Taliban, the 18-year-old said that the only weapons needed to fight against terrorism were books, pens and our voice. "In order to fight the power of extremism, this power of terrorism, we have to empower our young generation through education. The weapons that we need are our books and pens and our voice, that is the most important thing. There is no investment done in education, which is needed right now. We need our leaders to invest more in education, to empower the future generation against terrorism."
The youngest-ever Nobel laureate confessed to being a little afraid when she was targeted by the Taliban. "When I was targeted, I was a little afraid. But I realised on that day no power in the world can stop my fight for education. This fight for education will continue."
However, when asked if she felt any anger towards her attackers, Malala replied, "When I think about others, one thing is very important. If I expect others to treat me with fairness, kindness and forgiveness and justice, I want to treat people with the same feeling. If I expect a terrorist not to shoot, I feel I should also believe in forgiveness."
Malala also expressed sadness for the students of the Army Public School who were targetted by the terrorists. "It is a matter of horror and sadness that children have been targeted. This is unimaginable. It is sad that politicians grieve for a few days but do nothing. We hope something is done. Hope safety is ensured for everyone."
Further, answering a question about what has been the most difficult thing for her to adjust to in the years since her attack in 2012, Malala said candidly that it was living in the UK. "It is a totally different country and culture and, specially for my mother, it was very difficult to adjust. Now after three years, we have adjusted quite well."
The teenager maintained that her father was her inspiration but also revealed that it was her mother who encouraged both her father and her as she always believed in speaking the truth. "Well, he is my inspiration and also my mother. She is the one who encouraged both of us. She strongly believes in telling the truth and it is her strong belief that you should say what is right and deny all injustices. My father has so much energy. He is so passionate and it was his struggle for women's rights and education that motivated me."
Responding to the criticism that she said what the West, America, told her and that she did not raise issues of Pakistanis, the 18-year-old said, "Pakistan is my nation and people there love me. Some people criticise me, but my struggle for education is not Western or Eastern. It is a human right which cannot be ignored."
Malala also revealed that she would one day want to become the prime minister of Pakistan. "Hopefully, if people vote for me. But my dream is to help children get education."
http://nation.com.pk/national/04-Oct-2015/i-always-want-pakistan-to-beat-india-in-cricket-malala
---------
Saudi Women Poll Candidates Test the Water
5 October 2015
JEDDAH: Candidates in municipal council elections are holding meetings in a number of commercial centres to attract votes and gain the confidence of people.
In these gatherings, they are talking about election culture, the importance of women's participation and achievement of the "main goal."
During a visit to one such gathering in the Eastern Province, one of the candidates said that during Eid holidays an intensive program was set up to inform women about the election process, its importance and future implications. She visited women's coffee shops where women appreciated the idea.
However, there are people who say that women's participation in these elections is just for "decorative purposes" and that their presence does not have any impact on development of the region and achievement of the goals, this candidate said.
Only a few listeners wanted to know her platform and asked questions about the details, she said.
Another candidate, who does not wish to be named, said that meeting in gatherings before beginning of the next phase of campaigning was against the election law. The monitoring committee will begin its work during the phase of canvassing to track violations and stop candidates from crossing limits. Punishments will be announced soon with the beginning of next phase, after announcement of candidates and registration of voters.
Other women candidates said that using the Eid holidays to canvass votes and sending messages to society was nothing but a personal activity. Muna Ali, a member of the election campaign, said during holidays the gatherings of women were used for introduction to win the trust of society.
"We tried to relate what women can contribute, like communicating with officials for social development. The objective of candidature is not personal status as some people think," she said.
http://www.arabnews.com/saudi-arabia/news/815841
---------
Malaysians Prefer Modest Hijabi Fashion
04 October 2015
KUALA LUMPUR – Amid growing number of hijabi Muslim women in Malaysia, the demand for stylish modest fashion is becoming bigger, with many looking to be more fashionable while wearing the Islamic headscarf.
"Choosing to cover up isn't supposed to create more stress on women, and nor is it the climax of our spirituality," Mimpikita head designer and founder, Nurul Zulkifli, told Malay Mail on Sunday, October 4.
The 33-year-old designer believes that the popular modest fashion in Malaysia helps veiled women to be fashionable which creates a niche market for entrepreneurs.
About five million Muslim Malaysian women wear the Islamic headscarf and dress modestly, According to Moslema In Style co-founder Emy Yuzliza Yahya.
"In our database, we have 500 hijab and Muslim fashion brands," Emy Yuzliza, whose company organizes Islamic fashion shows, said.
Islamic fashion designers from the UK, Europe, Turkey, Middle East, Brunei, Egypt and Indonesia will participate in the Moslema In Style Fashion Forward 2015 fashion show that will be held by Yuzliza Next November in Kuala Lumpur.
"Malaysia is more simple and modest," she said.
The Global Islamic Economy 2014-2015 report by Reuters showed that Muslim consumers globally are expected to spend US$484 billion on Islamic clothing and footwear by 2019, up 82% from 2013.
Earlier this month, an advert for H&M has created lots of debates, after featuring the first Hijabi Muslim model in modest attire.
The advert is expected to bring new customers to the giant retailer, with regard to the fact that Muslims spent $266 billion on clothing and footwear in 2013, according to Thomson Reuters.
Non-Muslims Too
The lucrative modest industry appeals to non-Muslims too, offering comfortable and fashion designs.
"To me, when I design aere pieces, the most important aspect is that it must be comfortable, practical, versatile and of course stylish," aere founder Raja Nadia Sabrina said.
"I usually play with a loose or relaxed fit, long sleeves and full length skirts and pants. These are designs that are hard to find currently, and that's something I believe makes aere very attractive to people," the 31-year-old fashion designer added.
Citing western designers and actresses who prefer modest clothes, Sabrine said: "So it's not a Muslim-exclusive market. I'm also delighted to have received a lot of support in terms of non-Muslims wearing and buying aere pieces.
"aere pieces are designed to enable a lot of mixing and matching with what you already have in your wardrobe."
Choosing more modern hijab trends, many young women prefer to wear long-sleeved blouses and full-length skirts instead of a jubah (a long loose Arabic robe).
"I feel it's actually more fun because I get to play with more things — hijab, tops, accessories," Dewi Dahlia said.
Islam sees hijab as an obligatory code of dress, not a religious symbol displaying one's affiliations.
Malaysia has a population of nearly 26 millions, with Malays, mostly Muslims, making up nearly 60%.
Ethnic Chinese and Indians - most of them Buddhists, Hindus and Christians - make up about 35 percent.
http://www.onislam.net/english/news/asia-pacific/494709-malaysians-prefer-modest-hijabi-fashion.html
---------
Hindu Devotees Help Muslim Woman Give Birth in Ganpati Temple in Mumbai
4 October 2015
While the nation might be consumed by news of communal hatred, as a man in Dadri was allegedly killed for consuming beef (which he didn't), there are incidents of harmony which remind us that the idea of India will never die. Recently, according to a report in Mid Day, a group of Hindu devotees in Mumbai helped a Muslim woman give birth. Apparently, the woman was forced out of her after the taxi driver panicked that she was going to give birth in his car.
When the driver ejected them from their car, they were helped by some women who were sitting near a Ganpati temple. The women created a temporary delivery room with the help of Sarees and bed-sheets, and helped with the delivery. The couple went to the hospital after the delivery and the doctors said there were no signs of complications. The happy couple are now going to name the baby Ganesh.
http://www.dnaindia.com/india/report-hindu-devotees-help-muslim-woman-give-birth-in-ganpati-temple-2131522
---------
Children Literature Festival In Pakistan Ends On A High Note
October 04, 2015
Islamabad - Achieving the highest standards of success, Capital's third Children Literature Festival has been closed here at the Lok Virsa yesterday after featuring a star-studded galaxy of renowned writers, poets, actors and performers spending time with the children and teachers of twin city and surrounding districts.
Two-day Children Festival was a part of three-day literature celebrations organised by Idara-e-Taleem-o-Agaahi and Lok Virsa in collaboration with Oxford University Press, Open Society Foundation, Telenor Pakistan and HBL along with the Federal Directorate of Education, Education Department Rawalpindi, Capital Administration and Development Division.
Children Literature Festival this year again presented a unique galaxy of talent and craftsmanship by rendering the big names of literature, acting, creative artists, including Haseena Moin, Hamid Mir, Parvez Hoodbhoy, Zubaida Mustafa, Nargis Sultana, Reham Khan, Fauzia Minallah, Rumana Husain, Ayub Baloch, Mosharraf Zaidi, Khaled Anum, Nasreen Iqbal, Ameena Saiyid, Bushra Gohar, Tahira Abdullah, Sheherzade Alam, Khursheed Hyder, Faisal Bari, Samina Imtiaz, Baela Raza Jamil, Amira lam, Arifa Syeda Zehra, and many more.
The legendary celebrities marked their presence by portraying and sharing their skills and artistry in different interactive and packed sessions.
CLF Founder Baela Raza Jamil while talking to media on the closing day said that CLF & TLF are organised in a way that we can bring awareness regarding critical issues especially related to our kids.
She expressed her gratitude to the sponsors and audience for marking their presence in great numbers.
Addressing on this occasion, Lok Virsa Director Dr Fauzia Saeed lauded the organisers of CLF and say that these celebrations will become the easiest way to analyse and understand the children's behaviours and attitude.
She said that Lok Virsa will always be available in the future for any such activities.
Earlier, on the concluding day, many interactive and productive sessions, including conversations, talks, dialogues and many more were arranged in which leading celebrities from different walks of life expressed their view points.
To portray the folk culture and music in Pakistan Lok Virsa facilitated a special folk music performance.
A session on Digital Security Training was also held.
A special conversation regarding the role of media in popularising and unlocking the power of reading was held in which famous scholars and journalists, including Hamid Mir, Ameena Saiyid, Fereeha Idrees, Zubeida Mustafa and Abdul Samad delivered speeches.
A unique session 'Brokering Peace, Tolerance and Citizenship in our class rooms' was held as well in which well-known scholar Dr Parvez Hoodbhoy and other panelists described the importance of harmony in promoting peace in the country.
Famous writer Haseena Moin shared her unique tips and suggestion with children in a segment "how to write a drama".
To portray and raise the knowledge regarding Pakistan's known fine artists an Art Workshop on Sadequain and Chughtai was also held on the last day along with many more interactive sessions.
On the last day of three day literature celebrations, many book launches were also arranged, including Amira Alam's "Dum Dum Diga aur Akbar" Romana Hussain's "Tasveri Kahani Silsila, on Sheema Kirmani" and "Tota Khan aur Bakri Ara ka Safarnama" were also launched on this occasion.
During the festival children were provided the opportunities to attend different interactive sessions regarding, creative writing, poetry, painting, literature, drama, acting, and history along with different creative activities.
On this occasion, HBL established Money Maze stall while Multi-sensory stalls by Idara-e-Taleem-O-Aagahi, CLF, Dawood Foundation, Pakistan Reading Project Mobile Library, Sabaq Foundation, Knowledge Platform, Children Artisans at Work were also installed while The Art of Book Making was also presented by Oxford University Press.
http://nation.com.pk/islamabad/04-Oct-2015/children-literature-festival-ends-on-a-high-note
---------
URL: https://www.newageislam.com/islam,-women-and-feminism/new-age-islam-news-bureau/muslims-lagged-behind-because-they-kept-women-enslaved--amu-v-c/d/104801