Age Islam News Bureau
20 Nov 2012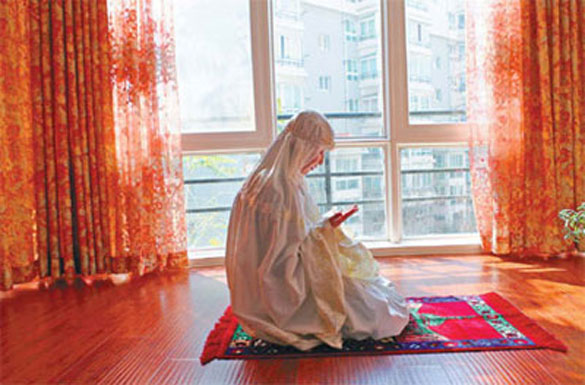 • Islamic Hardliners Announce Fatwa on Malala Yousafzai
• Six Emirate Hospitals Say 'No' To Pregnant Indian Woman
• Ellinah Wamukoya Becomes Africa's First Anglican Woman Bishop
• Mosques in China Give Women Major Say
• Emirati Women Ups the Economic Ante
• Pakistan Quashes Christian Girl 'Blasphemy' Case
• Savita Death Must Be Catalyst for Change: Indian Church Body
• Liberian President to Get Indira Gandhi Peace Prize
• Pak Teenager Malala Chosen for Bravery Award
• Bajaur Incursion Kills Girl Child, Injures Two
• Egyptian President Mohamed Morsi's sister dies
• Women Rewarded For Innovative Business Plans in Pakistan by ILO
• Educate Women to Empower Them
• From Uninitiated to Masters of Intricate Patterns in Eight Days
Compiled by New Age Islam News Bureau
Photo: Mosques in China Give Women Major Say
URL: https://newageislam.com/islam-women-feminism/muslim-women's-group-seeks-ban/d/9359
------------
Muslim Women's Group Seeks Ban on Oral Talaq
Nov 20 2012, 04:20 hrs
Mumbai: In a move that may ruffle feathers of conservative clergy, Bhartiya Muslim Mahila Andolan (BMMA) has demanded a ban on oral talaq.
Among Sunni Muslims, this form of divorce, which is affected by men unilaterally thrice pronouncing the word talaq, does not need a witness.
BMMA, which is fighting for the cause of Muslim women, claimed such talaq was unfair.
"Oral talaq grossly violates rights of women. A woman and her child suffer as they are immediately abandoned by husbands," founder-member Noorjehan Safia Niaz said.
BMMA and women affected by oral talaq will make a submission to the state government on Tuesday to help end the practice.
BMMA wants the state to ban the practice and work towards swift codification of the Islamic law.
Conservative clerics opposed the move, saying oral talaq was a part of divine laws that cannot be changed.
However, Muslim countries such as Iran, Morocco and Jordan have banned the divorce form.
http://www.indianexpress.com/news/muslim-women-s-group-seeks-ban-on-oral-talaq/1033471/
------------
Islamic Hardliners Announce Fatwa on Malala Yousafzai
By Rob Crilly
19 Nov 2012
British-based Islamic radicals are preparing to announce a fatwa on Malala Yousafzai, the 15-year-old girl shot by the Pakistan Taliban, for her role in standing up to extremists.
The story of Malala, who is recovering at the Queen Elizabeth Hospital in Birmingham, has touched millions of people around the world since she was attacked by a gunman on her way home from school last month.
She had dared to defy the Pakistan Taliban by promoting girls education and by documenting their abuses in a blog written in 2009.
Later this month, hardliners plan to gather at the notorious Red Mosque in Islamabad to denounce her as an apostate, accusing her of turning her back on Islam.
Anjem Choudary, who lives in East London and is one of the founders of al-Muhajiroun, which was banned in 2010, said the conference would announce the fatwa.
Although apostasy carries the death sentence according to Islamic law, he insisted he was not calling for Malalaメs death.
"It's not a death sentence," he said. "It's about what is the reality of what's taking place and how she is being used as a tool for propaganda by the US and Pakistan, and for the crimes they are committing."
Malala has been recovering in Birmingham for the past five weeks.
It is understood that she could spend as long as two years in the UK, undergoing surgery, rehabilitation and counselling.
Last weekend her supporters marked "Malala Day" around the world, calling for better access to education for girls.
http://www.telegraph.co.uk/news/worldnews/asia/pakistan/9687466/Islamic-hardliners-announce-fatwa-on-Malala-Yousafzai.html
------------
Six Emirate Hospitals Say 'No' To Pregnant Indian Woman
Asma Ali Zain / 19 November 2012
A 27-week pregnant woman with premature labour pains was allegedly refused treatment by at least six private and government hospitals across three emirates last week.
Nearly all hospitals, she has claimed, said they did not have bed space.
The seventh hospital also initially refused the Indian woman, but took her in after realising that she would deliver within minutes.
However, her premature baby boy died two days after birth due to bleeding in the lungs, reports show. Doctors from the Iranian Hospital told the woman that her baby could have survived if she had arrived at the hospital earlier, she said.
When 34-year-old Pushpa K Joy finally gave birth at 10pm on November 8, she had been shuttling between hospitals in heavy traffic, bearing severe birthing pains for over 10 hours. The hospitals also refused to provide an ambulance, she has alleged.
A week after the death of the child they had been wanting for long, the distraught couple says they are seeking answers. They have questioned the medical ethics and doctors' responsibilities.
Dr Abdullah Khayat from Latifa Hospital in Dubai, Dr Arif Nouryani from Al Qasimi Hospital in Sharjah and Dr Obaid Al Khudaim from Baraha Hospital in Dubai said Pushpa may have been turned away because currently they are all overbooked by 100 per cent. She had not pre-registered with them, they added.
"I had been attending pre-natals at Dr Sunny's Clinic in Sharjah and was told that everything is normal," said Pushpa, adding that her doctor told her she would be referred to a nearby hospital after she completed her seventh month for delivery, since the clinic does not have an inpatient facility. Nothing was said about registering ahead of time, she said.
"On November 7, I started feeling some pain and went to see my doctor at the clinic. I was administered an injection and advised complete bed rest," she said.
The next day at around 2pm, when Pushpa's pains got worse she was asked to visit Gulf Medical University (GMU) in Ajman by her doctor with a letter explaining her condition.
Pushpa, also mother to an eight-year-old daughter, claims the doctor stopped responding to her calls when she could not find a place in any hospital.
A statement from Dr Sunny's Clinic read: "In a polyclinic setup, a gynaecologist usually takes care of the patient for the first two trimesters of pregnancy (antenatal). Pushpa was not a high-risk patient in the beginning, but after her fifth month, she developed slight fluid increase (amniotic fluid on upper normal level). She was advised to register at a government hospital/private hospital of her choice. The doctor in question also attended all the calls on November 8. Ironically, the doctor herself contacted the relative of the patient who accompanied her to check on her status that too after duty hours."
Pushpa also claimed that after a check-up, GMU said they did have not space and told her to visit Al Qasimi Hospital in Sharjah. In a statement, GMU said: "As per the medical records of GMU Hospital, Ajman, no patient in the name of Pushpa K Joy has reported to the hospital for any sort of consultation/treatment/delivery on the said date."
"From Al Qasimi I was sent to Al Baraha in Dubai because they too said they did not have space," she claimed. Pushpa, who works as a school nurse in Sharjah, alleged that all these hospitals had done her check-ups before turning her away and knew that she was having contractions.
"From Baraha, we went to NMC Specialty in Dubai but were told that rules did not allow them to admit a patient who has not completed 30 weeks of pregnancy." In a detailed statement, NMC Specialty Hospital said when the patient visited them on November 8 she was 27 weeks pregnant, in early labour and in stable condition.
"It was suggested that she visit the government hospital to ensure safe delivery of her baby, as the baby was very premature and our hospital was not privileged to treat babies below 30 weeks gestation. When she left NMC, she was not in a state of medical emergency and was stable," it read.
By this time, Pushpa had ''dilated six and half centimeters and was almost ready to give birth''.
Being driven by her brother James Korah, Pushpa was then taken to Iranian Hospital that initially also refused but upon seeing her condition and on the personal responsibility of a doctor, admitted her.
According to reports issued by Iranian Hospital and obtained by Khaleej Times, Pushpa delivered just 10 minutes after she reached. Her baby could not survive.
James said the ordeal was a "horrific incident".
"What kind of law is above a human's life? What is a doctor's responsibility?"
Jojo, Pushpa's husband said he wants women to be prepared for premature childbirth and not undergo what his wife has had to. "I could have lost my wife ... someone should have taken a call and realised that a human life was at stake."
asmaalizain@khaleejtimes.com
http://www.khaleejtimes.com/nation/inside.asp?xfile=/data/crime/2012/November/crime_November35.xml&section=crime
------------
Ellinah Wamukoya becomes Africa's first Anglican woman bishop
November 20, 2012
The Anglican Church of Southern Africa has ordained the first woman bishop in Africa.
Ellinah Wamukoya, 61, was consecrated on Saturday to serve as the church's bishop in Swaziland.
Her ordination comes as the Church of England is due to vote on whether to allow women to become bishops.
"So now, we have taken this step, and we wish the Church of England 'God speed' as they deliberate this week," Cape Town's Anglican archbishop said.
The Most Revd Thabo Makgoba of Cape Town said in a statement: "The thunder is rumbling as I write: We have witnessed a great occasion, and now it does indeed seem that the heavens are about to fall upon us - the falling of rain, which this country and its people so desperately need.
According to the archbishop, David Dinkebogile took the sermon, stressing that the gathering was to consecrate a bishop "not a black woman, not an African, not a Swazi woman".
"She was to be pastor to all, to men and women, to black and white, to Swazis and all others in her diocese," the archbishop quoted him as saying.
"I am going to try to represent the mother attribute of God," the new bishop told the AP news agency.
"A mother is a caring person but at the same time, a mother can be firm in doing whatever she is doing."
http://www.bbc.co.uk/news/world-africa-20408199
----------------
Mosques in China Give Women Major Say
2012-11-20
By Cui Jia (China Daily)
It was still dark at 6:25 am on a late October morning in Lanzhou, the capital of Gansu province. Carefully gripping the handrail, Ma Guifang, 80, slowly climbed the stairs to the prayer hall on the second floor of Lulan women's mosque for morning prayers, her aching knees protesting at the ascent.
For the past 20 years, the elderly lady from the Hui ethnic group has been attending this women-only mosque, a phenomenon unique to China.
"I feel so blessed to have a mosque I can visit. Not many female Muslims enjoy such a privilege," she said.
Full report at:
http://www.chinadaily.com.cn/cndy/2012-11/20/content_15942994.htm
------------
Emirati Women Ups the Economic Ante
November 19, 2012
Emirati women investors prove that their business acumen matches that of their male counterparts
Dubai: The size of investment in the UAE by Emirati women has passed the dozen billion dirhams while the number of investors is about 12,000 businesswomen, Dr. Mohammad Ahmad Al Murr, Speaker of the UAE Federal National Council, said in his keynote speech at the opening of the 3rd Arab Women Leadership Forum in Dubai.
"The growth of participation by Emirati women in economic sectors was remarkable at 25.3 per cent per annum and the total value of female investment across the UAE contributed Dh12.4 billion," Al Murr added.
Full report at:
http://gulfnews.com/business/economy/emirati-women-ups-the-economic-ante-1.1107277
------------
Pakistan quashes Christian girl 'blasphemy' case
November 20, 2012
A Pakistan court on Tuesday threw out all charges against a Christian girl accused of blasphemy in a case that drew international condemnation, lawyers said.
Rimsha Masih spent three weeks on remand in an adult jail after she was arrested on August 16 for allegedly burning pages from the Koran.
She was released on bail in September and police have since told the courts that she was not guilty and that a cleric who allegedly framed her should face trial instead.
"The court has quashed the case, declaring Rimsha innocent," her lawyer Akmal Bhatti told AFP.
Full report at:
http://www.thejakartaglobe.com/afp/pakistan-quashes-christian-girl-blasphemy-case-lawyers/557195
------------
Savita death must be catalyst for change: Indian church body
November 20, 2012
Upholding the right to life, an anguished National United Christian Forum (NUCF) has called for changes and to focus on the lessons learnt from the tragic death of Savita Halappanavar in Ireland.
NUCF is a body comprising leaders from all the major churches in India. "Life is precious and sacred and can never be replaced. We ask for all concerned to stop making this a church-versus-state issue and focus on the lessons we learn from this tragedy… Let this tragedy be a catalyst for change here in our own homeland," a NUCF release said.
Full report at:
http://www.hindustantimes.com/India-news/NewDelhi/Savita-death-must-be-catalyst-for-change-Indian-church-body/Article1-961659.aspx
-----------
Liberian President to Get Indira Gandhi Peace Prize
Nov 20, 2012
NEW DELHI: Ellen Johnson Sirleaf, Liberian president and Nobel laureate, will get this year's Indira Gandhi Prize for Peace, Disarmament and Development for being an "inspiration" to women and ensuring return of peace and democracy in her country, it was announced on Monday.
An international jury, chaired by Prime Minister Manmohan Singh, selected Sirleaf for the award, set up by the Indira Gandhi Memorial Trust.
Full report at:
http://timesofindia.indiatimes.com/india/Liberian-president-to-get-Indira-Gandhi-peace-prize/articleshow/17286941.cms
-------------
Pak Teenager Malala Chosen for Bravery Award
November 20, 2012
Pakistani girl Malala Yousufzai, who became the face of her country's struggle against the Taliban, has been awarded for her bravery and advocation of education for girls in adverse conditions in Swat.
The award was given out by World Peace and Prosperity Foundation Chairman Prince Ali Khan, at the Cholmondeley Room of the House of Lords last night.
Ms. Yousafzai is being treated at a British hospital after she was shot in the head by Taliban militants.
Full report at:
http://www.thehindu.com/news/international/pak-teenager-malala-chosen-for-bravery-award/article4114700.ece
------------
Bajaur incursion kills girl child, injures two
November 20, 2012
KHAR: A six-year-old girl was killed while a woman and her nine-year-old son were injured when shells fired by militants from across the Afghan border hit houses in the Charmang area of Bajaur Agency on Monday.
The shells hit two houses in Hilal Khel Border village in late afternoon, killing six-year-old Asma and injuring one Haya Bibi and her son Inamullah, said a security force official.
The injured were taken to the hospital in critical condition, added the official.
Talking to The Express Tribune, Nosherwan Khan, an administration official at Agency Headquarters Hospital said that the injured were put under the care of Dr Abdul Hadi, who was the only surgeon available in the entire agency.
Full report at:
http://tribune.com.pk/story/468424/cross-border-shelling-bajaur-incursion-kills-girl-child-injures-two/
-----------
Egyptian President Mohamed Morsi's sister dies
19 Nov 2012
Egyptian President Mohamed Morsi's sister passed away on Tuesday, according to the presidential office.
The funeral will be held at the Hassan El-Sharbatli Mosque in New Cairo on Tuesday, a press statement by the office said.
http://english.ahram.org.eg/NewsContent/1/64/58635/Egypt/Politics-/Egyptian-President-Mohamed-Morsis-sister-dies.aspx
------------
Women Rewarded For Innovative Business Plans in Pakistan by ILO
November 20, 2012
LAHORE: Women entrepreneurs were rewarded for coming up with innovative business plans in a programme sponsored by the International Labour Organisation (ILO) here.
A total of 43 women from Lahore and Rahim Yar Khan, who had received skills training under the Khadija programme, an entrepreneurship training and business plan development package named after Hazrat Khadija (RA), took part in the competition. Eleven business plans were shortlisted: five for the hospitality sector, five for textiles and one for fashion design.
Sonia Bokhari was awarded the first prize of Rs100, 000 by Unilever Food Solutions for her plan for the hospitality category, while Abida Malik won the runner-up prize of Rs50,000.
Full report at:
http://tribune.com.pk/story/468118/women-rewarded-for-innovative-business-plans/
------------
Educate Women to Empower Them
Lily b. Libo-on / 19 November 2012
Women in Pakistan can be empowered through education which in turn would encourage them and give them confidence to take up professions.
Ameena Saiyid, managing director of the Oxford University Press in Pakistan, stressed this during her talk on 'Female Empowerment in Pakistan' at the Sharjah International Book Fair on Friday.
She said greater empowerment and leadership roles are usually tied to a more widespread and better education. "In Pakistan, the level of women's education is very low, partly due to poverty and partly owing to the discriminatory traditions, which favour education for boys over education for girls. This is strikingly true in the rural areas."
Full report at:
http://www.khaleejtimes.com/nation/inside.asp?xfile=/data/entertainmentnation/2012/
------------
From Uninitiated to Masters of Intricate Patterns in Eight Days
By Sehrish Ali
November 20, 2012
ISLAMABAD: At the end of an extensive workshop on Islamic ornamentation, many girls were proud of what they had managed to learn in a little over a week.
The 45 participants seemed extremely satisfied with the outcome of their work, which featured some creative use of bright, bold colours in some pieces, while others stayed conventional. The eight-day workshop was organised at the Pakistan National Council of the Arts (PNCA).
Their mentor and teacher was well-known artist Abdul Razaq Razi, who travelled daily from Haripur. Most of the students had never worked on such intricate patterns with fine brush work and detailing before, but by the end of the workshop they managed to create perfect geometrical and vegetal patterns.
Full report at:
http://tribune.com.pk/story/468322/islamic-ornamentation-from-uninitiated-to-masters-of-intricate-patterns-in-eight-days/
------------
URL: https://newageislam.com/islam-women-feminism/muslim-women's-group-seeks-ban/d/9359