New Age Islam News Bureau
31 Dec 2019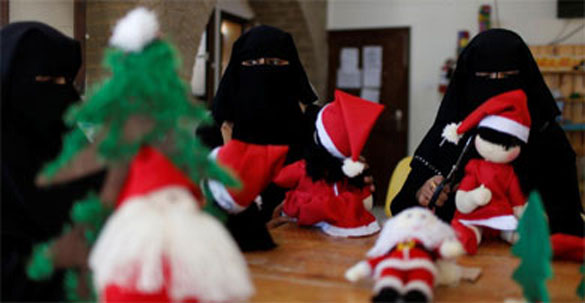 Palestinian women wearing face veil, niqab, make Santa-themed Christmas toys in the northern Gaza Strip December 29, 2019. Picture taken December 29, 2019. REUTERS/Mohammed Salem
------
• Muslim Women Spread Christmas Cheer In Gaza
• More Women Entrepreneurs Urged To Register With Companies Commission Of Malaysia, Says Rina
• Egypt Launches Health Campaign for Pregnant Women
• Contestants cover up at Bangladesh's first women's bodybuilding competition
• Here Are 15 Accomplishments For Arab Women In 2019
• Ons Jabeur, Rababe Arafi And Zahra Lari: 10 Arab Sportswomen To Watch Out For In 2020
• 'Rap Does Not Shut Up': Hip-Hop Women Of Senegal
• Sport: Vanuatu women invited to play in Malaysian cricket tournament
• All-Women Malaysian Expedition To Reach South Pole Station Tomorrow
Compiled By New Age Islam News Bureau
URL: https://www.newageislam.com/islam-women-feminism/muslim-women-spread-christmas-cheer/d/120671
------
Muslim women spread Christmas cheer in Gaza
December 30, 2019
Muslim women in the Palestinian Gaza Strip have been hand-crafting gifts for the approaching Orthodox Christmas as part of a project to empower a traditional community.
Their Santa Claus dolls, toy Christmas trees and red-and-white puppets come into high demand over the holiday season in Gaza, Bethlehem and Italy.
Though most of Gaza's 2 million population are Muslim, around 1,000 are Christian, mostly Greek Orthodox, who celebrate Christmas on Jan. 7.
"Our prophet encouraged us to respect all religions and we like to join with them in celebrating their day," said the group's product designer Laila Tayeh.
Tayeh and colleagues are part of the Zaina Cooperative Association, working in a Gaza community that often restricts women's movement outside the home.
Haneen Alsammak, the association's executive manager, said the project had given women training in carpentry and tailoring, and enabled them to leave their homes to work and spread some Christmas cheer.
"This is a message of love towards Christians inside and outside Gaza," she said.
Gaza is run by the Islamist Hamas movement, which is designated a terrorist group by the West and neighbouring Israel against which it has fought three wars in the past decade.
Citing security reasons, Israel restricts movement in and out of Gaza and maintains a naval blockade of the coastal strip where the economy suffers from high unemployment and poverty.
In 2018, only 26% of Gaza women participated in the workforce, according to the Palestinian Central Bureau of Statistics.
https://www.yenisafak.com/en/world/muslim-women-spread-christmas-cheer-in-gaza-3508534
------
More women entrepreneurs urged to register with Companies Commission of Malaysia, says Rina
Sunday, 29 Dec 2019
SEPANG, Dec 29 — The Rural Development Ministry is aiming for 50 per cent of women entrepreneurs to be registered with the Companies Commission of Malaysia (SSM) next year compared to 24 per cent so far.
Minister Datuk Seri Rina Harun said nearly 84,000 women entrepreneurs were registered with the ministry and only 24 per cent with SSM.
"Women entrepreneurs who are not registered with SSM for fear of not receiving aids such as living expenses, should open their minds and register to take their business further," she said after launching the 'Wacana Ilmu Wanita Inspirasiku (WINS)' at the Selangor Community Development Department (KEMAS) level, here today.
She said awareness should be raised among women in order to become successful entrepreneurs and that millionaires don't focus on RM100 a month.
Rina said encouraging female entrepreneurs to register with SSM was part of the ministry's initiative, so it had teamed up with SSM to register this group for free.
She said for example in Perak, almost 400 women entrepreneurs had registered free with SSM and the overall registered nationwide was 3,000 women.
Rina said the number of women entrepreneurs was expected to reach 100,000 by 2020, therefore efforts should be continued to improve the socioeconomic status of the rural community so that infrastructure and human capital development can be balanced.
Meanwhile, she said next year the ministry would be promoting new products in the form of woven and embroidery handicrafts, which have existed in Malaysia for a long time but was not developed.
This is because the handicraft art was gaining popularity especially on the e-commerce platform, calling for more women to be trained in promoting handicrafts, she said. — Bernama
https://www.malaymail.com/news/money/2019/12/29/more-women-entrepreneurs-urged-to-register-with-companies-commission-of-mal/1823093
------
Egypt Launches Health Campaign For Pregnant Women
DECEMBER 30, 2019
A new health campaign focusing on pregnant women in Egypt will be launched next January, which aims to detect and treat diseases in pregnant mothers to prevent their transmission to unborn babies, according to a statement by the spokesman of the Egyptian presidency.
In light of the strategies adopted by the Ministry of Health and Population, particularly in regards to the current steps in improving the health insurance system, advance professional medical education and train cadres, the initiative will be part of the new phase of the comprehensive health insurance system to ensure that services and healthcare to citizens is provided in accordance with international standards.
The new initiative, focused on the "health of pregnant women" during January, will detect and treat diseases of the mother and prevent its transmission to the fetus, taking into account the health and safety of both lives.
According to Unicef, Egypt went through important achievements in improving child and maternal survival, as in 2014, around 90 percent of mothers underwent antenatal care checks during pregnancy, and 83 percent of them had antenatal care on a regular basis. Ninety-two percent were attended by a skilled birth attendant, while 87 per cent took place in a health facility.
However, regional disparities continue to exist as in the same year, the under-5 mortality rate ranged between 42 deaths per 1,000 live births in rural Upper Egypt compared to 20 deaths per 1,000 live births in urban areas.
Improving maternal health plays a significant role in saving the lives of more than half a million women who die as a result of pregnancy and childbirth each year.
A majority of these deaths could have been prevented if women access to adequate diets, safe water and sanitation facilities, basic literacy and health services during pregnancy and childbirth.
https://egyptianstreets.com/2019/12/30/egypt-launches-health-campaign-for-pregnant-women/
------
Contestants cover up at Bangladesh's first women's bodybuilding competition
December 31, 2019
DHAKA: Bangladesh's first women's bodybuilding championship was won by a 19-year-old student in a contest where most of her muscle was covered up to prevent controversy in the Muslim-majority nation.
While skimpy bikinis are the norm at international body-building contests, Awhona Rahman and her 29 rivals kept their brawn under wraps in front of the crowd of hundreds.
Rahman and the other competitors struck poses on stage wearing tight leggings and body-hugging outfits during the three-day event that finished on Sunday and was held in the capital Dhaka.
"I am really happy, I really worked hard for this," Rahman told AFP.
"It never entered my mind that someone might criticise me for showing my body. My brother, who runs a fitness centre, has always encouraged me," she added.
"We were told there would be proper dress code and the outfit provided was perfect from a Bangladeshi perspective."
Bangladesh Bodybuilding Federation general secretary Nazrul Islam said there had been a huge response to the landmark women's competition which aimed to encourage health and fitness.
"We were very careful about the dress code because of our religious and social culture. We selected long sleeve crop tops and leggings for the girls," he added.
Islam predicted the competition would help create jobs for women in the growing number of gymnasiums in Bangladesh where women now have memberships.
Nearly 90 per cent of Bangladesh's population is Muslim and women are making a growing impact in sport including cricket, football and archery. - AFP
https://www.nst.com.my/world/world/2019/12/552171/contestants-cover-bangladeshs-first-womens-bodybuilding-competition
------
Here are 15 accomplishments for Arab women in 2019
Dec 30, 2019
Arab women dominated 2019
This year has been a roller-coaster, one that brought so much change to the region. From politics and sport, to the fashion and beauty industries, we have seen Arab women work their way to the top.
So lets take a look back at the accomplishments that Arab women achieved this year to remind ourselves that 2019 was actually groundbreaking, and will likely pave the way for many more advancements to come.
Nadine Labaki
In 2019, the Lebanese director represented the region at every major and prestigious film award show. From the BAFTA's to the Oscars, her and her groundbreaking film Capernaum, were nominated for Best Foreign Language film. To this day, the director is financially supporting the children from her film, as well as their families and future education.
Dorsaf Ganoiati
Dorsaf Ganoiati is an International Tunisian football referee, who made history in 2019 by becoming the first Arab and African woman to referee a men's first division match. The 33-year-old's achievement will help more women from the region to break into the male-dominated field of football.
Dolores Shelleh
Dubai-based mountaineer Dolores Shelleh had a lot to celebrate this year. She turned 29, marked Jordan independence day and become the first Arab woman to scale Mt. Everest from its toughest North Col terrain. It is one of most challenging and dangerous routes to take due to altitude issues, and it has the highest recorded fatality numbers due to the elevation of the camps and lack of helicopter rescue options.
Princess Reema Bint Bandar
The appointment of Princess Reema Bint Bandar, as Saudi Arabia's diplomatic representative to Washington DC was a historic moment for women in the Kingdom. This position made the Princess the first female ambassador in the country's history.
Yasmeen Al Maimani
Another historic moment for Saudi women was when Yasmeen Al Maimani made history as the country's first female commercial pilot. Six years after obtaining her license from the Saudi Civil Aviation Authority, she accomplished her dream of flying a plane in the Kingdom.
Hend Sabry
During the festival season, Tunisian-Egyptian actress, Hend Sabry joined the prestigious jury panel of the Luigi De Laurentiis Award for a Debut Film, at the 76th Venice Film Festival. The award-winning actress appointment makes her the first female Arab filmmaker to fill this post.
Roula Khalaf
For the first time in the publication's history, the Financial Times will have a female editor-in-chief, Roula Khalaf. The editor who was born and raised in Beirut, Lebanon made history as the publication's first female editor since it was founded in 1888.
Saudi women travel
This year, the Kingdom of Saudi Arabia has confirmed that women can now travel independently. Previously female family members were required to seek permission from a male guardian. Now thanks to a decree signed by King Salman bin Abdulaziz Al Saud, Custodian of the Two Holy Mosques, they can hold passports and explore the world freely.
Farida Osman
This year, the Egyptian swimmer won numerous medals, representing Egypt on the global stage. She specialises in butterfly and freestyle events. She has broken several records throughout her career, holding the senior national records for all the butterfly, freestyle and backstroke events, as well as African records in the 50m and 100m butterfly. She is currently working towards winning a medal at the 2020 Olympic Games in Tokyo.
Alanoud Alsharekh
Alanoud is a research and women's rights activists, who founded the Abolish 153 campaign, calling for the end of Kuwait's "honour-killing" law. Not only that, but she works with institutions to help improve gender equality in the Middle East. Furthermore, she was also the first Kuwaiti to receive France's National Order of Merit, for her activism.
Ayah Bdeir
Ayah is a Lebanese entrepreneur who founded littleBits, a company which makes kits of electronic blocks that snap together with magnets, allowing anyone to "build, prototype, and invent". Her invention is now used in thousands of schools across the United States. Moreover, she launched a $4m value initiative with Disney in an effort to close the gender gap in science, technology, engineering and mathematics, (STEM), supplying 15,000 10-year-old girls in California with free littleBits kits.
Amina Muaddi
This past year was a big one for Jordanian-Romanian shoe designer Amina Muaddi. The creative behind exaggerated heels and dazzling boots has been winning fans all over the world, including Rihanna, the Hadid sisters and the Jenners. Moreover, she was recently hired by Riri to help design shoes for the Fenty collection.
Andrea Wazen
It seems like 2019 has been a great year for shoe designers from the region, as Lebanon's Andrea Wazen and her shoe label have had their moment in the lime light. From Katy Perry to Kylie Jenner to Game of Thrones' Emilia Clarke, the designer is quickly becoming a Hollywood favourite.
Princess Nourah bint Saad
The Saudi Princess became the first Saudi woman to be President of a sports club. She acquired the Italian football club, Umbrian football club Spoleto and outlined her ambitions for the team's future saying: "Football is a family passion, and Italian football is followed all over the world. This is why I chose to invest in Umbria," she said.
Noor Shaker
Noor is a computer scientist, who turned from academia to entrepreneurial innovation. After watching her mother's fight against cancer, she was inspired to bring her skills in Artificial Intelligence to the medical world. This resulted in a ground-breaking technique, which uses AI to design new medicines faster than humans.
https://emirateswoman.com/arab-women-2019/
------
Ons Jabeur, Rababe Arafi and Zahra Lari: 10 Arab sportswomen to watch out for in 2020
Reem Abulleil
Dec 31, 2019
Arab women have made great strides on the international sports stage in recent years, and 2020 promises to be another year when women from the region continue to make their mark. As we enter a new year - and indeed a new decade - Reem Abulleil selects 10 Arab sportswomen to keep an eye on.
Ons Jabeur (Tunisia) – Tennis
The Tunisian tennis star became the highest ranked Arab woman in history in 2019, when she peaked at No 51 in the world in September. The former Roland Garros junior champion boasts a unique and entertaining game style that has made her an instant fan favourite on the WTA Tour. Jabeur, 25, is the first and only Arab woman to reach the third round of a grand slam (French Open 2017, US Open 2019) and will be looking to go even further in 2020. If you like crafty drop shots and unexpected tennis, then keep an eye out for Jabeur this new season.
Rababe Arafi (Morocco) – Athletics
The 28-year-old Moroccan will be one to watch on the track at the Tokyo 2020 Olympics. Ranked fifth in the world this year in the 1500m and 13th in the 800m, the middle distance runner is building up momentum towards the Games next summer. She won the 1500m at the Diamond League event in Shanghai last May with a world-leading time of 4:01.15 and set a new national record with a 3:58.84 in Morocco two months later. Arafi scooped two golds at the Mediterranean Games last year in Tarragona, and was seventh in the 800m and ninth in the 1500m at the World Championships in Qatar a couple of months ago.
Raneem El Welily (Egypt) – Squash
The Egyptian squash star has just completed a full calendar year as world No 1 – a position she first reached in September 2015 to become the first woman from her nation to do so – and has a string of fierce competitors chasing her at the top. El Welily recently lost in the World Championship final to her friend, rival and fellow Alexandrian Nour El Sherbini, who is back to No 2 in the rankings. Their battle for dominance will continue in 2020 and will no doubt provide some thrilling viewing for fans throughout the season.
Zahra Lari (UAE) – Figure skating
When Zahra Lari competed internationally for the first time wearing the hijab in 2012, she received point deductions because of her outfit. Now, seven years later, the UAE's 'Ice Princess' can comfortably compete around the world wearing her headscarf after she campaigned for the rules to change. A figure skating pioneer in the Emirates, 24-year-old Lari was the first from her country to compete at the Winter Universiade in Russia in 2019. The two-time UAE national champion dreams of qualifying for the next Winter Olympic Games in Beijing in 2022. Hers is a unique journey worth following in 2020.
Ines Boubakri (Tunisia) – Fencing
The 31-year-old Tunisian is set to compete in her third Olympic Games in Tokyo this summer. At Rio 2016, Boubakri became the first fencer from her nation to win an Olympic medal when she clinched bronze in the women's individual foil event. She qualified for Tokyo as one of the world's top 16 fencers, and top-ranked African. She is a two-time bronze medallist at the World Championships and is now targeting the top of the podium in Japan in 2020.
Sarah Essam (Egypt) – Football
The first Arab female to play football professionally in a European league, Essam continues her journey with Stoke City Ladies' Development team in 2020, after winning her side's Golden Boot last season. The 20-year-old Egyptian got her first call up for the national team when she was just 16, and has made headlines back home thanks to her exploits at Stoke. With more eyes on her, and a mission to inspire other Egyptian girls to venture into football, Essam is poised to have an even greater impact moving forward.
Ray Bassil (Lebanon) – Shooting
The Lebanese trap shooter will be making her third Olympics appearance at Tokyo 2020. She qualified for the Games by winning the women's trap gold medal at the Asian Shooting Championships in Doha last month. "I think you have to see the big picture. It's not about winning and losing; it's about every day hard work and about thriving on a challenge to put Lebanon on top," Bassil posted on her Instagram after topping the podium. "It's about embracing the pain that you'll experience at the end of a race and not being afraid."
Dalma Malhas (Saudi Arabia) – Equestrian
When Malhas won a bronze medal in individual showjumping at the Youth Olympic Games in Singapore in 2010, she was the first ever female to represent Saudi Arabia at an Olympic event. Now, nearly a decade later, Malhas continues to blaze a trail for women in her country by competing at shows around the globe. She became the first Saudi woman to participate in the World Equestrian Games in 2018 in Tryon, North Carolina. The 27-year-old recently competed on home soil for the first time during Saudi's Diriyah Equestrian Festival, fulfilling a lifelong dream.
Hedaya Malak (Egypt) – Taekwondo
A bronze medallist in the -57kg category at the Rio 2016 Olympics – the first Egyptian woman to win a medal in taekwondo in Games history – Malak has since moved up a weight class and is now competing in the -67kg. It is a change that has required some adjustment but she has started to recapture her mojo, winning gold at the All Africa Games in August, and taking bronze at the World Military Games in October. Seeking a third consecutive appearance at the Olympics, the 26-year-old now has gold on her mind for Tokyo 2020.
Maha Haddioui (Morocco) – Golf
The first Arab woman to earn a playing card on the Ladies European Tour, Haddioui represented Morocco in golf's long-awaited return to the Olympics in Rio 2016. The 31-year-old Agadir-based golfer dreams of making a second appearance at the Games in Tokyo, but is yet to secure a spot. She has had two top-20 finishes this season and is ranked No 66 on the LET Order of Merit. Haddioui has played a big role in promoting golf among Arab women, especially back home in Morocco, and has called for more playing opportunities for female golfers in the region so the game can develop even further.
https://www.thenational.ae/sport/other-sport/ons-jabeur-rababe-arafi-and-zahra-lari-10-arab-sportswomen-to-watch-out-for-in-2020-1.958028
------
'Rap does not shut up': hip-hop women of Senegal
Ricci Shryock in Dakar
Tue 31 Dec 2019
All-female Genji Hip Hop collective use rhymes and art to fight cultural stereotypes and gender violence
Aminata Gaye picks up a grey scarf and stretches it into a T shape. She ducks under the fabric, wraps it around her neck and crisscrosses it over the crown of her head.
It is almost dusk outside, but in this windowless room there is no indication of time as Gaye gets dressed for a concert starting at 9pm. Her veil in position, the 27-year-old old is transformed into Mina la voilée (Mina the veiled one), her stage name as a rapper in Dakar, Senegal.
"When I sing, I am someone else," she says. "I don't feel anything anymore. I'm unwound. It's like I'm another person when I'm on stage."
When she first began rapping as a veiled Muslim woman, Mina endured a backlash on social media. Knowing that she was not alone was what helped her endure it.
Mina is a member of Genji Hip Hop – a collective of about 70 female Senegalese rappers, singers, DJs and graffiti artists. Starting life as a WhatsApp group in 2017, it has since blossomed into a civil society organisation that puts on concerts, holds workshops for women and speaks up about women's issues in the west African country.
The women have fun and support each other as they address social taboos surrounding women's rights. Their movement is both global and local: recently participants in the WhatsApp group discussed viral videos of women in Colombia fighting against rape, promoted Genji rappers' music videos and shared inside jokes.
On stage, the performers rap and sing about relationships, society's searing gaze on women, incest, family pressure and rape.
Mina la voilée and fellow Genji members in Dakar, Senegal.
"Hip-hop has proven it can change things in Senegal, whether its social or political, it's very engaged," says Genji's secretary general, Wasso Tankoura.
Senegal lags far behind other countries in the region when it comes to legally protecting women against domestic violence and rape, says Hawa Ba, Senegal director for the Open Society Initiative of West Africa. Ba attributes this partly to conservative religious forces in the 95% Muslim country, where leaders of religious brotherhoods often wield enormous power on policymaking.
One fight currently being waged by Genji is against Senegal's rape law. Currently, rape is treated as a misdemeanour crime and the women want it upgraded to felony status.
"There is not a family in Senegal where someone does not see a case of rape, but no one discusses it because often the perpetrator is a family member," says Tankoura. "It is very difficult to speak about it because the person who is raped is the one who is judged."
Members of Genji are not keeping quiet. They are currently in the studio producing an ensemble song about rape and the changes that are needed. So far they've recorded the refrain:
No more questions! We've had enough!
We reclaim justice! It's a right!
No more questions! We've had enough!
Rape is a crime
(Genji collective)
The support of fellow members helps the women stand up to the often overwhelming pressure they feel to conform.
"When you are a woman, normally in our country, they tell you how you must be," says Mina. "You must, you must, you must. When they are always telling you what you should do, you won't have confidence in who you really are, but when you are a rapper you have confidence."
One example of the pressure on women to conform is in their marriages, says Mina.
Ganji member Sister LB, whose real name is Selbe Diouf, performs in Dakar.
Normally, wives are expected to stay home most of the time, do the cooking and cleaning, and not come home late – a problem that arises if a rapper marries, as concerts go into the night. Newly married, Mina splits her time between her family's home and her husband's. Her husband, Mamadou Sagne, is also a rapper, and she says marrying someone within the profession has made her life easier.
But others are not so lucky. The rapper and Genji member Eve Crazy recently divorced her husband after pressure from her in-laws to end her career became too much, she says.
They say we don't have limits,
But if someone calls me a woman,
Then they have already put up barriers
To what they think I can do.
Eve Crazy gave up two jobs to stay at home, and cook and clean for the family she married into, but the pressure to dress and act a certain way continued. "I didn't have any freedom," she says, describing how subtle, daily pressures often weigh the heaviest on the women.
According to Wasso, the cultural concept of muñ is a thread that runs through the issues facing women in Senegal. The Wolof language word embodies the complex idea of societal expectations that dictate a woman must have "patience" and "silently endure" any harsh realities – even rape – for fear that speaking out will upset the social fabric of the family and community.
"We hold onto everything," says Mina. "The woman must put up with everything. Marriage is like that. Even if you speak to your own parents, they will say that you have to endure it."
Hip-hop allows the women to go against the grain. "It talks about everything," says Mina of their art. "Everything society does not want you to talk about. Rap does not shut up, rap does not have muñ."
https://www.theguardian.com/world/2019/dec/31/rap-does-not-shut-up-hip-hop-women-of-senegal
------
Sport: Vanuatu women invited to play in Malaysian cricket tournament
Three members of the Vanuatu National Women's team are competing in the inaugural Malaysian Super Women League as part of a bid to raise the standard of women's cricket there.
The team arrives in Malaysia.The team arrives in Malaysia. Photo: Facebook / Malaysian Cricket Association
Vanuatu cricket captain Selina Solman, opener Valenta Langiatu and spin wizard Nasimana Navaika were invited by the Malaysian Cricket Association to join local Malaysian teams in their four-team Twenty20 league.
The tournament was organised by the Malaysian Cricket Association (MCA) to provide elite-level competition for national women players to impress selectors ahead of international assignments in 2020.
Vanuatu Cricket Association president Mark Stafford said they were happy to support the tournament and were excited about the opportunities becoming available to cricket players in Vanuatu.
"It's fantastic for the individuals concerned but also for all our women in the Vanuatu cricket women's programme."
It was wonderful for players to see that if they worked hard and performed, that such opportunties would come along from time to time, he said.
"We had to find the cost of fares to get the three women to Kuala Lumpur, but we were pleased to do that to try and give our girls the greater experience and greater depth and knowledge of the players that they will face in coming years across the board in the ICC tournaments."
Stafford said the Vaunatu National women's team was also planning to travel to Kuala Lumpur in March next year, where they will play an international series against Malaysia and other countries.
In a statement from the MCA, president Mahinda Vallipuram said it was a step forward for Malaysian women's cricket and moving beyond to Australia and Vanuatu.
"This tournament is intended to provide high-performance competition and opposition for the top players in the country, while giving younger players the opportunity to spar against higher-level players," said Vallipuram.
"We want to make this a premium event not only in this region but beyond and give opportunities to women to play on an equal footing," he said.
Vanuatu's Navaika has been playing in the Central Super Girls squad while teammates Solman and Langiatu play for the Southern Jaguars.
The four teams - Central Super Girls, Eastern Lioness, Northern Queens and Southern Jaguars kicked off with round robin fixtures on Sunday at the Kinrara Oval, with a final and a third-fourth place playoff to be played this Thursday, 2 January.
The trio will be travelling back through Queensland, where they will join the East Asia Pacific women's team in the Australian Country Cricket Championships played in Toowoomba from 3 - 11 January.
https://www.rnz.co.nz/international/pacific-news/406484/sport-vanuatu-women-invited-to-play-in-malaysian-cricket-tournament
------
All-women Malaysian expedition to reach South Pole Station tomorrow
Monday, 30 Dec 2019
SHAH ALAM, Dec 30 — The 'All Women Expedition to Antarctica (Aweta)' team, is expected to arrive at the South Pole Station, tomorrow.
The head of the expedition, Dr Sharifah Mazlina Syed Abdul Kadir in a recent entry on Aweta's official Facebook page, said the three participants were on the final stretch before arriving at the station about 2pm Antarctica time, tomorrow.
"They are now in the final stretch to reach the South Pole before starting the search for the capsule that was buried in 2004.
"As of 10.02pm Antarctica time on Sunday (9.03am Malaysian time today), the participants were in a state of exhaustion and they would be allowed to set up tents and rest early before resuming their journey, tomorrow morning," she said.
She said although their health conditions did not allow them to continue their journey due to extreme cold weather and the pressure of gravity, but they were able to overcome the obstacles and challenges.
Sharifah Mazlina said so far, the three participants had travelled over 33 kilometres to conquer the South Pole with the purpose of finding and taking back a capsule she had planted in the area in 2004.
The group entered Antarctica about 2am (Malaysian time) on December 25.
The mission scheduled until Friday comprises three women participants, namely Army Corporal Siti Jumaidah Bensali, 34, Home Ministry administrative and diplomatic officer, Salehah Abu Nor, 33, and pharmacist Nurul Atiqah Tamarun, 31. — Bernama
https://www.malaymail.com/news/malaysia/2019/12/30/all-women-malaysian-expedition-to-reach-south-pole-station-tomorrow/1823355
------
URL: https://www.newageislam.com/islam-women-feminism/muslim-women-spread-christmas-cheer/d/120671
New Age Islam, Islam Online, Islamic Website, African Muslim News, Arab World News, South Asia News, Indian Muslim News, World Muslim News, Women in Islam, Islamic Feminism, Arab Women, Women In Arab, Islamophobia in America, Muslim Women in West, Islam Women and Feminism