New Age Islam News Bureau
28 Dec 2019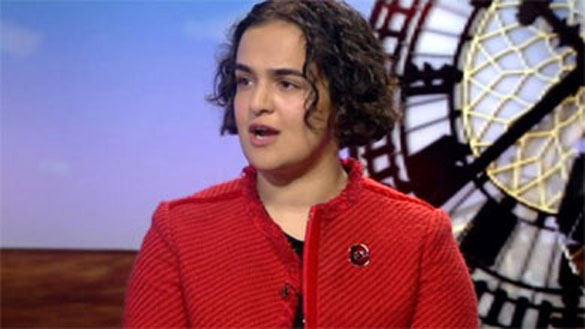 The House of Commons' youngest MP says she had been looking for temporary Christmas jobs before winning her seat in the snap general election.
-------
• Muslim Women Spend Their Christmas Eve Making Santa Claus Dolls in Gaza Strip
• 'Of Course It Makes Me Worry': UK's Youngest MP Nadia Whittome on Being a Woman in Parliament
• Female Athletes Deprived Of Afghanistan National Bowling Team Membership Due To Disregarding Islamic Hijab
• Scooty Girls of Rawalpindi Seek To Empower Women
• Yashmin Harun, Who Set Up The Muslimah Sports Association In 2014, Receives British Empire Medal in New Year Honours list
• Parents of Muslim Girl Lose Appeal In Bullying Case Against Woodbridge Catholic School
• In A Southern Indian Town, Women Prepare For First New Year Party
• Now, A Norwegian Woman Who Took Part In Anti-CAA Protest Asked To Leave India Immediately
• From Nuns to Astronauts: 10 Women Cracking The Glass Ceiling In 2019
Compiled By New Age Islam News Bureau
URL: https://www.newageislam.com/islam-women-feminism/muslim-women-spend-their-christmas/d/120650
------
Muslim women spend their Christmas eve making Santa Claus dolls in Gaza Strip
by Joseph Omotayo
A group of veiled Muslim women spent Christmas Eve sewing Santa Claus dolls at a factory in the Gaza Strip.
According to Daily Mail, many of those women are forbidden from leaving their village. They were employed at a factory in Umm al-Nasser, a village in northern Gaza.
The factory where the women work is run by an organisation called the Zeina Cooperative. The outfit said that it gave the women a three-year training where they learnt to make gifts for all holidays.
Most of their customers are foreign nationals who are working in international organisations in the strip.
Meanwhile, Legit.ng earlier reported that Lynette Baio, a waitress in Florida, received a big boost in her finances when a couple gave her $2000 (N732,000) as tip on Tuesday, December 24, Christmas Eve.
Before the blessing happened, Lynette had spent all her savings of the same sum, to repair her car and had no money to buy gifts for her family for Christmas.
https://www.legit.ng/1288005-muslim-women-spend-christmas-eve-making-santa-claus-dolls-gaza-strip.html
------
'Of course it makes me worry': UK's youngest MP Nadia Whittome on being a woman in Parliament
I've been deleting [people] on Twitter where it is appropriate," says 23-year-old Nadia Whittome, who has been the UK's youngest MP (earning her the nickname 'baby of the house') for just two weeks and a day, but is already learning about what her new position will mean for her personal safety. "Of course it's not the death and rape threats that my female colleagues have had for years, but I'm only in my third week."
On 12 December Whittome was elected as a Labour MP, with a majority of 17,393 votes, to represent Nottingham East, the constituency where she grew up in a single-parent household. Compelled to go into politics after witnessing firsthand the impact of austerity, particularly the bedroom tax, she describes the period since she decided to stand as a "whirlwind".
"It's a lot to get used to," she says over the phone while on a train from Nottingham to London, where she is booked to view flats, a reminder of the upheaval her new life will involve. "I'm constantly getting lost around Westminster," she laughs. "I tried to find the toilet the other day and ended up under a staircase."
As well as learning the office layout, Whittome says there are more serious lessons to be learned too – namely, personal security.
"It is the greatest honour to represent my constituency but it comes with a certain level of concern about safety," she says. "As a young woman we are concerned about safety anyway, always walking home holding your keys in your pocket or sending friends a screenshot of your taxi journey. As an MP that is amplified."
Whittome is the latest female MP to talk about safety in her role. The murder of Labour MP Jo Cox in June 2016, the conviction of Jack Renshaw for his plot to kill female MP Rosie Cooper in 2018, and the six people convicted for abuse and threats against former MP Luciana Berger, all examples of the landscape in which Whittome now finds herself.
Prior to the election several female organisations warned of the "extremely worrying" trend of female MPs leaving politics, citing personal abuse, most frequently online, as a reason. Former Conservative MP Heidi Allen, who stood down at the election, said "nastiness and intimidation" had become commonplace.
Sam Smethers, chief executive of the Fawcett Society, says: "We have to confront the fact that our toxic politics is driving good women MPs away. In 2019 it is still a hostile environment for women."
Whittome is of Punjabi descent, the first BAME MP to be elected in Nottingham, and says this heightens her concerns over personal security in her new position. "It's not an easy time to be a woman, particularly a woman of colour. When I hear about the vast amount of abuse Diane Abbott gets, for example, of course it makes me and my family worry."
She says when her safety induction was over she worried about whether she'd be able to go on a night out over Christmas – and decided to do it anyway. "I need to carry on as normal," she says. But things are, of course, different now – she cannot walk down the street without being recognised, particularly as a result of extensive media coverage of her pledge to donate most of her £79k salary to charity, instead taking a total of £35k home.
Despite being concerned, and knowing her family share her worries, Whittome says women cannot be driven out of politics by fear. "As women we need to be there [in Parliament], and we need to have a culture fostered where women and women of colour are safe.
"Currently we've got a Prime Minister who calls Muslim women letterboxes, so it's no wonder we don't feel safe," says Whittome, who was a hate crime worker in Nottingham until she was elected, and saw the impact such rhetoric had on the ground.
What about a female leader for her own party, would that help women in politics? "Of course I'd like to see a woman leader but that doesn't supercede the political debate," she says. "Equally I'd like to see a black, Asian, minority ethnic leader but that doesn't supercede the political debate."
Looking to the future, Whittome says her priorities for 2020 are tackling poverty in her constituency, where almost half of children live below the poverty line, as well as tackling the climate emergency.
"I will dedicate my time in Parliament to holding the government to account on that," she says.
https://www.independent.co.uk/life-style/women/nadia-whittome-mp-nottingham-interview-woman-mp-a9261666.html
------
Female athletes deprived of Afghanistan National Bowling Team membership due to disregarding Islamic hijab
Saturday, 28 Dec 2019
The memberships of only two female members of Afghanistan's National Bowling Team have been cancelled due to disregarding 'Islamic veil', officials at Afghanistan Bowling Federation said.
Faila Hoorzad and Zohal Bayat are the only two members of Afghanistan National Bowling whose memberships at the Afghanistan's National Bowling Team have been cancelled by the Afghanistan Bowling Federation.
Officials at the Afghanistan Bowling Federation claim that the membership of these athletes have been cancelled because the have not regarded the Islamic Hijab while they were in Kuwait for the 25th Asian Bowling Championship.
"Serious disciplinary actions will be taken against 'disregarding Islamic Hijab according to the Bylaws of the federation.", Sayed Ahad Sorosh, a spokesperson for Afghanistan Bowling Federation said.
But Fazila Hoorzad one of the female players whose membership has been cancelled after she has returned from the Asian Championship games in Kuwait, calls it a 'slander' and an 'accusal'.
"We fully appeared in Islamic veil during the play and attended all the official meeting and events with hijab. It is our own choice how to appear outside the official time or while we are at our own privacy.", Fazila Hoorzad said.
Members of Afghanistan National Bowling team met Afghan Ambassador in Kuwait
The video footages and the photographs published from the 25th Asian Bowling Championship show Zohal and Fazila are in Islamic hijab.
Samira Hamidi Regional Campaigner for Amnesty International
Samira Hamidi, an Afghan women rights activist and regional campaigner for Amnesty International considers the federation's decision discriminatory and regards it as a clear 'violence against women'.
"The decision made by the Afghanistan Bowling Federation is discriminatory and a clear violence against women. It is not the first time that women in Afghanistan have been deprived of their membership rights. No law or policy can limit a person's privacy. The statement of Afghanistan Bowling Federation seems suspicious for me, they spoke of 'violation' but never 'specify' it. If such discriminations in Afghanistan's sport section are not stopped, women will not dare to attend such environments.", Samira told Khaama Press.
In a society where attending women in sports are regarded as a 'taboo breaking', women should not be victimized anymore, Samira said.
"I want the authorities to to promptly review their decision and renew the membership of these female athletes enabling them to attend domestic and international games.", Hamidi said.
https://www.khaama.com/female-athletes-were-deprived-of-the-national-bowling-team-membership-due-to-non-compliance-with-islamic-veil-987876/
------
Scooty Girls of Rawalpindi seek to empower women
December 27, 2019
Islamabad: Two young girls from Rawalpindi, Islamabad's crowded twin city, are biking their way to freedom, breaking pre-conceived barriers and empowering Pakistani women.
"The joy I find in exploring the city on my scooty has made me independent and confident enough to travel anywhere," Sana Shakoor, the Pakistani scooty girl, told Gulf News.
Sana and her friend, Afra Hussain, both in their early 20s, have earned the title of Rawalpindi's 'Scooty Girls' as they are blazing the trail for a new form of travel among women.
Sana first bought the Japanese scooty four years ago for about Rs67,000 (Dh1,585) so that she could reach university on time. "It was the best decision," she says as it has made her life and commutes much easier. "Now, I don't have to depend on anyone for my travels. I save the time that spent waiting for the public buses that always arrived overcrowded. Now I just pick up my keys and go zoom zoom," she said. Bike is a much convenient option in a congested city like Rawalpindi with a population of more than 2 million.
Bikes are economical and empowering
Sana and Afra have both completed their degrees from Fatima Jinnah Women's University where they also inspired many girls with their shiny black bike. "More women in Rawalpindi are now riding bikes, which is inspiring," says Afra. It's not just about being independent, but bikes, especially lightweight scooties, are the most affordable and convenient mode of transport for all, especially women. "It is also easy on the pocket. I travel all week on Rs100 petrol. Hard to believe, right?" Sana said.
But what about the social pressure — what will people say — and the stigmas associated with women riding bikes? "People ask that all the time. But in all honesty, we have never had a bad experience. We never felt harassed. In fact, we feel safer and empowered than ever," Afra, 21, added.
For the biker girls, support from their families and self-confidence played a major role in living their dream. But the stars are not aligned for everyone. There are regions where cultural barriers, safety issues and street harassment can limit bike travels — but the girls are hopeful it is about to change. "As more girls choose bikes as means of transportation, it will help diminish the stigma around biking and reduce barriers to education and work," she says.
Recently, a motorbike training programme called 'Women On Wheels' was launched in Pakistan under which 5,000 women from poor households were trained in Lahore city while they aim to teach at least 10,000 women in the Sindh province. The initiative aims to encourage more women to work in a country where females comprise of half of the population but only account for 22 per cent of the workforce.
Scooty Girls become Vloggers to inspire girls and travellers
Besides inspiring the girls in their neighbourhood and university, they are also documenting their travels on Instagram and YouTube channel named 'Scooty Girls'. They recently did a test drive by riding up to Monal cafe in Islamabad's Margalla Hills situated at a height of about 1,170 metres. "If we can do Monal, we can certainly travel further up north to Naran and Kaghan Valley on scooty," Sana says exuding confidence. For now, their videos only covered Islamabad and Rawalpindi, but travelling all across Pakistan on the scooty and vlogging about the journey is what the girls are planning next.
"Our biggest motivation behind making the videos is to break the stigma around girls travelling alone in Pakistan and also to show magnificent natural beauty of Pakistan to encourage more people to travel," Sana told Gulf News.
In Pakistan, women usually depend on their fathers, brothers and husbands for travels. "We want to change the stereotype. With our videos, we want to tell the girls that they can travel on their own and tell the world that Pakistan is a safe place for women travelling independently" Afra said.
https://gulfnews.com/world/asia/pakistan/scooty-girls-of-rawalpindi-seek-to-empower-women-1.68692163
------
Yashmin Harun, Who Set Up The Muslimah Sports Association In 2014, Receives British Empire Medal in New Year Honours list
Yashmin Harun's vision to create "safe spaces" for Muslim women to take part in sport has been recognised with a British Empire Medal in the New Year Honours list.
Harun, from Redbridge in east London, set up the Muslimah Sports Association in 2014 to tackle what she saw as a gap in sports provision for women like her.
"The environment is really important," she told the PA news agency.
Girls are encouraged to participate in a number of sports, including boxing, by the MSA (Handout/Muslimah Sports Association/PA)
"With the hall space we want to make sure there is no gallery and no access for men to come in during the time that we hire the hall, so that the caretakers and the school premises know that at that time no men are allowed to access the hall, because the ladies take off their hijabs and play.
"It's open to all women, it's not just for Muslim women, but we make sure that it's a female-only environment – we hire female coaches."
The MSA runs 18 sports classes a week, the majority in Redbridge but others in Newham and Wandsworth. Harun estimates that around 200 women attend every week across the sports, but it was not always that way.
"We used the local mosque's sports hall but we just weren't getting the women in – they didn't think football was for them, they thought it was a men's game," she recalled.
The MSA & Frenford FC team were winners at a five-a-side event at Stamford Bridge (Handout/Muslimah Sports Association/PA)
"But once we got the qualified females that we wanted from the BAME community, and they could see that women like them were coaches, that's when the numbers started to increase.
"Numbers were growing each week, from three to five to 25 to 30 each week. It was about persuading the community and getting people to take the time out, that they could have that time for themselves and not just for the family or for work."
There has been sporting success off the back of it – with the MSA & Frenford FC team winning at the Nike Super 5s event at Stamford Bridge in May.
As well as playing sport, the charity helps BAME women to get coaching qualifications in football, tennis, badminton, netball and fencing.
Harun collaborated with Sporting Equals, London Sport and the Essex FA to successfully launch an FA Level 1 Coaching course aimed at getting more BAME women into coaching. The model is one the FA and British Fencing now intend to launch in other ethnically diverse communities across the country.
Harun, who was born in Manchester and lived in Scotland before moving to the south-east of England at the age of 15, is also a director of the London FA and sits on its inclusion advisory group committee.
She is also a non-executive director at British Fencing, in addition to working full-time for a bank, and has high hopes for the decade ahead.
"We're very concentrated in London at the moment but the model we have can easily be picked up and grown nationwide," she said.
"So it's growing the resources and having the volunteers come forward and say they want to set up something similar.
"My passion is getting more BAME women, more British Asian women, in sports, to have more role models and getting them on that pathway from grassroots to elite sport."
https://www.countypress.co.uk/sport/national/18125976.yashmin-harun-receives-british-empire-medal-new-year-honours-list/
------
Parents of Muslim girl lose appeal in bullying case against Woodbridge Catholic school
Dec. 27, 2019
Nick Muscavage, Bridgewater Courier News
WOODBRDIGE – The parents of a Muslim girl who sued a Catholic school claiming their daughter was bullied and called a "terrorist" have lost their appeal of the lawsuit's dismissal.
The parents of the girl, identified only by her initials G.F.B., filed a 10-count lawsuit in Superior Court in 2015 alleging that employees of St. James Elementary School in Woodbridge, which is part of the Diocese of Metuchen, allowed their daughter to be bullied, harassed and physically assaulted.
Superior Court Judge James Hyland dismissed eight of the 10 counts in a judgement in favor of the school employees, and later dismissed the remaining two counts in a separate judgement.
The lawsuit alleged the girl was subjected to racial, sexual and religious discrimination.
In one instance, another student called G.F.B a "terrorist" and "the devil's child," the lawsuit alleged
G.F.B.'s father is a non-practicing Catholic and her mother is a practicing Muslim. G.F.B. was enrolled in St. James Elementary School's "non-Catholic curriculum," according to court documents.
G.F.B. practiced Islam in the past with her mother, but she "fell in love with the concept of Catholicism" while attending St. James Elementary School, according to court documents.
Although G.F.B. was enrolled in the school's non-Catholic curriculum, there was an apparent error and the school confused G.F.B. with a Catholic student with the same first name who had withdrawn, according to court documents.
Her father testified that he did not know when G.F.B. began receiving religious instruction at St. James, but said "he had no objection to it," according to court documents. Her mother said she "didn't like it," but "accepted it" because her "kid loved it."
G.F.B. did not report any incidents at the school while in kindergarten, first, or third grade, but during G.F.B.'s second grade school year, her teacher told G.F.B. she did not need to practice for her first communion because G.F.B. was not Catholic, according to court documents.
While at school, G.F.B. accepted ashes on Ash Wednesday each year until the fourth grade, according to court documents. In February 2013, G.F.B.'s fourth-grade teacher told a priest that G.F.B. was not Catholic and therefore should not receive ashes.
One year later, while G.F.B. was in the fifth grade, three male students grabbed the carrots G.F.B. was eating and threw them at her while making sexually suggestive comments, according to court documents. Her mother made a formal complaint with the school's then-principal.
G.F.B.'s parents claimed that a student called their daughter "slut." The incident was reported to the principal who told the parents that action had been taken in response to the complaint, according to court documents.
G.F.B. said she was called to the principal's office and, in front of the student who made the remarks, was told by the principal that she was "causing trouble for herself," according to court documents. G.F.B. further claimed that students circulated a list that was signed by sixth-grade classmates indicating they did not want to be friends with G.F.B.
G.F.B.'s parents did not appeal the first judgement dismissing eight of the 10 counts, only appealed the second judgement dismissing the final two counts.
The appellate court upheld Hyland's decision to dismiss the final two counts.
Staff Writer Nick Muscavage is an award-winning watchdog reporter whose work spans many topics and has spurred the creation of a state law. Contact him: 908-243-6615; ngmuscavage@gannettnj.com; @nmuscavage.
https://www.mycentraljersey.com/story/news/local/courts/2019/12/27/muslim-student-family-bullying-appeal-against-woodbridge-st-james-school/2749586001/
------
In a southern Indian town, women prepare for first New Year party
DECEMBER 27, 2019
MUMBAI (Thomson Reuters Foundation) - Sithara Shahnawaz is torn between wearing a gown or a traditional salwar kameez when she attends the first all-night New Year's Eve party for women in her hometown in southern India.
The local government at Perinthalmanna, a small municipality of about 50,000 people in the state of Kerala, is holding week-long New Year celebrations exclusively for women for the first time as a "women's empowerment" exercise.
The events, aimed to ensure that women are more included in cultural and business activities, will culminate with an all-night party on Dec. 31 that officials and local community members expected will draw over 2,000 women.
"Only boys celebrated New Year until now. The Christmas to New Year period was meant for them to party," Shahnawaz, 23, told the Thomson Reuters Foundation by phone from Perinthalmanna.
"This is the first time I will be out with my friends. I am looking forward to seeing women fulfil their desire without any fear or discomfort. We are all very excited."
Data from the International Labour Organization (ILO) shows less than a quarter - or 23% - of women aged 15 and above participated in India's labor force in 2019 compared to about 79% of men.
Social norms, patriarchal attitudes, limited choice of job options that are considered safe, lack of public transport, and safety concerns often hold women back from working in India.
But officials in Perinthalmanna - a semi-urban area known as a healthcare hub with several hospitals - said families were comfortable with women participating in the inaugural New Year activities as it was all organized by the government.
Government agencies working on livelihood options and charities that help women start small businesses have partnered with the municipality for the event.
"Women don't step out here because of tradition or religious customs. Many of them are Muslims. For this event, we are sure they will come out," said Dileep Kumar, an officer at Perinthalmanna municipality overseeing the event.
Kumar said women had asked them to organize a New Year celebration during some other women's empowerments events a few weeks ago in Perinthalmanna.
Social norms and safety concerns often restrict women's movements after sunset in many parts of India.
In major Indian cities, police have announced measures - from mobile apps that can track a woman's movement to helplines and patrolling - to keep women safe on New Year's Eve.
But for women in Perinthalmanna, social norms are the main barrier.
Subairul Avan, manager with the government's National Urban Livelihood Mission, said Perinthalmanna was a Muslim-majority town and, while there was progress in education of girls in the last decade, their potential was largely untapped.
More than 60% of girls in India are educated but states like Kerala record a higher rate of over 90%, according to India's last census data.
"They are not making it to the society's mainstream and face stigma if they do. This event is for their social empowerment," Avan said.
https://www.reuters.com/article/us-india-women-new-year-trfn/in-a-southern-indian-town-women-prepare-for-first-new-year-party-idUSKBN1YV0SD
------
Now, a Norwegian woman who took part in anti-CAA protest asked to leave India immediately
M P Praveen
DECEMBER 27, 2019
Janne-Mette Johansson said in a Facebook post that she has been directed by the Bureau of Immigration authorities, who again came to her hotel, to leave the country at once
A Norwegian woman visiting Kochi as a tourist has run into trouble after the Foreigners Regional Registration Office (FRRO) authorities asked her to immediately leave the country after it emerged that she had participated in a protest march against the Citizenship Amendment Act (CAA) held in the city earlier this week.
Janne-Mette Johansson, a Norwegian citizen settled in Sweden, is expected to leave by Friday night after Immigration authorities landed at the doorsteps of her hotel room at Fort Kochi. Participating in the People's Long March held in the city on December 23 has now forced her to cut short her stay here.
In a Facebook post nearly an hour before, Ms. Johansson said that the Bureau of Immigration showed up at her hotel again. "I was told to leave the country at once, or legal actions would be taken. I asked for an explanation and also something in writing. I was told that I would not get anything in writing. The officer from the Bureau is not leaving me before he can see that I have a flight ticket," the post read.
The post further said that she would be on her way to the airport soon, as a friend was trying to fix a ticket to Dubai from where she plans to catch a flight back home to Sweden.
"It was a clear violation of the visa conditions. She cannot take part in any political activity while being here on tourist visa. She has been asked to leave the country immediately as per the Foreigners Act. No country in the world will let any foreign tourist to meddle in their affairs," said a senior FRRO official.
Asked why the action comes almost four days after the protest march, the official said that the agency had been after her ever since social media posts emerged about her participation.
Ms. Johansson had made a Facebook post about her enthusiastic participation in the protest march with the hashtags #UnitedNotAlone, #BoycottNRC, and #RejectCAA. "This afternoon I participated in a protest march; People's Long March. It started out from Gandhi Circle Ernakulam, and we marched with slogans amd flags to Vasco da Gama Square Cochin, while the protestors were singing and chanting with their fists up. The People's Long March was well organised…No riots, just people determined…lifting up their voices, saying what has to be said. The police helpful during this protest march," her Facebook post on December 23 read.
https://www.thehindu.com/news/national/kerala/norwegian-national-asked-to-leave-india-for-violating-visa/article30409788.ece?homepage=true
------
From nuns to astronauts: 10 women cracking the glass ceiling in 2019
Friday, 27 December 2019
Countries around the world have promised gender equality by 2030, but in 2019 a new index showed that even the most advanced nations weren't doing enough to reach that goal.
Women are still paid around 20 percent less than men and make up fewer than one quarter of national parliamentarians, according to the United Nations' International Labor Organization.
Female participation in the labor force has grown in recent decades, as has gender parity at the top level of management, but women are still underrepresented in the corporate world.
But where are the bright spots? As the year draws to a close, we take a look at which women managed firsts in their fields. Here's a list of 10 from around the world:
1. First all-female space walk completed
In October, a team of two women from US space agency NASA were the first all-female team to step into space. There had been female spacewalkers before but this was the first time there was team of two women.
2. The first woman pilot flew in the Indian navy
Sub Lieutenant Shivangi became the first woman to fly a plane in India's navy. The milestone came three years after the country's air force recruited its first female pilots.
3. The first Native American women sworn into US Congress
In January, Deb Haaland and Sharice Davids were sworn in as lawmakers in the US House of Representatives, a first for native American women.
4. Sudan named first female head of judiciary
Supreme Court Judge Nemat Abdullah Khair was nominated to run the country's judiciary, the first woman to do so in the Muslim African nation.
5. First female president of Slovakia took office
In June, former anti-corruption campaigner Zuzana Caputova became Slovakia's first female president.
6. Pope Francis named first women to key Vatican department
Four women - three nuns and one lay person - became councilors in the office of synods, which prepares major meetings of world bishops held every few years.
7. First British jockey raced in a hijab
Khadijah Mellah became the first British jockey to compete in a major event wearing a hijab. To top it off, she won the race in what she described as a "fairytale" victory.
8. First black African woman climbed Everest
After multiple setbacks, South African Saray N'kusi Khumalo completed the challenge on her fourth attempt, and now wants to reach the top of the other Seven Summits.
9. First indigenous Mexican woman nominated for an Oscar
Yalitza Aparicio, 26, became the first indigenous Mexican woman nominated for an Oscar. Aparicio had never acted before she was cast as a domestic worker in the film "Roma", and she used her new found fame as a platform to campaign for workers.
10. Financial Times newspaper picked first female editor
Roula Khalaf was named as the next editor of Britain's pink newspaper, the first woman to do so since it was founded in 1888. Khalaf, who was born in Lebanon, has been at the paper for more than 20 years.
https://english.alarabiya.net/en/features/2019/12/27/From-nuns-to-astronauts-10-women-cracking-the-glass-ceiling-in-2019.html
------
URL: https://www.newageislam.com/islam-women-feminism/muslim-women-spend-their-christmas/d/120650
New Age Islam, Islam Online, Islamic Website, African Muslim News, Arab World News, South Asia News, Indian Muslim News, World Muslim News, Women in Islam, Islamic Feminism, Arab Women, Women In Arab, Islamophobia in America, Muslim Women in West, Islam Women and Feminism