New Age Islam News Bureau
21 May 2016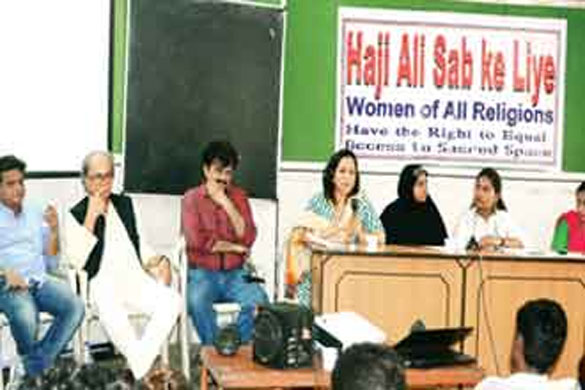 Photo: 'Haji Ali For All' forum release 'Ajmer Sharif visit' documentary
---------
• Women Lead the Way As 'Haji Ali Sab Ke Liye' Becomes National Movement
• Meet the Peshmerga Women Fighting Isis
• Women Become Local Leaders in Syria As War Upends Gender Norms
• New Delhi Muslim Man Punches Hard On Burqa-Clad Wife's Back In Train, But No One Comes To Her Rescue
• Saudi Woman Lands Key UN Job
Compiled by New Age Islam News Bureau
URL: https://newageislam.com/islam-women-feminism/muslim-women-right-say-triple/d/107380
---
Muslim Women Should Also Have Right to Say Triple Talaq: Taslima Nasreen
Saturday, May 21, 2016
New Delhi: Famed Bangladeshi author Taslima Nasreen has mocked the practice of saying triple talaq by some Muslim men for getting divorce from their wives, saying women should also have similar right.
"Why should only men have the right to divorce their wives?
"Women should have the right to divorce husbands by saying talaq talaq talaq," the author said.
"When men and women both are independent, triple talaq system is not bad.
"If a man doesn't love his wife, why should wife try to live with him?" she asked.
Taslima Nasreen has been living in exile in India after the Islamic fundamentalists in her country issued a fatwa against her many years ago.
zeenews.india.com/news/india/muslim-women-should-also-have-right-to-say-triple-talaq-taslima-nasreen_1887526.html
--
Women Lead the Way As 'Haji Ali Sab Ke Liye' Becomes National Movement
May 20, 2016
Varsha Vidya Vilas, Jyoti Badekar, Shabana Ansari and Nasreen Contractor lead the press conference of Haji Ali Sab ke Liye (HASKL) at the Marathi Patrakar Sangh at Azad Maidan, today. A documentary was released of the group's visit to Ajmer Sharif dargah on May 16 which shows the entry of women into the mazaar of Sufi saint Chisti.
"We have not yet received a reply to our 14 questions from last week. Now after going toAjmerwe know how thousands who come in faith are welcomed irrespective of gender or religion. That is true Sufism. The National Muslim Women's Welfare Society, Chisti foundation and People'sUnionfor Civil Liberties (PUCL) are supporting us. Many more organizations will extend their support soon," said Vilas. The crowds were huge, but Badekar says there was no pushing and the women felt safe and had a divine experience. "Haji Ali is spoiling the name of Islam by propagating a patriarchical mindset. The Sufi tradition is kept alive with families coming together and worshipping. This documentary brings it all out clearly."
Stating that many people share their problems with the saints, Shabana Ansari said, "At Ajmer it was great to see women entering the mazaar and feeling that peace from Chisti baba, at Haji Ali too till 2011 that was possible for women. Mumbai is said to be a forward city, but when it comes to this aspect we are still backward." Nasreen Contractor from the group who lived near Haji Ali for many years till she shifted recently shared, "The Sufi tradition always calls out to the human spirit and there is no distinction. More people need to go toAjmerand see what it is all about, and then they will truly know what Haji Ali trustees are stopping women from experiencing." The six minute documentary had Dr Syed Liaqat Hussain Moini sharing his views on Sufism and how Haji Ali should allow women into the mazaar. The equal rights activists said that they had speed posted their questions to Haji Ali's trustees after they refused to accept the letter at the dargah office. They said that they would share the documentary also with the trustees and also upload it on YouTube so that the common people can see how women are allowed into the mazaar atAjmerdargah.
mid-day.com/articles/women-lead-the-way-as-haji-ali-sab-ke-liye-becomes-national-movement/17255183
--
Meet the Peshmerga Women Fighting Isis
5/21/16
Lt. Colonel Nahida Ahmad Rashid is a top-ranking female commander in the peshmerga, the army of the semi-autonomous region of Iraqi Kurdistan.
Peshmerga (meaning "those who face death") are proving to be the most effective force in the Middle East fighting the Islamic State militant group (ISIS).
Try Newsweek for only $1.25 per week
Having fought bravely alongside other (all male) regiments since 2014 at Jalawla, Khanaqin and Dakuk, Rashid and her battalion of 600 women are undoubtedly important players in the ongoing war with ISIS.
I interviewed Rashid in late April this year. Living in Soran in northeast Kurdistan, I was taken by car on the three-hour journey to the battalion's base just outside the city of Sulaimaniyah.
My driver, Mr. Hakim, is the manager of the local branch of the PUK (the Patriotic Union of Kurdistan), one of the two main Kurdish political parties.
We were accompanied by another peshmerga, Sarwar "Sam" Dargalaye. Being both an Iraqi and an English-speaking American citizen, he acted as translator as well as bodyguard. Although this region is relatively safe, the kidnapping of Westerners does occasionally take place.
Arriving at the main gate of the base we saw a large picture of Capt. Rengin Yousef, a shahid (a martyr), killed in October 2014 while fighting ISIS. She had been a sniper, "One of the best," Warrant Officer Zetun Kamal Marf, said to us later.
Yousef, 25, had been a mother of two young children, one less than a year old. "She had never feared death, she was proud to defend her country, her freedom," explained Marf.
Yousef is one of several battalion women killed in action. Talking to different officers on the base it became clear that these soldiers train together, fight together and face death together. For these women, the death of a fellow soldier is nothing less than the loss of a loved one, a valued family member.
After a brief tour of the main building and informative talks with Marf and other soldiers of various ranks, we meet Rashid in her office.
Although feminine, possessing a warm demeanor and an affable sense of humor, she is every bit a commander: a disciplined and decisive leader.
Modest and unassuming, few people are aware that Rashid is, among other things, highly proficient in the martial art of taekwondo.
Through a translator, I asked Rashid why she chose a military career.
"Joining peshmerga, defending our country and families, fighting for our freedom, is an honor for us all, both men and women," she replied.
Like many Kurdish families today, Rashid's father, brothers and other relatives were members of peshmerga.
Her desire to fight for her country is rooted in the terrible things she experienced as a child growing up under the rule of former Iraqi dictator, Saddam Hussein. When she was young, Rashid witnessed Iraqi soldiers tie her uncle to a tank, pull him along the road, then throw his lifeless body into a pit.
This was the period of Al-Anfal, Saddam's campaign of genocide against the Kurds and other minority groups. Villages and towns were destroyed; people forced from their homes and moved to settlements little better than concentration camps. An estimated 182,000 Kurdish civilians were killed in that campaign.
As a teenager Rashid, living in Chwarta, a town near to Sulaimaniyah, became a tanzeem, one who secretly helps peshmerga residing in the mountains by providing food, clothing, and ammunition. She also passed on information about the strength and location of the Iraqi forces.
Courageously, Rashid carried out attacks on members of the Mukhabarat–the Iraqi Secret Service. The Iraqis, however, became aware of her activities.
"I ran away to the mountains" she stated defiantly, and from that time onward, she lived as Peshmerga. "I didn't want to be a good student," she says smiling, "but only a good Peshmerga."
Rashid tells me how, as a young, inexperienced Peshmerga, she was surprised that they didn't kill captured Iraqis. Her instructor told her: "We have humanity. We are human not animals, we take care of prisoners."
This humanitarian ethic has characterized the peshmerga throughout its history. Even ISIS fighters are treated humanely if captured.
In 1995, Rashid met Jalal Talabani, the primary founder and leader of the Patriotic Union of Kurdistan (PUK) and later president of Iraq. She suggested to him the idea of a woman's military base. Talabani agreed and Rashid became a leader of a small group of peshmerga women fighters, the original nucleus of today's battalion.
"I wasn't scared," she said facetiously. "Only scared of my worried father. I had to go on duty as a soldier in secret from him, and even my husband didn't know," she laughed.
After graduating at the Qalachwalan Military College Rashid served as a peshmerga officer, this time fighting Ansar al-Islam, a militant Islamic group appearing in north Kurdistan in 2001.
"It was a very hard fight," she explained. "They were the same as Daesh [the name Kurds use for ISIS]. They were cruel, inhumane, treating women very badly."
While we talked, Chai (a hot, sugary tea) and fruit was regularly served by a soldier in her early 20s, dressed in army fatigues, her hair in a ponytail underneath a peaked cap.
Rashid was relaxed, friendly, candid. I jokingly said her name is easy to remember, as my wife is also called Nahida. We laughed and showed each other photographs of our spouses.
I asked about her family. She told me with maternal pride that she has "one beautiful daughter, aged 12."
"How does your daughter feel about you being a commander in peshmerga?" Rashid laughed again.
"She is proud of me," she said, "and she would love to be peshmerga when she is 16. She often says Daesh is bad, killing children like her."
There is a long tradition of female peshmerga. Kurds are proud of the "Zhini Shakh" (women of the mountains), those who fought as guerrillas against Saddam in the 1980s. Various names are revered, such as Khuska Halima (Sister Halima), a peshmerga commander in the 1970s; Leyla Qasim, a student activist executed by Saddam in 1974; Hero Ibrahim Ahmad, a pioneer fighter and the wife of Jalal Talabani.
These peshmerga women of the past and the present are not amazons or super humans, as has been portrayed occasionally by the media. Such a sensationalized image belies the fact that, yes, such women are extraordinary in their courage, determination and self-sacrifice for others, yet they are ordinary women: wives, mothers, and daughters.
By the manner of the soldiers entering and leaving Rashid's office, it is clear she has the respect of those under her command. But I also noticed an almost palpable oneness between her and her officers, an equality, a "sisterhood" united in fighting a common foe.
I asked Rashid, "Are women peshmerga treated the same way as men?"
"Today there is absolutely nothing different," she replied.
She informed me: "When I first served as peshmerga many men looked at me critically. But I asked them directly, what's the difference between me and you?"
"It was very hard for a woman," she says. "Religion and culture have held women back. But I am glad we have managed to change the opinion round."
She continued to talk about gender equality. "Today the training is the same for both men and women. We are being trained by the British Army. The training is hard."
She told me that one of her soldiers had recently broken her wrists while training.
"We train like men, we fight like men and we are prepared to die like men," she said with conviction.
I spoke of the need for unity between the different groups within peshmerga, particularly the rivalry between the PUK and the KDP (Kurdistan Democratic Party). She agreed. "I don't care who belongs to my party. I respect peshmerga. Without unity we are nothing."
"When I am in uniform, I am peshmerga. When I wear a party dress I can wear either green or yellow," she said, humorously. Green and yellow are the colors of the PUK and the KDP.
There was obviously no shortage of women recruits. In the time I spent talking with Rashid, parents arrived in her office with their daughters, requesting enlistment into the regiment. One woman, now retired, who had previously served with the battalion, expressed a wish to return and fight ISIS.
"I would like to take them all," states Rashid, "but we do not have the funding."
Kurdistan is presently facing a severe economic crisis. Soldiers, like all public sector workers, often do not receive their pay, and ISIS is proving to be a determined foe. Almost 1,400 peshmerga have been killed and 7,500 wounded by ISIS since Aug. 2014. I asked Rashid how she maintains morale amongst her soldiers while facing such daunting issues.
Without hesitation, she told me: "We are all very proud to be peshmerga. We love humanity. We know what to do. We fight to protect our country, to protect humanity."
She looked at me pensively, "Peshmerga never kills the old, women, children, the innocent and defenseless. Daesh kills anybody and everybody, it doesn't care, it has no morals. This makes us strong."
Peshmerga are proving to be much better fighters than the Iraqi army. I asked Rashid why this is so.
"Although they have the best military equipment, the Iraqis are not a real army," she said.
"They do not have the will to fight. This was seen when they first faced Daesh in 2014, they dropped their weapons and ran. Today, they have good weapons but as we have seen, they are nothing."
She paused and stated: "Weapons do not make an army, it is self-belief. We believe in what we do."
I remind Rashid that ISIS sees female peshmerga as a specific threat and danger. They believe, if they are killed by a woman, they will be denied the rewards of paradise.
"Yes, we realize the dangers. Daesh are especially cruel to women. We believe it would be better to kill ourselves than be captured by them," she replied.
Partly tongue in cheek, I asked what she would say to President Barack Obama if she was invited to the White House for tea.
She smiled and said, "We Kurds are happy for the help you gave us in removing Saddam Hussein. We are grateful for the help the West is giving us in fighting Daesh. But we need you to help us completely remove Daesh."
"We fight with basic weapons. We need more, better weapons," she said imploringly. "Much of the aid that the west is sending peshmerga never reaches us as it is sent through Baghdad, which fears the Kurds gaining independence."
"One more thing," she said, again smiling. "We, like you, love freedom and democracy. Please be nice with the Kurdish people."
newsweek.com/meet-peshmerga-women-fighting-isis-461282
--
Women Become Local Leaders in Syria As War Upends Gender Norms
5/21/16
AMMAN, JORDAN — It is almost impossible to find any silver lining in Syria's war, but the growing number of women taking on the role of change makers in the war-ravaged country may provide a sliver of hope with potential lasting ramifications.
As in a number of Arab countries, many of Syria's women were largely sidelined and confined to traditional roles before the uprising against Syrian president Bashar al-Assad and the subsequent outbreak of war.
Now, however, more and more women are at the forefront of new efforts to solve local problems and to counter the seemingly never-ending violence.
This is in part because so many men are engaged in battle, have been imprisoned or have fled the country and women have had to step into new roles, but also because the Syrian uprising has upended a lot of social norms and customs.
One of the ways in which women have come to the forefront is by starting their own independent web magazines and radio stations, such as Jasmin Syria, Sayedet Souriya, Radio Souriyat and Nasaem Radio. All four web-based platforms operate inside and outside of Syria, and focus on highlighting the daily struggles of Syrian women amid the conflict.
Even in the alternative media that emerged at the beginning of the uprising, the role of women in the movement was minimized. When women were mentioned, they were portrayed as the mothers, sisters or wives of male political prisoners or male fighters.
But now all that is starting to change, said Reem al-Halabi, director of Nasaem Radio, based in the opposition-held half of the divided city of Aleppo.
"The stereotypical image of women presented in media reflects a patriarchal society," said Halabi. "Women's interests are not limited to fashion, beauty, cooking, family and children. This image does not reflect the real interests or concerns of Syrian women or how hard they are working to take part in building their country."
More women are also launching community initiatives, such as Women Now for Development, a center formed by women in 2012 in the besieged town of Hazza in the southwestern Damascus countryside to provide training and new skills. The initiative is primarily focused on young women who have had to quit school due to the deteriorating security situation and widows who need to generate income to support their families.
Layla, the manager of Women Now for Development, said the conflict had paradoxically "opened new horizons" for some Syrian women. "They are more self-confident and not afraid to express their opinions anymore, and this is reflected in the way they raise their children and deal with their husbands and the society around them," said Layla, who asked that her real name not be used for security reasons.
Muzna al-Jundy could not complete her master's degree or find a job due to the ongoing violence and the restriction of movement caused by the ubiquitous and ever-changing military checkpoints.
"The center provided me and many others with the opportunity to get out of the house, and start work on our own projects," Muzna said. "This was the first personal, positive thing that had happened to me in years."
Layla, the manager with Women Now, said workshops on women's rights have increased the number of female voters in local council elections in Eastern Ghouta, a suburb of Damascus that has been under tight government siege for nearly four years.
"Since the revolution began, Syrian women have shown an interest in politics," she said. "They do not base their opinions on what men say. They form their own opinions by analyzing the news themselves."
Reem Kanjo, a manager of the Women Now center in the northwestern city of Saraqeb in Idlib province, said women were still marginalized, but that it was a natural result of the growth of extremism and the spread of military factions in Syria and was a temporary phase.
"The situation will gradually change with the continuous insistence of women to have a role in decision-making," she said.
Most of Idlib province is controlled by al-Qaida's Syria affiliate, al-Nusra Front
Another such initiative is the Network of Guardians, which was founded by a group of young women in 2012 and provides training for parents in the care of children during emergencies – for example, how to deal with the psychological shock many children suffer after a bombing.
The organization also works with educators in besieged Eastern Ghouta, near the capital, and northwestern Idlib to develop school curricula that take into consideration war and its influence on children. The network contributed to a project to include children with special needs in public schools – something that had never been attempted before.
"My work with the Network of Guardians helped me develop management skills, which was something I never learned in college," said Hiba, a fourth-year architecture student at the University of Damascus who had to quit her studies after the government sealed off her home town of Douma from the rest of the capital in 2013.
Hiba, also not her real name, said she stayed at home for five months before finally joining the Network of Guardians. She hasn't looked back since.
"The current conflict in Syria has played a positive role in breaking the stereotype of women as housewives. Women today have a great opportunity and they should take advantage of it, especially with the number of men being lost in Syria to the fighting, imprisonment and abduction," she said.
More women are also trying to change things through political activism – even taking on the so-called Islamic State (ISIS).
In the city of Raqqa in northeastern Syria, for example, Suad Nofal has become a symbol of resistance to tyranny. For a long time, she had opposed the Syrian regime. Later, she confronted ISIS.
When the city broke away from the Syrian regime in March 2013, she contributed to establishing the local government council. And when ISIS took control of the city and started abusing residents, Suad protested daily in front of their headquarters for more than two months, calling for the release of the people they had arrested.
Since she had been a well-known teacher in Raqqa, she initially succeeded in opening a dialogue with a number of ISIS fighters who were former students – a fact that irritated ISIS's foreign leaders. They banned their fighters from talking to her, and then began to harass and threaten Suad before issuing a fatwa calling for her execution, which forced her to flee to
Turkey in 2013.
In Turkey, knowing that the media was covering her activities, she began a hunger strike in solidarity with the besieged in Homs and Ghouta. In 2015, Suad received the Czech Homo Homini Award for human rights.
And while it remains to be seen what plaudits her fellow activists still working hard inside the country will receive, one fact cannot be ignored: despite the war, and despite rising levels of conservatism, women across Syria are stepping up to make a change.
huffingtonpost.com/entry/syria-women-change-makers_us_573f3fabe4b045cc9a70d4a2?section=india
--
New Delhi Muslim Man Punches Hard On Burqa-Clad Wife's Back In Train, But No One Comes To Her Rescue
Friday, May 20, 2016
New Delhi: An inhuman act of a man towards his wife was caught on camera when the couple was travelling in a train.
In a video that has gone viral on social media, a Burqa-clad woman is seen beaten up by her husband in full public view, but no one comes to her rescue.
The husband is seen punching his wife's back over an argument while other passengers act as mute spectators.
zeenews.india.com/news/india/watch-atrocious-muslim-man-punches-hard-on-burkha-clad-wifes-back-in-train-but-none-comes-to-her-rescue_1887548.html
--
Saudi woman lands key UN job
Fri, May 20, 2016
JEDDAH: Saudi diplomat Sarah Baashan and Jo Tyndall, New Zealand's former climate ambassador, were named co-chairs of the UN global climate talks.
The six most influential positions within the UN are now all held by women, Climate Change News reported.
Outgoing UN climate chief Christiana Figueres said it is unsurprising that two women will take action forward. "It is wonderful to see two new voices and inspirations to support work."
Figueres said the presence of a Saudi at the top table points to a desire of the Kingdom to take a "constructive approach" to climate change.
France's Environment Minister, Segolene Royal, is now president of the talks, aided by two UN "climate champions": Moroccan minister Hakima El Haite and Paris Agreement architect Laurence Tubiana.
A UN official said the appointment of the pair as co-chairs was "spontaneous", but others eye a desire by the 196 countries at the negotiations to start implementing the 2015 Paris
Agreement.
arabnews.com/node/927561/saudi-arabia
URL: https://newageislam.com/islam-women-feminism/muslim-women-right-say-triple/d/107380
New Age Islam, Islam Online, Islamic Website, African Muslim News, Arab World News, South Asia News, Indian Muslim News, World Muslim News, Womens in Islam, Islamic Feminism, Arab Women, Womens In Arab, Islamphobia in America, Muslim Women in West, Islam Women and Feminism