New Age Islam News Bureau
12 March 2016
• King's College, UK, Student Has Niqab Ripped Off
• U.S. Muslim Women Strike Back Against Hate Crimes
• Defense Secretary Ash Carter OKs Final Strategy for Women in Combat
• As Anti-Islam Tone Rises in U.S., Muslim Women Learn Self-Defense
• One in Three Arab Women Fears Violence within Family
• Palestinian film 3000 Nights to open the Arab Women Film Festival in Sweden
Compiled by New Age Islam News Bureau
URL: https://newageislam.com/islam,-women-and-feminism/new-age-islam-news-bureau/muslim-women-say-they-don't-need-donald-trump's-help/d/106632
---------
Muslim Women Say They Don't Need Donald Trump's Help
March 11, 2016
CORAL GABLES, FL - MARCH 10: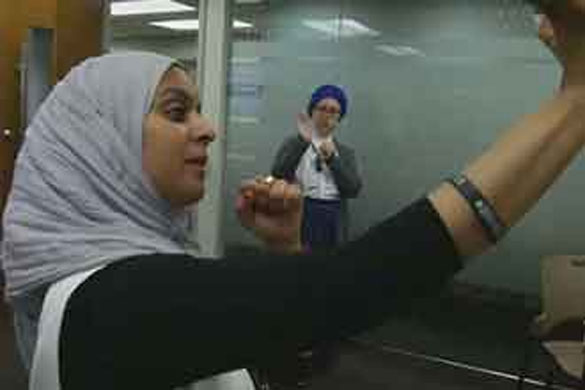 Photo: U.S. Muslim Women Strike Back Against Hate Crimes
------------
But the controversy is more complicated than you think
At Thursday night's GOP debate, Trump doubled down on his comments earlier in the week that "Islam hates us," attempting to link that assertion to treatment of women in some Middle Eastern countries.
"There is tremendous hate. Where large portions of a group of people, Islam, large portions want to use very, very harsh means," said the Republican frontrunner. "Let me go a step further. Women are treated horribly. You know that. You do know that. Women are treated horribly, and other things are happening that are very, very bad."
Just as the business mogul's initial comments about Islam's supposed war with the West were met with a swift backlash from Muslim community leaders, some Muslim women say that Trump's sudden concern for their welfare is counterproductive at best and Islamophobic at worst.
In conversations with TIME, female Muslim leaders and intellectuals argued that the business mogul's characterization of Islam as anti-women was incorrect and hypocritical. Others said that misogyny in some interpretations of Islam is very real, but off-the-cuff comments just antagonize the community and make reform more difficult. All agreed that Trump's statements don't do anything to help Muslim women.
Zainab Chaudary, a media specialist with ReThink Media who focuses on security and equal rights, says Trump's negative statements about Islam are more likely to end up create prejudice and attacks on Muslims than any positive change. "The negative stereotypes he's perpetuating actually lead to more violence against women who are Muslim or who are perceived as Muslim," Chaudary says.
According to Chaudary, Muslim women tend to be more publicly visible than Muslim men, especially if they wear hijab, making them especially vulnerable. "They're most likely to be the ones experiencing Islamophobia," she adds
Lori Saroya, director of Chapter Development at the Council on American-Islamic Relations, agreed that negative discourse around Islam often ends up hurting female members of the faith. "When I started wearing the hijab, nobody in my family wore it and they were initially worried about my safety and how I'm perceived," says Saroya, who says that wearing a Hijab has rarely caused any problems for her.
Other prominent Muslim women said they saw hypocrisy in Trump standing up for women's rights in Muslim populations but not in his own family. "For Donald Trump to talk about women's rights? Have you seen how he treats his wife?" says Sarwat Husain, president of the San Antonio chapter of the Council on American-Islamic Relations. "Look on the screen when he appears with his wife, has she ever held his hand? She is always standing behind him, like a servant or a maid."
But some argued that while Trump's comments were crude and disingenuous, they pointed to real problems within Muslim communities.
"He's so indelicate in his comments, he's definitely not the king of subtlety and nuance," says Asra Nomani, co-founder of the Muslim Reform Movement and author of Standing Alone: An American Woman's Struggle for the Soul of Islam. "But the truth is that we do have a very serious problem within our Muslim communities with interpretations of Islam that do treat women as second-class citizens."
Nomani said that the injustices commonly criticized in some interpretations of Islam were "very real," saying many clerics do preach hatred for America and some communities condone and encourage pervasive discrimination against women. But she noted that Islam also includes passionate believers in gender equality, like her own father or the father of Malala Yousafzai. The problem, she says, is that reformers can't call out the injustices within some interpretations of Islam without being accused of Islamophobia.
"People will rush to protect the 'honour' of Islam by whitewashing the very serious problems in these communities," she says. "Many of us sit in the crosshairs of these allegations of Islamophobia just because we dare to air our community's dirty laundry in public."
"There's this honour brigade that tries to stifle debate and silence any of these conversations," she says, adding that even criticism from other Muslims can sometimes be written off as bigotry. "It becomes very convenient to say 'look, everybody's picking on us.'"
Nomani says Trump's brash obliviousness to this delicate cultural relationship and his divisive rhetoric only makes that problem worse.
"Every time he says anything, it polarizes people so quickly that we can't discuss anything," Nomani said, cautioning that Muslims in other countries "end up using Trump and his comments as a metaphor for all of America."
time.com/4255987/muslim-women-donald-trump-islam/
----------
King's College, UK, Student Has Niqab Ripped Off
Mar 11, 2016
A female Muslim student had her Niqab pulled off by two men outside the King's Strand campus last Friday.
Bystanders said the men, not thought to be students, approached the students' stall and started using racially aggravated language before throwing leaflets over their stall. They then asked why the women: "Why are you wearing that on your face?" Before pulling a veil off of one of them.
One student said the men had been "looming" and "being very aggressive" before the incident.
The students had been running a stall as part of Discover Islam week, and were giving out Islamic literature as part of this.
According to bystanders, King's security was unresponsive to the ongoing incident, and the police were only called when the same men started to hassle a white animal rights activist.
King's College have said in a statement that "two security managers and a senior member of staff arrived on the scene and positioned themselves between both parties and attempted to defuse the situation" before calling the police, who arrived 40 minutes later.
The two men were then arrested under Section 4 of the Public Order Act and later released on bail.
The university says they have given CCTV footage of the area to the police.
The King's Islamic Society later released an open letter to the university Principal, criticising both his handling of the incident as one "focussed only on preserving the image of the college" and the "lack of urgency displayed by university staff".
They asked the professor for a statement clarifying his stance on the protection of Muslim students, clarification of the university's implementation of the Prevent legislation on campus and "clear and honest communication" with KCL's ISoc to prevent further incidents.
The Muslim students cite previous incidents, such as the racial profiling of a Muslim student officer who was questioned on his way to see a talk from Desmond Tutu and the vandalisation of Muslim prayer room signs.
Statistics continually show that Muslim women, especially those who wear religious garments, bare the brunt of Islamophobic attacks.
felixonline.co.uk/news/6020/kings-student-has-niqab-ripped-off/
----------
U.S. Muslim women strike back against hate crimes
12 March,2016
(Reuters) – With women now thought to be the targets in 80 percent of anti-Muslim hate crimes reported in the U.S., one group is helping Muslim-American women in hijab protect themselves against their attackers, with their bare hands.
At five-foot two, Rana Abdelhamid looks diminutive, but the Egyptian-American native of Queens, New York is a Shotokan karate black belt.
The human rights activist teaches self defence workshops for Muslim women across the United States.
Muslim American Group says the number of anti-Muslim hate crimes in the US has tripled since the Paris attacks in San Bernardino shootings and they say 80% of the victims are women largely because the same hijab Muslim women wear for modesty makes them more visible.
dunyanews.tv/en/World/327244-US-Muslim-women-strike-back-against-hate-crimes
--------
Defense Secretary Ash Carter OKs final strategy for women in combat
March 11, 2016
Defense Secretary Ashton Carter approved Thursday final plans from military service branches and the U.S. Special Operations Command to open up all combat jobs to women, and authorized the military to begin integrating female combat soldiers "right away."
All of the services submitted their plan to integrate women into combat roles by Jan. 1 following Mr. Carter's December decision to open all jobs to women with no exceptions.
"When I announced my decision back in December to open all career fields to qualified women, I emphasized that the implementation of this change must be handled the right way, because the combat effectiveness of the world's finest fighting force is paramount," Mr. Carter said in a statement. "Having reviewed their exceptionally thorough work, I am pleased all of the services developed plans that will effectively carry out this change and make us even better in the future," he said.
In a blog post published Thursday on Medium, Mr. Carter said his main objective was to ensure the standards of service members were clear and not based on gender.
"My first and foremost guiding principle was that the services would need to continue to apply transparent objective standards for all career fields to ensure leaders assign tasks, jobs, and career fields throughout the force based on ability," Mr. Cartersaid.
He warned that integration would take time and the military will continue identify and fix challenges that arise as women rise up through the ranks.
The Army and Marine Corps will take a "learn first" approach, integrating female officers and senior enlisted women into previously closed units before integrating junior enlisted women, to ensure they have leaders, Mr. Carter said.
"This will help ensure that women officers play a key leadership role, set the right example, and enhance teamwork wherever possible," he said.
But while reviewing service branch training requirements and standards, the Pentagon found that some requirements were dictated by traditions and were outdated.
He cited a task required to earn the Army's Expert Infantry Badge, which had required soldiers to move 12 miles in three hours with a 35-pound rucksack. The rucksack's weight was based on World War II-era standards that bear little relevance to what soldiers are required to do today.
"This process drove us to take a closer look at our training, too, and going forward, we will be using standards informed by today's real-world operational requirements, informed by experiences gained over the last decade-and-a-half of war in Iraq and Afghanistan," Mr. Carter said.
He admitted that women and men have physical differences and said the services have looked at ways to mitigate the potential for higher injury rates among female soldiers and have come up with ways to address those issues.
For example, the Army intends to give all new recruits an occupational physical assessment test, the results of which will help match recruits with jobs they are capable of performing, or could be capable of performing with training.
Before Mr. Carter approved the plans, Deputy Defense Secretary Bob Work and the vice chairman of the Joint Chiefs of Staff, Gen. Joe Selva, oversaw a group of officials who reviewed and signed off on the plans.
washingtontimes.com/news/2016/mar/11/ash-carter-approves-final-strategy-women-military-/
--------
As anti-Islam tone rises in U.S., Muslim women learn self-defense
March 11, 2016 REUTERS
WASHINGTON (Reuters) – Some 20 women in Islamic hijab worried by rising anti-Muslim rhetoric in the United States watched on a recent night as their self-defense instructor showed them how to punch a
would-be attacker. "Kiai!" shouted Rana Abdelhamid, an Egyptian-American with a black belt in shotokan karate, as she
demonstrated the blow."I'm fighting – Kiai! That's how loud I want you to be," Abdelhamid, a Muslim human rights activist and native of Queens, New York, told the group.The women followed her lead, some shouting the martial
arts cry louder than others.The workshops launched by Abdelhamid for women are among a number of similar classes around the United States that have sprung up as Muslims perceive themselves to be
under increasing threat.The feeling has intensified with Republican presidential candidate Donald Trump's call in December to ban Muslims from entering the country."You can be attacked at any point. You can be pushed off … of a
subway ledge," said Abdelhamid. She added that headscarves and the hijab can sometimes turn Muslim women into targets.One of the women in the class, Kristin Garrity Sekerci, an American convert to Islam, said she wanted to be able to defend herself if she were attacked.
"You stand out. It's not fair, but it's the reality. And you have to equip yourself to be able to face that," said Garrity Sekerci, who works with the Islamophobia-tracking Bridge Initiative at Washington's Georgetown University.Muslim advocacy groups like the Council on American-Islamic Relations (CAIR)
say anti-Muslim bias crimes in the United States have tripled since attacks by Islamic militants in Paris in November and shootings by Muslim extremists in San Bernardino, California, in December.About 80 percent of the victims in such incidents are women, CAIR officials say."There really is a need for Muslim
women to protect themselves in this society," said CAIR spokesman Ibrahim Hooper. The Bridge Initiative says Muslims in the United States are five times more likely to be the victim of a hate crime than they were before the Sept. 11, 2001, attacks.
The women in Abdelhamid's class included a young Palestinian who works at the Pentagon and a middle-aged Yemeni who is learning English."You just feel this rush of adrenaline in your body and you just want to conquer the world," Hind Essayegh, a native of Afghanistan, said after the class. "It's really empowering."
newsdaily.com/2016/03/as-anti-islam-tone-rises-in-u-s-muslim-women-learn-self-defense/
-------
One in three Arab women fears violence within family
March 8, 2016, 3:21 pm
Arab women in Israel are several times more likely to fear being attacked by a family member than their Jewish counterparts, according to a study presented Tuesday during a special discussion marking International Women's Day at the Knesset's Committee for the Advancement of Women.
The study, conducted by Sheli Mizrachi-Simon of the Knesset's Research and Information Center, shows Arab women are as much as five times more likely to fear domestic violence than women in the general population.
Only 6 percent of Israeli women fear being attacked by a family member, but that number climbs to 30% in the Arab community. A breakdown of those figures shows that 20% of Arab women fear physical attacks by family members, compared to 4% of all Israeli women and 19% of Arab woman fear sexual abuse by family members in contrast to 5% of all Israeli women.
The information used in the study were collected from a representative sample of 1,028 men and women over 18 years of age, divided equally by gender, social background and ethnicity, and addresses respondents' sense of personal security as well as job and health security, according to Haaretz.
Dozens of Jewish and Arab women march near the Old City of Jerusalem at last year's International Day Against Violence Against Women. (photo credit:Uri Lenz/Flash90)
Dozens of Jewish and Arab women march near the Old City of Jerusalem at last year's International Day Against Violence Against Women. (Uri Lenz/Flash90)
More than half of all respondents — 59% of women and 54% of men — expressed concern about being harmed by state institutions. Also here, concern is deeper within the Arab society: 74% of Arab women report fearing institutional harm compared to 51% of Haredi women and 49% of women from the former Soviet Union.
Twenty-nine percent of all women and 24% of men do not feel safe in turning to police in time of need.
timesofisrael.com/one-in-three-arab-women-fears-violence-within-family/
-------
Palestinian film 3000 Nights to open the Arab Women Film Festival in Sweden
Friday 11 Mar 2016
The Palestinian feature film 3000 Nights will open the Arab Women Film Festival in Sweden this March.
The festival is organised by the Malmo International Film Festival (MIFF) 2016, and is held from 18 to 20 March in Malmo and Helsingborg. It aims to "raise important questions about Arab women," according to the organisers.
The film, directed by Mai Masri centres on a young, newlywed Palestinian school teacher who is jailed and sent to a top-security Israeli prison, where she eventually gives birth.
Its world premiere was in September 2015 at the Toronto International Film Festival (TIFF). It then made its Arab world premiere in December as part of the Dubai International Film Festival's 12th edition where it participated in the Muhr Arab Feature Films Competition.
The Malmo and Helsingborg Arab women film festival is three days full of films by and about Arab women. The programme includes feature, documentary, and short films in addition to seminars and an Arab bazaar selling traditional crafts and sweets.
Among the films to be screened include Rock the Casbah from 2013, a French-Moroccan drama written and directed by Laïla Marrakchi, starring late Egyptian star Omar El-Sharif, prominent Palestinian actress Haiam Abbas, andthe Lebanese actress and director Nadin Libky. It was screened at the Special Presentation section at the 2013 Toronto International Film Festival.
english.ahram.org.eg/NewsContent/5/32/190647/Arts--Culture/Film/Palestinian-film--Nights-to-open-the-Arab-Women-Fi.aspx
URL: https://newageislam.com/islam,-women-and-feminism/new-age-islam-news-bureau/muslim-women-say-they-don't-need-donald-trump's-help/d/106632
New Age Islam, Islam Online, Islamic Website, African Muslim News, Arab World News, South Asia News, Indian Muslim News, World Muslim News, Womens in Islam, Islamic Feminism, Arab Women, Womens In Arab, Islamphobia in America, Muslim Women in West, Islam Women and Feminism