New Age Islam News Bureau
10 Feb 2018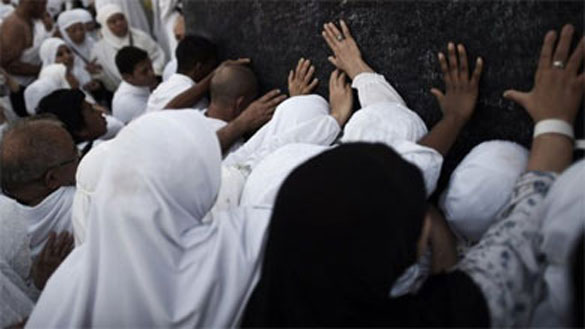 Muslim women are using #MosqueMeToo to share their experiences of sexual harassment during the Hajj pilgrimage and other religious settings.
-----
• Al-Qaeda Terrorists Mock Islamic State for 'Fleeing to Turkey and Leaving Women to Defend Their Honour'
• 'You Should Be a Role Model for Women': JUI-F Senator Objects to Nasreen Jalil's Sari
• Edutainment Shows How to Teach Saudi Women about Driving Safety
• A Rundown on Reasons for Rising Divorce Rate in Saudi Arabia
• LEAD Pakistan Holds International Conference on Women Empowerment
• Iranian Women Steadfast In Campaign to Attend Soccer Matches
• Iran: Activists, Mothers Declared Support for The Uprising
Compiled by New Age Islam News Bureau
URL: https://www.newageislam.com/islam-women-feminism/muslim-women-rally-round-mosquemetoo/d/114237
--------
Muslim Women Rally Round #MosqueMeToo
9 February 2018
By Faranak Amidi
Muslim women are using #MosqueMeToo to share their experiences of sexual harassment during the Hajj pilgrimage and other religious settings.
Egyptian-American feminist and journalist Mona Eltahawy first talked about her experience of sexual assault during Hajj in 2013.
She is behind #MosqueMeToo.
Muslim men and women from around the world started using the hashtag yesterday and in less than 24 hours it was tweeted 2,000 times.
It has gone on to become one of the top ten trends of Farsi Twitter.
Many of the women sharing their experiences on Twitter report being groped, inappropriately touched or having someone rub against them in the crowd.
For Muslims, the Hajj is the fifth and final pillar of Islam. It is something that every sane adult Muslim must undertake at least once in their lives if they can afford it and are physically able.
It is estimated two million Muslims undertake Hajj each year, creating huge crowds in the holy city of Mecca.
One of the main pillars of the religion of Islam is female modesty; women are encouraged to cover their hair and body in public in order to preserve decency and keep themselves safe from male attention or harm.
Many Muslim women are taught from a very young age that a hijab, or head covering, is their protection from harassment and assault.
Some people also believe that what a women wears, where she goes and what she does can encourage harassment and it is her responsibility to manage this.
Many women in countries such as Iran, Saudi Arabia, Egypt, and Afghanistan say they still face sexual harassment and assault on the streets, despite wearing modest dress.
#MosqueMeToo supporters say that even in the holiest of places, where they are fully covered and praying, they can be assaulted.
Many Iranian and Farsi speaking Twitter users not only shared their experience of harassment but also challenged the belief that wearing the hijab keeps women safe from assault and harassment.
In Iran the hijab is mandatory. There are posters in cities and towns comparing unveiled women to unwrapped candy and lollipops attracting unwanted attention from flies.
One of the main slogans written on the walls of every office and public building in Iran says, "Hijab is not a limitation, it is your protection."
In recent weeks, Iranian authorities have arrested 29 people as part of a crack down on protests against the compulsory hijab.
The movement, which has been named "the Girls of Revolution Street", started after a woman took off her headscarf in central Tehran.
Not everyone has been supportive of #MosqueMeToo and some people have criticised Mona Eltahawy for bringing up the topic on social media.
What is 100 Women?
BBC 100 Women names 100 influential and inspirational women around the world every year. We create documentaries, features and interviews about their lives, giving more space for stories that put women at the centre.
http://www.bbc.com/news/world-43006952
--------
Al-Qaeda Terrorists Mock Islamic State for 'Fleeing to Turkey and Leaving Women to Defend Their Honour'
9 Feb 2018
The UK Daily Mail reports that rival terrorists are mocking the Islamic State (ISIS) for "fleeing to Turkey and leaving women to defend their honor" after footage surfaced of female jihadis fighting on the ISIS frontlines in Syria.
"In the footage, believed to show the first time women ISIS fighters have been seen in active combat, one female fighter wearing a burqa and gloves fires an AK47-style assault rifle from behind an earth rampart alongside a comrade," the Daily Mail writes. "Another clip shows several armed women in the back of a white pickup truck with a male fighter at the side of the cab and an ISIS flag in the bed of the vehicle."
The video was actually released as propaganda by the Islamic State in an effort to show the terror state is down but not out, still fighting against the United States and its allies despite a year of massive losses on the battlefield.
The video is (rather pretentiously) narrated in English and includes a copious amount of bitter cursing at America and its Kurdish allies. The ISIS "caliphate" is spoken of as though it still exists; militants flash victory signs as the narrator speaks of their triumphant battle in the name of Allah. The participation of female jihadis is portrayed as a sign of the Islamic State's ferocity and determination, not desperation.
In fact, the military operation depicted in the video was entitled "Revenge of the Virtuous Women," an offensive supposedly intended to give Islamic State women a chance to seek "revenge for their religion and for the honor of their sisters imprisoned by the apostate Kurds."
A group of female ISIS militants wrote a letter to the terror state's leadership last week, insisting that they deserve a chance to fight and die for Allah alongside the males.
"To be brief, and without putting ourselves in the spotlight, our problem is that we are girls! But we are not like other girls! Our concerns are different from other girls," the intrepid distaff jihadis wrote. "Our concern to raise the flag of 'There is no God but Allah' over the shadow of our swords. Death for us is life … and life for us is Jihad!"
"If we have written to you, it is because we want a path to Jihad! And our biggest hope is for death in martyrdom. And don't say 'you are girls' because we know this! But we are girls with the souls of men!" they insisted.
However, al-Qaeda franchise Hay'at Tahrir al-Sham taunted ISIS for making the video and sending women into battle while the leadership runs for cover.
"The Da'eshites turned their back defeated, and their leaders are renting the most luxurious houses in Turkey with shaved off beards like women," sneered one Hay'at Tahrir al-Sham leader, using another name for the Islamic State.
"They left the emigrated women abandoned, fighting, defending their honor," the rival terrorist tweeted. "May Allah's curse be on al-Baghdadi and his group." Abu Bakr al-Baghdadi is—or, depending on who you ask, was—the leader of the Islamic State. A theory began circulating in mid-January that he fled to a hideout in Africa, and contrary to persistent rumors of his death, might actually be the last senior member of the Islamic State alive.
Ran Meir of the Clarion Project told the Daily Mail that ISIS would have a hard time spinning the deployment of female fighters as a good thing.
"It was well known while fighting the Kurdish women, ISIS feared them very much because they believed that if you get killed by a woman you won't get to heaven," Meir noted. "Now ISIS is using women because they're in dire need for fighters."
http://www.breitbart.com/national-security/2018/02/09/rival-terrorists-mock-islamic-state-fleeing-turkey-leaving-women-defend-honor/
--------
'You should be a role model for women': JUI-F senator objects to Nasreen Jalil's sari
February 10, 2018
A Jamiat Ulema-i-Islam Fazl (JUI-F) senator on Friday targeted MQM Senator Nasreen Jalil with a sexist remark about her sartorial choices, choosing a session of the Senate's Functional Committee on Human Rights which she was about to chair to sermonise about what her appearance "as a Muslim woman" should be.
Senator Mufti Abdul Sattar of the JUI-F told Jalil, who was wearing her customary sari, that an "able and intellectual" woman like her should have an "appearance like Muslims".
"It is mandatory in Islam for women to cover all parts of their body except the face, hands and feet," preached Sattar, who is a member of the same human rights committee Jalil chairs.
"God has raised you to this status, you should become a role model for other women," he added, before going on to wonder: "What message will it send when the footage [of this meeting] is aired on TV?"
At this, Jalil, a seasoned politician, reminded the senator that she was a 74-year-old lady who recently "dodged death".
Quipping that she could "drop dead at any moment", Jalil asked Sattar what he felt the dressing requirements for a woman of such circumstances should be.
But Sattar thankfully had other matters to attend to. After he was done with his unsolicited and unwanted remarks about Jalil's appearance, the JUI-F senator turned his attention to what he termed "a conspiracy to amend the blasphemy laws of the country." "There are so many evils and crimes in the country that no one worries about, yet everyone has their eyes on amending the blasphemy law," he complained, adding that people like him would never allow any such move to bear fruit.
Jalil impatiently brushed off his outlandish theory, saying: "We are not aware of who is involved in the conspiracy you're talking about, and where it seems to be hatching."
Sexism in parliament
Sexist and misogynistic behaviour and remarks are not a novelty to the Pakistani parliament, where lawmakers often consider political rivalries fair reason to verbally abuse their female counterparts.
See: 6 times Pakistani politicians insulted the women they work with
One such incident happened last year in April, when during the address of Leader of the Opposition Khursheed Shah, Speaker Ayaz Sadiq asked women lawmakers to be silent or go outside and continue their conversation.
Shah was heavily criticised by female MNAs when he responded: "Do not ask these women to stop talking, Speaker, they will fall ill if they don't talk continuously."
Earlier in 2016, incumbent Foreign Minister Khawaja Asif had received heavy backlash for infamously comparing Pakistan Tehreek-i-Insaf's chief whip, Shireen Mazari, with a "tractor trolley".
https://www.dawn.com/news/1388398/you-should-be-a-role-model-for-women-jui-f-senator-objects-to-nasreen-jalils-sari
--------
Edutainment shows how to teach Saudi women about driving safety
NADA HAMEED
9 February 2018
JEDDAH: An event — which featured a quiz game — held at a university campus illustrated how to introduce girls to safe driving before they take to the wheel for the first time.
The day-long event, called Car Academy 2018, was held at Jeddah's College of Advertising, the third and most recent college to be established at the University of Business and Technology.
Khalid Al-Shohaib, a professor who lectures in advertising and communication at the college, told Arab News: "The event aims to make girls aware of all safety rules because, as you know, they will be driving soon.
"It is also for ladies to experience how to manage cars, not only as car, but as a whole engine from inside to outside."
It proved popular with both sexes and it drew a large audience of males and females who want to know more about cars.
One of the sessions was a quiz game in which women students were tested on their technical knowledge of cars and highway safety.
A lecture on how to keep safe on the road was given by traffic department officers who covered car maintenance and spare parts.
Two female students, Huda Al-Rajhi and Bashaier Al-Maiman, presented their graduation project, a campaign to introduce driving essentials to women. Al-Rajhi told Arab News: "Our project aims to introduce cars to women from A to Z, including all the spare parts and safety rules."
Saleh Al-Takrouri, JCA general subjects supervisor, told Arab News: "Students always work on advertising campaigns, including awareness projects about driving and safety while driving. Many projects were presented to well-known companies such as Uber to get them applied on the real world."
http://www.arabnews.com/node/1242471/saudi-arabia
--------
A rundown on reasons for rising divorce rate in Saudi Arabia
February 10, 2018
UNBELIEVABLE though, more than 53,000 divorces take place in Saudi Arabia every year despite the nationwide awareness campaigns carried out by the government as well as nonprofit organizations against the growing trend.
The high rate of divorce has become a destabilizing factor in Saudi society and it obstructs the Kingdom's march to greater progress. Social consultant and researcher Salman Bin Mohammed Al-Amri has expressed his deep concern over the repercussions of the high incidence of divorce in society.
According to Al-Amri, the number of divorce cases handled by courts across the country reached 53,675 in 2017 or 149 cases each day.
The office of the Grand Mufti approved 6,163 divorces during the same year, which is an increase of 846 cases compared to 2016.
"We should know that there are hundreds of divorces not recorded by the courts, so the actual figure could be much higher than what is officially reported," Al-Amri said indicating the actual figure.
The total number of divorces in 2017 could be 40 to 45 percent of the total number of marriages, which was put at 159,386, in the same year. "This shows that we have to take drastic measures to bring down this huge number of divorce cases in the country," Al-Amri told Okaz/Saudi Gazette.
Measures must be taken to control divorces to reduce its social impact as it causes untold problems to the children of divorced couple.
Men and women who have separated after years of living together also face psychological, economic and social problems.
"We have to conduct a detailed study on the increasing number of divorce cases in Saudi society to find a viable solution," Al-Amri said while calling for greater cooperation between government and private agencies to address the issue.
Injustice, lack of honesty and trust, and confusion are the hallmarks of divorce cases across the Kingdom. It destabilizes families, the foundation of society.
The rights of both men and women must be protected to build a happy and balanced society, says Al-Amri.
"Among the lawful things, divorce is the most hated by Allah," the Prophet Muhammad (peace be upon him) was quoted as saying.
Islam has warned against divorce and its dangerous consequences. God has allowed it in certain circumstances and nobody is allowed to transgress the limits, Al-Amri said.
Saudi and Gulf societies have changed considerably in recent years as a result of foreign influences and other factors, largely affecting social, cultural and economic norms.
"Our families have been influenced by the new urban culture and modern information technology. Education and employment of women and the Kingdom's openness to foreign cultures were other factors that increased the divorce rate," Al-Amri said while stressing the negative effect of the Internet and social media networks on the Saudi family.
"Modern communication means bring closer those who are far while distancing those who are near and dear," Al-Amri said, adding that it has created a divide between mother and child, and husband and wife. It also contributed to spreading rumors that trigger conflicts between members of the same family without any genuine reasons, he added.
Al-Amri has been investigating the reasons behind the growing divorce rate in the Kingdom over many years. He emphasized the need to give pre-marital counseling for young men and women before they get married. The Ministry of Labor and Social Development has adopted this proposal and has been implementing it with the support of NGOs. The Cabinet has allocated funds for the purpose.
He cautioned against the interference by family members in the lives of couples, saying it is one of the main reasons for divorce. "Mistakes in the selection of grooms and brides, forced marriages, and unwillingness of brides to live with the in-laws are some other reasons," Al-Amri said.
Many parents have failed to prepare their sons to get married by training them to take responsibility. Some men fail to fulfill their Shariah duties toward their wives while those having more than one wife fail to treat all of them fairly and equally.
There are many other reasons including bad temper, infidelity, drug and liquor habits, miserly attitude and high dowry, in addition to psychological, health and social reasons.
Al-Amri said women are the most affected in case of divorce due to society's negative attitude toward them. A divorcee loses economic support and financial security provided by her husband and this brings down her living standard, in addition to making her a burden on the family.
"As a result of this situation, such women will be forced to seek financial help from the Ministry of Labor and Social Affairs and charitable organizations. This will lead to depression and push them to commit suicide," he explained.
Most divorced Arab women are unlikely to get married for a second time because of the tough attitude of society toward them.
The situation of divorced men is not very different as they too face a lot of difficulties and mental pressure. They may be forced to pay to child support. Many divorced men are afraid of marrying another woman due to the failure of the first marriage.
Children are the worst hit by divorce as they will lose the sense of security and will not be able to concentrate on their studies. The father will try to take custody of his children and keep them away from their mother. "This will create a horrible family atmosphere for children," said Al-Amri.
Such a situation will push many children to drugs and alcohol addiction and they may commit various crimes, including terrorism, murder and robbery. When the divorced people get married again, their children from the previous marriage would face a lot of troubles.
Al-Amri spoke about the impact of divorce on society, saying destabilized families would lead to the destruction of society. It will weaken society, which will not be able to channel its power and resources for constructive activities like helping the needy. Divided families will not get time to think about progress.
Instead of becoming leaders of progress and prosperity, separated men and women would become depressed individuals unable to make any contributions to the country's growth. It will increase financial burden on the state, charities and civil societies as the divorcees and their children will require financial support.
http://saudigazette.com.sa/article/527994/SAUDI-ARABIA/A-rundown-on-reasons-for-rising-divorce-rate-in-Saudi-Arabia
--------
LEAD Pakistan holds international conference on women empowerment
February 8, 2018
By Sarfraz Ali
ISLAMABAD – The leadership of Environment and Development (LEAD) Pakistan, an independent policy think-tank, organised an international conference in the federal capital on Thursday.
CEO Ali Tauqeer Sheikh gave the welcome note at the start of the conference – 'Empowering Women for Growth and Prosperity: From Evidence to Policy' – and referred to a study by LEAD Pakistan which explores environmental degradation, climate change and economic empowerment of women based on a household survey conducted in Dhaka, Delhi, Lahore and Islamabad.
"Women are particularly vulnerable to climate change events and environmental degradation in urban areas. There is a dire need for smart and inclusive policy-making by the government to ensure that no one is left behind," he said.
Gillian Dowie, Program Officer, Growth and Economic Opportunities for Women Program, International Development Research Centre (IDRC) Canada, said: "Investing in knowledge on women's empowerment and the effect of climate change is critical. We look forward to learning about the evidence from Pakistan today, taking stock of the lessons internationally, and identifying tangible policy solutions."
H. Elizabeth Peters, Center Director, Urban Institute, Washington DC gave the introductory remarks and hope that the conference will contribute to the national development agenda.
KhawarMumtaz, Chairperson, National Commission on the Status of Women in Pakistan referred to Vision 2025 which is a 'guiding light for development' in Pakistan.
He said, "Women's contribution does not get highlighted in statistics and there is a need to highlight their efforts for the betterment of the society. Women contribute 400 billion rupees a year but that is not highlighted appropriately and still the nexus between phenomenal work and women empowerment is not examined as yet. We have also not linked the impacts of climate change on women and the opportunities associated with it."
Joanna Reid, Head of Department for International Development (DFID), Pakistan said, "No country has achieved prosperity without harnessing the potential of women. Unfortunately, in Pakistan, women are disproportionately affected by many issues. There is a need to provide better education to women and girls and empowering them to make their choices by themselves. DFID is supporting Pakistan in achieving sustainable development."
Daniel Joly, Head of Aid, High Commissioner of Canada in Pakistan, said Canada has always supported a strong role of women development.
"We are pleased to support the research initiatives that can help to inculcate gender in the economic agenda. The sustainable development cannot be achieved if women aren't the part of the development agenda. Unfortunately in Pakistan, women face issues to their participation on various avenues.
"Climate change is another area of concern, as it has greater impact on those who rely on natural resources for their livelihoods which includes women aswell. Women can play a greater role in fighting climate change due to their local knowledge," he added.
There were three panels on 'Putting women to work – human capital, growth and labor markets'; 'Pathways to reducing women's vulnerability to climate shocks and stressors'and 'The economic costs and solutions to violence against women'.
In the first panel 'Putting women to work – human capital, growth and labor markets', Dr. Aliya H. Khan, Professor of Economics, Quaid-e-Azam University queried, "We hear the China Pakistan Economic Corridor (CPEC) will be a game changer. Will it change the game for female labor force participation?"
The second panel 'Pathways to Reducing Women's Vulnerability to Climate Shocks and Stressors' was moderated by Gillian Dowie and one of the presenters HinaLotia, Director Program, LEAD Pakistan said: "Heatwaves and torrential rains in Pakistan and India affect women more as compared to men and there is a need for gender sensitize development in South Asia. Further there are similarities and dissimilarities between urban dwellers in Delhi, Dhaka, Lahore and Islamabad, which LEAD Pakistan through one of its projects is trying to investigate."
The third panel 'The Economic Costs of and Solutions to Violence Against Women' was moderated by Ali Tauqeer Sheikh and various presenters shared their views on the subject.
A televised discussion on empowering women for national development also took place.
As global rankings on gender disparities list Pakistan among the worst in the world, the conference aimed to stir a greater debate calling for female participation in economic activities, which will promote sustainable and inclusive economic development in the country.
https://en.dailypakistan.com.pk/pakistan/lead-pakistan-holds-international-conference-on-women-empowerment/
--------
Iranian women steadfast in campaign to attend soccer matches
Zahra Alipour
February 9, 2018
I was in the Italian city of Milan on April 15, 2015, when I decided to attend the local soccer match at San Siro Stadium. Milan had been one my favorite teams since childhood, and San Siro seemed like a good choice for my first time seeing a soccer game live at an arena. Since emigrating from Iran in 2012, I had often dreamed of the day. In fact, I had been dreaming of the day since I was 10 years old.
My fantasy began one summer in the city of Ahvaz, in southwestern Iran, the night I watched Italy play Nigeria in the 1994 FIFA World Cup, held in the United States. From that day on, soccer became a big part of my life. I was a diehard fan, whether following the Iran league or European soccer leagues, watching on television and listening on the radio. Every morning, I bought the sports pages. I owned the scarf, hat and T-shirt of my favorite team.
Despite my enthusiasm, I couldn't go to a stadium to watch a match. As a little girl, I was in love with a sport that I knew I could never see in person in Iran unless I met one condition — to somehow not be a female.
As the years passed after my 10th birthday, the gates of Iran's soccer stadiums remained closed to women. After I changed location, on one spring day I finally got through the gates of a stadium and sat on the fourth level, at San Siro. Although San Siro had felt like a dream, it was not my dream choice. My real dream stood thousands of kilometers away, inside the gates of Tehran's Azadi Stadium, where I wanted, and still want, to watch the big Tehran match.
The story of my forbidden love and rejection at soccer stadiums is the story of many women in Iran. These women have tried and tried for years to knock down the barrier in their way. They launched a campaign in 2005 called White Scarves in "defense of women's right to enter soccer stadiums." They also wrote to the world soccer federation, FIFA, to protest gender discrimination at sports arenas in Iran. They challenged the inequality on social media and through news outlets. Women cheered outside the entrance to Azadi while witnessing the double standard of non-Iranian women being allowed to enter to watch their country's team play against Iran. Some even tried to enter stadiums dressed as males. The media spread news of their arrests.
The women's efforts elicited promises from Iran's current president, Hassan Rouhani, and his predecessor, Mahmoud Ahmadinejad, of a more open society in which women could attend sporting events. These promises remain unfulfilled, as senior Shiite clerics have remained opposed to lifting the ban on women entering stadiums. According to them, the presence of female fans among male spectators is "against Sharia and an apparent fall [or clear disregard] from Islamic values."
Has the clerics' opposition weakened women's resolve to enter soccer stadiums? As this year's premier league games kicked off in Iran, pictures and videos surfaced of women entering stadiums in cities across the country. They dressed in men's clothing and wore wigs or hats and fake beards and mustaches. The transformation seems to have improved their chances of success.
Shabnam, from Ahvaz, told Al-Monitor, "Our symbolic move and peaceful protest is to draw serious attention to this issue. This is the only way that comes to our mind. If we want to enter as ourselves, they will not let us in. They didn't let us enter during the Iran-Syria game [on September 5, 2017], but they let Syrian women enter Azadi Stadium and watch the match. Currently, this is the only way to impose pressure, which many other girls and I have done."
Shabnam got past the gates at Ghadir, in Ahvaz on Dec. 23, and watched Foolad Khuzestan of Ahvaz play Tehran's Persepolis for the first time. "It had been my dream to go to the stadium since I was a child," Shabnam told Al-Monitor. "A lot of times, when watching the games on TV, I would listen to the noise coming from the stands instead of listening to the sportscaster and would cheer along with the spectators from my home. … I finally decided to be a man for a day, with all the pain that accompanied it. [I had to] clip my nails, take off my nail polish, use hair dye to draw on a beard and mustache for myself, and go to the stadium with a wig and men's clothing."
In 2006, Iranian director Jafar Panahi's critically acclaimed film "Offside" brought international attention to the struggle of Iran's female soccer fans. The movie, which is yet to receive a permit for public screenings in Iran, is based on a true story. The main characters, six young girls, try to get into Azadi while dressed as men to see the 2006 World Cup qualifying match between Iran and Bahrain. They all get arrested, except for Shabnam, who with the help of male family members is able to get into the stadium to see her favorite team play.
Shabnam told Al-Monitor, "When I saw the grass field, I stared at it and was about to break into tears. … It's true that this was a different experience, but the fact that you had to change your identity and were no longer yourself or were scared of being caught all detracted from the joy of watching soccer in a stadium."
She added, "Many will succeed in this path, but many will also be arrested. However, this movement that has been started will at least help [bring attention to our] demand for women to have the right to enter stadiums and not let this be forgotten."
https://www.al-monitor.com/pulse/originals/2018/02/iran-football-soccer-stadiums-games-attendance-ban.html
--------
Iran: Activists, mothers declared support for the uprising
09 February 2018
A group of political and civil activists and activist mothers signed a declaration in support of the nationwide Iran uprising in January.
The declaration reads in part, "We support the uprisings of the people of Iran in every town and city, because we have tied our hope to the powerful hands of our own people… The Islamic Republic regime does not represent the people of Iran and has lost its legitimacy all together.
We know that the honorable people of the world will pressure their governments to support the uprising of the people of Iran. Everyone must know that Iranians will no longer allow their oppressors to plunder their wealth and they do not recognize or accept any economic or political deal signed with the criminal officials of the Islamic Republic.
The people of Iran, united in their hearts and cries and in absolute solidarity, are determined to send the murderers of their children to the dustbin of history."
Among the signatories are Shahin Mahinfar and her husband who lost their son in the 2009 uprising when the SSF vehicle ran him over; Raheleh Rahemipour, a plaintiff seeking justice for her brother who was executed in the 1980s and her missing niece; Sholeh Pakravan, whose daughter was executed in 2014 for defending herself against rape; Massoumeh Nemati and Atena Daemi, parents of political prisoner Atena Daemi; Farngis Mazloum, mother of imprisoned activist Soheil Arabi, and many others.
http://www.women.ncr-iran.org/iran-women-news/4780-iran-activists-mothers-declared-support-for-the-uprising
--------
URL: https://www.newageislam.com/islam-women-feminism/muslim-women-rally-round-mosquemetoo/d/114237
New Age Islam, Islam Online, Islamic Website, African Muslim News, Arab World News, South Asia News, Indian Muslim News, World Muslim News, Women in Islam, Islamic Feminism, Arab Women, Women In Arab, Islamophobia in America, Muslim Women in West, Islam Women and Feminism