New Age Islam News Bureau
24 Jun 2016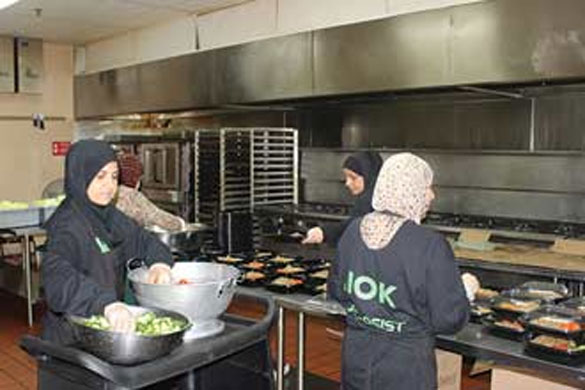 Photo: IIOK employees packing lunches for the Meat up and Eat up Program - Photo by The AA News
-------
• Dearborn: Group of Women Establishing Social Services at Islamic Institute
• Sylvia Blyden Wants More Muslim Women to attend Hajj
• Muslim Women Kicked Out Of US Cafe Accused of 'Civilisational Jihad' By Lawyer
• A Women's Rights Champion Is Arrested and Jailed. What Will Canada Do?
Compiled by New Age Islam News Bureau
URL: https://newageislam.com/islam,-women-and-feminism/new-age-islam-news-bureau/muslim-women-pilots-allow-to-wear-hijab/d/107753
----
Muslim Women Pilots Allow To Wear Hijab
Friday, 24 June 2016
A 787 Royal Brunei Airlines Flight landed in Jeddah piloted by three Muslim women. Plane priced at $200 Million with 300 passengers were being piloted by 3 women to a country (Saudi Arabia) which won't let them drive a car due to the risk of travelling long distance in a desert country alone.
abuasiyat.blogspot.in/2016/06/muslim-women-pilots-allow-to-wear-hijab.html
--
Dearborn: Group of Women Establishing Social Services At Islamic Institute
Thursday, 06.23.2016
DEARBORN — Local mosques are often urged to address social issues beyond religious services and funerals.
A group of spirited women at the Islamic Institute of Knowledge is answering the call. C-ASIST is providing free, healthy meals for children under the age of 18 throughout the summer. The "Meet Up and Eat Up" program is one of many initiatives that C-ASIST is organizing.
In the coming months, the Institute will host a forum on mental health, provide English as a Second Language classes for adults and start a job training program.
The food project is funded by a state grant.
Nancy Berry, the founder of C-ASIST, said the program is welcoming to children of all religions and backgrounds.
"The goal is no child would be left hungry," she said.
Besides serving food at the Institute, the group is also delivering meals to other sites that host children, including HYPE Athletics.
"Any child can come," Berry said. "There's no trail of documentation, nothing. Just walk in and eat."
Najwa Dahdah, a board member of C-ASIST who owns a child care consulting company, came up with the idea of hosting a feeding site for children at the IIOK. She said what makes the Institute's meals special is that they are home cooked, not processed.
Berry added that the food meets the FDA's nutrition guidelines and exceeds the recommended portions.
"They're Arab portions; let's leave it at that," she said.
On Tuesday morning, the Institute's chefs and volunteers packed plastic boxes of rice mujadara with pieces of tomato and cucumber.
The C-ASIST founder said the mosque's board and spiritual leadership are supportive of the group's efforts.
IIOK chairman Fouad Berry, Nancy Berry's husband, who was packing mujadara for the food program, described C-ASIST members as the most energetic ladies he has ever met.
"This is all their project; they're the brains about this whole thing," he said.
Fouad Berry said Ayatollah Abdul Latif Berry, the spiritual leader of the IIOK, is also pleased with the C-ASIST work.
"We don't want to be known just as a religious institute; we want to help the community with whatever we can, not just religiously," he said. "But at the same time, religious and social goes hand in hand."
On July 14, C-ASIST will host an informational session for Child Associate Credential Training and present avenues for participants to get child care certificates.
"The mission of this is to empower women, to push them into the workforce," Nancy Berry said. "The ones who don't have the privilege to go to college or don't have the means, they can get certified and jump back to the workforce in the child care business."
Dahdah added that the program is also open to men.
C-ASIST is also arranging ESL classes at the religious center for July 18, which, according to Berry, are filling quickly with refugees.
The biggest and most important C-ASIST project is a conference on mental health that is scheduled for the beginning of August, Berry said. The local Arab American community has suffered about a dozen suicides over the past two years, as institutions and professionals struggle to break down the mental health stigma.
The Institute of Knowledge mental health conference will host renowned professors and community leaders, Nancy Berry said.
Zeina Berry, a pharmacist and C-ASIST board member, said the group will engage college students and diverse groups in the forum.
"We're organizing a suicide prevention walk; it's going to be followed by a wellness picnic at Hemlock Park," she said. "This is to alleviate the stigma that we have in the community, with people committing suicide on a regular basis, that we know about and don't know about."
Zeina Berry said C-ASIST and the Institute of Knowledge want to address mental health from a medical, not a spiritual, perspective.
"There are signs that tell you this is not a simple devil's whisper; this is a disease — a treatable disease," she said. "This is where we're coming in to clarify this idea."
The mental health event will also address drug abuse, which Zeina Berry said is rampant in our community.
C-ASIST members stressed the importance of collaborating with other groups, across religious and ethnic divides.
Nancy Berry said C-ASIST is trying to bring the community together and diminish the barriers between people.
"The stigma and the stereotyping, we need to put that behind us, especially when someone is doing wonderful things for the community," Dahdah, a Christian, said.
arabamericannews.com/news/news/id_12447/Group-of-women-establishing-social-services-at-Islamic-Institute.html
--
Sylvia Blyden Wants More Muslim Women to attend Hajj
Thursday, Jun. 23, 2016
The Hon. Minister of Social Welfare, Gender and Children's Affairs, Dr. Sylvia Olayinka Blyden has called for more Sierra Leonean Women to attend this year's Hajj Pilgrimage to the Holy Land of Mecca. She spoke on Wednesday June 22nd 2016, at the Conference Room of the Vice President in Freetown as she delivered her maiden statement to the first meeting of the reconstituted Hajj Committee.
Honourable Dr. Sylvia Blyden was speaking shortly after she that same day, officially signed both copies of the Agreement between His Excellency Dr. Mohammed Saleh Bentin, the Minister of Hajj & Umrah on behalf of the Kingdom of Saudi Arabia and herself as Cabinet Minister responsible for Sierra Leone Hajj Affairs on behalf of the Government of Sierra Leone.
The Hajj Committee which will manage the annual pilgrimage to Saudi Arabia, is now under the direct supervision of the Hon. VP Dr. Foh according to a news dispatch from the Office of the Vice President.
Whilst affirming that the Ministry of Social Welfare, Gender and Children's Affairs is responsible for all religious affairs at governmental level, the Hon. Vice President furthered that, "The membership of the Hajj Committee remains the same as previous years, with Hon. Minkailu Mansaray as the Chairman".
Vice President Foh went further to appeal to the 30 man committee to give their fullest support to the Chairman, in other to make this year's Hajj Pilgrimage a successful one. The President he said, is committed to the Hajj process and will as usual provide the necessary assistance to ensure our Muslim brothers and sisters fulfil their Islamic obligations.
For his part, the Hajj Chairman Hon. Minkaiku Mansaray, in his remarks, assured the Vice President that the Committee will work assiduously to ensure the process is transparent and stress free for the would-be pilgrims. He informed that they had already secured accommodation for eight hundred (800) people, which he said is the quota given to Sierra Leone by Saudi Arabia.
Hon. Alhaji Minkaiku Mansaray revealed that he would no longer be traveling with the delegation this weekend to make arrangements for the upcoming Hajj but assured that the other three (3) members of the proposed Pre-Hajj delegation will be leaving the shores of Sierra Leone on Friday 24th June, 2016 so as to among other things, negotiate the increase in quota to at least one thousand six hundred (1,600) for Sierra Leone.
Meanwhile the Social Welfare Minister Dr. Blyden has openly endorsed all the arrangements as stated by both the Vice President and the Hajj Committee Chairman.
It was whilst speaking that she informed the Hajj Committee, that she will be engaging stakeholders to see how best they can increase the scholarship quota for the Muslim women.
Hon. Dr. Blyden appealed that instead of one hundred and forty nine (149) male Imams from the various Chiefdoms getting scholarships to go on Hajj, that quota should now go to women in chiefdoms. This appeal was received by a round of applause by the Committee members.
Statements where also made by the APC National Secretary General, Ambassador Alhaji Osman Yansanneh and the Secretary to the Hajj Committee, Alhaji Sheka Kamara who also doubles as an Adviser to the President.
news.sl/drwebsite/publish/article_200528914.shtml
--
Muslim Woman Offers Terrifying Warning to Americans
Thursday, 06.23.2016
A letter allegedly written by a Muslim woman warning the United States and other Western countries about the dangers of Islamic immigration is making the rounds online once more.
Originally published in 2014, the letter claims to be written by an Egyptian woman who writes under the name Magda Borham.
Muslims are in your country, but they live not to integrate or to be part of your society or at least to be equal with others, but to dominate and to be the only privileged group. Muslims achieve this by turning you into a second-class citizen in your own country.
They immigrate to your countries holding the same belief system that turned their lives into hell on Earth. This same belief, same religion made their lives unsupportable in their original societies. It is the same religion that transformed their countries into war zones of endless conflicts. Muslims now homeless want to apply this system and live and apply the same destruction in your own country.
Muslims are not in your country to help build it or to make it prosper. Many believe this, including politicians. Muslims are in your country to drain its resources and to suck the blood out of society.
In light of the recent Orlando tragedy where a radicalized Muslim man shot 49 dead and injured dozens more, her words strike the hearts of many wondering how to move forward.
Since her words were written, presumptive Republican nominee Donald Trump has called for a Muslim ban while Democratic candidate Hillary Clinton maintains Islam is not the enemy.
But Borham writes that many Muslims are "superficially knowledgeable" about their own religion, especially the rituals. Borham says they are programmed to recite rather than investigate.
In media, "radical Islam" is used instead of "Muslim," which Borham identifies as worrisome.
You are not required to kill to be called violent or "extremist"or "radical"or "terrorist." You can be violent, extremist, radical or terrorist even if you don't kill with your own hands. That's what the West is unable to understand. ... In Islam, there is many forms of "Jihad" other than killing in the battlefield. ... The vast majority of Muslims are sympathizers with terrorists. They believe in the same ideology and share their goals even if they do not hold arms themselves. That's why this vast majority is silent and don't show any opposition to their fellows who kill in the name of their religion.
To prove her point, she highlights the rising war in the Middle East, which is quickly falling to extremist groups.
For Borham, though, there is nothing "extreme" about these leaders. Rather, they are following their religion. She worries political correctness will promote a violent take over.
Muslims use your own democratic laws and values against you and they do it successfully while you keep sleeping as if as in a deep coma. This is why the leftists are the people who are worthy of the title "useful idiots." They are in a perpetual state of shame and self-loathing and will be the first victims of Islam once it takes over. ... Muslims use them as a stick to beat you with, but even they will never ever be accepted as friends to the Muslims after, and they will definitely be their first victims. Leftists, Liberals, progressives, Antifa, Code Pink etc. are all appeasers of Islam. Appeasing evil is cowardice. They are fooled people who feed crocodiles hoping they will eat them last. They are the enemy within your countries.
Your country is like your house; you expect visitors who come to your house to respect you and respect your rules, not the opposite. Visitors must appreciate your kindness and your generosity for receiving them into your home and not imposing their own rules on you. This is your house, you own it, so you have the obligation to protect it and defend it.
If the visitor doesn't like your rules, all he has to do is to leave. Nobody obliged him to visit you, and nobody will prevent him from leaving. As he came to your house by his own choice, he can leave your house freely or by force, if required.
For more than 1,400 years, Islam has been protected from criticism. Nobody has dared to question this belief system lest to be condemned to death. Islam is surrounded by very high walls, and Muslims are not allowed to see beyond that wall. The idea of questioning Islam is unthinkable to Muslims, so they are unable to accept the fact there is some people start to break this wall and allow rays of lights to pass through. They are unable to bare the fact that Islam is beginning to be exposed like a nude person and people are snow seeing its true form As a reaction Muslims fight to shut mouths and to close everyone's eyes.
Borham begs the West to listen to the cries of persecution under the hands of an Islamic regime. She says it is worse than Nazism or fascism of dictators past.
No doubt, no doubt; the Islamic immigration is the deadliest mistake ever the west has ever made.
Nobody else in the world knows Islam and the mentality of Muslims more than those who have suffered by having Islam as a part of their life.
If you listen to the cries of the Copts of Egypt, the Christians of Syria, Iraq, Sudan, Pakistan and all the other Muslim countries you will hear the descriptions of the horrors of Islam.
See and feel the tears of the minorities in every Islamic society. These tears will tell you the true stories of Islam. Hear the blood of the ex-Muslims pounding. It's their blood that is shouting out every single second asking the rest of the world to "Wake up!"
Please listen to my voice, my cry. Please see and feel my tears. Listen to my blood pounding with my message. I am a surviving victim of Islam.
charismanews.com/world/58002-muslim-woman-offers-terrifying-warning-to-americans
--
A women's rights champion is arrested and jailed. What will Canada do?
Thursday, Jun. 23, 2016
The first time I encountered Canadian-Iranian anthropologist Homa Hoodfar was during a small, intimate talk she gave to students at Carleton University.
It was the late 1990s, and she was there to discuss her then-recent book, Between Marriage and the Market: Intimate Politics and Survival in Cairo.
For a young woman who was raised in Canada, but who visited her parent's homeland of Egypt frequently, Ms. Hoodfar's findings were nonetheless revelatory. Even while I had seen firsthand the full agency of my Muslim relatives in Egypt, I couldn't shake the stereotypes prevalent even then of Muslim women in general as docile, passive actors.
Ms. Hoodfar's anthropological research in Egyptian villages shattered those stereotypes, opening doors to experiences in which women were frequently making deliberate decisions about their and their family's lives, that often covertly co-opted male control. Her research highlighted how women worked effectively within conservative communities, to take positions of authority within the home.
In other words, Ms. Hoodfar, a professor of anthropology at Concordia University, turned misconceptions and assumptions about Muslim women on their head.
So the news of her current imprisonment in Iran struck me as not only unjust, but deeply ironic. Ms. Hoodfar's important work has helped further understanding of Muslim women, including Iranian women. In a widely-quoted 1993 essay, she shows how many Iranian women were in fact robbed of their agency during the rule of Reza Shah when they were forced to de-veil:
"One can effectively argue that such outfits, in the existing social context, contributed to the exclusion of women of popular classes and pushed them toward seclusion, rather than laying the groundwork for their liberation," she wrote then.
Ms. Hoodfar argued that traditional roles and mores in Iran, as elsewhere in the Muslim world, allowed women to function as full, independent members of their own societies. It was the coerced "liberation," that helped encourage male dominance and controls, echoing what other feminists including Indian writer and activist Arundhati Roy have pointed out. "Coercing a woman out of the burka is as bad as coercing her into one. It isn't about the burka. It's about the coercion," said Ms. Roy famously.
That a champion of women's rights – including those of Muslim women who want to function within Islamic strictures (as varied and diverse as interpretations of those strictures are) – is in an Iranian prison, is particularly shameful.
It is from this perspective that pressure can be brought to bear on the Iranian government by our elected officials. Under no circumstances should an academic (or anyone else for that matter) be held in an infamous prison without charge or evidence of any wrongdoing.
Moreover, that Iran has detained an academic with an incredible body of work that clearly demonstrates a commitment to the rights and freedoms of women, and in particular, of Muslim women, should be seen as an attack on all women.
Ms. Hoodfar's imprisonment is the latest in a series of such arrests of dual nationals, and analysts have various theories about why this is happening now. Whatever the reasons may be, the federal government must work quickly to secure her release, as she is reportedly in poor health and being denied access to necessary medical care for a neurological condition.
There has reportedly been no contact with Ms. Hoodfar since her detention, by either her family or Canadian officials. As the family prepares to push Stéphane Dion for action Thursday, we are reminded that the government must have better protections for Canadians unfairly held abroad.
Perhaps if Canada adopts the Protection Charter, put forward earlier this year by Amnesty International and the Fahmy Foundation, Ms. Hoodfar's ordeal, and those of other Canadians currently held unjustly abroad – Huseyin Celil in China and Bashir Maktal in Ethiopia – would be more quickly resolved.
Canada loses a little bit of its own strength every time one of its own is made to disappear.
theglobeandmail.com/opinion/a-womens-rights-champion-is-arrested-and-jailed-what-will-canada-do/article30571799/
URL: https://newageislam.com/islam,-women-and-feminism/new-age-islam-news-bureau/muslim-women-pilots-allow-to-wear-hijab/d/107753
New Age Islam, Islam Online, Islamic Website, African Muslim News, Arab World News, South Asia News, Indian Muslim News, World Muslim News, Womens in Islam, Islamic Feminism, Arab Women, Womens In Arab, Islamphobia in America, Muslim Women in West, Islam Women and Feminism