New Age Islam News Bureau
11 Jan 2020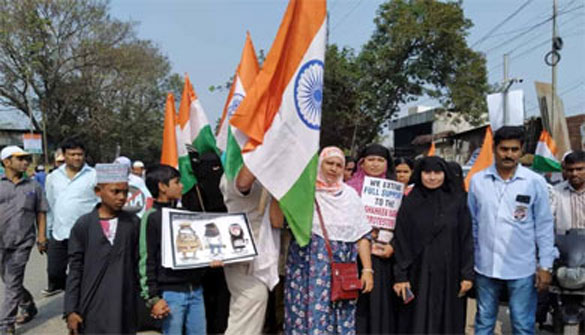 In many pockets of Mir Alam Eidgah to Shastripuram in Hyderabad. Muslim women lead the Tiranga Rally called by the United Muslim Action Committee
------
• In a First, Two Israeli Women Win Gold at World Debate Championship in Thailand
• Canadian Solo Female Traveller Converts to Islam after Living in Pakistan
• Dress Decently, Female Kelantan Local Council Staff Told
• Kolkata: In Season of Protests, Muslim Women Make Equal Statement
• Airman Becomes the Service's First Female Muslim Chaplain Candidate
• Malaysia's Islamic Family Laws Have Gone from Best to Worst, Says Activist
• Gaza's Women Entrepreneurs Make It Possible To Send Gifts To Residents In The 'Open-Air Prison'
• Iran's Revolutionary Guard Tortures Female Scholars Behind Prison Walls
Compiled By New Age Islam News Bureau
URL: https://www.newageislam.com/islam-women-feminism/muslim-women-lead-tiranga-rally/d/120768
--------
Muslim women lead the Tiranga Rally in Hyderabad
January 10, 2020
Hyderabad: In many pockets of Mir Alam Eidgah to Shastripuram in Hyderabad. Muslim women lead the Tiranga Rally called by the United Muslim Action Committee and headed by AIMIM against CAA_NRC_NPR.
Muslim, Hindu, Sikh, and Christian join hands and walk together in Tiranga Rally.
https://www.siasat.com/muslim-women-lead-tiranga-rally-hyderabad-1788341/
--------
In a First, Two Israeli Women Win Gold at World Debate Championship in Thailand
By Lauren Izso
JANUARY 10, 2020
In a historic first, an Israeli debate team made up of two women recently took home a gold medal from the 40th World Universities Debating Championship in Bangkok, Thailand.
The competitors were the third group from Israel to ever have won first place, but made history as the first female Israeli duo to win.
Hadar Goldberg and Maya Saveliev, representing Israel's Open University Debate Team, defeated 750 contestants from around the world in the English Second Language (ESL) category.
The final debate asked participants whether US criminal cases involving African Americans should be discussed by special committees from the African American community rather than traditional courts. The Israeli team argued against the proposal in its winning arguments.
Goldberg and Saveliev won the competition after enduring nine rounds of quarterfinals, semifinals and finals, beating teams from Korea, Germany, Malaysia, Spain, Serbia, Bangladesh, South Africa and Ghana, as well as fellow competitors from Israel.
Throughout the competition, a variety of issues were discussed including democracy, morality, gender, geopolitics and law.
Israel is not new to the international debate scene. Three Israeli teams reached the finals in the European Debate Championship 2019, and Israelis won in both the EPL and ESL categories in 2018.
A Tel Aviv University team also won the European Round Robin debate competition last year, an exclusive university-level debate competition in Poland, and an Israeli high school team won the European High School Debate Championship in 2018.
In 2016, Israel was the first non-native English speaking country to win the world championship in Thessaloniki, Greece.
https://www.algemeiner.com/2020/01/10/in-a-first-two-israeli-women-win-gold-at-world-debate-championship-in-thailand/
--------
Canadian solo female traveller converts to Islam after living in Pakistan
January 10, 2020
Rosie Gabrielle, a solo motorcyclist from Canada, arrived in Pakistan 10 years ago to explore the beauty of Pakistan's picturesque North. Her Instagram account is full of pictures not only showing the dazzling colors of Pakistan but also her affection for local people and culture.
She traveled across Pakistan, especially the northern Gilgit-Baltistan region, which borders neighboring China, and is home to the snow-capped peaks, glaciers and lakes. She was captivated by the majestic peaks, breathtaking plateaus, and glistening waters.
But on top of it all, she rejoiced in the love, grace, and affection she received from the locals.
She praises Pakistan and its people for helping her achieve her ultimate goal, saying: "to get rid of the pain I have been going through for years and fulfill my desire to be free."
Attired in pinkish white shalwar-kameez (local dress), her head covered with a dupatta (sheet), and holding a copy of the holy Quran, Gabrielle posted a picture of herself on Instagram on Thursday.
She had an announcement.
"I converted to Islam," read the title of her story she pegged to explain what "led me to take this big decision."
She gives credit to her love for nature and beauty that brought her to Pakistan, and ultimately led her to " find peace that one can only dream of having in their hearts".
Following is a statement she posted on Instagram:
As mentioned previously, this last year was one of the hardest in my life, and all life's challenges have led me to this point here and now. From a young child, I've always had a unique connection with creation and special relationship to God. My path was far from easy and I carried a lot of anger in my heart from a lifetime of pain, always begging God, why me? Until ultimately coming to the conclusion that all is meant to be, and even my suffering is a gift.
Never resonating with what I was brought up with, I denounced my religion 4 years ago, going down a deep path of spiritual discovery. Exploration of self, and the great Divine. I never let go the sight of the Creator, in fact, my curiosity and connection only grew stronger. Now no longer dictated by fear, I was able to fully explore this righteous path.
As time passed, the more I experienced, the more I witnessed the true nature and calling for my life. I wanted to be free. Free of the pain and shackles that was hell. Liberation from the anger, hurt and misalignment. I wanted peace in my heart, forgiveness and the most profound connection with all. And thus started my journey.
The universe brought me to Pakistan, not only to challenge myself to let go of the last remaining traces of pain and ego, but also to show me the way.
Through kindness, humbled grace of the people I met along my pilgrimage, inspired my heart to seek further. Living in a Muslim country for 10 years and traveling extensively through these regions, I observed one thing; Peace. A kind of peace that one can only dream of having in their hearts.
Unfortunately Islam is one of the most misinterpreted and criticized religions world wide. And like all religions, there are many interpretations. But, the core of it, the true meaning of Islam, is PEACE, LOVE ONENESS. It's not a religion, but a way of life. The life of humanity, humility and Love.
For me, I was already technically a "Muslim". My Shahada (Muslim profession of faith) was basically a re-dedication of my life to the path of Oneness, connection and Peace through the devotion of God.
https://www.yenisafak.com/en/news/canadian-solo-female-traveller-converts-to-islam-after-living-in-pakistan-3509352
--------
Dress decently, female Kelantan local council staff told
By Sharifah Mahsinah Abdullah
January 9, 2020
KOTA BARU: The Kelantan government has reminded all Muslim female municipal council staff to cover their aurat and dress decently.
State Local Government, Health and Housing Committee chairman Dr Izani Husin said this was to ensure that the good image of the state government was maintained.
"This is only a reminder. So far, we have not received any complaints (regarding local municipal council female staff wearing revealing clothes).
"In conjunction with Visit Malaysia Year 2020/Visit Kelantan Year 2020, we anticipate more tourists will visit the state.
"Therefore, we must make sure our slogan 'Membangun Bersama Islam' (Develop With Islam) is put into practice," Dr Izani said after witnessing the appointment of 24 Kota Baru Municipal Council members here today.
Dr Izani said the state government was confident that the state capital would achieve city status in three years time.
To realise this, he said the government would focus on five areas, and would ensure all civil servants and members of the public followed the directives.
"The areas include ensuring cleanliness, ensuring traders do not hike up prices of goods, and ensuring locals be polite and nice when dealing with others, especially tourists," he said.
https://www.nst.com.my/news/nation/2020/01/554958/dress-decently-female-kelantan-local-council-staff-told
--------
Kolkata: In season of protests, Muslim women make equal statement
Jan 11, 2020
KOLKATA: The protests against CAA and NRC on Friday brought to the fore unusual and heart-warming images of several hundred Muslim women offering namaz in the open alongside the men before leading the march in an assertion of their identity as citizens, as well as individuals.
More than three hundred women sat in straight rows outside Tipu Sultan mosque in Esplanade to offer their Friday prayers. The elders in the community could not recall any previous instant after Independence where Muslim women not only offered prayers in the open but alongside the men. Women's rights groups within the community said it showed how ordinary homemakers were leading the protests against the draconian CAA and NRC and also making a statement against patriarchy.
Islam gives Muslim women the right to offer namaz in the open or in a mosque, provided proper guidelines about separate space for ritual washing or wazoo enclosures are followed. "There is no restriction on women from offering namaz in open spaces or in the mosques. Instead, the religious scriptures say they should go to the mosque and offer their prayers if there is a separate passage for them and a separate place for ritual washing. When women are travelling, they have to pray in the open. Islam prohibits anybody from blocking another person's way for prayers," said Noor Jahan Shakeel, president of All Bengal Muslim Women's Association.
Qari Fazlur Rahman, who leads Eid prayers on Red Road every year, said it was heartening to see women fighting for their rights. "All of us must protest and fight for our rights within the framework of the Constitution," he said.
Offering namaz is mandatory for every Muslim. Friday prayers, which are normally shorter than the midday, or Zohar, prayers on other days, are considered special. On Friday, the protesters — among whom almost half were women — started assembling at Esplanade with the Indian flag in their hands from 11am. The women then approached the organizers and asked for a place to offer their prayers between 12.30pm and 1.30pm.
"These women have come from far-off places and would have had to leave early without offering their Friday prayers. We made the provision here instead. Separate arrangements were made for the ritual washing or the wazoo," said Uzma Alam, a social worker.
Before they offer prayers, it is man-datory for Muslims to wash their hands, feet, face, clean their ears and nose and gargle. In Kolkata, only a couple of mosques have this provision for women, as a result of which most of them offer their prayers at home.
"Women are reclaiming their own identity. They feel that being Muslim and women, they are more vulnerable. NRC in Assam has shown women are the worst sufferers," said Hasnain Imam, a political scientist.
https://timesofindia.indiatimes.com/city/kolkata/in-season-of-protests-muslim-women-make-equal-statement/articleshow/73196534.cms
--------
Airman Becomes the Service's First Female Muslim Chaplain Candidate
Jan 11, 2020
The Air Force last month commissioned the first female Muslim chaplain in the service.
Second Lt. Saleha Jabeen was commissioned Dec. 18 at the Catholic Theological Union in Chicago by Air Force Chief of Chaplains Maj. Gen. Steven Schaick, the Air Force said in a release Friday.
The Islamic Society of North America endorsed Jabeen to become the Air Force's first female imam, a spiritual leader in Islam, the release said.
"Any time we advance religious freedoms, it's a win for all persons of faith," Schaick said in the release. "This is a big day not just for Muslims, but for persons of all faiths."
While Air Force chaplains are ordained in their own particular faith, they are responsible for counseling and supporting the spiritual needs of all airmen in their units, even if the airman follows a different religion, or no religion at all.
In his remarks at the commissioning, Schaick spoke about the importance of diversity in the Air Force's chaplaincy.
https://www.airforcetimes.com/news/your-air-force/2020/01/10/airman-becomes-militarys-first-female-muslim-chaplain-candidate/
--------
Malaysia's Islamic Family Laws Have Gone from Best to Worst, Says Activist
Nicholas Chung
January 11, 2020
KUALA LUMPUR: Malaysia's Islamic family laws suffered two rounds of regression in the 1990s and early 2000s following amendments to the law, according to a rights activist.
Zainah Anwar, executive director of international rights group Musawah, said the law reforms took away many progressive reforms made previously, adding that Malaysia's Islamic family laws went from one of the best in the Muslim world to one of the worst.
"In 1984, the Islamic family law was amended and new laws were provided, which was amazing. It gave us so many rights and expanded the rights for women to get divorced," she said with divorce and polygamy decided by the courts.
"With the 1994 amendments, you can divorce outside the court. Without going to court, you can just pronounce talak.
"Your wife doesn't even know she's being divorced because the husband has disappeared. She gets a letter from the religious authorities sometime later to say that she has been divorced."
Another regression, she said, saw the responsibility of children born out of wedlock being wholly given to the mothers, which meant they could not make any claims for maintenance or inheritance from the father.
In 2003, another round of reforms meant that husbands in polygamous marriages could make a claim for a share of their wife's matrimonial assets despite taking a second wife.
"We're not even asking to ban polygamy. We just want them to ensure that the rights of the first wife and existing children are protected, especially their financial wellbeing.
"What is galling is the fact that for non-Muslim women, law reforms have moved forward to recognise equality. But for Muslim women, in the name of Islam, you can be discriminated against."
Zainah, who led the rights group Sisters in Islam (SIS) previously, blamed these regressions on the rise of "political Islam", adding that these issues remain due to the current patriarchal state of society.
She said groups such as SIS and Musawah would not have to exist if Islam was practised the way it should be.
"I go to Geneva for the women's convention sessions and it's shameful and disgraceful that Muslim governments stand before the Cedaw (Convention on the Elimination of all Forms of Discrimination Against Women) committee and say they cannot reform the laws to recognise equality because it will be against Islam.
"So you're standing there telling the whole world that Islam is an unjust religion, that Islam is a religion that discriminates against women and shamelessly say that."
However, she signalled that the "reality on the ground" was beginning to shift.
https://www.freemalaysiatoday.com/category/nation/2020/01/11/malaysias-islamic-family-laws-have-gone-from-best-to-worst-says-activist/
--------
Gaza's Women Entrepreneurs Make It Possible To Send Gifts To Residents In The 'Open-Air Prison'
10 January, 2020
Due to the Israeli blockade, getting personal items other than books into the Gaza Strip is next to impossible, unless they are carried in by returning Palestinians or internationals.
That means relatives and supporters can't celebrate special occasions with the people they love like most others in the world – by sending gifts. Until now, that is – thanks to four female entrepreneurs in Gaza who founded the online business Giftbox.
"The idea for the business came from having friends and relatives outside Gaza, who can't share important events and occasions with us because of closed borders," says Yasmin Sarsour, 35, an engineering graduate.
Joining Sarsour to found the business, with the help of funds from a startup incubator, were Soha Abu Alfoul a 34-year-old information technology department graduate; Islam Dahman, 24, who has a degree in business administration; and Noha Joma, 30, another IT graduate.
Sarsour is the general manager, Alfoul and Dahman select the items to be sold and Joma promotes the business on social media.
Customers can purchase gifts ranging from cakes and chocolates, to perfume, flowers, backpacks, miniature trucks and other toys.
If a customer has a specific item in mind that is not featured on the website, the women will secure it if it can be found in Gaza.
Finally, they personally deliver the item. If requested, they even will shoot a video of the gift being delivered and opened.
Over the four years since its founding, most of the project's customers have come from the UAE and Saudi Arabia.
Giftbox is still not widely known, but one day, the women hope to establish more of a customer base in the West Bank, where the relatives of so many Gazans live.
Statistics show that Sarsour and her friends are doing more than fulfilling wishes and earning their own families additional income. In fact, according to a study by the International Monetary Fund, adding women to the workforce increases a country's GDP by an average of 35 percent.
In the Gaza Strip, where the economy is strangled by a decade-long Israeli blockade, a dearth of women in the workforce makes a bad marketplace even worse.
Abdullah Jamal Abullhanoud, PhD, professor of economics at the Arab College of Applied Sciences, rattles off alarming numbers: "Employment is very low for both men and women; you could almost say employment is absent," he says.
"But there is still a large disparity between the sexes: 43.5 percent of males are unemployed, compared to 74.5 percent for females. Unemployment is the highest among youth aged 15-24, and again you see the disparity: 65.3 percent for males and 92.2 percent for females."
The reasons for this gender gap are varied: For example, the culture in Gaza is conservative; women often have a large number of children and shoulder the burden of their care, confining them to the home.
Even without multiple children, social norms in many communities dictate that women stay home. Likewise, some jobs in Gaza are not even open to women. According to the World Bank, females made up only 2.9 percent of all workers in medium-sized commercial enterprises.
Other male-dominated sectors include medicine (only 13 percent women) and law (23 percent).
That's why women in Gaza like Sarsour are becoming entrepreneurs. Another is Iman Abu Ali, 28, who has opened the first coffee shop just for women.
Abu Ali lives in an area of the eastern Gaza Strip called Abasan, known for its rural conservatism. It is not considered acceptable there for women to mix with men they don't know in public, particularly social spots like cafes. So, one day she wondered to a friend, "Why don't we have a place for women to go to relax and chat with each other?"
She shared the idea with her husband, and he encouraged her to create such a business. Abu Ali's first step was to conduct some informal research: She queried women in Facebook groups and in local associations. They welcomed the idea.
"I completed a feasibility study and a marketing plan, then searched for funding," she says. "I went to associations, businesses and banks for months, but no one agreed to help me. I was about to cancel the idea, but my husband told me not to give up, that we could do it ourselves by paying suppliers in instalments."
However, not all men were as supportive as her husband. Other men in the neighbourhood complained to the municipality, demanding that her business licence be revoked, saying a woman-owned business was against local traditions. To allow these men to see her business for themselves, she agreed to open the café to families on Thursdays.
Abu Ali says, "I feel like a pioneer who has taken a first step so women can change society's traditions and thoughts about women's freedom."
On opening day for the Lamet Sabaya (young women gathering) Coffee Shop, customers packed the cafe, thrilled with the feminine décor, availability of WiFi – and the privacy. Word of mouth spread quickly.
Shaimaa Neal was one of the first customers. "It's a luxurious setting and the food is delicious. We women are over the moon there is such a special place for us."
Dr Abullhanoud notes that, "To increase women's employment, we must rejuvenate the labour market. The most obvious necessity is to remove the unnatural constraint of the Israeli blockade. But until then, we must invest as much as we can in the human element – and that means, in part, encouraging and supporting women's entrepreneurship."
https://www.alaraby.co.uk/english/indepth/2020/1/10/gazas-women-entrepreneurs-set-up-online-business-giftbox
--------
Iran's Revolutionary Guard tortures female scholars behind prison walls
by Eugene Chudnovsky
January 10, 2020
On Christmas Eve, two female scientists began a hunger strike at the notorious Evin prison in Tehran. Dr. Kylie Moore-Gilbert, a British Australian expert on Shia Islam from the University of Melbourne, and Dr. Fariba Adelkhah, a French Iranian anthropologist working at the Paris Institute of Political Studies, were arrested during research visits to Iran and were accused of espionage by the intelligence service of Iran's Revolutionary Guard Corps.
Moore-Gilbert, who is in her early 30s, extensively wrote on the pro-democracy movement in Bahrain. She was detained at Tehran airport in October 2018 while boarding a flight back to Melbourne after making an invited presentation at the university conference. She was sentenced to 10 years in prison in a closed trial that shocked Australia. Since her arrest, she has been kept in solitary confinement in a 65-square-foot cell.
Fariba Adelkhah, 60, who wrote about contemporary Iran and translated French poetry into Farsi, was arrested by the Revolutionary Guard in June 2019 on charges of "espionage," "spreading propaganda against [the] political system," and "conspiracy against national security." After strong protests from the French government, the espionage charge was dropped, but the other two charges remain.
In November 2019, after a lengthy trial, an Iranian court sentenced biologist Niloufar Bayani, 31, a graduate of Columbia University and program manager of the Persian Wildlife Heritage Foundation, to 10 years in prison for sowing "corruption on Earth." She was arrested together with other Iranian conservationists falsely accused of collecting military information under the cover of environmental research. During the trial, Bayani complained that the Revolutionary Guard threatened to pull her fingernails out if she would not sign a confession.
In a letter sneaked from Evin prison, Iranian physicist Narges Mohammadi, 47, described how in late December 2019, several male guards supervised by an intelligence officer violently dragged her through prison corridors and broken glass while she bled from the cuts. It was payback for the hunger strike that Mohammadi, together with seven other female inmates, held to commemorate the lives of hundreds of protesters killed on the streets of Iran by the Revolutionary Guard led by Gen. Qassem Soleimani.
Mohammadi, vice president of the Iranian Center for Human Rights and recipient of the Andrei Sakharov human rights award of the American Physical Society, is serving a 16-year prison term for her "membership in an illegal organization whose aim is to harm the national security," a reference to her campaign for abolishing the death penalty in Iran. While in prison, she has been repeatedly denied medical care and visits by her family, which includes her underage children.
Defending people swallowed by the grinding machine of the Revolutionary Guard is a daunting task. Nasrin Sotoudeh is one of a handful of human rights lawyers who have put their lives and freedom on the line. She represented Shirin Ebadi, the first Muslim woman who received the Nobel Peace Prize (subsequently confiscated by Iranian authorities), as well as falsely accused politicians.
She spent 2010-13 in jail, held a 49-day hunger strike, and was released as a result of the unprecedented campaign on her behalf by the European Parliament. In 2018, she was arrested again. In March 2019, the Islamic Revolutionary Court in Tehran sentenced Nasrin Sotoudeh in absentia (she refused to attend the trial because she could not choose her own lawyer) to 38 years in prison and 148 lashes.
Yes, on top of the unprecedented 38-year prison term for legal work, the court of the country that calls itself the cradle of human civilization has ordered a tiny, 56-year-old woman, one of Iran's most prolific legal minds, to be flogged with a stick 148 times.
This carnage led by the Revolutionary Guard must end. Iran must acknowledge that its growing number of female scholars is a precious treasure. If Iran wants to establish moral equivalency with the West, it should stop destroying the minds and lives of its brightest women by torturing them and sentencing them to decades in prison on bogus charges.
https://www.washingtonexaminer.com/opinion/irans-revolutionary-guard-corps-tortures-female-scholars-behind-prison-walls
--------
URL: https://www.newageislam.com/islam-women-feminism/muslim-women-lead-tiranga-rally/d/120768
New Age Islam, Islam Online, Islamic Website, African Muslim News, Arab World News, South Asia News, Indian Muslim News, World Muslim News, Women in Islam, Islamic Feminism, Arab Women, Women In Arab, Islamophobia in America, Muslim Women in West, Islam Women and Feminism