New Age Islam News Bureau
1 Feb 2017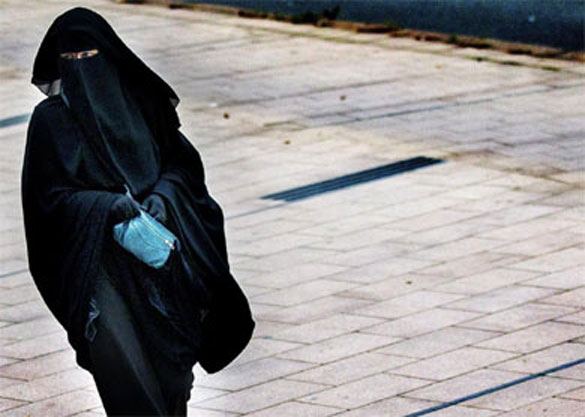 The prohibition will apply to the Niqab and Burqa, the full-face or face-and-body coverings worn by some Muslim women AFP/ Getty Images
----
• Independent Passports for Saudi Women Proposal Approved
• Indonesian Women Seeking To Become IS Suicide Bombers: Study
• Outrage at Confirmation of 5-Year Jail Sentence on Young London Mother in Iran
• Iran: Marriage of girl children in south-eastern province
• Indian Funded Girls to Join ISIS at Pakistan Man's Behest: NIA
• 11 Books by Muslim Women That Show the Many Facets of Islam
• How Muslim-American Women Are Fighting Back Against Trump's Immigration Ban
Compiled by New Age Islam News Bureau
URL: https://www.newageislam.com/islam,-women-and-feminism/new-age-islam-news-bureau/muslim-women-in-austria-prohibited-from-wearing-full-face-veils/d/109916
-------
Muslim women in Austria prohibited from wearing full-face veils
Feb 1, 2017
Austria's ruling centrist coalition has banned Muslim women from wearing full-face veils, such as burqas and niqabs, in public places like schools and courts.
On Tuesday, Austria became the latest European nation to take such measures and has announced that it is mulling the prohibition of headscarves for women working in public services.
The measures are part of a reform package issued by the ruling Social Democratic party (SPÖ) and the center-right Austrian People's party (ÖVP) aimed at preventing the collapse of their coalition which almost fell last week during crisis negotiations.
"We are committed to an open society, which also presupposes open communication. A full-face veil in public places stands in its way and will therefore be banned," said a statement released by the coalition.
A government spokesman noted that tourist destinations, such as ski resorts, and Vienna's center are also included in the ban.
Other new policies were also agreed upon such as the increasing of the country's CCTV network and a mandatory "integration year" for refugees, during which they have to commit to learning German and work in charitable organizations.
Similar restrictions have also been adopted in France and Belgium since 2011 while the Netherlands introduced a partial ban in 2015. Last year, Germany's Chancellor Merkel also called for banning the full-face veil.
Ibrahim Olgun, the director of Austria's Islamic Faith Community, has slammed the ban, stressing that it would "pull the rug" from under attempts being made to establish a good working relationship between the Austrian government and the country's Muslim population.
http://www.presstv.ir/Detail/2017/02/01/508606/austria-burqa-niqab-ban
-------
Independent passports for Saudi women proposal approved
February 1, 2017
Manama: In what could lead to yet another breakthrough for Saudi women, the security committee of the Shura (Consultative) Council has approved a proposal to amend travel document rules and allow women to have their own passports.
The bill to amend three articles of the law was presented in May last year by five Shura members, Haya Al Muwaina, Lateefa Al Shaalan, Mohammad Al Khnaizi, Ata Al Sabti and Hamda Al Enezi.
The bill is yet to be debated and voted on by the council.
If the amendments are approved. Saudi women will be allowed to have their own passports without the need for the consent of their custodian, usually the husband, father or brother.
A father would register only his sons and daughters who are younger than 18 on his own passport, thus obliging women over 18 to apply for their own passports.
Husbands will no longer be able to register their wives on their own passports, making it mandatory for married women to have independent passports.
The amendments aim to consolidate the sense of citizenship among Saudi women by stressing there are no discriminations between men and women in their rights, the Shura members behind the proposal said, Saudi daily Okaz reported on Wednesday.
The changes would put an end to the exploitation of travel documents by the custodians of women, they added.
The proposal to consolidate the rights of Saudi women is the second to be endorsed by the security committee of the advisory council in one week.
On Sunday, the committee supported a bill to grant Saudi citizenship to children born to Saudi mothers and foreign fathers.
The bill was submitted to the Council last year and the security committee took it up in October for further studies.
The proposal calls for using a point system to grant the citizenship to those with Saudi mothers and non-Saudi fathers.
No date has been yet set for the debate at the Shura Council on the two bills, but Al Sabti, the head of the security committee, said they should be taken up within months.
The two bills, if approved by the Shura Council members, promise to make 2017 a momentous year for Saudi women.
The Shura Council is made up of 150 members, including 30 women. Most of the female members have doctorate degrees and held academic and research positions in universities. They also include the first Saudi woman diplomat, doctors and columnists.
http://gulfnews.com/news/gulf/saudi-arabia/independent-passports-for-saudi-women-proposal-approved-1.1971394
-------
Indonesian women seeking to become IS suicide bombers: study
February 1, 2017
Indonesian women are taking on a more active role in violent extremism, with some seeking to become Islamic State (IS) group suicide bombers, a leading security think tank has warned.
The growing problem was highlighted after the arrest in December of two women with links to IS allegedly planning suicide attacks in the world's most populous Muslim-majority country, according to a report from the Jakarta-based Institute for Policy Analysis of Conflict (IPAC).
Many from Indonesia — which has long struggled with Islamic militancy — have flocked to join IS in the Middle East, while radicals in the country have pledged allegiance to the group and attacks and plots have been linked to the militants.
But the increasing eagerness of Indonesian women to get involved in radicalism themselves, rather than merely support their extremist husbands, poses new risks, said the report from IPAC, which is headed by veteran Indonesian security analyst Sidney Jones. "Indonesian women in extremist organisations are now catching up with the lethal practices of their sisters in other parts of the world," according to the study.
Increasing female involvement is linked to the appeal of IS but also to the growing sophistication of social media, which allows more women to read the extremists' propaganda and take part in radical chat forums, said the report, which was released late Tuesday.
The most high-profile cases were the arrest of two former domestic workers, Dian Yulia Novi and Ika Puspitasari, who had allegedly volunteered to become suicide bombers in Jakarta and Bali. Leading Indonesian IS radical Bahrun Naim, who has been accused of directing a series of mostly botched terror plots in his homeland from Syria, had given them instructions and financial support, the report said.
Authorities detained Novi and her husband the night before a planned attack on the presidential palace in Jakarta and later picked up Puspitasari, who was part of the same network and had been planning to carry out a bombing on the holiday island of Bali, the report said. Other women have been arrested for offences including setting up a pro-IS charity, helping to make a bomb, and being fighters with a militant group on Sulawesi island.
IPAC called for the Indonesian government to try to find out more about female radical networks, including interviewing the many women who have been deported from Turkey after allegedly trying to cross into Syria to join IS. "The need to know more about Indonesian extremist women suddenly has become urgent," it said. Indonesia's national counter-terror agency declined to comment.
http://www.pakistantoday.com.pk/2017/02/01/indonesian-women-seeking-to-become-is-suicide-bombers-study/
-------
Outrage at Confirmation of 5-Year Jail Sentence on Young London Mother in Iran
23 January 2017
Confirmation in Iran of the five-year jail sentence on the young London mother Nazanin Zaghari-Ratcliffe has been condemned as 'outrageous' by Struan Stevenson, a lecturer on Middle East politics and former British member of European Parliament. Speaking in Scotland Mr Stevenson said: "Nazanin Zaghari-Ratcliffe was arrested at Imam Khomeini in Tehran last April as she attempted to return to the UK following a holiday with her two-year-old daughter Gabriella. She is a 38-year-old charity worker, from Hampstead, northwest London, married to Richard Ratcliffe. She has dual British/Iranian nationality, but because Iran does not recognise dual nationalities, those detained cannot receive consular assistance.
"She was sentenced to five years imprisonment by Iran's revolutionary court on 'secret charges', apparently relating to an alleged attempt by her to organise the 'soft-overthrow' of the Iranian regime, whatever that is supposed to mean. Reports from the regime's media suggest that this sentence has now been finalised by the Tehran prosecutor Abbas Jafari Dolatabadi."
Stevenson continued: "Nazanin's toddler, Gabriella, remains in Iran with members of her family after authorities seized her passport. In a recent phone conversation, she told her husband that Revolutionary Guards officials said she must choose between having her daughter, Gabriella, stay with her in Tehran's Evin prison for up to three days a week, or sign a document saying she does not want the "right to be with her young daughter", basically relinquishing custody of her own daughter. She told her husband that both options were clearly unacceptable. According to Amnesty International UK, Evin prison authorities imposed this cruel choice in an attempt to counter negative publicity caused by the 37-year-old being separated from her toddler. Nazanin's husband Richard has branded her sentence as "a punishment without a crime" and said she was struggling with being separated from her daughter and suffering hair and weight loss as a result of her ordeal."
Struan Stevenson continued: "Serial abuse of human rights has become a daily fact of life in this medieval, theocratic regime, under the supposedly 'moderate' presidency of the smiling Hassan Rouhani. More than 70 people have been hanged so far this year, many of them in public; at least 2700 have been executed since he took office three years ago and yet the West continues to seek ways of securing commercial contracts with this evil and oppressive regime. The Justice Minister appointed by Rouhani is Mostafa Pour Mohammadi, a man who has publicly admitted and gloried in his key role in the murder of 30,000 political opponents, mostly from the People's Mojahedin's of Iran (PMOI or MEK) opposition group in 1988. It is unacceptable that the UK can simply sit back and wring its hands in dismay at this treatment of a UK citizen and her child.
"There must be immediate and public condemnation of Nazanin Zaghari-Ratcliffe's sentence and demands for her urgent release. She was originally sentenced the day after Britain restored our UK embassy and ambassador in Iran, supposedly because we wished to resume normal relations. This sickening verdict by the Iranian regime proves that there can never be a normal, civilized relationship and Britain should now threaten to sever diplomatic ties with the country unless Mrs Zaghari-Ratcliffe is released."
Note: Struan Stevenson was a Member of the European Parliament representing Scotland (1999-2014). He was President of the Parliament's Delegation for Relations with Iraq (2009- 2014) and Chair of Friends of a Free Iran Intergroup (Caucus) from 2004-2014. He is now President of the European Iraqi Freedom Association (EIFA).
http://www.ncr-iran.org/en/news/human-rights/22011-outrage-at-confirmation-of-5-year-jail-sentence-on-young-london-mother-in-iran
-------
Iran: Marriage of girl children in south-eastern province
28 January 2017
Sistan-o Baluchistan, lying in south-eastern Iran along the border with Pakistan, is one of the main provinces where a lot of child marriages take place.
"Unfortunately, the largest number of marriages takes place in the southern part of Sistan-o Baluchistan… These marriages are mostly done with young girls rather than boys," explained Saeed Seyed-ol Hosseini, a deputy to the Medical Regime Organization.
He added, "Girls often are between 12 and 13 years old in these types of marriages. They are mostly wed to old men who have multiple spouses… The main reason for this type of marriages is poverty. Families receive houses, cars, and cash in return for their daughter's marriage."
Seyed-ol Hosseini reiterated, "These young girls unfortunately undergo depression and other internal problems until the end of their lives, because their husbands turn 70 or 80 when they are not even 20." (The state-run ILNA news agency – January 27, 2017)
http://women.ncr-iran.org/iran-women-news/3615-iran-marriage-of-girl-children-in-southeastern-province
-------
Indian Funded Girls to Join ISIS at Pakistan Man's Behest: NIA
January 31, 2017
Three girls from the Philippines and Tunisia, who were alleged to be ISIS sympathisers, were given money by a Dubai-based Indian supporter of the terror outfit on the instructions of a Pakistani national, the NIA has said. The agency has claimed that Maharashtra resident Mohammed Farhan Shaikh, who was arrested in 2016 along with two others after being deported from the UAE for alleged ISIS links, had funded these girls, after money was given to him in Dubai by one Khalid, who is alleged to be from Pakistan.
NIA has alleged that Shaikh, who was in Dubai in 2015, had transferred 3894.24 United Arab Emirates Dirham (UAED) to a Tunisian girl, Sarra Ghribi, who wanted to join ISIS, in seven instalments through the global payment service, Western Union, between February 5, 2015 and April 24 that year. National Investigation Agency (NIA) has claimed before a court here that Shaikh had transferred 1257.63 UAED and 846.75 UAED to Jannah Qassim and Johaira L Macasimpang, residents of Philippines, on June 24, 2015.
In his disclosure statement recorded by NIA which has been annexed in the charge sheet, Shaikh has claimed that in January 2015, he got in touch with Ghribi through Facebook. She was a "supporter and sympathiser" of Islamic State of Iraq and Syria (ISIS). "She (Ghribi) was interested to join ISIS. She approached me and asked for money. Same thing I told to Khalid that there is a Tunisian girl who wants to go to Syria and she needs money. He told me to come to his showroom and over there, Khalid gave me 1300 Dirham and I paid that money to Sarra Ghribi.
"Later, Khalid gave me 5000 Dirham to give to Ghribi. On June 2, 2015, Khalid deposited 5000 Dirham in my bank account. I paid 5000 Dirham in total to Ghribi. I made all the money transaction through Western Union," Shaikh has said.
http://indianexpress.com/article/india/indian-funded-girls-to-join-isis-at-pakistan-man-behest-nia-4501070/
-------
11 Books By Muslim Women That Show The Many Facets Of Islam
01-Feb-17
Let's have some real talk for a second: the headlines are frightening right now. Between Donald Trump's temporary refugee ban, religious tests upon entering the United States, and a terrorist attack on a mosque in Quebec by a supporter of the current American president, things are dire (and there's always the ominous promise of more to come). It can feel like there's nothing to do but despair. But there's one thing so many of us know: This isn't what we stand for. This isn't who we are. And this isn't the legacy we will leave.
Quite simply, we refuse.
One of the most important things to remember in this difficult time is the importance of reading. Reading books about people who don't look, think, or act like us broadens our horizons. It turns them from an "other," condemned out of fear, to just another neighbor. We have a duty to stand with our Muslim neighbors, to resist any attempts to separate them from the rest of us. Like any other faith or culture, Islam isn't a monolith; these books by Muslim women show the many different facets of Islam. For those of us who aren't Muslim, it's important to read and share these books.
This first novel in a lush mystery series features a Canadian governmental team — Esa Khattak and Rachel Getty — as they handle cases sensitive to minority communities. Khan has a Ph.D. in International Human Rights Law, and it shows with her deft maneuvering in this book, as the main characters confront a suspect with possible ties to the Srebrenica massacre, the genocide of over 8,000 Bosnian Muslim men and boys. The subject might be heavy, but the novel is gripping, and the third in the series is out this month.
https://www.bustle.com/p/11-books-by-muslim-women-that-show-the-many-facets-of-islam-34353
-------
How Muslim-American Women Are Fighting Back Against Trump's Immigration Ban
1/31/17
Women and girls stand to be particularly affected by President Donald Trump's executive order temporarily banning all refugees as well as all travelers from seven majority-Muslim countries, and indefinitely banning Syrian refugees. This shuts the door on female refugees from Syria, Afghanistan and Iraq and other countries where women's human rights are particularly vulnerable; the anti-Muslim nature of the ban also increases pressure on women wearing hijab in the U.S.
Syrian women face not only the physical insecurity of a deadly proxy war, but also the danger of ISIS and other religious extremist groups whose leaders seek to control women's bodies and their movements. This new policy closes the door on those women seeking refuge. Even the Yazidis of Iraq, the Christian minority group that has suffered the loss of thousands of women and girls who have been captured by ISIS and held as sex slaves, have been "denied boarding on U.S.-bound flights despite visas," reported NPR's Jane Arraf on Twitter.
On Saturday and Sunday, thousands gathered at Dulles Airport in Virginia and in New York, Dallas, Chicago and elsewhere to protest the executive order. Meanwhile, Muslim-American women at Dulles—and their daughters—were at the forefront of a peaceful resistance movement.
"The executive order says that it doesn't want to let in people who support honor killings, but then [Trump] won't let in the women who are at risk of these honor killings," said Mirriam Seddiq, an Afghan-American criminal defense lawyer who fielded questions from the press on behalf of the hundreds of lawyers assembled. Seddiq stood in front of dozens of advocates camped out on laptops, surrounded by pizza boxes and tangerines meant to last them through the night. Many of the lawyers held signs that said, "Know someone who has been detained? I can help."
As a woman in hijab ushered her children through the narrow walkway at Dulles international arrivals, surrounded on both sides by hordes of Muslim-American families and lawyers, the crowd broke out singing, "This land is my land, this land is your land."
"What we've seen is that they are sending people to secondary detainment who are not just from the countries on the list, but from all Muslim countries and from Africa," said Sara Dill, a 37 year-old Muslim-American from Chicago and a lawyer with the American Bar Association, her tired face lined by a tightly wrapped bright yellow headscarf. Dill said of the ban on Syrian refugees to the U.S.: "the women and children coming out of Syria… have a dictator committing war crimes, they are coming out of this trauma…They had all of this hope that they were finally going to have safety and freedom, and they are being sent back."
"It's the same as always... they hide their bigotry and misogyny by saying it's only if they [Muslim women] aren't here yet," said Seddiq, who recently started the American Muslim Women Political Action Committee and says it is more important than ever to have Muslim women in elected office.
The Trump administration says that the executive order is not a ban on Muslims, but rather a measure to restore security to the U.S. In a statement on Sunday, President Trump said, "It's working out very nicely and we're going to have a very, very strict ban and we are going to have extreme vetting, which we should have had in this country for many years." The executive order states that, "In order to protect Americans, the U.S. must ensure that those admitted to this country do not bear hostile attitudes towards it and its founding principles… those who engage in bigotry or hatred (including "honor" killings, other forms of violence against women, or the persecution of those who practice religions different from their own)…"
The number of refugees that the US accepts is already a tiny fraction of the global burden: The U.S. admitted just 12,587 Syrians in 2016, compared to the 3 million that Turkey is hosting. Those familiar with refugee vetting say that it is a lengthy and rigorous process, and no person accepted as a refugee in the U.S. has been implicated in a major terrorist attack since the Refugee Act of 1980 set up detailed procedures for acceptance.
Hanging over the rope-lines at Dulles, Cansu Colakoglu, a young Turkish woman and graduate of Harvard Law School, asked passengers and pilots which flights they came off and whether any people had been detained. "People with headscarves were pulled out after passing customs to have a second inspections," she reported, pausing to high five with an Iranian-American woman walking out of customs. Muslim women who cover their hair are especially vulnerable to detainment, including those traveling with children. Virginia Congressman Don Beyer, an advocate for women's issues in the House, arrived at Dulles on Sunday afternoon to advocate for detainees. "They aren't talking," he tweeted of Customs Border Control, while seeking the release of Sudanese green-card holder and Virginia resident Nahla Gadalla. After Beyer's questioning, Gadalla was released, although Border Control did not allow lawyers access to Gadalla or other detainees, according to Representative Beyer's office.
"Families are getting scared, headscarves are being pulled. The kids are scared," said Zainub (who declined to give her last name), a U.S. citizen from Pakistan in a peacock-blue headscarf. A teacher at an Islamic preparatory school in Reston, Virginia, she decided to protest at the airport in solidarity. Her ten-year old daughter, who had never before attended a protest, started a call and response with a willing crowd, shouting, "Show me what democracy looks like; This is what democracy looks like!" while Zainub filmed proudly.
Another mother from the same school, Samira, said her ten-year old daughter recently chose to start wearing a headscarf, a decision laden with meaning since January 20. "They don't understand why we wear it. They might think we are here to blow up the place," Samira said ruefully.
http://europe.newsweek.com/donald-trump-muslim-women-immigration-airport-protests-550840?rm=eu
-------
URL: https://www.newageislam.com/islam,-women-and-feminism/new-age-islam-news-bureau/muslim-women-in-austria-prohibited-from-wearing-full-face-veils/d/109916
New Age Islam, Islam Online, Islamic Website, African Muslim News, Arab World News, South Asia News, Indian Muslim News, World Muslim News, Womens in Islam, Islamic Feminism, Arab Women, Womens In Arab, Islamphobia in America, Muslim Women in West, Islam Women and Feminism, Moderate Islam, Moderate Muslims, Progressive Islam, Progressive Muslims, Liberal Islam