New Age Islam News Bureau
29 Dec 2017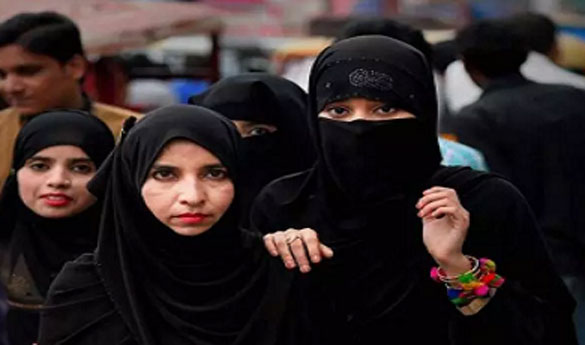 Photo: The women, including those who waged the war against the archaic practice in the Supreme Court. PTI File Photo
----
• Women Can Now Enter Riyadh's General Court without Face Veils
• In Search Of Pakistan's Missing Women Voters
• The Indian Who Became the First Female Doctor in the UAE
• Yemeni-Emirati Singer Balqees Reveals New Year Resolutions
• A Palestinian Woman Says an Israeli Police Officer Raped Her in an Interrogation Room
Compiled by New Age Islam News Bureau
URL: https://www.newageislam.com/islam-women-feminism/muslim-women-hail-triple-talaq/d/113744
--------
Muslim Women Hail Triple Talaq Bill, Seek Ban on Polygamy
Press Trust of India, New Delhi, Dec 29 2017
A day after the Lok Sabha passed the contentious bill on instant triple Talaq, the development was hailed by several Muslim women involved in judicial war against the practice, with a rider that the government should have also banned polygamy.
The women, including those who waged the war against the archaic practice in the Supreme Court, said with the passing of the Muslim Women (Protection of Rights on Marriage) Bill in the lower House, "a new beginning has been made" and it will prove to be a deterrent for the husbands from saying Talaq-e-biddat to their wives.
They said the new law should have also banned the practice of polygamy among Muslim men which, they said, was "more worse than triple Talaq."
The women, advocate Farah Faiz, Rizwana, Razia, who were associated in the fight against triple Talaq and polygamy in the apex court, expressed satisfaction that at least "a start" has been made by the present NDA dispensation.
The same opportunity had come in 1985 when the Shah Bano case happened, but was lost by the then Central government, they claimed.
"A new beginning has been made which would protect Muslim women from immoral practice of nikahhalala," said Faiz, whose view was shared by Rizwana and Razia with a slight variance.
'Nikahhalala' is a practice intended to curb incidence of divorce. Under this, a man cannot remarry his former wife without her having to go through the process of marrying someone else, consummating it, getting divorced, observing the separation period called 'Iddat' and then coming back to him.
Rizwana and Razia were of the view that the government should have dealt with the issue of polygamy by banning it in the same bill.
"I welcome the move but now men will take undue advantage of the law and indulge in polygamy openly as it is still in practice. With polygamy still in practice, abolition of triple Talaq cannot alone not help us," said 33-year-old Rizwana, a victim of polygamy.
Razia (24), whose husband divorced her over phone citing birth of daughters as the reason behind it, hailed the law brought by government and hoped that women like her would get justice.
Married at the age of 16, Razia said, "I was given triple Talaq by my husband on phone as he did not want to bring up our two daughters. Triple Talaq is a crime and has spoilt many lives. I pray that all women like me get justice with this new law. However, I wish that the practice of polygamy is also banned."
Advocate Chandra Rajan who had represented All India Muslim Women Personal Law Board (AIMWPLB) also hailed bringing of the legislation and said it would go a long way in history.
"If this new law is implemented in true spirit then it will go a long way and prove to be a deterrent for the husbands from saying 'Talaq-e-biddat' to their wives," she said.
Rajan said the AIMWPLB has, from the very beginning, demanded that there should be a law which should hold the practice of instant triple Talaq null and void and impose punishment on husbands practicing it.
"We are disappointed only on one count that Sharia was not defined by the government in the law. As long as Sharia is not defined, confusion and misuse of such practices will prevail," she said, adding to this extent, it can be said that the government brought this law in a haste.
"The best thing the law proposes is that custody of minor child will be given to the mother. This happened with Shah Bano who was the victim of triple Talaq and one of the petitioners in the Supreme Court," Rajan said.
She, however, questioned the mention of All India Muslim Personal Law Board (AIMPLB) in the law and said that it is an NGO and by mentioning their name it is like giving them a sanctity.Faiz also shared the view of Rizwana and Razia that the government could have also brought a law making the unethical practice of polygamy null and void and protected lakhs of Muslim women.
"At least this government has done something and a new beginning has been made. Amendments keep on happening in the law but the start has been made," she said.
Faiz who fiercely argued against the practice of Talaq- e-biddat (triple Talaq) said the government should have enhanced the imprisonment term from three to seven years and made it a sessions court triable offence.
"Misguided husband, who were till now able to go scot-free after pronouncing triple Talaq to wife, will now be deterred from the practice.
"No one will listen to Maulanas and misuse the practice which has been made null and void by the Supreme Court as police can lodge the case and initiate criminal trial against him," she said.
Rizwana, a Railway employee who had approached the apex court for abolishing the practice of polygamy, said, "With polygamy still in practice, abolition of triple Talaq cannot alone help us."
deccanherald.com/content/650791/muslim-women-hail-triple-Talaq.html
-------
Women can now enter Riyadh's General Court without face veils
After a young Saudi lawyer was kicked out of court for not wearing niqab.
2017-12-29
Earlier this week, Riyadh's General Court announced it will no longer ban women who do not wear face veils from entering court houses, Arab News reported.
The decision comes a year after Saudi judicial authorities passed a regulation stating the women who do not wear the garment would not be allowed in courtrooms.
In her statement on the matter, Shoura member Dr.EqbalDarandari told Arab News that while the latest decision would make women feel more at ease in courthouses, they are still expected to adhere to strict dress codes.
"Any applicant frequenting a government department is expected to uphold and adhere by its dress code. Courts of law, specifically, are governed by religious sanctions, which calls for women to dress accordingly in modest attire," she said.
"That, however, does not mean that we restrict all women under a specific Islamic sect," she added, explaining that several Islamic sects have differing opinions on what a full hijab means.
While some believe the face veil is an essential part of it, others strongly disagree.
الحدثبرس
@alhadthpress
"خلعالنقاب" فيالمحاكمانتصارجديدللمرأةالسعودية dlvr.it/Q7lxxr
1:30 PM - Dec 27, 2017
The latest decision comes just over a week after the case of a young Saudi lawyer, who was kicked out of a courthouse in Riyadh for not wearing a face veil, went viral on social media.
The woman's story was featured on an episode of MBC's show Ma'ali Al Mowaten.
During the episode, Abdul Rahman Al Lahem, a lawyer who hired the young Saudi woman as an intern at his firm, shared details of the shocking case.
He explained that when a judge spotted the woman finishing up paper work in an office room, he immediately called on security to throw her out of the building.
At the time the episode was aired, Sheikh Abdul Rahman Al Qassem, assistant deputy minister of Saudi Arabia's authority for Judicial Affairs, said authorities would thoroughly investigate the matter.
@AFP
The European Court of Human Rights upholds a Belgian ban on wearing the full-face niqab veil in public
6:45 PM - Jul 11, 2017
20 20 Replies 353 353 Retweets 250 250 likes
It's not obligatory for Muslim women to wear the face veil, and the garment is not part of the dress code enforced on women in Saudi Arabia, which includes the head covering and abaya (floor length garment).
There have always been differing opinions among Muslim scholars when it comes to face covering in general. While most believe it is not obligatory, some think it is.
Speaking to ABC News Australia, Dr.Raihan Ismail, a lecturer in Middle East Politics and Islamic Studies at the Australian National University, clarified a few points about the controversial face veil.
"The Koran does not explicitly say you have to cover yourself in this manner," she explained.
"Some scholars argue that it is a religious obligation, particularly the more conservative factions within the Muslim world. There are many variations and interpretations," she added.
When asked why women would choose to wear any kind of veil, including the niqab (full body covering with a slit for the eyes) or the burqa (full body covering with mesh over the eyes,) Dr. Ismail said:
"Some women wear it because they strongly believe it is their religious obligation."
She also conceded that others "may be pressured into covering themselves".
stepfeed.com/women-can-now-enter-riyadh-s-general-court-without-face-veils-7318
-------
In search of Pakistan's missing women voters
The biggest challenge to voter turnout in Pakistan's general election in 2018 is the yawning disparity between male and female voters, and the conditions that exacerbate this disparity. According to an alarming new report by the National Commission on the Status of Women, there are at least 10 million fewer eligible female voters than male.
Quoting the latest figures from the Election Commission of Pakistan (ECP), election expert Tahir Mehdi says there are some 97 million registered voters in the country, of which 54.5 million are male and 42.4 million are female. While the number of registered women voters has always been less than that of men, the current gender gap is the worst in Pakistan's history, he adds.
A key factor in this increasing gap is the mandatory requirement of all voters to be issued a Computerized National Identity Card (CNIC) by the National Database and Registration Authority (Nadra), without which voters cannot be added to the national voter list maintained by the ECP. The key challenge is for Nadra to overcome the backlog of cards in time for the election, which is expected in August.
Currently, Nadra issues 3,000 CNICs per day to women over 18 years of age. Even if it doubles its capacity, it will take 18 years to issue cards to the 10 million Pakistani women currently without them. Pakistan would have to issue 70,000 cards per day until August for these women to be able to vote in the election, not to mention the 3,500 females who turn 18 every day and thus become eligible to have a CNIC and to vote.
The political parties and government have failed to fulfill their responsibilities of ensuring that millions of women who are eligible for political participation no longer remain disenfranchised. Focusing on this issue now, with less than a year to go before the election, is a major lapse in responsibility.
So many eligible female voters will not participate in next year's general elections because the political parties and government in Pakistan have failed to fulfill their responsibilities toward them.
There are other key reasons why Pakistan is failing its women in becoming equal stakeholders in politics. Patriarchal norms that stop women from participating in public spheres is one. Another is administrative barriers, such as documentation of birth and marriage, that are prerequisites for registration by Nadra. Yet another is Nadra's gross under-capacity.
The implications of the failure to bridge the voting gender gap are huge. First, in many constituencies unregistered women of voting age could sway elections results if empowered to vote. Second, more female voters could mean more seats for women in Parliament (currently there are only 70 women in the 342-member National Assembly).
Third, women are losing out on securing greater influence on policies that govern their fate. For a country that elected the first ever female head of government in a Muslim country (twice), that is a loss for all Pakistanis.
• Adnan Rehmat is a journalist, analyst and researcher based in Islamabad. His work focuses on politics, media, development and science. Twitter: @adnanrehmat1
arabnews.com/node/1215791
-------
The Indian who became the first female doctor in the UAE
29 December 2017
ZulekhaDaud began practising medicine in the UAE when the city had barely any infrastructure
Indian national ZulekhaDaud is widely understood to be the first practising female doctor in the United Arab Emirates and has played a crucial part in transforming its healthcare sector. She met BBC Hindi's Zubair Ahmed.
Dr Daud, 80, vividly remembers the day she was "parachuted" in to Dubai in 1963.
"When I landed here I found there was no airport. There was only a runway. The moment we got off we were hit by a wave of unbearable heat," she recalls.
Given the number of state-of-the-art hospitals it has now and its expansive healthcare system, it's hard to believe that the UAE once had no proper hospitals and mostly borrowed doctors from other countries.
Dr Daud is a storehouse of memories of the time the UAE was crying out for medical help. The people were suffering from innumerable diseases, ranging from tuberculosis to diarrhoea. There was no female doctor to deliver babies and children were suffering from malnutrition.
Who is the India doctor on Google Doodle?
Making medicine in a man's world
"I had not even heard of Dubai before coming here. It was only after arriving that I realised how difficult the conditions were and how incredibly hard it was to carry on here," she says.
The city had no airport or sea port and air conditioning was a distant dream. It even lacked basic infrastructure like concrete roads or a steady power supply. Many doctors who arrived with Dr Daud from other countries, such as Syria and Lebanon, refused to work under those conditions and went back home.
But for Dr Daud there was a job that had to be done.
"I realised these people needed me, so I just got down to work," she says.
She was trained as a gynaecologist but the prevailing circumstances forced her to become a general practitioner in Dubai. As there was no other doctor available, she found herself attending to "burn cases, snake bites, skin diseases and everything else".
Dr Daud's journey from the western Indian state of Maharashtra to Dubai was not a planned one. She had applied for a post with an American missionary working in Kuwait soon after graduating from medical college in the city of Nagpur. She was flown to Dubai from there.
But how was a young and unmarried woman from a conservative Muslim society allowed to travel abroad unaccompanied? She admits it was unthinkable at the time. But Dr Daud says she was lucky to have supportive parents. "My parents had no formal education. But they were open minded. They encouraged me to go," she says.
Her first job was in a makeshift hospital situated in a vast desert area mostly inhabited by tribes people.
After working for a few months there, she was told that she would have to work in Sharjah, too, where her employers were going to start a small clinic.
The UAE when SulekhaDaud began practising
"Sharjah is 12km [7.4 miles] away from Dubai. There was no concrete road then. We travelled through the desert, where our vehicles would often get stuck in the sands," she recalls.
As her career progressed, she gained more and more recognition. Locals saw her as a "special gift" to their women and bestowed upon her numerous awards.
Dr Daud's rise to prominence coincides with the rapid growth of medical facilities after the foundation of the UAE in 1971.
She decided to jump onto the growth bandwagon, becoming an entrepreneur. Today she owns three big hospitals, one of them a cancer centre in her home town, Nagpur in India.
"Once they founded the UAE they made rapid progress in all walks of life. I am a beneficiary of the rapid growth the country witnessed after independence," she said.
Dr Daud has a huge respect for the people of the UAE. She says she has a special place in her heart for the country's rulers who encouraged her to set up her hospitals
After more than half a century of non-stop work Dr Daud has finally decided to relax a little. She leads a "semi-retired" life now, spending only two hours a day in her Sharjah hospital.
She still retains her Indian passport and has strong ties with her country of birth.
But does she want to go back?
"This is where I belong now. My links with India will remain. That's where my people live. But for me this is home now."
bbc.com/news/world-asia-india-42436635
-------
Yemeni-Emirati singer Balqees reveals New Year resolutions
ARAB NEWS | Published — Friday 29 December 2017
JEDDAH: Emirati-Yemeni singer Balqees has tweeted that one of her New Year resolutions is to "avoid getting involved in gossip or even listening to it."
She will also "make it a habit to think positively and completely rule out all doubts."
Balqees recently shared on her Snapchat account a video of her performing a traditional Yemeni dance, which received many views and comments.
On New Year's Eve, she will be singing at the waterfront walkway of Al-Maryah Island in Abu Dhabi.
On June 2, 2018, she will join singer Abdallah Al-Rowaished at a concert organized by Al-MajazAmphitheater during the opening ceremony of the Sharjah World Music Festival.
Balqees announced a few days ago that within a week, she will find out whether she is pregnant with a boy or a girl, refuting rumors that she is pregnant with twins.
Earlier this month, she captivated her audience with a performance at the first women-only concert in Saudi Arabia.
arabnews.com/node/1215821/offbeat
-------
A Palestinian Woman Says an Israeli Police Officer Raped Her in an Interrogation Room. Where Are the Suspects?
Josh Breiner Dec 29, 2017
Six years ago, a young Palestinian woman told the Police Investigation Unit that an officer raped her. Ten months later, no arrests had been made and the case was closed. A look at the investigation file prompts more questions than answers
It took the Justice Ministry's unit that investigations complaints of police misconduct 10 months to close one of the most serious cases ever submitted to it: suspicion of the rape of a Palestinian woman at a police station in Jerusalem.
The reason given by the Police Investigation Unit for closing the case, "Perpetrator unknown," indicates that even though the investigators did not manage to find the guilty party, they did look for him and did believe the complainant's story – a story that was obtained from a polygraph test she took in which she was found to be telling the truth, and from testimonies that accorded with her complaint.
However, a look at the file also raises a number of questions about the way the investigation was conducted and about why, six years after the incident, no one has been arrested on suspicion of raping this woman.
It began in the middle of the night. A young Palestinian woman named Leila (Haaretz has her full name and identifying details) was arrested at roadblock on suspicion of being in Israel without a permit and was taken to a police station. After being questioned for a few minutes in one room, she was transferred to a different room where, she says, she was harassed by the interrogator, who left the room a short while later.
Then, she related, a policeman in Border Police uniform came in and raped her. Her complaint is grave: She described how she tried to resist but he used a table that was in the room in order to overcome her. She described a brutal sexual act that went on for several minutes and also described how he forcibly stripped her and covered her mouth with his hand. She noted that he left traces of semen on the garment she wore.
When it was over, Leila dressed quickly and ran out, leaving through the entry gate of the police station without signing any release document. The next day she told her husband what had happened. Another day passed and, extraordinarily, her husband accompanied her to the Police Investigation Unit offices in Jerusalem. There she told investigators all the details of what had happened and said she felt shame. She added that she was so disgusted that night that she hastened to launder the clothing she had been wearing.
After they finished transcribing her complaint, the investigators accompanied Leila to an emergency room. The examination there did not find any signs of rape, apparently because of the time that had elapsed, but they did find a bruise on her left arm. The next day the investigators accompanied Leila to a polygraph test carried out by the head of the police polygraph laboratory in Jerusalem. The questions were cold and explicit: "Is it correct that a border policeman inserted his sexual organ into your sexual organ at the police station?" she was asked. She replied to this question in the affirmative, as she did a second time when the same question was phrased somewhat differently. The polygraph findings were conclusive: She was telling the truth.
Additional evidence supported her story: Eyewitnesses said she left the police station in an agitated state and added that a few minutes later she vomited. In addition, she told her husband about the rape the very next day. It isn't every day that a Palestinian woman shows up to complain about a rape, not to mention one at a police station.
Apparently great efforts
During the first several days after the complaint, apparently considerable effort was invested in the case: summonses for questioning, mobile phone tracking, polygraph tests and more. However, examination of the investigative materials shows that along with all that, other investigative measures – some say basic measures – were not taken.
The first questions arise concerning the mapping of the potential suspects. The time frame for carrying out the rape was determined to have been between 4 A.M. and just before 5 A.M. According to the assignment sheet, at that time there was a total of 19 policemen from the station on duty (some of whom were out on patrol). Nine others began their shift at 5 A.M. In the entire security complex where the police station is located, there were 67 policemen on duty at that time. Because of the early morning hour at which the incident was said to have occurred, all the policemen there were potential suspects, suspects whose identities are known.
The main suspect questioned was the night duty investigator, the same man whom Leila said had harassed her. However, the possibility that he was the rapist was ruled out because on that day he was in civilian clothing and not in Border Police uniform, which is how she described the attacker. In his interrogation the night duty investigator completely denied any involvement in rape – as well as in harassment. The investigators even arranged a confrontation between the two, which was stopped because Leila became agitated; she wept, screamed and began to threaten the Police Investigation Unit personnel, who had to stop the confrontation.
In the polygraph examination to which the investigator was sent, he was found to be telling the truth and the case against him was closed. However, when asked if it was possible that he had left Leila alone in the interrogation room, he confirmed he had left for a few minutes to use the toilet.
Testimony was taken from five additional policemen – the one who had arrested her and taken her to the police station and four others who were on duty at the station – but none of them was questioned as a suspect. This, even though contradictions were found between the testimonies of two of them. One of them – call him H. – related that he had seen Leila coming out of the police station and, together with another guard, A., had opened the gate for her. When A. described the course of events that morning, he told a different story, saying he had opened the exit gate alone.
This wasn't the only detail in dispute. A. told the Police Investigation Unit that he had replaced H. at the gate for 10 minutes (during which time Leila was still inside the police station) and that during the night he had seen his colleague walking around in the area of the investigation rooms. There was no replacement, A. told his questioners. "H. wasn't with me at the position either."
However, a reading of the investigation file reveals that despite these contradiction, neither H. nor A. was interrogated under warning that he might be charged with a crime.
Despite the small number of suspects, at the Police Investigation Unit they did not see fit to arrange any suspect identification lineup for Leila, nor was she shown photographs of the potential suspects, or of all the police who were in the compound. "This is a significant omission," says a former top police officer. "When there is a small number of potential suspects, an identification lineup is a basic thing."
In the case file, no document was found indicating that the investigators tried to collect the footage from security cameras at the station. However, a Police Investigation Unit source notes that right at the start of the investigation a check was made but it turned out that the cameras were focused on the entry gate, and that they do not record anything, only showing pictures in real time.
Another item in the file concerns the question of the DNA. It turns out that the hope of finding a sample on Leila's clothing was ruled out because the clothing's having been laundering meant the laboratory could not produce any findings. "The chances of finding DNA evidence on a garment that has been laundered are very small," say two senior crime lab experts.
Investigation goes nowhere
About a month after the complaint, Leila was brought in, as an extraordinary measure, to a police facial composite artist. At that time she somewhat modified her description of the attacker's hair and face, but even the new portrait that was drawn in accordance with her description did not lead the investigators any further in their search for the suspect.
In the case file there is also a memorandum written by a female investigator who accompanied Leila and talked with her about the rape. The investigator noted that Leila told her what had happened, adding that the policeman committed two more crimes of rape against her, among them anal rape. This additional information was cause for astonishment at the Police Investigation Unit, but when asked by the female investigator why she had not stated this at the time she filed her complaint, Leila explained that one of the investigators taking down her complaint was a man, and she was embarrassed to talk about it in front of him.
The new details appear only in the memorandum, and Leila was not asked to provide a new, comprehensive complaint. After that visit, no further significant investigative steps were taken, and the file remained at the Police Investigation Unit offices.
After three years went by without the investigators contacting Leila at all, her lawyer, MuayidMiari, applied to find out what was happening with the case. The reply he received shocked him. Two years earlier, it emerged, it was decided to close the case on the grounds of "perpetrator unknown." So just 10 months after the complaint was filed, it was decided to close the case.
"To our regret, there was an error and your client did not receive notice of this at the time," stated the reply.
Miari, who demanded that he receive the investigation file, submitted an appeal against the case's closure, in which he stressed a series of significant blunders on the part of the Police Investigation Unit and the contradictions that were not examined. "No one was put on trial, neither at the criminal level nor at the disciplinary level," he wrote.
However, time passed and only in 2015 did Deputy Attorney General Yehuda Shaffer order the reopening of the case. Then, at the beginning of 2016, it was decided to close it once more, without any of the people involved having been questioned again. "Even after carrying out the requested examinations, we were not able to identify a person suspected of having committed the crime," said the Police Investigation Unit.
In retrospect it emerged that most of follow-up investigation had to do with the security cameras and reexamining the testimony of the investigator who had released Leila without any documentation, and who was suspected of having abetted the rapist (intentionally leaving him alone in the room with the young woman).
"From the examination it emerges that the police treatment of Leila followed all the procedures," stated the Police Investigation Unit document, "and there is no additional documentation of actions that were taken during the course of the incident."
As for the identification lineup that did not happen, it was stated by the unit that "taking into account the findings of the entire investigation, including the various descriptions given by the complainant regarding the suspect and the absence of a concrete suspect, there was no scope for carrying out an identification lineup."
At this point attorney Miari decided to show Leila photographs of some of the policemen who were at the station that night.
She immediately identified A. as the person who had raped her.
This improvised lineup, about five years after the incident, led the Police Investigation Unit to summon A. under warning that he could be suspected of
having committed the crime of rape. At that stage, in 2016, A. was no longer serving in the police force. Most of his replies to questions were: "I don't remember." Moreover, he had difficulty recalling the contradictions that had emerged five years earlier, but said he was certain he had not committed any rape.
"Horrible and shocking, but I have nothing to do with it," he told the investigators.
Unlike in the first round in the case, Leila was not called in for a confrontation even though this time it was she who had identified A. as her attacker. The Police Investigation Unit did decide to send A. for a polygraph test, at which he was asked:
"Did you insert your sexual organ into an Arab woman's sexual organ at the police station?" A. replied in the negative, was found to be telling the truth, and the case was closed.
Is this the end of the story? Officially, not yet. At this time an additional appeal submitted by Leila in the hope that the investigation will be reopened and the criminal apprehended is under consideration.
The Police Investigation Unit has responded that the decisions in the case "were taken on the basis of a professional and thorough investigation, and after examination of the evidence and all the circumstances in the matter, including taking of statements from the complainant a number of times, taking of evidence from members of the complainant's family, questioning of policemen who were suspected of having been present at the time of the incident under warning that they might be suspected of having committed a crime, polygraph tests and additional examinations in accordance with the findings of the investigation."
At the unit, they also said: "The policemen whom the complainant indicated as the main suspect in the affair was questioned and examined – but no support was found for the accusations the complainant made against him, and moreover in the polygraph test he took he was found to be telling the truth. Other policemen who came into the circle of possible involvement were also questioned and this questioning did not establish their involvement in the incident.
"After examining the aggregate of the evidence in the case, the Unit for Police Investigation concluded that in the complex circumstances of the matter (which would be inappropriate to specify here for reasons of individuals' privacy), the totality of the evidence does not form a reasonable basis for indicting any of the policemen who could have been potential suspects. The Police Investigation Unit is committed to exposing offenses committed by police and its determination to fight against sex crimes in the police is very well-known and needs no proof. It should be stressed that in 2016, 68 percent of the cases that were investigated in the department were successfully concluded through a clarification of the truth.
"However, the reality teaches us that sometimes, despite investigative efforts, there is a segment of cases that does not conclude in clarification of the truth and these cases are closed with various justifications, in accordance with the matter. The Police Investigation Unit takes responsibility for the regrettable fact that there were flaws in the reports to the complainant about this case. An appeal that was submitted by the complainant is slated to be examined at the appeals department of the State Prosecutor's Office."
Following a request for a response from the Israel Police, police sources claimed that they became aware of Leila's complaint of having been raped by a policeman at a police station only in the wake of the query from Haaretz, and moreover, even though the incident occurred more than five years ago and it was reopened and policemen were investigated, the Police Investigation Unit did not inform the Israel Police at all about the entire procedure.
"The Police Investigation Unit has made a shambles here," said a police source angrily. "How can such a grave incident not be reported to us? A complainant claims that she was raped at a police station and no one at the Police Investigation Unit informs the police commissioner, someone at the human resources department or anyone at all. This is shocking and disgraceful behavior."
Haaretz has received the following response form the Israel Police: "We regret that yet again the Police Investigation Unit chose not to keep the Israel Police informed concerning the findings of this investigation, as in a number of other cases. Immediately upon receipt of this query a clarification was conducted, which found that the investigation was conducted at the Police Investigation Unit and closed. In the absence of an orderly report, transmission of information or any update from the Police Investigation Unit, to our regret we cannot comment on this case as its details are not known to us."
haaretz.com/israel-news/.premium-1.831865
URL:
https://www.newageislam.com/islam-women-feminism/muslim-women-hail-triple-talaq/d/113744