New Age Islam News Bureau
24 Nov 2017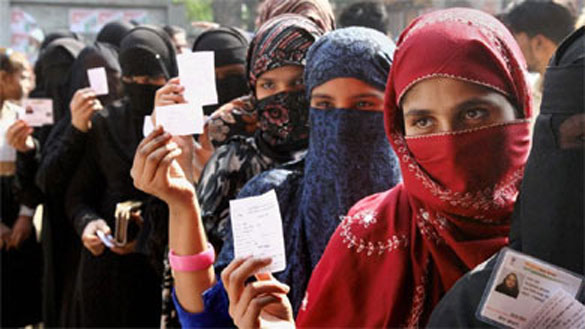 Women in Burqas wait to vote in the first round of urban local body elections in Meerut on Wednesday. (PTI photo)
-----
• Love Jihad: 'Love Marriages Being Taken To Court Now'
• UP Civic Body Polls: BJP Wants EC to Verify Identities of Women in Burqas
• Jammu and Kashmir: Tackling Prejudice, 20 Girls Set For Soccer Meet
• 5,000 Saudi Women Build Careers in Mobile Phones Maintenance
• German Police Train Female Saudi Border Inspectors
Compiled by New Age Islam News Bureau
URL: https://www.newageislam.com/islam-women-feminism/muslim-women-groups-want-triple/d/113338
--------
Muslim Women Groups Want Triple Talaq to Be Held Invalid, Not Criminalised
November 24, 2017
Muslim women groups have opposed the government's deliberations on criminalising triple Talaq or Talaq-E-Biddat claiming it will do nothing to help women and may become a tool to harass Muslim men. Women groups Bebaak Collective and Aawaz-e-Niswaan Thursday said they had been approaching various government officials after the August 22 Supreme Court verdict that held triple Talaq "un-Islamic", but received no response from the Minority Commission. "We want triple Talaq to be held invalid, not a criminal offence. The BJP government has been very hasty in taking this decision. There were no due deliberations with Muslim women groups," said Hasina Khan from Bebaak Collective, adding that punishing or imprisoning Muslim men for uttering Talaq thrice in quick succession was not a solution to the issue.
The central government has constituted a committee comprising Home Minister Rajnath Singh, External Affairs Minister Sushma Swaraj, Finance Minister Arun Jaitley, Law Minister Ravi Shankar Prasad and Minority Affairs Minister Mukhtar Abbas Naqvi to draft the final legislation. On August 22, the SC held the practice of triple Talaq "un-Islamic" and "arbitrary" claiming that it was not an integral part of the religious practice.
"Divorcing is not a criminal act. And a legislation criminalising it may lead to gender polarisation in the community," said Kausar Ansari from Aawaz-e-Niswaan. Meanwhile, the Bharatiya Muslim Mahila Andolan (BMMA) has asked the government for an open discussion on triple Talaq legislation. "There should be some form of punishment, either through compensation or maintenance. But since it is a personal law, it should be part of civil law, not criminal law," said Noorjehan Safia Niaz, co-founder of BMMA.
Zeenat Sasha, who is still fighting a legal case against her husband who uttered Talaq thrice to divorce her, said criminalising it would not ensure Muslim women get all her due rights. "A husband may be imprisoned for saying Talaq thrice, but that will leave the wife alone at home without any support. Instead, the government should think how Muslim women can be better supported," said Zeenat.
The Bebaak Collective met the Maharashtra State Women's Commission chairperson last week to recommend that a uniform civil code would help the cause more. "It is unfair to punish a particular practice of minority community. When we fought against triple talaq, our intention was not to create gender polarisation," said Anwari Khan, who is part of the Muslim Mahila Mandal in Govandi.
http://indianexpress.com/article/india/muslim-women-groups-want-triple-talaq-to-be-held-invalid-not-criminalised-4951869/
--------
Love Jihad: 'Love Marriages Being Taken To Court Now'
November 24, 2017
Aligarh (Uttar Pradesh) [India] November 24 (ANI): Ahead of the November 27 hearing in Kerala's 'Love Jihad' case, women activist Mariya Alam Umar on Friday said that love marriages are being taken to court after the Bharatiya Janata Party (BJP) has come to power.
"An adult man or a woman, belonging to whichever community, can marry a person of their choice, but the problem is that such cases are now taken to the court," Umar told ANI.
"Since BJP has come to power, anti-women activities have increased. Since then, love jihad has begun, anti-Dalit acts have tremendously increased, and the minority communities are being targeted," she added.
Continuing on her stand, Umar said that the apex court should see that "if we allow 18-year-olds to vote, to choose their representatives, then they do have the right to choose their life-partner."
"I hope that the Supreme Court's decision comes in the favour of women," she added.
The case pertains to the marriage between a Hindu woman and Muslim man, Shafin Jahan that set off a legal war – famously known as Kerala 'love jihad' case, after the woman, Hadiya converted to Islam.
On Thursday, the National Investigation Agency (NIA) submitted a status report in a sealed cover to the Supreme Court.
Earlier on Wednesday, the apex court admitted Hadiya's father plea, seeking in-camera proceedings of the case on November 27, when Hadiya will appear before the court.
On November 21, Hadiya's father moved a fresh application in the top court seeking direction for audio and video recording of the hearing.
As of now, Hadiya is with her parents, who have alleged that her marriage to a Muslim man is a case of 'love jihad'.
The case is under the consideration of the apex court, which had ordered the NIA to look into it.
On September 16, Jahan had filed a plea in the Supreme Court and requested to call off the NIA probe, alleging that the investigation agency "is not being fair". (ANI)
http://www.india.com/news/agencies/love-jihad-love-marriages-being-taken-to-court-now-2669875/
--------
UP civic body polls: BJP wants EC to verify identities of women in burqas
Nov 24, 2017
The Bharatiya Janata Party wants the Election Commission to deploy women cops to verify the identities of voters in a burqa during the remaining rounds of the urban civic elections in Uttar Pradesh, triggering criticism that the party was targeting Muslims.
The ruling party's representative approached the UP unit of the poll watchdog demanding special deployment of policewomen who would lift the veils if the party's members raised suspicion.
The burqa is worn by women as a tradition in Islam, and the Election Commission -- in a manual released in 2016 -- defines ways in which its staff can verify them while "having due regard to privacy, dignity and decency". The report makes no mention of police staff to be a part of the process.
The request comes two days after state police were seen in a viral video making a Muslim woman take off her burqa during a rally by chief minister Yogi Adityanath.
While the BJP has said the request was aimed at checking fake voting, opposition parties see a communal motive.
"BJP is jittery of its prospects and we have sent a letter to the chief election officer about how they are violating the code of conduct. They only think of divisive politics and issues," said Rajendra Chaudhary, national secretary of Samajwadi Party.
The Congress too targeted the BJP. "It's an unusual demand that we suspect has been made to make the party's voters happy. If the demand is accepted then it would mean that police would force women to remove their veil when the same could be easily done by women deployed by the election commission. This is sheer insult of women in general and minority women in particular," Congress leader Hilal Naqvi said.
The saffron party, however, has said that not all woman would be checked. "Such verification could be required in cases where our cadres suspect foul play and that is why women cops would be required at polling booths," the BJP delegation told the commission.
Uttar Pradesh is voting in three rounds to elect new representatives to urban local bodies. The first round has been held, and the other two are on November 26 and 29. Results will be declared on December 1.
Among districts with substantial Muslim populations where polling is due are Lucknow, Muzaffarnagar, Amroha, Rampur, Bahraich, Saharanpur, Baghpat, Bulandshahr, Moradabad, Sambhal, Bareilly, Ferozabad and Mau.
The BJP has fielded the largest number of minority candidates in these civic polls and is hoping that its decision to push for ban on instant triple-talaq would help it connect with progressive minority women.
http://www.hindustantimes.com/india-news/up-civic-body-polls-bjp-wants-ec-to-verify-identities-of-women-in-burqas/story-hb4TbjTKkURHJdHlnyE4oM.html
--------
Jammu and Kashmir: Tackling prejudice, 20 girls set for soccer meet
by Arun Sharma
November 24, 2017
Dressed in shorts and a jersey, Afshan Ashique, 21, guards one of the goalposts in the Maulana Azad Stadium in Jammu. Repeated scoring attempts by the other girls fail as she grabs the ball on time.
Months ago, a photograph in which Afshan is seen throwing stones at security personnel went viral. Now, she is among eight girls from Kashmir who have braved social prejudices to join the state's first-ever women football team and are now gearing up for Indian Women's League that begins in Kolhapur on Saturday.
The state team also has eight girls from Jammu and four from Ladakh region. It has been named the Chief Minister's XI as its formation coincides with the tenure of the state's first woman CM Mehbooba Mufti. J&K State Sports Council has roped in eight women football players from Haryana and one each from Bihar and Jharkhand to help the team. These 10 players will be travelling to Kolhapur too, coach Satpal Singh said. Sajid Yousuf, a coach for All India Football Federation, is the team's technical coach.
The road so far, however, has not been easy for the girls.
"Society talks, not parents. Par unkey barey mein thoda sochna hota hai, apney barey bein sochna hota hai,'' (One needs to think about oneself instead of the ones talking), said Tanzeela Zaffar, a Class XI student from Srinagar.
Also Read: How Afshan Ashiq went from kicking a football to picking up a stone
Afshan said her father had initially opposed her decision to play football, chiefly because it is a "contact game''. "I was the only girl in an all boys' club. Many a times, I heard them saying, 'what will you play, you are a girl'," she said. "Log to batein karengey hi. Lekin jab aap achieve karoge woh khud se aa ke bolengey ki tum logo ne bahut acha kiya. Agar hum inke baton mein aa kar chor dengey to humara nuksan hoga, inka nahin. (People will talk, but they will start admiring you once you achieve."
This team has also provided these girls with a platform to interact with co-players of their age hailing from other regions of the state. "Initially, we hesitated to talk to each other. Now we eat, sleep and play together,'' Tanzeela said.
Secretary, J&K sports Council, Wahid Rehman Parra said a shift is taking place as far as football in J&K is concerned. Earlier, while coming to the ground, the girls would try to ensure no one notices them, but now their parents openly accompany them, he said.
Afshan said, "I pelted stones after some policemen abused us and slapped one of my teammates without reason.'' Her message for Kashmir youth today? "Express all your anger and frustration in the field''.
http://indianexpress.com/article/india/jammu-and-kashmir-tackling-prejudice-20-girls-set-for-soccer-meet-4951887/
--------
5,000 Saudi women build careers in mobile phones maintenance
24 November 2017
MAKKAH: A Saudi woman trainer in mobile phones maintenance says that more than 5,000 women trainees have graduated and entered the labor market in the past three years.
Fadwa Al-Atwi has also created a team of trainers in all regions of Saudi Arabia to unite academic efforts and training platforms.
The Saudi trainer, who runs several courses in America, Jordan and Egypt, told Arab News that the courses in mobile maintenance and other technology skills began five years ago.
Al-Atwi said she had received diplomas from Jordan, Egypt and the US in hardware and software, noting that "the Saudization of the telecommunications sector has increased the involvement of Saudi women in the labor market significantly."
She said that the program began with small beginner's courses in the Faculty of Education in Tabuk, in the northwest of Saudi Arabia, and also in private institutes, as well as courses at chambers of commerce and industry in several Saudi cities. It was then expanded to all cities of Saudi Arabia.
Al-Atwi said that the demand for Saudi women in the sector is large and consistent with the challenges of the labor market in the country.
"More than 5,000 have been trained and then entered the labor market either through small and medium-sized enterprises or by doing business from their homes."
She said that the trainees were able to perform practical and theoretical tasks and to conduct academic research related to maintenance.
"Work is being done on the training of mobile maintenance female technicians in a step toward establishing these professions for Saudi women," she said. She said the trainees covered a range of ages, including 60-year-old women.
Al-Atwi has also created 18 WhatsApp groups with more than 14,000 members so they can follow up the maintenance process while working. She said that 40 percent of women trainees are working from home, 10 percent are trainers and 50 percent work through specialist shops.
http://www.arabnews.com/node/1198411/saudi-arabia
--------
German police train female Saudi border inspectors
Mohammed Al-Sulami
24 November 2017
JEDDAH: Twenty Saudi female trainee border inspectors have completed their first advanced security training session in Riyadh this week in a joint security operation with the German police.
The operation was run under an agreement between the Saudi and German interior ministries.
Border Guards' spokesman Col. Saher bin Mohammed Al-Harbi said that the session was part of a global skills training program that included personal security and protection, application of procedures and self-defense, identity verification, search and confiscation, anti-smuggling strategies, first aid, preliminary investigation and arrest and inspection.
Col. Al-Harbi said that the General Directorate of Border Guards gave high priority to the program as it represented an important step toward the development of human resources, civilian or military, by helping trainees to perform their duties effectively.
He said that the training session respected the morals of Islamic religion regarding the privacy and protection of women.
It was launched to help women deal with issues particular to the frontiers, which required a training plan, along with workshops and training sessions.
http://www.arabnews.com/node/1198401/saudi-arabia
--------
URL: https://www.newageislam.com/islam-women-feminism/muslim-women-groups-want-triple/d/113338
New Age Islam, Islam Online, Islamic Website, African Muslim News, Arab World News, South Asia News, Indian Muslim News, World Muslim News, Women in Islam, Islamic Feminism, Arab Women, Women In Arab, Islamophobia in America, Muslim Women in West, Islam Women and Feminism