New Age Islam News Bureau
15 Jul 2016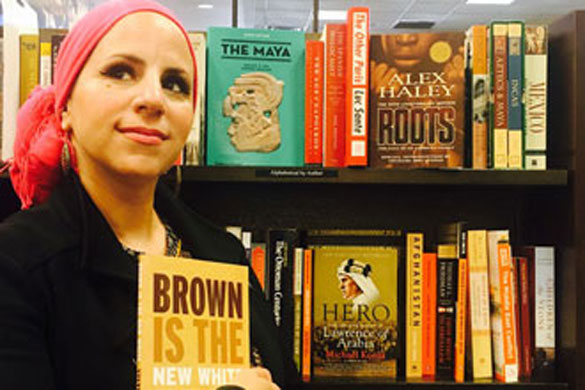 Photo: Rida Hamida is off to the DNC
-------
• OC Muslim Activist Rida Hamida Invited to Speak at Women of Color DNC Event!
• Inquiry Into Shari'a In Britain Backed by New PM, But Women's Rights Activists Unimpressed
Compiled by New Age Islam News Bureau
URL: https://newageislam.com/islam-women-feminism/muslim-women-fight-stereotypes-hijabis/d/107972
---
Muslim women fight stereotypes on 'Hijabis of New York' Facebook page
JULY 15, 2016
stories of facing oppression, racism, and cruelty at the hands of those who see them just for
The Facebook page 'Hijabis of New York' feature young hijabis, women who wear Islamic headscarves, called hijabs.
These women share messages of strength, humility, patience, and self-worth — but also the scarves they wear on their heads.
The Facebook page and corresponding Tumblr were launched in support of Wise Inc., an initiative for the self-empowerment of young Muslim women, which encourages self-defense, leadership, and entrepreneurship, working to 'nurture the talents of young women and spark a thirst for success'.
gdnonline.com/Details/100549/Photos-Muslim-women-fight-stereotypes-on-Hijabis-of-New-York-Facebook-page
--
OC Muslim Activist Rida Hamida Invited to Speak at Women of Color DNC Event!
THURSDAY, JULY 14, 2016
Rida Hamida celebrated the Muslim holiday of Eid last week with exciting and unexpected news. Steve Phillips, author of Brown is the New White: How the Demographic Revolution Created a New American Majority, invited the Palestinian-American activist to speak at a "Democracy in Color" event during the Democratic National Convention. "It didn't even cross my mind," Hamida says. "It was so humbling to be invited because I don't see myself as a national figure, just as a person trying to make a difference in Orange County"
But those efforts in making OC a better place, both politically and culturally, caught Phillips' eye before, when he included Hamida's work in his book and again when extending the invitation to the "Women of Color: Uniting the Party, Leading the Nation" luncheon launch. "We asked her to speak at our convention event so that more people can learn about her work fighting against anti-Muslim and anti-Arab bigotry as well as her efforts to foster multi-racial coalitions," Phillips tells the Weekly. "Her excellent work identifying and engaging Arab and Muslim voters led me to use her as an example in my book."
In 2014, Hamida organized communities to volunteer for seven pivotal campaigns in OC during the midterm elections that'd help turn the demographic tide. She assembled twenty people (all women save for her teenage son) after reaching out to local Islamic centers and nonprofits. Hamida asked for Political Data, Inc, (PDI) numbers on Arab and Muslim voter populations. A consultant returned with a staggeringly low number of 525. Knowing that couldn't be right, she asked to dig into the data and identified a much larger universe of voters, 62,912 to be exact, by looking at Arab and Muslim majority country identifications rather than Arab sounding last names. Hamida put the new data to good use in turning out the vote.
In Phillips' Brown is the New White bestseller published this year, the author notes how pivotal that work proved to be in Garden Grove's mayor race where Bao Nguyen squeaked pass incumbent Bruce Broadwater by just 15 votes to become the first Vietnamese person to hold that office, not only in the city, but in any major city across the U.S. "Hamida's story illustrates the invaluable difference a campaign consultant with cultural competence can make in an election," Phillips wrote in the book.
ocweekly.com/news/oc-muslim-activist-rida-hamida-invited-to-speak-at-women-of-color-dnc-event-7321642
--
Inquiry Into Shari'a In Britain Backed by New PM, But Women's Rights Activists Unimpressed
July 15, 2016
London (CNSNews.com) – A coalition of campaigners for women's rights is vowing to boycott the British government's first-ever inquiry into the use of shari'a , viewing its terms as inadequate. The inquiry was set in motion earlier this year by Prime Minister Theresa May in her previous capacity as Home Secretary.
The use by some community councils of shari'a (Islamic law) to settle disputes between British Muslims has long been controversial in the United Kingdom.
Two months ago, May said that many British citizens of different faiths follow religious codes and benefit a great deal from their guidance.
But critics charge that the shari'a-run councils victimize minority women by trapping them in abusive marriages, denying them access to civil courts through a shadowy parallel system of family law.
In a television interview this week, May said that it was her determination that there would only be one law in Britain – a point she had also made last May when launching the inquiry.
"For too long politicians in this country refuse to look at the issue of shari'a law and just allow this to continue without any question," she said. "I've been the politician who's been willing to say no. I'm concerned that shari'a law is operating in a way that could discriminate against women."
The official aim of the review, due to be completed next year, is to explore whether using shari'a may be incompatible with the law in England and Wales. It will also examine ways in which it may be misused or exploited.
But in a letter to the Home Office last week, a group of women's rights organizations, along with dozens of other activists, said they were profoundly disappointed with the terms of reference for the inquiry.
They said the full terms appear to suggest that the goal of the review is to improve the workings of the shari'a councils or "courts," rather than to fully examine the damage that they have done.
The panel includes a number of lawyer and academics but is also advised by two prominent British imams.
Its chairwoman is Professor Mona Siddiqui, an internationally-known expert in Islamic and Interreligious Studies at the University of Edinburgh.
Because of its composition, the letter signatories wrote that the panel was better suited to a discussion of theology than as one that serves the needs of women.
"It's going to end up talking about whether one theological viewpoint is better than the other," Pragna Patel, one of the signatories, said on Thursday.
Patel, the director of Southall Black Sisters, a London-based organization campaigning about violence against women, said evidence has shown that religious tribunals – no matter what faith they represent – are usually discriminatory against women.
She said vulnerable women are not going to want to give evidence in front of imams and that she and other signatories would have preferred a panel led by a judge, as past inquiries in Britain have been.
A second review of shari'a councils was announced by parliament's Home Affairs Committee last month, and Patel said that her group would be giving evidence to that one.
Maryam Namazie, a spokeswoman for One Law For All, a group that campaigns against the use of Islamic law in Britain, said the British government tended to see all Muslims through the prism of religion.
She said that both the current Conservative government and past Labour ones mistakenly thought that religious leaders automatically had "their ears open" to the voices of the community.
"The reality is that imams' ears are never open to the issue of women's rights," she said.
In a BBC radio interview this month, Siddiqui said she was not involved with shari'a councils and had never worked with them.
She said that the inquiry would not conducted from their perspective but would be aimed at "getting to the very basics of what these councils are doing."
Siddiqui added that it may be possible she will conclude that these councils should not exist at all.
Still, she argued that all Muslim women should not be lumped together as victims of their own community.
"I think it's also arrogant to assume that Muslim women don't have moral agency at all and that when they go to a shari'a council, they are immediately victims," she said.
Since Theresa May was first appointed as Home Secretary in May 2010, she has often had to deal with controversy over her efforts to fight extremist-inspired terrorism.
In 2013, the Home Office succeeded in deporting radical cleric Abu Qatada from Britain to Jordan after more than a decade's worth of fighting in the courts. But although the British government had alleged that he had ties to terrorist organizations, a Jordanian court found him not guilty of all charges.
Making headlines more recently, the Investigatory Powers Bill is currently being considered by Parliament. If made law, the measure would allow police and the security services further powers to track people's use of the Internet, as well bulk collection of computer data and more leeway for warrantless searches.
cnsnews.com/news/article/kevin-mccandless/inquiry-sharia-britain-backed-new-pm-womens-rights-activists
URL: https://newageislam.com/islam-women-feminism/muslim-women-fight-stereotypes-hijabis/d/107972
New Age Islam, Islam Online, Islamic Website, African Muslim News, Arab World News, South Asia News, Indian Muslim News, World Muslim News, Womens in Islam, Islamic Feminism, Arab Women, Womens In Arab, Islamphobia in America, Muslim Women in West, Islam Women and Feminism