New Age Islam News Bureau
6 Nov 2018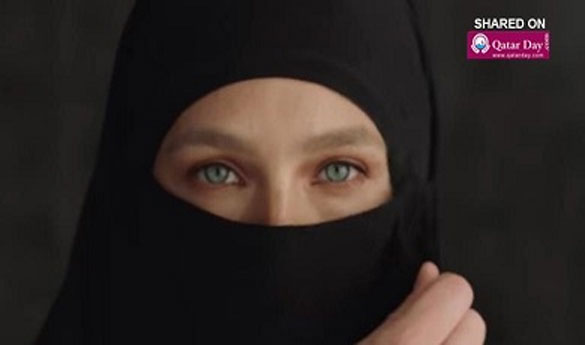 Photo: The Hoodies ad portrays supermodel Refaeli dancing joyously when she takes off her hijab [YouTube]
--------
• Iran to Execute Two Kurdish Women on Adultery Charges
• Finding Strength in 'Personal Choice' To Wear Hijab
• Election Day for First Muslim Women in US Congress
• Iranian Women Defy 'Terrorist' Label, Continue Their Opposition To Regime
Warriors for Women's Dignity
• Baroness Warsi Slams Bodyguard for Stereotypical Portrayal of Muslim Women
• What it's like to run for Office as a Muslim Woman in the South
• Pearl Initiative, NAMA to Study GCC Women Inclusion in Workplace
Compiled by New Age Islam News Bureau
URL: https://www.newageislam.com/islam-women-feminism/muslim-women-don-t-need/d/116808
--------
Muslim Women Don't Need Israeli Supermodels to Bring Them 'Freedom'
Nov 6, 2018
This week, Israeli mould mark Hoodies discharged a progression of adverts portraying ladies evacuating hijabs and Niqabs for the sake of opportunity.
The battle includes a video that opens by asking "Is Iran here?" What pursues is Bar Refaeli - supermodel and purportedly a co-proprietor of the organization - showing up, seriously in a hijab and Niqab. With a brisk pull she is freed of the dress, to uncover an upbeat, moving, light-hearted - or rather, a western - lady underneath.
Right, since every Muslim lady are sitting tight for is a garments brand to free us of those bothersome hijabs. Be that as it may, this name appears to need essential thinking abilities and marking mastery, as they're censuring head covers while their organization name and leader thing - hoodies - actually accompanies an implicit hijab.
In the wake of being freed of the hijab and Niqab, (very effortlessly - any individual who has ever really worn a Niqab or hijab could disclose to you that no one would go out on a pre-winter day with such a climate dishonourable cloak) and in the wake of turning reasonably cheerful, as any poor abused Muslim would without a doubt be, the advert tells its watchers, "Opportunity is fundamental."
Opportunity is fundamental, and it's about a man's entitlement to pick, to self-rule and to hone those rights without demonisation.
The incredible incongruity is that this battle was implied to "get out prejudice and dogmatism," as indicated by The Jerusalem Post, with plans to co-select Hassidic, Ethiopian and transgender Israelis into future commercials. The nearest this Israeli brand could get to stomaching a Muslim for their assorted variety box-checking exercise was a white lady playing spruce up in a Niqab.
The advert is a long ways from supporting Iranian ladies' entitlement to pick, as liberal examinations guarantee it was expected. Rather it propagates the false division that ladies in the hijab or Niqab can't be upbeat, can't move, can't be elegant until the point that we are unshackled from our headcoverings.
Bar Refaeli was wearing her Hoodie furnish the entire time, however - and this is the point, presumably - she just appreciated it once she expelled the Niqab.
Ladies in the hijab can wear sweatshirts and pants without their scarves being whipped off. Or then again have I missed the notice that says we need to promise deep rooted devotion to either dark hijabs or the jumper?
The video advert was expelled from Instagram after its undeniable Islamophobic nature was gotten out, however it's still live on YouTube and the bulletins crosswise over Israel with the picture of a Niqabi, stay, as does Hoodies' Instagram photograph crusade.
In the course of recent weeks, their page has highlighted the picture of a lady in pants, topless yet for three of pants tied around her head and chest, in the style of a hijab. Behind her an unknown man pulls at the garments, verification that this battle does not advance opportunity, but instead evacuating the garments of Muslim ladies, without our assent. Obviously, it was never about opportunity.
Clearly in publicizing today, the hijab ensures consideration, regardless of whether the battle criticizes or advances its wearers.
At regular intervals another brand discharges an attire, cosmetics or haircare advert that highlights a hijabi – however for the most part they enroll a genuine hijab-wearer, as opposed to a personification of a guess.
Hoodies knew precisely what they were doing when they set out to criticize the hijab and Niqab. They realized that the hijab and Islamophobia would convert into snaps. What's more, they didn't give an idea to the peril of this unavoidable single account.
In the United States, loathe violations against Muslims are at present higher than they were post-9/11, and a year ago the UK encountered a record number of hostile to Muslim assaults. For an Israeli organization to go about as the ethical compass for Muslims is belittling and massively amusing.
Yet, more than that, it hazardously flammable and it is impossible that is simple incident.
When Arabs are criticized in political crusades in a comparable vein to Hoodies' commercial, and when the dehumanization of Palestinians is ordinary, it is both careless and silly to discharge a battle that echoes these terrible tropes.
Read more: Rihanna's Moroccan Spice eye shadow: Shades of shoddy Arab tokenism
Hoodies' advert is set to a tune that expresses, "It's about opportunity, at long last breaking the chains, costing my opportunity."
Be that as it may, the crusade does the opposite it claims, it doesn't free Muslim ladies, it returns them inside the four dividers of a worn out and one-track story of defenceless, extraordinary creatures who require sparing by white untouchables.
https://www.qatarday.com/news/international/muslim-women-dont-need-israeli-supermodels-to-bring-them-freedom/64904
--------
Iran To Execute Two Kurdish Women On Adultery Charges
Nov 6, 2018
An Iranian court recently sentenced to death two Kurdish women on adultery charges, a Kurdish rights group reported on Monday.
"A Kurdish woman for Mako by the name of Gulistan Jnikanlou was sentenced to death by the Khoy Criminal Court of West Azerbaijan Province, accused of committing zina," reported Hengaw, a group which writes on human rights violations involving Kurds in Iran.
"Zina" is an Arabic term, meaning acts of sexual intercourse prohibited by Islamic law. The court announced its decision on Sunday.
Jnikanlou, a mother of two children, was arrested on allegations of committing adultery in 2017. She was released on bail shortly thereafter.
In the same year, local authorities also arrested a man with whom they claimed Jnikanlou had intercourse. The man's fate is yet unknown.
The punishments Iran hands out according to what the government considers to be criminal acts have long been criticized by the international community as well as rights groups.
The Khoy Criminal Court also sentenced to death another woman, 37-year-old Zahra Derakhshani. She has been in prison for the past two years awaiting trial.
Both women were arrested on accusations their husbands made.
For both men and women, Iran's penal code considers adultery to be a "crime against God," punishable by 100 lashes for unmarried individuals, according to a UNHCR investigation into the country's laws.
Married offenders are sentenced to death by stoning. Cases of adultery must be proven either by a repeated confession by the defendant or by the testimony of witnesses – four men or three men and two women.
However, in Hodud (morality) crimes such as adultery, the Islamic Republic's penal code gives judges the authority to use their own "knowledge" to arrive at a verdict in cases lacking substantive evidence.
The Penal Code also permits a husband to kill his wife and her lover, if he caught them in the act.
http://www.kurdistan24.net/en/news/411fc796-ab1a-4a48-8366-df886059ab04
--------
Finding Strength in 'Personal Choice' To Wear Hijab
06 November 2018
Hafeezat Bishi started wearing her hijab almost two years ago as an act of resistance to anti-Muslim rhetoric she heard during President Donald Trump's 2016 campaign.
"The day after the inauguration, I saw how powerful women looked in the hijab," said Bishi, a freshman communication and social influence major. "I was like, 'I'm ready to do this.'"
Now, Bishi said her choice to wear the hijab is more than a response to Islamophobia. It is a public display of identity.
"Because I'm Black, people didn't really recognize I was Muslim," Bishi said.
Her hijab visibly connects her to the Muslim community and allows her to express, "I exist in this space," she added.
In a 2017 study by the Pew Research Center, 68 percent of United States Muslims surveyed said the president makes them worried about their place in society and 75 percent said Muslims are discriminated against in the U.S.
One definition for the "hijab" is "barrier" or "partition." It is an Islamic principle that encapsulates behavioral and physical modesty, most often associated with a head covering worn by some Muslim women, according to the BBC. For Muslim women at Temple, wearing the hijab is a choice.
"It is a personal choice for me," said Albatoul Bossalhah, a freshman dentistry major who has worn the hijab since she was in sixth grade. "It's not a choice for you. I won't hurt you for wearing it, and I am not a weird person just because I am wearing the hijab. I'm just like you, it's just my choice and I'm just an ordinary person."
Bossalhah is from Kuwait, where she said almost all women wear the hijab, though they are not required to by law. Bossalhah moved to the United States at the beginning of this semester as an international student.
"[Kuwaiti people] accept the idea of not all women wearing the hijab because it's just a personal choice," Bossalhah said. "If you don't wear it, it doesn't mean you are a bad person. If you act good and show good values, then you are a good person. Not wearing a hijab doesn't mean you're a bad person."
In Iran, women are required to wear head coverings in public. An online social movement called "My Stealthy Freedom," in which Muslim women share pictures of themselves uncovered by a hijab, began in 2014 to protest these laws in Iran.
Bishi said that these forms of oppression from specific cultures can be misinterpreted as oppression from Islam.
"There are some cultures that do oppress women, and they might have a Muslim-majority setting," Bishi said. "People think it is a part of Islam, but it's not."
"When people think of veiling in the U.S., it's a different kind of circumstances than making the decision in a Muslim country," said Tiffenia Archie, the assistant vice president of the Office of Institutional Diversity, Equity, Advocacy and Leadership. "There are things like Islamophobia, concerns around jobs [and] harassment, but women who make the decision in the U.S. aren't thinking about being arrested."
Archie, who wrote her dissertation on women who wear the hijab, said, "a lot of women felt it wasn't a religious obligation [to wear the hijab] but something they felt Muslim women should do."
"They still felt like it was their decision," she added. "A decision between them and God and nobody else."
Bossalhah said that although fewer women wear hijabs in North Philadelphia than in Kuwait, she feels comfortable at Temple.
"I don't face anybody here looking at me for it," Bossalhah said. "They are friendly and they accept me. I haven't heard misconceptions here, but I have only been here for a short time."
https://temple-news.com/finding-strenth-in-personal-choice-to-wear-hijab/
--------
Election Day for First Muslim Women in US Congress
November 07, 2018
DUBAI: The likely election of two Muslim women in Tuesday's Congressional elections will be a new milestone for the US.
Palestinian-American Rashida Tlaib is a Democratic candidate who is running unopposed in her Detroit-area riding, while Somali-American Ilhan Omar is a former refugee who won the Democratic primary in her left-leaning Minnesota district.
Previously, the only Muslim member of the US Congress has been Keith Ellison, who has served since 2007.
However, political analysts say the two women will have different priorities.
"The Israeli-Palestinian conflict will be of importance to one and the Somali issue to the other, but they clearly won't be spokeswomen for governments in the region," said Mark Katz, professor of government and politics at the Schar School of Policy and Government at George Mason University.
But for Muslims in the US, it will be an important step. "Muslims are part of society — many people in the US don't think that — but the fact that they're going to be there and be part of the system is important, and it makes a huge difference in how various issues are portrayed."
Katz said that when African-Americans first entered Congress, they were able to speak about the suffering their communities had experienced in ways other people tended not to think about. "So it makes a huge difference for the conversation to even have as a very small number," he said.
"Having women, in particular, is important. It will be hard to ignore them when they talk about some of these issues"
Given the US role in the world, many say it is crucial that Congress becomes more diverse, better reflecting the diversity of the US population.
"Arabs and Muslims are both misrepresented and under-represented in US politics," said Safwan Amin, an Iraqi lawyer who recently relocated to Dubai from the US, where he was a fellow at Harvard University.
"It's about time this was corrected. It also helps change some of the misconception about Arab and Muslim women specifically."
Amin suggested that if the outcome inspires and encourages Arab and Muslim Americans to become more active in public life, that could eventually have an impact on the region in the long run.
http://www.arabnews.com/node/1399916/middle-east
--------
Iranian Women Defy 'Terrorist' Label, Continue Their Opposition To Regime
Nov 6, 2018
As the full slate of Trump administration-imposed sanctions on Iran snapped back into effect on Monday, a number of Iranian women continue their opposition to the regime as the only way to bring about change - even if it means being labeled a terrorist.
"The regime is thirsty for our blood. We are faced with the danger of being killed or arrested or tortured all the time," Maryam, a 40-year-old dissident from the city of Abadan, in Khuzestan Province, told Fox News. "But we have a commitment to freedom, so we have to sacrifice everything and forego many things such as a job and travel."
Maryam said she was purged from her position as a school teacher during Hassan Rouhani's first term in 2014 and is now a full-time housewife and opposition activist. She distributes leaflets, works the crowd at demonstrations, and shoots videos of "the martyrs" at gravesites "for the purpose of documenting them" for their families - and posterity.
She has also been arrested and recalled the nightmare of her detainment.
"There were no separate male and female toilets. The walls were covered with blood. I was blindfolded during my interrogations, and even in my room, if the door or window was opened I had to be blindfolded," Maryam said. "During my interrogation, the interrogator was very close to me and kept swearing at me. When his yelling did not give him a result, as I was ignoring him, he hit me. A few blows to the head and I was unconscious."
Saba, a 38-year-old housewife in Tehran, described her activist work as "the struggle to oppose the darkness." For the past two-and-a-half years, she professes to have been focused on "writing slogans on walls, hanging opposition posters on walls and bridges, attending demonstrations and offering aid during natural disasters," such as the recent earthquake in Kermanshah.
"I have had many scary and daunting moments, moments when I could feel my heart throbbing in my throat," Saba said. "One morning at about 6 a.m., I went to a park to put up about a dozen posters. And as soon as I did, I realized someone had been watching me from a distance and was approaching."
Gripped with anxiety, Saba recalled that she slowly started to walk away, faster and faster, until she was running as a man loomed behind her. She slipped into an alley, and behind a parked car where she waited for other women, also draped in chadors, to enter the area, she mingled among them. It wasn't her first near-arrest, nor would it be her last.
Sepideh, a self-described artist and poet from Alborz province, vowed she, too, is part of the "resistance units," and "constantly takes part in protests and uprisings against the repression of this criminal regime."
"It is for freedom, equality, and justice – things that I have never experienced in 37 years of my life. I am a poet and yet am not allowed to publish my poems in Iran," Sepideh lamented. "The Iranian women have faced the most severe injustices and pains. The pain and suffering of my people, my nation, are my pains. One day I said to myself that I have to take a stand and put everything, including my life, on the line to overthrow this despicable regime."
Sepideh said she constantly "takes part in protests and uprisings against the repression," and takes on tasks such as putting up banners, distributing opposition leaflets.
"On several occasions, I have gone to the brink of being arrested. One of the regime's mercenaries kicked me to the ground and took away my mobile phone," she recounted, referring to Labor Day protests in May. "With the intervention of others on the scene, I was able to run away."
Photographs of the women could not be published for safety reasons, with each fearing apprehension by authorities. They are all considered by the regime to be connected to a terrorist movement: The controversial Mujahedin-e Khalq (MEK) – also referred to as the National Council of Resistance of Iran (NCRI).
The Paris-based opposition group, which was once a U.S.-designated terror group, and is still top of Tehran's terror list, provokes deep divisions among Iranians.
The Iranian leadership has long classified MEK as a terrorist organization, not only for its present opposition but for siding with Saddam Hussein during the devastating Iran-Iraq war of the 1980s. The Iranian government also blames the MEK for the deaths of more than 12,000 Iranians over the past three decades.
"Most of the country who don't like the clerical order want to see more democracy rather than another political elite dominating the country," surmised Kamran Bokhari, a specialist on the geopolitics of the Middle East with the University of Ottawa's Professional Development Institute, noting that he has "found no evidence" of widespread support for the controversial political opposition from within Iran.
The MEK was designated a foreign terrorist organization by the U.S. State Department in 1997 but was removed from the list in 2012. Eight years earlier, then-U.S. Secretary of Defense Donald Rumsfeld designated the group as civilian "protected persons" under the Geneva Convention. Today it heralds support from the likes of Trump attorney Rudy Giuliani, National Security Adviser John Bolton and James Jones, National Security Adviser to former President Barack Obama.
"This is the first time I see hope that there can be real change in Iran," Giuliani has said of his affinity for the organization.
Nonetheless, a spate of protests has taken place across Iran for most of the year, attended by those with and without any broader political affiliation. And as they have in the past, women have been crucial players in many of those demonstrations.
As a result, Iran's Ministry of Intelligence and the Revolutionary Guards have arrested and summoned droves of women perceived to be dissidents over the years – including lawyers, teachers, sociologists, students, and stay-at-home mothers. As the numbers of arrests grew, so too did concerns over the conditions in which they are being held. Stories of torture, rape, physical abuse, sleep deprivation, and solitary confinement have long trickled out of Iran's penal establishments.
According to the most recent statistics provided by World Prison Brief, more than 230,000 people are behind bars in Iran. And 3.1 percent, or around 7,130, are female. At least 9000 are estimated to have been arrested over the year, with some 1000 during the month of August alone.
"There are so many women activists in the prisons," Sepideh stressed. "I know what I am doing. I know all the dangers, but will continue this fight."
Tehran government officials have routinely dismissed protests as insignificantly small, and say that the opposition groups behind them are being orchestrated from the outside, by the United States and Saudi Arabia - Iran's greatest rival in the region.
As for how the renewed sanctions will impact Iranians and their support of opposition groups, experts say it's too soon to say.
"Sanctions are bound to exacerbate Iran's economic situation and stoke discontent," cautioned Ali Vaez, Director of the Iran Project at the International Crisis Group. "There might be protests in the coming months. But the country does not seem to be in a pre-revolutionary phase, as there is no viable alternative to the existing regime, which for its part retains the will and a fearsome capability to repress. The Iranian opposition in exile remains in disarray."
In preparing Iranians for the renewed sanctions, Rouhani last week said the country faces challenging times ahead, but insisted the government will do its best to allay the hardships and "injustice" from the U.S. Mass demonstrations took place in Tehran and other major cities over the weekend, in which the US flag was burned as hundred expressed their grievances as the sanctions came into effect.
Yet those who support the Trump administration's hardline approach insist only the regime – not the people – will be brought to the brink. U.S officials have vowed that the goal is to dramatically curtail Iran's oil exports and drive the Tehran leadership to its knees.
"We will place tough sanctions on #Iran's ruling regime. Our aim is to compel Iran to abandon its destructive activities," tweeted U.S Secretary of State Mike Pompeo. "The sanctions will target the regime—not the people, who have suffered the pain of their government's mismanagement, theft, and brutality."
And at least a portion of Iranian women – quietly and not-so-quietly – are on board with that.
"Despite all the pressures and difficulties, we will not tire. Neither arrest or torture or interrogators yelling and the fear of being hanged will prevent us from continuing our struggle," Maryam added. "We will continue until we get out freedom."
https://www.foxnews.com/world/life-on-the-run-as-a-female-terrorist-in-iran-opposing-the-religious-regime
--------
Warriors for Women's Dignity
November 6, 2018
Six years ago, at the age of 26, Laila Talo Khuder Alali was sold as a sex slave eight times to men of different nationalities by militants of Islamic State in Iraq and Syria (ISIS).
Standing in a hotel auditorium in India's commercial hub of Mumbai to receive an award in the name of St. Mother Teresa, she told of how her husband and a child were still missing.
Several of her family members had been killed, but eight were rescued.
Those missing are among more than 3,000 people known as 'Yazidis' still in ISIS captivity, Alali said when receiving the Mother Teresa Memorial Award for Social Justice Oct. 21.
The militants of ISIS are accused of perpetrating genocide against the Yazidi, a religious minority group in northern Iraq.
Yazidism combines elements of Islam, Christianity, Judaism and Zoroastrianism.
ISIS, also known simply as Islamic State, seeks to wipe out their faith.
"We faced torture, sexual slavery and unimaginable acts," the 30-year-old woman recounted at the award ceremony in Mumbai.
"I was sold eight times to different men with girls as young as 10."
Alali told ucanews.com that receiving the award had strengthened her resolve to fight for women to be able to lead a life of dignity.
Alali was among 17 people selected by the Harmony Foundation, a volunteer group based in Mumbai, for this year's Mother Teresa award.
The award recognizes the efforts of people who fight against the exploitation of women and strive for their empowerment, Foundation director Abraham Mathai told ucanews.com.
He said Alali, despite the hardships of her 2014 to 2017 captivity, had gone on to inspire other women to struggle for freedom.
"It is shocking that even in the 21st century, we are still discussing women and children being protected against abuse," Mathai said.
"This just shows that we still have a long way to go."
AlIdris Bashar Silo Taha, a 40-year-old Yazidi, was honoured for rescuing nearly 300 Yazidi women from captivity, including Alali.
"I was injured when ISIS tried to execute Yazidis in 2014," Taha said, as he sought international financial help to free those still in captivity.
"Twenty-eight members of my family were abducted and nine of them are still missing."
The theme of this year's award was 'Celebrate Her, Protect Her, Empower He'.
Awardees included Salman Sufi, an American citizen of Pakistan origin who provided legal, medical and counselling services to women victims of abuse in Pakistan.
Another one of those honoured was Catholic Sister Lucy Kurien, founder-director of the 22-year-old inter-faith organization in India called Maher, which translates as 'Mother's Home'.
She takes care of some 1,500 destitute and abandoned women in 44 homes spread across three states.
Activist Laxmi Agarwal, the poster girl for acid attack survivors in India, was also recognized.
Agarwal described the award as a recognition that victims of gross mistreatment could still with dignity pick up the pieces of their shattered lives.
The 29-year-old Agarwal was disfigured when a stalker threw acid at her in 2005 in the Indian capital, New Delhi.
Multiple corrective surgical operations later, she went on to become a crusader against crimes committed against women.
The Harmony Foundation was launched in 2005 to tackle discrimination based on religion, caste, creed, gender, region or nationality.
https://www.ucanews.com/news/warriors-for-womens-dignity/83785
--------
Baroness Warsi Slams Bodyguard For Stereotypical Portrayal Of Muslim Women
6th November 2018
The former Minister without Portfolio under David Cameron was speaking about central character, Nadia, who was a suicide bomber in the BBC1 thriller, which also starred Richard Madden and Keeley Hawes.
Baroness Warsi, 47, told the Radio Times: "Everybody said: 'Oh, it was such an amazing series'. I thought, 'Well, it was, except for the Muslim woman, who's painted in exactly the same stereotypical way that we always paint Muslim women.
"Either she's downtrodden and needs to be saved, or she's a terrorist and we need to be saved from her. In Bodyguard, we think she's one and she turns out to be the other."
She was speaking as she was preparing her Radio 4 programme How to Be a (Muslim) Woman.
Baroness Warsi added: "'I'm a Muslim and female and I just feel that the narrative around my skin is so one-dimensional.'"
https://www.thesun.co.uk/news/7668035/baroness-warsi-slams-bodyguard-for-stereotypical-portrayal-of-muslim-women/
--------
What It's Like To Run For Office As A Muslim Woman In The South
Aisha Yaqoob
11/05/2018
Most candidates running for elected office spend their time talking to voters about the issues.
But I'm a 25-year-old hijab-wearing woman running to represent my district in the Georgia State House, and I don't have that luxury. Before I can discuss my ideas about improving education, the economy, transportation, health care and equality, I have to spend a lot of time persuading voters that I am a local candidate — a Southerner with strong ties to the community, just like them.
Making the argument that I am deeply invested in my community because I grew up here and that I share many of the same concerns and values as my neighbors can be a hard sell. Republicans across the country have tried to separate us based on our differences, as if people who look like me — the daughter of Pakistani immigrants, a Muslim and a person of color — are the "other."
This summer, my younger sister, who does not wear a headscarf so she doesn't immediately come across as Muslim, was having a great conversation with a voter she met while canvassing on my behalf. That is, until she handed the voter my campaign card, which features a photograph of me. Suddenly the voter said, "I am not interested" — and slammed her front door.
While that kind of blatant prejudice is rare, my campaign did feel compelled to create a video emphasizing that I am the girl who ran the bases playing softball at George Pierce Park, graduated from North Gwinnett High School, volunteered at the Suwanee Fest, watched the parade each year in Duluth and earned the HOPE scholarship to the University of Georgia.
Portraying candidates of color as "different" or "alien" is nothing new. Donald Trump famously — and falsely — suggested that President Barack Obama was not an American citizen, demanding to see his birth certificate. And now, with more women, minorities and first-time candidates running for public office than ever before, white male establishment politicians are running scared. In one recent high-profile ad, indicted Rep. Duncan Hunter Jr. (R-Calif.) attacked his rival Ammar Campa-Najjar, implying that he is a terrorist "working to infiltrate Congress" and is "being funded by the Muslim Brotherhood."
There have been other obstacles for me. As a first-time candidate, I was a bit naïve about what it meant to run for office. I imagined all the fun stuff — marching in parades, giving speeches, talking to voters and going to events. But I also had to quickly learn the nuts and bolts of how to run a campaign: opening a bank account, filing campaign finance forms, building a staff and raising money.
A bigger difficulty was running for a newly open seat as a progressive Democrat in a deep red state — a seat that has been held by a Republican white man since I've been alive. No Democrat has so much as challenged the Republican incumbent here in at least 14 years, but now the incumbent is retiring.
During the primary, when I would knock on voters' doors, people were surprised to see a Democrat. They would say, "Good luck!" as if I were on some totally quixotic mission. It's been hard to get across the idea that just because it's been a Republican state and a Republican district for the past 25 years doesn't mean it has to stay that way.
Recently, we hit another potential stumbling block. Gwinnett County officials decided to reject large numbers of mail-in ballots from people of color—an issue that resulted in two federal lawsuits. Just last week, thankfully, a federal judge ordered election officials to stop summarily tossing absentee ballots because of mismatched signatures. Still, the threat of voter suppression remains; the state reportedly plans to appeal the judge's ruling.
Georgia is just one of many places around the country where Republican officials are trying to disenfranchise voters of color. They have enacted "exact match" laws, which can disqualify voters for minor clerical errors, and "use it or lose it" laws, which strike voters from registration rolls for not voting in prior elections. They have also closed or shifted polling places and used handwriting analysis to throw out absentee ballots — all tactics that have been shown to disproportionately impact voters of color.
Of course, moves to muzzle the voices and votes of minority voters are also meant to discourage candidates like me from running in the first place­. They know it will make the race more daunting.
You might think that all of these hurdles would make me the poster child for what a candidate running for a state legislature in the Deep South should not be. But you'd be wrong.
Sure, in any other election cycle, race, religion, ethnicity or age might be a barrier to seeking office, especially in the South. But in midterm elections, where there is a visceral backlash to President Trump's racism and misogyny, we are seeing a sea change in the types of people who are running up and down the ballot.
In my own state, there are a record number of women vying for public office, including my GOP opponent. Among them: Zahra Karinshak, an Iranian-American military veteran who is a candidate for state Senate, Lucy McBath, an African-American gun-reform activist running for Congress, and Stacey Abrams, who is poised to make history as the first African-American governor in the country.
Just seeing who else was running this year made me feel more confident about jumping into my race — and telling my story.
I've long been a passionate advocate for the people of this district, especially those who have been historically underrepresented. In graduate school, I founded an organization to engage Muslim Americans in the political process because I saw that people in my community were not voting, and so they didn't have a voice. As the policy director for a nonprofit legal and advocacy center, I've fought for the civil rights of immigrants and people of color by working with legislators on both sides of the aisle.
Given my history of advocacy, it was a natural next step for me to want to represent my district in the state House. In fact, people never asked me if I was going to run for office; they just asked me when I was going to run.
The answer, as turns out, is now. Now is the perfect time to make the case for why someone like me is well suited to represent all voters and why, after a quarter of a century, it might just be time for a change. Even if my hijab necessitates a little extra explaining at the outset.
https://www.huffingtonpost.com/entry/opinion-run-office-midterms-south-georgia-muslim-woman_us_5bce28fde4b0a8f17eef6909
--------
Pearl Initiative, NAMA to Study GCC Women Inclusion In Workplace
2018-11-05
The Pearl Initiative and NAMA Women Advancement Establishment (NAMA) have entered a memorandum of understanding (MoU) to collaborate on a joint research project of strategic importance to the economy of the Gulf Region.
The research aims to identify the level of engagement of women in the private sector in the Gulf Region, with the overarching objective of identifying key challenges and opportunities available to women in this regard.
The research follows on from the success of an initial study conducted by the Pearl Initiative and NAMA in 2017 on the engagement of women in the UAE within the Energy & Environment, Finance & Investment, Healthcare & Wellness and ICT & STEM sectors. The findings were published in a full report, Key Findings on Women in the Economy: UAE Outlook. Findings of the research were shared at the Women Economic Empowerment Global Summit (WEEGS) in December 2017, a summit organised by NAMA Women and UN Women and held every two years.
It is intended that the next phase of this research will expand geographically to encompass the wider Gulf Region as well as to include all sectors.
Signed by Reem BinKaram, on behalf NAMA and Badr Jafar on behalf of the Pearl Initiative, the MoU inks the commitment of both organizations to raise awareness around the role of women in the private sector, while promoting the pivotal role they play within the context of good corporate governance.
Reem BinKaram, Director of NAMA Women Advancement Establishment, said: "Along with our longstanding partner, the Pearl Initiative, NAMA has identified that there is a lack of data in the Gulf Region, which can support the shaping of gender-inclusive policies and strategies to be applied to economic sectors across the board. NAMA is committed to supporting women in business and enabling them to become key influencers and equal participants in society and the economy."
She added: "We believe this expansive Gulf-wide research covering all economic sectors will add value to regional efforts that aim to foster a culture of evidence-based strategies and programmes that provide women with more opportunities and further their achievements at the workplace. The new study is in line with our mission and vision to also support one of the key goals of the 17 United Nation's Sustainable Development Goals (SDGs), which is gender equality."
Pointing to some of the conclusions of the 2017 report, Badr Jafar, Founder of the Pearl Initiative, commented that this study will be crucial towards understanding the impact of diversity and inclusivity in the Gulf Region's private sector, and generating an evidence-based, consolidated outlook for the region.
He noted: "Our continued valued partnership with NAMA reflects the Pearl Initiative's enduring efforts to expand the reach of our programmes and heighten awareness around corporate governance best practices in collaboration with local and regional leading institutions."
Jafar said the findings of the UAE survey offered the Pearl Initiative a major opportunity to expand their study across the Gulf Region, which seeks to generate important and transformational data for the Region.
— SG
The survey is planned to be rolled out at the end of 2018 and will involve a dataset comprising a minimum of 100 companies across the Gulf Region's private sector.
Founded in 2010, the Pearl Initiative develops programs and publishes regional research reports and case studies, with aims to influence the regional business and student communities towards implementing higher standards of corporate governance within the Gulf Region. — SG
http://saudigazette.com.sa/article/547269/BUSINESS/Pearl-Initiative-NAMA-to-study-GCC-womeninclusion-in-workplace
--------
URL: https://www.newageislam.com/islam-women-feminism/muslim-women-don-t-need/d/116808
New Age Islam, Islam Online, Islamic Website, African Muslim News, Arab World News, South Asia News, Indian Muslim News, World Muslim News, Women in Islam, Islamic Feminism, Arab Women, Women In Arab, Islamophobia in America, Muslim Women in West, Islam Women and Feminism