New Age Islam News Bureau
31 Oct 2015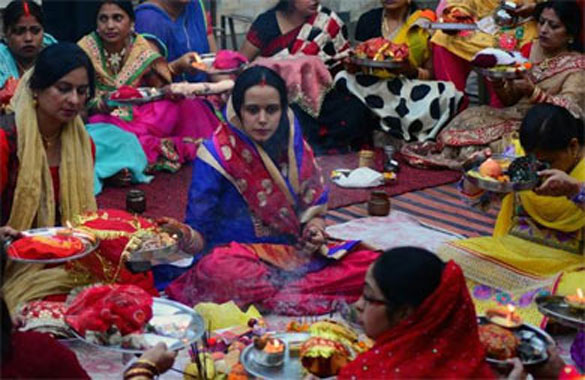 Married Hindu women perform rituals during the Karwa Chauth festival at Ram temple in Allahabad, India on October 11, 2014 ©Sanjay Kanojia (AFP/File)
-----------
• Muslim Women Deck up Hindu Women on Karwa Chauth in Bhopal
• Khan Family from Alwar Claims That Geeta Is Their Daughter Hanseera
• The Second Disappearance of Chibok Girls
• AIIMS Doctors Submit Geeta's DNA Report to MEA
• Pakistani Mother Begs To Be Reunited With Son Stuck In India
• Maltese Muslims Slam Niqab Ban Proposal
• Malawi Islamic Charity Empower Rural Women
• Muslim Woman Files Complaint against Costco
Compiled By New Age Islam News Bureau
URL: https://newageislam.com/islam-women-feminism/muslim-women-deck-up-hindu/d/105117
------
Muslim Women Deck up Hindu Women on Karwa Chauth in Bhopal
Aditi Gyanesh
Oct 31, 2015
BHOPAL: Lined up in Burqas at the No. 10 market in Arera Colony on the day of Karwa Chauth, Muslim henna artists took up the task of decorating the palms of fasting Hindu women and helped them complete the '16 shringars' for their husbands.
Zubina Sheikh, one of the henna artists, said, "I love this festival of Karwa Chauth. This is such an emotional moment for women who love her husbands and fast for them. I can't do it because my religion doesn't permit it, but it gives me immense satisfaction when I see these women blush on the day of Karwa Chauth."
"Most of them come along with their husbands who sit with them and tell them how good the mehndi looks," added Zubina with a big smile. Zubina has been in this business of applying henna since the past seven years.
Not only at the No. 10 market but elsewhere, including the new market and the Shivoy Complex market also have such groups of Muslim women who love to deck up Hindu women on such occasions. "Their contribution in our '16 shringars' shows that we are incomplete without them. They're the best henna artists," said Arpita Sharma, a visitor from E-7, Arera Colony.
On the day of Karwa Chauth, when many Hindu women working in beauty salons or as henna artists went on leave, these burqa-clad women stayed on to rise to the occasion. Charupreet Kaur, a resident of Arera Colony who landed up at market No. 10 after looking around in vain for good henna artists, said, "I have been searching the markets since 11am. I'm so glad I found Abida at market no. 10. If I hadn't found her, I'd have had to do without henna this Karwa Chauth." Another customer, Mahima Parulkar, who found her artist at the new market, said, "We spoke a lot while Hasina was drawing designs on my palm. She was keenly interested in the details of how Karwa Chauth is celebrated."
http://timesofindia.indiatimes.com/city/bhopal/Muslim-women-deck-up-Hindu-women-on-Karwa-chauth-in-Bhopal/articleshow/49605552.cms
----------
Khan Family from Alwar Claims That Geeta Is Their Daughter Hanseera
Rajendra Sharma & Ashish Mehta
Oct 30, 2015
ALWAR/JAIPUR: As Geeta was unable to identify the Mahato family from Bihar after her arrival in India, a couple from Saimla village almost 40km from here on Friday claimed that Geeta is their daughter. Forty eight year old Mohammed Khan and his wife Heemdi claimed that Geeta is their daughter Hanseera who went missing since June, 11, 2003. They met the authorities at the Alwar district collectorate with the documents and urged that state government should write to the Prime Minister's office for intervention.
The couple with the intervention of child line centre met the additional district magistrate with documents including BPL card and ration card and the missing complaint of the girl. Officer also assured that he will pursue the matter and write about it to the state government to take it up further.
Mohammed Khan, talking to newsmen, said, "I have three sons and two daughters. My youngest daughter Hanseera was last seen running behind the tractor driven by my brother on June, 11, 2003. Since then she was missing."
"After seeing the pictures in the newspapers, news channels we have seen that Geeta looks similar to our elder daughter Shabana. Our younger daughter Hanseera is speech and hearing impaired since birth. We have met the officials of the child line centre, Alwar and narrated this story almost a month ago. They asked us to provide the basic documents including ration card, BPL survey card and missing complaint of the police station," Khan added.
In all these years Mohammed and his wife Hanseera did not celebrate the festivals with joy.
On the fact that she is been seen as a Hindu girl since she stayed in Pakistan, Satish Chaudhary, local coordinator, child line, Alwar, said, "The family told us that when the girl went missing she was 9 years old. She was very frequent to a temple in the village. May be when Pakistani authorities and others asked her about her whereabouts she was hinting something else while seeing pictures of Hindu deities. They family is very sure that she is their daughter. We have submitted the papers to Harbhan Meena, additional district magistrate -II, Alwar."
The officer after meeting the couple assured that that he will write to the government of Rajasthan to pursue the matter further.
The couple further stated that she was last seen at Govindgarh railway station which falls on Alwar-Mathura route. "We request the state government to pursue the matter so that we can meet Geeta at least for once," said Khan.
http://timesofindia.indiatimes.com/india/Khan-family-from-Alwar-claims-that-Geeta-is-their-daughter-Hanseera/articleshow/49600773.cms
--------
The Second Disappearance Of Chibok Girls
October 23, 2015
In April 2014, over 200 girls were taken out of their dormitory beds in the middle of the night. The next time they were seen was on a Boko Haram propagandist video on YouTube.
The government of Nigeria was secretly hoping the national amnesia would kick in and they would be forgotten, so for 4 weeks, they were radio silent. The President was partying and giving centenary awards and it seemed to be just another day in the republic.
Then the social media got wind of the story. #BringBackOurGirls took over Twitter as if that was why it was invented. Facebook, Instagram, any social media without #BringBackOurGirls was considered a joke.
Then international media got wind of the story. The CNN, BBC and Al Jazera satellites turned to Nigeria's longitude and latitude. Camera, lights, microphones, media coverage rivaled only by the FIFA World Cup.
The local media had to feel among and so AIT and NTA sent out reporters, who were asking all the wrong questions and getting all the wrong answers.
The Newspapers didn't need to think too hard to get headlines, #BRINGBACKOURGIRLS was all anyone wanted to read. Magazine covers became poor quality YouTube screen grabs of the Chibok girls. If there was ever a time to find them…
Days passed, nights crept away, the weeks skipped and the months ran along. The girls weren't back. Media coverage was wearing off, the world needed something else to keep it going and naturally it gradually began to move on.
The Nigerian government was being stingy with its information anyway. The local media on the governments payroll (of course I'm talking about NTA & co) do what they do best- cover visits of politicians and statements of retired politicians not to forget parties (paid for by politicians).
Then the Chibok girls disappeared for the second time. They vanished from our Twitter timelines (save a few). They evaporated from our Facebook feeds and like the filter, they faded out of our Instagram.
The girls no longer made the headlines, they got a few side columns but not really headlines. Magazine covers went back to celebrities with fake accents. They no longer made the chorus of hit songs (FACT CHECK: they never actually made the chorus of hit songs, even though Wizkid and Davido are in the same age bracket with a lot of them).
People got tired of blogging about them, tweeting about them. In fact you were painted as hustling for political appointments if you kept talking about them (just ask Dr. Oby Ezekwesili, who hasn't stopped looking and coincidentally was still not nominated for a political appointment).
They no longer made prayer points at church, and were dematerialized from the pastors sermon.
'Nobody is missing' they said, 'it's all politics' said the man in far away Lagos. What should have been the greatest point of unification in our history was reduced to political schisms.
The Chibok girls became a symbol for something bigger than themselves. They represented the millions of youth with a 'bright future' paved by dim street lights
They represented all the families that were erased or displaced. Their situation reminded us of everything we don't want Nigeria to be that it already is.
For the second time the Chibok girls were gone. The national amnesia had kicked in, a little late but kicked in all the same. So we go from day to day not knowing whether the next to disappear would be Maitama or Ikeja, Portharcourt or Calabar. We go on in the famous words of Fela Anikulapo-Kuti, Suffering and Smiling.
http://ynaija.com/second-dissaperance-chibok-girls/
----------
AIIMS doctors submit Geeta's DNA report to MEA
October 30, 2015
The report of the DNA tests carried out to determine the parentage of 23-year-old Geeta, the deaf and mute girl who returned from Pakistan after being separated from her family over a decade ago, has been submitted to the Ministry of External Affairs.
The Ministry had asked AIIMS to collect samples for DNA tests to confirm if Janardhan Mahato, who claims that Geeta is his first born Heera, is indeed her father.
"The DNA tests were carried out at the AIIMS Forensic lab, the report of which was submitted to MEA on Thursday evening," a senior doctor at AIIMS said.
The AIIMS authorities, however, refused to divulge details about the report. When contacted, the MEA spokesperson said he did not know what was in the report. Geeta, who returned from Pakistan after a gap of 15 years, had refused to recognise the Mahato couple from Bihar whom she had identified as her family through photographs when she was in Karachi. She is currently staying at an institution in Indore for hearing-impaired people. External Affairs Minister Sushma Swaraj had stated that Geeta had refused to identify the Mahatos as her family. "If the DNA samples does not match with the samples of the Mahato couple, then government will start afresh the process to find her parents," she had said. Geeta, now 23, was reportedly just 7 or 8 years old when she was found sitting alone on the Samjhauta Express by the Pakistan Rangers 15 years ago at the Lahore railway station. She was adopted by the Edhi Foundation's Bilquis Edhi and lived with her in Karachi. Bilquis and her grandchildren, Saba and Saad Edhi, accompanied Geeta here. Her story came to light after the release of Salman Khan starrer 'Bajrangi Bhaijaan' in which the hero unites a girl separated from her Pakistani mother who was visiting India.
http://indianexpress.com/article/india/india-news-india/aiims-doctors-submit-geetas-dna-report-to-mea/
----------
Pakistani mother begs to be reunited with son stuck in India
October 31, 2015
KARACHI: A Pakistani mother whose son has been stuck in India for years begged on Friday for them to be reunited after they made contact last month for the first time since 2008.
In a story mirroring that of Geeta, the deaf-mute Indian woman who returned to Delhi this week after spending more than ten years trapped in Pakistan, Mohammad Ramazan wandered into India years ago without a passport and has been trapped there ever since. Around six weeks ago his mother Razia Begum, who lives in Karachi, stumbled across his story and photograph on the Internet.
Now 15, Ramazan was found by the charity Childline in Bhopal, capital of Madhya Pradesh state, two years ago and has been cared for by them ever since.
"When I heard about him, well... I cannot express in words my immense affection as a mother," his mother said tearfully on Friday.
"For so many years he has been far from me. I earnestly desire that he should live with me now," she said. Ramazan's parents divorced in 2004, and his father took him to Bangladesh in 2008 without his mother's knowledge, she said.
Claiming he was abused by his father and stepmother, Ramazan ran away, straying into India where he wandered from town to town, sleeping and eating at shrines and railway stations before being picked up by Childline in Bhopal.
Know more: Geeta returns home, but fails to find family
Director Archana Sahal said this week that he speaks regularly with his mother since they made contact a month ago, and the pair have exchanged videos and photographs.
Ramazan's identity has been established "beyond any doubt", she said.
Sahay said the Indian government has told the charity they are waiting for Pakistan to put in a formal request for his repatriation.
In Pakistan, the Ansar Burny Trust has requested the government's help in bringing Ramazan home, the human rights organisation's director Shagufta Burny said on Friday.
"Only a border is in between... there should be flexibility so that the child can reunite with his mother," Burny said.
"When I speak to my mother, we both cry," Ramazan told AFP in Bhopal.
"I want to go back to my home as soon as possible... I want to be with my mother. Just like Geeta came to India, I will be sent to Pakistan."
http://dawn.com/news/1216413/pakistani-mother-begs-to-be-reunited-with-son-stuck-in-india
----------
Maltese Muslims Slam Niqab Ban Proposal
30 October 2015
CAIRO – A proposal to ban the Islamic face veil or niqab in Malta has drawn the ire of the Muslim leaders, who warned that ban would stigmatize their community in the Southern European Island.
Millions of Muslim women wear the face-veil "and they will all feel offended, treated unjustly, besieged and harassed by such an imposing law," Imam Mohammed Elsadi told Malta Today on Thursday, October 29.
"The prohibition of the face-veil would be a violation of individual freedom and human rights with no true benefit to society.
"Just as the woman in a secular society is left to decide for herself what to wear and what to uncover, so the Muslim woman has the right to cover and uncover what she decides is appropriate for herself."
Imam Elsadi was warning against the proposed niqab ban, saying that it would impinge on the freedom of Muslim women.
Though only three Maltese women wear niqab, the imam stressed that the ban would threaten the integration and harmony in the society.
On the other hand, supporters of the ban argued that it will not impinge on the rights to religious expression.
The burqa and the niqab "are not garments that one would associate with this community, so a clearer ban on face coverings should carry no impact on the vast majority of Muslims in any way," civil liberties minister Helena Dalli said earlier this month.
Defending the Muslim face veil, Elsadi said in a statement: "Their Islamic dress did not cause any threat to the public security. Whenever they were required to identify themselves by security personnel, they readily complied, removing the face veil, and consider this compliance as both a religious and social duty.
"The face veil, covering part or all of the woman's face is accepted in most European countries and all over the world, and it is not considered a threat to public safety. Even certain countries which suffered the curse of terrorist attacks did not ban the face veil, clearly because it has nothing to do with these criminal acts."
The Criminal Code of the European Island country already forbids people from "wearing masks or disguising themselves" in public spaces "
In 2013, the Attorney General issued a police circular stating that: "there is no provision within Maltese law that prohibits the wearing of the burqa".
Islam sees hijab as an obligatory code of dress, not a religious symbol displaying one's affiliations.
As for the face veil, the majority of Muslim scholars believe that a woman is not obliged to cover her face or hands.
Scholars, however, believe that it is up to women to decide whether to take on the veil.
There is no official figure on the number of Muslim in Malta, an island country with a 400,000-strong population.
According to Wikipedia, the present-day Muslim community in Malta is a minority of around 6,000.
There is one mosque, founded in 1978 by the World Islamic Call Society.
http://onislam.net/english/news/europe/495935-maltese-muslims-slam-niqab-ban-proposal.html
----------
Malawi Islamic Charity Empower Rural Women
30 October 2015
LILONGWE – In an attempt to rescue poverty-stricken rural women in Malawi, a local Islamic charity is providing entrepreneurship skills to the women regardless of their faith to achieve sustainable solutions to poverty, an initiative which is widely being praised as a "living hope" in the highly impoverished and least developed southern African nation.
"In Malawi, women constitute 60% of the total population and a larger percentage is rural women who are poor," Abdul Razzaq Fattani, National Chairperson of Islamic Relief Agency (IRA), the charity implementing the program, told OnIslam.net.
"They encounter enormous challenges in their quest for survival. It is for this reason that we introduced this empowerment program to alleviate their suffering and safeguard their integrity.
"Through this program, Fattani said, "we are identifying the poorest of the poor regardless of their faith inclinations, and we are providing them with tailoring and entrepreneurial skills and after the training, we give them sewing machines and start –up capital to enable them stand on their own."
He added: "The needs of poor rural women are quite overwhelming. Most of our beneficiaries are either divorced or widowed mothers. They shoulder a huge responsibility to provide for their families. They go through pain to get something for their children to eat. We are therefore, doing everything possible to reduce rising levels of poverty among women in the rural areas of the country."
He said since the inception of the program a few years ago, the number of beneficiaries has been on the rise.
"We started with a small group of women, but there has been a rise in the number of those in desperate need of support. We have so far reached out to more than 1000 thousand women.
"But due to limited resources, we are unable to take all on board. Funds permitting, we plan to reach to as many women as possible and extend the program to other parts of the country."
Rural Areas First
Currently, Fattani said the program is being implemented in the rural areas of the country's commercial city of Blantyre.
He said besides giving out the sewing machines, beneficiaries were also being provided with farming tools to boost food security at house hold level.
"Agriculture is an effective way of alleviating poverty. People should have enough food to eat and sell for them to have cash. If they enough food, they will not beg and in this way, their dignity will be preserved. We are making sure that we invest considerably in agriculture so that these women would be self=sufficient in food," Fattani, told OnIslam.net.
"These women are going through depressing situations. They have no money and at the same time, they lack food. For them to survive, therefore, they have to go about looking for money to enable them have food. But as long as we boost food security at house hold level, there is an assurance that their lives would be better off."
Since the initiative started, according to Fattani, "there has been a marked improvement in their lives."
"Through the businesses which they embark on after getting the training, the women are able to provide for their dependants and send their children to school. This was not possible for them before this program was rolled off. We have managed to bring smiles on the faces of people who had lost hope and had resigned to their fate."
A group of beneficiaries in Kachere Township in the outskirts of Blantyre city praised the program and testified how much their lives have been improved.
A widow in her 40's indentified as Edna said before she was drafted as a beneficiary in the program; her life has been a "continued struggle".
"Since the death of my husband a few years ago, life has been a continued struggle for me and my children. It has been a painful experience for me to provide for children. But when I became a beneficiary of this program, I'm now able to support my dependants through money realized from my tailoring business. At least, my suffering has been alleviated," Edna, told OnIslam.net.
She added: "This initiative has brought light and hope, to the needy like me. Poverty stole my pride and dignity, but this initiative has restored my dignity. We are very grateful to IRA for this intervention."
Her sentiments were echoed by Lucia Banda, a Christian of the Church of Christ who described the program as a "living hope."
"I have been a person without hope for many years since my husband died, but since I started benefiting from this intervention, hope in my life has restored. This initiative is a living hope. I don't know where I could have without this level of intervention. And being a Christian beneficiary, has changed m mindset towards Islam and Muslims. I'm extremely moved and grateful," Banda told OnIslam.net.
Praise
Fatima Ndaila, National Chairperson of Muslim Women Organization (MWO) has hailed the program describing it as a "huge treasure".
"The level of pain that poverty has subjected women to is quite indescribable. Scores of women in both urban and rural areas of the country are going through immense pain in their endless struggle for sustainable source of livelihood. This program is therefore a huge treasure which deserves our commendation," Ndaila told Onislam.net.
"There are millions of women who are in this country who are bearing the brunt of poverty. They are going through enormous pain for them to afford something to eat. Therefore, unless we have interventions of this nature, we are going to have a larger population of this nation in pain of poverty.
"All faith groups in this country need to unite to rescue women from the trap of excruciating poverty," said Ndaila.
Through the program, beneficiaries especially the aged are provided with basic clothing and blankets.
Malawi is rated by the World Bank as one of the poorest and least developed nations in the world. Its majority poor according to the bank, struggles to survive on less than US$1 a day.
Currently, the country is passing through severe economic challenges following the suspension of 40% budgetary support by its cooperating partners following a major corruption scandal dubbed "cash gate" which has seen huge millions of taxpayers' in US dollars being stolen by civil servants, politicians and business people.
This development, according to economic experts has deepened poverty levels in the country. The delivery of basic social services has been greatly affected. Public hospitals in the country which provide free medical services to the country's majority poor have been running without essential drugs for many years now.
Malawi is a secular, but diverse religious nation. Islam is the second largest religion in the country after Christianity. Muslims, account for 36% of the country' 16 million population.
http://onislam.net/english/news/africa/495931-malawi-islamic-charity-work-to-empower-rural-women.html
----------
Muslim woman files complaint against Costco
10/30/2015
A hijab-wearing Muslim woman says she was insulted and offended when a Costco employee told her to "go back to your country."
The incident occured at the Marche Central Costco on Oct. 18.
Asma al-Shawarghi was shopping for a winter coat with her two daughters and another relative when, she says, she asked a saleswoman if one particular coat was adequate for harsh winter weather.
The saleswoman allegedly told her that if she didn't like the cold, she should go back to her country.
Al-Shawarghi and her husband both emigrated, separately, from Syria in 1998. Both are Canadian citizens.
She says she has noted an increase in Islamophobic comments in the past two months - something she chalks up to the niqab debate in the recent federal election.
"People are afraid - that's what they show when they say things like that," she says. "And they target mainly women."
She complained to Costco management but says she was unsatisfied with the way the company handled the insult.
The Centre for Research Action on Race Relations will be filing a complaint with the Quebec Human Rights Commission.
She wants Costco to train their staff to abide by the company's anti-discrimination policies, improve its complaints procedure, and is seeking moral and punitive damages.
http://cjad.com/cjad-news/2015/10/30/muslim-woman-files-complaint-against-costco
----------
URL: https://newageislam.com/islam-women-feminism/muslim-women-deck-up-hindu/d/105117