New Age Islam News Bureau
22 Oct 2014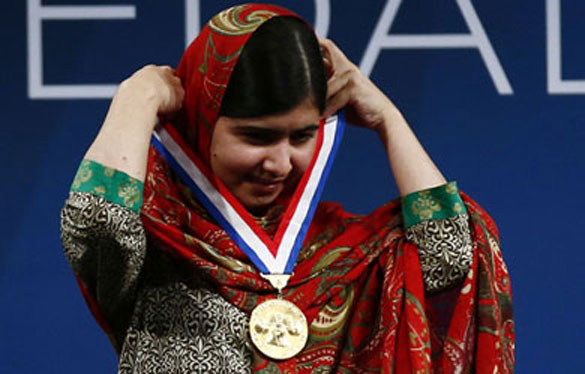 Malala Yousafzai puts on her Liberty Medal. She is the seventh winner who's also been named the year's Nobel laureate
---------
• Rise in Divorce in Iran Linked To Growing Individualism Among Women
• Three U.S. Girls Caught In Germany on Way to ISIS
• Saudi Woman Lecturer Ditches University Job to Join Islamic State
• Saudi Woman Pleads Cases in Shariah Court
• Number of Afghan policewomen to reach 10,000 by next year
• Asma Al-Assad: Rise and Fall of The New Syrian Woman
• Pakistani Nobel Laureate, Malala Yousafzai, Honoured In Philadelphia
• Lebanon Diva Under Fire Over Skin-tight Outfit
• 50pc of Pakistani Female Doctors Never Work After Graduation
• Ultra-Orthodox Jews Attack Jerusalem Buses over Ad Promoting Female Worship
• Turkish Girls' Science Awards Spark Debate
• 39% of Saudi Women Suffer From Osteoporosis
• 'Only One in Four Pakistani Schoolchildren Make It To Grade 10'
Compiled by New Age Islam News Bureau
URL: https://www.newageislam.com/islam,-women-and-feminism/new-age-islam-news-bureau/muslim-women-cannot-object-to-husbands'-marriages--pak-cii-chief/d/99668
----------
Muslim Women Cannot Object To Husbands' Marriages: Pak CII Chief
Oct 22, 2014
ISLAMABAD: Chairman of the Council of Islamic Ideology (CII) Maulana Mohammad Khan Sheerani has said a Muslim woman cannot object to the second or subsequent marriages of her husband.
Presiding over a meeting of the council here on Tuesday, he said a woman could not demand divorce if her husband married a second, third or fourth time.
He said Islam had given the women the right to separate from her husband, but another marriage could not be a valid ground for doing so.
The council discussed the relevant section of the Muslim Divorce Act, 1939, and observed that it was against Sharia.
We want the government to repeal this section, Maulana Sheerani said.
Maulana Sheerani says Islam gives a woman right to separation, but second marriage of husband is not a valid ground
A woman can seek divorce under various circumstances and Clause (F) of Section 2 of the Act says: "If he has more than one wife, does not treat her equitably in accordance with the injunctions of the Holy Quran."
Later talking to newsmen, the CII chief said the law needed amendment. The woman could seek separation if she was treated with inequality or cruelty, he said.
Talking about child marriage, he said Nikah was justified only if it had been solemnised by the father or the grandfather of the girl in good faith and not as part of a ritual, but "Rukhsati before attaining the age of 18 years is not allowed in Islam".
He said if a man was jailed for seven years, it could not be a valid reason for separation because the sentence could be condoned well before that period.
On May 22 this year, the council had ruled that a girl as young as nine years of age is eligible for marriage if the signs of puberty are visible.
Maulana Sheerani had said at that time that the concept of minimum age of marriage, which is 18 years under the law, was not in accordance with Islam.
"As per the Islamic point of view marriage age is nine years for those girls who have visible signs of puberty and the same is 12 years for boys, but they both become eligible for marriage at the age of 15 years," he had announced five months ago.
Tuesday's CII meeting was the fourth this year to have focused on marriage laws.
The meeting also reviewed various laws, including the Protection of Pakistan Act, the National Security Policy, the code of conduct to prevent sectarian terrorism and sex education in the curriculum.
On March 10 this year, the council noted that the laws regarding second marriage by a man in the presence of the first wife were against Sharia.
"Sharia allows men to have more than one wife and we demanded the government to amend the relevant laws where a person has to seek prior permission from the existing wife / wives," the CII chief had said in the meeting.
Maulana Sheerani, who is also an MNA of JUI-F, had told media after that meeting that the CII had suggested to the government to amend the marriage laws as Sharia has clearly defined provisions of up to four marriages by a man and this was easy to understand and follow.
http://www.dawn.com/news/1139597/muslim-women-cannot-object-to-husbands-marriages-cii-chief
-----------
Rise in Divorce in Iran Linked To Growing Individualism Among Women
Oct 22, 2014
BEIRUT - Weddings in Iran have long been an over-the-top affair with families spending thousands of dollars to celebrate a union. But now some couples are splurging on an entirely different sort of nuptial celebration: a divorce party.
Local media outlets and blogs have been abuzz for months about lavish parties, complete with sarcastic invitations and humorous cakes, for couples splitting up. The phenomenon has become so widespread in Tehran and other large cities that one prominent cleric said couples who throw these parties are "satanic".
Still, the divorce parties are a sign of an undeniable trend: divorce in Iran is soaring. Since 2006, the rate of divorce has increased more than one and a half times to the point where around 20 percent of marriages now end in divorce.
In the first two months of this Iranian calendar year (late March to late May) alone, more than 21,000 divorce cases were logged, according to official statistics.
The rise in the number of couples choosing to split up has angered conservatives in Iran who see the increase in divorce as an affront to the values of the Islamic Republic.
Last month, Mustafa Pour Mohammadi, the current justice minister who is also a cleric, said that having 14 million divorce cases within the judiciary is "not befitting of an Islamic system," according to the Iranian Students News Agency.
Some of the causes for divorce in Iran, like many other countries, include economic problems, adultery, drug addiction or physical abuse. But the increase in the divorce rate points to a more fundamental shift in Iranian society, experts say.
"There has been a big growth in individualism in Iran, especially among women. Women are more educated and have increased financial empowerment," said Hamid Reza Jalaipour, a sociologist at Tehran University.
"It used to be that a woman would marry and she would just have to get along. Now if she's not happy, she'll separate. It's not taboo," he said.
DIVORCE PARTY
One 41-year-old woman, a chemistry graduate who is now head of public relations at a Tehran factory and who has a teenage daughter, said she divorced her husband because he was an abusive drug addict.
It took four years to deal with the government bureaucracy. "They don't like divorce to come from the side of women," she told Reuters, asking that her name not be used. But in the year since the divorce "I've been in heaven".
While she was married, an aunt had told her not to wash the dishes at a certain time in case it gave her husband a headache.
"I said to hell with the headache, why doesn't he get up and do the dishes himself?"
She had never been to one of Tehran's notorious divorce parties, but added: "The day that I got my divorce finalized I invited some friends over to celebrate too."
The marriage law in Iran traditionally favors the husband, who has the right to ask for a divorce. But in most cases being brought to court now, the husband and wife have generally come to a mutual agreement to separate, Iranian lawyers say.
In the cases where the husband is unwilling to divorce, the wife must legally prove that the husband is abusive, has psychological problems or is somehow unable to uphold his marriage responsibilities in order to separate.
GOLD COINS
Alternately, the wife could push for the payment of her mehrieh, or dowry, if it was not paid when the couple married. Dowries in Iran, usually in the form of gold coins, have skyrocketed in recent years with families sometimes paying tens of thousands of dollars.
If the husband is not able to pay the dowry, the wife could waive some or all of it as part of a separation settlement. In some cases, the husband can go to jail if he cannot pay the dowry.
"In the past two years the issue of divorce in Iran has reached unprecedented levels," said Mohsen Mohammadi, the head of the Yasa law group in Tehran.
"We didn't even have an interest in family and divorce law. But because of the large number of requests it made sense for us to get into this. The legal side of family and divorce has become a big business in Iran."
And it does not appear that the broader trend partly driving the rise in divorce, the greater number of women being educated and their larger presence in the work force, is going to change, experts say. For the current school year, 60 percent of enrolled university students are female, according to official records cited by the Islamic Republic News Agency.
When these women graduate, their first priority may not be to get married because they can now find jobs. And if they do get married, it will now be easier for them to leave a troubled marriage or to support themselves financially, experts say.
This is not only a trend among the top tier of Iranian society.
"We're not talking about a middle class anymore or the northern Tehran elite. This is not the upper crust becomes Western and gets divorced," said Kevan Harris, a sociologist and associate director at Princeton University's Center for Iran and Persian Gulf Studies.
"This is because of internal change in society. We balance the power of women through the kind of credentials and experience that they have. Because otherwise it can't be so huge. If this were just happening in the upper crust you wouldn't see these kinds of numbers."
The rise in the divorce rate worries government officials in Iran because it comes as the birth rate is plunging.
Last year, parliament's social affairs committee proposed that $1.1 billion be dedicated to facilitating marriages but the motion did not pass in parliament. "If the representatives and officials are sympathetic to the youth of the country, it would be better if they approved these kinds of plans," said the head of the committee, Abdul Reza Azizi, according to Mehr News.
A more controversial proposal has been to create a Ministry of Marriage and Divorce, which some officials have criticized on the grounds that a new ministry would create more bureaucracy rather than address the overall issue of rising divorce.
Whatever the government does, it will be hard to change a new tolerance for divorce.
"It's not because somebody asks 'Please, I want to get divorced' and you convince a conservative society that divorce is ok. That's not the way it works," said Harris. "People have to do it. And the other side can't take it back."
http://www.jpost.com/Middle-East/Rise-in-divorce-in-Iran-linked-to-growing-individualism-among-women-379470
-----------
Three U.S. Girls Caught In Germany on Way to ISIS
22 October 2014
Three American teenage girls from Colorado were stopped in Germany over the weekend while they were en route to Syria to join the Islamic State of Iraq and Syria (ISIS), U.S. authorities said on Tuesday.
The girls from suburban Denver in Colorado are two sisters, ages 17 and 15, and their 16-year-old friend of ethnic Somali origin.
They were reported missing after they skipped school on Friday, but their families were unaware of their whereabouts; the Associated Press quoted Glenn Thompson, bureau chief of the Arapahoe County Sheriff's Department, as saying.
FBI agents reportedly stopped the girls at the Frankfurt airport, Germany and returned back to Colorado.
"The juveniles are safe and reunited with their families," FBI spokesperson Suzie Payne in a statement, according to 9News Denver.
A U.S. official told NBC News that the girls were headed to Syria to join Islamic militants.
Investigators were checking the girls' computers for evidence they might have been radicalized online. But an official who described the case as "concerning" said available information provides enough evidence to ascertain that the girls were headed to Syria.
The Arapahoe County missing person's report provides details of the girls' movement from Colorado to Germany.
They said they stayed in the Frankfurt airport for an entire day before being detained, questioned and returned to Denver, where they were further questioned by the FBI and sent home.
They told authorities they had gone to Germany for "family" but wouldn't elaborate, according to the Associated Press.
Suspicion arose when the sisters' father realized his daughters were gone, along with $2,000 and their passports.
The 16-year-old girl's father became concerned when he got a call from her high school saying she hadn't reported to class, according to the police reports.
The families reported no prior problems with the girls.
Deputies closed the missing person's case Monday after they learned the girls had been returned.
A man who answered the door at the sisters' home in the Denver suburb of Aurora identified himself as a family member but said he had no comment.
The announcement comes one month after 19-year-old Shannon Conley of Arvada, Colorado, pleaded guilty to charges that she conspired to help militants in Syria.
http://english.alarabiya.net/en/News/world/2014/10/22/FBI-U-S-girls-may-have-tried-to-join-jihadis.html
----------
Saudi Woman Lecturer Ditches University Job to Join Islamic State
22 October 2014
A lecturer at Dammam University informed her students recently that she had left her job to join Islamic State. Eman Mustapha, from Syria, had been lecturing at the university for many years in Islamic economics and origins of jurisprudence.
She was reportedly receiving a substantial salary from the university but left all that behind to join IS and declare allegiance to its so-called caliph, Abu Bakr Al-Baghdadi.
Eman was known for her conservatism in religion. It was reported that she was preaching about jihad in women-only gatherings in Dammam, Dhahran and Al-Khobar days before she joined IS.
A university official said Mustapha resigned from her position at the university for "personal reasons". Eman holds a PhD in jurisprudence from Damascus University.
She was also previously the head of the cultural section at the Commission on Scientific Signs of Qur'an and Sunnah in Dammam. She held classes at the university's College of Applied Studies and Community Service.
Mustapha had been working at the university for many years and there was no complaint against her. She wrote on her Twitter account that she did not find any injustice at the university but there was "injustice from tyrants" against the Islamic world. In another tweet, she praised IS and its leader.
She told her students on Twitter after they asked about her disappearance that she was trying to find a cave where she could speak freely.
Her students said Mustapha always advised them to become good Muslims and stay away from anything that would harm Islam. They said she disappeared recently and all attempts to contact her through her Facebook and Twitter accounts failed.
© Copyright 2014 The Saudi Gazette. All Rights Reserved. Provided by SyndiGate Media Inc. (Syndigate.info).
https://en-maktoob.news.yahoo.com/woman-lecturer-ditches-university-job-join-000000349.html
----------
Saudi Woman Pleads Cases in Shariah Court
22 October 2014
In an unprecedented event, a second-year female university student has defended her clients at the Shariah court in Alkhobar, local media said.
Fatima Al-Amoudi, who is studying law at King Abdulaziz University in Jeddah, says she received support from the teaching staff at the university to practice her skills through intensive field training.
Fatima, who lives in the Eastern Province, also appreciated the stance of the Shariah Court authorities in the region for allowing her to speak on behalf of her clients while she was still a university student.
She said she was given two cases to defend and successfully got rulings in favor of the plaintiffs. Additionally, she received legal inquires from citizens and residents.
http://www.arabnews.com/saudi-arabia/news/647606
----------
Number Of Afghan Policewomen To Reach 10,000 By Next Year
22 October 2014
The Ministry of Interior (MoI) said that the ministry is looking to expand the presence of female officers among the Afghan National Police (ANP) forces.
Deputy Minister of policy and strategy, Masoud Ahmad Azizi said necessary steps will be taken to ensure better working environment for the women to serve with the police forces.
Azizi further added that 2,200 female officers are currently serving with the Afghan National Police (ANP).
He said the ministry is looking to increase the number to 5,000 by the end of the current Afghan year, while another 5,000 will be recruited by the end of next year.
Azizi called on the Afghan people, civil society and government to assist the Ministry of Interior (MoI) and insisted that less time has been left to reach to the given target.
Female police officers are currently engaged in various types of activities, including search operations in the main entry gates of the city.
Several female police officers are also receiving special military trainings and participate in sophisticated military operations.
http://www.khaama.com/number-of-policewomen-to-reach-10000-by-next-year-moi-6857
----------
Asma Al-Assad: Rise and Fall of The New Syrian Woman
22 October 2014
In 2001, Syrian first lady Asma al-Assad set out to undertake gender reform. Her predecessor Anisa Makhlouf never appeared in national ceremonies, nor accompanied her husband on his diplomatic visits. To many Syrians, Makhlouf played the role of a muted, dutiful wife who stayed at home to support her family and husband.
Assad set out to convince a new generation of a new role for Syrian women, and a new era for the country. Her British upbringing and education helped the public forget or tolerate the fact that she was the first Sunni Syrian to marry an Alawite national figure. Her glamorous public appearances showed the public that she was becoming an iconic figure.
She set up NGO projects for Syrian youths, and liaised with British projects and experts to implement parallel initiatives in Syria. She involved her husband in some of her NGO projects, out of fear that her public independence could be seen as marginalizing him.
Winning advocates
She pushed for involvement of Syrian women in her youth and NGO projects, and gave them they influential roles. By doing so, she was winning more advocates to her gender-reform cause, but as she focused on the Syrian elite, she alienated women from deprived backgrounds.
However, there was a gradual rise in the number of Syrian women in the workplace, and they started to earn as much as men. Cases of sexual harassment or abuse in the workplace were rare, especially in the public sector. Assad became viewed by Syrian women as a symbol of gender equality.
However, her fall started with her Vogue interview of 2011, in which she came across as the wife of an Arab dictator who might be in trouble. The interview was a propaganda piece about how free, safe and diverse Syria was. Her naive analysis and lack of political expertise read as a lack of sympathy for the angry masses.
Her silence over the Syrian uprising and international criticism of brutality toward protestors affected her popularity. She became like Makhlouf, a dutiful wife supporting her husband. Assad failed the expectations of the Syrian public, which has grown intolerant toward her because she did not turn her back on her dictator husband. Her passivity earned her the description of mass murderer.
However, as she had no ties to the political scene in Syria apart from being the wife of the president, the conviction that she could have influenced politics if she spoke out is not true. The failure of Syrian women, whether supporters or opponents of the regime, to stop the bloodshed in Syria and bring about a political solution has proved the futility of the gender reform initiated in 2001.
The conflict forced Assad to regress into a stay-at-home first lady. She is no longer a woman of confidence and glamour. The war has turned Syrian women from agents for change to victims of displacement, loss, hunger and abuse. They are stuck between the regime and the opposition, and are ready to liaise with both to suppress their female political opponents.
Dr. Halla Diyab is an award winning screen-writer, producer, broadcaster, a published author and an activist. She has a Ph.D. in English and American Studies from the University of Leicester. She carried out research in New Orleans, USA while working on her thesis "The Examination of Marginality and Minorities in the Drama and Film of Tennessee Wil-liams". She holds an MA in Gender and Women Studies from the University of Warwick. She has written a number of scripts for TV dramas countering religious extremism and international terrorism resulting in her being awarded Best Syrian Drama Script Award 2010 and the Artists Achievement Award 2011. She is a regular commentator in the Brit-ish and international media and has recently appeared on Channel 4 News, BBC Newsnight, BBC This Week, CNN, Sky News, Channel 5 News, ITV Central, Al Jazeera English, and BBC Radio 4, to name a few. She is a public speaker who spoke at the House of Commons, the Spectator Debate, Uniting for Peace and London's Frontline Club. She has worked in Libya, Egypt, Saudi Arabia, Bahrain, and Syria and is an expert on the Middle East and Islamic culture. As a highly successful drama writer, she has been dubbed 'one of the most influential women in Syria' in 2011. She also produces documentary films for UK and international channels. She is also the Founder & Director of Liberty Media Productions which focuses on cross-cultural issues between Britain and the Middle East. She can be found on Twitter: @drhalladiyab
http://english.alarabiya.net/en/views/news/middle-east/2014/10/22/Asma-al-Assad-Rise-and-fall-of-the-new-Syrian-woman.html
----------
Pakistani Nobel Laureate, Malala Yousafzai, Honoured In Philadelphia
The Associated Press | Philadelphia
22 October 2014
A Pakistani teenager awarded the Nobel Peace Prize for her efforts to promote girls' education brought her passion for learning to Philadelphia, where she received the Liberty Medal on Tuesday.
In accepting the honour, Malala Yousafzai implored world leaders to spend money on supporting learning, not wars, and to solve their differences with words.
"Education is the best weapon against poverty, ignorance and terrorism," she said.
Yousafzai, 17, recently became the world's youngest Nobel laureate.
Organizers of the Liberty Medal ceremony did not know that would be the case when they decided months ago to honour her. But the coincidence might have been expected: She has become the seventh medal recipient to subsequently receive the Nobel Peace Prize.
The medal is given annually at the National Constitution Center to someone who strives to secure freedom for people around the world.
Tuesday's ceremony included speeches from women with powerful stories about education, including Minnijean Brown Trickey, who helped integrate a high school in the southern U.S. state of Arkansas in 1957, and University of Pennsylvania president Amy Gutmann, a first-generation college student who rose to lead an elite Ivy League school.
Gutmann, also a board member of the Constitution Center, praised Yousafzai for her "compelling vision and immense courage."
"An educated mind is the most powerful force for good on our planet," Gutmann said.
Yousafzai began her activism six years ago by using an alias to write for the BBC about living under Taliban rule. In 2012, a Taliban gunman shot her in the head while she was returning from school because of her vocal support for gender equality and education for girls.
She ended up being treated for her injury in Britain, where she recovered and now lives with her family. She attends a high school for girls but continues activism on those issues through speaking engagements, a best-selling book and a non-profit organization called the Malala Fund (www.malalafund.org).
Yousafzai said Tuesday that when the Taliban went to Pakistan's Swat Valley, where she lived with her family, she had two options: not speak and wait to be killed or speak and then be killed.
"Why should I not speak?" she said. "It is our duty."
She said the Taliban "made a big mistake" trying to silence her. The day she was shot, she said, "Weakness, fear and hopelessness died, and strength, power and courage were born."
Her appearance in Philadelphia came less than two weeks after she became the youngest Nobel laureate, sharing the prize with Kailash Satyarthi, a children's rights activist from India.
The Liberty Medal comes with a $100,000 award, which Yousafzai said she'll spend in Pakistan on children who need education and other support.
Previous recipients of the Liberty Medal who went on to win the Peace Prize include former South African President Nelson Mandela, former United Nations Secretary-General Kofi Annan and former U.S. President Jimmy Carter.
The National Constitution Center is dedicated to increasing public understanding of the U.S. Constitution and the ideas and values it represents.
http://english.alarabiya.net/en/News/asia/2014/10/22/Pakistani-Nobel-laureate-honored-in-Philadelphia.html
------------
Lebanon Diva under Fire Over Skin-tight Outfit
22 October 2014
Controversy crept up on Lebanese diva Myriam Fares this week when she posted up photos of herself in a skin-tight jumpsuit to Instagram, garnering a host of harsh responses.
The snaps were taken during the singer's Dream Park Resort concert in Cairo on October 5 and have been described by unnamed Arab news websites as "offending" and "not worthy of an Arab girl, or a married woman for that matter," according to excerpts carried by Lebanese daily al-Nahar.
One social media commenter spewed: "She looks as if she is on a diet but forgot to lose the fat off her behind," Egyptian website al-Bawaba reported, before commenting "Let's hope our 'Queen of the Stage' doesn't hit another big bum note."
http://english.alarabiya.net/en/life-style/entertainment/2014/10/21/Lebanese-diva-Myriam-Fares-under-fire-over-skintight-outfit.html
----------
50pc Of Pakistani Female Doctors Never Work After Graduation
22 October 2014
ISLAMABAD: It is a general perception in Pakistan that uneducated people do not allow women to work and girls should be provided education to make them an effective part of society.
But on Tuesday, the participants of a news conference were informed that about 50 per cent of women, who graduated from medical colleges, never worked.
Pakistan Medical and Dental Council (PMDC) president Prof Dr Masood Hameed told the news conference that female medical students occupied the general merit seats in public sector medical colleges and got subsidy but after completing their education they never started their professional career.
Govt spends Rs2.4m on each medical student who takes admission to a medical college on general merit seat
Dr Hameed said at the moment there were 78037 male and 65324 female doctors, 5420 male dental practitioners and 8300 female dental practitioners in Pakistan. Out of the total medical and dental practitioners, almost 50 per cent are women, he added.
"Only 50 per cent of the female doctors are working. On the other hand, a number of doctors (mostly males) have gone out of the country. There are around 50,000 to 60,000 medical practitioners against the demand of 600,000 in the country," he said.
"We need more medical and dental colleges. Pakistan is producing around 14,000 doctors per year out of whom 70 per cent are women. It is feared that almost 50 per cent of the medical students would never work," he said.
Dr Hameed said in Pakistan only $9.3 were spent on the healthcare of each citizen per year against the international standard of $60.
"With such scant resources and number of medical practitioners, Pakistan cannot meet its needs for healthcare.
Moreover, migration of doctors and the rapidly increasing population is adding to the problem."
He said so far the College of Physicians and Surgeons Pakistan (CPSP) produced only 32879 specialists out of whom 40 per cent left the country. So there are only 20000 specialists against the requirement of 100,000.
In reply to a question, Dr Hameed said the gap of specialists in the country could not be fulfilled.
"The PMDC is being restricted in its functioning by certain elements. They have refused to accept the PMDC as a regulator."
He added that teachers currently being produced were not up to the standard that was why the quality of medical education was deteriorating.
Dr Hameed, while talking to Dawn, added that students who got admission to medical colleges on general merit seats paid around Rs15,000 to Rs20,000 fee a year, so they completed their MBBS by spending around Rs100,000.
"On the other hand, the government spends almost Rs2.5 million on each MBBS student. Unfortunately, after completion of the course, most of the female medical graduates never worked. Those who want to work try to leave the country and settle abroad, especially in the US, Saudi Arabia," he said.
"The US prefers to get doctors from other countries because on the production of each doctor it has to spend $250,000. So the US hires the services of doctors from other countries and spends that amount in the health sector."
The PMDC chief said he was formulating a proposal under which every student who got admission to a medical college on general seat would be bound to work in the government or private sector in the country for at least three years after graduation. Those who want to go abroad would have to pay the amount of subsidy - Rs 2.4 million - paid by the government for their medical education.
"Moreover, there is a suggestion that doctors who have studied on general merit seats and were earning well should pay back the amount of subsidy to the government. A pool should be made and doctors should be asked to deposit the amount of subsidy in it. That amount can be spent in the health sector," he said.
http://www.dawn.com/news/1139557/50pc-of-female-doctors-never-work-after-graduation
----------
Ultra-Orthodox Jews Attack Jerusalem Buses over Ad Promoting Female Worship
22 October 2014
Israeli police say dozens of ultra-Orthodox Jews have attacked buses with ads promoting female worship at a Jerusalem holy site Oct. 21.
Police spokesman Micky Rosenfeld said Tuesday that the incident happened the previous night, when about 50 men slashed tires and pelted the buses with stones in Mea Shearim, a religious neighbourhood of Jerusalem.
The ads are from the Women of the Wall group, which promotes gender equality at Jerusalem's Western Wall, the holiest site where Jews can pray.
They show women and girls holding Torah scrolls - an act many Orthodox Jews believe is reserved for men.
In the incident, the extremists also spray-painted the words "end the obscene pictures" on a bus.
Religious extremists have faced criticism for their efforts to separate women and men in public places.
http://www.hurriyetdailynews.com/ultra-orthodox-jews-attack-jerusalem-buses-over-ad-promoting-female-worship.aspx?pageID=238&nID=73271&NewsCatID=352
----------
Turkish Girls' Science Awards Spark Debate
22 October 2014
The recent remarkable success of a young Turkish girl called Ilayda Samilgil who beat all-comers to win the 'First Step to the Nobel Prize' for physics has thrown open a debate on the country's commitment to science training and education, especially for women.
In the past, the core sciences such as physics and mathematics were regarded as male domains where women played second fiddle to men. However, there has been a concerted effort to increase the number of women in science, math, engineering and technical fields.
Ilayda, an Istanbul high-school student, beat thousands of submissions from 70 countries earlier this month to scoop the top physics prize in Poland.
Her project, which focuses on determining the water level in any liquid by using magnetics, beat nearly 5,000 other physics projects.
Ilayda's story echoes that of Elif Bilgin, the Turkish schoolgirl who in 2013 won the 'Science in Action' award from Scientific American for using banana peels to produce 'bio-plastic' over petroleum-based materials.
Ilayda's and Elif's stories are inspirational examples of young women becoming passionate about engineering, the development of new products and new inventions.
However, their case is exceptional according to one prominent female expert. Arzu Eryilmaz is director of Istanbul Technical University Technokent, a huge research facility which opened in 2002 and houses 150 companies and startups with 5,000 personnel.
She says: "Though more and more women are involved in science and new technological projects with every passing day, the participation of women in research, science, technology, engineering, and math is still tremendously limited in Turkey."
As one of the leading women figures in the Turkish technology sector, Eryilmaz called for measures to boost female participation: "Women are the key factor for any change in society or future generations.
"We should especially back positive discrimination for women entrepreneurs."
Speaking to The Anadolu Agency, prizewinner Elif said: "I hope my success will continue to encourage young people to do their best." However, as inventor Thomas Edison remarked: "Genius is one percent inspiration and 99 percent perspiration."
As one of the successors to Elif, Ilayda is a concrete example of Edison's famous saying. Not only did she find a kindred spirit in Elif, she also worked just as hard; Elif spent two years developing her bio-plastics invention.
Although such accounts are inspirational, Eryilmaz sounds a note of caution, saying that prizewinning talent needs to be sustained and developed.
Describing both national and international science competitions as a stage where young people can find a chance to prove themselves, Eryilmaz says: "Many people get degrees in competitions but their stories generally feel unfinished."
Eryilmaz, saying that award-winning projects need to be developed, adds: "The government, universities and the technokents [research centers] have some duties in this issue."
According to Eryilmaz, to support budding entrepreneurs and researchers like Ilayda and Elif, the university opened an 800-meter 'incubation center' in 2011.
"We select 20 projects every year from among 700 applicants. Following the admission process, we let them use the university's laboratory, research centers and offices equipped with computers, telephones, and Internet for free," says Eryilmaz. "Also, we have the budget to buy additional equipment to support startups."
"Education and competition are joined at the hip. These two must be together, but education comes first," she adds.
In the last decade, the Turkish government has heavily supported women's education and female entrepreneurship.
As part of the Ninth Development Plan for the 2007-2013 period, the Turkish government set a goal of achieving a socio-economic balance between men and women in order to develop growth.
The plan was to equip citizens, especially women, with the kind of skills needed to successfully participate in today's information and technology-driven global economy.
According to the official Directorate of Women's Status, in order to support female entrepreneurship, schemes such as micro-credits and start-up support credits were developed by the government.
Nevertheless, high-profile success stories like Ilayda's and Elif's projects provide their own momentum.
"I had heard about Elif; her project was so impressive," Ilayda tells The Anadolu Agency. "When I read the stories praising her project, I really admired her persistence.
"I said to myself: 'I hope I will be awarded like Elif' and worked a lot."
http://www.worldbulletin.net/todays-news/146708/turkish-girls-science-awards-spark-debate
----------
39% of Saudi Women Suffer From Osteoporosis
22 October 2014
More than 39 percent of Saudi women over fifty suffer from osteoporosis compared to 37.8 percent men of the same age group, local media said quoting an expert of spine surgery.
Dr. Walid Awwad, Consultant of Spine Surgery at King Khalid University Hospital, said the majority of those prone to osteoporosis were not subjected to proper tests, nor treated with the best heath care.
In a related development, the Health Directorate in Riyadh Region and the Osteoporosis Program at the Ministry of Health has jointly organized an awareness forum on osteoporosis to discuss ways women can protect themselves from the debilitating disease and how to deal with it.
Organizers of the forum, held in Wadi District Medical Center and specifically targeted at women, said the event comes to coincide with World Osteoporosis day which falls on Oct. 20 and is aimed to enlighten people on the early detection of the disease to minimize its complications.
Experts say losses incurred by the government as a result of treatment costs for osteoporosis is estimated at more than SR20 billion, and is poised to climb to SR32 billion by 2030.
http://www.arabnews.com/food-health/news/648201
----------
'Only One in Four Pakistani Schoolchildren Make It to Grade 10'
22 October 2014
ISLAMABAD: Only one in four children, who enrol in school in the first grade make it to grade 10. In 2002-03, 2,833,726 children enrolled in the first grade. But by 2011-12, only 718,945 remained in school.
In their latest report, titled Broken Promises: the crisis of Pakistan's out-of-school children, education campaigners Alif Ailaan estimate that nearly half of all children who enrol in school in the first grade have dropped out by the time they get to the fifth grade.
The report also looks at the wider issue of out-of-school children (OOSCs) in Pakistan, and, seeking to dispel confusion around the actual number, looks at data from various sources in order to come up with a ballpark figure of 25 million.
Alif Ailaan report highlights 'dropouts' as a major stumbling block to promoting universal education in the country • Most girls drop out because they need to help out at home; many boys stop going to school due to lack of interest
This figure is closest to the National Education management Information System's estimate and paints a bleak picture of the state of education in the country.
Talking to Dawn, Rawalpindi Deputy District Education Officer Mohammad Ikhlaq said, "There are three major reasons for the rising dropout rate: in consistency of policies, poverty and a shambolic education infrastructure."
Explaining the impact inconsistent policies have on education, he recalled that under military ruler Ziaul Haq, Roshni schools were introduced to educate out-of-school children and adults, while under the next government, led by the Pakistan People's Party, adult education was made a priority and dropouts were ignored.
The report also lays out reasons why children drop out of schools. Among girls, the need for hands to help with housework appears to be the top factor; while most boys are unwilling to go to school because they are simply not interested. This may be due to a lack of interest in the curriculum or unpleasant experiences with corporal punishment at the hands of teachers.
However, since Alif Ailaan do not conduct any primary research of their own and rely on secondary data available from official or reliable sources, the report does not look too deeply into the qualitative side of the matter and does not extrapolate regarding the motivation behind dropouts in any great detail.
"This is indeed an alarming situation. We must act swiftly to control the spiralling dropout rate. A poorly managed system of examinations and teachers' maltreatment of students are some of the main reasons why children don't want to go to school," said Azmat Israil, a Rawalpindi-based school teacher.
"Expressing a commitment to universal enrolment has become easy for politicians. No one denies the problem exists but without knowing the scale of the problem, how can you solve it," asked Saman Naz, Alif Ailaan Data and Evidence Manager and a co-author of the study.
http://www.dawn.com/news/1139565/only-one-in-four-schoolchildren-make-it-to-grade-10
----------
URL: https://www.newageislam.com/islam,-women-and-feminism/new-age-islam-news-bureau/muslim-women-cannot-object-to-husbands'-marriages--pak-cii-chief/d/99668