New Age Islam News Bureau
19 Aug 2018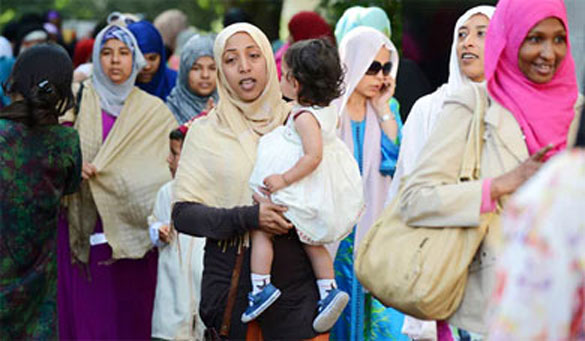 Those mosques that do offer access to women often give them inadequate space. Photograph: Adek Berry/AFP/Getty Images
-------
• Iranian Women Drug Addicts Upsurge to 750,000 in New Statistics
• 20% Indian Muslim Women in Slums Face Health Risks: Survey
• Females in Raqqa Work for Women's Rights after Islamic State Rule
• Saudi Women Incubate Creative Ideas for Community Development
• Family Taxi Cabs to Be Licensed For Saudi Women Driver Only
• Iranian Women Are Ready To Stand Up For Their Rights: Activist Masih Alinejad
• Did a Muslim woman design Indian National Flag?
• Malala Willing To Work with Imran to Improve Girls' Education in Pakistan
• Boris Johnson's Facebook Page Mobbed by Racists after Burqa Furore
Compiled by New Age Islam News Bureau
URL: https://www.newageislam.com/islam-women-feminism/muslim-women-call-more-equality/d/116148
--------
Muslim women call for more equality in running UK mosques
18 Aug 2018
Muslim women in Scotland are campaigning to be given more equal facilities for praying and to be involved in running mosques.
Scottish Mosques For All was set up to highlight the importance of including women in decision-making. More than a quarter of mosques in the UK have no facilities for women and, in the remainder, access is often restricted and the space they are given inadequate.
The organisation said: "It is unfortunate that many mosques fail to provide basic access for Muslim women to use the facility to pray or the quality of the space can often be inadequate and not suitable. It is also unfortunate that many mosques have limited or no women present at mosque trustee or managerial level, either intentionally preventing women from taking up these roles or not sufficiently providing a welcoming atmosphere where women feel comfortable to get involved."
It added: "The place and role of women in mosques is in real crisis in the UK and elsewhere and this status quo must change."
In an online survey by Scottish Mosques For All, two-thirds of respondents said their mosque did not adequately cater for women, involve them in the management or make them feel welcome.
The campaign is asking women to tell them if their mosque has a women's prayer area or creche, whether they have access to the imam and whether he speaks about issues of concern to women.
Many mosques in the UK and elsewhere encourage women to pray at home. Where women's sections exist, they are often small, uninviting and accessed through back entrances. Mosques are traditionally seen as places where men gather for collective prayer and discussion.
There are growing calls from women to be included in mosques' activity. Anita Nayyar, who launched Open My Mosque in February, told the online magazine Khouj Women: "My right as a religious minority is protected in the workplace, but how is my right as a woman protected when mosques are turning me away?
"We need bodies like the Charity Commission and the Equality and Human Rights Commission to challenge how these mosques govern their spaces. As British Muslims, the only way for us to move forward is a commitment to equal rights."
In Bradford, the Muslim Women's Council is raising funds for a mosque led and governed by women and "based on the principles of openness, inclusivity, social justice and sanctuary". An audit of mosques in the city found that many had poor access for women and women were not represented on governing bodies.
The women's mosque "will represent what is possible when the potential of girls and women is nurtured, rather than locked away," the women's council said.
Shaista Gohir, chair of the Muslim Women's Network UK, said Muslim women were increasingly empowered and vocal. "There are still barriers within the community, but women have the confidence to say we want access. But pressure needs to grow," she said. "They can dismiss a few voices but if it is consistent and regular, they'll have no choice but to respond."
The Charities Commission should be ensuring that mosques with charitable status were serving all of their community, and planning authorities should only give permission for new mosques to be built if they provided good quality space and access for women, she said.
In the US, the Muslim Women's Alliance is campaigning for women to be given space and made welcome at mosques. The alliance aims "to empower Muslim women by helping them become leaders, make positive impacts in their communities and enhance their own lives". It says its core values of integrity, generosity, compassion and leadership "are defined by our Islamic ideals … As individuals we have our own strengths but as a united sisters' alliance, we are even stronger and more capable together."
The first female-led mosque in Scandinavia opened in Copenhagen two years ago, with two female imams leading prayers. Sherin Khankan, one of the two, said she wanted "to challenge patriarchal structures within religious institutions and "patriarchal interpretations" of the Qur'an.
Scottish Mosques For All declined a request to be interviewed by the Observer, but a message on its Facebook page last week stressed that it aimed "to work together with mosques to highlight the excellent work they do and support them to improve in other areas, in particular facilities and services for women".
https://www.theguardian.com/uk-news/2018/aug/18/uk-muslim-women-call-for-more-equality-mosques
--------
Iranian Women Drug Addicts Upsurge to 750,000 in New Statistics
18 August 2018
Iranian women drug addicts have increased to 750,000 in new statistics. The Commander of the State Security Force in Gachsaran confessed to the shocking and less-mentioned statistics of the status of Iranian women drug addicts.
Seyed Mohammad Mousavi, the SSF Commander of Gachsaran, in Kohgiluyeh and Boyer-Ahmad Province, admitted to the increasing prevalence of Iranian women drug addicts and said, "More than 55 percent of divorces are due to drug addiction, more than 25 percent of the killings are also due to drug addiction. We have to accept that there are more than 750 thousand Iranian women drug addicts in the country."
He went on to reveal the shocking numbers of runaway girls in Iran and added, "Today, more than 58 percent of girls who have fled from home had drug addicted fathers, and more than 45 percent of women living in the streets and runaway girls were drawn to drugs as soon as they left home."
He said Iran is the world's largest transit route for narcotic drugs. He admitted that today the government is unable to tackle the growing drug addiction in particular among adolescents and women and cannot engage in the anti-narcotics campaign by itself.
Mohammad Mousavi added, "The largest number of drug addicts are between the ages of 15 and 20."
"The age of drug addiction in Gachsaran has dropped to 12, and today the government cannot fight addiction to narcotic drugs on its own," he said. (The state-run ILNA news agency, August 17, 2018)
According to previous figures reported by the Iranian regime, there are at least 4 million drug addicts in the entire country which puts the population of Iranian women drug addicts at about 19 percent, indicating a dramatic increase in the percentage of addicted women in Iran.
https://women.ncr-iran.org/iran-women-news/5421-iranian-women-drug-addicts-upsurge-to-750-000-in-new-statistics
--------
20% Indian Muslim Women in Slums Face Health Risks: Survey
Aug 19, 2018
Bhartiya Muslim Mahila Andolan survey throws up shocking health care facts; most complain of no access to free medication and lack of clean toilets.
Approximately 20 per cent Muslim women in city's slums suffer from prolonged illness. While 6 per cent suffer from high blood pressure, 8 per cent have diabetes, tuberculosis and thyroid malfunction and 3 per cent suffer from asthma, kidney stones and skin problems.
Commissioned by the Maharashtra State Women's Commission, the findings of a first-of-its kind survey conducted by Bhartiya Muslim Mahila Andolan (BMMA) highlights poor health conditions among Muslim women in slums like Behrampada, Bharatnagar, Garibnagar, Jogeshwari, Kalina, Mahim, Navpada, Andheri Dongar and Gyaneshwar Nagar. Titled 'Health Status of Muslim Women-A Short Study', the survey reveals that lack of easy access to health care services has also led to daily painkiller consumption by 18 per cent of Muslim women residing in these slums.
For the survey, the BMMA spoke to 250 women about general, reproductive and mental health and found that most of them also complain about poor access to toilets and health care centres.
Random sampling of these slums also threw up some other shocking facts – 22 per cent women from these slums do not get three square meals a day; 53 per cent do not get sunlight in their houses; while 32 per cent visit government health posts, three per cent visit hakeem or other unrecognised health specialists. As many suffer from body and joint pains, 12 per cent take painkillers at least twice a week and 26 per cent take painkillers at least once a month. According to the survey, 72 per cent women do not use any family planning methods. While 38 per cent got pregnant for the first time between the age of 15 and 20 years, 16 per cent conceived for the first time between 21 and 25 years; 35 per cent did not get pregnant at all.
Of prime concern for all female residents of these slums is that there are no public toilets in Garibnagar. While Kalina toilets are neither free nor clean, Mahim has 10 toilets but are used by people from three areas and no one comes to clean them. Navpada has only two public toilets and Gyaneshwar Nagar has three, but all of them are paid.
On top of the demands is access to free medication and better behaviour and handling at the government health care centres and hospitals. According to BMMA's Dr Noorjehan Safia, the survey has revealed lack of community support and the fact that Muslims stay in ghettos which are neglected by the government machinery. "It is the state's responsibility to provide health facilities," she said.
Maharashtra State Women's Commission's chairperson, Vijaya Rahatkar, who recently received the report from BMMA, admitted being shocked by the state of health of Muslim women. "I am studying the report in detail. These women can't speak about their poor health openly. We want them to come forward and talk about it. We will pay special attention to them and make recommendations to the government for improvement in health care facilities," Rahatkar said.
https://mumbaimirror.indiatimes.com/mumbai/civic/20-muslim-women-in-slums-face-health-risks-survey/articleshow/65456896.cms
--------
Females in Raqqa Work for Women's Rights after Islamic State Rule
August 19 2018
ERBIL (Kurdistan 24) – Raqqa, the former de facto capital of the Islamic State's self-proclaimed caliphate, was once known for beheadings, markets of Yezidi (Ezidi) sex slaves, and the forced covering of women. But now, a local administration is trying to bring women's rights to this Syrian city once ruled by jihadists.
The US-backed Kurdish-led Syrian Democratic Forces (SDF) liberated Raqqa in October and, since then, the Raqqa Civil Council (RCC) has been put in charge of the city. Among its responsibilities are to clear out tons of rubble and attempt to provide electricity and water, among other things.
The RCC, now co-headed by a female, is focused on bringing more than just municipal services to its people. One recent example is an effort spearheaded by its Women's Bureau, the Aug. 11 opening of a local Women's Council in the neighborhood of Bedo, the third so far in the city.
Shams Raqqa, a 20 year-old member of the new council, joined with an ambition to train future generations of females about women rights.
To say this was not possible under IS occupation is about as much of an understatement as one could make. Dozens of strict and often cruel regulations imposed by the group had to be constantly observed. Most obvious among those pertaining to women was that they were forced to cover themselves with a full-length veil.
"The people of Raqqa were not wearing these before," the young council member told Kurdistan 24. "They were wearing the normal headscarf. After Daesh [IS] came, they at first tried peacefully to convince the women, men, and sheikhs. But, step by step, they started to behead people and cut hands off to enforce their rules."
"There is one scholar who said, 'I have seen Islam, but no Muslims.' The Islamic law loves brotherhood, the people, and justice, but Daesh was not the right way," she continued. "Forcing women to wear Niqab [full veil]; this is not Islam."
Fayrouz Xelil Mohammed, a member of the RCC Women's Affairs Bureau says that women were not represented under Syrian government rule, either.
"In this place, there was a Women's Union under the Syrian government, but it was not active. But in the past, nothing was done for women, but we will do anything to achieve rights for them."
Under IS rule, families often forced their daughters to marry IS fighters in order to protect themselves. She said she knew of 30 to 40 such cases.
"We try to solve this problem in cooperation with the court, and the religious committee."
She gave the example of a family who coerced their daughter into marrying a jihadist from Algeria who was later killed.
"Now we try to convince the parents to accept the woman and her two children. Otherwise, we go to court. They forced their daughter to marry this man," she said. "They [the women and her children] have nothing to do with IS."
After Raqqa's liberation, she explained, many females joined the Women's Councils. "We promised them we would end Daesh and improve their rights."
However, after four years of extremist ideology permeating every facet of life, she fears it might be difficult to change the mentality of residents. Even before IS marched into Raqqa, conservative tribes played a major role in the local culture.
That's why the RCC, as well as administrations in other Kurdish areas of Syria (Rojava), say they are attempting to carefully, but as quickly as possible, pass laws that ban polygamy, underage marriage, and enforce women rights in general.
"We have no such laws yet. We have just started and we need to gain the trust of women to lead them to an understanding of these laws," she explained. "As soon as women learn and get comfortable with the idea, they—themselves—will not allow things like polygamy. They will reject concepts like underage marriage. After that, we can implement these rules."
A local tribal leader named Talal Haji Bilal Sibat justified the continuation of traditional customs like polygamy in part by saying it would be difficult to convince the tribes of Raqqa to stop participating in them.
"By agreement and discussions, we can maybe find a solution when people want to be married twice, but there should be a reason why," he said.
"There are some basic traditions that are impossible to undermine, like polygamy. There are a lot of factors behind it," he suggested. "Otherwise no one would get married twice or for a third time, for no reason."
Shams, the young local Women's Council member in Bedo, says that the role of Raqqa tribes, however, is not as strong as it once was.
"It's the turn of young people now and a new generation. We respect them, but they cannot force their opinions on us. We need to make our own decision."
http://www.kurdistan24.net/en/news/c056914a-1e24-4256-9dbb-7d0ac346ded2
--------
Saudi Women Incubate Creative Ideas for Community Development
August 18, 2018
JEDDAH: The Halcyon Incubator fellowship on Friday concluded a program in Washington, DC for a group of Saudi female pioneers in social development.
Fourteen Saudi innovators working in community development on Thursday gave presentations on seven ambitious projects that highlight applications that they are seeking to implement.
The seven Saudi projects highlighted a number of unique applications, such as the online on-click link between dentists, lab technicians and labs, whose design has shown that it will make a major social change in its country and will save waiting for medical appointments and reports.
Another online project helps children with autism to improve communication skills through games and educational activities.
Another focuses on linking history and modern technology in many languages to improve tourism and make it easier for pilgrims to visit the country.
It also presented practical projects such as "Green Desert," which seeks to contribute to solving the problem of lack of waste recycling culture in Saudi Arabia.
During his visit to the Halcyon Incubator, the director of innovation and entrepreneurship at Taibah University, Dr. Mohammed Al-Ghamdi, praised its development of social projects. He also congratulated the group of Saudi women for their innovative excellence.
The Saudi Innovations Group has spent two weeks working in the hospitality of the Halcyon Incubator, which has been named the "Kingfisher" as a symbol.
The organization seeks to promote creativity in all its forms throughout the world by stimulating and supporting creators who seek to promote the good in their communities.
The annual program of the Halcyon Incubator sponsors various groups of change-makers in the fields of arts and social projects and provides them with an environment that incubates their bold ideas and helps them to learn, gain experience and knowledge and provide them with free trial opportunities to enhance their talents and visions and transform them into influential energies in society.
http://www.arabnews.com/node/1358491/saudi-arabia
--------
Family Taxi Cabs to Be Licensed For Saudi Women Driver Only
August 19 2018
JEDDAH — The Public Transport Authority has approved granting licenses to the family taxi cabs which will be driven by Saudi women drivers only.
It said passengers of the family taxi cabs will be limited to men and children of various age groups.
Under the rules and regulations approved by the authority, the women drivers cannot take passengers if there is no mature Saudi woman among them.
"In this case, the establishment will be fined SR3,000 and warned that the fine will be SR2,000 if the men and male children are left alone in the car.
Under the rules, no men or young male children will be accommodated in the front seats.
The authority said the family car should have an engine with a capacity of 2,000 cubic centimeters and should have seven seats including the driver's seat and is air conditioned.
It said the cars should be registered as public taxis, should not be more than five years old from the date of the manufacturing and should have a GPS system.
The authority said if the establishment does not have an electronic payment system, it will be fined SR1,000 but if the system is available but not working the fine will be cut to SR500.
It said the Saudi women drivers should be highly trained and are holders of a general license, should have a clean conduct sheet.
The authority said if the establishment has 10 cars it would be immediately granted the licenses. It said the drivers should not smoke while behind the wheel and should not roam the streets looking from passengers.
http://saudigazette.com.sa/article/541466/SAUDI-ARABIA/Family-taxi-cabs-to-be-licensed-for-Saudi-women-driver-only
--------
Iranian Women Are Ready To Stand Up For Their Rights: Activist Masih Alinejad
by Tanushree Ghosh
August 19, 2018
Women in Iran break the law every single day just by being themselves. "Though we have more rights than our sisters in Saudi Arabia, we suffer from discrimination just the same…. From employment laws that discriminate against women, to divorce laws that give custody of children to men, to the fact that women cannot run for the top office in the country, or qualify to be judges, women are curtailed," writes Masih Alinejad, 41, in a new memoir, her first book in English, The Wind In My Hair: My Fight for Freedom in Modern Iran (Hachette), out in India earlier this month. She has written four books in Persian before this.
Alinejad writes of the unwritten rule that a girl must wear the hijab, from the age of seven, if she wants an education, a job, a husband, or even be spoken to by cabbies, cops and ministers. The Iranian journalist-activist, who has "too much hair" and a "loud voice", was only a two-year-old in the village of Ghomikola in northern Iran, when the Islamic Revolution saw Ayatollah Khomeini overthrow Mohammad Reza Shah Pahlavi's regime. From a young age, Masoumeh, as she was called then, stood up to her revolutionary father (a member of Basij, the Iranian paramilitary force) and the state in her subversive ways. Much later, as an exile living in New York (she left Iran in 2009 and studied in the UK), she stirred up a storm by letting her black hair free. The image became the face of her 2014 online campaign, "My Stealthy Freedom", inspiring Iranian women to rail against compulsory hijab. That led to the campaign, "White Wednesdays", where women, dressed in white, take to the street, taking off their headscarves and waving it, even in the face of abuse or arrest.
These have spawned #GirlsofRevolutionStreet protest and #MyCameraIsMyWeapon campaign, where women film and post online their altercations with the morality police. Alinejad's Facebook and Instagram accounts, with over a million followers each, bear testimony to that. Excerpts from an email interview:
Unlike older women in your family and village, you hadn't experienced the freedom of the Shah regime. Yet, you chose to fight. Why?
When I was a child, I would be incensed that my brother Ali, who was only two years older than me, could run around in the streets and go swimming in the nearby stream while I had to stay indoors. I hated that he could walk around in a pair of shorts in summer but I had to be covered up from head to toe. I kept noticing how boys, and later men, enjoyed privileges denied to girls and women. I became politically active because I wanted a fairer society.
By the way, I only saw pictures of my mother in a skirt, worn over a pair of trousers, when I was in my 30s. They had kept it hidden from me!
In an interview when you were asked about the colour of your mother's hair, you said you didn't remember. Do you know now?
I haven't seen her hair since I was a teenager. It was light brown, unlike mine which is dark as coal. It must be grey now. I can only imagine her hair colour.
She taught you to 'open your eyes wide and stare down darkness' and to 'never let them lock you out'.
As a young girl, you look to your mother for strength, inspiration and love. My mother is tiny. But she is very tough. When she decides to stand up for her rights, she does not back down. There have been a number of times when I have faced major setbacks, for example, my divorce, which in a conservative family was taboo. But my mother's toughness helped me. She wouldn't call herself a feminist but she showed me how to be strong. Even though we don't agree on politics, I admire her sacrifices and her toughness.
You write about how your hair was like a 'hostage in the hands of the Iranian regime'. But you didn't approve of France's burkini ban or US's hijab ban.
I'm not against the hijab. I am against compulsion. In the US, I have protested against (Donald) Trump's ban on travellers from Islamic countries and against his treatment of women. In Europe, I protested against France's burkini ban and spoke at the European Parliament about it.
My principle is simple — I am for women's right to choose. You cannot discriminate on the basis of gender, religion, race or nationality. I cannot fight every battle, every injustice. I limit myself to Iran and the Middle East when it comes to the issue of women and the hijab. I defend the right of a Muslim woman who wants to wear hijab and the right of someone who doesn't want to. In the West, there are political parties that oppose Trump and the burkini ban and you could fight to change the law. But in Iran, there are no free elections and no free press and so it's more difficult to bring about change when the regime effectively blocks its opponents from having any say.
The movement to let one's hair down has spilled from the kitchen to social media to the streets. How many Iranian women have been arrested for participating in 'My Stealthy Freedom' and 'White Wednesdays'?
The last data that we have is that 3.6 million women were arrested or warned or cautioned for inappropriate hijab, meaning their hijab was not completely covering all of their head or body. But that data is from 2016. Another data point is that in the same year, 40,000 cars were impounded because the women driver had inappropriate hijab, meaning her headscarf was loose when she was behind the wheel. The government has stopped releasing such data to avoid public embarrassment by our campaign.
More recently, 29 White Wednesday activists were arrested in one day and their situation is still unknown. One activist, Shaparak Shajarizadeh, received a 20-year sentence. This shows how worried the Islamic Republic has become.
I feel tormented and pained about each of these arrests. I hire lawyers and do my utmost to secure their release. And yet, these women are not robots controlled by me; they are ordinary people who are fed up with the oppressive laws of the Islamic Republic. We have to respect and admire them. To live in the Islamic Republic, you have to break the law to live a normal life.
Is mobilising women easier from outside the country?
In May 2009, I was in Iran covering the presidential elections. The authorities gave me a choice – leave Iran or face jail. At that time, I worked for the daily newspaper Etemad Melli, owned by presidential candidate Mehdi Karroubi. He told me he couldn't protect me and I better leave and return after the elections. Karroubi and Mir-Hossein Mousavi, the other challenger to (Mahmoud) Ahmadinejad, are still under house arrest.
Had I stayed, I would have been arrested and jailed for a few years. I would not be starting a campaign against compulsory hijab. Because I am outside the reach of the security forces, I can do a great deal that I could not whilst I was inside Iran.
Singing, dancing and watching men play at a stadium are a no-no for Iranian women. But this year's Fifa football World Cup match in Tehran let women in (an exception to the norm). Are things changing?
The stories are positive because women, and men, have struggled to win (certain) rights. Before the revolution, women attended soccer matches in stadiums and there were never any problems. Why should we jump for joy for a right that we had four decades ago? But let me say that the women were allowed to watch a telecast of the game beamed in from Russia after many hours of protesting. It turned into a publicity disaster just as Iran was trying to show how reasonable it is compared to Trump.
There is outside pressure on Iran. No doubt the new US administration is focusing on Iran in a way that the Obama administration did not. This forces the Islamic Republic to make concessions. The alternative explanation is that women are ready to confront the morality police and stand up for their rights. The internal pressures of the society are bringing about changes. The regime cannot hold the line on all issues and has to make concessions. The stadium was one example.
Why did you give up your Islamic name Masoumeh for the more Christian Masih?
My friends had already shortened it. But in Iran, Masih is a masculine name, another name for Jesus (it is mentioned in the Quran). I wasn't thinking about defying Islam but wanted to be distinct and forge a new identity away from my conservative Islamic background. There were thousands of Masoumehs in Iran but I didn't know of a female 'Masih'.
At a Quran-recitation day at school, you recited dissident modern poet Ahmad Shamloo's poem and were dragged out. Who initiated you into critical reading? And, which writers would you count as your favourite?
My brother Ali was a voracious reader, as was Mohsen my eldest brother. I picked up on their reading habits. I read and read non-stop. I used to debate with them so in order to beat them, I had to keep reading. I frequented book stores, even the ones run by the local mosques to find material to read.
My favourites include poets Shamloo and Forough Farrokhzad, whose poetry touches on how women have been judged throughout history, authors Simin Daneshvar and Ali Ashraf Darvishian, Romain Rolland (and his ten-volume masterpiece Jean Christophe), and Salman Rushdie's Midnight's Children.
https://indianexpress.com/article/express-sunday-eye/iranian-women-are-ready-to-stand-up-for-their-rights-activist-masih-alinejad-5312047/
--------
Did a Muslim woman design Indian National Flag?
Nikhil Dawar
August 18, 2018
It is 71 years since Independence and one controversy that refuses to die down and comes back every year to haunt us - who designed the national flag?
The answer to this question according to Wikipedia is Pinagali Venkayya. But netizens, like many historians, refuse to believe this blindly.
A confusing message doing the rounds on Twitter and other social media platforms states, "Indian national flag was designed by a Muslim woman from Hyderabad called Mrs Suraiya Badruddin Tayyabji."
India Today's Fact Check team tried to trace the legitimacy of this historical fact by clearing the cobwebs of claims and counterclaims.
Origin of our National flag
In 1921, Mahatma Gandhi first proposed a need for a national flag at a meeting of Indian National Congress. It was initially designed by Andhra congressman Pingali Venkayya.
But Gandhiji wanted Venkayya to incorporate a charkha or spinning wheel at its centre. He also expressed his wish that the National flag should be in three colours- red to represent Hindus, green for Muslims and white for other faiths.
According to Ramachandra Guha's write up titled 'Truths About The Tricolour' published in The Hindu on September 26, 2004, In 1931, a flag committee of the Congress made some changes to this tricolour. They replaced red with saffron and changed the order of the colours, as we see it now.
On July 22, 1947, the constituent assembly passed a resolution on the National flag where Pandit Jawaharlal Nehru proposed the flag of the Indian National Congress but instead of the Chakhra or spinning wheel, he proposed the Ashoka Chakra of the Lion emblem.
The controversy
The resolution in the constituent assembly neither mentioned the name of Pingali Venkayya nor Suraiya Tyabji as designers of the national flag.
Recently, in an article in The Wire, "How the Tricolour and Lion Emblem Really Came to Be", Laila Tyabji, daughter of Suraiya Tyabji, recollected how her father Baddruddin Tyabji - an ICS in the prime minister's office - had under Prime Minister Nehru's instruction set up a Flag Committee headed by Dr Rajendra Prasad.
She also described in detail how her parents came up with the idea of the Ashoka chakra and her mother made a graphic representation of the flag. In the mentioned article, she said, "My father watched that first flag - sewn under my mother's supervision by Edde Tailors & Drapers in Connaught Place - go up over Raisina Hill."
India Today tried to contact Laila Tyabji, but she politely refused to say anything more on the issue.
Who was Suraiya Tyabji?
Suraiya Tyabji, was an artist of repute. She came from a well-known Muslim family in Hyderabad and was known for her unconventional modern outlook.
Her husband, Badruddin Tyabji, later worked as a foreign diplomat. His grandfather, also named Baddruddin Tyabji, was a renowned lawyer and a member of the Indian National Congress.
Historians' view
Did Suraiya Tyabji really design our national flag? According to research of Flag Foundation of India, an NGO set up by Congress leader and industrialist Naveen Jindal after his landmark victory in Supreme Court over the citizens right to National flag, it was Suraiya Badr-ud-din Tyabji's design of the national flag which was approved by the constituent assembly.
We spoke to Capt. L Panduranga Reddy, a historian from Hyderabad who stirred up the controversy by naming SuraiyaTyabji as the Tricolour's real designer and debunked the name of Pingali Venkayya.
He referred to British Author Trevor Royle's book 'The last days of the Raj' which claimed that "By one of those contradictions which run through India's history, the national flag was designed by a Muslim, Badr-ud-Din Tyabji The flag which flew on Nehru's car that night had been specially made by Tyabji's wife."
Since Captain Reddy could not substantiate his claims with historical documents, we spoke to another eminent historian Syed Irfan Habib.
Professor Habib clearly said, "This is a controversial subject that still remains unresolved. Since there are no solid historical documents available on this, claims and counterclaims keep flying and historians can't say much about this." "But neither can we deny the claims of Pingali Venkayya's family nor of Suraiya Tyabji," he added.
What we found
From the documents of Parliamentary archives we found that Suraiya Tyabji's name was indeed present in the list of members of the Flag Presentation Committee who presented the national flag on Aug 14th, 1947. But this document does not answer the moot question, whether she designed the flag or not.
But from spelling to family genealogy - the message going around is social media is full of wrong information and is misleading. Suraiya Tyabji was not an ICS and neither her husband Badruddin Tyabji was the first chief justice of Bombay high court.
https://www.indiatoday.in/fact-check/story/did-a-muslim-woman-design-indian-national-flag-1317892-2018-08-18
--------
Malala Willing To Work with Imran to Improve Girls' Education in Pakistan
August 19, 2018
LAHORE: Survivor of Taliban attack in Swat and youngest Nobel laureate Malala Yousafzai has expressed willingness to work with the Imran Khan-led Pakistan government to improve girls' education in the country.
In the congratulatory message to Pakistan Tehreek-e-Insaf (PTI) Chairman Imran Khan on becoming the 22nd prime minister of Pakistan, Malala took to twitter and expressed hope that Imran's swearing in as the new chief executive of the country would usher in an era of peace and prosperity and a focus on education of children in Pakistan.
"With PTI's focus on education in its first 100-day plan, I look forward to Prime Minister Imran Khan working with the federal, provincial and legislative governments and civil society of Pakistan in his efforts to get the 13 million out-of-school Pakistani girls into classrooms to get free, safe and quality education," she said.
"My hope is that Pakistan will someday be known as a global leader in education, a country where all children receive the schooling they need to pursue their dreams and contribute to their nation, the Nobel laureate," said, and added, "I believe this can begin with this government and I hope to work with Prime Minister Imran Khan toward this noble goal."
https://www.pakistantoday.com.pk/2018/08/18/malala-willing-to-work-with-imran-to-improve-girls-education-in-pakistan/
--------
Boris Johnson's Facebook Page Mobbed by Racists after Burqa Furore
August 19 2018
Boris Johnson is at the centre of a new row over racism after an investigation into online abuse revealed his official Facebook page hosts hundreds of Islamophobic messages.
Under entries that publicise Johnson's articles and speeches, the MP's followers left comments including calls to ban Islam and deport Muslims, as well as vile attacks on the mayor of London, Sadiq Khan.
Among the remarks on the former foreign secretary's official Facebook page are calls for "no Muslims in government, police or army".
One post reads: "That's crazy to trust them. They are just waiting for the Jihad signal to turn on us. #islamophobicandproud."
Another tells the Conservative MP for Uxbridge and South Ruislip: "Come on Boris, you had the bottle to start getting rid of…
https://www.thetimes.co.uk/article/boris-johnsons-facebook-page-mobbed-by-racists-after-burqa-furore-f5jp2k77h
--------
URL: https://www.newageislam.com/islam-women-feminism/muslim-women-call-more-equality/d/116148
New Age Islam, Islam Online, Islamic Website, African Muslim News, Arab World News, South Asia News, Indian Muslim News, World Muslim News, Women in Islam, Islamic Feminism, Arab Women, Women In Arab, Islamophobia in America, Muslim Women in West, Islam Women and Feminism