New Age Islam News Bureau
17 Feb 2019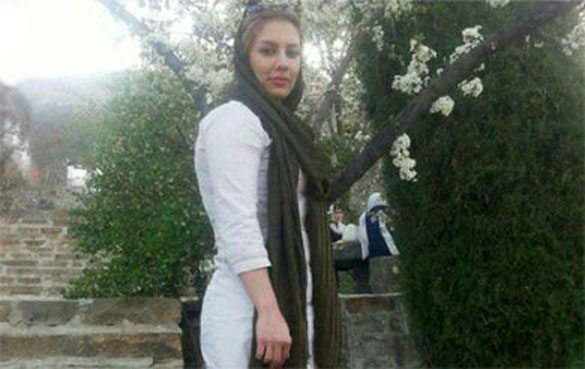 Civil Activist Sahar Kazemi
-----
• Saudi Defends App Allowing Men to Monitor Women Relatives
• Egyptian Writer's Life Turns into Ordeal after Penning Book against the Hijab
• Five Women among 61 Candidates in Kuwait's By-Elections
• Don't Abandon Us to Taliban, Afghan Women Beg Donald Trump
• Two Young Girls Saved From Morality Police By Public Intervention
• Civil Activist Sahar Kazemi Sentenced To 5 Years' Imprisonment
• Islamic State Making Last Stand behind Women, Children
Compiled by New Age Islam News Bureau
URL: https://www.newageislam.com/islam-women-feminism/muslim-women-around-world-enthusiastically/d/117770
--------
Muslim Women around the World Enthusiastically Embrace Valentine's Day Honour
February 15, 2019
Saratoga Springs
Muslims around the world enthusiastically embrace Valentine's Day, even in war-battered countries where car bombs pose an everyday threat. In Iraq, crimson and pink heart balloons float over market stalls and vendors sell roses and huge scarlet teddy bears. In Kabul, Afghan vendors sell heart trinkets and chocolates.
Pakistan banned Valentine's Day last year. But sweethearts were so determined to celebrate it, police at checkpoints searched cars for heart-shaped gifts and red stuffed toys.
"Muslims, like everyone, enjoy the idea of a day dedicated to true love, which is what all humans want," said Schenectady resident Samin Khan, who grew up in Norway after her parents moved there from Pakistan.
Khan married an American man and enjoyed being his valentine.
"But the commercialization of Valentine's Day always bothered me," Khan said. "Then I started to realize how loaded with triggers Valentine's is for those suffering loneliness or great loss."
Khan is a leader in the Capital Region chapter of Ahmadiyya, a nationwide Muslim social and philanthropic club that fosters many interfaith projects. Khan has helped food pantries, refugees, the homeless and battered women. Just like the refugees fleeing war zones, the abused women she met "literally ran for their lives often with just the clothes on their backs. It was clear they felt so alone."
Meanwhile last month, Khan's 14-year-old daughter, Elaham Malik, was working on an Ahmadiyya project collecting food donations for a women's shelter.
"When I opened the shelter's pantry door, the shelves were all bare," Malik said, still a bit amazed. "The volunteers told me how the shelter struggles for donations after the Christmas season ends."
She and Khan wanted to do a Valentine's Day project to comfort women hidden in Capital Region domestic violence shelters and safe houses. They wanted to make 100 beautifully decorated gift boxes, each containing essentials like toothbrushes plus a mix of candy and pampering treats like gourmet tea and beauty products.
"I thought how much better I feel when I give myself some special time for a facial or manicure with pretty polish," Malik said.
The teen made 100 vanilla-scented, coconut oil soaps and lip glosses.
Volunteers from Saratoga Springs' Presbyterian New England Congregational Church and Temple Sinai helped Ahmadiyya collect donations.
Presbyterian volunteer Linda Letendre met Khan at a fun fair Ahmadiyya women organized for everyone of all faiths to enjoy food, games and learn about Muslim traditions. The event was held right before Donald Trump was elected president and Letendre remembers anti-Muslim fervor was running high at rallies and protests across America.
Letendre approached Khan's table to invite them to a church event. They were so sweet to her that, to her embarrassment, she burst into tears.
The ladies clustered around her, offering her tea, a chair to sit in and henna hand tattoos to cheer her.
"Samin and I became friends; we have dinner at each other's homes, go for coffee, chat on the phone," Letendre said.
Rabbi Linda Motzkin suggested letting children decorate the elegant brownish-bronze boxes with hearts of pastel paper and gold foil, lace doilies and glittery ribbons.
The volunteers also asked the children to write a note with a different message each for each of the 100 women. Khan remembers the phrases were simple: "I will be your friend" and "We send you love" and "I want you to be happy."
The messages may sound as sweetly prosaic as candy conversation hearts. But coming from a child, they seemed deeply heartfelt.
Khan imagined a woman who had lost everything — home, friends, possessions, even her sense of self worth — opening the gift and reading the note. The messages weren't magic. But they represented the powerful idea that unmet friends exist truly is.
"We may never meet the women in the safe houses, but they'll understand the message that people who would respect and care about her, were somewhere nearby," Khan said. "
"She will know that the gifts come from women of different faiths and religions who share the same ideas about what friendship and love truly are," Khan added.
She counts the women who worked on this project as true friends.
"Interfaith project such as this one are essential to tear down walls and build bridges of love and understanding," she said.
"Love wins in the end even in dark times. I have to believe that because what is the alternative?"
https://www.timesunion.com/local/article/Muslim-women-honor-Valentine-s-spirit-13621306.php
--------
Saudi Defends App Allowing Men to Monitor Women Relatives
February 17, 2019
Riyadh - Saudi Arabia on Saturday defended a mobile app that allows men in the kingdom to track female relatives after rights groups and a US lawmaker criticised tech giants for offering it.
The Absher app provides services for "all members of the society... including women, the elderly, and people with special needs", the interior ministry said.
It was launchd in 2015 as a "one-click" e-services app, by the Interior Ministry and is now the leading government platform for Saudi citizens to get their paperwork finished, freeing them from bureaucratic inefficiency and endless queuing for everyday services.
Absher platform centralized more than 160 different services for all members of society. The free app is available on Android and Apple smartphones and allows users to renew passports, visas and eases a variety of other electronic services.
But critics have said the app enables abuse against women and girls by allowing men to track their movements.
Apple CEO Tim Cook told US National Public Radio earlier this week he had not heard of the app, but would "take a look at it".
US Senator Ron Wyden has called on both Apple and Google to remove the app, arguing on Twitter that it promotes "abusive practises against women".
Under Saudi law, women must have consent from a husband or immediate male relative to renew passports or leave the country.
The ministry criticised what it called a "systematic campaign aimed at questioning the purpose of the services".
It rejected what it described as "attempts to politicise" the tool.
Muna Abu Sulayman, an award-winning strategy adviser and media personality, told Arab News "In a Twitter survey, I asked how many women have access to their guardian's Absher. Most answered that they control their own fate. Men who don't believe in controlling women gave them access to their Absher and that shows an increase in the participation of women in their own decision-making."
Retired King Abdullah University professor Dr. Zainab M. Zain also speaking to Arab News said that "I always had issues with my passport renewal as well as my children's as they are both non-Saudi. For years it was risky not to follow up properly at passport control — you never knew what could happen, but now I can renew their permits by paying their fees online through Absher from the comfort of my home in Abu Dhabi."
https://gulfnews.com/world/gulf/saudi/saudi-defends-app-allowing-men-to-monitor-women-relatives-1.1550389535390
--------
Egyptian Writer's Life Turns into Ordeal after Penning Book against the Hijab
17/02/2019
CAIRO - A woman writer's life is being threatened after the publication of her book about one of the most controversial issues in Islam, the hijab.
Dena Anwer, a pharmacist, has stuck out as a model of social nonconformity, especially regarding what women should wear in public and women's rights. She has written a book documenting the experiences of women who took off the hijab after being forced to wear it by their family.
Anwer's "Those Taking Off the Hijab: The Silent Revolution" sold well at the recent Cairo International Book Fair. All available copies of the book were sold and Anwer made some of her personal copies available to eager readers.
"This was surprising to me," Anwer said. "Women, even those wearing the hijab, were very keen to buy the book."
However, it has touched a nerve inside extremist circles and Anwer has received death threats.
She said she is afraid to leave her home, prevents her children from going out and, before driving her car, checks whether an explosive device had been planted in it.
"My utmost fear now is that the extremists can physically liquidate me after I was morally liquidated by society and the media," Anwer said.
Anwer is not the first free thinker to fall afoul of extremists. Despite official efforts to keep the lid on extremism, extremist thought seems to be deeply rooted in the mind of many Egyptians.
Egypt, which has been home to some of the world's most notorious Islamist organisations, including the Muslim Brotherhood, saw a rise in the Salafist ideology from 1970s when hundreds of thousands of Egyptians travelled to the Gulf and returned with large amounts of money and Wahhabist ideas.
Among their demands was that their wives, sisters and neighbours cover up from head to toe. This happened at a time when a hijab-wearing female was a rarity on the streets of Cairo and Alexandria.
Anwer began a campaign a few months ago calling on women to wear shorts and colourful dresses. She and like-minded thinkers and writers said the hijab is a political statement, not a mere piece of cloth. It is, they say, a symbol of the ideological control Islamist movements impose on Egyptian society.
This is why Anwer is confronting this control and fights her own battle against political Islam. She wears short dresses in public and speaks and writes about women's rights to wear whatever they want.
Her book is the latest in a series of publications calling for abolishing the grip of Islamist groups on the general public.
"I pay a heavy price for speaking and thinking differently," Anwer said. "Sorry to say, I am paying it alone."
Some writers have expressed support and warned against attacks on her.
"What she is facing is intellectual terrorism that must be vigorously confronted," said Cherif Choubachy, a writer and another campaigner against the hijab. "We should not allow those with backward thoughts to have the upper hand."
Leftist writer Farida al-Naqash said those threatening to kill Anwer cannot present a convincing counterargument.
"Sorry to say, some people claim to have exclusive access to correct Islam and to be the guardians of the faith, which is totally untrue," she said.
Anwer's book faced hostility at the Cairo International Book Fair, despite — or perhaps because of — its popularity. Salafist publishers at the fair asked administrators to ban the book.
The book is mainly about what Anwer described as the injustice women are bearing. She said women who revolt against social norms by taking off the hijab are subjected to violence.
She said she will continue to defend her ideas.
"I, however, feel afraid for my children and my personal safety," Anwer said. "I may be forced to fall totally silent but I will never change my ideas or apologise for expressing them."
https://thearabweekly.com/egyptian-writers-life-turns-ordeal-after-penning-book-against-hijab
--------
Five Women among 61 Candidates in Kuwait's By-Elections
February 17, 2019
Manama: Five women will be among the 61 candidates who will be vying for two seats in Kuwait's parliamentary by-elections next month.
At the end of the ten-day registration period, 26 hopefuls, including one woman, signed up their names to replace former lawmaker Jamaan Al Harbesh in the Second Constituency and 35, including four women, to take over from former MP Waleed Al Tabtabaei in the Third Constituency.
The two ex-lawmakers were unseated after they were given jail sentences for their involvement in the storming of the parliament building in November 2011 during a rally calling for the resignation or removal of then Prime Minister Shaikh Nasser Al Mohammad.
Candidates for the by-elections pledged to make a difference in the lives of Kuwaitis, promising to amend laws for the benefit of the people.
One candidate, Saleh Ali Ghadhanfar, said he would focus on enhancing college curricula and keeping abreast of the latest international advances.
Another hopeful, Saad Ebrahim Al Manaa, said he would support calls by young people to the government to cancel all debts, arguing that Kuwait was aiding several countries and should also help its own people who have debts.
Hilal Al Mutawa said that he would work on improving the capabilities of the e-government.
"Some ministries have been active in providing online services, but some public agencies and entities are lagging behind and are not therefore assisting people the way they should," he said.
He also pledged to push for improving coordination between higher education and ministries to ensure that graduates find jobs more easily and reduce unemployment dramatically.
Ahmad Ebrahim Al Athari said that he would focus on the economic of Kuwait's growth potential in order to turn the country into an economic and business hub.
For Jassem Al Arifan, the focus will be on looking after the issues of retired Kuwaitis and on ways to benefit from their "rich experience."
The by-elections will be held on March 16 with the results expected to be announced on the same day.
According to official figures, 62,457 voters are registered to cast their ballots in the Second Constituency and 96,528 in the Third Constituency.
Candidates who wish to withdraw from the race must inform in writing the authorities before the deadline of March 9, officials said.
Under Kuwaiti laws, candidates must be Kuwaitis and at least 30 years old. They must speak and write Arabic and must have an impeccable security record.
The winners in the by-elections will serve until the end of the term of the current parliament elected in November 2016 for four years.
Despite impressive gains accomplished by Kuwaiti women in several areas, their presence in the 50-seat parliament is limited to MP Safa Al Hashem, the lone woman winner in the last elections.
The unseating of Al Tabtabaie and Al Harbash had gripped Kuwait for months and the country needed the Constitutional Court for the denouement of the case in a historic ruling.
The two MPs, currently out of Kuwait, were among a group of 67 defendants that included 10 former and sitting lawmakers who stormed the parliament building in November 2011.
The incident, unprecedented in Kuwait's history, was labelled "Black Wednesday" and caused uproar in the country. The suspects insisted they acted "without malicious intention".
The case remained pending until December 2013 when the Criminal Court acquitted all suspects.
However, the Court of Appeals in November 2017 rejected the ruling, and sentenced the defendants to jail terms ranging from one to nine years.
Al Tabtabai and Al Harbash were sentenced to three years and six months each. The verdict was confirmed by the Cassation Court, the highest court in the country, in May last year.
However, the parliament in October and under the umbrella of Article 16 of its bylaws and after a heated debate among its members voted to keep the membership of the two lawmakers.
The case was referred to the Constitutional Court which said that Article 16 was unconstitutional, annulling the parliament's decision and ordering the two lawmakers to serve their prison terms.
The judges argued that Article 16 made court rulings "hostage" to the will of the parliament and amounted to blatant interference in legal instances and a violation of the principle of separation of powers.
The legislative branch cannot interfere in the work assigned by the Constitution to the judiciary or violate court rulings or undermine their right or independence, they said.
"Lawmakers are not above or beyond the law. Immunity is not a privilege, but is part of public interest. Lawmakers have no more rights than any other Kuwaiti to comply with the law. The law must take its natural course for all people without discrimination and the lawmakers' immunity is not intended to confront decisions, nor is it a means of breaking the law with impunity," they said.
https://gulfnews.com/world/gulf/kuwait/five-women-among-61-candidates-in-kuwaits-by-elections-1.62128808
--------
Don't Abandon Us to Taliban, Afghan Women Beg Donald Trump
February 17 2019
As Afghanistan's top female judge, Anisa Rasouli is accustomed to threats and challenges. Over the past two years, as head of the appeals court on serious crimes and corruption, she has locked up more than 100 officials, including the military commander of Helmand, and retrieved "billions" for the state.
Taking on some of Afghanistan's most powerful people has brought with it daily threats. Last month her car was blown up. "It is frightening," she told me in an interview last week, "but I can't let that deter my work, getting back government money which should be helping ordinary people, widows and orphans."
When she was nominated to be the first woman on the Supreme Court, MPs rejected her on the basis that women had periods.…
https://www.thetimes.co.uk/edition/world/dont-abandon-us-to-taliban-afghan-women-beg-donald-trump-8mdzcwst3
--------
Two Young Girls Saved From Morality Police By Public Intervention
Feb 16, 2019
On Friday, February 16, 2019, morality police tried to arrest two young girls in Tehran for 'mal-veiling'. A group of people intervened and saved the girls from being arrested.
On Saturday, February 16, 2019, the state-run media IRNA officially announced the clashes between a crowd of people with morality police which took place on Friday, February 16, 2019, following the attempt to arrest the two young girls in Narmak, Tehran.
According to witnesses, the morality police agents confronted the girls for 'mal-veiling' and tried to arrest them. However, a group of people intervened to protect the girls and prevented the morality police from arresting the two young girls.
In fear of the spread of a public gathering, the morality police attempted to disperse the crowd by firing bullets into the air. Heavy clashes followed the shots and the crowd broke the door of the vehicle belonging to the morality police, saving the two young girls. The morality police were forced to retreat and leave the scene.
The state-run IRNA news agency acknowledged this news and confirmed that the door of the morality police vehicle was broken down. The news agency also confirmed the video taken by mobile phone from the scene of the clash. (The state-run IRNA news agency – February 16, 2019)
The suppression of women under the pretext of 'mal-veiling' is a systematic and state-supported approach to violence against women in Iran.
A video clip disseminated in the social media on April 18, showed at least four Guidance Patrols attacking four young women in a park, beating and shoving them around for improper veiling and refusing to get on the Patrol's van. One of the young women suffered from a heart condition and went unconscious as a result of the beatings.
The video clip rapidly went viral and raised public outrage in Iran and around the world so much that a number of regime officials including the Minister of Interior had to speak out against the patrols' savagery and promise to follow up the case and have the involved agents punished.
https://women.ncr-iran.org/2019/02/16/two-young-girls-morality-police/
--------
Civil Activist Sahar Kazemi Sentenced To 5 Years' Imprisonment
Feb 16, 2019
Sahar Kazemi, a Kurdish civil activist, was sentenced to five years in prison by the Sanandaj Court.
Those close to Ms. Kazemi confirmed the news and stressed that she was sentenced because of her activities in the field of civil and environmental issues.
After the sentence was issued by the court in Sanandaj, Sahar Kazemi complained about the ruling and called for an appeal. Ms. Kazemi's case has been referred to the Appeals Court.
Simultaneous with the five years of imprisonment sentence for civil activist Sahar Kazemi, her husband, Madeh Fat'hi, was released after three months in prison with a bail of 100 million tomans.
Sahar Kazemi, a female environmental and civil activist and sports coach from Sanandaj, was detained on August 9, 2018, by the Ministry of Intelligence forces at her home. Intelligence Department agents ransacked her house. Over the past two years, Sahar Kazemi had been summoned several times to the Intelligence Department of Sanandaj where she was interrogated.
Sahar Kazemi was temporarily released on November 24, 2018, but was arrested again on Sunday, December 2, 2018, after going to the Justice Department of Sanandaj.
Sahar Kazemi's husband, Madeh Fat'hi, was arrested last autumn and held for three months in a solitary cell in the detention center of the Department of Intelligence of Sananda
A number of environmental activists have been arrested since February 2018, on the charge of espionage.
13 environmental activists have been held in detention for months. Houman Jowkar, general manager of the Asiatic Cheetah Conservation Project in Iran; Taher Ghadirian, young scientist and Human Resource Coordinator at UNESCO; Sam Rajabi, environmental expert; Amirhossein Khaleghi and Niloufar Bayani, wildlife experts; Sepideh Kashani, Houman Jowkar's wife and former activities adviser to the United Nations Environment Programme; and Morad Tahbaz all work with the Persian Wildlife Heritage Foundation.
https://women.ncr-iran.org/2019/02/16/civil-activist-sahar-kazemi-imprisonment/
--------
Islamic State Making Last Stand behind Women, Children
February 15, 2019
Fighters and families with the Islamic State terror group are clinging to one last sliver of land next to the Euphrates River in Syria, using women, children and possible hostages as human shields in an effort to postpone defeat.
Human rights observers and officials with the U.S.-backed Syrian Democratic Forces say IS followers have been pushed out of the eastern Syrian village of Baghuz and taken refuge in what they describe as a collection of tents. Various officials have described the size of the camps as covering less than one square kilometer.
But efforts by the SDF to deal a final defeat to the terror group's self-declared caliphate have been slowed due to the presence of the civilians, and efforts to negotiate a surrender have also gone nowhere.
Speaking at the White House on Friday, U.S. President Donald Trump said, "We have a lot of great announcements having to do with Syria and our success with the eradication of the caliphate and that'll be announced over the next 24 hours and many other things."
In Munich, the top U.S. defense official offered a cautious assessment.
"We have eliminated the group's hold on over 99 percent of the territory it once claimed as part of its so-called caliphate," acting Defense Secretary Pat Shanahan said during a Friday news conference with his German counterpart at the Munich Security Conference.
"We have ensured ISIS no longer holds the innocent people of Syria or Iraq in their murderous, iron fist," he said, using an acronym for the terror group. "We have destroyed its ability to mass forces, and we have eliminated most of its leadership and significantly diminished its resources."
'Despicable and ghastly acts'
Coalition officials Thursday described SDF efforts in and around Baghuz as "clearance operations," warning that IS fighters had become so desperate that they were shooting at their wives and children as they sought to flee.
"These utterly despicable and ghastly acts further illustrate their barbaric nature and desperation," Operation Inherent Resolve Deputy Commander, British Maj. Gen. Christopher Ghika, said in a statement.
"The end of the physical caliphate is at hand," he added.
Some IS followers appear to have given up.
Monitors with the British-based Syrian Observatory for Human Rights said about 240 IS fighters surrendered this past week. The U.S.-led coalition and an SDF commander contacted by VOA could not confirm the claim.
They said the SDF also evacuated about 700 people, mostly women and children, from the terror group's refuge outside Baghuz on Thursday, taking them by cars and trucks to secured areas away from the front.
The SDF itself says over the past several weeks, tens of thousands of civilians have fled from IS.
But they say about 300 hardened IS fighters, many of them foreign, still remain, willing to fight to the death. And some SDF commanders say more civilians are being brought to the tent city, apparently from underground tunnels.
Observers late Thursday reported a resumption of shelling by the SDF and coalition forces, saying it appeared to be another attempt to convince the remaining IS holdouts to give up.
IS threat to remain
Still, even once the last pocket of IS-held territory is taken, U.S. and coalition officials warn the fight will not be over.
Top U.S. military officials have warned the terror group still has 20,000 to 30,000 followers, including fighters, spread across Syria and Iraq. And they worry about the ability of their Syrian partners, in particular, to keep IS in check once U.S. troops withdraw under plans announced by Trump.
The commander of all U.S. forces in the Middle East, Central Command Commander Gen. Joseph Votel, told CNN on Friday he disagreed with Trump's decision to call for U.S. forces to leave.
"It would not have been my military advice at that particular time. ... I would not have made that suggestion, frankly," he said. "[The caliphate] still has leaders, still has fighters, it still has facilitators, it still has resources, so our continued military pressure is necessary to continue to go after that network."
In the meantime, U.S. officials have been talking with other members of the coalition about increasing their help as U.S. troops prepare to leave. But so far, other coalition members, many of whom have no troops on the ground in Syria, have been unwilling to make any specific commitments.
"I think there's a tremendous desire to have a security arrangement or mechanism that doesn't result in a security vacuum. What that is … is still being developed," a senior defense official said Friday on the sidelines of the Munich Security Conference.
"We've been pretty clear that this is going to be a deliberate withdrawal," the official added. "There's a timeline associated with that that's conditions-based. We've said publicly on a number of occasions that it will be here in months, not weeks and not years."
https://www.voanews.com/a/islamic-state-making-last-stand-behind-women-children/4788646.html
--------
URL: https://www.newageislam.com/islam-women-feminism/muslim-women-around-world-enthusiastically/d/117770
New Age Islam, Islam Online, Islamic Website, African Muslim News, Arab World News, South Asia News, Indian Muslim News, World Muslim News, Women in Islam, Islamic Feminism, Arab Women, Women In Arab, Islamophobia in America, Muslim Women in West, Islam Women and Feminism