New Age Islam News Bureau
18 Dec 2019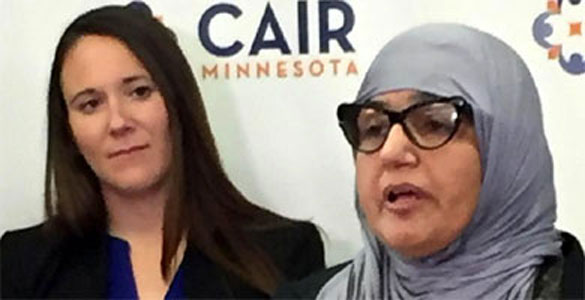 Al-Kadi recently settled a federal lawsuit she filed against Ramsey County after staff at the Ramsey County Jail forced her to remove her hijab to take her booking photo when she was briefly held there for a traffic violation back in 2013.
-----
• Muslim Woman Who Sued Jail Staff over Hijab Removal Gets $170K Settlement
• Workplace Discrimination towards Muslim Women in New Zealand Rising
• Woman, Who Went Missing, Willingly Converted To Islam To Islam Not Being Kept In Captivity By Anyone
• Lareb Naseem Posted the Video of Her School Going Sister, 16, Being Verbally Abused In Croydon By A Racist Woman
• American Woman Finds Out She's Pregnant — 9 Days before Giving Birth
Compiled By New Age Islam News Bureau
URL: https://www.newageislam.com/islam-women-feminism/muslim-woman-sued-jail-staff/d/120560
------
Muslim woman who sued jail staff over hijab removal gets $170K settlement
Dec 17th 2019
Sarah Horner / St. Paul Pioneer
ST. PAUL — A Muslim woman who sued Ramsey County when she was forced to remove her hijab for a booking photo reached a $170,000 settlement that includes policy changes to keep it from happening to other Muslim women.
Aida Al-Kadi spoke Tuesday, Dec. 17, about the humiliation she faced while detained at the Ramsey County Jail for a traffic violation in 2013.
"I can't ever be made whole after this experience … but I am grateful to know that any other woman detained by Ramsey County will not experience what I did," she said. Al-Kadi's comments were made at the Council on American-Islamic Relations office in Minneapolis.
Additionally, Ramsey County agreed to adopt a policy that permits all Muslim woman to wear hijabs during booking photos, and a commitment to train all correction officers on the new policy.
Executive Director Jaylani Hussein called the outcome a "landmark case" that epitomizes CAIR's mission.
In August of 2013 a family emergency forced Al-Kadi to miss a court date on a traffic violation for driving with a revoked license. A warrant was issued for her arrest, and she turned herself in to a police station in Edina shortly thereafter.
She was initially booked in Hennepin County, and, subsequently, Ramsey County.
A practicing Muslim born and raised in the U.S., Al-Kadi considers wearing her hijab "central to her faith," and was wearing one at the time, along with an abaya, a light garment made of thin material, according to the lawsuit she later filed in federal court.
She was told by corrections workers to remove the articles while they searched her. She explained that her religious beliefs prohibited her from doing so in front of men. She was subsequently taken to a private room and ordered to remove her hijab again, even though male staffers were still present.
Her garments were returned and Al-Kadi was taken for a booking photo, where she was again instructed to remove her hijab.
Al-Kadi hesitated, and a female staffer attempted to forcefully remove it before Al-Kadi complied.
She was given a bed-sheet to wear in its place. The booking photo was later published online on a third-party website.
"It was one of the most humiliating and harmful experiences of my life," Al-Kadi recalled Tuesday.
Upset, she went to the CAIR offices for help. Legal staff sent letters to Hennepin and Ramsey County demanding changes to their jail policies.
Ellen Longfellow, a civil rights attorney for CAIR, spoke about that stage of the process Tuesday, saying Hennepin County responded quickly to the letter and agreed to discontinue its policy forcing detainees to remove hijabs during booking photos. Hennepin County also agreed to start providing jail-issued hijabs to inmates.
Ramsey County, on the other hand, would only agree to the latter, Longfellow said.
Al-Kadi filed a lawsuit against Ramsey County in federal court. She represented herself in the case, because neither she nor CAIR had the means to retain an attorney.
"I was desperate … letting it go would not be justice," Al-Kadi said.
The lawsuit claimed Ramsey County discriminated against her for her religious beliefs and violated her constitutional rights.
In 2017 she secured legal representation through the Pro Se Project, an initiative of the U.S. District Court and the Minnesota Chapter of the Federal Bar Association that provides access to justice for underrepresented litigants.
Ramsey County subsequently moved to dismiss the lawsuit, but U.S. District Judge John R. Tunheim determined in an order issued this past June that the case had enough merit to proceed to trial, according to Caitlinrose Fisher, one of Al-Kadi's attorneys who also spoke at Tuesday's press conference.
That paved the way for the settlement, Fisher said. The impact may well be statewide, potentially leading other counties to adopt policies similar to those of Hennepin and Ramsey counties.
"The court's order makes it clear that … requiring a practicing Muslim to remove a hijab for a booking photo … can meaningfully limit the individual's (right) … to practice … their faith," Fisher said.
She added that Ramsey County also agreed to destroy Al-Kadi's booking photo as a part of the settlement. The third party website also has removed it.
The Ramsey County Board agreed to the settlement this past June, shortly after the judge's order, according to a spokesman, who released the following statement on behalf of the county:
"We believe that this settlement agreement is fair and in the best interests of all of our residents. Ramsey County's values hold that the rights, beliefs, well-being and dignity of all our residents are protected and honored in all aspects of what we do. The practices outlined in the agreement to improve the booking process for those with religious head coverings better reflect these values. The County Board looks forward to updates from the Sheriff's Office as implementation of these practices continues," the statement read.
https://www.inforum.com/news/crime-and-courts/4827823-Muslim-woman-who-sued-jail-staff-over-hijab-removal-gets-170K-settlement
------
Workplace Discrimination towards Muslim Women in New Zealand Rising
Anjum Rahman
18/12/2019
Lana Andelane
Muslim women are increasingly becoming targets of workplace discrimination in New Zealand, according to Islam Women's Council of New Zealand co-founder Anjum Rahman.
Speaking on MagicTalk on Wednesday morning, the Hamilton-based political and human rights activist said the number of cases had particularly increased "in the last six to eight weeks" alone.
"There are still a lot of cases of discrimination in employment: verbal abuse, harassment... particularly in the last six to eight weeks we're seeing a rise in the country," she told host Stephen McIvor.
Rahman, who is a semi-finalist for Kiwibank's New Zealander of the Year, said Muslim women who wear headscarves are particularly targeted.
"Muslim women who wear headscarves, because we're a lot more visible, people tend to target us because they think we're vulnerable and can't fight back... it is feeling a bit hostile at the moment.
"There seems to be this undercurrent or rhetoric of hate... it isn't just our community, we see it a lot in online hate [towards] the transgender community. I wouldn't say it's specifically just us, but we're feeling it."
Rahman "expected" the wave of harmony that followed the terror of the Christchurch mosque shootings wouldn't last for long.
"I guess in that sense, that's why I'm working on this project, called Inclusive Aotearoa Collective, which is a long-term project looking to counter discrimination - or more positively thinking of how we can work differently to bring people together as a community," she said.
Inclusive Aotearoa Collective was founded by Rahman to help enable each person and community "to claim their place in Aotearoa New Zealand, while recognising the right of others to do so too".
She noted that New Zealand typically has low rates of physical violence towards the Muslim community.
"In New Zealand, we're really lucky that we're not suffering from physical violence, to a large extent, we're not seeing the kind of things happening in India at the moment or laws that restrict our clothing... in that sense, we're free to practice our religion. I know people of many faiths across the world don't have that.
"Our young people are leading the way in so many cases... I think our young people will save us. The work needs to be done on people from my generation."
Eight women, including Rahman, and two men have been named as the shortlisted candidates for the 2020 Kiwibank New Zealander of the Year.
https://www.newshub.co.nz/home/new-zealand/2019/12/workplace-discrimination-towards-muslim-women-rising-in-last-6-8-weeks-anjum-rahman.html
------
Woman, Who Went Missing, Willingly Converted To Islam To Islam Not Being Kept In Captivity By Anyone
KARACHI: A 22-year-old Hindu woman, Mehak Keswani, who went missing from the Defence Housing Authority (DHA) in Karachi on Friday, has converted to Islam in Ghotki.
In a video statement available with The Express Tribune, Mehak can be seen reciting the Kalma and saying that she has willingly converted to Islam and was not being kept in captivity by anyone. The video statement has been released in two languages – Sindhi and Urdu.
She said that her new Muslim name was Mehak Fatima, adding that she had travelled to Dargah Bharchoondi Shareef located near Daharki in Ghotki district, where Mian Javed performed the formal ceremony of her conversion to Islam.
Mithoo, who is famous for facilitating such conversions, said that whoever visits his home and asks to convert to Islam, is facilitated and aided by all his family members and followers. "We also support them financially and provide shelter if someone is in need," he explained.
According to Mithoo, the couple has left for Punjab, adding that it was their first visit. "I just know that they were class fellows," he maintained. "Both the boy and the girl were intelligent," he added.
Meanwhile, the woman's family has registered an FIR at the Defence Police Station on December 13, stating that Mehak Keswani, daughter of Amar Lal, went missing from DHA Phase 2 on Friday evening. "She was living with us for some time," said Dr Siri Chand, a maternal uncle of Mehak. "Police did not act in a timely manner," he alleged. Dr Chand said that the family was unaware of Mehak's whereabouts. "She was kidnapped but we have not received any call from anyone yet," he said.
Speaking to The Express Tribune, Mehak's uncle confirmed that his niece and Ashar were friends. "Both were class fellows. We have also tried to approach his family members but Ashar hasn't been in touch with them either," he added.
https://tribune.com.pk/story/2120091/1-woman-went-missing-converts-islam-ghotki/
------
Lareb Naseem Posted the Video of Her School Going Sister, 16, Being Verbally Abused In Croydon By A Racist Woman
17 December 2019
By MARK DUELL FOR MAILONLINE
This is the moment a 16-year-old Muslim girl wearing a hijab was told to leave her hometown by a racist woman who branded her a 'problem to her community'.
The video filmed in Croydon, South London, shows the girl being verbally abused by the woman because she was wearing an Islamic head covering.
The girl's sister Lareb Naseem posted the disturbing footage to Twitter, and it has already got 9,200 likes, 4,300 retweets and 1,000 comments.
She wrote: 'It hasn't even been a week. I can't even believe it. You really can't make it up. We've lived in Croydon for over 12 years. Lived in England since 1995.
'I'm stumped. This is my 16-year-old sister minding her damn business trying to commute to college like she's done every day.'
In the video of the abuse, the abuser's face cannot be seen. But she is heard saying: 'You need to move away from your house you need to move away from the area.'
'What have I done?' the teenager replied. The aggressor added: 'Do you understand you are a problem in the community. You have caused a problem.'
The teen said back: 'Me personally? Are you talking about me being a hijabi? I'm a problem in the community for living my own life and minding my own business?'
The video has caused outrage online and comments have flooded in blasting the woman responsible.
Labour MEP Seb Dance tweeted: 'I am so sorry your sister had to be put through that. What an appalling human being (and you are right - those shoes are). You must report it, there cannot be any tolerance of this.'
Miss Naseem wrote to Steve Reed, MP for Croydon North: 'How and where do I report this case regarding this horrible person with her disgusting taste in shoes?'
Tell Mama, which supports Islamophobia victims, wrote: 'Sorry to hear this happened to your sister Naseem, solidarity with you and your sister. We are here to assist.'
One Twitter user said: 'I'm so sorry this has happened. I'm a Croydon resident and I'd never thought this kind of horrible behaviour would rear its ugly head here. I'm so worried about the future of this country.'
Another added: 'Your sister stood up for herself so well. Tell her how many of us are behind her.'
https://www.dailymail.co.uk/news/article-7801801/Muslim-schoolgirl-16-hijab-films-racist-woman-telling-away-London-home.html
------
American Woman Finds Out She's Pregnant — 9 Days before Giving Birth
Dec 18, 2019
MEMPHIS: Lauren and Keith Chalk struggled for years to have a baby. The couple suffered two miscarriages, and they thought a full-term pregnancy may not be possible for them. Then, on December 2, they welcomed their first child into the world — nine after days after they found out they were pregnant. Lauren, 28, found out she was pregnant during a visit to her parents' home in Louisiana. She said her mother, who is a medical professional, suggested taking a test because she seemed "on edge". She thought Lauren's hormones may be off. The weekend before Thanksgiving, she took the test — it was positive. She and Keith, 28, got a doctor's appointment.
But, the day before her appointment, Lauren noticed blood. It made her nervous, she said, because it reminded her of past miscarriages. "I'd taken a pregnancy test... Before the doctor's appointment would come, that would happen," she said. As a teenager, Lauren was diagnosed with polycystic ovary syndrome (PCOS), anemia and lupus anticoagulant. After she noticed blood this time, they rescheduled her appointment a day early. Doctors found Lauren's blood pressure was high and an obstetrician performed an ultrasound.
Lauren said she thought she may have been four or five months pregnant. "But then... there was a whole baby on the screen," Lauren said. She and Keith sat in awe. When the doctor returned, she recommended having the baby that day.
Lauren had an induced birth and gave birth to her "miracle baby", Wyatt Rivers, on December 2. The newborn weighed nearly 3kg and came home after six days. "I think that God planned all of it to be the way that it was," she said. Keith also agrees.
Lauren said she hadn't gotten sick during her pregnancy. There were times that she felt movement, but disregarded it as gas bubbles. PCOS also threw off her awareness. The condition has caused Lauren to have irregular periods for years. "When I missed my period, that's normal." Irene Peregrin, an OBGYN, said Lauren's story doesn't surprise her. "I have seen that before, especially in patients that have PCOS," Peregrin said. She said some women don't have symptoms. "Some patients do not have morning sickness," she said.
https://timesofindia.indiatimes.com/world/rest-of-world/woman-finds-out-shes-pregnant-9-days-before-giving-birth/articleshow/72864245.cms
------
URL: https://www.newageislam.com/islam-women-feminism/muslim-woman-sued-jail-staff/d/120560
New Age Islam, Islam Online, Islamic Website, African Muslim News, Arab World News, South Asia News, Indian Muslim News, World Muslim News, Women in Islam, Islamic Feminism, Arab Women, Women In Arab, Islamophobia in America, Muslim Women in West, Islam Women and Feminism