New Age Islam News Bureau
07 January 2021
• Dubai: Unique Four-Stage Running Challenge for Women Announced
• Women in Turkey Are Determined To Stop Femicide - Murders Of Women
• All-Female Podcast Team Gives A Voice To Muslim-Americans
• Bahrain's King Commends Role Of Policewomen In Nation-Building
• 'Dehumanized For Being Black Muslim Women': Family Speaks Out For First Time Since Mall Attack
• Eight Women Of Old City Of Hyderabad Sold To Arab Families In Various Parts Of UAE For Rs Two Lakh Each To Work As Maids
Compiled by New Age Islam News Bureau
URL: https://www.newageislam.com/islam-women-feminism/muslim-woman-returns-after-marriage/d/124008
----
Muslim Woman Returns after Marriage to Hindu Youth, Says, She Will Live With the Man Only If He Converts To Islam
By Manish Sahu
January 7, 2021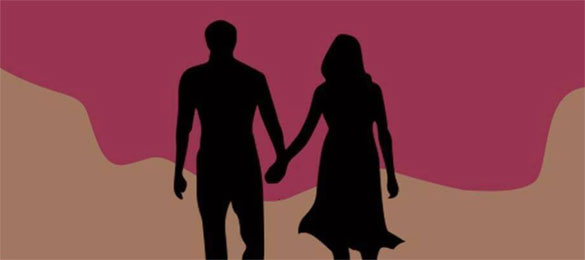 A 19-year-old Muslim woman, who went missing in Auraiya along with a Hindu youth in October, has returned home and denied allegations that she was abducted by him, as alleged by her family members, police said on Wednesday.
She told the police that she went away on her own and got married to the 20-year-old Hindu youth, who ran a cellphone shop, last month at an Arya Samaj temple in Delhi, said sub-inspector of Ayana police station Devi Sahay Verma. However, in her statement recorded before the magistrate, she has said she will live with the man only if he converts to Islam.
"In her statement before the magistrate, she said she had gone on her own. She also said that if the youth converts to Islam, she is ready to go with him otherwise she will live with her parents," said Additional Superintendent of Police, Auraiya, Kamlesh Kumar Dixit.
The police officer said the woman, who showed up at a police station in Auraiya along with her partner on Monday, returned to her parents on Wednesday.
Sub-inspector Devi Sahay said the woman's brother approached the police on October 12, alleging that his sister had been abducted by the Hindu man the previous day. He also complained that his sister had taken away Rs 80,000 cash and jewellery along with her at the behest of the man. Following this, an FIR was lodged under IPC Section 366 (kidnapping, abducting or inducing woman to compel her marriage).
With the woman denying that she had been abducted, Auraiya SP Aparna Gautam said the police will now examine her statement to the magistrate before deciding on the next course of action in the case.
https://indianexpress.com/article/india/muslim-woman-returns-after-marriage-to-hindu-youth-denies-abduction-7135927/
--------
Dubai: Unique Four-Stage Running Challenge For Women Announced
January 06, 2021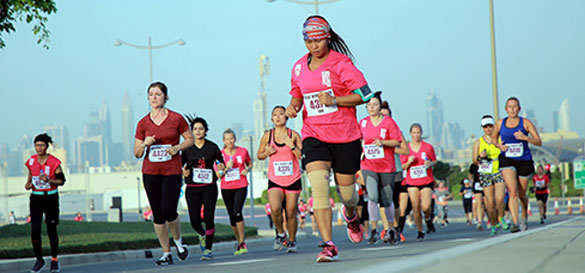 Organised as part of the 'World's Coolest Winter' campaign, the Challenge will take participants to four different locations and they will receive uniquely-designed medals
-----
Dubai: The Dubai Sports Council (DSC) has announced an exclusive new event for ladies — a four-part Dubai Women's Running Challenge — that will take participants to four unique locations across the emirate.
Organised in collaboration with Dubai Municipality under the slogan 'It is good to compete in the World's Coolest Winter', Stage One of the Challenge will take place at the Dubai Safari Park on January 16.
The opening stage is meant to give participants an unforgettable experience as they run past lions, giraffes and many other exotic animals.
Stage Two will take place at The Palm Jumeirah on January 23, while Stage Three, which will be a night race starting at 9pm, will take the ladies to Dubai Garden Glow on January 28.
The Challenge will then wind up at Al Seef on February 6, allowing participants to soak in the atmosphere of the cultural and historic district of Dubai.
Registrations are now open now for all four stages of the Challenge on the Hopasports website, with participants having an options to choose from three distances, namely the 10km, 5km or the 2.5km.
Participants in the 10km run will be divided into five age groups starting from the juniors from 12 to 17 years and moving up to the 18-39 years, 40-49 years, 50-59 years and the veterans 60-99 years categories.
Participants in the 5km race will be divided into two age groups, namely the 12-17 years junior category and the 18-99 years senior category. In the 2.5km race, there will be four age groups, namely from 5-9 years, 10-14 years, 15-17 years and 18-99 years.
To encourage and honour participants, the DSC has designed a unique set of medals for the Dubai Women's Running Challenge. The medals for each stage have been designed to represent the landscape of that particular stage and, when put together, the four medals will spell 'Dubai'.
The Dubai Women's Running Challenge joins a growing list of initiatives and events launched by DSC to promote sports and a physically active lifestyle among all segments of the community, especially among women and children. The Challenge will be a boost for women of different age and nationalities, who are looking for such events to satiate their competitive urges.
The Challenge also comes as part of DSC's strategic objective of empowering women, and promoting sports and physical activity among women through such competitions.
https://gulfnews.com/sport/uae-sport/dubai-unique-four-stage-running-challenge-for-women-announced-1.76307144
--------
Women In Turkey Are Determined To Stop Femicide - Murders Of Women
04 January, 2021
By John Solomou
Nicosia [Cyprus], January 4 (ANI): On December 29 in Istanbul, a man named Kemal Delbe set on fire his former girlfriend Aylin Sozer, a lecturer at the Istanbul Aydin University, pouring a flammable liquid on her. Her murderer narrowly escaped lynching by Sozer's neighbours when taken in custody by the police.
Her case is indicative of the serious problem of femicide in Turkey, which the Islamist Interior Minister Suleyman Soylu, recently tried to downplay saying that the murders of women in his country are exaggerated and that in 2020 there were only 234 women killed in Turkey and not 353 as the femicide watchdog "Counter Monument" documented.
Femicide is defined by the World Health Organisation by asking the question of "If the victim was a man, would he still be killed?" If the answer is no, it is femicide. What is causing concern is that the patriarchal Turkish society and both the right-wing and left-wing press views violence against women as something acceptable, frequently justifying the murder of women as "a matter of honour," or "crimes of passion."
On the same day, that is in December 29, in addition to Aylin Sozer, three other women were killed. They were Selda Tas, Vesile Donmez and Betul Tugluk. As the Counter Monument points out "even before the women are laid to rest, the massacred women are turned into targets in the press. The massacred women are presented as guilty. Even after they die, women are forced to prove that they did not deserve to die. It is debated whether they deserved it or not."
Last November a women's rights group called "We want to Live Initiative" submitted to the Turkish Parliament 600,000 signatures they collected demanding that the Turkish authorities fulfil their duties to end violence against women and comply with the relevant European Convention and Turkey's Law no 6284 to protect the family and Prevent Violence against Women. The Initiative says:" We know that femicides and rapes are on the rise as male justice issues more verdicts awarding murderers with impunity and women who act in self-defense are punished."
According to the Seattle-based non-profit organization Borgen Project Femicide in Turkey is on the rise.
"The Turkish government has admitted to not keeping records of violence against women, but the Turkish feminist group "We Will Stop Femicide" reported that 474 women were murdered in Turkey in 2019, mostly at the hands of relatives or partners. These numbers are expected to skyrocket in 2020 due to coronavirus lockdowns.... Gender-based and domestic homicides are often referred to as "honor killings."
Anti-female sentiments are deeply engrained in Turkish culture. The President of Turkey and other members of the Turkish government have made many comments publicly degrading women. The usual rhetoric is that women are not equal to men and that women without children are deficient. Members of the Turkish government have also publicly encouraged verbal harassment of women wearing shorts. The country's former Deputy Prime Minister, Mehmet Simsek, blamed the rising unemployment rate on women seeking jobs. Former mayor of Ankara, said that women who are victims of rape should die before they have an abortion."
Many women in Turkey, especially in the west part of the country, have organised protests about this horrible state of affairs and demand protection from the state against the killings and the degrading statements by political parties and government officials. In some cases, the Police arrests protesters and use disproportionate force to disperse them. Some protesters are illegally detained, beaten and abused.
It is ironic that in 2011, Turkey became the first country to adopt the Council of Europe Convention on Preventing and Combating Violence against Women and Domestic Violence, which is called the "Istanbul Convention". However, it did very little to implement any of the provisions of the Convention and many conservative and ruling party AKP politicians see the Istanbul Convention as "a means by the West to hurt Turkey".
The government of President Tayyip Erdogan, together with fanatical Islamists and conservatives are pondering whether to withdraw from the Istanbul Convention, arguing that it is incompatible with the moral character of the Turkish society. If this opinion prevails, Turkey will become the first country to sign and then leave the Treaty. Of course, women organisations which demand that the problem of violence against women no longer be swept under the carpet would strongly react and stage massive protests against such plans.
Another serious problem is the way the Turkish legal system treats cases of violence against women. Courts allow offenders to get reduced sentences if they display signs of regret, or try to find extenuating circumstances for the crimes committed, while men's lawyers, as a rule, claim that the victimizer was provoked by the victim, or that he defended his honour or the honour of his family.
Mina Tumay, a media specialist at the Ethical Journalism Network, examining the way femicides and violence against women is reported in Turkey's media says: "Government-backed and opposition media outlets are both guilty of unethical reporting of gender-based violence. We see a pattern of victim-focused, murder-excusing, melodramatic reporting styles that often disclose more information about the victim and the subtext than the offender, and that fail to give context to the crimes, or show how femicide is the last act of control in a relationship." (ANI)
http://www.businessworld.in/article/Women-in-Turkey-are-determined-to-stop-femicide-murders-of-women/04-01-2021-361288/
--------
All-female podcast team gives a voice to Muslim-Americans
by Hafsa Fathima
January 6, 2021
SAN MARCOS — As a marriage and family therapy graduate student, hosting a podcast was the last thing on Sarah Kouzi's mind.
The 23-year-old San Marcos resident was already juggling classes at San Diego State University and had never produced any kind of audio before, she said.
Today, Kouzi and her co-hosts — Doaa Abulebbeh, Sara Suleiman, Ro'aa Alkhawaja — are already twelve episodes into their show, "Caught in The Middle."
The podcast operates on a simple premise. As their blurb on Apple Podcasts states, it's a series of episodic mullings on critical issues they believe Muslim youth face in the United States. Kouzi and her co-hosts have spent the last year conversing about Islamic spirituality, finding an identity and recent discussions about the hardships of COVID-19.
"I was a little bit anxious," said Kouzi, recalling their early production days. "It felt also like a big responsibility, that what I could say could impact other people."
They're joining a league of Muslim voices — several of whom are also all-female productions — on one of the most innovative and fastest-growing media platforms.
Over 50% of the U.S. population above the age of twelve listened to podcasts in 2020, according to data from Infinite Dial, an annual digital media survey conducted by Edison Research and Triton Digital. Podcasts on various streaming platforms drew in over 100 million listeners a month, the survey reported.
"It's the simplicity of the form that encouraged us, you're just talking and connecting with an audience," said Abulebbeh.
The show's introductory episode sets a clear path: the team is intent on providing a "safe space," to explore issues like gender inequality, culture and finding a sense of comfort in both their Muslim and American identities.
Muslim-Americans still face higher levels of discrimination than other faith groups at jobs, airports and health-care services, data from the Institute for Social Policy and Understanding revealed. Voicing these concerns and unmasking stereotypes could still be a daily struggle, the team said.
"It's been a way to say that we exist, we're here (as Muslims) and there are certain struggles that are unique to us," said Kouzi.
The idea to launch a show focused on Muslim-centered issues was inspired by two acquaintances of the team: Arwa Alkhawaja, who leads a non-profit focused on mental health and Dr. Rola Abushaban, who runs a private acupuncture practice in Mission Valley.
The concept had been brimming in their minds for a while, Abushaban said, spending weeks trying to decide who would be best to bring the potential show alive.
"This is the generation that learns from podcasts," said Abushaban. "So I thought, 'Let's get with it.'"
While topics were quickly pitched and discussed, the actual process of podcasting was not without its challenges. None of them had any previous technical experience, Arwa Alkhawaja said, picking up skills as they went along.
"We started off recording with a microphone clipped to a straw," she said. "We had to get creative, learning things like how to fix the sound quality."
Production has since taken on a less improvisational approach, they said, with Ro'aa Alkhawaja and Abulebbeh editing and the rest researching, brainstorming and deciding what issues needed the most attention.
Sometimes, it's as simple as exploring the idea of gratitude or finding hope in the midst of the pandemic. Episodes like, "The Why Behind The What," delve into more personal aspects, like Ro'aa Alkhawaja's experiences wearing the hijab, a veil worn by Muslim women to maintain modesty.
At the start, it was a decision that "never really clicked," she says in the episode. "It was never really something that I thought about, I just put it on."
The ensuing conversation tracks how wearing the veil became more than just a piece of clothing, but the symbol of an identity she held important. It's a piece they received positive feedback on and remains one of her proudest episodes, she added.
The issues they've documented have long been a part of Muslim-American discourse, from comedian Hasan Minhaj's story on growing up Muslim in a post-9/11 world, seen on Netflix's Homecoming King, to more contemporary portrayals found in shows like Hulu's Ramy. Focusing on issues like identity and belonging hasn't always come easy, but it's also been empowering, they said.
"Sometimes explaining ourselves takes so much energy, as a minority in America," said Kouzi. "But I think in our episodes, it doesn't feel like a burden. It feels like I'm having this conversation with others who can relate to me. It actually feels more like a relief…it's almost therapeutic in a sense."
As they continue to conceptualize the future of the show, they hope to bring a diverse cast of guests in upcoming episodes.
"There are Muslim women in fields that are extremely difficult, like astrophysics, medicine and politics," said Arwa Alkhawaja. "And they dare to conquer them. We'd love to have their voices on the show soon."
https://thecoastnews.com/all-female-podcast-team-gives-a-voice-to-muslim-americans/?__cf_chl_jschl_tk__=c0d4b78391ebad27b3be9feb6a299fcf99233b85-1610020028-0-AaEAGVWxUguoe1coNqlawts_4hSYqMmffWO1Ib4Mo-hkmoHjh9AeCrnesO4PJouv4XHVL2BJtPBTfMtMo-dQy1962n0ao7WfMoQyru14S-V09_ED0TNq-ZXZC-hNEnN0mM577SNvgs443ch5KYcQKaGnwcYEyyoy7zGbH9fI7-3aOB7KrI6f69YkC0An-57ZsxsvKgMgTvcxLShQacUPzYjC7cEspHqAPgbNI0g7TqC8g0Zs6eNnOxfciN0k_rBG03MY-i8C6tR-t9O5jypjtB4eKEj0iU3MgBSMprg7gN93icdKUizY1LvQCW9cI1qq7jBVB1k-jBNRgjgMsJ9KXSiZF_-J_xypHg8p3ieiCsmBWKT3LAGNg7AA3307EoBTVks3RHx4i6J25MrsxPY4T67auJvSfbZ2S5nZLo13NLS4w2yVlEIF3Q6Pm44jyoFHmg
--------
Bahrain's king commends role of policewomen in nation-building
December 23, 2020
MANAMA — Bahrain's King Hamad bin Isa Al Khalifa has underscored the big strides made by Bahraini women, pointing out that they have always been and will remain a key partner in nation-building.
He stressed that the women police, since its inception in the 1970s, has shown the capability to exercise police work with high professionalism.
King Hamad underlined the key role played by the women police as a main component in the security process by harnessing all capabilities and stimulating determination in order to enroll the elite of the nation's girls in police work and enhance their active contribution in preserving national security and achievements.
"I am pleased to take advantage of this national occasion marking the 50th anniversary of the Bahraini Women Police to express pride and appreciation of all female police personnel who have demonstrated dedication to work and contribute to our blessed security march that always bears the glory of a nation's civilization and renaissance," King Hamad said.
He commended the historic and pioneering role of Princess Sabeeka bint Ibrahim Al Khalifa, wife of the king and president of the country's Supreme Council for Women, in empowering Bahraini women and enrolling them in various fields.
The king stressed the leading position of the Bahraini Women Police, describing it as a model to emulate in the region.
He also praised the role of the Interior Minister in providing every support and care for the women police to further boost their contribution to assuming security responsibilities by providing them with the needed training and rehabilitation.
King Hamad affirmed the dedication and high professionalism of the Bahraini Women Police in performing their security role which enabled them to take up leading posts in police work and fulfill hard missions.
He lauded the contribution of the Bahraini female police personnel to building a secure nation, praising their sense of responsibility and achievements. — Bahrain News Agency
https://saudigazette.com.sa/article/601757/World/Mena/Bahrains-king-commends-role-ofpolicewomen-in-nation-building
--------
'Dehumanized for being Black Muslim women': Family speaks out for first time since mall attack
January 6, 2021
EDMONTON -- A woman whose mother and sister were violently attacked while wearing hijabs at an Edmonton mall says they are healing but will forever bear the scars of that day.
It's the first time the family has spoken publicly about the Dec. 8 midday assault in the parking lot of the Southgate Centre.
The woman spoke anonymously for fear of retribution.
"My mother moved her kids to Canada for a safer and better life. And now that better life feels impossible to ever again attain. She fears for her children's lives in this country that should be home to us."
The Edmonton resident said she was speaking on their behalf to introduce the "women behind the headlines: two black, Canadian, Muslim women who are strong and powerful and brave survivors."
She also shared their harrowing recount of attack, detailing what police had previously said little about except to call it a "hate-motivated crime."
'I'M GOING TO KILL YOU, TAKE OFF THE HIJAB'
The woman said she and her family have lived and worked in Alberta for a generation, and in fact been Southgate customers countless times.
"We always felt like this is our home. We have never questioned whether we belong here until the day of this vicious attack."
But that Tuesday, her mother and sister – visibly Black, hijab-wearing women – were sitting in their vehicle when they say two men approached them yelling racial obscenities.
"You don't belong here. Go back to your country. You F Somalis. F n-word. I'm going to kill you. Take off the hijab."
Witnesses told police a man punched and broke through the passenger window.
The family believes he was trying to pull off the woman's hijab. She tried to flee, but he chased and beat her.
The woman's mother, someone "who carried the world on her shoulders for her kids… in a moment of compete helplessness, could only beg and plead for help."
"This horrific tragedy has left my family shattered. The strongest women I know were violated, dehumanized, for being Black Muslim women."
CALL TO ACTION
The attack has amplified calls for action from governments and Canadians alike.
On Wednesday, the National Council of Canadian Muslims asked the provincial government and all Alberta mayors to create local and provincial plans to end street harassment and racist violence in the province, and for all elected officials in Canada to "stand up clearly" and take action against white supremacist groups.
CEO Mustafa Farooq said many politicians had reached out to join the conference or stand in solidarity.
"Now is not the time for words," he said in response. "Now is the time for action."
The NCCM is also asking the public to donate to victim support funds.
The family representative who spoke Wednesday called finding appropriate support resources a "retraumatizing."
"We didn't know where to start, where to go, and the people that did come and try to help, just weren't as experienced in hate crime or how to navigate in a situation like this."
'TO ALL MY HIJABI SISTERS'
Soon after the Dec. 8 attack, Edmonton Police Service charged Richard Bradley Stevens, 41, with two counts of assault and one count of mischief.
Officers said that although the man was known to police, it was the first time he had been connected to a racial incident.
As for the family's allegation his brother was involved, too, police said Wednesday a "complete investigation" had not found "evidence to support laying charges against a second individual."
The EPS spokesperson said investigators interviewed multiple witnesses and reviewed all available footage, but that if there was any information that had not been reported to officers, to contact police.
About one week after the mall assault, a woman wearing a hijab was attacked at the Southgate LRT station. A woman was charged with assault with a weapon.
The family member told her community to remain strong in the face of racism.
"To all my Hijabi sisters who take the risk every day that leave their homes as their true and authentic selves, helping to make Canada the pillar of diversity and tolerance it claims to be, I want you to know you are strong. You are powerful, you are a queen."
https://edmonton.ctvnews.ca/dehumanized-for-being-black-muslim-women-family-speaks-out-for-first-time-since-mall-attack-1.5255973
--------
Eight Women Of Old City Of Hyderabad Sold To Arab Families In Various Parts Of UAE For Rs Two Lakh Each To Work As Maids
DECEMBER 10, 2020
Information contained in two reports to External Affairs Minister
Eight women of old city of Hyderabad were allegedly sold to some Arab families in various parts of United Arab Emirates for ₹2 lakh each to work as maids.
This was contained in two representations made to External Affairs Minister S. Jaishankar by relatives of the victims
They pointed out that the women were offered jobs as salespersons in a shopping mall in Dubai by a Hyderabad-based agent Shafi. All of them were flown to Dubai in September and October on a three-month visit visa and handed over to a recruiting agency there which sold them to Arab families.
They said their kin were made to work for a minimum of 15 hours daily without proper food and accommodation and tortured badly. They were sometimes sexually assaulted if they failed to heed the advice. They were not paid any salary since landing in Dubai. When their plight was conveyed to kin here, the local agent was asked to arrange their return journey. But, he demanded ₹ 1.5 lakh each which they could not afford.
The kin requested the Union Minister to contact the Indian Embassy in Abu Dhabi and Indian Consulate in Dubai to repatriate the victims as soon as possible.
Two victims were sisters and were allegedly landed with Al-Safeer agency in Dubai which tied up with Arab families to hand them over as maids. Another woman was asked to undergo quarantine for two weeks and then sent to an Arab family.
It was said the local agent Shafi was picked up by the police of task force and referred to Central Crime State for investigation.
https://www.thehindu.com/news/national/telangana/eight-women-of-old-city-sold-to-arab-families/article33302759.ece
--------
URL: https://www.newageislam.com/islam-women-feminism/muslim-woman-returns-after-marriage/d/124008
New Age Islam, Islam Online, Islamic Website, African Muslim News, Arab World News, South Asia News, Indian Muslim News, World Muslim News, Women in Islam, Islamic Feminism, Arab Women, Women In Arab, Islamophobia in America, Muslim Women in West, Islam Women and Feminism