New Age Islam News Bureau
15 Apr 2017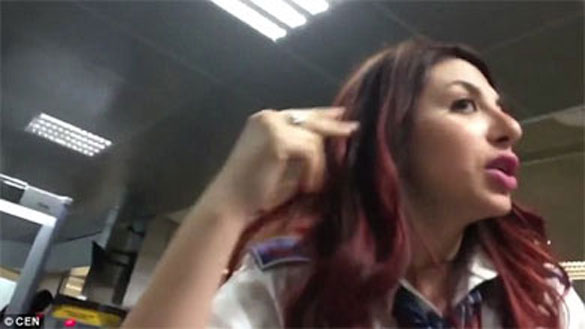 Speaking to MailOnline, Ms Adzkia said: 'I completely understand about what is going in the world lately. I stand against terrorism and that's not Islam'
-----
• Two Muslim Women Take Part in 'Hawan' To End 'Triple Talaq' in Aligarh
• 'We Are Bringing A Bad Name to Islam Ourselves': Malala Condemns Mashal's Murder
• Report Shows 80% of Job Seekers In Saudi Arabia Are Women
• Bohra Doctor in Detroit Arrested For Alleged Female Genital Mutilation Of Two Seven-Year-Olds
• UAE Women Showcase Rich Diversity
Compiled by New Age Islam News Bureau
URL: https://www.newageislam.com/islam-women-feminism/muslim-woman-refused-rome-airport/d/110780
--------
Muslim Woman Refused On Rome Airport Flight Wearing Hijab
15 April 2017
A Muslim woman claims airport staff told her she would have to take off her Hijab if she wanted to get on a flight to London.
Aghnia Adzkia was passing through security when she was asked to take off her religious headscarf.
Ms Adzkia claims to have been discriminated against and says she saw nuns passing through security without being asked to remove their habits.
The Indonesian citizen who lives in London made a video of her experience at Ciampino Airport in the Italian capital of Rome on Sunday.
In the clip the Goldsmith's University student can be seen repeatedly demanding to see the law stating that the hijab must be removed at an airport security check.
But the officers were adamant that they would not let her pass unless she followed their rules.
The female security official can be heard saying: 'You could hide something in your hair. If you don't take it off, we do not know if there's something inside, okay? You are not safe for us.'
She alleges that a female security staff member asked her to follow her to a private room so she could check the Hijab.
But Ms Adzkia refused to take off her Hijab claiming she was being unfairly targeted.
She claims a male security officer then dragged her out of the security area in an 'indecent way' grabbing her bag and shouting at her to be quiet.
Ms Adzkia posted a furious social media post about the experience, which she says took place as she was travelling to London.
She wrote: 'I wasn't prepared to trust them unless they could cite me a law or provide me with a legal document that saying they were authorised to have to check what is underneath of my Hijab.
'It is a matter of human dignity and rights. For what reason were they asked me to take off my Hijab?'
She added: 'I AM A MUSLIM HIJABI, NOT A TERRORIST!
'The way they treated me has shown that they do not respect a Muslim female wearing the Hijab.'
Later the same evening, Ms Adzkia booked a ticket to fly to London from Leonardo da Vinci–Fiumicino Airport, also in Rome.
Security staff again asked her to remove her Hijab, this time she agreed and was able to get her flight.
Ms Adzkia wrote: 'I wanted to prove to them that I have nothing to hide and that I am not a terrorist.
'In the meantime, I saw two nuns wearing headscarves, but they weren't asked to take them off.
'Is this what you call fair treatment and respect? Where are my human rights?'
A social media post by Ms Adzkia has received 20,000 views and more than 100 comments after being shared more than 400 times.
But an official at the Indonesian Embassy argued that, when in Rome, Aghnia should have complied with the security officers' wishes.
Aisyah Allamanda, an official based in Rome, said: 'The numerous times I've flown out of Rome's airport, I also experienced the same kind of security check as I also happen to wear a hijab.
'The same applies to others who wear the Hijab at Rome KBRI, female Muslims believe that they can't take off their headscarves in public so they are provided a private room for a female officer to carry out the check.
'If we refuse, I can understand if the security officer acts aggressively towards us.'
Speaking to MailOnline, Ms Adzkia said: 'I completely understand about what is going in the world lately. I stand against terrorism and that's not Islam.
'Yet, what I've experienced in Rome was shocking, the way they treated me indecently has shown discrimination. I understand if it is for security reason, but why did they not give me a second to read the law?'
A spokesman for the Rome airport said: 'What happened to Ms Aghnia Adzkia solely and exclusively concerns compliance with safety procedures. The passenger, when passing the security gates, set off an alarm in the head area and it was therefore necessary to investigate the case, which could not be overlooked. For this reason, our staff asked her to go through to a private room, where they could check her head and headdress, as is strictly required by European and national laws, the purpose of which is to ensure safety and civil cohabitation.
'When Ms Aghnia refused to remove her headdress, requesting to read the legislation, she was shown the National Security Programme, which was promptly translated into English by our staff. Further to her continued refusal, our staff were forced to move the passenger away from the control area. Ms Aghnia subsequently returned to that area (and, on that occasion, filmed the video) and then left Ciampino airport. She later departed from Fiumicino airport on another flight, passing through security without any issues, this time removing her headdress.
'We are truly sorry for the fact that the young passenger had a negative experience whilst travelling via Ciampino airport. At the same time, however, we reiterate that what happened is completely unrelated to any form of discrimination. The passenger simply did not wish to comply with basic security requirements, which are implemented with due care and sensitivity by our staff, in the interests of safety for all passengers, including Ms Aghnia Adzkia.'
http://www.dailymail.co.uk/news/article-4412106/Muslim-woman-refused-flight-wearing-hijab.html
--------
Two Muslim Women Take Part in 'Hawan' To End 'Triple Talaq' in Aligarh
Apr 14, 2017
Two Muslim women, claiming to be the victims of 'triple Talaq', took part in a 'Hawan' organised by All India Hindu Mahasabha in Aligarh on Friday.
Declaring to lead the fight against the practice of 'triple Talaq' in the community, Faiza and Salma said they will no longer allow harassment of Muslim women.
The Hawan was performed by Mahant Shakun Pande at Hindu Mahasabha office in Naurnagabad Bedas Compound area of Aligarh.
Both the women claimed they were divorced by their husband after pronouncing triple Talaq . Their family members were also with them.
"My husband had divorced me seven years back by pronouncing triple Talaq," said Faiza while talking to HT.
"Mother of three daughters, I am carrying on their responsibilities with great difficulties," said the resident of Dhoharra Mafi area of Aligarh.
Tappal-resident Salma has been living with her parents after her divorce. "I am struggling to raise two daughters," said the woman who was accompanied by her family members.
Blaming the community for the pathetic state of these women, activist Bhutto Khan, who brought them for 'Hawan', said: "If Muslim society had helped them, they would not have been here. It is time we stop all such practices in the society."
Hindu Mahasabha state vice president Gajendar Pal Singh said he will contest cases of such divorced Muslim women free of cost.
"And if divorced Muslim women who are not getting justice decide to convert back to Hinduism, we will extend complete security and patronage to them," said Pande.
Pande claimed another women, Rehana of Bulandshahar was also scheduled to take part in the 'Hawan' but did not turn up. Rehana was allegedly kicked out of her house by her husband after pronouncement of 'triple Talaq' on April 11.
She had then created a flutter by announcing that if she did not receive justice, she will convert to Hinduism.
On getting the information, police and right wing organisation had reached out to her.
While police tried to ensure that the couple compromise, Dharam Jagran Manch convener Saurabh Chaudhry said she will convert if justice is denied to her.
Daughter of Sagheer Ahmad, Rehana has a five-year-old daughter. Her husband Mohd Shareef is a resident of Aligarh's Hamdard Nagar area. She alleged her in-laws had been demanding dowry ever since she got marriage in 2012.
"While my father gave them Rs 1 lakh, they revised their demand to Rs 10 lakh. When this demand was not met, my husband and in-laws started assaulting and torturing me," she says.
She came back to her parental house around year and a half back.
Inspector Civil Lines Sunil Kumar Verma told HT," There is dispute between the husband and wife over divorce. The family members of women have also come. We are trying to solve the case by mutual consent."
"It is a case of tripe Talaq. Husband did not want to keep her as his wife whereas Rehana is saying that she will live with her husband to save the future of her daughter. We will report the matter to chief minister Yogi Adityanath," said Saurabh Chaudhry, coordinator, Dharam Jagran Manch.
http://www.hindustantimes.com/india-news/two-muslim-women-take-part-in-Hawan-to-end-triple-Talaq/story-HTPUTFtCKCsVkrFoZJvGFO.html
--------
'We are bringing a bad name to Islam ourselves': Malala condemns Mashal's murder
Apr, 15 2017
Pakistani Nobel laureate Malala Yousafzai has strongly criticised the cold-blooded murder of Abdul Wali Khan University student Mashal Khan, who was lynched by a mob over allegations of blasphemy on Thursday.
"This is an incident filled with terror and fear," Yousafzai said in a video message.
Malala lamented that some Pakistanis have forgotten the message of peace given by Islam, saying: "This was not just the funeral of Mashal Khan, it was the funeral of the message of our religion Islam."
She said the Holy Prophet (PBUH) had never advised his followers to "be impatient and go around killing people".
Malala said Pakistani people often complain about the presence of Islamophobia in the West and that other countries are "maligning our name".
"No one is maligning the name of your country or religion... we ourselves are bringing a bad name to our country and religion," she said.
Malala, who was anointed a UN Messenger of Peace last week, said it is the right of every Pakistani to live a safe and peaceful life.
She urged the state institutions and political parties to take a stand in order to bring justice to Mashal's family.
The education activist also said she talked over telephone with Mashal's grieving father, who gave a message of "peace and patience".
23-year-old AWKUM student Mashal was killed and another student, Abdullah, seriously injured on Thursday by a vigilante mob at the campus for allegedly "publishing blasphemous content online", local police said at the time.
No case had been filed against the two students prior to the incident and police had not been investigating the two on blasphemy charges.
https://www.dawn.com/news/1327148/we-are-bringing-a-bad-name-to-islam-ourselves-malala-condemns-mashals-murder
--------
Report shows 80% of job seekers in Saudi Arabia are women
15 April 2017
JEDDAH: Women constituted over three quarters of job seekers in Saudi Arabia, according to a report covering the last quarter of 2016.
Women represented 80.6 percent of registered job seekers as reported by the General Authority for Statistics, indicating a problem in accommodating a qualified female workforce in both the public and private sectors.
The report showed that women continue to search for jobs up to the age of retirement, given that 3,488 women aged 57 to 66 were still registered as job seekers. There were only 167 male job seekers in the same age group.
Abdulrahman Al-Rashed, head of the economy and energy committee of the Shoura Council, said obstacles include the fact women are prevented from occupying some positions, as well as logistical issues, according to Al-Watan.
Although the Ministry of Labor and Social Development has been working on encouraging women's employment through legislation, many are still unemployed, Al-Rashed reportedly said.
Al-Rashed is however optimistic about the future. He said that boosting the female workforce is an essential part of the Vision 2030 reform plan.
Women's contribution to the economy is significant and is further growing given the short period of time since women entered the labor market, he added.
The number of private-sector Saudi female employees registered at the General Organization for Social Insurance (GOSI) reached 496,800 by the end of the third quarter of 2016.
This marks a 144.62 percent increase from the 203,088 jobs that were occupied by women at the end of 2012.
Female employment grew 4.1 percent during the third quarter of 2016, compared to the same period in the previous year, GOSI reports show.
The government plans to increase the number of women in the workforce from 23 percent to 28 percent, and decrease the unemployment rate to 9 percent by 2020.
http://www.arabnews.com/node/1084801/saudi-arabia
--------
Bohra doctor in Detroit arrested for alleged female genital mutilation of two seven-year-olds
Mridula Chari
The Federal Bureau of Investigation arrested a Bohra doctor on Michigan on Thursday for allegedly performing female genital mutilation on two seven-year-olds, in what might be the first such criminal case filed under a 1996 United States law that prohibits the procedure.
In its criminal complaint filed on April 12, of which Scroll.in has a copy, the FBI accused Jumana Nagarwala, 44, who works as an emergency room physician at a hospital in Detroit, of having used a clinic in Livonia, a city 32 kilometres outside Detroit, to perform female genital mutilation on several children aged between six and eight years between 2005 and 2017.
Nagarwala's practice came to light after the FBI received information that Nagarwala had cut two seven-year-olds in February. After reviewing call and hotel records, the investigative bureau tracked down the two minors, who are members of the Bohra community living in Michigan.
According to one of the children's statements to the FBI, their mothers brought them to Detroit for a "special girls trip" and were taken to a doctor's clinic "to get the germs out". The child stated that Nagarwala "pinched" her on the part she urinates from and was given a pad to wear after the procedure.
"Female genital mutilation constitutes a particularly brutal form of violence against women and girls. It is also a serious federal felony in the United States," said Acting U.S. Attorney Daniel Lemisch in a release from the Justice Department. "The practice has no place in modern society and those who perform FGM on minors will be held accountable under federal law."
The Dawoodi Bohra community is the only one in India known to practice female circumcision, which typically involves a cut or nick to the clitoral hood. The practice, called khatna or khafz within the community, is defined by the United Nations as Type-I female genital mutilation, which defines this type as including either the cutting of the clitoral hood or the partial or total removal of the clitoris, and is usually done to girls at a young age.
The practice is not yet illegal in India, but female genital mutilation in any form has been outlawed in several countries around the world, including the United States.
The maximum sentence in the United States for female genital mutilation as per federal law is up to five years in jail. However, 26 states, including Michigan do not criminalise it. The FBI has also charged Nagarwala with transportation with intent to engage in criminal sexual activity, a charge that they say applies to her because female circumcision in the Bohra community is said to be done to control female sexuality. The maximum sentence for this charge is up to ten years in jail.
Nagarwala has denied all charges against her.
First after Australia
The Detroit arrest comes almost a year after a Supreme Court in Australia sentenced a Bohra spiritual leader to 11 months in jail for trying to cover up the female genital mutilation of two sisters. The mother and nurse in that case, which was the first such in Australia, were also convicted and received sentences of home detention instead.
Bohras have an extensive global diaspora and their affairs are monitored by their spiritual leader in Mumbai, the Syedna, through anjumans, which are trusts appointed by the Syedna to guide the community in cities with significant Bohra populations around the world.
The Australia case was the first such prosecution against any member of the Bohra community and spurred anjumans around the world to issue statements last year to their congregations requesting them to comply with any local law prohibiting female genital mutilation or cutting.
The Detroit jamaat itself issued one such letter to its members on May 11 last year, according to Sahiyo, an organisation that has been campaigning within the community to end khatna, and Nagarwala is likely to have been aware of it.
"While the allegations in this particular case are yet to be proven, we believe it is a serious breach of medical ethics for any doctor to perform this non-medical procedure that is categorically recognised as a form of gender-based violence and a violation of human and child rights," the organisation said in a statement on its blog, even as it called on the community leadership to unambiguously call for an end to the practice. "In countries like the USA where [female genital cutting] is a criminal offence, we believe that parents, too, cannot be absolved of the responsibility to follow the law."
In recent years, people from within the Bohra community, including those affiliated with Sahiyo, have begun to speak up against the practice, but with limited support from the clergy, headed by the Syedna, who still classifies khatna as a religious obligation in at least those countries where it is legal. Several members of the community have come forward with testimonies of how they too were subjected to khatna even while living outside India.
"It's a real shame to see someone like [Nagarwala] be so foolish and blind," said Moiz Divan, a Canada-based accountant. "I don't condone her actions, but I feel bad for her. Her unquestioning faith has ruined her life. Ultimately, it's the cleric's fault for propagating this idea."
https://scroll.in/article/834632/bohra-doctor-in-detroit-arrested-for-alleged-female-genital-mutilation-of-two-seven-year-olds
--------
UAE women showcase rich diversity
April 15, 2017
The women entrepreneurs believe that it is a great way of representing and showcasing the diversity that exists in their country.
"When we were young we had to weave, because it was a part of life. Now I am here to display a product, I feel so proud to be able to engage in this age-old custom," a woman entrepreneur, selling Sadou at the ongoing Sharjah cultural fair, said.
Sadou, the traditional Bedouin weaving using a floor loom, is among the most ancient industries in the Gulf. Using wool from camels and goats, it is used to make carpets, saddlebags and tent-houses.
She echoed the feelings of women participants from the UAE who are using age-old skills to display traditional style and food at the Sharjah Heritage Days to highlight the culture and heritage of olden days.
The women entrepreneurs believe that it is a great way of representing and showcasing the diversity that exists in their country. It gives them immense pleasure that the residents of various nationalities are keen and interested in their products and support them.
The Sharjah Heritage Days which will conclude on April 22 is an annual cultural event that encourages women from all walks of life to display their products and goods whilst providing them a podium to engage in trade. There are more than 150 stores which oversee women keeping their traditions alive through varied art and craft forms.
Um Ahmed, the owner of Shaza Al Rabee perfumes, said that her main objective was to showcase original homemade perfumes and incense that women made in the olden days. "I used to watch my grandmother make perfumes at home and she taught me."
Making perfumes and bakhoor (incense) at home was a common practice among Emirati women in the old days, she added. Who would have thought that a simple initiative like this could transform lives? When more than 100 women comprising Emiratis as well as expatriates of various nationalities come together, to exhibit and sell their products, the reality is it can actually changes lives," said Abdulaziz Almusallam, chairman of Sharjah Institute for Heritage.
http://www.khaleejtimes.com/nation/sharjah/uae-women-showcase-rich-diversity
--------
URL: https://www.newageislam.com/islam-women-feminism/muslim-woman-refused-rome-airport/d/110780
New Age Islam, Islam Online, Islamic Website, African Muslim News, Arab World News, South Asia News, Indian Muslim News, World Muslim News, Women in Islam, Islamic Feminism, Arab Women, Women In Arab, Islamophobia in America, Muslim Women in West, Islam Women and Feminism