New Age Islam News Bureau
28 Aug 2018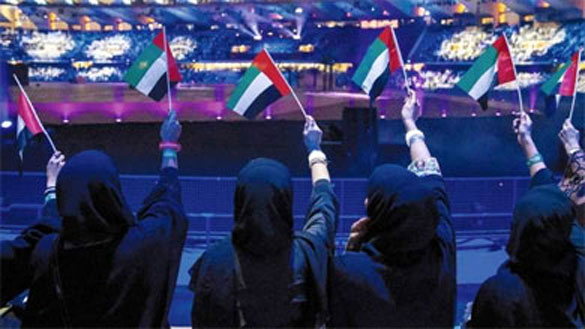 (Supplied) This year's theme is 'Women on the Course of Zayed,' which coincides with the Year of Zayed.
------
• Malaysia Islamic Court Postpones Caning Of Women for Lesbian Sex
• FGM Leaves Permanent Emotional Scar On Dawoodi Bohra Girls: SC
• Emirati Women's Day: 'We Owe To Sheikh Zayed, His Vision and Efforts'
• Five Saudi Female Pilots Get License to Work with National Airline
• Voter's Registration: INEC Denies Asking Muslim Women to Remove Hijab
• Muslim Women in Britain Seek Fairness, Not Favours
• Four Women Appointed To Key Jobs at Jeddah Municipality
• Muslim-American Girl Scout Uses Gold Award Project to Share Her Heritage
• Women Drivers to Transform Saudi Auto Market
• Report Slams $5.6M Canadian Program for Afghan Women
Compiled by New Age Islam News Bureau
URL: https://www.newageislam.com/islam-women-feminism/muslim-woman-participates-up-police/d/116219
--------
Muslim Woman Participates in UP Police Rakhi Event, Draws Ire of Deobandi Ulemas
August 28, 2018
Saharanpur (UP): A woman is being isolated by Deobandi Ulemas for tying a rakhi to a UP Police inspector on Rakshabandhan this Sunday. According to a report in Navbharat Times, women across the state observed the festival with UP Police. On the occasion, a Muslim woman also participated but the issue has now been blown out of proportions by Deobandi Ulemas. UP Police DGP had issued directions that police officials should interact with women and get them to tie rakhis on them so that they had a sense of security. In keeping with his directions, the Deoband kotwal also got a rakhi tied on his wrist; only the woman was a Muslim, which led to an uproar among the Deobandi ulemas. (Also read: 'Give National Animal Status to Cow')
Deoband ulemas have announced that touching a man who isn't family is against Islam. They also said women coming out of their purdah to participate in the event was against their religion and they should desist from doing so. Deobandi Mufti Ahmad said first of all Islam doesn't allow Muslim women to tie rakhis. In his defence, he said to do so, women had to relinquish their purdah and touch a man who wasn't a family member. He said both these actions were not allowed in Islam. Echoing his thoughts, Mufti Tariq Ahmed said the woman who tied the rakhi should tell herself she would desist from such actions in future as it is unIslamic.
Earlier this year, Jamiat Ulema-e-Hind President Maulana Arshad Madni had said that declaring cow as the national animal would ensure both cows and humans were safe. "Do one thing, make a law to declare cow the national animal, this way both cows and human lives will be safe. This will be useful for the country," he said. Another Muslim cleric came out in his support by saying it was in the interest of the country to declare cow as India's national animal. "It is a good initiative and coming from Muslim community, it'll be in country's interest. The Prophet has stated that cow meat brings disease, cow milk is beneficial and cow ghee is medicinal, hence, for India's benefit, I urge the Government of India to make cow the national animal," said Muslim cleric Umer Iliyasi.
http://www.india.com/news/india/up-muslim-woman-ties-rakhi-on-police-inspectors-wrist-draws-ire-of-deobandi-ulemas-3260225/
--------
Malaysia Islamic Court Postpones Caning Of Women for Lesbian Sex
28 Aug 2018
KUALA LUMPUR: A Malaysian Islamic court postponed the caning on Tuesday (Aug 28) of two women convicted of lesbian sex as activists hoped it would give them time to stop the punishment being carried out.
The women, aged 22 and 32, were arrested in April by Islamic enforcement officers after they were found in a car in a public square in northern Terengganu state, one of the most conservative areas of the Muslim-majority country.
They were brought before an Islamic court and admitted to breaking a sharia law that forbids sexual relations between women and sentenced to six strokes of the cane each and fined RM3,300 (US$800).
The sentence was to be carried out Tuesday but Terengganu Sharia Court chief registrar Wan Abdul Malik Wan Sidek told AFP it had been moved to Sep 3 for "technical reasons".
He did not give details but The Star newspaper quoted another court official as saying that since a few agencies would be involved in carrying out the sentence, technical issues needed to be resolved first.
Both women are out on bail.
Members of Malaysia's lesbian, gay, bisexual and transgender (LGBT) community have been facing rising pressure in the largely Islamic country, with public officials frequently accused of targeting them.
Transgender rights group Justice for Sisters co-founder Thilaga Sulathireh hoped the postponement would give activists time to try to stop the punishment from being carried out.
"There is a bit more time now ... (to) have more conversations about this and see if these conversations can add any kind of pressure or change people's mind about the sentence itself," she said.
Malaysia operates a dual-track legal system and Islamic courts can handle religious and family matters, as well as cases such as adultery.
Caning is conducted out of public view.
Malaysian Muslims which make up more than 60 per cent of the country's 32 million population have traditionally practised a tolerant brand of Islam, but concerns have grown in recent years that attitudes are becoming more conservative.
https://www.channelnewsasia.com/news/asia/malaysia-islamic-court-postpones-caning-of-women-for-lesbian-sex-10659796
--------
FGM Leaves Permanent Emotional Scar On Dawoodi Bohra Girls: SC
August 27, 2018
The Supreme Court today said the female genital mutilation (FGM) of minor girls of the Dawoodi Bohra Muslim community leaves a "permanent emotional and mental scar" on them and the practice may be held as violative of dignity of women as prescribed in the Constitution.
A bench comprising Chief Justice Dipak Misra and justices A M Khanwilkar and D Y Chandrachud referred to constitutional schemes as interpreted by the apex court over a period of time and said "the fact that the practice is essential religious practice does not make it constitutional".
"You just cannot inflict any kind of injury to another person," the bench said, adding that for husbands, young girls should not go through all this.
"This kind of mutilation leaves a permanent emotional mental scar on small girls. You snip her genitalia," the bench said.
Senior advocate A M Singhvi, appearing for a Dawoodi Bohra Muslim group, said if this practice, which is an essential religious practice, is questioned then somebody may challenge the male circumcision in Muslims and there would be no end to such judicial scrutiny.
He said the petition be referred to a larger Constitution bench as it pertained to religious practice as was the case with the Sabarimala temple where menstruating women are denied the entry.
He also referred to the triple talaq judgement and said the present petition also raised the "substantial question of law" pertaining to Articles 25, 26 and 29 of the Constitution which deal with the freedom of religion and protection of religious rights of the minorities.
"The matters like this should be heard by a bench of five or seven judges," he said.
The bench referred to Article 25 (2) and said that it enabled the state to make law and if the State does not make the statute, even then on the ground of "public order, morality and health" the practice of FGM can be scrutinsied by the court.
"Additionally, you may be also governed by Article 15 (which prohibits discrimination on grounds of religion, race, sex etc) which enables the State to make law to ensure dignity of women," the bench said.
Referring to the practice of "polyandry" and "devdasi" where eldest daughter was being offered to the God, the bench said, "the fact that the practice is essential religious practice, it does not make it constitutional".
The senior lawyer said that the court had waited for the legislature to enact the law abolishing 'Sati' and the present issue cannot and should not be decided in a PIL filed by a person who is not aware of the practice and has not filed any evidence in support ofthe plea.
"I represent 70,000 Bohra Muslim women and they have no problem with the practice and moreover, this was not the case of FGM as made out to be be," Singhvi said.
The advancing of arguments remained inconclusive and would resume tomorrow.
Earlier, the apex court had said that the fact that the FGM is being practised from tenth century is not "sufficient" to hold that this formed part of the "essential religious practice", which cannot be scrutinised by court.
Prior to this, the court had made it clear that it cannot direct doctors to perform genital mutilation of minor girls of the community and had questioned the "scientific justification", if any, behind the procedure.
Attorney General K K Venugopal, appearing for the Centre, had reiterated the government's stand that it was opposing the practice and said that this has been banned in many countries like the US, the UK, Australia and around 27 African nations.
The practice causes irreparable harm to girl children and has many health repercussions, the top law officer said and referred to Article 25 to highlight the point that a religious practice can be stopped if it was against "public order, morality and health".
The bench was hearing the PIL filed by Delhi-based lawyer Sunita Tiwari against the practice in the community.
Tiwari, in her plea, sought a direction to the Centre and the states to "impose a complete ban on the inhuman practice" of 'khatna' or "female genital mutilation" throughout the country.
Female genital mutilation is performed "illegally upon girls (between five years and before she attains puberty)" and is against the "UN Convention on the Rights of the Child, UN Universal Declaration of Human Rights of which is India is a signatory", the plea said, adding the practice caused "permanent disfiguration to the body of a girl child".
https://www.business-standard.com/article/pti-stories/fgm-leaves-permanent-emotional-scar-on-dawoodi-bohra-girls-sc-118082701011_1.html
--------
Emirati Women's Day: 'We Owe To Sheikh Zayed, His Vision and Efforts'
August 28, 2018
This year's theme is 'Women on the Course of Zayed,' which coincides with the Year of Zayed.
Today, the UAE celebrates the fourth annual Emirati Women's Day to honour the work they have carried out in helping advance this nation across many different sectors.
This year's theme is 'Women on the Course of Zayed,' which coincides with the Year of Zayed, and aims to highlight the work the late founding father of the UAE did in supporting women's progress in the country.
His work in promoting the advancement of women is evident in the country today, as Emirati women constitute 66 per cent of government jobs, 30 per cent of which are decision-making positions. In the private sector, more than 23,000 Emirati business women in the UAE have invested more than Dh40 billion.
Khaleej Times spoke to 10 Emirati women working in various professions across the UAE and highlighted their achievements. They also continue to thank the late Sheikh Zayed bin Sultan Al Nahyan in his work towards empowering women.
Sheikha Al Maskari, Chief Innovation Officer at the UAE Space Agency, said she reminds her colleagues to think of Sheikh Zayed when they are facing any kind of difficulty.
"His Highness Sheikh Zayed was the person who created the path and laid the foundation alongside Sheikha Fatima and he is, to us Emiratis, an inspiration. His story of building a whole nation from nothing is something we always want to learn from. As employees, we go through challenges every day and I like to remind everyone to remember what Sheikh Zayed went through to get us to where we are today," said Al Maskari, who is one of the founding members of the first space agency, which was formed by an Arab nation.
Nada Al Taher, a lecturer at the Higher College Technology at the Dubai Women's College, believes there are equal opportunities for women in the UAE today, thanks to the initiatives carried out by Sheikh Zayed.
"I think I've never seen a difference between men and women while being raised as a woman by my father and in the society," she said. "I feel that this was inspired by Sheikh Zayed because he was raised by women, Sheikha Salma bint Butti, who really helped to raise a great leader that influenced his vision. He believed that women should work side by side with men. There are so many examples of empowering women in the UAE."
Emirati women play a strong and active role in UAE's government as well. The UAE government has nine female ministers. Also, so far, 24 Emirati women have obtained membership in the Federal National Council during three legislative chapters.
Women no longer stereotyped
At only 21, Nouf Abdulhamid Omar is flying her dreams high. Starting from school, she has always been determined to take a career that's closer to her personality. "I took on many activities at school to develop leadership skills. With time, I learned to be a leader who's capable of making decisions and taking on responsibilities," said Omar.
Graduating from Al Mawakeb School, she joined Emirates Airlines in November 2014 to become a pilot. A year later, she went to Spain for training and started officially flying a Boeing 777 to Cairo, Mumbai, Delhi, Singapore, Kuwait and Saudi since November 2017.
Omar led over 15 flights, and today, she is among seven Emirati female pilots in Emirates Airlines, with five more currently training on ground in Emirates Flight Academy.
Her goal is to become a training captain. "The stereotype against females not able to fly a plane is diminishing. When I greet people before a flight, they give me an encouraging, rather than a shocking look. They even send their regards with the cabin crew."
Omar is working to receive more training to become an official officer who can fly to destinations unlimitedly. She made it a mission to inspire the young generation of women. Until today, she goes back to her school and other educational institutes across the country to share her story with students.
Our main supporters are men
Dr Mariam Al Shanasi, president of the Emirates Publishers Association (EPA), is the product of a system that ensured equal opportunities to men and women in education and workforce. The businesswoman was raised under the UAE's federal state that had dusted off remnants of the British colonialism and focused on education before anything else.
She holds a PhD in Environmental Microbiology and Nutrition from the University of Glasgow, with her research titled the second best for PhD students at the 2002 UK Microbiology Society Conference.
With over 47 research papers, she has taught at more than 15 university courses and worked on linking environmental policies with environmental economics programmes.
Currently, she sponsors the Arab Culture Festival in foreign countries, and has so far helped provide 14,000 Arabic literature books to libraries in India. She also sponsors Al Yasmeen Award for Arabic poetry, exclusively dedicated to Indians.
"I never felt there's a difference between men and women. Education and employment opportunities have always been available to both, and the only thing that set us apart was our efficiency," added Al Shanasi.
Emirati men, she said, have been the women's main supporters and firm believers that their roles complement each other to achieve progress.
We've a supportive government
Although she graduated from Dubai Women's College with a degree in Mass Communication in 1999, Nayla Al Khaja followed her passion for film, leading the way to become the UAE's first female filmmaker.
Upon starting, she faced criticism and strong opposition from her family, but she went against the odds to receive her degree from Ryerson University in Toronto, Canada. She's been climbing up the ladder through writing and directing award-winning films, a journey that led her become the first and only Emirati director to be rewarded twice in international film festivals for her short films Animal and The Neighbour .
Al Khaja also recently made history at Cannes when her feature-length screenplay for Animal became one of 500 entries to be accepted at the festival's prestigious Producers' Network, another first for an Emirati.
She now combines her role as CEO of Nayla Al Khaja Films, while mentoring local young talent. Although it was tough to penetrate the film industry while growing up in a conservative family, Al Khaja found no challenges as an Emirati woman in the field.
"I feel fortunate that we have such a dynamic and supportive government that believes in women and seeks to empower them."
In fact, she believes that gender balance is more in UAE cinema than Hollywood. She hopes to mentor young talents and provide them with a platform.
Success stories inspire youth
Gaining support from the government as an Emirati woman, Najla Al Midfa's mission has ultimately been to give back. Starting her career after receiving her MBA from Stanford University, Al Midfa made history when she became the first ever Emirati female to join the Board of Directors of United Arab Bank in 2012.
Al Midfa worked for PricewaterhouseCoopers, Shell, Google and the international management consultancy McKinsey & Company before she comes back to the UAE and establishes Khayarat, an online careers office designed for young Emiratis who want to work in the private sector.
Currently the CEO of the Sharjah Entrepreneurship Centre (Sheraa), a one-stop shop that helps young entrepreneurs to incubate and accelerate their business, Al Midfa said the centre actively encourages Emirati women towards entrepreneurship and teaching them the skills they need in line with the UAE's message of female empowerment.
"We also believe that showcasing success stories is a great way to inspire a new generation of entrepreneurs." Al Midfa said throughout history, Emirati women have been a major driving force in their communities, and that remains equally true today.
"With the continued support of the government, they are forging new paths across industries, proudly representing the UAE both locally and abroad."
Females are part of space history
The space industry was once known to be the most male-dominated fields around the world, but, Emirati women are breaking barriers and are leading the way in UAE's thriving space industry.
One of the founding members of the UAE Space Agency, Sheikha Al Maskari, is currently working as the chief innovation officer and revealed that 40 per cent of the agency's staff are females, majority of whom are Emiratis.
Al Maskari said that when she and the other founding members were recruiting members for the agency, she ensured that females were part of that list.
"The Space Agency was formed during a golden time for women because the foundation for women empowerment was already there. When we started the agency and were recruiting staff, we always had the mindset that we give a fair chance to females to be part of the workforce. Looking at the space agency as an initiative, it's a historical one.
Whoever joins us, is going to be part of writing history and we wanted to make sure females were part of that story," Al Maskari said.
"We have Emirati women working in all departments in the agency, including those working in space regulations, on strategies for space agency and future plans, and a great group are working as engineers on the Hope Probe and other projects. They are all very passionate about the work they do."
Not a single field without women
When the bidding for the World Expo 2020 was taking place in Paris, Khawla Darwish was chosen as one of the eight ambassadors to represent the UAE in the field of art.
Her skills and passion for visual arts has led her to great heights in her career. She currently works in the Executive Office of HH Sheikh Mohammed Bin Rashid Al Maktoum, Vice-President and Prime Minister of the UAE and Ruler of Dubai, and reports to Mohammad Abdullah Al Gergawi. Minister of Cabinet Affairs and Future. She is responsible for the private art collection of Sheikh Mohammed.
Her artwork has been displayed not only in the UAE, but across the world, including at the Venice Biennale exhibition in 2009.
"I got the opportunity to become an artist because the country is very supportive towards us. The support is growing and I can feel it as the years go on. The culture of art is more recognised by the government and the people, even people who are not into the field. As an artist, I also feel that we have more opportunities to participate in national events that are presented abroad," Darwish said, who has been a visual artist for nearly a decade.
"There has been support for artists in the UAE when the industry was still flourishing because they were giving so many opportunities to us. Now, there isn't a single field that women aren't a part of in the UAE."
Gender doesn't matter in careers
There are also many young Emirati females who are breaking barriers and achieving their goals. A 13-year-old Emirati poet and horse rider, Mezna Alameri, reads poems to the royal families of the UAE when there is a special occasion, such as National Day or Eid.
She said she often gets invited by members of the royal families during a gathering to recite her poems to them and their guests.
Though, her achievements do not stop here - she is also a presenter of a children TV show, which airs on a weekly basis.
"I am very fortunate and blessed to be an Emirati. I'm only 13, but, I have already been given so many opportunities. Imagine what life will be like once I'm an adult! I would like to thank the leaders of this country for paving the way for us," Alameri said, who has been writing Arabic poetry since she was seven-years-old.
Besides her love for poetry and presenting, Alameri is also on the way to becoming a professional horseback rider. "When I turn 14, I can take part in the junior race," she said.
"The late Sheikh Zayed bin Sultan Al Nahyan, the founder of the UAE, had a great vision for women empowerment. Today, we are where we are because of his vision. Today, it doesn't matter what your gender is when it comes to career building - there are equal opportunities for all, especially Emirati women,"
Freedom to express is more in UAE
An Emirati female is proving that women can have success in more than one profession. Lawyer and photographer Huda Bin Redha fights legal battles and captures eye-catching images as part of her two separate careers.
Bin Redha took on photography as a pastime, but, it soon turned into something more than a hobby. Her photographs have been picked up by some major brands and have been displayed in billboards across the UAE. "The youth today can do more than one thing at once. For example, my photography wasn't a business at first. I started it as a hobby, but then I was able to balance between law and photography and able to both at once," she said.
"Both of them are completely different, which also shows that as Emirati women and youth can multitask. My work was showcased on billboards across the UAE, which was a huge deal for me. I was also recognised by some big brands. They contacted me to showcase my work for their launch here."
However, Bin Redha has noticed that photography remains to be a male-dominated industry in the UAE.
"There a lot of females out there that are very creative and they are not recognised. I've been to photography events here, and sometimes, I'm the only female. In the UAE, though, we have the freedom to express and showcase our art, which is great," she said.
We are mothers and colleagues
A leading Emirati educator is on a mission in ensuring a bright future for the education industry in the UAE.
Nada Al Taher currently teaches graphic design at the Higher College of Technology at the Dubai Women's College.
"Emirati women have contributed in many aspects in the development of this country and stood side by side by men as mothers and colleagues throughout the years. Both men and women in the UAE receive equal opportunities, education and jobs," Al Taher said. Al Taher's inspiration to be a lecturer started with her own achievements when she was a student, especially when she received a scholarship to study at the Monash University in Australia.
She also took part in the 2008 Sheikha Manal Art Exchange Programme and took on an 18-month Cultural Excellence Fellowship by Abu Dhabi Music and Arts Foundation.
However, Al Taher considers that the most rewarding gift to her is being a mother of two children.
She added that, personally, she has never seen a difference between men and women in the UAE.
The graphic design teacher also feels that there are equal opportunities for both genders in the country, be it education, or jobs.
Criticisms have waned over time
Striving to become number one, Amna bin Bahar, 28, was intrigued when she joined Emirates Fitness Championship six years ago and found herself ranking at the 24th place.
Since then, she has committed to everything from healthy eating to hiring a trainer to occupy the first place. "What I do is a lot of work. There's a lot of disappointment every year, a lot of yelling from my instructor every year because I'm not fast enough, but that's part of it. Hard work pays off when you see your results," said Bin Bahar, who joined Crossfit six years ago after a history of sports in school. "I never found myself in any sport until I started Crossfit."
Fast forward to 2017, Bin Bahar finally won the first place in the Emirates Fitness Championship. She gained the title of Fittest Emirati. "My greatest achievement was when I represented the UAE in the 2016 Dubai Fitness Championship and the 2017 Crossfit Games Regionals in Madrid. It was an honour to wear the UAE flag and compete with the fittest athletes in Europe."
She now competes at the Dubai Fitness Championship. While strong athletic build wasn't usually admired for women in the Middle East, Bin Bahar said these preferences are changing. "Everyone now wants the toned arms and abs. So, such criticism is decreasing over the time." To encourage younger females into sports, Bin Bahar holds public speaking and engagement events so they also achieve their dreams.
https://www.khaleejtimes.com/news/general/emirates-womens-day-we-owe-to-sheikh-zayed-his-vision-and-efforts--
--------
Five Saudi Female Pilots Get License to Work with National Airline
28 August 2018
The General Authority of Civil Aviation (GACA) has issued five licenses for Saudi female pilots permitting them to work as captains on Saudi Arabian Airlines aircraft.
The issuance of licenses to Saudi women is part of GACA's move to empower Saudi women to work in the aviation sector which is one of the objectives of the International Civil Aviation Organization (ICAO).
A large number of women were recently employed in GACA and in service providing companies in technical fields.
https://english.alarabiya.net/en/variety/2018/08/28/Five-Saudi-female-pilots-get-license-to-work-with-national-airline-.html
--------
Voter's Registration: INEC Denies Asking Muslim Women to Remove Hijab
Aug 27 2018
The Independent National Electoral Commission (INEC) in Lagos has denied the allegations that some Muslim women were being asked to remove their hijab before they can be captured in the continuous voters registration exercise.
In a statement by its Director Prof. Ishaq Akintola, the Muslim Rights Concern (MURIC) made the allegation, saying, "Thousand of Muslim women from South West may not be able to vote in the 2019" as a result of the development.
INEC in a statement by the state Public Relations Officer, Femi Akinbiyi said the allegation was not true.
"A lot of Muslim women in hijab across the 20 local government areas of Lagos state have been captured, and are still capturing since the commencement of the exercise. The records are there to support our claims", he said.
Akinbiyi explained that the practice by INEC is that its women officials capture biometrics of all women in Hijab in the open, while their faces alone were captured inside a confinement set aside for the purpose "without necessarily exposing their ears or part of their hairs."
"Where we are operating under the canopy, women rappers are being used to screen off the Muslim women from the public view", the statement said, adding that the approach was approved by Muslim coordinators who have been interfacing with the LG electoral officers since the CVR commenced.
The commission said registration in Agege LG where MURIC specifically mentioned has been going on smoothly without any complaint from Muslim women who have visited the centre for registration.
The statement while stressing that religious fanatism has no place in the Lagos office of the commission, it said Muslim brothers and sisters in the office are operating as one family and are also part of registration officers found in all the INEC local government offices in the state.
The commission therefore enjoined the people of Lagos to disregard the said statement.
"The best approach in our thinking to sensitive issue like this is dialogue. The Commission's doors are open for dialogue on this and any other activities of the commission that need further clarification. MURIC a Muslim based faith organization is part of INEC critical stakeholders whose ideas and contributions towards the success of 2019 general are most welcome", the statement added.
It urged all Muslim women to go out and register at the registration centers close to them, saying the commission is ready as before to respect their religious belief.
https://www.dailytrust.com.ng/voter-s-registration-inec-denies-asking-muslim-women-to-remove-hijab-267739.html
--------
Muslim Women in Britain Seek Fairness, Not Favours
By Sajda Khan
The face-veil has become the epitome of European xenophobia. Burka and niqab are two terms which are commonly used to describe a face-veil. The niqab is a face-veil covering the entire face leaving the area around the eyes uncovered. The burka covers the whole body including the face with a mesh or voile around the eyes.
Once again, Britain's obsession with the face-veil of Muslim women has sparked controversy. Writing in the Telegraph, former foreign minister Boris Johnson said that the attire was oppressive, that it is not in the Qur'an and that he thought it was ridiculous that people choose to go around looking like letter boxes and bank robbers. While Johnson faces an internal Conservative Party investigation, let us be honest; he is not the first and will not be the last to condemn the face-veil. Since the time of colonialism and up until now, there has been a legacy of Western politicians condemning the veil as sinister, misogynist, oppressive, a mark of separation, and the litany goes on. Sadly this trend of Islamophobia has emerged within our society with impunity.
Politicians and people who hold public office should adopt the British values of tolerance and respect in the language they use; making belittling comments about the practices of a culture or religion is a catalyst for the far-right to embolden discriminatory policies. Muslims are already seen as a fifth column and alienated from society, and comments like this do not help with integration but instead, reflect an illiberal and closed society, leaving minority communities susceptible to stigmatization and abuse.
There has already been an increasing number of attacks on women for their visibility of being Muslim women, and as a result, these women are either forced to curtail their freedom to choose to dress how they wish or they are forced out of public life. This suggests that there is no place in Britain for women who choose to wear the face-veil and creates an 'us' and 'them' dichotomy.
Furthermore, it undermines our values which include individual liberty and respect for other cultures and religions. A liberal democracy is built upon the foundation of respect and upholding the rights of others even if we dislike the choices that they may make. Tolerance is the willingness to tolerate the existence of opinions or behaviors that one may dislike or disagree with.
Muslim women choose to wear the face-veil for a myriad of reasons. Some wear it as part of a religious or cultural identity while others do so as a sign of empowerment, or even as a fashion statement. It is true that in some parts of the world Muslim women are oppressed and may be forced to wear the face-veil, and this should be opposed. But to stigmatize women who choose to wear the face-veil is also antithetical to the tenets of a liberal society.
Even within the Muslim community there are some Muslims who are eager to denounce the face-veil because they believe that it is not Islamic and a preposterous choice. Many of these Muslims may even agree with Boris Johnson: that it is right not to ban the face-veil but it is not prescribed within Islam, hence Muslim women should not wear it. They will also argue that the face-veil is an erasure of women and that the ideology that supports it is an antithesis of feminism. It is true that there are no verses in the Qur'an that explicitly state that a woman must wear the face-veil. However, let us not ignore the fact that Islamic law is not simply a literal reading of the Qur'an. We have an entire epistemology: there is the Sunnah of our Prophet Muhammad ṣallallāhu 'alayhi wa sallam (peace and blessings of Allāh be upon him), and the scholarly interpretations and opinions. Muslim theologians have debated and differed on the issue of the face-veil ever since the era following the death of Prophet Muhammad ṣallallāhu 'alayhi wa sallam (peace and blessings of Allāh be upon him). Some scholars have held the opinion that it is an obligation to wear the face-veil while others have said a Muslim woman is not obliged to cover her face. For many Muslims then, the face-veil is rooted in Islamic tradition, but they will differ as to whether or not it is compulsory.
The point is though, whether or not one believes the face-veil is a requirement, no one has the right to tell a woman what she should or should not wear. In addition, people on either side of the discourse should not promote an intolerant austere vision. Islam is not monolithic; there are nuances and these should be respected, even if we choose to disagree.
More importantly however, what seems to be deliberately obliterated from the hysteria around the face-veil, is the actual voice of those Muslim women who choose to wear it. Arundhati Roy said: "There is no such thing as the voiceless. There are only the willingly unheard." So, whether it is Muslims or non-Muslims, let us not disregard the individual choices that many of these women make and let us not adopt an ethnocentric approach to the face-veil, because that is no doubt, an affront to our British values.
I would say, the face-veil in Britain is symbolic of Britain being a diverse, open and liberal society. It demonstrates the ability of the British to be able to absorb differences and to accept foreign customs. Societies are, no doubt enriched by cultural variation. The presence of heterogeneous mores is a sign of pluralism and let us not forget, pluralism is one of the hallowed values of our country. Surely, an ethnocentric approach is clearly an affront to our British values – values that demand a lot more respect than this.
Finally, Muslim women seek fairness, not favors; so, let's not deny them the individual freedoms that Britain prides itself on.
https://muslimmatters.org/2018/08/26/muslim-women-in-britain-seek-fairness-not-favors/
--------
Four Women Appointed To Key Jobs at Jeddah Municipality
August 28, 2018
JEDDAH: Jeddah Mayor Saleh Al-Turki has appointed four women to key positions in the municipality in an unprecedented move toward female empowerment in Saudi local government.
The appointments are expected to pave the way for similar decisions across the Kingdom, increasing the contribution by women to the growth of local communities and the country as a whole.
"Jeddah is a big city that is even growing bigger and we need to keep up with this growth. I have actually appointed qualified people of both genders in a number of departments in the municipality," Al-Turki told Arab News.
He said the municipality provided services to all beneficiaries, regardless of the their gender.
In the reshuffle, the municipality's general directorate for female services has been renamed the female municipality branch, and will be headed by Maryam Ahmed Abu Al-Aineen, who will be directly affiliated with the deputy mayor.
Rasha Ghazi Al-Muhanna has been appointed director of Dhahban branch municipality, and is directly linked to the assistant deputy mayor for services.
Al-Turki also appointed Hiba Hussein Al-Balawi head of Al-Sharafiyah central municipality with a direct link with the assistant deputy mayor for services. And Amani Mahmoud Abdul-Karim will oversee the performance of all four municipalities in Central Jeddah — Sharafiyah, historical Jeddah, Old Airport and Al-Balad.
In other administrative decisions, Nassir Al-Jarallah is the new manager for the General Administration for Markets and Slaughterhouses, associated with the deputy mayor for services. Areej Nasser Al-Buqami, former director of Manpower Planning and Employment, is now head of the Human Resources Department, with a direct connection with Al-Turki.
The mayor has also established branches of the municipality in North Obhur, Abrag Al-Raghama and Khuzam zones.
http://www.arabnews.com/node/1362891/saudi-arabia
--------
Muslim-American Girl Scout Uses Gold Award Project to Share Her Heritage
August 27, 2018
Westborough – Growing up as a Muslim American, Aliza Majid has encountered harassment. She knows deep down, most people are kind and welcoming but when it came to working on her Gold Award Project, she came up with what she thought was the perfect fit.
Her project, titled, "A Muslim Girl in America," combines her passion and pride about her faith with ways to educate those that are not familiar with her religion. Her goal for this project was also to demystify misconceptions about Islam and the stigma that sometimes she feels surrounds her culture.
This is the Girl Scouts highest award that only a small percentage achieve nationwide.
"I started this project by trying to spread awareness about my religion given the current climate in our country," Aliza said. "I created Ramadan and Eid baskets. The baskets were distributed to some churches and the police station. Ramadan goes along with the lunar calendar and we fast from sun up until sunset. We share kindness and the baskets filled with fruits, candies and informational pamphlets explaining the holiday as well as Eid, which falls at the end of Ramadan. The holiday is actually a time to try and purify you and think of ways to be kind. The hardships that you go through are intended to help you reflect on your life. Even though I am fasting during the school days, I focus more on my studies and I find the days pass quickly."
One of the other things that Aliza did to implement her project was to talk to the Westborough town committees. She did a presentation on Islam at one of the Diversity Committee meetings and discussed ways in which the community could come together and be more comfortable with all ethnicities and religions.
She also spoke to the local Westborough Rotary Club on ways to spread awareness about Islam and how to be more inclusive. In addition, Aliza participated in the Masjid E. Basheer "Open Door Day" that was held in March. Everyone was welcome for this educational and fun day. About 500 attendees participated in this event, enjoying food from different cultures, henna stations, demonstrations on how to put on a hijab (traditional head covering) and more.
"I had a booth set up at Westborough's annual Fourth of July Block Party and had information available for two organizations," Aliza explained. "The first, Helping Hands for Relief and Development (HHRD), is a nonprofit that I've been working with and it helps people around the world. The other organization is called "Why Islam?" I had brochures that people could take."
Because teenagers use social media quite readily, Aliza created a Youth Group blog (https://theteenageummah.wixsite.com/website) that shares views about Islam from teenage girls in the community.
When Aliza first began her Gold Award Project, she was hesitant about the response she would get. Everyone has been open to discuss her project and she confirmed that this has been a really positive experience.
In her free time, Aliza loves reading, spending time with friends, creative writing and listening to Korean music (KPop). She imagines herself, five years from now, continuing to be an advocate for Islam, while possibly pursuing a career in journalism or architecture.
https://www.communityadvocate.com/2018/08/27/muslim-american-girl-scout-uses-gold-award-project-to-share-her-heritage/
--------
Women Drivers to Transform Saudi Auto Market
August 28, 2018
JEDDAH: Two months have passed since the official lifting of the ban on women driving in Saudi Arabia. The majority of women in Saudi Arabia are planning to drive a car. According to a new survey by YouGov, 24 percent of women have applied for a driving license since June 2018 and 61 percent of women who haven't applied yet are willing to apply in the future.
However, there are women who are not willing to apply for a driving license. They have several concerns, most of them around safety.
The recently launched government campaign to educate women on driving and safety regulations has not helped many women to overcome their fears.
According to YouGov findings based on an online survey, one in five women do not think that they would be a good driver. And 27 percent of them feel it is dangerous, 24 percent do not know how to drive, and 23 percent believe their husbands/ family members would not allow them to drive.
Aisha Abdellateef, 23, from Jeddah, told Arab News, "I want to learn how to drive. However, I do not prefer to depend on myself totally. It is less stressful when someone else is driving."
Although Aisha believes she will be an excellent driver, she does not see that traffic and safety regulations are well implemented in Saudi Arabia yet.
Sarah Al-Asta, 26, from Jeddah, is more optimistic: "I believe it is safe to drive, there isn't much to worry about as we thought before the ban was lifted, probably because there aren't many new female drivers in the streets yet."
"However, I think I won't apply for a driving license any time soon, I will wait until the demand on the driving school is eased, and I hope the costs to get a license decrease too."
The lifting of the ban on women driving has opened up opportunities within the auto market; 78 percent of women who intend to drive are willing to buy a car.
According to YouGov, the majority of women say the decision of which car to buy rests in their hands.
Nahla Abu Alula, from Jeddah, received her Saudi driving license as soon as the ban was lifted, "I received my first driving license in 2013 from the US when I was a student; it was still valid so I exchanged it with a Saudi one."
"I was concerned, and a bit afraid to drive at the beginning because of the comments I kept hearing that driving in Saudi Arabia is a challenge, but I found that it is normal," she said.
"On the contrary, most of the male drivers I came across were welcoming, encouraging, and cooperative. sometimes they would make a thumbs-up gesture with their hands or a victory sign."
http://www.arabnews.com/node/1362756/saudi-arabia
--------
Report Slams $5.6M Canadian Program for Afghan Women
Aug 28, 2018
A Canadian project to encourage women in Afghanistan to run for political office was poorly designed and executed, according to a newly released evaluation.
The $5.6 million project "had limited impact in changing women's capacity to influence decision-making processes," concludes the report, which suggests too little of the money went to the women it was supposed to help.
The initiative, Promoting Women's Political Participation in Afghanistan (PWPPA), was approved by the Conservative government of Stephen Harper in 2013, and delivered between May 2014 and July 2016.
The project followed Canada's 2011 withdrawal of combat troops from Afghanistan and the March 2014 end of its military mission to train Afghan soldiers. The women's initiative signalled Canada's continuing civil support for the troubled country.
Global Affairs Canada contracted the project to the National Democratic Institute, (NDI) based in Washington, D.C., which carried out most of the fieldwork in difficult conditions as security deteriorated.
Global Affairs hired a consultant group based in Milan, Italy, last October – more than a year after the project ended – to determine whether the money had been well spent.
Hobbled from start
The $114,000 evaluation, delivered in April 2018 and recently released to CBC News after a request under the Access to Information Act, suggests the project was hobbled from the beginning.
"[T]he design of the project shows several weaknesses, including the lack of reflection on some crucial elements such as structural and long-term gender discrimination," said the report by Lattanzio and Seefar.
It also cites "a limited engagement of men in the project, a flawed implementation of the risks and mitigation strategies, and limited attention to the lack of political background and professional experience of the women."
The consultants also found most of the money went to the salaries and benefits of the NDI workers and consultants delivering the project, with little committed to field activities directly benefitting Afghan women — a situation the report calls "disproportionate."
The project had called for further training of women who managed to get elected to the 34 provincial councils in Afghanistan. "However, these follow-ups were considered insufficient," said the report.
"On more than one occasion, the participants involved in the evaluation complained about the brevity of the project and the lack of adequate follow-up."
The project had also planned to help prepare women candidates for the 2015 national parliamentary elections, but those elections were delayed and still have not happened. They're now set for October this year.
Fresh security concerns in the unstable country also hurt the project between 2015 and 2016. NDI had to close offices temporarily in Kabul and Kandahar, and permanently in Kunduz, and road travel between provinces was restricted because of security threats.
At the time, Global Affairs Canada considered whether to cancel the project, given these and other significant challenges on the ground, but decided to press ahead.
"In spite of these challenges, Global Affairs Canada believed that cancelling the project would adversely affect women's political participation in Afghanistan," said spokesperson Krista Humick.
The department internally rated the success of the project a 3.5 out of five, which means the goals were "mostly met," she said.
"Despite the uncertain election calendar and re-profiling of project activities, NDI contributed to enhancing the capacity of women candidates running in the PC (provincial council) elections, enhancing their campaign skills and knowledge of electoral processes and regulations," Humick said in an email.
A spokesperson for the non-profit NDI, Raissa Tatad, declined to provide on-the-record comment, saying the group had already provided input to Global Affairs Canada's response to CBC News' questions.
Not as rigorous
Canada has committed more than $2 billion in aid to Afghanistan, and in 2015 published an overall evaluation of programs covering 2004—2005 to 2012—2013.
But Ottawa's assessments of achievements has not been as rigorous as in the United States, where in 2008 Congress established a Special Inspector General for Afghanistan Reconstruction, or SIGAR, to conduct independent, hard-nosed audits of aid programs which are then made public.
Nipa Banerjee, a senior fellow of international development at the University of Ottawa, said the evaluation reflects much of her 35 years' experience in foreign-aid work, including years spent in Afghanistan.
"There is a very serious design problem" in the project, she said in an interview, which lacks "proper indicators with which one could assess if the desired results have been achieved. That is the major problem."
Banerjee also noted the finding that the project did not take into account the special cultural circumstances of Afghanistan, such as the need to persuade Afghan men to support its goals and methods.
Banerjee said her current academic work in assessing the success of Canada's aid projects has been hampered because desired outcomes are not clearly articulated, and independent outcome-measuring assessments are rare.
"Monitoring is hardly done," she said. "Substantive analysis is hardly ever done."
Banerjee said Canada needs to create an entity like SIGAR to provide Canadians with independent accountability for foreign aid programs and spending.
https://www.cbc.ca/news/politics/afghanistan-women-canada-global-affairs-banerjee-1.4800495
--------
URL: https://www.newageislam.com/islam-women-feminism/muslim-woman-participates-up-police/d/116219
New Age Islam, Islam Online, Islamic Website, African Muslim News, Arab World News, South Asia News, Indian Muslim News, World Muslim News, Women in Islam, Islamic Feminism, Arab Women, Women In Arab, Islamophobia in America, Muslim Women in West, Islam Women and Feminism