New Age Islam News Bureau
9 Jun 2018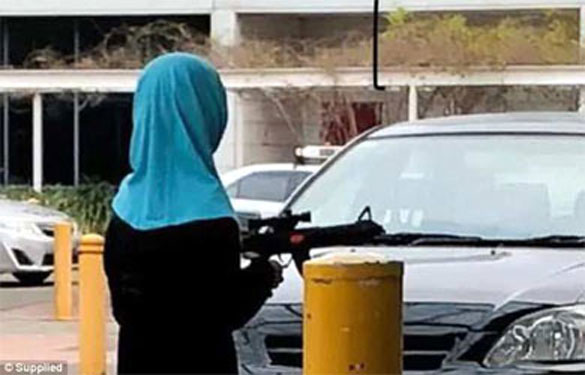 A Muslim girl wearing a blue hijab sparked a security scare at a major Sydney hospital when she was spotted walking around with a plastic rifle (pictured)
-----
• The Abaya and the Tensions in Sri Lanka's East
• Teenage Muslim Girl Sparked a Security Scare after Carrying a Replica Machine Gun into a Hospital
• Saudi Woman Elected In UN Gender Discrimination Committee
• French Secularists Outraged After Student Wears Headscarf during TV Interview
• Lawsuit: Nursing Home Ordered Muslim Worker to Remove Hijab
• 14 New Jersey Women Alleging Anti-Muslim Bias At Newark Airport Security
• Nurul Shamsul Hopes to Break Stereotypes in Miss Universe NZ Pageant
• Turkish Police Arrest Female Journalist Over Links to Gulen Network
• Delhi HC Permits Reverted Muslim Girl to Live With Husband
• Saudi Woman Says She's Been Driving for 40 Years without a License
Compiled by New Age Islam News Bureau
URL: https://www.newageislam.com/islam-women-feminism/muslim-woman-hopes-mbe-honour/d/115499
--------
Muslim woman hopes MBE honour will 'silence Islamophobes'
8 June 2018
A Muslim woman honoured by the Queen hopes her award "silences the haters" who contribute to an environment of Islamophobia.
Akeela Ahmed said she accepted her MBE for services to Muslim women on behalf of those she works with through the She Speaks We Hear online platform she founded, describing them as "changemakers" in their communities.
The 39-year-old mother-of-three created the project, which seeks to empower women from faith communities, in a bid to defy what she saw as the "binary, stereotypical" representation of Muslim woman as "either being oppressed or being a threat".
Terror attacks last year led to a rise in Islamophobia, especially against females who wear traditional Islamic dress, she said.
"Unfortunately with all the various tragic events that we've had in the last year we've definitely seen an increase in Islamophobia and especially for Muslim women who look different and who wear the hijab," said Mrs Ahmed, from north-west London.
"And I really do hope that despite all of that, me getting this award will really help women understand that not everybody views Muslim women in that way and actually we're as much part of this country as anybody else and our achievements are recognised and validated as well and also hope it just kind of silences the haters a bit as well.
"I think that's really important."
Mrs Ahmed, who also works with not-for-profit social enterprise Seaside CIC which helps the homeless in Brighton, said she was "hugely proud and honoured" to be made an MBE.
She said: "I really feel that this award is not just for me but it's for all the amazing women that I work with who are all changemakers in their own communities and doing amazing things and I think they will feel that this is recognition for Muslim women more broadly."
http://www.itv.com/news/2018-06-08/muslim-woman-hopes-mbe-honour-will-silence-islamophobes/
--------
The abaya and the tensions in Sri Lanka's east
Meera Srinivasan
JUNE 09, 2018
The arch above the school gate looks like a crown over the pillars that support it on either side. It bears the name 'Sri Shanmuga Hindu Ladies' College', painted in a turquoise blue that must have been vibrant once but looks faded now. Beyond the arch, a couple of two-storied pink buildings face each other. Their proximity amplifies the commotion that erupts when the bell rings. It is break time.
This school, many in Sri Lanka's eastern port city of Trincomalee will tell you, is for girls who study well. It was founded in 1923 by Thangamma Shanmugampillai, a local advocate of women's education. Shanmuga 'College', as many secondary schools in Sri Lanka are called, steadily built its reputation and has preserved it for nearly a century.
However, when the school made headlines in late April, it was not for an academic feat. It drew national attention when controversy erupted over a few of its teachers wearing the abaya, a full-length, gown-like dress of Arab origin that many Sri Lankan Muslim women have begun to wear in recent decades. Seeing this as an aberration from earlier practice, where Muslim teachers wore the saree in Tamil style accompanied by a headscarf, a group of parents and teachers from the Hindu community protested, demanding that the teachers abide by an unwritten but apparently entrenched school 'dress code'.
At first, this seemed like a case of Tamils objecting to the Muslim teachers' change of attire in a 'Hindu school'. But beneath the surface are cracks that manifest in small and big ways, at times exploding into visceral hate speech. With its almost equally proportioned ethnic mix of Sinhalese, Tamils and Muslims, Sri Lanka's Eastern province could be an ideal site to demonstrate reconciliation and coexistence among the different communities. For the same reason, it is the most challenging too.
In two of the Eastern province's three districts, Ampara and Trincomalee, Muslims are the majority, whereas in Batticaloa district there are more Hindus, and the Muslim minority, comprising around 26% of the population, is concentrated in pockets along the coast and inland. The districts skirting Sri Lanka's east coast are among the most scenic parts of the country, where lagoons, lakes and lush fields paint the landscape in shades of blue and green.
Deriding difference
The protesters who gathered outside the school in the last week of April held placards in English and Tamil with messages such as, "Hindu schools are for Hindus, let us not entertain racism here", and "Even if you don't speak in pure Tamil, do not speak in crass Tamil", indicating that the issues at stake were larger than what teachers should wear to school.
The Tamils unleashed a commentary on the Muslims' culture and language in unmistakably derogatory terms, provoking hardline Muslim groups to return the favour in a counter protest. Social media was rife with charges reeking of prejudice and suspicion – of "spreading Wahhabism" by one side and of "continuing the separatist Eelam struggle" by the other.
Though mostly Tamil speaking, Sri Lankan Muslims, who comprise about 10% of the island's population, have historically identified themselves as a separate ethnicity. A majority of the Tamils in the island's north and east are Hindus, accounting for most of Sri Lanka's nearly 13% Hindu population. The island's Tamils see themselves as an ethnicity distinct from the Muslims, despite a common language. They often speak of Muslims, many of whom are engaged in agriculture, fisheries and trade, as a "prosperous" community, well networked and upwardly mobile.
As recent incidents stirred up latent tensions between the Tamils and Muslims, some within both communities are visibly troubled. "We thought the situation was going to escalate. Everyone was forwarding hate messages and rumours via social media. It was getting dangerous," recalls a Tamil youth, who manages a small business minutes away from the school. "But the fact is Shanmuga has traditionally been a Hindu school. That must be respected, don't you think?" he says, requesting anonymity.
He was echoing what veteran Trincomalee parliamentarian and leader of Tamil National Alliance (TNA) R. Sampanthan highlighted in response to Rishad Bathiudeen, Minister for Industry and Commerce, who had taken up the cause of the Muslim teachers. Appreciating the changes in the culture of attire among all communities, and noting it was each community's right to make its choices, , the leader of the political alliance of Tamil nationalist parties urged education authorities to resolve the matter in a way that "respects the traditional dress code followed in the [said] school" and ensure "no community introduces new ways of dressing."
His seemingly conciliatory tone, however, hardly concealed an uncompromising message: Muslim teachers teaching in a traditionally 'Hindu school' must abide by the 'traditional Tamil attire' for female teachers — the saree. However, Shanmuga College, though denominated as Hindu, is a state-funded school under the education department. Students from all communities are admitted — 120 Muslims are enrolled among the 2,000-odd students — and teachers from any community may be appointed.
Among Sri Lanka's 353 such 'national schools', there appears to be an implicit recognition of the role played by religious movements in establishing them, as seen in their official self-identification as 'Hindu' or 'Muslim' schools. Despite some diversity within, most national schools are ethnically marked, including in the mixed Eastern province. Since the controversy, all the four Muslim teachers at Shanmuga College, according to an authoritative source, have sought a transfer to a Muslim school in the same district, so they can wear the abaya to work.
Symbolic clothing
For the men from both communities, who voice strong views on the abaya, the attire worn by Muslim women is symbolic, signifying either adherence to religious convention or defiance of 'Tamil culture', depending on their religion. On the other hand, women, including those who use it, offer a more complex reading in which history is not incidental.
Mainstream narratives around Sri Lanka's almost three-decade-long internal war focus on the north, where Tamil militant organisations were based, but the east has seen its share of action and suffering. Several thousand people lost their lives in indiscriminate shelling by government forces and bloody massacres by all sides.
From the violence unleashed by the Liberation Tigers of Tamil Eelam (LTTE) on Muslims in the 1990s, to the 2004 split within the LTTE when its eastern commander Karuna Amman broke away, the Indian Ocean tsunami the same year, and the armed forces' capture of LTTE-controlled territory in 2007, the Eastern province has endured profound losses and devastation.
The impact of that is still seen in the large number of women headed households, the wide prevalence of poverty in the province — Batticaloa is among the island's poorest districts — and the high rates of outmigration, in the form of low skilled labour, to West Asia. Resilient locals are labouring hard to rebuild their lives, but recent bouts of communal tension foreshadow a difficult future.
"I grew up in Kattankudy and have always lived here," says Fahmiya Shareef, an activist in this Muslim dominated locality of Batticaloa district. A narrow alleyway leads from the main road to her house right at the end. She can recall the August 1990 mosque massacre, when over 100 Muslims, kneeling in prayer, were mowed down in gunfire by the LTTE.
Now 41, Shareef remembers a time when Tamils and Muslims lived in amity in the 1980s. "Many of our boys joined the Tamil militant movement. Muslims were very sympathetic to their struggle, and at the same time tried being a bridge to the state." Once, when the state security forces were hunting Tamil youth suspected to be linked to the LTTE, her father, who was a school vice-principal, disguised some of his Tamil students as Muslims and smuggled them to distant border villages.
In the years of heightening conflict, the relationship soured. Mutual distrust replaced respect, and hostility overwhelmed cordiality. Tamils increasingly viewed Muslims as accomplices of the state, and Muslims in turn saw Tamils as an oppressive local majority trying to carve out a separate state in which Muslims were either discriminated against or displaced. Ties spiralled downward from the early 1990s, when the LTTE attacked eastern Muslims and forcefully evicted northern Muslims overnight.
Proposed re-merger of provinces
That trust deficit remains intact today and dominates all debates, ranging from a proposed re-merger of the north and east (from 1988 to 2006, the Northern and Eastern provinces were temporarily merged to form the North Eastern province) to allocation of local, provincial and national resources. Unlike the Northern Tamil parties, Muslim political parties are coalition partners of the government, holding key portfolios. This leads Tamils to accuse them of favouring their ethnoreligious electoral base while distributing government jobs or public funds.
"There is certainly truth in that allegation, but the Tamil community cannot get too far by resorting to hatred and divisive politics in return, can it?" asks K. Thurairajasingam, general secretary of the TNA's main constituent, the Ilankai Tamil Arasu Katchi, and a former minister in the Eastern Provincial Council. "As far as the east is concerned, it is home to Tamils and Muslims. We have to work together in a way that is fair to all the people here."
Protesters outside the Trincomalee school derided the Tamil spoken by Muslims as "impure" and "crass", forgetting that some of their northern Tamil brethren do not consider their eastern dialect "pure" enough. Objections to Muslims span other spheres of culture too, including dietary habits. In May, a hardline Tamil Hindu organisation protested against the sale of beef, mainly by Muslims, in parts of Jaffna, claiming Sri Lanka to be a land of Hindus and Buddhists where the cow is revered and therefore cannot be slaughtered. Muslim women's changing attire also appears to be contentious to Tamils. "Why must they suddenly wear these new outfits imported from Saudi Arabia?" asks a senior academic in Batticaloa.
His barb brought to mind what Shareef said earlier: "The abaya issue was not really a problem of our udai (clothing). It was about our urimai (right)." Young Batticaloa lawyer Jawshana Musammil, herself dressed in an abaya, concurs with Shareef. In her view, to tell someone that their attire is inappropriate is a violation of their fundamental right.
To many Muslim women, the abaya is about following a convention. For some, it is about convenience too. Working women find it quicker to wear the abaya during their morning rush, as compared to the pleated saree. Some of them have received abayas as presents from a relative returning from West Asia, others buy the dresses in the local market. Some of them wear it in black, others like experimenting with brighter colours. "Even many Tamil women today prefer wearing the salwar kameez to the saree. Can we say that it is wrong? Culture keeps changing with time for all of us," says Shareef.
In the 20 years that she has spent working with women of all communities in the East, Tamil activist Lakshmi (name changed on request) has seen many changes to women's clothing and attitudes about them. "So many Tamil women tell me that their husbands force them to wear the sari or the thali. Similarly, there are Muslim women who are not particularly fond of the abaya. If you ask these women, they will tell you it is an issue of patriarchy more than religion," she says, adding that the battle against male dominance is common to all religions.
However, in Sri Lanka's east, everything is seen through a communal lens first. Further, in recent times, sections within all communities are showing signs of becoming more conservative and insular, many living here observe.
"You must remember that religion has its own power base," says Fr. Veeresan Yogeswaran, at the sea-facing office of the Centre for the Promotion and Protection of Human Rights in Trincomalee, which he heads. In a setting as complex as in the Eastern province, where religion is not merely a matter of personal belief but also a means to accessing resources from public and private actors, people of all faiths appear to be asserting their identities and cultures.
Pointing to the growing number of evangelical groups among Christians and Muslims as a cause of concern for Hindus, Fr. Yogeswaran says, "Putting up churches in predominantly Tamil villages will be seen as an attempt to disrupt coherence."
Local Tamils speak of new mosques that have sprung up in the last few years, and of the massive Batticaloa Campus of Sri Lanka, a private higher educational institute. It is chaired by an influential regional Muslim politician.
Further, there is concern over a possible "north Indian influence", says Fr. Yogeswaran, referring to more aggressive Hindu organising in the east. "The Tamil Hindus of Sri Lanka, especially in the north and east, are essentially Saivites. Their kovils are all Siva temples. But increasingly, you notice many Vishnu temples coming up here."
Murmurs of a likely Rashtriya Swayamsevak Sangh influence, coupled with the efforts of organisations such as the Siva Senai, which led the anti-beef campaign in Jaffna and has claimed links to Hindutva groups such as the Shiv Sena, the RSS and the Vishwa Hindu Parishad in India, have fuelled these fears.
In the Sinhala majority south, where many Sri Lankans worry about the growing incidence of anti-Muslim attacks over the last five years, hardline Buddhist organisations have been talking about combating a "growing threat of radical Islam".
Targeted both ways
That is perhaps why Shareef worries about Muslims "getting beaten on both sides." The Muslims of the Eastern province, sandwiched by the Tamils at its northern end and Sinhalese in the south, are feeling squeezed. More so after Sinhalese mobs carried out a spate of attacks targeting Muslim eateries and shops in Ampara in February, alleging that a Muslim-run restaurant had mixed sterilisation pills in food served to Sinhalese customers.
Weeks after the anti-Muslim violence and destruction, which also spilled over to Kandy in the Central province, where it claimed at least two lives, lab tests of the food sample found the complaint to be false. "We live in constant fear of being attacked again," says Mohamed Mustafa Junaideen, leader of a cooperative society in Ampara. Both the Tamil and Sinhalese instigators of the two protests have political reasons, some suspect.
"There are forces who know that if you disrupt peace in a [multi-ethnic] city like Trincomalee, it will affect the whole country. They use that for their political gain," says social worker M. Noorul Ismiya. "Whatever the conflict might be, you will find women at the receiving end of it. As a feminist I am uncomfortable with the idea of an abaya, but at the same time I believe that no one in the world has the right to tell a person what she must or must not wear." The abaya has become a prop for a more virulent prejudice, she adds.
Lawyer Musammil, who has many Tamil clients, says that she keeps hearing about a host of issues in Tamil society ranging from domestic violence and alcoholism to indebtedness caused by microfinance. "There are so many big problems around us and silence about them, but some people harp on a matter like women's attire which has no consequence to their lives," she says.
Those like Shareef fear that in the long term, if the two minorities can't stand in solidarity with each other, then the future of the individuals in either community would remain bleak. She cannot see why identities must complicate coexistence. "Like in a fruit salad, we could be in a common dish but still retain our distinct colour and flavour. But when you try to blend us all into a juice, then the one fruit you add more will dominate the taste. That will be at the cost of others."
http://www.thehindu.com/news/international/fear-of-the-abaya/article24116604.ece
--------
Teenage Muslim Girl Sparked a Security Scare after Carrying a Replica Machine Gun into a Hospital
8 June 2018
A Muslim girl wearing a blue hijab sparked a security scare by carrying a replica machine gun into a major hospital.
The teenager was spotted carrying the fake firearm at Prince of Wales Hospital at Randwick, in Sydney's east, terrifying onlookers.
Security was alerted after the girl was seen walking into the hospital cafe with the replica weapon in hand, the Southern Courier reported.
The plastic rifle appeared to be an M15 - a type of weapon used at several school shootings in America, 7 News reported.
'People don't know it's a toy gun so it's terrorising innocent people,' an onlooker told the network.
One woman at the hospital who was 'very concerned' when the incident unfolded about 9am Thursday reportedly contacted security five times.
'It's very worrying seeing girls that age playing around with a toy rifle in the street, let alone at a big hospital,' a witness told Daily Mail Australia.
'It's just not right, we need to be vigilant and keep an eye out for this sort of stuff in order to keep our country safe.'
Another woman said she had told the girl before she entered the cafe not to take the replica rifle into the hospital as people were scared.
Police were contacted and later tracked-down the girl and her mother outside the hospital and after speaking to them, confirmed it was a toy gun which was not illegal.
A spokesman for the South Eastern Sydney Local Health District said an investigation into the incident is now underway.
http://www.dailymail.co.uk/news/article-5820579/Muslim-girl-sparked-security-scare-carrying-replica-machine-gun-Sydney-hospital.html
--------
Saudi woman elected in UN gender discrimination committee
9 June 2018
A UN committee on the elimination of discrimination against women elected Saudi Arabia's Dr. Tamadur bint Yousef al-Rammah, the kingdom's Deputy Minister of Labor and Social Development, as a member, the Saudi Press Agency (SPA) reported on Friday.
The news comes as another Saudi woman, Basmah al-Mayman, won the position of Middle East regional manager of the United Nations World Tourism Organization.
This is the first time the position has been occupied by a Saudi or Gulf official and came after a fierce international competition.
https://english.alarabiya.net/en/News/gulf/2018/06/09/Saudi-al-Rammah-elected-in-UN-for-elimination-of-discrimination-against-women.html
--------
French secularists outraged after student wears headscarf during TV interview
Jun 8, 2018
The French interior minister, Gérard Collomb, called her appearance "shocking". Marlène Schiappa, the minister of gender equality, said she exhibited a "manifestation of political Islam". Satirical magazine Charlie Hebdo put her on its cover, with a drawing many considered racist.
Her offence: wearing a headscarf during a television interview.
Elected last December as leader of the Sorbonne chapter of the French National Students' Union, Maryam Pougetoux, 19, is used to hearing from those who disagree with her progressive views. But she was entirely unprepared for what happened last month after she criticised changes in educational policy during the interview.
Pougetoux, a practising Muslim who wears a head scarf that covers her hair and neck, had been asked to comment on one of the main television channels, M6, about proposed changes that would make admission to universities more selective. She and the hordes of students who took to the streets recently in protest consider the measure discriminatory and elitist.
But the debate that followed had nothing to do with education and everything to do with her appearance. It was set off in large part by Laurent Bouvet, a secularist and member of a group called Le Printemps Républicain, or Republican Spring.
The group was created in 2016 to defend the French republican ideal of "laïcité," which emerged during the revolution as a way to keep the Roman Catholic Church out of the affairs of state. But in recent years, critics say, some groups have used it to suppress the growing influence of Islam in France.
In a Twitter post, Bouvet said, "we aren't hunting anyone but merely pointing to the inconsistency" of a leader of the student group wearing a headscarf. "How can one defend values like abortion and feminist principles while displaying conspicuously their religious beliefs," he asked.
Pretty soon, it seemed that almost everyone had something to say about this unapologetically religious student.
Pougetoux herself was baffled by the outburst, saying she had to research "political Islam" online to understand the accusation. She also was not particularly outraged by the caricature of her on the profanity-laced cover of Charlie Hebdo, which many said made her look like a monkey.
"I first laughed. Charlie Hebdo mocks everyone, I didn't take it personally," she said. What she liked, she says, is that, "they were the only ones who actually emphasised my message."
Still, she realised not everyone shared her sense of humour. "I was extremely hurt when I realised that it caused a lot of pain for my family and friends," she said.
Not surprisingly, she has received plenty of support from her peers.
"In five years I have never seen this level of mistreatment of a student leader," one student from Denmark said to Pougetoux in the offices of the student group. "You are super amazing. Don't let the racists win."
A sparkle came to Pougetoux's blue eyes as she thanked the young man. She has been receiving similar demonstrations of support over the past two weeks on her university's campus, on the streets of the French capital, and online.
But the entire experience has been quite an ordeal for the 19-year-old, who is studying literature and communications.
Pougetoux did not break any law. While headscarves and other religious symbols are banned in public service and in primary and secondary public schools in France, they are permitted on college campuses.
Moreover, one expert said, the concept of laïcité should not be used to stigmatise minorities but instead to ensure freedom for everyone.
"It is the state that has an obligation to be neutral, not the citizens," said Nicolas Cadène, a senior member of the Observatory of Secularism, an agency that advocates respect of laïcité and advises the government on the matter.
"There is just one legal definition, but many come up with intellectual definitions," he said. "People who use the laïcité to extend the neutrality are wrong. It is out of question to challenge anyone's freedom."
Still, many French Muslims felt directly targeted by the 2004 law that banned headscarves and religious symbols for girls. Remarks by French political leaders have occasionally fanned the flames, like when President Emmanuel Macron said that the head scarf was not "in conformity with civility."
Pougetoux, who started wearing a head scarf in middle school, says she had no problem removing it when she entered her school building.
"It was the law, so I respected it," she said. "I had a very clear goal to study well, and I thought that it was a sacrifice that anyway I wouldn't have to endure in college."
Pougetoux makes an odd target for the guardians of French identity, Islamophobes and out-and-out racists, in that she is thoroughly French and religiously tolerant. Her family's roots are in the Correze region of southwestern France, and she grew up in a working-class household in the outskirts of Paris.
She comes from a long tradition of political involvement, particularly in trade union protests over workers' rights. Her great-grandparents were part of the French resistance during World War II, and her great-grandmother demonstrated for women's suffrage, which was granted only in 1944.
Pougetoux's parents both converted to Islam before they met, and she says she was raised in a tolerant environment accepting of differences. "During our family gatherings, there are Muslims, Christians and everybody gets along," she said.
While Pougetoux may not completely realise how much hate she has ignited, observers see the uproar as leading to another in a series of debates over French identity, especially the sexism that many say is latent in the country.
"For some, for a woman to be emancipated, she must fit into a certain stereotype," said Nadia Marzouki, a political scientist and research fellow at the National Centre of Scientific Research in Paris. "Some can't stand that a Muslim woman can be outspoken."
France has not resolved its colonial past, and many still believe their mission is to civilise other cultures, said Joan Scott, a U.S. historian who has extensively written about the head scarf controversies in the country.
"The conflation of the woman wearing a head scarf with a political threat to the nation is quite extraordinary," she said. "It's almost like these women are defined as witches.
"They're bearing some evil threat to the integrity of the nation. They can't be seen as anything but an aggressive threat. If that is not a form of racism or Islamophobia, I don't know what is."
Bouvet, in response to emailed questions, said his outburst against Pougetoux, "is absolutely not a question of secularism, in the sense of the law," adding: "Maryam Pougetoux does not break the law and does not go against laïcité.
"The problem is her role as the official representative of a student union that until now defended ideas and values incompatible with those that are represented by the Islamic veil worn by a woman."
But Pougetoux, who hopes one day to work for international nonprofit groups, saya she believed many politicians and intellectuals in France were set in archaic ways of thinking that do not reflect the more tolerant viewpoints of French citizens or, especially, her college peers.
"People think that we can never wear a headscarf by choice," Pougetoux said. "I wore it by religious conviction. It does not prevent me from having a normal life, and from having progressive values and dedicating my life to my political engagement."
https://www.independent.co.uk/news/long_reads/maryam-pougetoux-headscarf-tv-interview-france-hijab-debate-islam-a8384596.html
--------
Lawsuit: Nursing Home Ordered Muslim Worker to Remove Hijab
June 8, 2018
MECHANICSVILLE, Va. (AP) — A Muslim woman has filed suit against a nursing home she used to work for, claiming her bosses had ordered her to remove her hijab.
The Richmond Times-Dispatch reported Thursday that the suit was filed in federal court in Virginia. It claims that Keseanda Brooks was forced to choose between her job and her faith.
Brooks had worked at Hanover Health & Rehabilitation Center in Mechanicsville. The incident involving her religious head covering allegedly occurred in January 2017.
Brooks claims her bosses were concerned the garment could be grabbed or pulled and said she would have to remove it or be fired.
The owner of the center, Medical Facilities of America, disputed Brooks' allegations in a statement. It said she was later told she could wear the garment.
https://www.usnews.com/news/best-states/virginia/articles/2018-06-08/lawsuit-nursing-home-ordered-muslim-worker-to-remove-hijab
--------
14 New Jersey women alleging anti-Muslim bias at Newark Airport security
June 8, 2018
Fourteen women were pulled off a security line at Newark Liberty International Airport one morning last December as they waited to board a flight to Chicago. Security agents, they said, pored through their luggage and cupped their hands around their legs, torso and breasts, while from behind a clear window other travelers laughed and snapped pictures with their phones.
The women said they felt like animals in a zoo. After two hours of searches, they missed their flight.
Many of the women had never met before that day, but they had one thing in common: They were identifiable as Muslims because they wear a hijab, or Islamic head scarf. Now, they have joined together to file a complaint against the Transportation Security Administration, the federal agency that oversees airport security, claiming they were profiled because of their religion.
"I don't even want to remember that day," said Meriem Bendaoud of Bayonne, who was traveling with her 19-year-old twin daughters, Sara and Amina. "It was horrible. It took us two hours in front of everybody. It was disgusting. We were cornered, all of us."
The women, all of whom live in New Jersey, were bound for an annual conference of the Islamic Circle of North America, one of the country's oldest and largest Muslim organizations. They boarded a later flight and missed a half-day of the three-day event.
The Council on American-Islamic Relations, or CAIR, of New Jersey, which is representing the women, said the agents' actions were illegal under federal anti-discrimination laws. The letter of complaint was filed May 2 with the TSA and the Department of Homeland Security, which oversees it, asking for $100,000 in damages for each of the women, an official apology and mandatory diversity training for all TSA agents working at Newark Airport.
The incident is one of a growing number of bias cases involving federal agencies, according to CAIR, which released a report in April claiming that allegations of anti-Muslim bias rose 17 percent last year. Nationwide, 2,599 such incidents were reported to CAIR; federal agencies instigated 35 percent of those incidents, the report stated.
In a statement, a TSA spokeswoman, Lisa Farbstein, said the agency's policies and practices have to comply with civil rights laws and "must not discriminate against travelers on the basis of race, color, national origin, sex, relation, age, disability, genetic information, sexual orientation and parental status."
She referred questions about the complaint to the Department of Homeland Security's Office of Civil Rights and Civil Liberties. A spokeswoman for the department said the agency "as a matter of policy, cannot comment on open complaints."
'Why are you bringing all these people?'
Bendaoud's voice shook as she recalled what happened the morning of Dec. 28. Around 6 a.m., she was waiting in line to clear a security checkpoint, she said, when an agent asked passengers who were booked on a 7:10 flight to Chicago to move to the front of the line. The 14 women moved up, but Bendaoud thought it was odd that a family headed for the same flight was told to remain in place.
Then agents brought out a security dog to sniff her bag. They said the dog smelled something that needed further scrutiny, so she and her daughters stepped aside for extra screening. Then, she saw agents pulling aside other women who were also wearing hijabs.
"I said, 'If you want to do extra search of me and my daughters, that's fine, but why are you bringing all these people?'" she said.
Bendaoud said the agents told her they were being searched because they were part of the same group, even as she and the other women insisted that they did not know one another and had booked their travel separately.
She said she was patted down over her clothes around her breasts and between her legs, within view of other travelers. Agents, she said, looked at every item in her carry-on bag, and swabbed her shoes, phone and laptop for chemicals.
Bendaoud, a professor of biology at New Jersey City University, she said she understands the need for security and secondary screenings. But she grew upset when she saw the others, all of them young women between the ages of 16 and 22, getting the same treatment.
"When they did it to other girls, I thought it was a violation," she said. "At least I had my girls with me. I could talk to them. They didn't have their parents. One was a minor. Some of them started crying. Can you imagine seeing this happen to these poor girls?"
Among the group were three sisters from Wayne. The oldest, Suzanne Elfarra, now 23, said she also insisted to the agents that the women were not traveling together. But she was subjected to the same checks.
"They closed off a line to enter through security checks just for us and gated us in," Elfarra said. "It looked like we were animals herded through the group. Everyone was angry."
She said she argued with the agents. "This is systematic racism," she recalled telling them. "You lumped us in the group because we look like one another."
She grew upset as she described what happened. She said she's frequently been stopped at airports for cursory secondary security checks, but that what happened on Dec. 28 felt to her like blatant bias.
"You don't understand my frustration," she said. "It's unbelievable that I have to consistently deal with this because people don't understand my religion."
Elfarra, who will start dental school at New York University in August, hopes that sharing her story will lead to greater awareness.
"This country protects my rights," she said. "I'm as much an American as anyone else. They think they can treat me like this and believe they can pick and choose the rights they can give me."
"I'm an American-born citizen. My mother is an American-born citizen. It's as if I have to constantly validate my American-ness."
'Supposed to make us feel safe'
Elfarra's sister Yasmine, 21, said she felt caged in and upset as some onlookers took out their phones to record them. Some were laughing and others appeared "horrified," she said. Yet, when she took out her phone to document what was happening, she was told recording was not allowed.
"It's sad that the TSA that was supposed to protect us were the ones hurting us and make us feel unsafe," she said, adding that the whole experience felt "isolating."
Yasmine Elfarra graduated from the New Jersey Institute of Technology last month and will begin studying at the Rutgers Robert Wood Johnson Medical School in August. She said she'll continue to push to hold the TSA accountable.
"You always hear Muslims saying this — that they feel targeted or profiled and it's something people have come to accept. It's really unfair," she said. "We want them to acknowledge that there is a problem."
The women, most of whom are college or graduate students, said the agents did not question them about their backgrounds or or their faith. They were released as a group after each person was thoroughly searched — a process that took about two hours. But by that time they had missed their flight, they said.
The Record filed a public-records request with the Department of Homeland Security in April 2017 seeking reports about the number of secondary screenings and detentions at Newark Airport, but that request and a subsequent appeal were denied.
Jay Rehman, a staff attorney at CAIR-NJ who filed the complaint on the women's behalf, said travelers are often subjected to additional screening, but that the incident at the airport Dec. 28 seemed to be a clear case of religious profiling.
"You have a situation where they are not just stopping one person," he said. "This is a clear indication that they really are stopping Muslims. What gives more of an identity than a woman wearing a hijab?"
https://www.northjersey.com/story/news/new-jersey/2018/06/08/nj-women-hijab-allege-anti-muslim-bias-newark-airport-ewr/665712002/
--------
Nurul Shamsul hopes to break stereotypes in Miss Universe NZ pageant
9 Jun 2018
PETALING JAYA: Having a Malaysian Muslim woman participate in beauty pageants may set tongues wagging, but Nurul Shamsul aims to use her position in the Top 20 of Miss Universe New Zealand to break stereotypes and boundaries.
Nurul, 20, said she hopes to showcase the positive side of Islam and to show the true meaning of beauty.
She said that much of the world is exposed to the Western standards of beauty, but she hopes to break that stereotype and redefine the meaning of beauty.
"I want the definition of beauty to be more inclusive, no matter the person's size or skin colour," Nurul told The Star's Malay language portal mStar.
Being a Muslim in a beauty pageant, Nurul said that she is often asked if she has to wear a bikini.
"The answer is no. The (New Zealand) pageant abolished the swimwear category five years ago, so I do not have to wear any swimwear," she said.
New Zealand ditched the swimwear category in 2012 to make the competition more modern and inclusive.
Nurul said she is aware that Muslim women in Malaysia are not allowed to participate in beauty pageants because of the swimwear category.
"Miss Universe New Zealand is very different, I am allowed to wear whatever clothes I want during the filming session," she said.
Nurul, who was born in Ampang and moved to New Zealand when she was five, said she was deeply touched by the Miss Universe New Zealand contest organiser's approach to Muslim participants.
"In countries like New Zealand, we accept diversity. Due to cultural diversity, I have never encountered any problems, disturbances or difficulties while wearing the hijab," she said.
"Wearing the hijab does not hinder me from joining this competition," said Nurul, who is a student at Waikato University.
During the recent pageant retreat to Bangkok, Thailand, Nurul said the organiser ensured that she had halal food.
"I am deeply moved by how accommodating they were," she said.
Nurul said she even brought a baju kebaya with her during her retreat to Bangkok.
"I wore it during the dinner function. I like the design. It shows my feminine side with the flower pattern and colour," she said.
In the final stage of the competition, Nurul said she hopes to dress in a baju kebaya so that she can show off Malaysia's culture to the rest of the world.
"I'm in the Top 20. There will be someone that will dress me for the finals. But if I can wear a baju kebaya, I will certainly not let that opportunity pass," she said.
Nurul said she is optimistic and looking forward to the experience being in the finals of a beauty pageant.
"Here I am in the Top 20, the first-ever hijabi contestant and the first Malay woman to contest in Miss Universe New Zealand," she said.
"Alhamdulillah, most people's reaction has been very positive. Everyone has given me support. I am very grateful and happy," said Nurul.
In Malaysia, Muslim women are prohibited from contesting in beauty pageants as it has been declared "haram" and "sinful".
A fatwa had been gazetted on Feb 8, 1996, under the Administration of Islamic Laws (Federal Territories) Act 1993, banning Muslims from joining, organising, or contributing in any way to beauty pageants.
Four Muslim contestants were forced to drop out of the Miss Malaysia World 2013 contest after they were deemed to have insulted Islam
Pageant organisers are starting to follow in New Zealand's footsteps by scrapping the swimsuit section in beauty pageants.
Last year, a Miss Universe Great Britain contestant refused to wear a bikini in the swimwear section of the competition.
On Tuesday (June 5), Miss Universe America announced that they are scrapping the swimsuit and evening gown section of the competition. It will be replaced with "a live interactive session with the judges" in which a contestant "will highlight her achievements and goals in life".
https://www.thestar.com.my/news/nation/2018/06/09/nurul-shamsul-hopes-to-break-stereotypes-in-miss-universe-nz-pageant/
--------
Turkish police arrest female journalist over links to Gulen network
Jun 8, 2018
Turkish police forces have arrested a female journalist on charges of affiliation to a movement led by the US-based opposition cleric Fethullah Gulen, whom the Ankara government accuses of having masterminded the July 2016 coup attempt against President Recep Tayyip Erdogan.
The Istanbul Chief Public Prosecutor's Office issued a detention warrant for Ece Sevim Öztürk, a reporter for Turkish-language Çağdaş Ses online news outlet, and she was detained at a hotel room in the Şile district of Istanbul on Friday, Turkish-language Haberturk daily newspaper reported.
Öztürk has produced a documentary on the botched putsch, and had promised to shock Turkey with her forthcoming book on the subject.
She had been speaking to eyewitnesses and piecing together the events that led to the attempt.
Recently, pro-government Yeni Şafak newspaper and neo-nationalist OdaTV online news outlet had begun to attack Ses as a sympathizer of the Gülen movement.
During the failed coup attempt, a faction of the Turkish military declared that it had seized control of the country and the government of Erdogan was no more in charge. The attempt was, however, suppressed a few hours later.
Ankara has since accused Gulen of having orchestrated the coup. The opposition figure is also accused of being behind a long-running campaign to topple the government via infiltrating the country's institutions, particularly the army, police and the judiciary.
Gulen has denounced the "despicable putsch" and reiterated that he had no role in it.
"Accusations against me related to the coup attempt are baseless and politically-motivated slanders," he said in a statement.
The 77-year-old cleric has also called on Ankara to end its "witch hunt" of his followers, a move he says is aimed at "weeding out anyone it deems disloyal to President Erdogan and his regime."
Turkish officials have frequently called on their US counterparts to extradite Gulen, but their demands have not been taken heed of.
Turkey, which remains in a state of emergency since the coup, has been engaged in suppressing the media and opposition groups suspected to have played a role in the failed coup.
Tens of thousands of people have been arrested in Turkey on suspicion of having links to Gulen and the failed coup. More than 110,000 others, including military staff, civil servants and journalists, have been sacked or suspended from work over the same accusations.
The international community and rights groups have been highly critical of the Turkish president over the massive dismissals and the crackdown.
http://www.presstv.com/Detail/2018/06/08/564339/Turkish-police-arrest-female-journalist-over-links-to-Gulen-network
--------
Delhi HC permits reverted Muslim girl to live with husband
June 9, 2018
New Delhi: Delhi High Court has permitted the reverted Muslim girl to live with her husband and directed Jamia Nagar police to provide security to the married couple. The next hearing of the case will be held on July 12. The court has declared it acceptable as the girl is an adult and has changed the religion with her own free will.
The girl who is an MBBS doctor was working in a hospital in East Delhi. She left her job on May 14, 2018, and went to Uttar Pradesh with her boyfriend Mohammed Bilal. Following which her family members lodged a missing complaint with the police. Police apprehended two of the Bilal's friend and interrogated them. According to the advocate, police beat them harshly. Meanwhile, the girl went here and there to escape family's ire.
She contacted advocate Sarfaraz Husain after which a petition was filed in High Court on June 8. In the petition, the petitioner expressed fear of honour killing as the girl has changed the religion and sought protection. According to the advocate, the girl has changed the religion and the couple has entered into wedlock.
After listening to both the parties the court concluded that the girl is an adult hence she has every right to marry with the man of her choice and directed Jamia Nagar SHO to provide security to the married couple.
https://www.siasat.com/news/delhi-hc-permits-reverted-muslim-girl-live-husband-1366862/
--------
Saudi Woman Says She's Been Driving For 40 Years Without A License
By Jason Lemon
6/8/18
As Saudi women get set to legally drive later this month, one woman in the kingdom admitted she's been driving without a license for four decades.
Amsa Hathel, who media reports said is "over 60," is believed to be the first Saudi woman in the kingdom's southwestern province of Al-Baha to ever drive. About forty years ago, she learned to drive by running errands with her uncle and watching his movements.
Speaking to Saudi media, Hathel proudly proclaimed that in the decades she's been driving, she has never once had an accident or broken any traffic rules.
"I always drive on the outskirts of the city near where I live and never in my life have I been criticized by any of the residents," she said, explaining that she originally taught herself to drive. "I always drive carefully and never engage in any behavior that might risk road safety."
In addition to driving, Hathel knows how to fix her vehicle, which she also learned from her uncle. The woman explained that when she married, one of her conditions to her husband was that he allow her to continue driving.
Hathel said that she is glad that she and other women in Saudi Arabia will finally be legally allowed to drive. Joining many other women across the kingdom, she became the first woman in her province to receive an official driver's license this week.
On Monday, Saudi Arabia officially began granting driver's licenses to women who already held international ones. A video of the first woman to receive her license was widely shared on social media.
Although the decision was announced in September, the kingdom, which was the only country in the world to still prohibit women from driving, has been preparing for months to end the ban. Women will legally be able to use their new driver's licenses starting June 24.
The driving decision comes as the kingdom works to reform its oppressive policies toward women. Last year, Riyadh granted women the right to attend public events, such as concerts and sporting competitions, alongside men. Under the leadership of Crown Prince Mohammed bin Salman, the kingdom has pushed forward an agenda that aims to remove many of the traditional restrictions on women's participation in society.
At the same time, rights groups have criticized the crown prince and Saudi authorities following the recent detention of several prominent women's rights activists. The United Nations High Commission for Human Rights also expressed concern last week over the activists' detention.
http://www.newsweek.com/saudi-woman-says-driving-40-years-without-license-967606
--------
URL: https://www.newageislam.com/islam-women-feminism/muslim-woman-hopes-mbe-honour/d/115499
New Age Islam, Islam Online, Islamic Website, African Muslim News, Arab World News, South Asia News, Indian Muslim News, World Muslim News, Women in Islam, Islamic Feminism, Arab Women, Women In Arab, Islamophobia in America, Muslim Women in West, Islam Women and Feminism