New Age Islam News Bureau
4 May 2017
• In Pakistan, a Cafe Where Women Can Be Independent
• The Muslim-Led Backlash against Hijab Fashion
• Triple Talaq: Supreme Court Allows Salman Khurshid to Assist As Amicus Curiae
• Posing As Doctor on Shaadi.com, He Blackmailed Muslim Women: Report
• Government OKs 2 Engineering Colleges, 7 Girls' Hostels for Kashmir
• Young Couple Shot Dead Over Love Marriage in Lahore
• Cosplay with Hijabs Showcased In Malaysia
Compiled by New Age Islam News Bureau
URL: https://www.newageislam.com/islam-women-feminism/muslim-woman-meerut-wants-give/d/111023
--------
Muslim Woman from Meerut Wants To Give Her Abusive Husband Triple Talaq
4/05/2017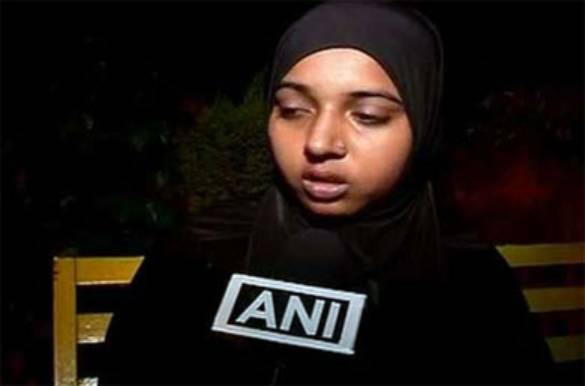 Amreen Bano, 24, from Meerut divorced her 'abusive' husband by saying Talaq thrice.
---
MEERUT -- An unusual case of triple Talaq has come to light in Uttar Pradesh's Meerut, where a woman named Amreen Bano has expressed her desire to sever ties with her abusive husband.
Amreen Bano, (24), has filed an FIR against her husband, alleging that she was beaten and tortured every day by him and her brother as well. She also suffered a miscarriage.
"My husband does not say anything. He does not give money to me, my kids or my nephew, nieces. I want him to go to jail and I want to give Talaq to my husband. Like in the Muslim community a man gives Talaq by saying it three times. I want to do the same," Bano told ANI.
Both the sisters alleged that since the wedding, they have been frequently beaten and abused by her husbands, Sabir and Shakir.
Yesterday, the sisters went to meet a senior police officer, alleging that no action had been taken by the local police on their complaint against their husbands.
Earlier, Prime Minister Modi also appealed to the Muslim community to find for proper solution to end the practice of triple Talaq.
"I believe people from Muslim community would come up to solve the issue of triple Talaq and act as savior to the Muslim women in this crucial period" he said in an address.
He further went on to say that there should be no discrimination in the country, adding that ' Sabka Saath Sabka Vikas' was the motto of his government and it would fulfil the promises made to the people without any discrimination.
A five-judge constitution bench of the apex court will start hearing from May 11 the petitions against Triple Talaq.
The court will hear pleas filed by several Muslim women challenging the practice under which men can divorce their wives instantly by uttering the word 'Talaq' thrice.
Thousands of Muslim women across the country have formed pressure groups and spearheaded signature campaigns demanding the abolition of the controversial practice.
The All India Muslim Personal Law Board (AIMPLB) claims Shariat upholds the validity of triple Talaq - under which a Muslim husband can divorce his wife by merely pronouncing the word "Talaq" three times.
Talaq or divorce can be obtained in either of two ways. Under 'Talaq-ul-sunnat', there has to be a three-month period called 'Iddat' between the pronouncements of Talaq by a husband and a lawful separation. But 'Talaq-e-bidat' authorises a man to do so in a single sitting.
The AIMPLB has issued appeals to all Maulanas and imams of mosques to read out the code of conduct during Friday 'Namaz' and emphasise on its implementation.
The board has made it clear that it will not tolerate any interference in the Shariat laws, and claimed that majority of the Muslims in the country do not want any change in their personal law.
http://www.huffingtonpost.in/2017/05/04/muslim-woman-from-meerut-wants-to-give-her-abusive-husband-tripl_a_22068608/
--------
In Pakistan, a cafe where women can be independent
May 3, 2017
Karachi: At Pakistan's largest truck terminal in this city, drivers sip hot tea at a small roadside stall called a "dhaba" in between their shifts. The patrons share a common gender: Only men are served at the hundreds of thousands of dhabas across Pakistan.
But just a short motorbike ride away, you find something interesting. On a narrow street on the outskirts of Karachi, we entered a two-story building and climb the stairs. A banner reads: "Welcome to the Ladies Dhaba."
On the rooftop, a party is warming up. Momal Khaskheli turns 21 today. Her friends have joined her to celebrate the occasion. "This is the first time in my life that I'm celebrating my birthday with friends outside my house," Momal tells me. "Only girls are here. There are no men to stare at us or tease us, as some do in public places. This is a good place."
More of her friends arrive wearing black full-body veils known as burkas. But once inside, they enjoy the party in traditionally embroidered dresses. Birthday cake is served. Some of the guests drink tea and play board games; others take selfies on their smartphones.
Husan Pari, 26, is happy to be out with friends. "My father used to take me to parks when I was a child," Pari recalls. "But I've never been allowed to go to such places since I grew up. My brother always tells me that he goes to this park or that restaurant. But I cannot ... So, at this dhaba, I feel safe, and I can discuss personal things with my friends that I can't share with my family."
Women's rights activist Sabiha Shah is the one who came up with the idea of a Ladies Dhaba. She says women need a space of their own.
"Dhaba means cafe," Shah says. "But there was not a single cafe where women could relax or spend some time in silence, to release the stress they might face at home. We have named and designed this place to give it the real look of a dhaba."
Shah knows what it means to struggle against the odds. She started working in 1988, setting up a shop that sold uniforms despite the disapproval of her brothers. Now Shah is chairwoman of the Women Development Foundation Pakistan, the non-governmental organisation that set up the Ladies Dhaba.
"At this dhaba, we've also made a small library and internet cafe," she says. "We give the women an opportunity to fully live their lives. Because it will redouble their energy. With more energy they can do well."
Success in her own business led her to work on women's empowerment through entrepreneurship. She has trained more than 3,000 women — including her three younger sisters — to set up their own small businesses. The Ladies Dhaba is only the latest venture to capture the imagination of women across Pakistan.
"Ever since media reports about the Ladies Dhaba, I've had a number of requests, coming from poor as well as rich women, to open such dhabas in their towns or cities," she says. Shah hopes to find the support to establish similar cafés across the country. http://gulfnews.com/news/asia/pakistan/in-pakistan-a-cafe-where-women-can-be-independent-1.2021328
--------
The Muslim-led backlash against hijab fashion
May 4, 2017
There's a growing number of fashion brands and multinational companies showcasing women wearing an Islamic headscarf. But, for various reasons, some women from Muslim backgrounds aren't happy with the trend.
Dolce and Gabbana, H&M, Pepsi, Nike: just a few of the big brands putting women wearing a hijab - a traditional Islamic headscarf - front and centre in advertising campaigns.
The hijab has long been a contentious topic of conversation; feminists, religious conservatives, secularists are some of the online communities that have engaged in passionate debate about what it represents. But this time, online and using social media, it's some Muslim women who are questioning the use of such images.
Kendall and Pepsi
Tasbeeh Harwees, a journalist, recently wrote in the online magazine Good about a recent viral Pepsi advert starring Kendall Jenner.
The advertisement was controversial because of its alleged trivialisation of street protests - but some Muslim women took issue for a different reason, the casting of a hijab-wearing woman who photographs the rally.
"A multi-billion dollar company was using the image of a Muslim woman to project an image of progressiveness that it may not necessarily live up to," Harwees tells BBC Trending radio.
Brand power
Pepsi certainly isn't the only company highlighting women wearing the hijab. Nike recently announced a newly designed sports hijab which will hit shops in 2018. H&M used a first Muslim model in hijab in an advertisement while numerous brands and labels have launched "Ramadan collections" in the hope of attracting Muslim shoppers during the holy month.
"Images of Muslim women communicate to their consumer bases that these companies are 'progressive' or 'inclusive'," Harwees says. "Given the political climate, it has become socially expedient to align oneself with dissident communities, and for many people, that's what Muslim women have come to represent."
The rise in popularity of so-called hijabi fashion bloggers and make-up tutorials aimed at women who wear the hijab is also a heavily debated subject. They generate millions of views and shares but some women cite increasing pressure to appear fashionable as a reason to stop covering their heads.
They feel something sacred is being undermined by commercialism. Khadija Ahmed is the editor of a new online magazine called Another Lenz, but wrote a personal story of how she wore the hijab for two years, then took the decision to stop wearing it. She told BBC Trending she felt pressured by the images she saw in advertising and on social media.
"I don't feel that the brands are doing us a favour - we don't need the approval of the mainstream companies to approve of our identity," Ahmed says. "It's not doing anything for the Muslim community other than reducing the hijab - which I see as an act of worship - into something as simple as a fashion statement."
More from BBC Trending
Visit the Trending Facebook page
Then there are feminists who have quite a different interpretation of the headscarf, particularly in countries where it is mandatory. Masih Alinejad is an Iranian activist and journalist who started the Facebook campaign "My stealthy freedom", showing women in Iran removing their hijabs in defiance of the state.
"I think the media in the West want to normalise the hijab issue - they want to talk about minority Muslims in the West, but they totally forget there are millions of women in Muslim countries that are forced to wear the hijab," Alinejad says.
"If you want to talk about the hijab and introduce it as a sign of feminists or resistance you have to think about those girls and women who are forced to wear it," she says.
Hear more
You can hear more on this story on BBC Trending on the BBC World Service
And for more Trending stories, download our podcast
The bottom line
So with the potential of a growing online backlash, why are brands keen to show off this particular religious garment?
Shelina Janmohamed is vice president of Ogilvy Noor, part of the giant advertising and marketing agency WPP. Ogilvy Noor was established to help market companies to Muslims around the world.
"At this moment in time there is a growing Muslim consumer segment," she says, "and they have lifestyle aspirations about how they want to live and that should be reflected just like any other lifestyle aspiration.
"It's a matter of commerce and the bottom line."
That approach does have some support among female Muslims. Hend Amry has been dubbed "the queen of Muslim Twitter" - and although it's a label she says she is slightly uncomfortable with, she does see an upside in the recent prominence of the hijab online.
"There are Muslim women in hijab tweeting out these hilarious comebacks or sharing their wisdom or strong personalities," she says. "Just by doing that it's already wiping away stereotypes of the docile, oppressed, silenced Muslim woman, and that's really energising."
"I think there is only one change that needs to be made and that is Muslim women need to tell their own stories. Once that happens the narratives will take care of themselves," she says.
Blog by Anisa Subedar
NEXT STORY: Fears over fake Bieber and Styles accounts
http://www.bbc.com/news/blogs-trending-39743960
--------
Triple Talaq: Supreme Court Allows Salman Khurshid To Assist As Amicus Curiae
May 03, 2017
NEW DELHI: The Supreme Court today allowed former Union Minister Salman Khurshid to assist it in hearing a batch of pleas challenging the constitutional validity of 'triple Talaq', 'nikah halala' and polygamy practices among the Muslims.
A bench comprising Chief Justice J S Khehar and Justices D Y Chandrachud and S K Kaul allowed senior advocate Khurshid to act as an amicus curiae and file his written submissions in the case.
"We will take it on record. It's not an issue," the bench said when the Congress leader said that the time for filing written submission in the matter has already expired and he intended to file certain pleadings in the case.
A five-judge constitution bench would commence hearing from May 11 to decide on the batch of petitions challenging the practices of 'triple Talaq', 'nikah halala' and polygamy among Muslims.
The Centre had on April 11 filed fresh submission in the apex court, saying these practices impacted the social status and dignity of the Muslim women and denied them the fundamental rights guaranteed by the Constitution.
The government had reiterated its earlier stand and said these practices rendered the Muslim women "unequal and vulnerable", not only compared to the men of their community, but the women of other communities as well.
The Supreme Court had on March 30 observed that 'triple Talaq', 'nikah halala' and polygamy were important issues involving "sentiments".
The Centre had said these practices emerged from "patriarchal values and traditional notions about the role of women in society", asserting that "the right of a woman to human dignity, social esteem and self-worth are vital facets of her Right to Life under Article 21".
'Nikah halala' is a practice intended to curb incidence of divorce under which a man cannot remarry his former wife without her having to go through the process of marrying someone else, consummating it, getting divorced again, observing the separation period called 'Iddat' and then coming back to him.
Seeking to declare these practices as unconstitutional, the government had said reforms in Muslim personal law have not taken place for over six decades and Muslim women, who comprise eight per cent of the population, have remained "extremely vulnerable" due to the fear of instant divorce.
Influential Muslim organisations like the All India Muslim Personal Law Board (AIMPLB) have opposed the court's adjudication of these matters, maintaining that these practices stemmed from the Holy Quran and were not justiciable.
Several Muslim women have challenged the practice of 'triple Talaq' in which the husband, quite often, pronounces Talaq thrice in one go, sometimes over phone or even a text message.
The apex court had earlier said it would decide the issues pertaining to the legal aspects of 'triple Talaq', 'nikah halala' and polygamy among Muslims but would not deal with the question whether divorce under Muslim law needs to be supervised by courts as it fell under the legislative domain.
The Centre had on October 7 last year opposed in the apex court these practices and favoured a relook on grounds like gender equality and secularism.
The AIMPLB had told the court that pleas challenging such practices among Muslims were not maintainable as the issues fell outside the realm of judiciary.
The apex court had on its own taken cognizance of the question whether Muslim women faced gender discrimination in the event of divorce or due to other marriages of their husband.
http://www.ndtv.com/india-news/triple-Talaq-supreme-court-allows-salman-khurshid-to-assist-as-amicus-curiae-1688993
--------
Posing As Doctor On Shaadi.com, He Blackmailed Muslim Women: Report
May 04, 2017
New Delhi: A man living in England who posed as a doctor on a matchmaking site shaadi.com has been ordered to pay nearly 3,500 pounds to women who he blackmailed with intimate footage.
Farhan Mirza, 38, was convicted and arrested in November for eight years by a court in England. The BBC reports that he has to "pay back £3,425 and he has 28 days to do so or faces an additional three months in jail."
Mr Mirza, who was in fact a taxi driver, allegedly wooed Muslim women who he felt were wealthy. His victims included, according to local reports, a doctor, a former news journalist and a psychology graduate.
He was described in court as "a sexual and financial predator".
He was found guilty of fraud, blackmail and voyeurism and earned over 8,000 pounds through extortion, half of which he has now been ordered to repay.
http://www.ndtv.com/world-news/posing-as-doctor-on-shaadi-om-he-blackmailed-muslim-women-report-1689415
--------
Government OKs 2 engineering colleges, 7 girls' hostels for Kashmir
May 4, 2017
NEW DELHI: The Centre has sanctioned two engineering colleges and seven girls' hostels among other facilities for J&K besides a special grant of Rs 200 crore for payment of salary to teachers in government schools.
The decision was taken at a meeting on Wednesday held by HRD minister Prakash Javadekar with J&K education minister Altaf Bukhari and minister of state Priya Sethi with senior officials from the ministry and state in attendance.
After the meeting, Javadekar said the ministry has allocated Rs 52 crore for setting up of two engineering colleges - one each in the Kashmir valley and Jammu. "While creating the infrastructure for engineering colleges will take another one to two years, the colleges will start functioning from this year itself. The colleges are being approved under Rashtriya Uchchatar Shiksha Abhiyan and Rs 25 crore will be disbursed this week itself," said Javadekar.
The minister also said 5000 students from the state will be given the Prime Minister's scholarships worth Rs 2.25 lakh per student for pursuing professional courses in engineering, medicine, management and hospitality among others in various institutions across the country. "The selection process for meritorious students has already started."
Javadekar also announced the grant for hostels to seven government degree colleges for which Rs 50 crore have been allocated. He said land for the Indian Institute of Management (Jammu) has been offered by the state government and a team will visit for an assessment for creation of the permanent campus.
Stating that real Kashmiriyat is the aspirations of the youth of Jammu and Kashmir, the minister said that the government will support the state government in uplifting the education system. "Thirty schools were burnt down in Kashmir. But the students' participation in the Board exams and education is the real Kashmiriyat. In the school education sector, Rs 200 crore has been allocated for teachers' salary and another Rs 36 crore as recurring grant for elementary education."
"We will also meet the education ministers of other states soon," said Javadekar.
http://timesofindia.indiatimes.com/india/government-oks-2-engineering-colleges-7-girls-hostels-for-kashmir/articleshow/58505886.cms
--------
Young couple shot dead over love marriage in Lahore
May 03, 2017
A couple was murdered in Lahore's Nishtar Colony area over love marriage whereas the security officers nabbed the suspect along with kidnapped child from Motorway Interchange.
According to sources, Charsadda resident Zar Badshah married Kainat and took refuge in Lahore. Girl's uncle Shahryar chased the couple and gunned down Zar Badshah outside his house.
Later, the suspect also killed Kainat and fled the scene abducting victim couple's son Waqas.
However, the criminal was detained by Model Town Central Intelligence Agency (CIA) police from Motorway Interchange and recovered the kid. The officers said that further investigation would be launched after the arrival of victims' families whereas the suspect has confessed to the crime.
http://nation.com.pk/lahore/03-May-2017/young-couple-shot-dead-over-love-marriage-in-lahore
--------
Cosplay with hijabs showcased in Malaysia
May 4, 2017
Muslim women dressed as superheroes, princesses, and mighty sword-wielding warriors took part in a hijab cosplay event in Malaysia Saturday, where the role-playing craze continues to grow.
Around 20 women showcased their love for anime with elaborate make-up and costumes while still wearing their traditional hijab — the headscarf worn by many Muslim women in Malaysia — at the event at a mall on the outskirts of Kuala Lumpur.
Many participants took photos with each other, mingled and networked, sharing costume and make-up tips.
Nur Azlina, a 21-year-old university student, decked out in a "Power Ranger" outfit, said a hijab did not hinder her cosplay skills and that there had been a lot of positive reaction.
"Some people are sometimes surprised when they see my hijab ... but it doesn't bother me. My friends and my family support me and I also get invited to birthday parties to attend with my costume," she said.
Read also: Creators Super Fest to showcase work of indie artists
"I love cosplay and I get to make new friends here and also in the international cosplay community."
Raja Muhammad Rusydi, a 20-year-old male cosplay enthusiast who also took part in Saturday's showcase said he hoped such events will generate more interest among hijab-wearing women to take part in cosplay activities.
In cosplay, short for costume role-play, enthusiasts gather to imitate characters from anime series, comics and video games, many drawn from Japanese pop culture.
The cosplay fad has swept much of the world and has been popular for over two decades in Malaysia.
But hijab cosplay has only become popular in the last few years in the Southeast Asian nation and has generated much buzz among those in the cosplay scene.
http://www.thejakartapost.com/life/2017/05/03/cosplay-with-hijabs-showcased-in-malaysia.html
--------
URL: https://www.newageislam.com/islam-women-feminism/muslim-woman-meerut-wants-give/d/111023
New Age Islam, Islam Online, Islamic Website, African Muslim News, Arab World News, South Asia News, Indian Muslim News, World Muslim News, Women in Islam, Islamic Feminism, Arab Women, Women In Arab, Islamophobia in America, Muslim Women in West, Islam Women and Feminism