New Age Islam News Bureau
28 Aug 2016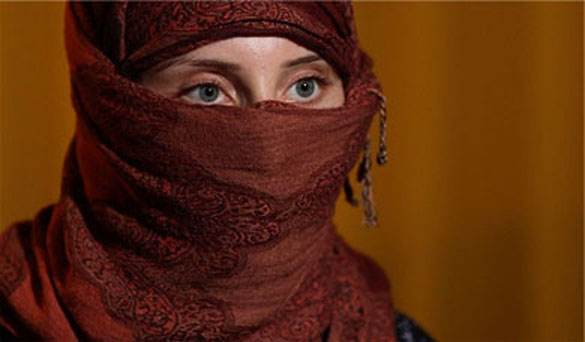 ISIL Relocating Izadi Girls to Syria from Iraq (Representative Photo)
---------
• Muslim Woman Devotes Her Life to Helping Christians Displaced By ISIS
• ISIL Relocating Izadi Girls to Syria from Iraq
• Turkey Allows Policewomen to Wear Islamic Headscarf
• Hindu Girl Weds Childhood Muslim Friend in Pakistan
• Burkini Clash Sets Tone for France's Presidential Campaign
• Girls in Skimpy Clothes To Be Denied Entry In MP Jain Temple
Compiled by New Age Islam News Bureau
URL: https://www.newageislam.com/islam,-women-and-feminism/new-age-islam-news-bureau/muslim-woman-devotes-her-life-to-helping-christians-displaced-by-isis/d/108387
----
Muslim Woman Devotes Her Life to Helping Christians Displaced by ISIS
BY SAMUEL SMITH, CP REPORTER
August 7, 2016
Many are familiar with "The Vicar of Baghdad," Canon Andrew White, the head of one of the most prominent relief charities helping thousands of Christians displaced by ISIS, but many don't know that much of the work White gets credit for is actually carried out by a Muslim woman.
Meet Dr. Sarah Ahmed, an Iraqi dentist who for the past few years has devoted her time to travelling all over Iraq to bring clothes, medicine, food, hygiene supplies and just about any other need imaginable to the Christians, Yazidis, Muslims, Shebeks and others who have been thrown from their homes, tortured and raped at the hands of the Islamic State.
"She is there protecting all of the Iraqi Christians. You never hear anything about it in the news but you hear about the work I am doing. The work that I am doing is being done by a Muslim caring for the Christians," White, the former chaplain of St. George's Church in Baghdad, asserted last December during a lunch visit in Washington. "We think and hear about Islamic terrorism all the time. What about Islamic people working for the protection of Christians?"
Ahmed, who is now the director of operations for the White-founded Foundation for Relief and Reconciliation in the Middle East, spoke with The Christian Post this week from Kurdistan and detailed her experiences running all over northern Iraq to make sure that the needs of those vulnerable internally displaced persons, even on the dangerous side of Sinjar Mountain, are not overlooked.
"I am a very faithful person," Ahmed told CP. "I believe that with all the amount of [humanitarian work] that I have been doing and have been doing out of good faith in my heart and not for fame or money or anything, just out of my desire to help, I feel that God is always there for me and kind of protecting me and being around me to be able to reach all these areas and all these people."
"I know what a lot of people say about Islam but my Islam that I believe in is a religion that is very peaceful and believes in helping others," Ahmed continues. "You cannot sleep while your neighbour is hungry or suffering. You have to lend a hand. I believe that all Muslims and all people have to do something to give back to life and the fact that they are living."
Originally from Baghdad, Ahmed went to the United States in 2010 to study and became a fully-trained dentist. While doing an internship on interfaith dialogue between Judaism, Christianity and Islam, Ahmed met White at a function in New York. Being that they were both from Iraq, Ahmed introduced herself and told the canon that she was working for a peacemaking initiative called "Because I Love Peace" to help build a relationship between the American and Iraqi people.
During that time, White offered her a role with his foundation, which Ahmed accepted. Although White offered to take her on at the Christian charity, he was hesitant at first to do so because she was a Muslim. Ahmed told CP that it was God who told White to offer her the job.
"We are a all-Christian charity and everybody is a Christian," Ahmed explained. "He was thinking 'What a place she would be in? She is not fit.' Then he said that God said, 'No, you know nothing. You have to have her. She has to come and work with you.'''
Ahmed said that she first started as a volunteer at a clinic and has worked her way up to be the director of operations and White's personal assistant. She said she never felt any discomfort when she first started working for the Christian charity as a Muslim and even had to live in the Baghdad church.
"It never crossed my mind. I feel no difference," Ahmed said. "I work for the Christians, Yazidis, Jews, everybody else. For me, we are all equal. I don't differentiate that much."
Ahmed is now responsible for organizing and delivering the food and needs to IDPs all throughout the Kurdish region, who are now homeless since their lands have been taken over by the Islamic State.
As IDP camps are spread out all through the Kurdish north, Ahmed will travel over the next few days from Erbil to Kirkuk back to Erbil then on to Duhok and then on to Sinjar Mountain.
In addition to providing the aid to those people in need, Ahmed also runs a program for girls who have been raped and beaten as Islamic State sex slaves.
Ahmed said that going to Sinjar is a bit more dangerous than some of her other trips. After helping over 900 families stranded on the safer side of the mountain, she explained that she will cross the mountain to tend to the 300 or so families on the other side of the mountain where the Islamic State once was.
"The army goes down and clears the area and that is why there are 300 families back there. The fear is still there. That is why not a lot of the families are going back there," she explained. "The fear is that ISIS will come back. They fear that ISIS will kill them or take the area back. There is still fear in the families. But I have to go because I have to see how they are."
In general, Ahmed said that there is very little hope for the displaced community, especially for the Christians.
"Most of the Muslims and Skebeks and the majority of Yazidis want to go back to their areas. A lot of the Christians, though, want to leave," Ahmed explained. "They feel they don't belong anymore. Their lands have been taken and their neighbours stood against them. They feel insecure. They are unsure that when everything is cleared up and they went home, that the same thing would happen again."
Ahmed said there is very little probability that Iraqi Christians or others religious minorities will be able to get residency and find work in Kurdistan. With the Kurdish economy hurting already, Ahmed said she can't see the Kurdish government giving them residency.
Although the Islamic State rose to prominence over two years ago, hundreds more new displaced families arrive each day to seek refuge in the Kurdish.
"I can assure you that many, many families are hurting physically and feel that dying is better than what is happening right now. People are being indignified. They are living in inhumane circumstances. It is really hot, there is not enough water, not enough food," Ahmed stressed. "It is not because of the actors, the agencies or the government. No. It's the situation. It's horrible."
"Animals who live in the desert cannot tolerate that kind of temperature, yet alone humans," Ahmed said. "That's a lot of people who are hungry and thirsty."
The Foundation for Relief and Reconciliation in the Middle East is accepting donations to help accomplish its mission and projects in the Middle East.
Source: christianpost.com/news/muslim-woman-devotes-her-life-to-helping-christians-displaced-by-isis-167566/#wiD1hvs6ZVbzIzK3.99
---
ISIL Relocating Izadi Girls to Syria from Iraq
Aug 28, 2016
TEHRAN (FNA)- The local sources in Nineveh province revealed that the ISIL terrorist group is relocating the Izadi girls it has abducted from Iraq to Syria after they survived unharmed an airstrike in the city of Mosul.
"The Izadi girls were being kept by the ISIL in a building in Mosul's al-Josouq region after they survived several months of ordeal and tortures by the terrorists, and after the building was destroyed in an airstrike they were sent to Syria in buses," the Arabic-language media quoted an unnamed local source as saying on Sunday.
The relocation of the Izadi girls takes place while Iraq's joint military forces' advances in Nineveh and Mosul have inflicted heavy losses and casualties on the ISIL and pushed back the terrorist group from many areas under its control.
Earlier in August, Iraqi activists revealed that the ISIL terrorist group which has lost large parts of regions under its control in Iraq, including the city of Fallujah, was trying to make money through selling Izadi girls and women.
The ISIL in a shocking advertisement on Telegram has put a 12-year-old beautiful girl for sale at the price of $12,500, an Izadi activist disclosed on his social network page.
The ISIL's advertisement reads that the young girl will be sold soon.
The Takfiri terrorist group has a total of 3,000 women and girl in its captivity and uses them as sex slaves.
The ISIL uses state-of-the-art equipment like mobile phones and Internet website for selling young women and girls.
The terrorist groups also provide all its checkpoints with pictures and names of the women and girls in order to prevent them from crossing the borders.
In late April, the Iraqi judicial officials declared that the ISIL terrorist group which has lost its oil revenues is currently gaining several millions of dollars from car dealership and fish farming.
"After the Iraqi security forces gained control over many oil wells, the ISIL terrorist group is using new tactics to generate revenues," Judge Jabar Abdel Hajimi said in a report issued by Iraqi judiciary.
He said that the ISIL terrorists are also making millions of dollars from fish farming in Northern Baghdad.
"Also some of the Iraqi people have fled their farms fearing the ISIL and some of them are cooperating with the ISIL," Abdel Hajimi added.
The ISIL was once described as the richest terrorist group in the world, but apparently those days are long since over.
The terrorist group's finances have crumbled thanks to the Russian coalitions destroying the bulk of the group's oil infrastructure, the global slide in oil prices and territorial losses in Iraq and Syria.
The self-proclaimed caliphate, unlike other terrorist groups, generates its income locally.
The militants mostly make money from taxes, extortion, kidnappings, oil smuggling and private donations.
These sources have recently been affected, with ISIL losing territories, fighters, civilians, hard cash, oil fields and smuggling routes.
Although many have warned against predicting ISIL's swift financial demise, more reports have emerged pointing to the group's major financial troubles. This might be indirect evidence, but it is nevertheless telling.
While senior ISIL commanders are said to have clashed over allegations of corruption, mismanagement and theft, some fighters have not been paid at all, the US media reported, citing US counterterrorism officials.
"Cash shortages already have forced the group to put many of its Iraqi and Syrian recruits on half-pay, and accounts from recent defectors suggest that some units haven't received salaries in months," the media outlet detailed.
Civilians and businesses living in cities under ISIL's control "complain of being subjected to ever-higher taxes and fees to make up the shortfall."
Conflict monitor groups painted the same picture in mid-March, saying that ISIL "was struggling financially."
The trend manifested itself in "tax hikes, increases in the cost of state-run services and significant cuts of up to 50 percent in the salaries" paid to the fighters.
en.farsnews.com/newstext.aspx?nn=13950607000976
-----
Turkey Allows Policewomen to Wear Islamic Headscarf
August 27, 2016
Istanbul: Turkey has for the first time allowed policewomen to wear the Islamic headscarf as part of their uniform, according to a ruling published in the official gazette today.
Women serving in the police force "will be able to cover their heads" under their caps or berets so long as the headscarf is "the same colour as the uniform and without pattern", said the ruling published in the official gazette.
Rulings published in the official gazette come into force immediately.
The ruling Islamic-rooted Justice and Development Party (AKP) has long pressed for the removal of restrictions on women wearing the headscarf in the officially secular state.
Turkey lifted a ban on the wearing of the Muslim headscarf, known as the Hijab, on university campuses in 2010.
It allowed female students to wear the headscarf in state institutions from 2013 and in high school in 2014.
Erdogan's critics have long accused the president of eating away at the secular pillars of modern Turkey as set up by its founder Mustafa Kemal Ataturk when he established the Turkish republic in 1923.
But pro-government media pointed out that several Western states have already granted female officers permission to wear the headscarf.
Police in Scotland this month allowed women to wear the headscarf while on duty, following a lead set by their counterparts in London over a decade ago.
Hoping to boost recruiting of Muslim women, the Canadian government this week said the Royal Canadian Mounted Police would allow its officers to wear Hijabs as part of their uniforms.
siasat.com/news/turkey-allows-policewomen-wear-islamic-headscarf-1008838/
-----
Hindu girl weds childhood Muslim friend in Pakistan
August 27, 2016
Karachi: In a rare case of peaceful inter-religious marriage in Pakistan, a Hindu girl has tied the knot with his childhood Muslim friend after converting to Islam, with their families properly solemnising the marriage in Pakistan's southern Sindh province. The family of Gordhan Das Khatri willingly allowed their daughter to convert to Islam in order to marry her childhood friend Bilal Qaimkhani whose father Muhammad Yousuf Qaimkhani is an old friend of Khatri.
The two families lived for years in the same neighbourhood at Hathungo town in Khipro city of the province and developed close friendship. "When Khatri learnt that his daughter wanted to marry the son of his friend Qaimkhani, he invited his friend's family to his place in Mirpurkhas where the marriage was solemnised," said Ahmed Sanjrani, a common friend of the two families on Saturday.
After the marriage, a reception party was held where a large number of Hindu and Muslim relatives were present. Hindus in Pakistan often complain of abduction and forceful conversion of their women to Islam. There have been several cases of Hindu girls getting converted to Islam without their consent. Hindu legislators in the past have also raised the issue.
–PTI
siasat.com/news/hindu-girl-weds-childhood-muslim-friend-1008788/
-----
Burkini Clash Sets Tone for France's Presidential Campaign
Aug. 28, 2016,
The Associated Press
PARIS (AP) — The national identity crisis exposed by France's Burkini controversy is threatening to set the tone for the country's presidential campaign.
A top court ruling Friday against banning the head-to-ankle swimwear didn't put an end to the debate.
Along with the economy, the relationship between France's Muslims and non-Muslims has been a recurring theme as presidential hopefuls kick off campaigning for the April-May elections.
Former President Nicolas Sarkozy told a campaign rally he wants a national law banning Burkinis.
His chief rival for the conservative nomination, Alain Juppe, has called for a special accord between the state and Muslim leaders to lay out clear rules for respecting French secularism.
Some leftist candidates have criticized the Burkini as oppressing women, but say the far right is using the issue to encourage racism.
Copyright 2016 The Associated Press. All rights reserved. This material may not be published, broadcast, rewritten or redistributed.
usnews.com/news/world/articles/2016-08-28/burkini-clash-sets-tone-for-frances-presidential-campaign
----
Girls In Skimpy Clothes To Be Denied Entry In MP Jain Temple
By: IANS | Ujjain | August 28, 2016
The management of a Jain temple in Ujjain has asked visitors to ensure that girls aged above eight years are not dressed in skimpy clothing or in jeans, capri pants, gowns, and the like when they come to the temple.
Only girls and women "dressed decorously in line with Indian cultural norms with their head covered" would be granted entry into Shri Rushabh Dev temple in Chhagniram Pedhi in Kharakuan area in Ujjain district, the temple trust said.
A notice posted outside the temple "requests" the visitors to ensure that girls and women aged above eight years are dressed in a restrained manner.
The trust's president Mahendra Sirolia on Sunday confirmed to reporters that the dress code for girls and women has been put into effect.
indianexpress.com/article/india/india-news-india/girls-in-skimpy-clothes-to-be-denied-entry-in-mp-ujjain-temple-3000650/
----
URL: https://www.newageislam.com/islam,-women-and-feminism/new-age-islam-news-bureau/muslim-woman-devotes-her-life-to-helping-christians-displaced-by-isis/d/108387
New Age Islam, Islam Online, Islamic Website, African Muslim News, Arab World News, South Asia News, Indian Muslim News, World Muslim News, Women in Islam, Islamic Feminism, Arab Women, Women In Arab, Islamophobia in America, Muslim Women in West, Islam Women and Feminism