New Age Islam News Bureau
29 Nov 2018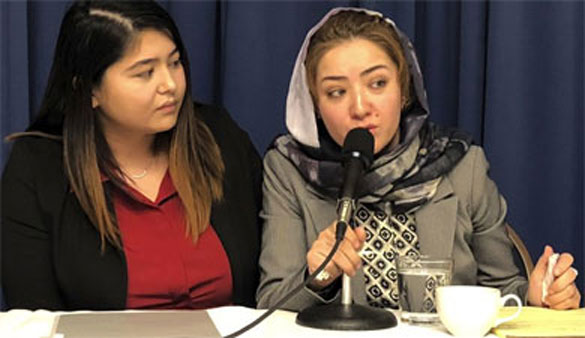 Mihrigul Tursun, right, speaks at a event at the National Press Club in Washington, Monday, Nov. 26, 2018. Tursun, a member of China's Uighur minority is detailing the torture and abuse she suffered at the hands Chinese authorities as part of an escalating clampdown on hundreds of thousands of members of the country's Muslim minorities. Through a translator she said she spent several months in detention in China where she was beaten, tortured with electric shock and given unknown drugs. (AP Photo/Maria Danilova)
-----
• Delhi Commission for Women Rescues Muslim Woman Held Captive by Kin for Inter-Religious Marriage
• Pakistan's Fashion Brand Helps Afghan Women Weave Their Dreams into Reality
• Kuwaiti Woman Makes 'Record' By Crossing King Fahad Bridge
• From Gaza to the Moon, Palestinian Women Take the Lead at London Film Festival
• Kuala Lumpur Police to Focus On IS Women, Children
• AboutHer.com Lists Top 50 Saudi Female Athletes
• Elaf Group Urges Women in KSA to Undergo Screening for Early Detection of Breast Cancer
• Austrian Policeman Accused of Making Racist, Islamophobic Remark at Muslim Girls
Compiled by New Age Islam News Bureau
URL: https://www.newageislam.com/islam-women-feminism/muslim-woman-describes-torture-beatings/d/117015
--------
Muslim Woman Describes Torture and Beatings in China Detention Camp: 'I Begged Them to Kill Me'
Nov 28 2018
A Uighur Muslim woman has said she was tortured and abused at an internment camp where the Chinese government is detaining hundreds of thousands of people from religious minorities.
Mihrigul Tursun, 29, told reporters in Washington she was interrogated for four days in a row without sleep, had her hair shaved, was electrocuted and was subjected to an intrusive medical examination following her second arrest in China in 2017. After she was arrested a third time, the treatment grew worse.
"I thought that I would rather die than go through this torture and begged them to kill me," she told journalists at a meeting at the National Press Club.
The claims come amid growing global concern over Chinese treatment of the ethnic minority group, the majority of which are Muslim.
China is thought to have incarcerated as many as two million Uighurs in "reeducation camps" to promote what the government calls "ethnic unity" in the country's far west.
Until October 2018, Chinese authorities officially denied the existence of the camps.
Since then, reports have noted malnourishment, numerous deaths – particularly among the elderly and infirm – and in some cases the forced administration of psychiatric drugs.
Ms Tursun said she was raised in China, but moved to Egypt to study English at a university and soon met her husband with whom she had triplets.
In 2015, she travelled back to China to spend time with her family and was immediately detained and separated from her infant children. When she was released three months later, one of the triplets had died and the other two had developed health problems. Ms Tursun said the children had been operated on. She was arrested for a second time about two years later.
Several months later, she was detained a third time and spent three months in a cramped prison cell with 60 other women, having to sleep in turns, use the toilet in front of security cameras and sing songs praising China's Communist Party.
Ms Tursun said she and other inmates were forced to take unknown medication, including pills that made them faint, and a white liquid that caused bleeding in some women and loss of menstruation in others. She said nine women from her cell died during her three months there.
One day, Ms Tursun recalled, she was led into a room and placed in a high chair, and her legs and arms were locked in place.
"The authorities put a helmet-like thing on my head, and each time I was electrocuted, my whole body would shake violently and I would feel the pain in my veins," she said in a statement read by a translator.
"I don't remember the rest. White foam came out of my mouth, and I began to lose consciousness," Ms Tursun said. "The last word I heard them saying is that you being an Uighur is a crime."
She was eventually released so that she could take her children to Egypt, but she was ordered to return to China. Once in Cairo, Ms Tursun contacted US authorities and, in September, went to America and settled in Virginia.
This week over 270 scholars from 26 countries published a statement condemning the "mass human rights abuses and deliberate attacks on indigenous cultures" in China.
Earlier this month China said 15 foreign ambassadors, who wrote a letter expressing their concern about the incarcerations, should not "interfere in the internal affairs of other countries".
It has also emerged that more than a million Han Chinese people have reportedly moved into the homes of Uighur Muslim families to report on whether they display Islamic or unpatriotic beliefs.
The informants, who describe themselves as "relatives" of the families they are staying with, are said to have received specific instructions on how to get them to let their guard down, including offering them cigarettes and alcohol.
China has claimed the Uighur Muslims are grateful to be detained in mass internment camps, saying it makes their lives more "colourful".
The authorities depicted the reeducation camps as an attempt to bring the largely Muslim minority into the "modern, civilised" world.
https://www.independent.co.uk/news/world/asia/uighur-muslim-china-mihrigul-tursun-torture-reeducation-camps-a8656396.html
--------
Delhi Commission For Women Rescues Muslim Woman Held Captive By Kin For Inter-Religious Marriage
28th November 2018
NEW DELHI: The Delhi Commission for Women (DCW) rescued a 25-year-old Muslim woman whose parents had allegedly kept her captive at a relative's place in Ghaziabad after they learnt of her marriage to a man outside their religion. The woman had secretly married her Hindu partner at an Arya Samaj temple in April. Both are from Delhi. A team of police and DCW officials rescued the woman on Sunday, after her partner told the Commission that he feared for her safety.
Incidentally, the 25-year-old man's family is yet to know about the inter-religious marriage even as his partner's family recently learnt about it and allegedly kept her captive since then. Fearing that his partner's life was in danger and that her parents arranged a suitor to marry her off, the man urged the DCW to rescue the woman from her house.
On reaching the girl's house, DCW counsellors along with a police team found that the woman was sent away to a relative's house in Ghaziabad. When summoned to the local police station, the woman's family members allegedly tried to beat up the man. A crowd gathered outside and created a ruckus on the inter-faith marriage. Eventually, the woman was brought from her relative's house.
Though the woman refused to initiate any legal course against her family, she told the DCW that she wanted to live with her partner. The couple plan to register their marriage under the Special Marriage Act. Apart from providing shelter, the DCW asked the police to provide security for the couple.
"I feel sorry for the parents who put the lives of children at risk. I appeal to all to not to take law in their hands and inform us at 181 if anything illegal is observed," DCW chief Swati Maliwal said.
http://www.newindianexpress.com/cities/delhi/2018/nov/28/dcw-rescues-woman-held-captive-by-kin-for-inter-religious-marriage-1904343.html
--------
Pakistan's Fashion Brand Helps Afghan Women Weave Their Dreams into Reality
November 28, 2018
KARACHI: Shareefa was 35 when she lost her husband to an illness almost a decade ago.
Uneducated, alone and left with the responsibility of taking care of her two sons, age 8 and 5, and a two-year-old daughter, the Afghan refugee hailing from the Kandahar province and currently residing in Pakistan, said she had no choice but to work as a domestic help for a meager amount, using her earnings to fund her children's education.
When her eldest son, Akmal Hayatullah completed his primary school, the board of secondary education in Karachi refused to issue him a certificate for further studies.
"I visited the board several times for six months before I finally decided to discontinue my son's education and sent him to work [as a mechanic] at a local workshop," she said.
When things took a turn for worse and with so many mouths to feed, Shareefa was once again forced to stand on life's crossroads, ultimately stopping the education of her second son, Zabihullah, and daughter, Arifa, too.
"Zabihullah is now working as a waiter in a restaurant," she said.
Together, the family of four earn enough to get by, as Afghan nationals have very few or no opportunities for employment in the mainstream sectors.
Therefore, when Shareefa was selected by the UNHCR for the "train the trainers" program, her happiness knew no bounds.
After completing the three-month training program, where designer Huma Adnan took her under her wings in May, Shareefa, along with two other women, is now training 18 other Afghan refugees at the AHAN (Aik Hunar Aik Nagar) center, at Chhota Plaza, in Sohrab Goth.
Shareefa is hopeful that through the initiative she too will soon have her own small business.
Stitching the same set of dreams, one piece at a time, is Najeeba, one of Shareefa's students, who says she is confident that one day she will start contributing financially to her family, too.
"My father works on daily wages. Like other Afghan nationals, my father is being offered little wages due to which he is finding it difficult to run the household. Give us the skill and we will show you how we can make many things," Najeeba told Arab News.
She added that even though she wanted to continue her studies, lack of educational facilities and tough financial conditions were forcing her to stay at home. "If we have skills, we will also spend our lives according to our wishes," she said. "Finally, we are having it," she said.
Currently, three trainers -- Shareefa, Sitara and Sakina -- are teaching a group of six women each at the center. However, designer Adnan says she will select more trainers to reach and impact more women refugees through the program.
She added that the skillsets which these women will eventually acquire will help make them self-reliant in the long run. For that, one of the most important aspects of the program is to market the world-class handicrafts which these women are making. "To sell these in the international market, the best marketing practices should be adopted," she told Arab while showing sample photographs from a fashion shoot for the jewelery made by the women.
The focus should be on "more quality and not on the quantity of crafts" made, she said, adding that the Afghan women "have shown that they can create the best" handicrafts.
"They are ready to learn, ready to improve and ready to improve their standard of living by working hard to earn a living. All they need is direction and mentorship," she said.
Pakistan is host to 1.3 million refugees. "We will have to accept that they may hardly return to their homes. So, the best way to make them self-reliant and productive for the society where they live in is to turn them into skillful artisans," she said, adding that it is the "collective responsibility" of all, including refugees' agencies and non-government organizations, to realize this dream.
Adnan says every design created by the refugee women holds a special meaning for her. "I know the stories and hard work that is going into this project. Each piece represents beauty and love, loss, fears, and tears and you can see it in the perfection of their finished product," she said.
Shareefa, on her part, said that the present seems like a dream. "The Afghan women remain at home. Even if educated they hardly come out of work. This program will lead them towards becoming self-reliant and ultimately changing their destiny."
http://www.arabnews.com/node/1412466/lifestyle
--------
Kuwaiti Woman Makes 'Record' By Crossing King Fahad Bridge
Nov 29 2018
Kuwait's women have been playing an outstanding role on local, regional and international levels in all fields, particularly sports. They do not hesitate to be engaged in any competition on all Arab, Gulf and international arenas that place them in a distinguished status.
One of the Kuwaiti females making success in sports is Iman Al-Gharballi who managed to cross King Fahad bin Abdulaziz bridge linking Saudi Arabia to Bahrain by her motorcycle.
In statements to KUNA, Al-Gharballi, one of Harley- Davidson team of Kuwait, said that she wanted to add a new accomplishment to the history of the Kuwaiti women. Kuwait's women could make achievements on international level, thanks to the state's backing, she clarified. She noted that Kuwait's females have succeeded in many fields, especially motorcycling which has risks, explaining that this sports was confined only to men.
Al-Gharballi said that she considered crossing the bridge after Saudi Arabia announced that it permitted women to drive cars. She went to say that the matter did not end with just taking part in this risk, but rather to be the first woman, who could cross the bridge. Al-Gharballi pointed out that she was encouraged and backed by her family, mainly her brother, and friends to participate in this adventure.
She indicated that she crossed the bridge in this timing as Saudi Arabia's authorities agree on motorcycling on the bridge only during organizing international or Arab festivals like Harley-Davison Owners Group. She noted that she received also backing from Harley-Davidson league of Kuwait, Harley Davidson league of Bahrain and others to enable her to succeed in this risky round.
The Kuwaiti heroine, finally, expressed her gratitude to Saudi Arabia and Bahrain's authorities for good reception, wishing both Arab and Kuwaiti women further success. She advised those women to overcome difficulties to achieve their goals, urging the juniors to learn well the rules of driving and abide by safety and security standards while motorcycling.
http://www.arabtimesonline.com/news/kuwaiti-woman-makes-record-by-crossing-king-fahad-bridge-2/
--------
From Gaza to the Moon, Palestinian Women Take the Lead at London Film Festival
28 November 2018
LONDON - This year's London Palestine Film Festival (LPFF) has focused on the resilience of Palestinians in the face of adversity – particularly women.
Of the 11 full-length feature and documentary films and the 21 shorts shown during the 12-day event, more than a third were directed by women or featured strong female leads and themes related to womanhood.
Among the lead roles, there were women astronauts, defiant hairdressers, mothers raising children behind bars and a woman willing to do whatever it takes to conceive a child while her husband is in prison.
The resilience of Palestinian women in this year's LPFF is perhaps a fitting motif: in the past year, Ahed Tamimi, a 17-year-old Palestinian activist, became the face of protests after she was imprisoned for eight months for slapping an Israeli soldier.
In July, hundreds of Palestinian women – many of whom had lost relatives during the Great March of Return demonstrations – participated in the "Palestinian Women for the Return and Breaking the Siege" protest, calling for an end to the Israeli blockade on Gaza and the right of return for refugees that were displaced when the state of Israel was created in 1948.
The festival made a comeback in the UK capital following a two-year-hiatus due to funding issues. The rich array of offerings at LPFF, which will end on 28 November, has included docudrama, science fiction, animation, shorts, and feature films as well as the launch of author and professor Nadia Yaqub's book, Palestinian Cinema in the Days of Revolution.
Extreme lengths
Of all the films, Dégradé (2015), directed by twin brothers Tarzan and Arab Nasser (also known as Ahmad and Mohammed Abou Nasser), stole the show with the acting prowess of its majority-female cast.
Screened at East London's Rio cinema, the film centres on a dozen women at a claustrophobic hair salon on a brutally hot summer's day in the Gaza Strip. The directors have said the film encapsulates the diversity that exists among women in Gaza, challenging prevailing stereotypes.
The women – one pregnant, one about to get married, one divorced, and one overly devout – are increasingly irritated by each other as they await their turns to be made over by a Russian hairdresser who owns the salon, and her assistant, a young Palestinian woman who appears to be in a codependent, suffocating relationship.
Outside the salon, tensions between a mafia-esque family which has stolen a lion from Gaza's zoo and Hamas brew until they escalate into full-on violence. The bizarre subplot is in fact rooted in real-life events from 2007.
The women's bickering and the street violence crescendo in tandem. The salon is masterfully used as a vehicle through which the directors illustrate the cruel isolation and political desperation endured by Gaza and Palestinians who have little control on both internal and external forces.
There are, of course, subtler ways to tell this same story, which at times feels like a heavier, grittier and more jarring version of Nadine Labaki's Caramel. But the performances, particularly those of Hiam Abbass, an ageing and agitated single woman, and Manal Awad, a victim of domestic violence who buries her woes in her sense of humour, are haunting.
Bonbone (2017), a 15-minute short film directed by Rakan Mayasi, which was also screened at the Rio, features Lebanese-American actress Rana Alamuddin (also known as Raya Meddine), who starred in Nazareth-set father and son drama Wajib, as well as Sex and the City 2 and The Young and the Restless. Alongside her is the formidable Palestinian actor Saleh Bakri, known also for his performance in Wajib and The Band's Visit.
The protagonists go to extreme and creative lengths to ensure they will have a child together, as the husband is in jail and conjugal visits are forbidden.
In this deeply dark depiction of the difficulties of living under occupation, Alamuddin's character utilises her sexuality in public spaces to ensure procreation on her own terms – and not Israel's. It's a gripping and artful narrative that renders Palestinian women the masters of their own fate.
One-tower solution
Again carrying the theme of motherhood is 3000 Nights (2015), Palestinian director Mai Masri's first feature-length film which tells the story of a Palestinian schoolteacher who is unjustly sentenced to jail for eight years for being an accomplice to a crime she did not commit. While in a women's prison, she gives birth to a baby boy whom she fights to protect as she raises him behind bars.
The movie, Jordan's official entry to the 2017 Oscars, was shot in a real prison and inspired by the true story of a woman who the director met while filming a documentary in her hometown, Nablus.
3000 Nights sheds light on the conditions endured by Palestinian women prisoners, of whom some 10,000 have been incarcerated or detained by Israeli authorities over the last half-century. There are currently 52 Palestinian women who remain in detention.
Nation Estate (2013), Larissa Sansour's futuristic reimagining of a Palestinian state in a high-rise tower overlooking Jerusalem, filled with holograms of the Al-Aqsa Mosque and other historical sites, stretches the mind with its ambitious and fresh dystopian take on a decades-old political crisis.
The film is fascinating to watch from a visual perspective: in Sansour's absurd, twilight world, existential anxieties are addressed with keycards, holograms, electronic passports and ready meals.
In addition to sci-fi, Sansour's at times obscure and lofty work more broadly fuses art installations, computer-generated imagery and electronic music with an Arab edge, making her one of the most daring Palestinian directors in the festival and indeed beyond.
In another two Sansour shorts screened at the festival, A Space Exodus (2008) and the somewhat cerebral In the Future, They Ate from The Finest Porcelain (2015), both of which were also crowd pleasers, the director skilfully thrusts her epistemological ideas of Palestine and its people into both the past and the future.
A Space Exodus sees Sansour plant a Palestinian flag on the moon, echoing Neil Armstrong's 1969 moon landing. "Jerusalem, we have a problem," she says, to no one in particular. Through this absurd prism, the absorbing film forces us to contemplate the West's role in the Palestinian predicament, the solitary nature of living in exile and having to contend with a fractured identity and political crisis with no solution in sight.
In the Future, They Ate from The Finest Porcelain, in which a resistance group led by a woman deposits porcelain into the ground for future archaeologists to excavate, similarly transports viewers to a vast and futuristic landscape. The occasionally abstruse dialogue is overshadowed by Sansour's stunning and otherworldly visuals, making for a riveting cinematic experience.
The metaphysical and surreal nature of her work brings to mind the films Blade Runner, which she cites as an influence, The Shining, and 2001: Space Odyssey, as well as hints of Charlie Brooker's Black Mirror and David Lynch's Twin Peaks. Notably, all of Sansour's leads are women and she stars in A Space Exodus and Nation Estate herself.
Sansour, who is also an artist and was shortlisted for the MAC International Prize this year, said during a Q&A after the screening at Rio Cinema that "science fiction can offer its own universe, where I don't have to be dictated by the general political rhetoric that relates to Palestine."
The audience had far more questions than the Rio's schedule could allow for, a sign that Sansour's work, though niche, is in demand.
Sansour is currently in the process of securing funding for her first full-length feature film. Though she didn't elaborate on what the film will be about, she did say the required budget is sizeable.
Gaza war
A total of seven films in the festival were directed by women. Among the short films were A Very Hot Summer (2017), by Areej Abu Eid, One Minute (2015) by Dina Naser, and The Chair (2017) by Laila Abbas.
Screened at SOAS University's Salt Lecture Theatre, A Very Hot Summer documents Abu Eid's personal experience during the 2014 Gaza War.
Also focused on the Gaza War and based on true events is One Minute, in which a mother panics as she is instructed by the Israeli army to evacuate her home. The Chair tells the story of a Jamaican-born Palestinian woman who visits her homeland and is abruptly confronted by traditions wholly unfamiliar to her.
The HOPING Foundation, also known as Hope and Optimism for Palestinians in the Next Generation, will host the festival's closing night on 28 November at SOAS University, with a spotlight on Palestinian refugees.
Campaigner and designer Bella Freud, a co-founder of HOPING, will be in conversation with BAFTA award-winning writer and director Peter Kosminsky, UNRWA spokesman Chris Gunness and director Samer Salameh, whose film, Us, Children of the Camp, is the festival's last.
The panel discussion will focus on "the power of film as a means to show the daily reality of Palestinian refugees".
https://www.middleeasteye.net/in-depth/features/from-Gaza-to-the-moon-Palestinian-women-take-the-lead-at-London-film-festival-974828038
--------
Kuala Lumpur Police to Focus On IS Women, Children
25 Nov 2018
Kuala Lumpur: Bukit Aman's radar has shifted to not only male militants but women and children as well.
This is in view of the possibility of more Malaysians in Syria returning by year end following reports that four groups of them, including seven children, are keen to come home after suffering the horrors of the Islamic State in Syria.
They have contacted Bukit Aman to seek help in coming home and police want to review their security risks.
Attention to women and children comes in the wake of a suicide bomb attack on a church in Surabaya, Indonesia, in May, executed by a family that included two girls aged nine and 12.
Bukit Aman Special Branch Counter Terrorism Division head Deputy Comm Datuk Ayob Khan said Malaysian police were concerned with the rising number of women and children being used by terror groups, especially to carry out suicide bomb runs and lone wolf attacks.
"We have been taking precautions," he said in an interview.
"That attack proved that women and children can be exploited by the terror groups into becoming suicide bombers."
DCP Ayob said police had not hesitated to take action against women involved in militant groups, despite criticisms that such arrests were "unwarranted".
"All the arrests were necessary to ensure that our country does not fall victim to terror attacks," he said.
"One of those arrested was a leader of an all-women terror cell, who planned to attack a polling centre in Puchong, Selangor, on May 9."
A total of 44 women have been arrested in connection with terror-related activities, including six held under the Prevention of Crime Act and two under the Prevention of Terrorism Act.
"Three have been deported," DCP Ayob said.
"Fourteen of them were charged in court while 19 were freed due to lack of evidence.
"We remain professional in carrying out our duties as there must not be any compromise to matters regarding security."
On the danger of returnees from Syria launching attacks in Malaysia, DCP Ayob said measures would be taken to ensure that they did not.
He said a thorough evaluation of the returnees would be conducted, including scrutinising their level of involvement in IS as well as whether they were still part of the terror network in Malaysia.
"We'll also consider if these returnees still have contact with militants in Malaysia and overseas.
"Their level of cooperation with the police is also a big factor on whether legal action will be taken against them upon their return," he said.
A 31-year-old Terengganu-born woman, her five-year-old daughter and two-year-old son were recently the first Malaysians to be repatriated from Syria.
"All returnees from Syria will be subjected to a rehabilitation programme," DCP Ayob said.
He explained that the rehabilitation of detained militants and religious extremists was organised by the police with assistance from various government agencies.
The process begins with the detention order.
"The programme is conducted by experts in various fields, including Islamic religious scholars, academics as well as police officers," DCP Ayob said.
"Jakim (Malaysian Islamic Development Department) was roped in to conduct a series of rehabilitation programmes to instil an understanding of the true teachings of Islam.
"Former detainees with special expertise are also invited to deliver talks.
"From 2001 to 2012, we conducted rehab for 289 militant detainees with a 97% success rate.
"Only seven went back to militancy."
And from 2012 onwards, he said 50 former militants, who were held under the Security Offences (Special Measures) Act, were released from prison following their stint with the programme.
From that number, only two suffered a "relapse".
"This shows a 96% success rate," he said.
https://www.thestar.com.my/news/nation/2018/11/25/police-to-focus-on-is-women-children-bukit-aman-looking-out-for-terror-activity-by-msian-returnees-f/
--------
AboutHer.com Lists Top 50 Saudi Female Athletes
November 28, 2018
Last year, as part of Saudi Arabia's drive to encourage more female participation in sports and develop a more inclusive sports environment in the country, the Kingdom appointed Princess Reema bint Bandar to head the Saudi Federation for Community Sports (SFCS), making her the first woman in the Kingdom to take on such an important role. Since then, Saudi Arabia has been witnessing the rise of the female athlete in all areas, from football to motorcar racing, kickboxing to scuba diving. To mark this transformative period in Saudi Arabia's history, particularly in the field of sports, lifestyle portal AboutHer.com has put together a list of top Saudi female athletes from across the Kingdom.
The top 50 list, which celebrates the Kingdom's most inspiring female sports figures, has been compiled by a panel of experts in the field. It comprises a wide range of Saudi female role models such as: Norah Almarri, the first taekwondo athlete to represent Saudi Arabia in the 2018 Asian Games in Jakarta; Kariman Abuljadayel, a sprinter who became the first Saudi woman to compete in the 100-meter race at the 2016 Olympic Games in Rio de Janeiro, Brazil; and Mariam Fardous, the first Arab woman and third woman in the world to dive at the North Pole.
The decision — and consequent initiatives being taken — to actively integrate Saudi women into sports has been credited to Crown Prince Mohammed bin Salman and his push to realize the objectives set under Vision 2030, an ambitious plan that aims to transform the Kingdom, a key part of which involves reforms targeted toward improving the lives of women.
Following the crown prince's ascension to power last year, Saudi Arabia has assigned women to top leadership positions, reformed different facets of its legal structure to give women more rights, created opportunities across various sectors for women, and is transforming its public sphere to be more accommodating to women. In 2017, Saudi Arabia allowed female fans to attend sports event in public stadiums for the first time, underscoring the country's wider efforts to grant women more public visibility.
http://www.arabnews.com/node/1412606/corporate-news
--------
Elaf Group Urges Women in KSA to Undergo Screening for Early Detection of Breast Cancer
2018-11-28
As part of its commitment to corporate social responsibility, Elaf Group has organized a breast cancer awareness campaign, featuring an educational seminar which encourages its women employees to undergo screening for the early detection of breast cancer and significantly increase the chances of treating the disease. The campaign comes in line with Elaf's efforts to promote health, safety and happiness as among its top priorities.
Ziyad Bin Mahfouz, Chief Executive Officer of Elaf Group, said the company aims to further strengthen its active role in the community to help advance Saudi Arabia's social development. He noted the importance of raising awareness among employees and citizens on topics related to personal and professional health and safety.
"The awareness campaign is an important addition to the government's efforts aimed at combating breast cancer, which is one of the most prevalent cancer diseases. The campaign highlights our efforts in supporting the healthy lifestyle initiatives in the country. It has contributed at changing the attitude of women towards identifying breast cancer risk and encouraging them to conduct an early detection of breast cancer that will enhance the chances of full recovery. We continue to focus on ways that further enhance the health of our employees by giving them a conducive environment that ensures their safety, well-being and happiness," he added.
The awareness campaign which was implemented through a series of educational seminars on breast cancer informed the women of the symptoms as well as the techniques on conducting periodic and accurate home inspection. The seminars also emphasized the importance of early detection of breast cancer and its role in getting higher chances of recovery from the disease, thereby reducing the outbreak of cancer cells in the body. — SG
http://saudigazette.com.sa/article/549076/BUSINESS/Elaf-Group-urges-women-in-KSA-to-undergo-screening-for-early-detection-of-breast-cancer
--------
Austrian policeman accused of making racist, Islamophobic remark at Muslim girls
November 5, 2018
A police officer in Austria is being accused of making a racist remark towards a group of young Austrian Muslim girls.
The officer allegedly made the remark when a 20-member group of young women were passing through passport control at Vienna international airport.
Esma Aiad, one of the members of the group, told Anadolu Agency that they were returning from a visit to Istanbul and Cappadocia when a police officer at passport control asked two veiled members of the group: "They didn't marry you off forcefully in Istanbul, right?"
The girls tried to talk to the officer but he refused to talk or give his badge number and also threatened one of their group members, she added.
"The officer's remark was a racist, discriminatory one. It wasn't small talk or a joke," she said.
"My aim here is to draw attention to an illegal situation. The remark he used towards my friends, his rude treatment when I approached him to talk, and him refusing to give his badge number were all illegal."
The young girls want to file a criminal complaint against the racist treatment they allegedly faced.
Johann Baumschlager, a police spokesman, said they will investigate the incident and question the officer about the alleged racist remark.
In October 2017, Vienna's airport also saw a row over Turkish citizens being subjected to a search using security dogs.
https://www.dailysabah.com/europe/2018/11/05/austrian-policeman-accused-of-making-racist-islamophobic-remark-at-muslim-girls
--------
URL: https://www.newageislam.com/islam-women-feminism/muslim-woman-describes-torture-beatings/d/117015
New Age Islam, Islam Online, Islamic Website, African Muslim News, Arab World News, South Asia News, Indian Muslim News, World Muslim News, Women in Islam, Islamic Feminism, Arab Women, Women In Arab, Islamophobia in America, Muslim Women in West, Islam Women and Feminism