New Age Islam News Bureau
31 May 2015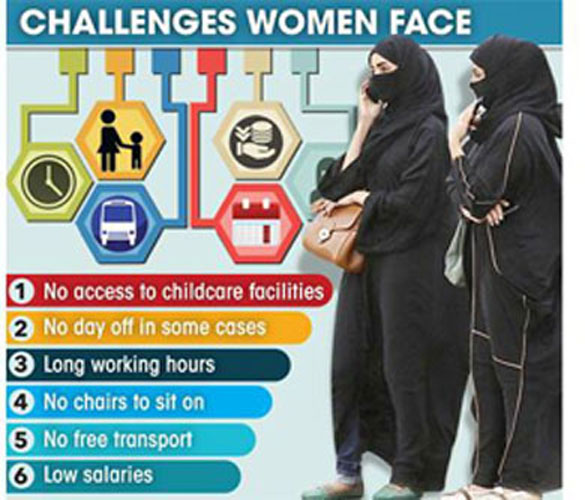 50% of Saudi female retail workers resign
--------------
• Cleric Says Women Wearing Jeans Is Causing Earthquakes and Terrorism in Pakistan
• Brussels: 30 Muslim Girls Denied Entry to School
• Saudis Ridicule 'Women Look At Football Players' Thighs' Fatwa
• Top Court Ruling on Religious Marriages Sparks Debate in Turkey
• Al-Ahsa's Women Carpenters Defy Traditional Roles
• Pakistan: Dir Women Unlikely To Take Part in Poll Process
• London Jewish Group Causes Furore with Warning to Women Drivers
• No Combat Role For Women In Armed Forces: Indian Defence minister
• No Women in Sight on Polling Day across Khyber-Pakhtunkhwa, Pakistan
• Saudi Kingdom is best place for moms among Arab states
• 50% of Saudi Female Retail Workers Resign
• Women-Only Mosques Filling Need For Muslim Women in Western World
• Child Sex Abuse Claims Shake United Nations
Compiled by New Age Islam News Bureau
-----------
URL: https://www.newageislam.com/islam,-women-and-feminism/new-age-islam-news-bureau/muslim-woman-denied-coke-can-aboard-united-airlines-flight-over-'weapon-fears'/d/103257
-------------
Muslim Woman Denied Coke Can Aboard United Airlines Flight over 'Weapon Fears'
31 May 2015
A Muslim traveller aboard a United Airlines flight was denied an unopened can of diet coke and was told "it's so you don't use it as a weapon," just after handing an unopened can to another passenger.
Tahera Ahmad, 31, director of interfaith engagement and associate chaplain at North-western University was travelling Friday from Chicago to Washington when the incident occurred aboard the flight, according to her Facebook post.
I am sitting on a United airlines flight in the air 30,000ft above and I am in tears of humiliation from discrimination....
Posted by Tahera Ahmad on Friday, May 29, 2015
Ahmad, who wears an Islamic headscarf or Hijab, was heading to Washington for a conference on promoting dialogue between Israeli and Palestinian youth.
Ahmad had requested an unopened can of diet coke as a hygienic precaution to which the flight attendant reported responded to by saying "we are unauthorized to give unopened cans to people because they may use it as a weapon on the plane."
When Ahmad told the flight attendant she was being discriminated against, the attendant opened the beer can to hand to Ahmad's fellow passenger.
"It's so you don't use it as a weapon," Ahmad claims she was told.
The shocked and bewildered Ahmad asked the other travellers if they had witnessed what unfolded.
A passenger across the aisle turned to her and shouted an obscene anti-Muslim comment.
He then said, "yes, you know you would use it as a weapon."
Ahmad wrote on Facebook while still in flight that "I felt the hate in his voice and his raging eyes,"
She added that, "I can't help but cry…because I thought people would defend me and say something. Some people just shook their head sin dismay."
Support poured in for Ahmad on Facebook after posting about her ordeal with the twitter hashtag #unitedfortahera. Some social media users pledge to boycott United Airlines.
.@united Bigotry is inexcusable #unitedfortahera pic.twitter.com/spcoBegrzH
— MPAC (@mpac_national) May 30, 2015
In a statement carried by CNN, United spokesman Charles Hobart said the airline "strongly supports diversity and inclusion."
We and our partners do not discriminate against our employees or customers," the statement said. "We are reaching out directly to Ms. Ahmad to get a better understanding of what occurred during the flight."
"We are also discussing the matter that Ms. Ahmad describes with Shuttle America, our regional partner that operated the flight. We look forward to speaking with Ms. Ahmad and hope to have the opportunity to welcome her back."
Ahmad, who has Premier frequent-flier status with United, said Saturday that she had not heard from the airline. But later, the flight attendant as well as the pilot later apologized, she said.
"She said she's working on her rude behaviour and that the man (sitting across the aisle) should not have said anything," Ahmad said according to CNN.
"I'm not doing this to go after United Airlines. This is about bigotry and racism and our country is going through a very difficult time right now. Dr. Martin Luther King Jr. and so many others worked so hard ..." Ahmad added.
"They strove so hard so that Americans would not mistreat each other on the basis of the colour of their skin or religious or ethnic background but I guess we're still on that journey."
https://english.alarabiya.net/en/perspective/features/2015/05/31/Muslim-American-denied-soda-aboard-flight-for-safety-reasons.html
--------
Cleric says women wearing jeans is causing earthquakes and terrorism in Pakistan
May 31, 2015
According to comments made by Maulana Falzur Rehman, a Muslim cleric and opposition leader in Pakistan's parliament, has claimed that the deteriorating situation in the country is down to one fashion item - women's jeans.
The comments come as Pakistan experiences a number of earthquakes and several incursions into its territory by Taliban forces, as well as worsening energy supplies for the state.
The cleric / politician believes that Pakistani women enjoying the unique comforts of denim is harmful to the national economy and directly causing inflation.
Speaking at a local press conference, Falzur Rehman compared women who were NOT dressed like a 'sack of flour' to walking weapons of mass destruction.
There's literally so many jokes flooding into our brain that we're getting a nosebleed.
Falzur Rehman believes that if Shariah law was upheld in the predominantly Muslim country, their fortunes would improve and international investment would come into the country.
Sure. That's absolutely what would happen.
He went on, openly calling for the Pakistani army to begin a military operation against women who wear denim.
Listen, we've seen horrendous double-denim numbers down through the years - but it's hardly cause for, y'know, a full-scale army attack. Is it?
http://entertainment.ie/wtf/Muslim-cleric-says-women-wearing-jeans-is-causing-earthquakes-and-terrorism-in-Pakistan/365673.htm
--------------
Brussels: 30 Muslim girls denied entry to school
World Bulletin / News Desk
May 31, 2015
On Friday thirty Muslim students were denied entry to the De Mot-Couvreur institute in Brussels for wearing long skirts.
The director of the school said it breached the school's regulations as long skirts were a 'symbol of religiosity.'
The students protested outside the school demanding entry to the school. However the police were eventually called by the school and dispersed the students.
http://www.worldbulletin.net/headlines/159962/brussels-30-muslim-girls-denied-entry-to-school
--------
Saudis Ridicule 'Women Look At Football Players' Thighs' Fatwa
May 31, 2015
A Saudi cleric has been ridiculed by Saudis online for stating that women only watched football to stare at men's thighs.
The imam issued a fatwa (religious edict) said it should be "Haram" or forbidden for women to watch football games causing controversy in Saudi Arabia.
He said in his fatwa that women "do not care who wins the match, all they care about is watching the player's thighs."
He added that a "woman seeing a foreign man is sinful, so what about seeing his thighs and tight kit?"
In an opinion piece for Saudi daily Al-Jazirah, translated in English by the Saudi Gazette, columnist Ruqaya Al-Huwairni wrote: "I cannot describe how embarrassed and annoyed I was after listening to a fatwa issued by a local mosque imam."
Al-Huwairni added: "To be frank, I do not know why women are looked down upon more than men. This is common among scholars and extremists. How is it possible for anyone to say that women only watch football to enjoy looking at players' thighs?
Social media reactions were quick to point out the apparent ridiculousness of the imam's fatwa with a trending hashtag in Arabic which translates to: #women_love_football_because_of_players'_thighs.
Twitter reactions were wide ranging with hundreds of tweets ridiculing the imam's fatwa.
One tweet mocked the ruling in her own way saying "How did we get here? I love chicken thighs more…roasted and golden with barbeque and mustard and honey and more…"
Another tweet with the same hashtag and a photo of a few football players from the 1970s with distinctive short shorts, "it is good the players are not wearing 1970s football kits or your sins would be even greater!"
Meanwhile, Al-Huwairni also added in her op-ed that the imam's "judgment is harsh and it reduces women to sexual objects. The imam did not only say that such things bring corruption but also banned women from looking at men who are not related to them. "
She continued by asking whether "women become blind so that they are unable to see men, such as their drivers, street cleaners, grocery shop owners, doctors, professors, etc?"
https://english.alarabiya.net/en/variety/2015/05/30/Saudis-ridicule-women-should-not-look-at-football-players-thighs-fatwa.html
--------
Top court ruling on religious marriages sparks debate in Turkey
May 31, 2015
Turkey's Constitutional Court has legalized the right to be religiously married without obtaining a civil marriage, sparking debate over the decision's impact on women and children.
The ruling has drawn stern criticism from all sides, including lawyers, ruling party representatives, and opposition deputies.
Family and Social Policies Minister Ayşenur İslam said the government would not allow a legal environment that could lead to unofficial marriages of children, adding that new regulations were needed to prevent illegal marriages of minors.
Also expressing her suspicions, Deputy Parliament Speaker Ayşenur Bahçekapılı said the ruling would lead to unjust practices against women and children. Bahçekapılı, from the ruling Justice and Development Party (AKP), also drew attention to a possible rearrangement of legal infrastructure according to the ruling and added that such a rearrangement would be wrong.
Main opposition Republican People's Party (CHP) deputy Candan Yüceer said the ruling would increase the number of child marriages, with women and children losing all of their legal rights.
The ruling comes a year after the Erzurum Criminal Court of Peace appealed the case of three defendants, two religiously wed without civil marriage and one imam who ordained the wedding, to the Constitutional Court to overturn paragraph 5 and 6 of item 230 in the Turkish Criminal Code (TCK), which required the three to serve at least two months in prison.
The Constitutional Court annulled the paragraphs with a majority of 12 against four and revoked the indictment that carried the penalty of at least two months in prison.
Court members against the ruling said such an amendment could prioritize religious weddings over civil marriage and even become an alternative for the latter, adding that it would cause legal and economic problems for women and children. Some also said the decision would damage the country's secular foundation and be against reform laws enacted at the time of Turkey's foundation.
In 1999, the Bursa Criminal Court of First Instance appealed to the AYM to overturn the same two paragraphs of the TCK. The Constitutional Court, however, said the application was invalid, stating a couple living together was not a crime according to the TCK, but living together under solely a religious union was. The Court at the time said such a partnership violated gender equality and the principle of justice.
"The Turkish Civil Code, introduced in 1926, aims to strengthen women's position in society with civil marriage, as well as secure a high quality of life for mothers and their children. It goes without saying the punishment for a religious wedding done without civil marriage is for the public good and order when the impacts of marriages based on religious principles on women and children are considered. The Turkish state is responsible to protect mothers and their children according to item 41 of the Turkish constitution ... The secular laws of the constitution should not be perceived to be against religion, as there is no restriction on religious marriages and people are free to religiously wed as long as they secure a civil partnership with legal marriage as defined in the Turkish Civil Code," the Constitutional Court stated in 1999, when Ahmet Necdet Sezer, Turkey's 10th president, presided over it.
http://www.hurriyetdailynews.com/top-court-ruling-on-religious-marriages-sparks-debate-in-turkey.aspx?pageID=238&nID=83167&NewsCatID=341
--------
Al-Ahsa's women carpenters defy traditional roles
May 31, 2015
Al-AHSA: Several women here are ignoring traditional roles by becoming skilled carpenters making various products including chairs, wardrobes and chests.
Zahra Al-Najar, who is based in a workshop at the Center for Vocational Training here, said that she finds great satisfaction in doing work that has been dominated by men for so long.
She said training has been provided over the last five years by the Al-Ahsa Young Women's Society at the King Abdullah Residential Complex. It was equipped with all carpentry tools.
Al-Najar said that she has not been intimidated by the power tools being used and has even taken a first aid course. "I find great pleasure in making wardrobes, seats, chests and other things. We provide all the furniture needed by a local kindergarten."
"What makes me happier than anything else is to see the surprise on people's faces when they look at what we've produced in such a professional manner," she said.
Afrah Al-Mahdi said she joined the workshop after seeing an advertisement on drilling and engraving on wood with special machines. "I then joined the center and became a trained carpenter. I have been doing this for the past five years," she said.
"Some people have criticized me but this is what gives me satisfaction. I plan to continue to improve my skills.
I am now producing chests that have been ordered by Saudi Aramco, which it wants to give as presents to retired employees," she said.
Moudi Al-Hamad, manager and supervisor of the carpentry workshop, said that 150 young women are trained every year. Many have gone on to set up their own profitable businesses, she said.
Those who want to join must be over 18 and not suffer from asthma. Each person who successfully completes a course would get a certificate, she said.
http://www.arabnews.com/saudi-arabia/news/754396
--------
Dir women unlikely to take part in poll process
May 31, 2015
TIMERGARA/KARAK: Women of Lower Dir are unlikely to cast their votes in the local government elections being held today (Saturday), as most of the polling booths for them have been set up at the joint polling stations.
During visits to polling stations in different parts of Lower Dir on Friday, it was noted that majority of polling staff had set up separate polling booths for women voters at the polling stations.
tickers have been displayed on doors of the rooms reading "polling booth for women". Talking to this correspondent, political activists at Gadar, Adam Dherai, Talash, Bandagai and Balambat said that they would not like to bring women of their families to the joint polling stations.
They said that it was against Pakhtun traditions that men and women gather at the same place. A returning officer requesting not to be named said that he could not take the risk to set up separate polling stations for women in his jurisdiction.
He, however, said that the presiding officers had strictly been directed to provide environment conducive to the women voters. "I don't see women coming out for voting in a large number," he said.
The election staff at one of the polling stations in Adenzai had displayed a poster in front of the station, stating that separate polling booths had been set up and women could cast votes easily.
Despite efforts by the civil society it seems women would not exercise their right to vote in the today's elections. Though the political leadership in the district has given a green signal to women to cast vote, they too seem least bothered to ensure women's participation.
In Karak, the candidates of union council Isak Chountra have decided to make arrangements for women to cast their votes. The candidates for the district council and tehsil council have reached a consensus that the women of the union council Isak Chountra would poll their votes.
Women of this union council had not polled votes in the last few elections. However, in the 2013 general election some women of the union council participated in the election process. As such, it would be for the first time that women in this union council would cast vote in the local government elections.
http://www.dawn.com/news/1185111/dir-women-unlikely-to-take-part-in-poll-process
--------
London Jewish Group Causes Furore with Warning to Women Drivers
May 31, 2015
LONDON: Schools run by an ultra-Orthodox Jewish community in London could face an investigation after leaders of the group warned in a letter that women members were banned from driving their children to the premises.
The letter said women drivers were "contrary to the rules of religious modesty" for the Hasidic community and said that children driven in by their mothers would be barred once classes resume in August.
Education Secretary Nicky Morgan called the ban "completely unacceptable in modern Britain", while the community replied that it was self-imposed and fell under religious freedom rights.
"If schools do not actively promote the principle of respect for other people they are breaching the independent school standards.
"Where we are made aware of such breaches we will investigate and take any necessary action to address the situation," she said in a statement.
The Hasidic community was founded in Belz, Ukraine, in the 19th century, and comprises 10,000 families worldwide, mainly in Canada and the United States.
In Britain, there are around 400 families living in the London neighbourhood of Stamford Hill and members run two schools with hundreds of children.
http://www.dawn.com/news/1185027/jewish-group-causes-furore-with-warning-to-women-drivers
--------
No Combat Role For Women In Armed Forces: Indian Defence minister
PTI | May 31, 2015
NEW DELHI: Defence minister Manohar Parrikar has ruled out recruiting women for combat operations in armed forces due to apprehensions about their safety but said they would be encouraged to join other operational areas with their inclusion being stepped up in phases.
"No. Think of what can happen if a woman is taken as a prisoner in combat operation," he said, implying at possible atrocities they might suffer if held captive by enemy forces.
He, however, said except for combat role women will be encouraged to join other operational areas of the forces.
"This inclusion will be increased in phases," Parrikar said during a brief interaction with reporters on the sidelines of a passing out parade at the National Defence Academy (NDA) at Khadakwasla near here.
On shortage of officers in the forces, he said the deficit is being reduced and the gap currently stood at 7,000 as against 11,000 earlier.
Parrikar said the admission capacity of the academy, the premier institute which trains future officers of the three wings of the Armed Forces, too will be enhanced from existing 1950 to 2400 in next two years.
On his arrival on the campus, Parrikar reviewed a smartly turned out parade of the passing out cadets on the sprawling premises and asked them to cultivate a "sound mind and sound body" to serve the country with an emphasis on moral and ethical values.
He awarded the President's gold medal to cadet A K Sinha. The silver and bronze medals were bagged by cadets Nishant Philip and R S Bisht.
http://timesofindia.indiatimes.com/india/No-combat-role-for-women-in-armed-forces-Manohar-Parrikar/articleshow/47480091.cms
--------
No women in sight on polling day across Khyber-Pakhtunkhwa
May 31, 2015
PESHAWAR: As polling for local body elections in Khyber-Pakhtunkhwa continues smoothly for men, women in the province face many hurdles.
Women in very few numbers turned up to cast their votes at some polling stations while at others there were no women in sight. Though some were puzzled as to why women did not turn up, there were reports from some polling stations of women being barred from voting and from others of 'secret agreements'.
In Nara Amazai union council, Haripur, not a single woman turned up to exercise her right to select a leader of her choice.
"In all seven polling stations of Nara Amazai union council not a single woman could use her voting right," a candidate for the district council requesting anonymity told The Express Tribune.
Reportedly the women were barred from voting under a secret agreement between the candidates who did not want to allow their women to use their right to franchise.
"Although there is no written agreement, some elders have decided to follow the previous practice of not allowing women voters," he added.
Further, he said although candidates called their relatives from distant areas as far as Karachi whose permanent are registered in K-P, yet women voters who number in more than 3,000 have not yet been allowed to visit polling stations.
With five hours left for polling, the candidate said, "The chances of allowing women to vote before polling closes are bleak."
"Not a single woman has turned up to vote," a police source seconding the candidate's claim said.
However, returning officer Humayun Khan said that it was not in his knowledge and he would share the exact position later.
Nara Amazai with a predominant Pushto speaking majority and tribal culture, is one of the remote union councils of Haripur district.
However, Nara Amazai was not the only union council where not a single woman cast a vote, as the five polling stations of Union Council Sarangzona of Tank saw no women voters either.
"It is not because of jirga or religious clerics ban but usually here the women are not coming to vote, a local elder, Zoman Mehsud," told The Express Tribune.
Further in another council of Tank, Kari Umar Khan, a scuffle broke out between voters and police resulting in a female polling station (Tata women polling station) shutting down.
Earlier during the day, the Election Commission of Pakistan took notice of women being barred from voting at different polling stations.
In several areas of the province particularly from districts of Lower Dir, Swat and southern parts of the province, women were either held back by a local consensus among candidates or were not being allowed to vote.
Separately, presiding officer Nosheen Habib told The Express Tribune that locals, especially women, did not show up to vote this morning.
"No women have come to vote as yet, I don't know why they have not come," Habib said.
Furious at the bias, many took to social networking site Twitter to express their anger:
http://tribune.com.pk/story/894835/no-women-in-sight-on-polling-day-across-khyber-pakhtunkhwa/
--------
Saudi Kingdom Is Best Place for Moms among Arab States
May 31, 2015
DAMMAM: Saudi Arabia was ranked first among Arab countries and 38th globally for respecting the rights of mothers and children, the 16th annual Mothers' Index for 2015, released by Save the Children organization, has revealed.
According to the study, the percentage of infant mortality in the Kingdom (under five years) has reached 15.5 percent for each 1,000 children, and children get 16.3 years of formal schooling. Lifetime risk of maternal death is 1 in 2,200; gross national income per capita $26,260 while participation of women in national government is 19.9 percent.
Mothers' Index ranks 179 countries according to five factors related to maternal health, female political participation, economic and educational status and children's well-being, to indicate in which country it is best to be a mother.
Carolyn Miles, president and CEO of Save the Children, said: "The data shows that countries' economic situation is not the only factor that leads to happiness and welfare of mothers, but the policy of the country is just as important." "We need to do more to make sure that all mothers and babies have a fair chance of survival and a healthy life, no matter where they live," Carolyn Miles added.
According to the study, Norway ranked first in the index, as the infant mortality rate under the age of five was only 0.3 percent, as well as children in that country get 17.5 years of formal schooling.
Finland was placed at the second spot, followed by Iceland, which refers to the increased interest of the Scandinavian countries to mothers as they occupied the top five positions.
http://www.arabnews.com/saudi-arabia/news/754156
--------
50% of Saudi female retail workers resign
May 31, 2015
ABHA: Saudi women working at clothing stores here have called on the Labor Ministry to crack down on owners because they apparently work long hours, are paid low salaries, have no access to childcare facilities, not given days off, and not provided free transport.
In addition, they claim that the public in general have no trust in them as salespeople, and often abuse them verbally. They also called on the government to force shops to close at 9 p.m. so that they can have time with their families and to socialize.
Fatima Al-Hayyan, a business expert, claimed that more than 50 percent of women working in sales have resigned, citing lack of job security and heavy workload.
Women here said that the average of SR4,500 they earn a month is not enough to meet their needs, especially since they have to work nine hours a day. One woman, Abrar Al-Ghamdi, said she spends SR1,200 of her SR4,500 salary a month on transport.
Alia Al-Assiri, a salesperson, said that the shop where she works does not provide a chair for her to sit down. "The ministry has ordered shops to have chairs for workers but this one has not complied with these directives," she said.
Al-Assiri said she has to work nine hours a day because the owner forces her to make up the time she takes for prayers. Another woman, Sarah Mohammed, said she works nine hours at the weekends and eight and a half hours during the week, which affects her family life.
Fatima Al-Mu'badi said that customers are sometimes condescending and rude even though she is professional at all times. She said Saudi women must take courses to advance their careers, which would help break the stereotype that they are not suited for sales positions.
Ghala Al-Bishri called on customers not to look down on salespeople because they spend lots of time and effort promoting their products.
Dalal Al-Qarni, assistant director general of the women's department at the ministry in the Eastern Province, said officials have outlined the rights and obligations of owners and workers, including penalties for those failing to comply.
Al-Qarni said there has also been widespread campaigns to inform everyone about the third phase of the feminization program and the timeframe for implementation. There has also been consultation with workers and business owners to resolve disputes and challenges, she said.
Ishraq Moawad, director of the inspection department at the ministry in Jeddah, said that the government is looking at introducing additional legislation to protect retail workers, which would include wage scales.
In addition, plans are being formulated to have community outreach programs that would tackle the stereotypes in the market about Saudi workers, said Moawad.
http://www.arabnews.com/saudi-arabia/news/754441
--------
Women-only mosques filling need for Muslim women in Western world
May 31, 2015
During a typical Friday prayer at mosques around the world, men and women file into their place of worship together. But once inside, they separate: The men go into the main room with the imam, and women are either placed behind the men with a divider between the two genders, or in separate rooms with speakers.
Now, some Muslim women are taking that separation a step further with the establishment of women-only mosques. Earlier this month, the Muslim Women's Council of Bradford, U.K., announced the opening of the country's first women-only mosque.
In its press release, the MWC said Muslim places of worship are in need of reform and revitalization.
"Muslim women have been marginalized for many decades by mosques in the U.K. which are male-dominated, patriarchal spaces," according to the release. "It is for this reason that (MWC) aims to ensure that Muslim women have the space to discuss issues … in an environment that is open to everyone."
The need to create a space for Muslim women has not only been felt in Bradford. Earlier this year, the U.S. saw its first women-only mosque open in Los Angeles.
The Women's Mosque of America was founded by Hasna Maznavi and Sana Muttalib, who told Al Jazeera America they were inspired by their egalitarian values of their faith.
"The stories my mother taught me from the Qur'an were all about equality," Muttalib said. "When I grew up and realized that isn't always the reality that plays out in society, I was shocked."
A 2011 study done by the Hartford Institute for Religion Research found that two-thirds of mosques in America use dividers to separate women and men during prayer. In addition, 63 percent of mosques scored "fair" or "poor" in ranking a women-friendly atmosphere.
Abdullah Hasan, imam at the Holborn Mosque in London, told The Washington Post that the creation of women-only mosques is "a wake-up call to men."
"Some (males) have no idea about what's going on in the outside world," he said. "They're completely out of touch, politically and culturally. And let's face it. This is not just a Muslim problem. It has taken such a long time for the Church of England to accept women as priests and bishops. So women have had a tough time of it. I completely understand why women in Bradford want their own mosque."
As much as the women-unfriendly mosques in the U.S. may have triggered the inspiration to create a women-only mosque in L.A., the founders were determined to create it from a blank slate, envisioning their ideal mosque, said Edina Lekovic of the Muslim Public Affairs Council.
"The intent of the mosque was to compliment other spaces," Lekovic said. "That if the women's mosque is doing things right, then we are empowering women to know the Qur'an, to have the leadership skills and the confidence to be able to serve the women's mosque (and) their co-ed mosque."
As male-dominated as some mosques may be, Lekovic said she sees light at the end of the tunnel.
"That's part of what's exciting about living now — as crazy as it is, there's a transfer taking place and it's generational," she said. "What's happening in (the millennial) generation has taken away power from traditional gatekeepers. Those traditional structures and barriers are not the same."
http://www.dailyamerican.com/life/women-only-mosques-filling-need-for-muslim-women-in-western/article_39a5f998-7632-5551-881a-cc0271cc150b.html
--------
Child sex abuse claims shake United Nations
May 31, 2015
The boys said they approached the French soldiers because they were hungry. Some were so young that they didn't quite understand the acts the soldiers demanded in return. One boy, 8 or 9 years old, said he did it several times to the same soldier, "until one day an older kid saw him and told him what he was doing was bad."
Another boy, 9, said he thought the soldiers had been urinating.
United Nations investigators heard such stories of sexual abuse from several boys in May and June 2014 in Central African Republic, where French soldiers were protecting a sprawling displaced persons camp in the conflict-torn capital, Bangui.
One year later, revelations about how the U.N. handled the boys' accounts have horrified people both inside and outside the world body. Statements marked "strictly confidential" have shown that its top human rights officials failed to follow up for several months on the allegations their own office had collected.
No arrests have been announced, and it's not clear where the accused soldiers, who were supporting a U.N. peacekeeping force, are now. The U.N. seems unable to say when the abuses stopped, or how long it continued to investigate.
On Friday, more documents were released by a non-governmental organization run by two former U.N. staffers that's calling for an independent investigation into the case. The documents show U.N. officials scrambling not so much to help a French inquiry into the allegations but to investigate the human rights staffer who told French authorities in the first place.
A separate report with the children's allegations, obtained by The Associated Press, says the first account was heard May 19 by a human rights staffer and a UNICEF child protection officer. The interviews continued through June 24. A Geneva-based human rights staffer shared the report with French authorities in July.
The boys' accounts are simple and stark. An 11-year-old said he had gone "looking for empty wrappings to play with" when a French soldier first called him over, later giving the boy food and a little money in exchange for oral sex. Another boy, 9, "had been severely beaten by his mother when he told her what had happened."
A UNICEF spokeswoman did not immediately respond to questions Friday about how the children's agency reported the allegations, and to whom.
The case has exposed a glaring weakness in a world body that considers human rights one of its three main pillars: It has no specific guidelines on how to handle allegations of child sexual abuse, and no requirement for immediate, mandatory reporting.
Even when French gendarmes showed up at the U.N. peacekeeping mission in Bangui to investigate the allegations - the report shared with French authorities is on the mission's letterhead - they were told they had to go through proper U.N. channels and talk to the human rights office in Geneva instead.
That was in August. At the end of March, the U.N. finally handed France a redacted copy of the same report they already had. The U.N. says the report first given to the French included the names of the children and witnesses and was a breach of protocol.
The children's allegations didn't make their way to top officials at U.N. headquarters in New York for months. On Friday, U.N. peacekeeping chief Herve Ladsous told reporters he first heard about them this spring. When asked why the mission in Central African Republic didn't alert his office in New York right away, he said, "Some reporting lines maybe didn't function."
The NGO that on Friday released internal U.N. documents related to the case, AIDS-Free World, called for an independent investigation into the way the allegations were handled from the start.
"The grim reality is that those with experience within the U.N. system are unlikely to be surprised," its statement said. "They know that this is not an unusual case; it is simply one that has come, partially, to light."
A spokesman for the U.N. human rights office did not comment Friday. The spokesman for the U.N. secretary-general, Stephane Dujarric, told reporters that the documents "may or may not be authentic."
It is not clear whether a U.N. commission of inquiry on Central African Republic looked into the child sexual abuse allegations. In August, as word of the case started to spread, the commission gained a new member, Philip Alston.
Alston's bio at New York University, where he is a law professor, lists "children's rights" as a research interest. In an email to the AP, he said only that the commission is now defunct.
The commission's final report in December suggests that the U.N. secretary-general report alleged violations by all peacekeepers in Central African Republic, regardless of whether they are part of a U.N. mission.
But on Friday, his spokesman said the secretary-general only heard of the child sexual abuse allegations this spring.
Among the documents released Friday is a March 24 statement by the human rights staffer who interviewed the children. The statement is for the U.N. investigation into what it calls the "leak" to French authorities.
Between September and March, the staffer says, she didn't hear anything about the case.
But she offers, "I still have all the notes I took of the interviews if they would be of any help."
https://english.alarabiya.net/en/News/world/2015/05/30/Child-sex-abuse-claims-shake-United-Nations.html
--------
URL: https://www.newageislam.com/islam,-women-and-feminism/new-age-islam-news-bureau/muslim-woman-denied-coke-can-aboard-united-airlines-flight-over-'weapon-fears'/d/103257