New Age Islam News Bureau
30 Oct 2018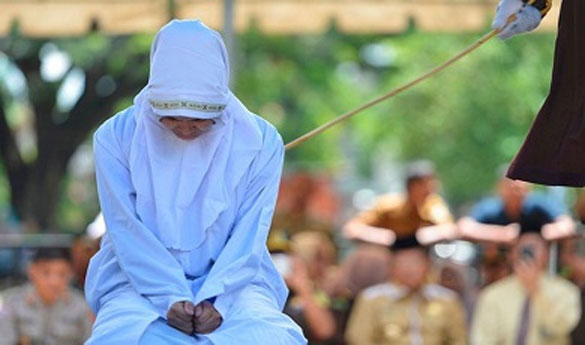 Photo: A young woman bows her head and kneels as she awaits being caned for getting too close to her boyfriend Photo: AFP
-------
• Two Rescue 1122 workers laid off over 'sexual assault' of Sikh girl
• Woman blows herself up in central Tunis, 20 injured
• Saudi Consulate in US issues statement on death of two female citizens
• Halah Al-Hamrani out to land a knockout punch for women in the boxing ring
• Saudi court acquits two men charged with burning woman's car – report
• Al-Hokair Group family entertainment centers empowering women
• 58-year-old man caught groping 2 women at mall in Dubai
• Lamya Hemadi and three other women get arrested arbitrarily
• Female students play active role in protest rallies in Tehran
Compiled by New Age Islam News Bureau
URL: https://www.newageislam.com/islam-women-feminism/muslim-woman-boyfriend-lashed-public/d/116750
--------
Muslim woman, boyfriend lashed in public for getting too close
October 30, 2018
A young woman and her boyfriend were whipped in public in Indonesia after being caught "in close proximity" to each other under Sharia law.
The 21-year-old was forced to kneel on a makeshift stage with her head bowed before being caned with bamboo by a masked enforcer.
She was then hauled off the platform by two female police officers while her partner was also whipped as punishment for standing too close to each other in public.
The public punishment took place in the city of Banda Aceh - where Sharia law is strictly practised and enforced.
The crime of "being in close proximity" to someone of the opposite sex can be punished by up to 25 lashes.
Other offences such as gay sex, adultery, drinking alcohol and gambling can result in up to 200 lashes.
Aceh is the only province in the country to impose Islamic criminal law and was granted increasingly special powers in 2005 when the government struck a deal with separatists.
Indonesia is one of the most largely populated Muslim countries in the world with more than 90 per cent of the 225 million inhabitants practising the faith.
Earlier this year a bride-to-be and her fiancé were also publicly thrashed in the same city, after being found guilty of "getting too close".
Closeness is seen as a step towards pre-marital sex which is against Sharia Law and as a result the couple each received 20 lashes, in front of gathering crowds.
The punishments take place outside a mosque and draw huge crowds, many of whom take pictures.
Meanwhile, in Malaysia, two women aged 22 and 32 were caned for "having lesbian sex in a car".
The women were sentenced to six lashings each and a fine of Sh80,000 despite a global outcry from activists who say the sentence "has no place in any civilised society".
https://www.sde.co.ke/article/2001300882/muslim-woman-boyfriend-lashed-in-public-for-getting-too-close
--------
Two Rescue 1122 workers laid off over 'sexual assault' of Sikh girl
OCTOBER 30, 2018
Two Rescue 1122 workers have been suspended over their alleged involvement in the suspected sexual assault of a Sikh teenage girl in Nankana Sahib on October 27, District Emergency Officer Akram Panwaar said Monday.
The officer said that a high-level committee had been created to probe the incident and added that strict action would be taken against the accused if proven guilty.
According to the medico report, no tears, bruises or laceration were found in the examination of the victim's body. However, the girl will be taken to Lahore for further tests.
The results of the tests will arrive in a minimum time frame of two months, said Investigative Officer Basharat Ali, adding that the suspects would be kept in custody on physical remand for further investigation.
According to the first information report (FIR) registered with the City Nankana Sahib police by the victim's family, the 15-year-old girl, who was also mentally challenged, went missing on Sunday.
The family looked for her everywhere but found no trace.
Hours later, the family members of the girl found a Rescue 1122 ambulance parked by the roadside. To their utter surprise, they found both the suspects committing the crime with their daughter.
The FIR added that the suspects drove away after the family made noise and threw the victim on Nankana Road.
A spokesperson for the district police said that the suspects had been arrested after a case was registered against them in the City police station.
The spokesperson added that an investigation was being launched on the complaints of the Sikh community.
Human Rights Minister Shireen Mazari also took notice of the incident on Sunday, saying: "Abuse of vulnerable citizens will not be tolerated. Was forwarded a case of abuse of a differently-abled Sikh girl in Nankana Sahib. FIR has been registered and the SHO informed us they have arrested two persons in the case."
https://dailytimes.com.pk/316373/two-rescue-1122-workers-laid-off-over-sexual-assault-of-sikh-girl/
--------
Woman blows herself up in central Tunis, 20 injured
29 October 2018
At least 20 people were injured in the Tunisian capital, Tunis, following a woman blowing up herself near police officers on Monday afternoon.
Several ambulances and numerous police reinforcements were on site, according to an AFP journalist.
The explosion was on the central Habib Bourguiba avenue where police were cordoning off the area.
"I was in front of the theatre and heard a huge explosion," witness Mohamed Ekbal bin Rajib told Reuters.
Tunisia, which is heavily dependent on tourism, has improved security since a series of militant attacks targeting tourists caused the near collapse of the sector three years ago.
In 2015, 21 people were killed during a hostage siege in its national museum, the Bardo in Tunis, and a gunman killed 38 people on a resort beach.
There have been no attacks on that scale since then, but the economy has remained troubled and the authorities worry about militants who shelter in neighboring Libya.
https://english.alarabiya.net/en/News/north-africa/2018/10/29/Woman-blows-herself-up-in-center-of-Tunisian-capital-Tunis-.html
--------
Saudi Consulate in US issues statement on death of two female citizens
30 October 2018
The Saudi Consulate General in New York on Monday issued a statement on the death of two Saudi female nationals whose bodies were found in the Hudson River in New York City on Thursday evening.
The statement said, "In reference to the incident of the death of the two Saudi female citizens, and reports by newspapers and media stations on this subject, the Consulate General of the Kingdom of Saudi Arabia in New York, under the guidance of Prince Khaled bin Salman Al Saud, Saudi Ambassador to the US, and out of its responsibility towards citizens, taking into account the privacy of the case and correcting the circumstances of talking without any precision, the Consulate confirms that it and the concerned authorities in the local authorities, the State Department and the Embassy of Saudi Arabia in Washington are conducting a continuous follow-up to find out the facts. A forensic report has not yet been issued explaining the cause of death, and the case is still under investigation.
The Consulate confirmed that it immediately appointed a lawyer to follow up the legal process of the case and will clarify the most important developments as soon as they are received.
The Saudi Embassy in Washington also sought to communicate with the family of the victims to stand with them and help them in this circumstance, noting that the two women were students with their brother in Washington.
https://english.alarabiya.net/en/News/gulf/2018/10/30/Saudi-consulate-in-US-issues-statement-on-death-of-two-female-citizens.html
--------
Halah Al-Hamrani out to land a knockout punch for women in the boxing ring
October 29, 2018
LONDON: The inaugural World Boxing Super Series final in Jeddah last month may have put Saudi Arabia on the boxing map, but women's pugilism in the Kingdom is proving a knockout success even without international recognition.
That is the message from Halah Al-Hamrani, below, who has determinedly trained Saudi Arabian women in boxing and kickboxing for the past 16 years at her Jeddah-based gym FlagBoxing.
She hopes to stage the first boxing competitions for females in the Kingdom next year, and has lofty ambitions of training one to glory at the Olympics.
"My ultimate dream for women's boxing in Saudi is definitely for one of them to go to the Olympics," Al-Hamrani told Arab News.
Al-Hamrani was "very excited" to attend the WBSS final, which saw Britain's Callum Smith power to a seventh-round knockout of his compatriot George Groves at a packed King Abdullah Sports City Arena on Sept. 28.
"It was an incredible day for me," Al-Hamrani said, before adding: "(I was) happily surprised to see that 20 percent of the crowd were women."
The popularity of boxing among women is largely due to the passion and perseverance of Al-Hamrani, who is harnessing the power of social media to deal a right hook to deep-seated perceptions that boxing is too brutal and violent for females.
"I try to give (them) as much information as possible and show the process through social media such as Instagram," said Al-Hamrani, who became a certified boxer at the National Academy of Sports Medicine (NASM) in Arizona after honing her martial arts prowess while studying at the University of San Diego in California.
"I think it's become a little less scary for women and I think it attracts them to the sport. We're still at the early stages because you're dealing with females who have never really been exposed to the sport or had sport in their lives.
"I train around 150 to 200 women from early teens to 60. Recently we have seen a few girls that have the potential to go into competition and that are interested in going into competition," said Al-Hamrani, whose interest in combat sports was first kindled when she started karate at the age of 12 at a Jeddah private school.
"I don't know if it's something that's going to happen really quickly, but we are going to start trying to provide local competitions to get these females out of their houses and we can try and see what potential is out there."
Al-Hamrani intends to wield her considerable sporting influence — she represents mixed martial arts (MMA) on the Saudi Olympic Committee — to help women's boxing jab its way into the public consciousness.
"I think I have a good platform to be able to get these women into competition. I also have the ear of the president of the Saudi Arabian Boxing Federation (Omar Al-Ghamd) and he's very much willing to help.
"I hope that we can see it grow the right way and then create an Olympic champion as well. I think it is possible that we might able to stage competitions in 2019."
The benefits of boxing extend way beyond the physical and health aspect of training hard, Al-Hamrani claimed. Boxing and martial arts afford women "incredible benefits", she said, including "empowerment" above all.
"I know that sounds cliched and I know a lot of people are like, 'Yeah, whatever,' but it's truly the case. I can't say enough how I've seen women become empowered through the sport. The sport itself helps you develop your mental strength as well as physical.
"In the beginning, they don't care about that and want to develop themselves or ask if they are going to lose weight. It's always about the aesthetics and then eventually you start to see they're becoming mentally extremely strong individuals and they carry themselves differently."
Al-Hamrani admitted 2018 has been "an incredible year" for her and other Saudi women thanks to the sweeping reforms that have been introduced, including the end of the driving ban in June.
She is also delighted that Saudi public schools have started to offer physical education for girls.
"It's something that all of us have waited to see. The country and our government are in support of us and is backing women empowerment.
"I am surrounded by women who are incredible. I think they're going to have so much to offer to the world, not just Saudi Arabia in the next years to come, Inshallah."
http://www.arabnews.com/node/1395936/sport
--------
Saudi court acquits two men charged with burning woman's car – report
30 October 2018
Two men who were charged with setting a Saudi woman's car on fire shortly after the lifting of the kingdom's female driving ban have been acquitted, according to reports.
Arabia publication Makkah cited the lawyer of the two as confirming the Court of Grievances in Makkah issued the decision and dropped personal claims charges.
The men denied any involvement in the burning of the car, which took place in the village of Damad near Al-Jamoum region.
The owner of the vehicle, Salma Al-Sharif, had claimed the arson was committed by men opposed to the kingdom's historic lifting of its female driving ban on June 24.
She said prior to the incident she had faced abuse by men in her neighbourhood after she began driving.
The defendants' lawyer Amin Bin Saud said the woman had defamed his clients.
"I am trying to convince my clients not file defamation charges against the woman," he was quoted as saying.
Al-Sharif has the right to appeal the court's decision.
Police had alleged that one of the men bought gasoline at a garage and asked the other to help him start the fire. Saudi Press Agency reported the arrests and the referral of the case to the public prosecution on July 4.
Before the lifting of the driving ban, the woman said she had been forced to spend half of her SAR4,000 ($1,067) monthly salary on a driver to take her to work and transport her elderly parents.
"But from the first day of driving I was subjected to insults from men," she was quoted as saying.
http://gulfbusiness.com/saudi-court-acquits-two-men-charged-burning-womans-car/
--------
Al-Hokair Group family entertainment centers empowering women
2018-10-29
Al-Hokair Group for Tourism and Development has hired a number of Saudi women across its entertainment centers in the central, eastern, western and southern regions and in the city of Madinah as site supervisors.
These employees started as accountants and were trained, qualified and provided with new knowledge and skills required for supervising the entertainment site to ensure the highest levels of safety of all visitors, especially children. This reflects the commitment of Al-Hokair Group to provide opportunities for young people, particularly, Saudi women.
Mishal Al Hokair, Executive Vice President and General Manager of the Entertainment Sector, said: "We, at Al Hokair, Group strive to empower women in the Saudi entertainment sector in line with the goals of Saudi Vision 2030 and to encourage Saudi women›s participation in social and professional fields."
He added that the Group is proud of the work of women and their leadership positions. "We will encourage women to pursue their career ambitions and drive the development process as per the vision announced by the government to encourage more Saudi women to take up challenging roles across all business sectors."
Al Hokair emphasized that facilities will be provided to talented and educated Saudi women to ensure they have equal opportunities to contribute to the Kingdom's growth.
Furthermore, Al Hokair Entertainment, one of the leading family entertainment organizations in the UAE and Saudi Arabia, is now planning to establish its footprint within the global $50 billion virtual reality gaming sector. With 91 active entertainment centers, under Al Hokair's key entertainment brand 'Sparky's', the group will now focus on embedding their centers with comprehensive virtual reality (VR) gaming zones. — SG
http://saudigazette.com.sa/article/546729/BUSINESS/Al-Hokair-Group-familyentertainment-centersempowering-women
--------
58-year-old man caught groping 2 women at mall in Dubai
October 29, 2018
The man was caught on CCTV footage sexually harassing two women.
A 58-year-old man has been charged with sexual harassment at a Dubai court after he was caught inappropriately touching two women at a mall.
The Court of First Instance heard how the Egyptian man, who is a clerk, was caught on CCTV footage sexually harassing two women in two separate incidents at a shopping centre on August 24. A complaint was filed at Al Muraqqabat police station.
The complainant, an Egyptian, said she was with her husband and her two boys watching a circus show at a mall at 8:30pm. "My husband took one of our sons to take photos with the circus artists while the one-year-old boy stayed with me."
She said that when she felt someone touching her inappropriately with an arm, she turned around and saw it was a man. "The suspect then walked away without saying a word. I followed him later with my family."
When the husband confronted him, the defendant denied the wife's allegations, claiming it was not an intentional act.
"He would not wait for my husband to call for the police but rushed out after pushing him away. So my husband told the security guards about him," she recounted during public prosecution investigation.
The police officers checked the CCTV footage, which caught the defendant standing very close to the woman. He was walking behind her and touched her on purpose.
A police sergeant told the prosecutor the accused was apprehended at a cloth shop at the same mall at 9pm. "The woman's husband told us that when he confronted the suspect, the latter told him that he had no right to hold him back and if he had anything against him, he should inform the police."
The sergeant told the investigator that the suspect was caught on CCTV touching the complainant consistently with what she had accused him of. "We also tracked down his movement prior to the incident and we saw him on cameras touching another woman."
https://www.khaleejtimes.com/news/crime-and-courts/58-year-old-man-caught-groping-2-women-at-mall-in-dubai
--------
Lamya Hemadi and three other women get arrested arbitrarily
29 October 2018
A young woman, Lamya Hemadi, 20, was arrested 20 days ago by intelligence agents and taken to an unknown location. There has been no information on her fate, so far.
Ms. Lamya Hemadi, the daughter of Zaidan, is married and lives in Abuzar Street in Susangerd also known as Dasht-e Azadegan. She has contacted her family only once since the time of her arrest when she did not even know where she had been jailed. The family of Lamya Hemadi is extremely concerned about her situation.
In addition to Lamya Hemadi, two other women Zoudiyeh Afrawi, 55, and Ghaisiyeh Afrawi, 60, residents of Albou Afri village in Susangerd, have also been arrested along with their sons.
The Iranian regime has been cracking down on the populace in and around Ahvaz, making dozens of arbitrary arrests since September 22, 2018, when the parade of its military forces were attacked by armed men. Despite repeated inquiries by their families, no information has been released on the situation of those arrested. At least 133 persons have been arrested, so far.
The arrests are made arbitrarily and without legal warrants. Intelligence agents and security forces raid houses early morning or after midnight, brutalize the families and take away the family.
Gholamreza Shariati, the governor of Khuzestan, had earlier claimed, "there are no civil activists or children among those arrested." (The official IRNA news agency, October 22, 2018)
Arab human rights activists, however, have declared that many of those arrested, including Ms. Lamya Hemadi from Susangerd, whose arrest has been confirmed by Gholamreza Shariati, is a civil rights activist.
In another development, security forces have arrested another woman civil rights activist by the name of Hakimeh Ahmadi, at her home in Marand, East Azerbaijan Province, and taken her to an unknown location.
https://women.ncr-iran.org/iran-women-news/5544-lamya-hemadi-and-three-other-women-get-arrested-arbitrarily
--------
Female students play active role in protest rallies in Tehran
29 October 2018
Female students of the central unit of Tehran's Azad University confronted the Guidance Patrol forces during a protest rally on Saturday, October 27, 2018, held in the university's surrounding area in Sohanak. Female students played an active role during the protest and tried to stop the Guidance Patrol vehicles which were driving into the crowd. Witnesses have filmed a female student being pushed by the car and posted the scene on the internet.
The State Security forces (SSF) arrested four students and seized several of the students' mobiles.
Female students of medical sciences of Azad Universities also gathered on Saturday, October 27, 2018, pursuant to a number of other similar protests held against the mistakes made in the 2018 admission exams.
One of the protesters said, "The Azad University has several times declared that the problems of the majority of students have been resolved, while this is a lie, and our statuses continue to remain undetermined."
female students studying genetics Genetics specialists held a protest rally on October 27, outside the building of the Medical System Organization in Tehran. The rally was against the organization's failure to provide medical system numbers for the professionals.
In another protest on Saturday, retired women of various government banks converged in Tehran and held a protest rally outside the Bank Pension Fund. One of the protesters said, "One of our most important demands is the unconditional and permanent implementation of article 64 of Chapter 10 of the Law on the Administration of State Services, and payment of the salary difference since January 20, 2017."
In another protest held on Saturday, October 27, 2018, a group of defrauded men and women cheated by the Gold Samen Website gathered outside the Public Prosecutor's Office in Tehran.
A group of women's rights activists gathered for a symbolic ceremony on Saturday, October 27, 2018, at the grave of Reyhaneh Jabbari and commemorated her on the fourth anniversary of her execution.
https://women.ncr-iran.org/iran-women-news/5543-female-students-play-active-role-in-protest-rallies-in-tehran
--------
URL: https://www.newageislam.com/islam-women-feminism/muslim-woman-boyfriend-lashed-public/d/116750
New Age Islam, Islam Online, Islamic Website, African Muslim News, Arab World News, South Asia News, Indian Muslim News, World Muslim News, Women in Islam, Islamic Feminism, Arab Women, Women In Arab, Islamophobia in America, Muslim Women in West, Islam Women and Feminism