New Age Islam News Bureau
16 Apr 2017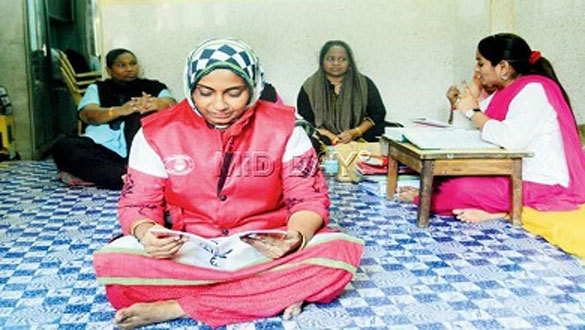 Photo: Suraiya Shaikh at Bharatiya Muslim Mahila Andolan's Bandra East office, where she is training to be a qazi, a role traditionally reserved for men. Pics/Bipin Kokate
---------
• India's First Set of Women Qazis Await Their Moment of Glory
• Women Led California Mosque Opens Doors to All
• Sultan Asks Muslim Women to Quit Begging, Says Practice Lacks Basis In Islam
• Widow of Aid Worker Beheaded By Islamic State's Jihadi John Says Trauma of His Death Caused Her Cancer
• How RolaSleiman Became the First Arab Female Pastor
• A Saudi Woman's Plea for Help Exposes Risks Runaways Face
• Muslim Woman Surrounded By Hate at Islamophobic Rally Reunites With Woman She Defended
• Muslim Women Died Defending Christians on Palm Sunday
Compiled by New Age Islam News Bureau
URL: https://www.newageislam.com/islam-women-feminism/muslim-woman-attacked-with-acid/d/110783
--------------
Muslim Woman Attacked With Acid For Refusing To Accept Triple Talaq Over Phone
Sun, 16 Apr 2017
The woman's in-laws attacked her with acid.
After having refused to accept triple talaq over phone, a woman in her 40s was attacked with acid allegedly by her in-laws in Neuria area of Pilibhit.
On the complaint filed by the victim Rehana, the Uttar Pradesh Police has begun its investigation into the matter. So far, the cops have registered FIR against five people. "She has received burn injuries on her back. We are waiting for the medical report," a police officer said.
Rehana married Matlub 18 years ago, following which she went to the United States with her husband. Their relations turned sour in 2011 after which they came to India for some time. Matlub went back to the US and assured Rehana that he would call her there after a few days.
Matlub did not call Rehana back to the United States and told her that he had got a new job in New York.
However, Matlub called Rehana few years back and divorced her over the phone. Rehana refused to accept the same.
Rehana's in-laws later assaulted her to ensure that she leaves the house and also threw acid on her. "They should be punished for what they did. I want them to be in jail," Rehana said.
dnaindia.com/india/report-muslim-woman-attacked-with-acid-for-refusing-to-accept-triple-talaq-over-phone-2403920
---------
India's first set of women Qazis await their moment of glory
By AnjuMaskeri | Posted 16-Apr-2017
What does it take to come from a community stereotyped for its shocking gender bias, and dream an unbelievable equality dream? Behrampada'sSuraiyaShaikh, training to be a judge under Islamic law, a first for India, has the answer
Growing up in the narrow alleys of Behrampada, Bandra East's congested neighbourhood, SuraiyaShaikh remembers being privy to domestic squabbles that were often conducted in full public glare. But one incident is particularly etched in her memory. It was chaandraat, a time of celebration when families and friends would gather on the last day of Ramzan to spot the full moon. That night, a man stood on the terrace of their building at 2 am and shouted triple talaaq to his wife. "It was heartbreaking to hear the wife wailing, children crying on what was meant to be an auspicious occasion. At that time, even as a 10-year-old, I remember telling my father, a maulana, that what the man did was wrong. I told him that I wanted to put an end to this injustice. And, all my father said was, 'Do whatever you want when you grow up'." After all, he was aware that his daughter was the rebel among his nine children - six daughters and three sons.
Four decades later, the daughter has let the maulana's words guide her. On a sweltering Tuesday afternoon, we meet Shaikh, clad in a cotton salwarkameez with a dupatta loosely hung over her head, at the Bharatiya Muslim MahilaAndolan (BMMA) office in Bandra East's Sarvodaya Colony, where she is undergoing a year-long training that will end with her being certified a qazi.
Sitting on the floor in a room devoid of furniture, she is busy pouring over her notes jotted in a bound ruled book. "Since the Quran is in Arabic, we translate some of the duas (prayers) in Hindi so that we can help people understand the meaning of what they are reading," she says. As a teen, Shaikh owned a similar notebook where she would list all the questions that she never received answers for. "I had decided that when I die I'd ask Allah why could my brothers go to school and college while I and my sisters had to be home, why can a man ask for divorce but women can't, why can a man be polygamous but not a woman?" she says. Today, she's slowly beginning to unravel answers to her childhood conundrums. "The truth is that the Quran treats men and women as equal. But it's society's multiple interpretations that have led to a skewed understanding. Each word in the Quran has 17 different meanings."
Next to her, lies a neatly folded sleeveless red overcoat. Soon, she will don the jacket once she takes on the role of a qazi.
Shaikh is among Mumbai's first batch of female qazis - Islamic judges who oversee marriage, divorce, and other personal matters in Muslim communities. She is part of the inaugural class of 30 women from across India including Gujarat, Rajasthan, Madhya Pradesh, Tamil Nadu, Karnataka, Bihar, West Bengal and Odisha. The recently launched year-long programme, initiated by prominent activists and founders of BMMA, ZakiaSoman and NoorjehanSafiaNiaz, is training women to be judges, a role traditionally reserved for men. Currently, there are five women being trained to be qazis from Mumbai. The training is free of cost and follows a self-learn format. BMMA founders ZakiaSoman and NoorjehanSafiaNiaz are overseeing the content and syllabus.
Breaking norms
Every day, the 43-year-old reaches the BMMA office by 10.30 am to assist in handling cases of aggrieved women and go on field to get surveys done that would aid in understanding the condition of the Muslim community. A good part of the day also involves discussions on verses pertaining to women - marriage, divorce, polygamy, guardianship, a woman's role in society. During these discussions, Shaikh says she hears of bizarre cases where men would declare talaaq over SMS or WhatsApp. "There was one man who had happened to see a woman wearing the same footwear as his wife sitting in a rickshaw with another man.
He divorced her on the basis of that, when in reality, his wife was at home," she says. These incidents made her ponder over the reason behind the growing victimisation of women. "We realised that despite courts deciding matters on Muslim Personal Law, the qazis still form an integral part of the community, acting as advisors and playing a crucial role in personal matters like solemnisation of the nikah, talaaq and inheritance issues," she says, adding that when a talaaq comes up, more often than not, the male qazi takes a call based solely on the man's version. "They never hear the woman's side of the story." Traditionally, Shaikh says, the qazis have all been men, and their judgment has never been questioned. "There is a general ignorance of the Quranic injunctions. Hence, well informed female Qazis will be able to stand up for women."
As a qazi, Shaikh says her duty will be to listen to both parties. "Just because I'm a woman doesn't mean I'll favour my gender. The idea is to be fair." As a Qazi (Muslim priest), Shaikh wants to do more than just have the power to solemnise a nikah (marriage) and preside over divorce matters. "I want to counsel the women and men of my community. I want to help them resolve issues concerning their rights and ensure that they get justice, irrespective of gender."
For her, the decision to become a qazi emerged organically as she grew more involved in the activities of the organisation that has been fighting for Muslim women's rights for nearly a decade. "I had approached BMMA a couple of years ago for my sister who was then having trouble with her husband. He would beat her up. But, I liked the way they handled it amicably, speaking to both parties and arriving at a consensus." Slowly, the Naupada resident started dropping by the office often assisting them in their daily counselling cases and organising talks on gender equality for both women and men in the community. Today, she is accompanied by her mother who is also a regular at the organisation, and a silent supporter of Shaikh's feminist leanings.
"Although my father was a cleric, he was a liberal man. But as was the norm at that time, I was married off soon after completing Std X. "I protested, but they reasoned that if I didn't get married, the rest won't. Had I been as aware back then as I am today, I would have never married," she says. Today, Shaikh has two grandchildren. Back in the day, she reveals that she even contemplated leaving her husband a couple of times. "But, he never gave me a reason to leave him. He was too nice a man. He would do all the household chores," she jokes.
mid-day.com/articles/indias-first-set-of-women-qazis-await-their-moment-of-glory/18169161
---------
Women led California mosque opens doors to all
April 16, 2017
BERKELEY, California: The second women led mosque in the United States held its inaugural service in California on Friday, but unlike a Los Angeles congregation that opened two years ago, the new female-led Muslim house of worship in Berkeley is open to both genders, according to the Arab News.
The Qal'bu Maryam Women's Mosque "is a place for women to worship in the sanctuary, to not be hidden away in dank rooms," said Rabi'aKeeble, founder of the Berkeley mosque, whose name means "heart of Mary" in Arabic.
Many mosques around the world admit men and women, but most segregate the genders.
At the Women's Mosque of America in Los Angeles, male worshippers over the age of 12 are excluded, making the new Berkeley mosque the first of its kind in the country.
"We uplift the female, and just as the Prophet loved women, we must follow in his footsteps and love ourselves and each other," she said.
Keeble is a 40-something convert from Christianity with a master's degree in religious leadership from the Starr King School of Ministry, a seminary affiliated with the University of California, Berkeley which has donated space for the mosque.
(compiled by Rafiqul Islam)
thefinancialexpress-bd.com/2017/04/15/67000/Women-led-California-mosque-opens-doors-to-all
---------
Sultan asks Muslim women to quit begging, says practice lacks basis in Islam
April 16, 2017
The Sultan of Sokoto, Sa'adAbubakar, said on Saturday that begging has no basis in Islam and challenged those engaging in the act to find legitimate means of earning a living.
The News Agency of Nigeria (NAN) reports that Sultan Abubakar made the remark in Sokoto at the graduation of 2000 women trained in various skills by the Wife of Sokoto State Governor, MairoTambuwal.
The training was conducted in collaboration with Sokoto State Zakkat and Endowment Commission to empower the women drawn from the 86 districts of the state.
The Sultan said, "Our women should always desist from street begging, as it has no basis in Islam and it only generates more harm than good among the society.
"Women have always been the pillars for any societal development, so we need to do more in encouraging and supporting their living standard in order to yield a better society.
"Moreover empowering women is one of the positive base to a better, secured and productive society."
He commended Mrs Tambuwal for initiating the programme and admonished the beneficiaries to utilize the opportunity to enhace their livelihood.
The monarch is the President-General of the Nigerian Islamic Council for Islamic Affairs.
Earlier, the governor's wife had expressed appreciation to the Sultanate Council, the state government and Zakkat commission for supporting the initiative.
She said the skills training initiative was principally to make women in the state self-reliant.
Mrs Tambuwal, who was represented by Hauwa Muhammad, called on the beneficiaries to apply the new skills they acquired to uplift their economic status and contribute to the overall development of the state.
The Overseer of the Zakat commission, LawalMaidoki, said that the 2000 women were carefully selected and empowered to live above the poverty line.
premiumtimesng.com/regional/nwest/228877-sultan-asks-muslim-women-quit-begging-says-practice-lacks-basis-islam.html
---------
Widow Of Aid Worker Beheaded By Islamic State's Jihadi John Says Trauma Of His Death Caused Her Cancer
16 APR 2017
Doing International Business? Get Better Rates On Payments (Payoneer Plus)Ever Wonder Why Donald Trump Doesn't Talk About His Daughter Tiffany? Here's Why (LifeDaily.com)
The widow of a Brit beheaded by Islamic State's Jihadi John has revealed the stress of her ordeal caused her breast cancer.
Mum-of-one Dragana, 47, who was wed to David Haines, has been having chemotherapy for the killer disease.
Aid worker David, 44, who grew up in Perth, spent more than a year in captivity after being kidnapped in Syria.
He was beheaded by British jihadist Mohammed Emwazi – known as Jihadi John – in 2014, the Daily Record reports .
Dragana said: "There is no history of cancer in my family. The oncologist who diagnosed it said my cancer is a direct consequence of all the stress during that time."
Dragana, who lives in Croatia with daughter Athea, seven, began chemotherapy in November.
Jihadi John was killed in an air strike the year after beheading David Haines (Photo: REUTERS)
She posted a picture of herself online after losing her hair and hopes that speaking out about her experience will inspire other mums going through treatment.
"I have to stay strong for our daughter. There's no time to feel sorry for myself.
"It's important to decide you're going to win and to keep smiling."
She will have three more weeks of treatment before finding out what surgery she requires.
mirror.co.uk/news/uk-news/widow-brit-aid-worker-beheaded-10235414
---------
How RolaSleiman became the first Arab female pastor
She may be the first female pastor for Arab Christians, but Sleiman says it was a natural transition for her [Courtesy of RolaSleiman/Al Jazeera]
byNadaHomsi
Tripoli, Lebanon - To anyone's knowledge, RolaSleiman is the first female pastor in the entirety of the Arab Christian world.
It's a straightforward tale: a young churchgoing girl decides to study theology in university, and upon graduation returns to the church of her youth in Tripoli, Lebanon. The only twist is that she is the first woman to reach such a vocation.
"I didn't really have it in my head to become a pastor," says Sleiman as she sat in Tripoli's National Evangelist Presbyterian Church. And yet, she became an officially ordained pastor on February 26, 2017 - a historic appointment for a role which had previously been restricted to men.
It's evident that Pastor Sleiman's direct demeanour and good humour helped pave her path to the pulpit. She stands at the podium, making sure her pants are hidden while she jokes with the church's organ player. "I'm getting photographed in my jeans - it's going to scandalise our congregation!" she laughs.
Explaining how she fell into the role of the first female pastor, she recalls the initial circumstances which brought her to this point. "The way everything turned out, looking back, I think it was God's will to make this statement."
She says this tentatively, processing the enormity of her ordainment.
This is my church, and I wasn't going to leave it,
"I read the Bible, the Quran, the Old Testament … and I was convinced with my faith. I'm not saying it's the 'Truth' for everyone, but to me, this is where I felt convinced."
Her path was clear at an age where most teenagers struggle with their purpose. When Sleiman was 17, she applied to be adopted by the National Evangelical Synod of Syria and Lebanon, the denominational umbrella which forms the Evangelical Presbyterian federations throughout the Levant.
The Synod adopted her and subsequently sponsored her degree in Theology and Christian Education.
Upon graduation, she had the option to serve in several of the Synod's churches around Lebanon, including in her hometown of Tripoli. Sleiman was drawn to Tripoli and the church she had grown up attending. "I felt there was something that I had to do here, in my hometown … I just felt that I had to go."
'My church was used to me. They didn't think of me in terms of gender, as a woman or a man. I served them' [Nada Homsi/Al Jazeera]
It was a gut feeling which proved accurate. In 2006, George Bitar, the pastor of the church which Sleiman grew up attending, left the country to travel. Having formal theological training qualified Sleiman to take on the task of leading Sunday services on a temporary basis.
However, as the 2006 July War with Israel erupted in Lebanon, Bitar was unable to book a flight home, and Sleiman ended up conducting services for six months.
When Pastor Bitar returned, it was brief. He had attained a visa to the United States, and in 2008 moved there with his family for good. In the absence of an appointed pastor for the church, Sleiman continued as interim minister, building a relationship with her congregation as time passed.
"This is my church and I wasn't going to leave it," she says with conviction.
Still, as Reverend Sleiman was not an officially ordained pastor, difficulties manifested. She was unable to perform sacraments or baptisms without supervision from an ordained cleric in the Synod - male supervision.
Additionally, the Synod's committees, a collection of elders and pastors from across Syria and Lebanon, could not vote on a number of issues without the presence of an ordained representative from Tripoli.
Tripoli's National Evangelist Presbyterian Church needed a pastor. It was time for the Synod to officially appoint a representative so decisions could be made.
When the church was asked who they wanted to represent the congregation, the answer was obvious. After years of being interim minister, "My church was used to me. They didn't think of me in terms of gender, as a woman or a man. I served them, doing visitations, preaching well, and I convinced them through my service," says Sleiman.
Ultimately, the vote to ordain Reverend Sleiman passed in the Synod 23 to one, with remarkably little resistance.
The city of Tripoli, known as "the second capital of Lebanon", has been heavily affected by the neighbouring civil war in Syria, with sectarian fighting and car bombs making news headlines. Furthermore, in 2014, assailants set fire to Tripoli's Christian-owned Saeh Library and torched up to two-thirds of the library's 80,000 books and manuscripts in what was reported as a religiously motivated attack.
'I didn't really have it in my head to become a Pastor' [Courtesy of RolaSleiman/Al Jazeera]
But mainstream media has depicted her beloved city in a skewed light, insists Sleiman, by focusing on distorted sectarian divisions and a small number of youth that join organisations such as the Islamic State of Iraq and the Levant (ISIL, also known as ISIS).
While Lebanon's delicate confessional system has historically suffered due to sectarian divisions and civil strife, Sleiman believes in representing her denomination peacefully. "To me, it was about pastoring our small group, in order to take care of it and ensure [our] continuity," she says.
Tripoli is a historically diverse city, but its Christian population dwindled during Lebanon's 15-yearlong civil war, that began in 1975. Heavy economic burdens intermingled with religious tension, leading many to immigrate. Christians now make up an estimated six percent of the population in Tripoli.
Evangelical Presbyterians are a tiny denomination spread across Lebanon and Syria, and representing their presence is a significant factor in Pastor Sleiman's decision to lead and foster her congregation in its current location, which consists of approximately 33 families.
Although there is an Evangelical Presbyterian sister-school on the outskirts of town, the National Evangelical Church itself is situated in the centre of the old city, surrounded and well-known among the majority Muslim shopkeepers in the neighbourhood.
Her congregation is on great terms with the surrounding community, asserts Sleiman. "I can't imagine living in any other city," she says. "The people [of Tripoli] are so supportive."
Being the first female pastor in the Arab world is a responsibility that at times seems ordinary to Sleiman; other times the enormity of the historic appointment weighs on her.
"The title hasn't added to anything I wasn't already doing. On the other hand, I feel there are so many more eyes on me, like people are waiting either for me to succeed or fail."
Beyond the historic religious decision, Sleiman has been thrust into the position of promoting gender equality in Lebanese society through her work.
Tripoli is a historically diverse city, but its Christian population dwindled during Lebanon's 15-year long civil war [Nada Homsi/Al Jazeera]
Lebanon's delicate political structure has left much to be desired politically, especially for women, who frequently bear the brunt of most socioeconomic problems. The month of March marks International Women's Day every March 8.
This year, as hundreds of women marched the streets of Beirut to demand equal rights, Rev Sleiman began her role as an officially ordained pastor in Tripoli.
Reverend Sleiman, who has a Syrian father and a Lebanese mother, was born and lived in Tripoli all her life and considers herself Lebanese, but does not have Lebanese nationality. Because Lebanese mothers cannot pass on their nationality to their children, Sleiman must periodically renew her Syrian passport and residency permit to maintain legal status in Lebanon.
"We have laws that oppress women," she says, while clarifying her position against the oppression of all peoples. "It's time to leave all that behind."
"Some people would tell you my ordination happened late. I think, better late than never. At least a door has opened," Sleiman muses. "These doors need to be opened everywhere."
Pastor Sleiman's strides are not lost upon her. "Alhamdulillah," she says, using the Arabic word which both Christians and Muslims use to denote "Thank God".
aljazeera.com/indepth/features/2017/03/rola-sleiman-arab-female-pastor-170330073956533.html
---------
A Saudi woman's plea for help exposes risks runaways face
April 16, 2017
DUBAI, United Arab Emirates (AP) — A young Saudi woman's plea for help after she was stopped in an airport in the Philippines en route to Australia where she planned to seek asylum has triggered a firestorm on social media and drawn attention to the plight of female runaways.
For runaway Saudi women, fleeing can be a matter of life and death, and they are almost always doing so to escape male relatives.
Under Saudi Arabia's conservative interpretation of Islamic law, a male guardianship system bars women from traveling abroad, obtaining a passport, marrying or even leaving prison without the consent of a male relative.
The mystery around what triggered Dina Ali Lasloom's cry for help has only added to concerns for her safety. In an online video, the 24-year-old says her passport was taken from her at an airport in the Philippines on her way to Australia last week.
"If my family come, they will kill me. If I go back to Saudi Arabia, I will be dead. Please help me," she pleads.
Wearing a beige coat, the woman does not show her face in the video. Most women in Saudi Arabia cover their face with a veil known as a niqab. Many do so believing it is a religious obligation, in addition to covering their hair and body. Some also cover their faces due to social pressure.
"I am kept here as a criminal. I can't do anything," Lasloom says in the video. The Associated Press could not independently verify the video's authenticity.
Women's rights advocates in Saudi Arabia say Lasloom was ultimately forced to board a plane to the kingdom with two of her uncles, who flew from Riyadh to stop her. They said authorities then took her to a women's shelter because of the attention around her case.
She cannot leave, however, without a male guardian's permission. Activists say only officials and relatives can contact her there.
Although there are no public statistics on how many Saudi women attempt to flee abroad, the issue has gained attention through a number of publicized cases. This despite gains made in recent years for Saudi women, including the right to run in, and vote in, local elections in 2015, and a government effort to increase women's participation in the workforce.
Women who have managed to flee abroad say they were barred from marrying or forced into marriages. Others have told rights groups that male relatives were abusive and confiscated their salaries.
"Many of them, they just want to be free," said MoudiAljohani, who fled last year and is seeking asylum in the U.S.
Aljohani, 26, says her family felt she'd become "too Americanized" after a year of study in Miami. What was supposed to be a weeklong visit home turned into months of confinement, she says.
"The eight months of being locked in Saudi Arabia has created an angry, rebellious person inside of me that I don't want to be silent anymore," she said. "What happened to me in Saudi Arabia created a person who just wants to speak out."
For the past 15 years, four of the late King Abdullah's daughters, Princesses Jawaher, Sahar, Hala and Maha — all in their 40s — have allegedly been held in a royal compound in Saudi Arabia. Their mother, who lives in London, has spoken out in the British press to try and bring attention to their plight. Two of the princesses managed to release videos in recent years pleading for help.
Saudi courts have heard numerous cases of women asking for a transfer of their guardianship to more sympathetic male relatives — in some cases to their own sons.
A Saudi women's rights activist reached by phone in Riyadh said Lasloom was apparently trying to flee relatives in Kuwait who threatened to send her to live in Saudi Arabia.
"There have been a lot of Saudi girls who sought asylum abroad, but now it's a trend. A lot of younger girls in their 20s are seeking asylum," she said, speaking on condition of anonymity for fear of reprisal.
"When they say honor killings do not exist, it's not true. It's just invisible," she said, referring to the killing of daughters in the name of family honor.
Sara Leah Whitson, the Middle East director at Human Rights Watch, says Saudi women fleeing their family can face so-called "honor" violence if returned against their will. She called on Saudi authorities to protect Lasloom from her family.
According to the Philippines' Inquirer news website, Lasloom was barred from her Australian-bound flight by Saudi Embassy officials in Manila who asked airport officials to stop her.
The Saudi Embassy in the Philippines wrote on Twitter that what occurred was "a family matter in which a girl was returned with her family to the homeland."
When asked by The Associated Press whether Saudi diplomats in the Philippines had requested that authorities in Manila stop Lasloom from boarding a flight to Australia, Foreign Ministry official Osama Nugali said: "Saudi embassies abroad respect the institutions and laws of host countries and do not interfere in their affairs."
Manila Airport General Manager Eddie Monreal told the AP he had no knowledge about the case. An immigration official reached by the AP said the airport's immigration officers neither detained nor held any passenger under that name.
In Saudi Arabia, activists tracking her plea for help attempted to meet Lasloom at Riyadh airport overnight Wednesday. They say instead, another activist, Alaa al-Anazi was detained by security officials at the airport and transferred to a girl's detention center in the capital.
The Interior Ministry did not immediately respond to requests for comment.
A Human Rights Watch report released last year on guardianship laws in Saudi Arabia found that even with greater opportunities for women in the kingdom, a woman's life rests largely on "the good will" of her male guardian.
Powerful clerics in the kingdom support male guardianship based on a verse in the Quran that says men are the protectors and maintainers of women. Other Islamic scholars argue this misinterprets fundamental Quranic concepts like equality and respect between the sexes. Most Muslim-majority countries do not have similarly restrictive guardianship laws.
Associated Press writer Teresa Cerojano in Manila, Philippines contributed to this report.
seattletimes.com/nation-world/a-saudi-womans-plea-for-help-exposes-risks-runaways-face/
---------
Muslim Woman Surrounded By Hate at Islamophobic Rally Reunites With Woman She Defended
APR 15, 2017
Reunions are always sweet, but there's something extra poignant about the reunion between Saffiyah Khan and SairaZafar, who now share a special bond thanks to an encounter at a tense demonstration.
Earlier this month, Khan was among the counter-protesters at an English Defense League rally in her home city of Birmingham, England. The EDL — a frequently violent far-right street protest movement known for its anti-immigrant and anti-Muslim stance — gathered in response to the deadly terror attack in London in March, and Khan says she soon saw dozens enraged protesters surround fellow counter-protester SairaZafar, who was wearing a hijab.
Without hesitation, Khan stepped in to defend Zafar, who was holding a sign that read, "No to Islamophobia, No to War." While the defense and solidarity itself was (thankfully) nothing new, it was Khan's calm demeanor and unfazed look that quickly drew praise. Instead of asking for a fight or raising her voice at the protesters, Khan simply smiled and kept her hands in her pockets, as seen in the powerful photo below.
View image on Twitter
Follow
Kevin Maguire ✔ @Kevin_Maguire
Smiling BrummieSaffiyah Khan's account of looking down on threatening EDL idiot Ian Crossland, Pure class mirror.co.uk/news/uk-news/muslim-woman-who-stared-down-10191914 …
1:33 PM - 10 Apr 2017
157 157 Retweets 323 323 likes
Following the interaction Khan told Buzzfeed she "didn't feel threatened in the slightest way," and later explained her peaceful response to the BBC, adding, "Sometimes it's more important to smile than to shout."
One person who was grateful for Khan's smile was Zafar. Per Huffington Post, the two women reunited on April 10, and in a Guardian Wires video Zafar told Khan, "I do really appreciate the fact that you did step in. It is very important to have solidarity and to show that if something happens to this person they're not on their own. Thank you."
"[The EDL's] aim was to silence me, and I was not silenced," Zafar added. "Muslim women are not oppressed, we're not easily intimidated. We are quite strong in who we are."
Khan said she predicted EDL members would confront counter-protesters, and went to the counter-protest to lend her support. "There's no excuse to do nothing," she explained.
As we alluded to earlier, Khan's rational approach to intense hate puts her in good company. She is one of the many people in recent months, who has peacefully but effectively dealt with Islamophobic protesters. Last year, for example, a Muslim American teen named IbrahemDalati combatted the hatred of an anti-Muslim crowd by drowning them out with music and dancing.
And let's not forget the two prominent Muslim activists who raised over $162,000 in February to repair the dozens of headstones damaged and defaced by vandals at a historic St. Louis Jewish cemetery.
aplus.com/a/muslim-woman-surrounded-by-hate-at-islamophobic-rally-reunites-with-woman-she-defended?no_monetization=true
---------
Muslim Women Died Defending Christians on Palm Sunday
16 April, 2017
On Thursday, the authorities said they had also identified the suicide bomber who attacked the Tanta church.
In the second incident which occurred several hours later, a suicide bomber detonated himself when he was stopped by security guards at St. Mark's Cathedral in Alexandria, leading to the deaths of some 17 people.
On Tuesday, parliament approved President Abdel Fattah el-Sisi's decision to declare a three-month state of emergency following the suicide bombings in Alexandria and Tanta, which killed 45.
Egypt's president has picked three former leaders at state news organizations during the era of deposed autocrat Hosni Mubarak to lead new media watchdog agencies, part of measures to tighten his control over the country following a pair of horrific Islamic State church bombings last weekend.
Highlighting the many messages of sympathy he had received from around the world since yesterday's attacks, he said: "Prayer is the most important thing we can ask for at this time".
The eyewitnesses said that police had not taken serious steps to secure the church even though they had defused an explosive device near the church 11 days earlier, HRW said.
Now, with Easter approaching, and Pope Francis scheduled to visit on 28-29 April, the Copts fear further collateral damage in a deadly war, being fought with blunt intelligence.
More action is needed to protect Church communities in Egypt from attack, according to one of the country's Catholic bishops, who has appealed for prayer for the victims of two bomb blasts targeting worshipers on Palm Sunday.
"So sad to hear of the terrorist attack in Egypt".
This social challenge converts into a security challenge for President Abdel Fattah el-Sisi.
President Donald Trump expressed his condolences on Twitter, writing "So sad to hear of the terrorist attack in Egypt", and that he was confident Sisi would handle the situation properly.
The ministry said Tawadros was unharmed, and a church official said he left before the explosion. Islamic State later claimed responsibility for that attack.
The group later released a video threatening Egypt's Christians with more attacks.
The group continues to target security in the Sinai Peninsula nearly daily while carrying out sporadic operations in mainland Egypt.
A 15-year veteran of the church, Father Danial said that the church "definitely" was in need of better security but stopped short of blaming the government.
appsforpcdaily.com/2017/04/muslim-women-died-defending-christians-on-palm-sunday/
URL: https://www.newageislam.com/islam-women-feminism/muslim-woman-attacked-with-acid/d/110783